Back to Index
Back to Summer 2012
Connection on All Sides
After Effects
Returning from Burning Man was hilarious, as usual. The default world seemed contrived and limited, and so many of the values and formalities seemed arbitrary, antiquated, and stifling. This time the drive was lengthened due to the 58 being closed. After a long, tiring 14 hour drive we made it back to Portland (at 4am). I returned to my new condo in Vancouver intending to finally furnish it while simultaneously keeping my mind open and thoughts on my duty in Idyllwild. Janel had more involving affairs to deal with. She was going to be leaving grad school after finishing out the semester as well as quiting her job teaching ESL at Concordia. Both of these steps would prove difficult and fly in the face of the direction she had chosen this summer. Nonetheless her resolve allowed her to approach her family and peers with the news and move through this difficult time of change. In the end it brought us even closer together. Janel even decided to sign up for a Vipassana course during the same time frame as mine and at the same location, Cedar Ridge!
Taking Possession
About a week after Burning Man I flew down to Southern California with the intention of picking up the keys to my new house, checking things out, and making sure my utilities were sorted. Getting the keys was a special experience and cemented the reality in my mind that I had purchased this property. My first evening in Idyllwild I was invited to a chamber of commerce meeting and raffle. I decided to go in the hopes that I might meet some other locals. It turned out to be a wonderful experience. My real-estate agent was there as were the folks from the Vacation Rentals office. I had a few drinks and shared laughs with several people. I also won a couple of prizes in the raffle, including a candle from the Spruce Moose and a gift certificate to the jerky store (haha). The next day I visited a bunch of thrift stores and purchased tons of pillows, blankets and other needed items for the house. I was amazed how quickly $500 could be blown and still not seem to change the house all that much. That evening my friend Brian Luther arrived. We chatted at length about Burning Man before retiring somewhat early with plans to climb the next day at Suicide. I had never been climbing at Suicide since Tahquitz always seemed the better option but since we only had a morning we figured a few short routes would be best. We ended up climbing one three pitch route called Sundance (5.10b) and a long single pitch route called Flower of High Rank (5.9). Sundance came first and climbed a line on the right side of the Sunshine Face (on the left hand side of this photo):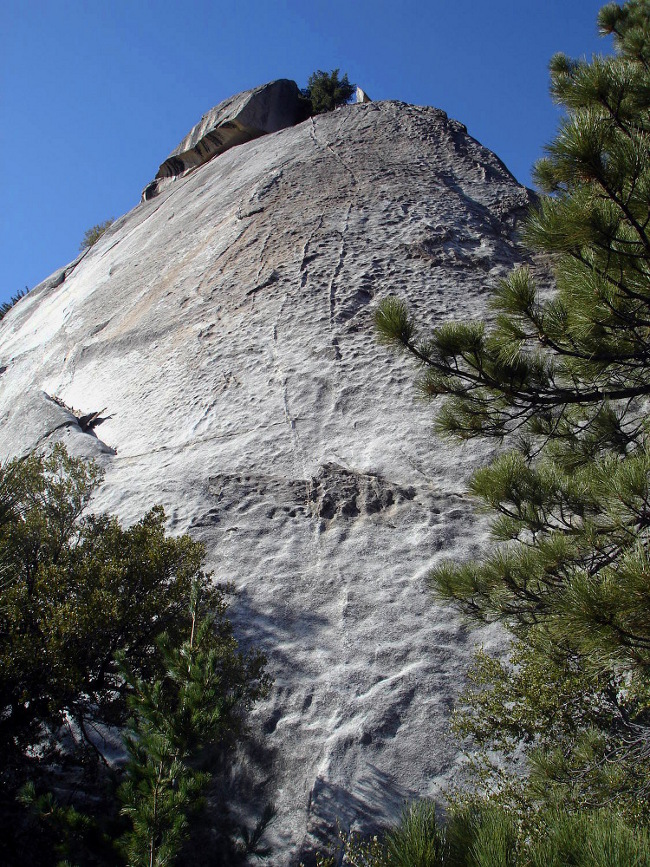 Brian agreed to lead the first and third pitches (5.9, 5.10a) if I led the heady crux pitch (5.10b PG13). The first pitch was pretty easy but I could that my head wasn't as strong as it had been in Squamish. This made me a bit apprehensive for the second pitch since it involved a forty foot runout 5.6 section at the end. The 5.10b move came right off the belay and it was very thin. It took me a couple of tries to get it right and then I was off. The first part of the pitch involved slabby face climbing past five bolts. One challenging part involved a mantle on a nob about five feet above the last bolt. It took me a couple of tries to commit to this move but I eventually got it. After clipping the fifth bolt you traverse to the right on delicate, slippery holds around a small corner. The wind was pretty fierce and made this part spicy. It was made even more intense knowing that I wasn't heading to any protection; I had thirty more feet to go to the anchors without any bolts or gear to be found at all. Once I made it around the corner I found a safe place to rest while I contemplated the rest of the pitch. Here's a picture of another climber in the same spot:




I wasn't feeling too strong and didn't really enjoy the thought of climbing another thirty unprotected feet, even on easy terrain. At the same time, I couldn't really lower off since I had just climbed ten feet around a corner and wouldn't easily be able to reverse the moves. I was basically looking at a guaranteed medium-sized fall if I chickened out or the potential for a very serious fall if I continued. In the end I decided to go for it, but I wasn't very happy about it. I turned my brain off and finished the pitch without too much of an issue. I was very glad to have Brian on the sharp end of the rope to finish the route. The final pitch was also a bit spicy since the gear was so small and the crack thin. Brian did a great job, though, and before long we topped out. The next route was Flower of High Rank, an uber classic 5.9 that I'd been wanting to climb for awhile. Here's a look at the route from the ground:




As you can see, the route climbs a low angle crack to the spot where the belayer is in the picture above. After this point you climb a double-crack system up to a tree. Past the tree the crack widens and splits across the smooth face to the right before reaching a small roof. You surmount the roof and continue up on cracks above. Whew! Since Brian had already done the route I took the lead. The beginning was pretty easy but the section getting up to the tree was somewhat strenuous. Moving past the tree was really amazing climbing. The wide crack was perfect sized for my hands. Here's a closer look at this section:




Pulling the roof turned out to be surprisingly difficult. It took me three tries to figure out the sequence. If I had failed on my last try I am sure I would have fallen since I was running out of juice. As it ended up, I reached up and left and found a decent sloper to help me pull over the roof. The cracks above were pretty easy. Overall I was very glad to get the flash and it was one of my favorite single pitches I'd ever done! Once we completed Flower the time was getting late and I had to head down the hill for a meeting with Jasmin and Ashok of SERJ. Since I ended up being so late they decided to cancel the meeting and reschedule for the next day. As a result I went back up the hill to join Brian for another evening of chat. The following morning I left for Yorba Linda to have the meeting, which was mostly to meet Ashok and was rather uneventful. After the meeting I returned to Pasadena to see Ivan. We went and picked up Amelie and spent the late afternoon at the beach in Venice where I met a very interesting and spiritual older man named Lewis. We talked at length and exchanged information. I expect there will be more to this story when the time ripens. After the beach we dropped Amelie back off and headed back up to Idyllwild. We caught up while sitting out on the deck under the stars. The next day Brian, Ivan and I spent some time exploring the hill across the street from my house. I have tentatively named it Meditation Mound since it has such stellar views and appears to be a perfect place for outdoor meditation. The hill is ringed by stone but most of it isn't steep or continuous enough for climbing. Nonetheless we discovered a few boulder problems strewn about and had fun on them. After this we had to leave to return to Burbank for my flight. I said goodbye to Brian and Ivan and I settled in for the drive. When we arrived at Burbank I was notified that my flight was delayed and I would miss my connection. I convinced them to give me an alternate ticket out of Ontario and Ivan graciously drove me to the other airport. I am super indebted to him for being so generous with his time that night.
Back in Portland, er, Vancouver
After arriving back in Portland I set about furnishing my condo properly. I obtained a nice couch with four built-in recliners, a 120" screen and projector, and a infinity surround sound system. Adam and Drew were quite pleased with the results. When I wasn't tiring myself out looking for furniture on craigslist I was tiring myself out bouldering at the Circuit. Janel had decided to join me and got her own membership. She quickly progressed into the V2 range and even started working on some V3's! I think that with some focus and determination she could quite possibly become at least as strong a climber as I am in a few years.
A few days later Janel, Saph and I went to the Animal Collective show at the Crystal Ballroom. I had purchased the tickets months prior and the show had finally snuck up on me. The Animal Collective has a new album out called Centipede Hertz but none of us had listened to it yet. I didn't feel this would affect our experience much, though, since with their music you really need to get into the moment anyway and familiarity isn't as important. To get to the show we parked Janel's (new) car near Jared's place and walked over. When we arrived at the venue Saph realized that he no longer had possession of his ticket. I ran back to the car to look for it but it was nowhere to be found. The Animal Collective was about to go on in the ballroom upstairs so we were forced to part ways with Saph while he scoured the ground between the venue and the car. Both Janel and I felt really bad for him, figuring that he wouldn't find the ticket. We went upstairs and entered the ballroom, which was quite packed. We made our way to about 40 feet from the stage and settled in for the show. Here's a picture I got online from the same tour, but not this particular show:




The set started a bit slowly and it took some time before the crowd got engaged with the music. Once this happened, though, things took off rapidly. They hit their peak with Monkey Riches, Brother Sport and then Peacebone. At the end of Brother Sport they just started shouting into the microphones in an intense, hypnotic way and the crowd completely lost control. I have never seen anything like it during a live performance. It was absolutely nuts! Everyone just started jumping and bumping into one another, but not in an aggressive way, in a connected, joyous way. After the peak was over we all looked at one another in disbelief. The encore included Cobwebs and My Girls, which were enjoyable and a good come down. Immediately after the show ended we spotted Saph standing toward the back of the crowd! Apparently he had found his ticket rather quickly and hadn't missed any of the show! We were so happy to hear this because missing this experience would have been terribly unfortunate. After the show we played the human pretzle game with some other random people before we were kicked out of the ballroom. Once on the street we happened to meet three incredibly unique people named Marissa, Nathaniel and Andrew. Andrew was wearing a psuedo-NASA uniform and was congradulating all of the show attendees on doing an awesome job of making the show so awesome :-) Nathaniel had a strange air of knowing about him, and Marissa was beautiful and open-hearted. We chatted with them for a bit outside the crystal but then decided to walk together to their car and spend more time connecting. Ever since SOAK I have felt an ability in myself to identify like-minded individuals in my environment. While I feel that it is important to reach out to and connect with people of all walks, it is very joyous and energizing to have frequent contact with people on a similar path. For me, this experience was just as remarkable as the Animal Collective show itself.

A few days later, Saph and his girlfriend Jesse, Janel and her best friend Rena, and I went to see the movie Samsara at the Fox Theatre in downtown Portland:




The movie is the spiritual successor to the movie Baraka which was made in 1992. They both employ a non-narrative style, without characters or plot, per se. They are simply scenes shot, with music but without commentary, around the world. For the viewer who is properly engaged, the mind creates a narrative of its own, and the beauty is awe inspiring. I found Samsara to be even more beautiful than Baraka and perhaps the most beautiful movie I've ever seen. I have included it in my top tier on my Movie List. After the show Saph pulled me aside to give me a gift. It was completely unexpected, but he had create a wire wrapping for me as a thank you for taking him to the Animal Collective. I was dumbstruck. Here's a couple pictures of this beautiful work of art: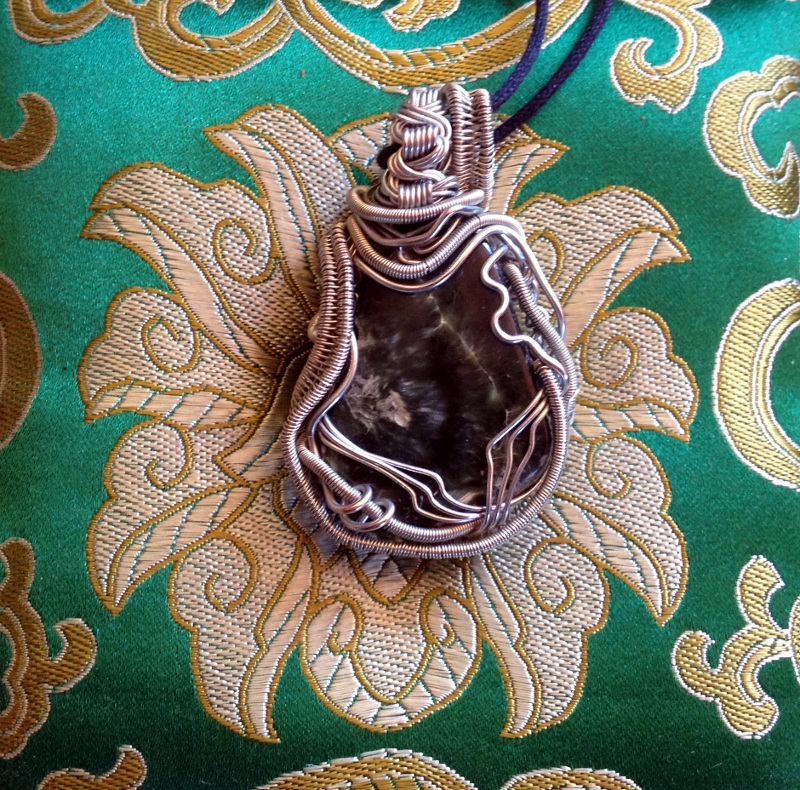 The stone is Seraphinite which happens to be green, my favorite color. Awesome, no? Speaking of cool possessions, in addition to the piece that Saph gave me, I also ordered a couple of exotic musical instruments online that arrived a few days later. The first is a hand pan, like the hang (which you may have heard or heard of) but not so difficult to come by. It's a Bali Steel:




So it doesn't quite sound as awesome as a Hang but I figured it would be a good practice instrument. Here's a video that I took of myself tooling around on it not long after:



In addition to the Bali Steel I also managed to acquire a Zen Tambour. This instrument has become so cherished by Janel and I that we refer to it as our 'baby'. Here's a look:




In addition to being beautiful looking, these are beautiful sounding as well. Their light timbre and long sustain make them very soothing and perfect for relaxing gatherings. Here's a video by the maker that demonstrates their sound:



After spending a few weeks with both instruments I decided that I really enjoyed the Zen Tambour and Bali Steel but with my Dulcimer (which I still loved) I realistically wasn't going to find time to play all three instruments. In the end I decided to sell the Bali Steel. It was both the most expensive and the least engaging instrument for me. Maybe sometime in the future I will decide to get another hand pan, but for now I am content. The last cool possession that I will mention was the purchase of a MojoSac. These are basically massive bean bags filled with memory foam (a la the LoveSac) that can fit two or three people. They are perfect for cuddling or watching a movie and for both of these reasons the one that I got fit right in at my condo in Vancouver.
Double Beacon
Strangely I had yet to make it over to Beacon Rock to climb this year. Although this is arguably my favorite climbing area in Portland I hadn't had the right combination of circumstances to make my way over there. I spent more time at Ozone and on distant climbing trips as it turned out. Yet, with Janel learning to climb I figured that a trip up the 6-pitch 5.7 SE Corner Route might make for a nice outing. Since it was a Thursday I didn't expect to find anybody on the route but when we arrived we found a party just starting their climb. This upset me a bit but I soon realized that they were competent climbers and would probably outpace us anyway. Once we got started on the route it was a blast. I still wasn't feeling too confident in my head but since it was a 5.7 it didn't matter too much. It was really fun to share the experience with Janel and the weather was absolutely gorgeous. Here's a look at the gorge from the side of the rock:




Once we finished we hiked down and grabbed a nice happy hour feast at McMenamins on the Columbia near my place. We earned it! A couple of weeks later I ended up climbing the same route with Jared. We had been a bit distant since the end of Burning Man so it was nice to be able to do something like this to reconnect. Here's a picture of him on one of the easy later pitches:




So as it turned out I made it over to Beacon twice before the end of the climbing season. Although I didn't climb any of the classics that I thought awaited me there I had a great time nonetheless.
Wine Tasting
One Saturday in late September Janel and I decided to go on a Willamette Valley wine tasting tour with Janel's parents. I had yet to visit any of the wineries in the region so I was really looking forward to it. For those of you who don't know, the Willamette Valley is Oregon's premier wine region and is famous for its Pinot Noirs. I was interested to see how the wine tasting experience differed from my two times in Napa. As it turned out, it wasn't all that different. The wine was highly variable in quality but incredibly good at its best. This was consistent with Napa. The cost might even have been a little higher here in Oregon but I figure that might be due to decreased traffic. The first vineyard that we visited was called Aramenta Cellars:




Since it was the first stop I had nothing to compare it to and we thought the wine was quite good, or at least some of it. As we later realized, this may have been the weakest winery on our tour! The next stop was Trisaetum:




The wine here was really good but very expensive. We also didn't get much attention from the establishment so it wasn't a particularly intimate experience. After Trisaetum was the WillaKenzie winery, named after the Willamette and McKenzie rivers. Here's a look:




This winery was on a beautiful and large piece of land. Inside the tasting room was very busy. They seemed to be preparing for some kind of event for their tasting club. As a result we once again didn't get too much attention and had to fend for ourselves. The next stop was Lenne: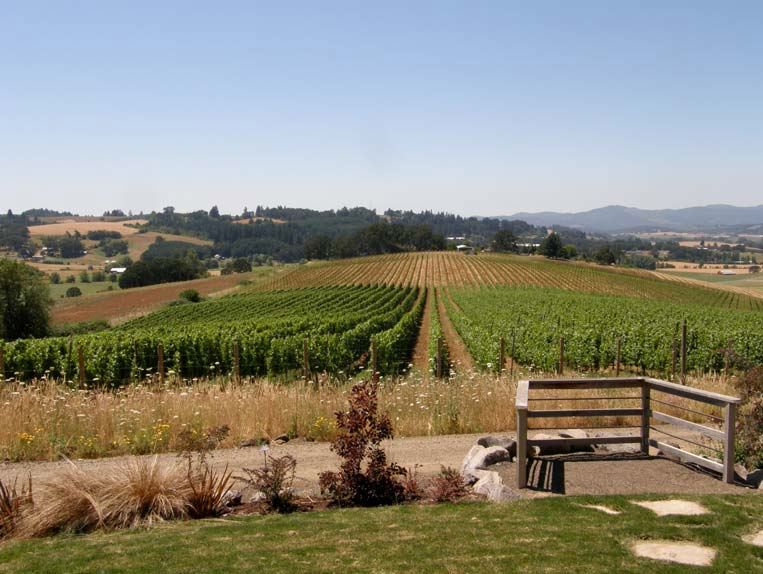 This winery was a strong contrast from the previous two. Instead of a sprawling estate it was a much more modest size. The tasting room was a small rustic house instead of a large modern building. And, most importantly, we were the only ones there so we enjoyed incomparable service. We sat at a table on the porch overlooking the vineyards and sipped our delicious wine for a bit longer here before moving on. The final stop turned out to be Laurel Ridge:




At most of the wineries we'd been to thus far, the tasting volumes had been consistent and minimal. This was perhaps the area of greatest deviation from Napa, where there were at least a few wineries that were very liberal in their pourings. This trend stopped at Laurel Ridge. The representative assigned to our service was loquacious, genial and generous. Although the wine was not of terribly high quality it was inexpensive and on par with some of the better wines we'd had elsewhere that day. We ended up getting a couple of bottles from here and leaving quite content.
Miscellany
In the next few weeks there were lots of small yet important things going on. I decided to have LASIK done (based on Jared's success) and scheduled my appointment for November 1st. I hurt my shoulder again climbing at the Circuit. It wasn't anything in particular but after leaving one day I developed a deep pain and soreness that wouldn't let up. It took a few weeks to heal and left me scared once again... Janel and I went to the Reel Rock Film Festival at the Bagdad theater in Portland. It was amazing as usual. The two movies that were the most ridiculous this time were one called La Dura Dura showcasing Sharma and Ondra trading leads on a new 5.15c project in Spain and another about the recent exploits of Alex Honnold which are just getting absurd. This time he soloed (with some aid) Mt. Watkins, Half Dome AND El Capitan in one day. He also recently broke the speed record on the Nose with Hans Flourine. Crazy. I wrote a short poem about Idyllwild:

Awaken - meditation: awakening. Hot tea and a hug. Snows fallen.
My quiet workshop. Time whittled away. Work is peace and purpose.
You coming to me. Are we me or we? Connection on all sides.
Growing teacher, growing tree, growing free. Idyllwild.

I fit a quick two-day trip to Sacramento in there somewhere. In my hotel room at night I caught an episode of Ted Nugent's Gun Country on the Discovery Channel. I honestly cannot describe the confusion I experienced watching this show. If this kind of programming is what we're consuming these days (let alone feeding our children) then mainstream america is truly, absolutely fucked. A few days later, back in Portland, Janel and I finally broke the news of her post-Burning Man plans to her parents at brunch. They were very supportive and although they didn't get the entire picture right away I felt they would understand in time. Later that day I went to do a hospice visit and locked my keys in my car. Ouch! That night Janel and I dressed up in our favorite Burning Man costumes for her roommate's Heaven/Hell birthday party. At the party I met Evan and Justine, two really amazing people that happened to live in Vancouver, like me! Evan is really into dirt bikes and offered to take me out riding whenever. I am super excited to get more time on the KTM, which I as yet haven't had a chance to ride at all this year :-/
The Great Canadian Road Trip
The day after the party my longtime friend Jon Stover arrived in Portland. He and I had planned a very ambitious road trip through Canada for the week ahead. It was ambitious because in October you can usually expect lots of snow and ice in regions that far North. We planned to take a rental car and we didn't even have chains. Would my luck hold out and let us get through such a trip without any issues? We'll see! Here's a map of the planned trip so you can see just how ridiculous it is: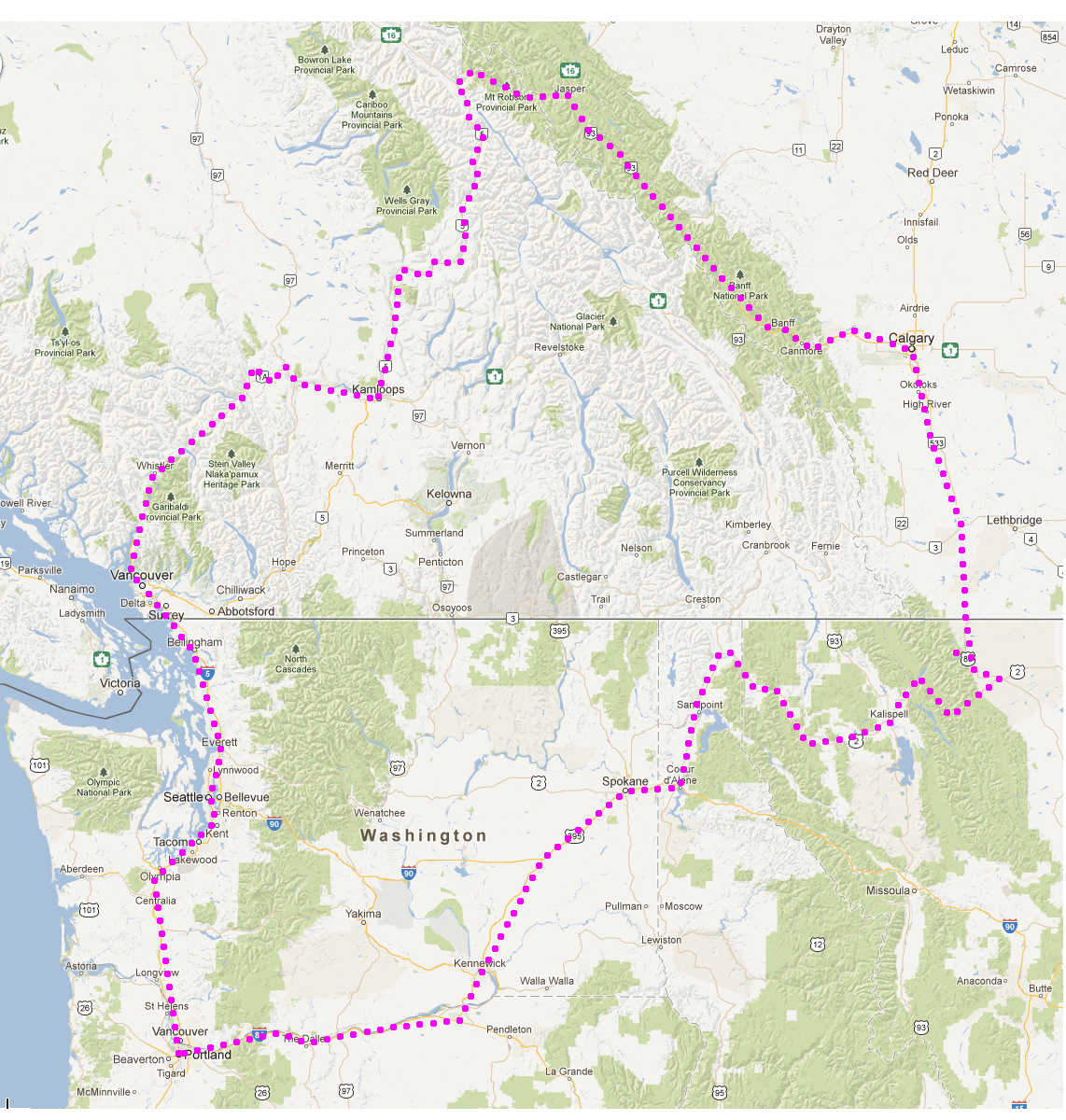 We still had a day to explore Portland before we left so I took Jon to Kirtan at the Bhaktishop (which was wonderful) and then to Cascade (which was awesome as usual). Afterwards we returned to Vancouver and packed for the trip. The next day Jon had some work to finish up while I got victuals from Fred Meyer. We left around noon or 1 for Seattle. The weather decided not to cooperate that day and we hit quite a lot of rain. This was only natural for the NW, however, and Seattle looked very much typical:




Jon wanted to explore the famous Pike's Place Farmer's Market so we drove directly there and snagged a pseudo-legal parking spot.




While in the farmer's market we picked up some more food for the road. Our next stop was across the border in Vancouver. Crossing the border was fun as usual but this time they didn't require me to get out of the car. Yay! Since Raf was occupied in the early evening Jon and I went to Foundation together to grab some food. Afterwards we chilled with Raf a bit before bed. I was feeling really allergenic so I kept to myself mostly. I had actually met Raf through Jon when they were both in grad school at UPENN so they had lots of catching up to do. The following morning the three of us went on a walk along the waterfront near Raf's place to Granville Island. Here's a look at the fall color in Raf's neighborhood: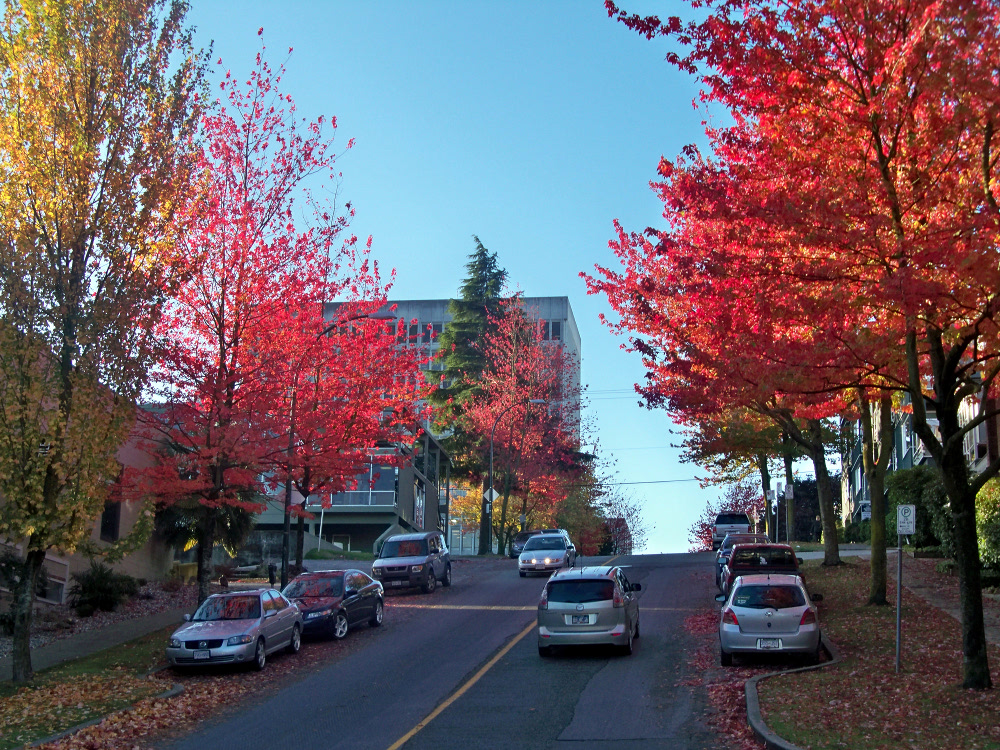 As you can see the weather was much nicer then. With the sun out Vancouver was gorgeous. Here's a shot looking toward downtown from the park on the water:




A close up of some of the residential highrises:




After exploring Granville for a bit we returned to Raf's place to say goodbye. We then jumped back in the car to head North out of town. This would take us through Stanley Park where we got out for a quick walk. This picture is downtown Vancouver from the perimeter of the park:




In this part of the park we found some kewl totem poles:




We crossed the Lion's Gate Bridge and got on the Sea to Sky Highway toward Squamish. Stover had never been this way before and was pretty blown away by the beauty. I told him lots of stories about climbing on the Chief. As we approached Squamish we took a quick detour to check out Shannon Falls:




We then made the obligatory stop at the Howe Sound Inn and Brewing Company. I am convinced this place has the best beer in Canada:




Here's Jon tasting his flight:




After having a few drinks and taking a short walk we continued North. The mountains quickly gained an impressive height:




Jon and I made a habit of stopping at pretty much all of the vistas and points of interest along the highway. Here's a look across Daisy Lake, a few miles North of Squamish:




Not long after leaving Squamish we found a trailhead with a quick jaunt to a small lake with the view of a glacier. This was to be the first of many, many glacier sightings on this trip. Here's the lake with a splash of the turquoise color we would fall in love with: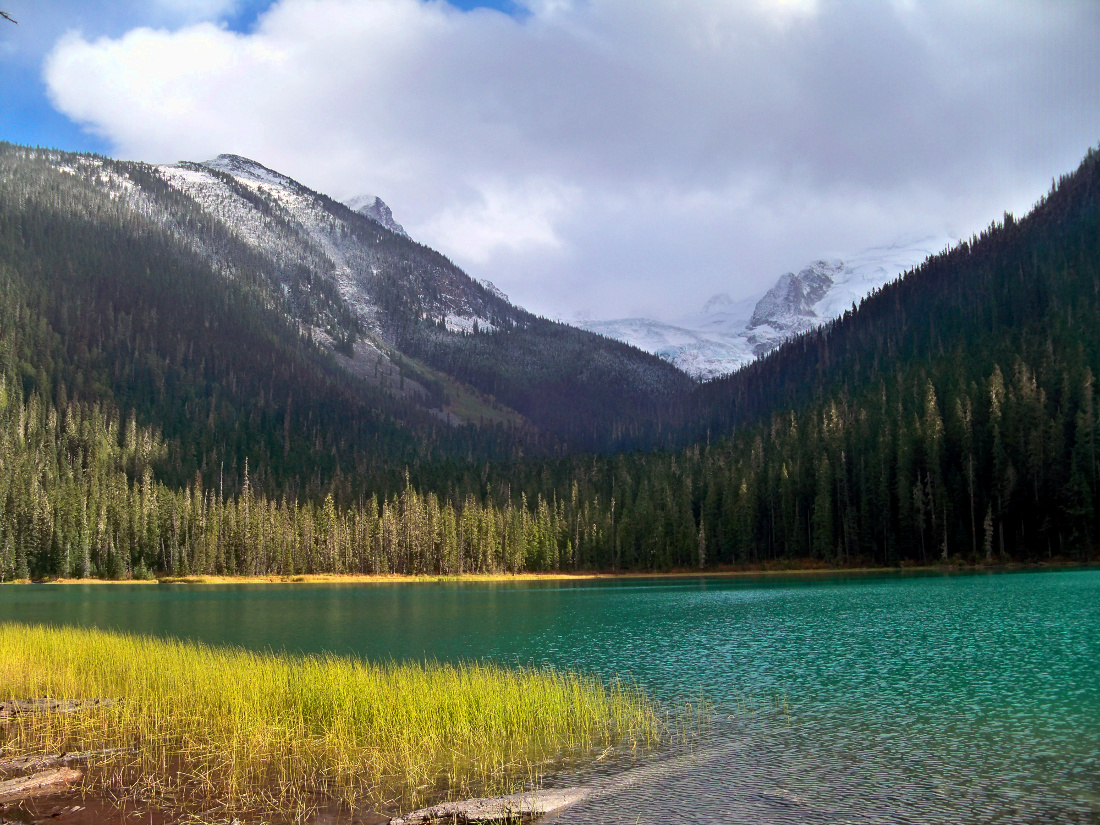 There was a beautiful arching pine tree leaning out over the lake:




And, of course, a shot of the glacier in the distance:




Further up the road we passed through Whistler (without stopping) and travelled toward Pemberton. Pemberton sits in the middle of a valley in the Garibaldi mountains. Before coming down out of the mountains we caught sight of a few particularly impressive peaks: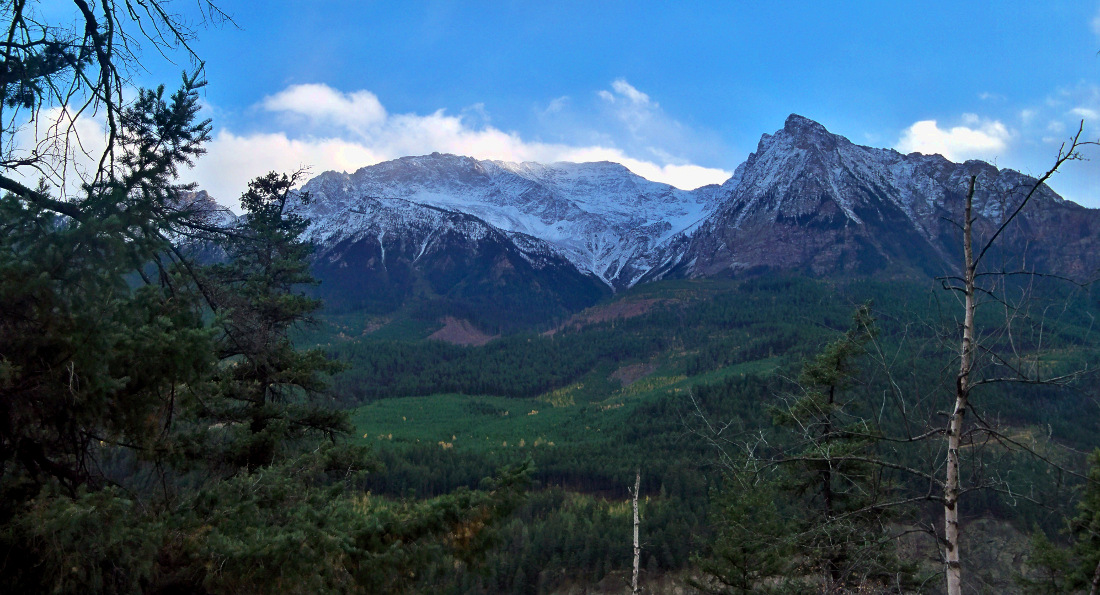 And looking North towards a glacial lake there was a beautiful scene as well:




After we passed through Pemberton the scenery got progressively less beautiful as we approached Kamloops, our destination for the evening. In addition to having an incredibly strange name, the city is also a very depressing place. Surprisingly it is home to over 60,000 people! Jon and I secured a hotel room (we didn't book any hotels in advance on this trip) and then got some decent mexican food in town. We got to sleep pretty early since we had a long way to travel the next day. In the early AM we left for Jasper, Alberta. The weather turned out to be beautiful, much like the previous day. Early in the morning we spotted a black bear and her two cubs crossing the highway. We only got one cub in this photo:




It was really amazing to be on the road during sunrise. Here's a shot of the sun cresting a hill as the morning fog lifts off of the lakes in the valley below:




Another sunrise picture:




As the day progressed we continued to approach the Canadian Rockies. The mountains in the distance grew in size and the fall colours increased in intensity. Here's one of the most beautiful shots I've ever taken, right from the side of the highway:




This picture was taken from the same spot, but looking back toward the way we had come:




Further on we approached the first truly massive peak, Mt. Robson:




It was so tall that the top was obscured in the clouds. Another couple looks: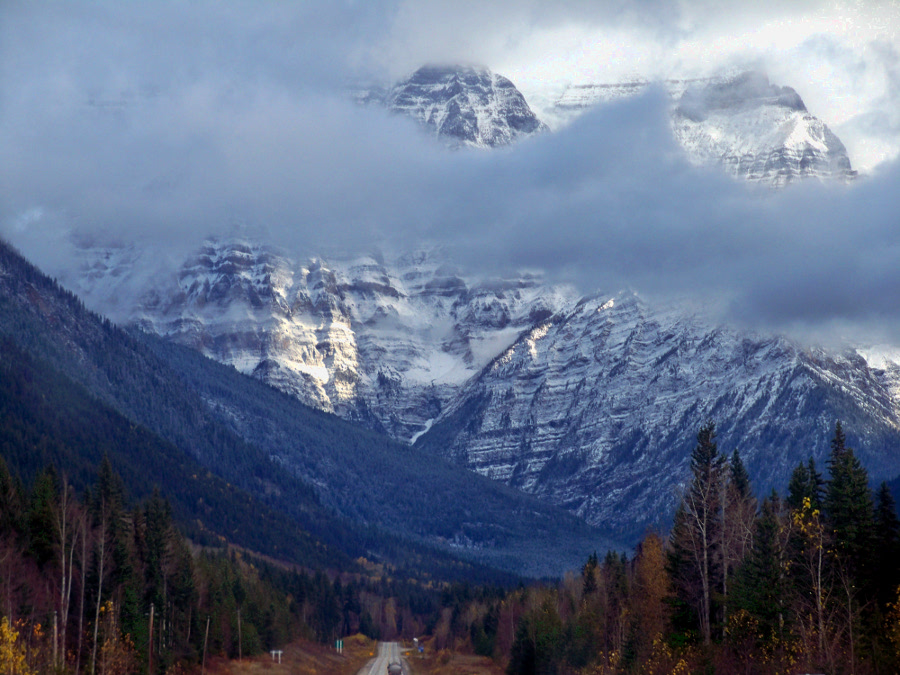 I'd never seen such intense, aggressive mountains as this. I'd also never been on such an amazingly scenic drive before. The scenery just off the freeway was unbelievable!




One mountain that we found really remarkable was completely isolated. We nicknamed it Penis Peak: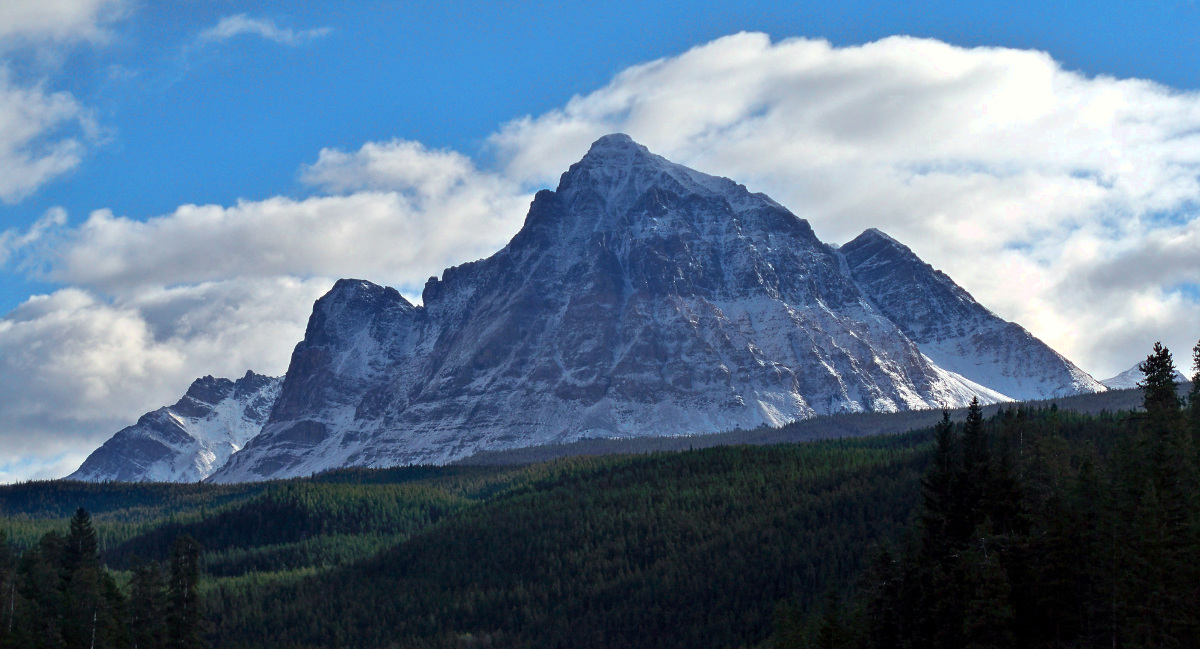 Not much further than this we arrived in Jasper. It was still the early afternoon so we decided to enter the park. Here the beauty became so great that it cannot possibly be captured on camera. The range that bordered the road was called (in all seriousness) the Colin range. Here's me discovering it:




Unreal, no? At the base of the range was medicine lake:




As you can see, this area is cold in October. Here's another shot of Medicine Lake:




And the mountain at the far end:




As we traversed the road adjescent to Medicine lake, we found a car that had been accosted by a bunch of wild goats looking for salt:




At the end of the road is Maligne Lake. There's a lodge there but it was closed for the season. Jon and I decided to explore a bit so we parked the car and took a walk along the lakeshore. Jon had picked up a goofy hat in Kamloops and here's a picture of him wearing it on the shore of the lake: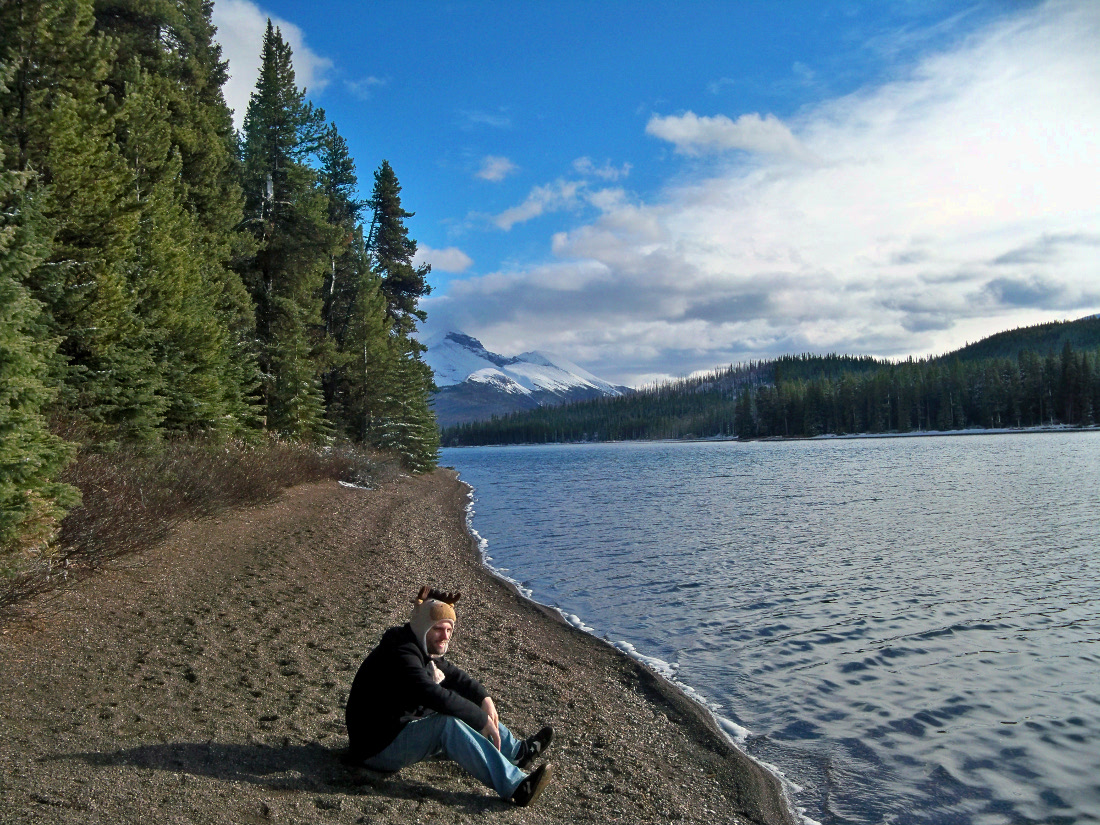 The lake was truly stunning and deserved its reputation as one of the most beautiful in the rockies. Personally I think it is one of the most beautiful places I have ever been. Here are some pictures of increasing beauty of this magical place: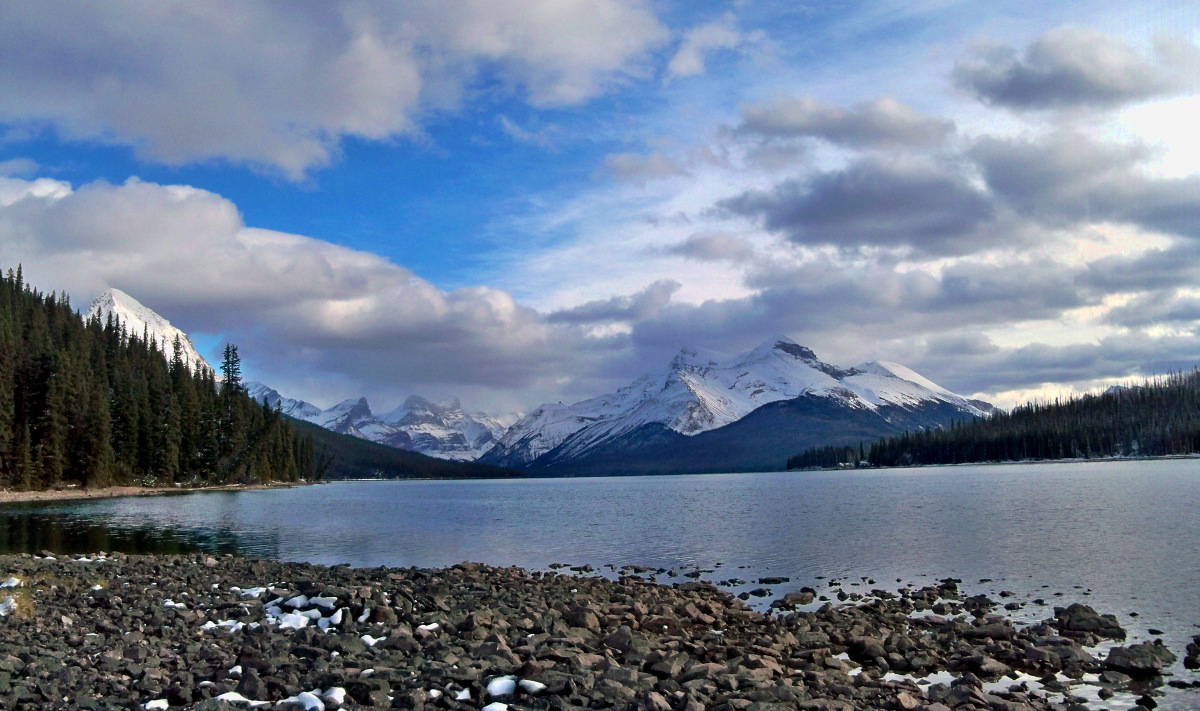 Are you speechless yet? Part of me wonders how it was that we had stumbled upon this place in such a time of year with such amazing weather. We were literally the only people around for miles. How few people get to experience this place in this condition? We were as far North as the northern tip of Scotland and it was October, and yet here we were with scenes such as this. Wonderful! To top it off we had some amazing animal encounters on our adventure that evening. We got to see a moose from a distance and a rare grizzly bear up close (fortunately from within the car). After such a long day we were desparate for some accomodations. We tried the Maligne Lake Hostel but it was closed on Wednesdays (what?). On a whim we stopped at the Jasper Park Lodge on the way back to town. This four-star rustic resort normally rents rooms at $300/night but sizing us up, the man at the front counter clearly identified us as poor types. Stover managed to haggle him down to $80 and we were ecstatic to finally be able to relax for the evening. Here's a shot of the lobby: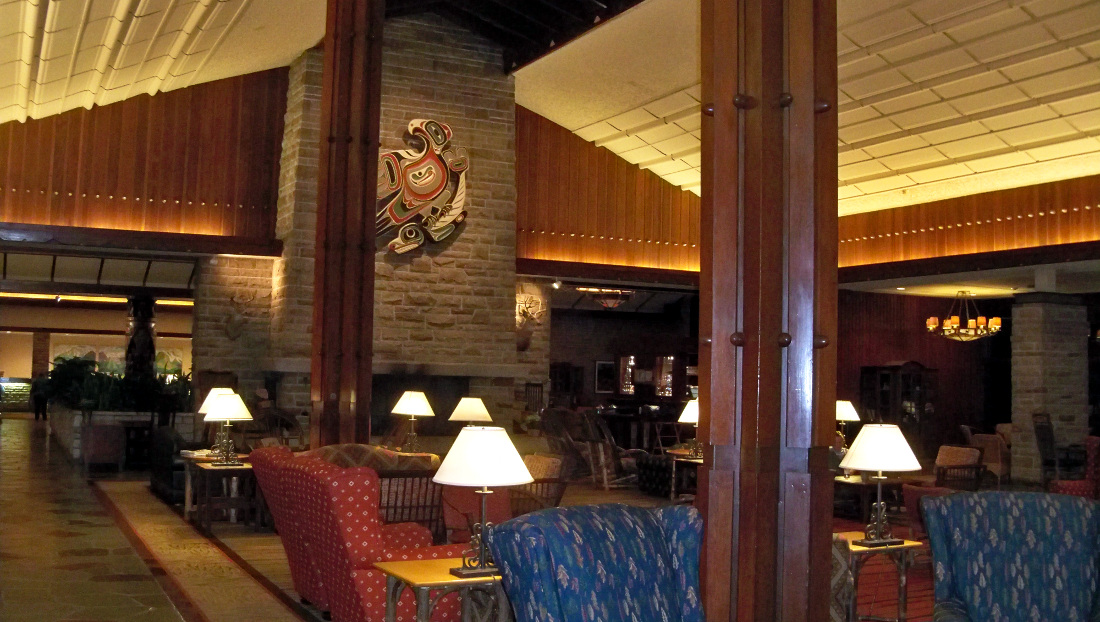 As you can see, the decor is quite highbrow. The other folks that were staying here seemed to be pretty upper class and didn't really appreciate Stover and I as dirty as we were. This didn't bother Jon at all, however, and he proceeded to have his way with some of the bears in the lobby:




This humour reminded me of some of Zach's antics in college and I found myself struggling to endure the intense clash between the behavior and the societal norms. Definitely out of practice! The next morning, refreshed, we decided to do a short hike at Maligne Canyon. Unfortunately the canyon was far less beautiful than the lake, but still work seeing. Here's Jon on the trail above the canyon:




And here's the entrance to the canyon: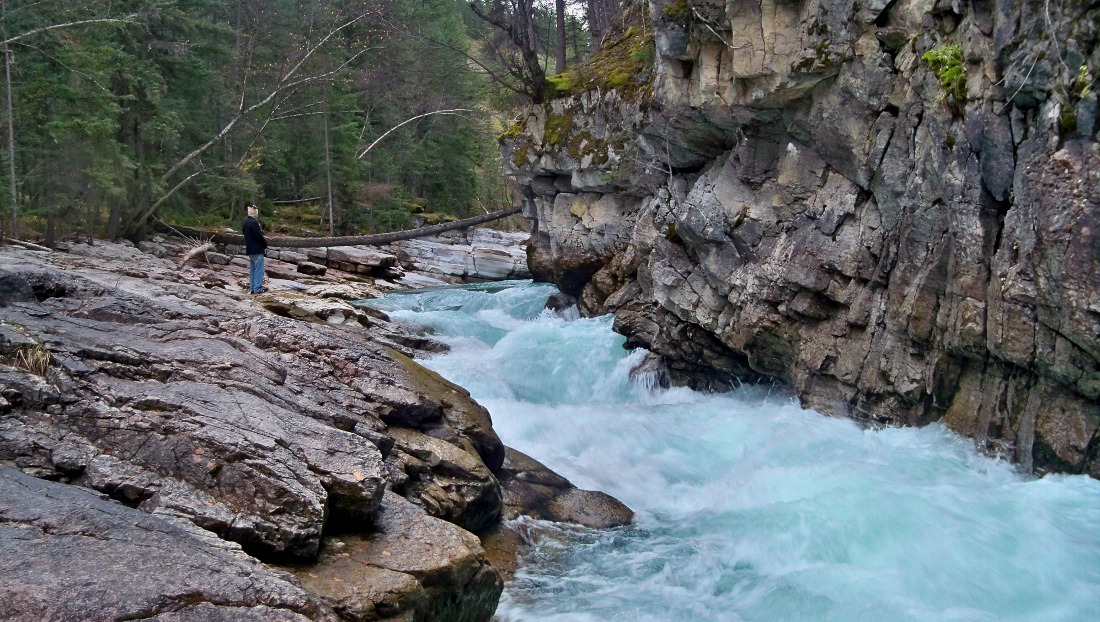 Further up we found this cool waterfall coming out of the woods:




And here's the canyon at its highest and narrowest point, from above: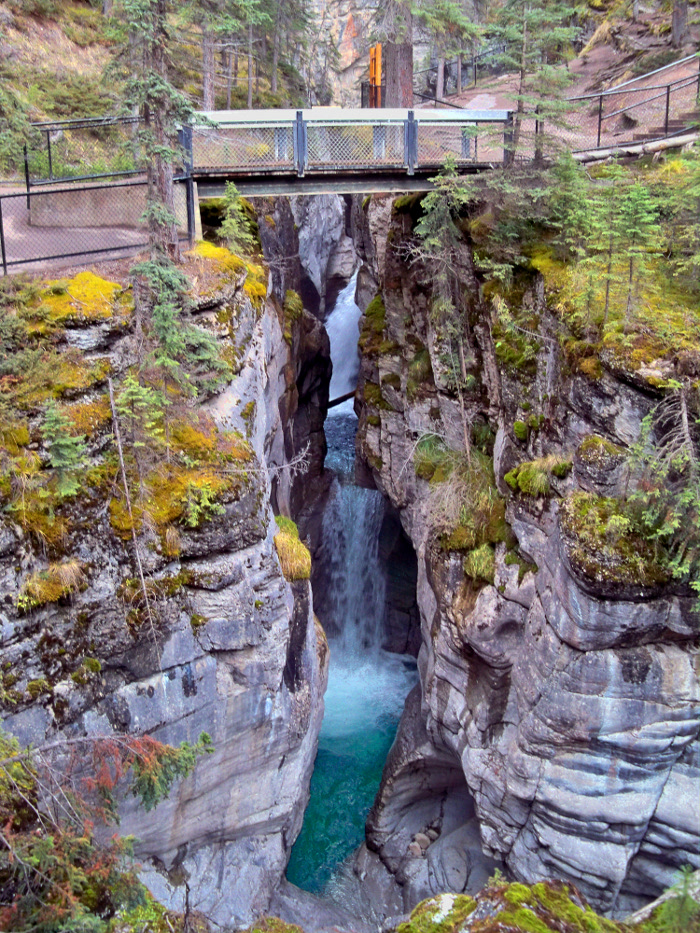 After our hike we left Jasper for the drive South on the Columbia Icefield Parkway. This road is considered by some to be the most scenic drive in North America. We were skeptical since we had already seen so much beauty, but soon we were believers. The road runs South from Jasper but continually gains elevation until it reaches the Columbia Icefield where there are many glaciers. It then descends towards Lake Louise and Banff. Here's a shot of the scenery to the West at the beginning of the parkway. Already very beautiful:




And here's looking Southwest:




As you can see the weather was cooperating (amazingly) for yet another day. Here's a look at one of the large, strange mountains looming over us to the East:




Not far along the parkway we crossed a ravine that had a beautiful river running through it. We got out to take a look and noticed a tree perched precariously across the gap:




If you look closely you'll notice that the ledges that the tree is resting on are quite small. Further down the parkway we entered the snow zone. Here we noticed an interesting looking mountain with terraced layers of trees:




Another hour or so later and we finally reached the Columbia Icefield. This is a place where no human should be able to go and survive. The temperature and the wind made this frozen tundra almost unbearable: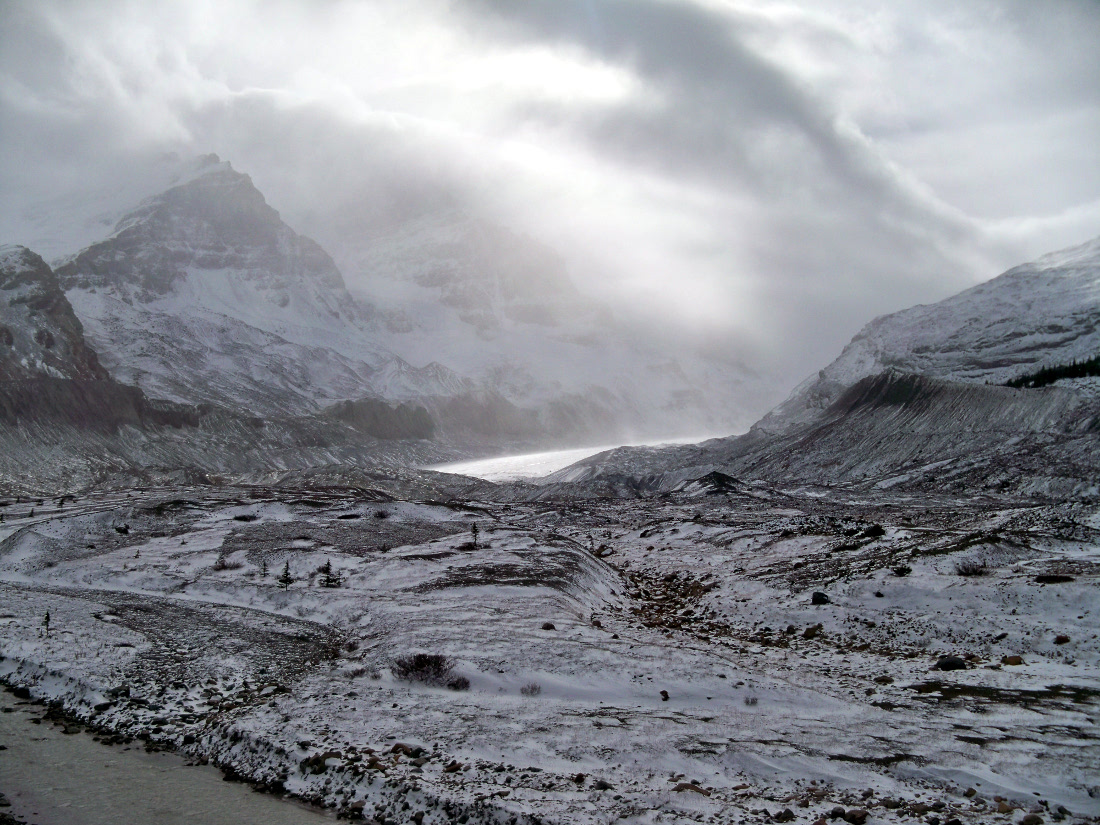 In the distance you can see spiralling plumes of snow from the violent winds. You can also make out the glacier. Here's a closer look:




We found a visitor center nearby and were incredulous to discover that they offered tours ONTO the glacier! They had these indestructable terrain crawlers that they repurposed as tour buses to take tourists onto these frozen tongues: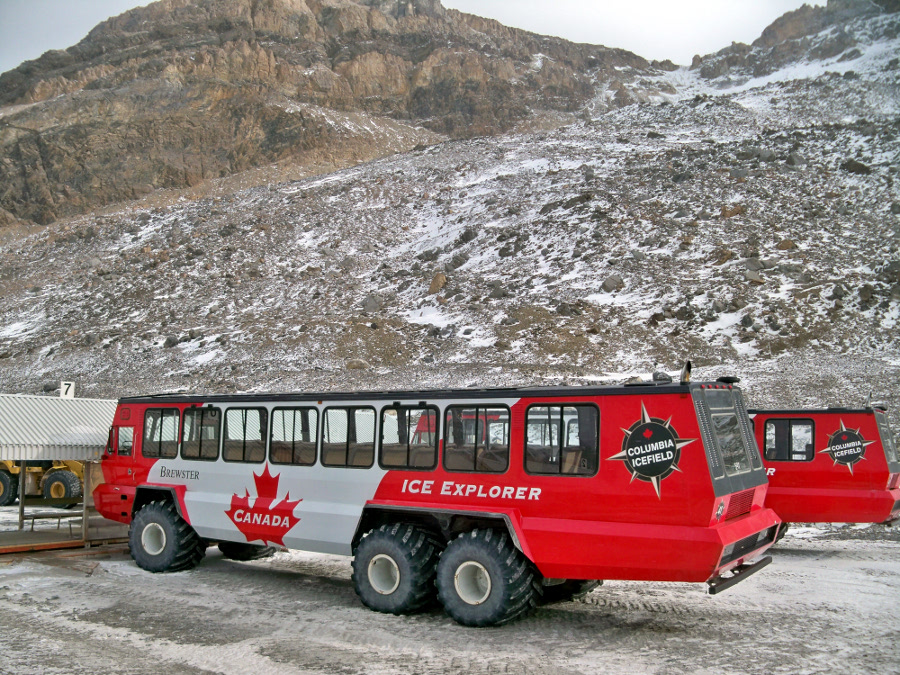 Of course we couldn't resist and we signed up for the next tour. Here's a picture I took from the moving crawler as we descended a 45 degree slope onto the glacier:




When they let us out the conditions were abysmal. The sub-zero temperatures and 40mph winds prevented all but the most daring from leaving the 'bus' that day. Even those who left stayed within the designated area, except for Jon and I (of course). We decided to explore a bit. The wind was so intense that if you jumped up in the air, you would land in a different spot. Here's a shot of Jon running against the wind:




Here's a closeup picture of the glacial ice:




The transluecent ghostly blue hue doesn't really come out in the photo. Oh well. Within the designated area they had planted a Canadian flag for photo ops. We took advantage:




Once we had had enough of the freezing cold, we retreated to the crawler and returned to our car to continue on the parkway. Further up I snapped this picture of the side of a mountain:




If you'll notice, those black/green specks on the right side of the picture are actually trees. Talk about epic terrain. In another hour or so we arrived in the small town of Lake Louise. We located a beautiful hostel in town and booked ourselves a couple beds. The place was so nice that it might have even topped our previous night's stay as our favorite of the trip. We chatted with a few other travellers and played some chess before bed:




The next morning we decided to do a hike up to the glacier that sits above Lake Louise. There was reportedly also a tea house high in the mountains on the trail that we wanted to check out. Here's a picture of Lake Louise itself:




There's a large resort right on the lake and it caters to wealthier vacationers. We definitely started noticing a trend that as you head South through the rockies from Jasper the establishments become more and more highbrow. Anyway, here's a shot of John beside the lake at the start of the trail:




The conditions weren't ideal for a hike that day and it was snowing quite a bit. We only passed one other person on the trail, who had decided to turn around since visibility was so poor. We persisted and fortunately things did improve somewhat. Here's a look at the canyon walls a few hours into our hike:




There was a lot of snow that had already fallen and more was falling. This is a crappy picture but it gives the idea of how much snow was on the trees:




At the end of the hike we reached our glacier. It emerged from the narrows of the canyon further up where there was a fog of snow and debris from a recent avalanche:




While Jon and I were on our return hike there were two avalanches that both shook up a lot of material into the air. Fortunately we weren't close to the path of either. Here's a look at the ominous rock outcropping at the end of the hike: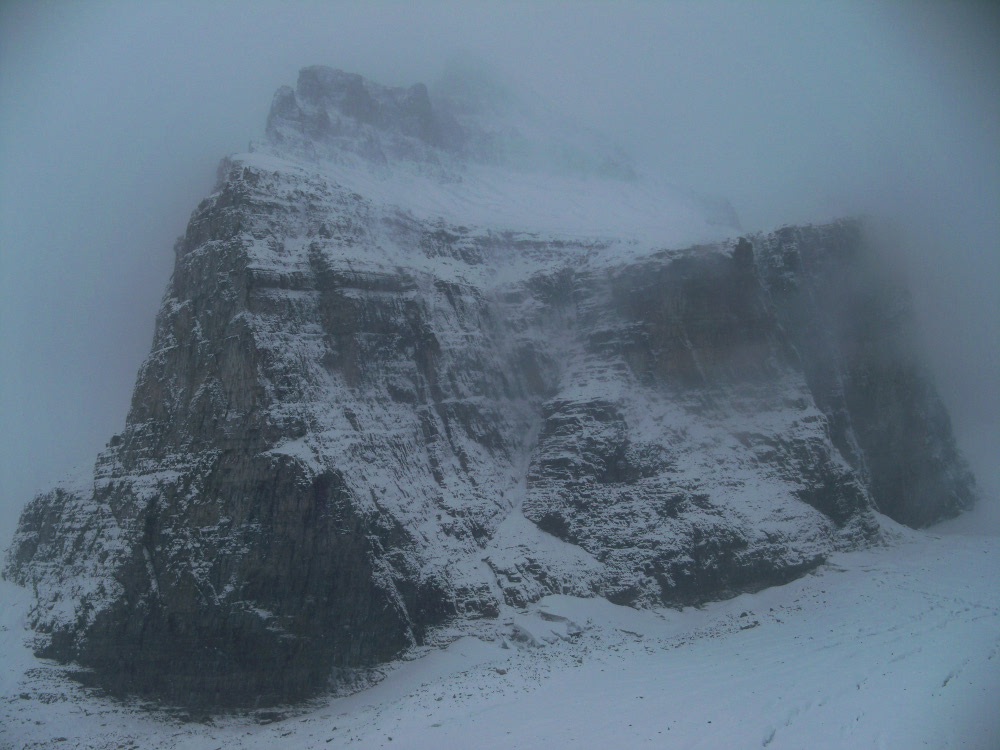 Here's a look along the morraine towards the way we had come:




On our hike up we had taken the trail which runs along the canyon side to the left of this photo. Since it looked so neat, we decided to walk along the ridgetop of the morraine in this photo on our way back. It was a very narrow ridge top and there were severe falls on either side. Here's what it looked like on top:




Here's a shot of the end of the glacier on our right:




After we had been going for some time on the top of the morraine it began to get really precarious. You had to walk on your hands and knees and even then you needed to hold onto the earth and rock to keep from sliding off the side. Jon decided to retreat and descend onto the canyon floor rather than chance it. Here's a shot I took of the path I'd come after we had split ways for a bit:




The yellow dotted line is where Jon and I had hiked together and it turns purple where he split off. After hiking quite a bit futher I started worrying about Jon. I didn't see him down at the canyon floor below and the morrain wasn't ending anytime soon. I decided, at a point where the angle on the right lessened slightly, to attempt to glissade down the slope to the canyon floor to look for him. I didn't have anything good to glissade with so I just slid on my butt and used my legs and arms for friction on the snow. I caused a few minor rock tumbles and narrowly avoided an uncontrollable skid at a few junctures. In the end I was fine but still saw no sign of Jon at the bottom. I figured my only option was to head up canyon and look for him. As I walked I started getting really worried. I was almost certain he'd had an accident while descending from the morraine and all sorts of scenarios played out in my head. Soon enough, though, I'd spotted him, but much futher up canyon than where I'd expected. As it turns out, he did have an accident. He had fractured and dislocated a finger while descending the morraine. Ouch! Fortunately this didn't affect his mobility and we continued on our journey back down to Lake Louise. I took a picture a bit futher down the canyon floor to show the sort of terrain we were navigating:




Even though this looks like a nice area, there were many boulder fields (notice behind the near trees is one) and there were many icy watercourses crisscrossing the landscape. We had to scramble a bit which wasn't easy for Jon in his condition. Spirits remained surprisingly high, however, and soon enough we were once again close to the lake:




After the hike we jumped in the car and took Jon to the local doctor. Since we were americans they asked for $100 to cover the cost of the visit. They didn't have an X-ray machine at the office and without it diagnosed the fracture but somehow missed the dislocation. They splinted the finger which we later found out is the worst possible thing to do to a dislocated finger. It should have been set. Jon is (months later) suffering some complications due to this mistake on the part of the Lake Louise clinic. After the clinic visit we struck out South toward Banff. The scenery along this stretch of road was also beautiful. Here's a shot of a mountain we termed Mouth Mountain for its gaping mouth-shaped cave on the right side:




Around the time we noticed this mountain we realized that I had left my jacket at the clinic back in Lake Louise. Typical Colin move. It took us 90 minutes to retrieve it and fortunately they were still open. Once this mishap was corrected we continued and approached Banff as the sun was setting. Looking back the way we'd come: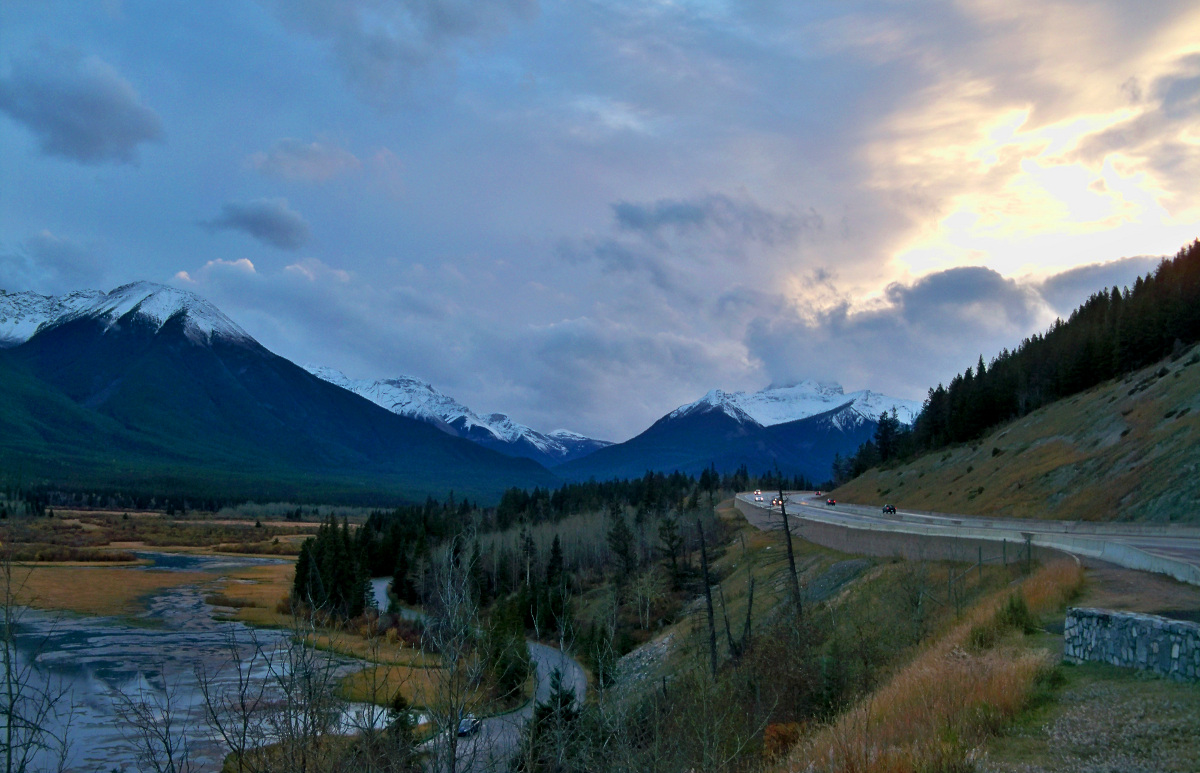 And this view is to the East toward Banff:




We were excited to arrive at Banff because we had heard great things about the hot springs there and our bodies were super sore from the hike. Unfortunately the pool was closed for maintenance and wouldn't open for a few days. The flow of the spring was impressive, and we were able to watch as it flowed from the earth and down a man-made slate causeway:




The town of Banff was another step up from Lake Louise in terms of resortiness. It actually felt a bit awkward for us, coming from the more down-to-earth Jasper and the hostel in Lake Louise. Here's a look at the main strip:




There was even a small mall with a food court. We grabbed some Thai here:




After eating we started trying to locate a place to stay. There were dozens of lodging options in the town but they were very pricey. We ended up going to the last place on the left before leaving town. It was modest and clean and had wifi which is all we needed. The next day the weather really took a turn for the worse. Fortunately we were on our way out of the rockies. We had officially crossed them! At around 11am we arrived in Calgary. It wasn't a very interesting city so we decided to just grab lunch and not explore too much. Here's a couple pictures of the main walk-street area in the city: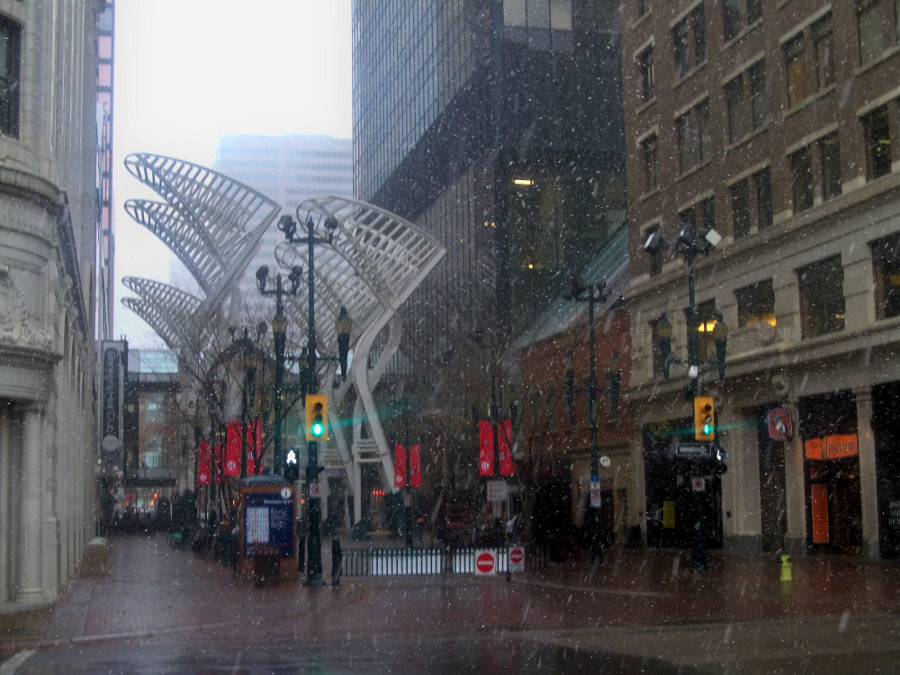 On the bottom right of the second picture you can see an orange sign for the Unicorn Pub. We decided to eat here. It was a comfortable little basement bar and the food was good:




They had some local beer (Big Rock) which Jon and I had read about online and were looking forward to. As with most canadian micro (with the notable exception of the Howe Sound Brewing Co) it was terrible. Getting out of Calgary was a bit of a hassle but soon enough we were heading South toward the US border. After crossing at one of the most laughable and sparse borders I've been to we entered eastern Montana. Near the border there was a train shop that we stopped at. Apparently Jon's uncle was into trains and he wanted to pick something up:




Not long after we arrived at the East entrance to Glacier National Park. We knew that the 'Going to the Sun' road, which is the most scenic way through the park, was closed for the season. However, it was closed after about 13 miles, which turned out to be the most scenic part of the road anyway! So we decided to do the 13 mile GTTSR there and back. Here's a shot of the road just after entering the park:




Soon enough the road started running along Saint Mary Lake:




This lake is famous for being encircled by peaks and for having a small picturesque island (Wild Goose Island) in the center. Here's a picture of me discovering it as a storm rolls in:




Another shot of the lake:




Further up the road the colors of the foliage were really amazing. There were reds, yellows and greens all blended in together: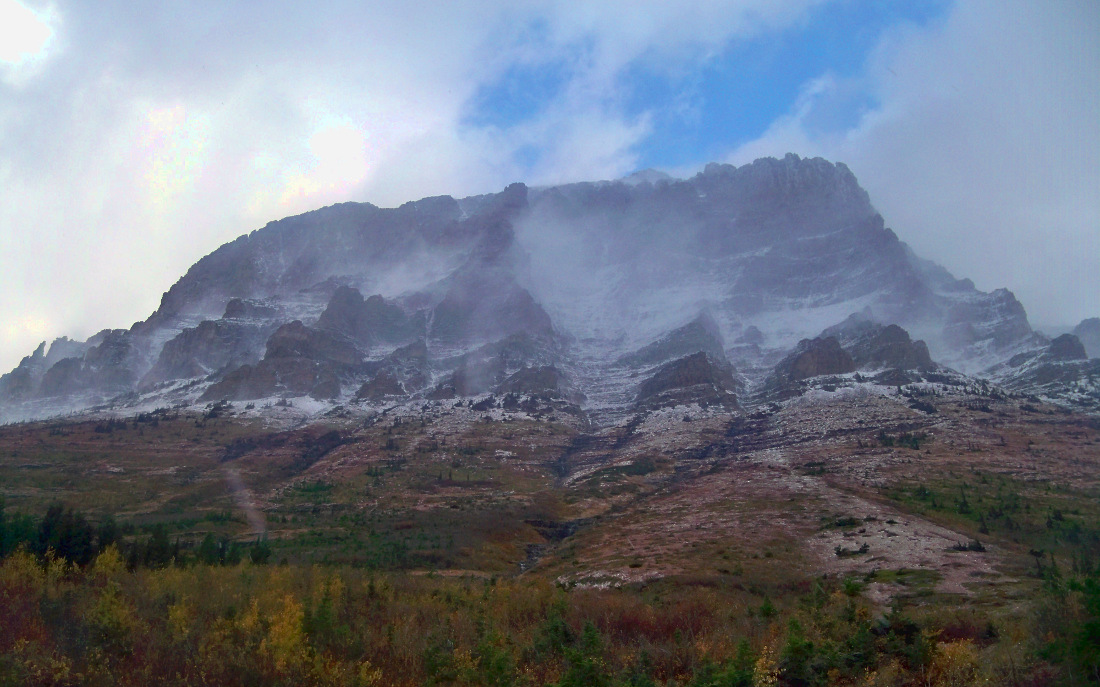 Not long after this spot we were forced to turn around. On our way out of the park we captured this picture which highlights the beautiful contrasts that can be found this time of year:




After exiting the park we turned South again to meet up with route 2, the only open road through the park. On our way down we could still see the high peaks of Glacier to the West: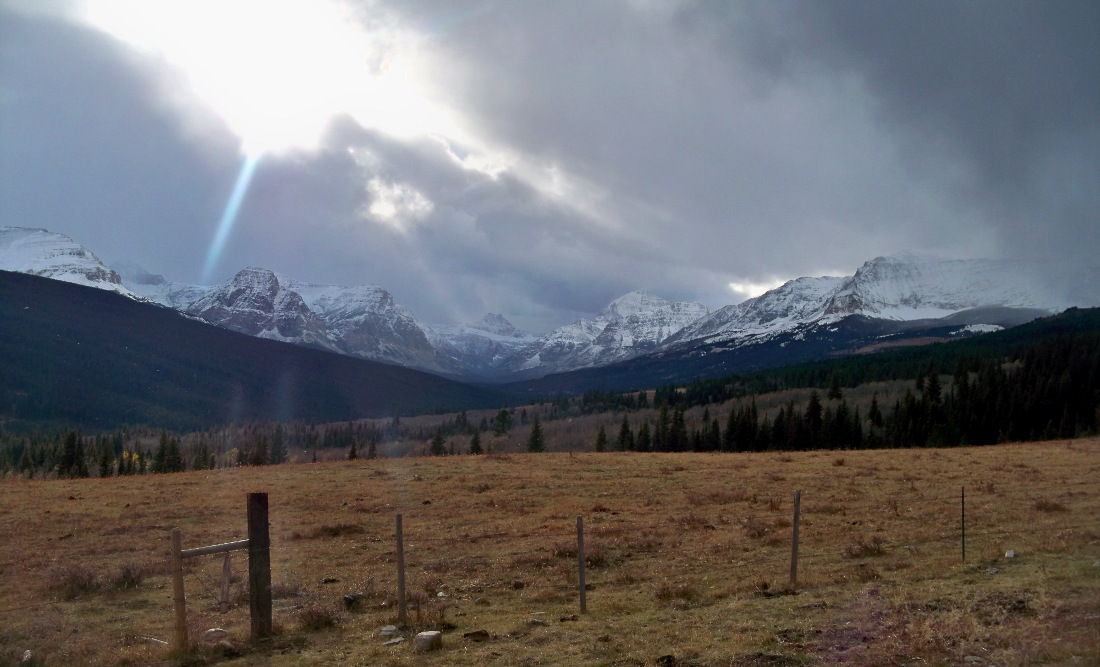 Since it was getting late we decided to find a hotel before attempting to cross the Continental Divide. This turned out to be a bit of a mistake since that night, while we were sleeping, a snowstorm developed. If you remember, we still hadn't purchased any chains by this point. By morning we'd received about four inches of snow and we figured there'd be more at the higher elevations. With my snow driving skills and our mutual irreverance we set out through the park without trying to find chains (there weren't any stores nearby selling them anyway). The road conditions were bad, but soon enough I found a trailer that created nice tracks that I could follow in. Unfortunately he pulled off at some point and I was left making my own way through several fresh inches. By this point there were several cars stacked behind me. I couldn't pull off into the shoulder to let them pass since I wouldn't be able to get out again. At the same time, I badly wanted them to pass me since they would create tracks that I could tag along in. My solution was to wait until the opposite lane was clear and pull into the oncoming traffic lane. This was daring but worked out great. I followed this wolf pack over the continental divide and soon enough we dropped low enough that the road wasn't too bad. As it turned out, this wasn't the end of my troubles, however. I was heading downhill and about to enter a blind turn when I noticed a sign that said, 'Caution, Ice on Bridge.' Such signs usually do not amount to much. The bridge might have a bit more snow or slush on it than the road but nothing to worry about. As I rounded the corner at 60mph I got a look at the 200ft bridge and noticed four inches of slush covering it. Fuck! I didn't have any chance to slow down. I hit the slush and the car immediately lost control and began fishtailing. The bridge was two lanes, one in each direction, and there was a three-foot wide shoulder before the guardrails. As luck would have it, a car was coming down the opposite lane at about 40mph. They saw my plight and I am sure they were scared witless. As my rear end tended toward the shoulder or other lane of traffic I did my best to countersteer. The bridge, being so long, made me feel like a bowling ball. The only thing that could save us would be if my trajectory entering the bridge was so straight that the car would remain in my lane the entire way (assuming I was able to control the fishtailing). Miraculously our line was this straight. Our front end stayed true and the rear was submissive to my efforts. After about thirty terrifying seconds we crossed the bridge and regained traction. Both Jon and I were very shaken. I could hardly continue driving. This had been a life and death situation. Jon offered to take the wheel but after settling down I managed to continue driving. I think this was my closest brush with catastrophe since my motorcycle accident in 2006. Now that the road was actually not so bad we were relaxed enough to take a picture of our surroundings:




The larch pines (the only species of pine that changes color in the fall) were so beautiful. Once we crossed Glacier the driving became boring, casual, and not so scenic. We stopped for lunch in Bonner's Ferry, MT and before long we had joined up with the 90. I dropped Jon off in Spokane where his flight would be leaving later that day, then I returned to Portland on my own. The trip had been a resounding success and we had put over 2300 miles on the poor rental car. At a total cost of $116.89 to us, I don't think I'll ever get such a great deal from a rental ever again. Thanks Hertz!
Bassnectar #2 and HOWL
On October 26th Bassnectar returned to Portland. He was touring for his release of the Freestyle Music EP. Also that night, but later on, was the HOWL event, which is run by the Portland Burning Man organization. Janel and I figured this was a great opportunity to dress in our favorite burning man costumes again. We got tons of compliments at the Bassnectar show. We showed up just before Bassnectar went on since we didn't feel like waiting through any opening acts. This caused us some extreme consternation, however, since they had given out bracelets to the first 2000 or so attendees and only these folk were allowed on the floor. They forced us to watch the show from the upper seating area, where dancing was nearly impossible and the bass was distant. The show was so insanely amazing (even more massive than the one I saw earlier in the year) and it was incredibly painful to have to watch the craziness from a distance. As a result we went back to the entrance to the lower level and protested. People were coming up from down below but instead of letting more people down there they were throwing away the bracelets. We couldn't believe this injustice and almost got really angry at the management. In the end we realized it wouldn't do any good and we returned to the upper deck somewhat dejected. Fortunately Bassnectar's set was so absolutely mindblowing that we quickly found a positive vibe again and Janel and I especially got into a groove. The end of the show was so spectacular that I couldn't help repeatedly exclaiming this fact. After the show we continued dancing a bit and several people stopped by to tell Janel and I how awesome they thought we were. It felt good! After the show we jumped in the car and drove to HOWL. They had like five stages set up on three different floors of a warehouse near downtown. The people were all wearing awesome costumes and the music was generally really good, especially on the top floor. After a couple hours I started feeling a bit tired but I hung in there for awhile. As a group we stayed until around 4am before leaving. In the end it was an exhausting but life-affirming day.
KTM and LASIK
A week after HOWL I hosted a movie night and we watched Moonrise Kingdom which was great. Evan and Justine came over and Evan and I decided to ride together later that week. Even though I wasn't feeling terribly well I went through with it. The weather was rainy which made things challenging but after a couple of hours I got things sorted and started riding with some confidence. For the first hour or two I was definitely not feeling it and somewhat down on dirtbiking. Once I got into a groove, however, I was able to have much more fun. Evan was really impressive and he makes it look super fluid. The day after the ride I had my birthday present to myself: LASIK! I have always been a bit apprehensive about LASIK but after Jared's good experience I decided to get it done. At $2k it was also a relatively good price as well. The operation was a pretty strange experience. They do it really rapidly, I think so that there's not much of a chance to squirm and screw things up. You get your eyes numbed and then you go into the operating room and lay down on a table. They have you hold still and stare at a dot while they either cut or laser a flap into your cornea. Then they move the flap out of the way and a laser is positioned over your eye. You have to stare at a single spot while the laser ablates the exposed under-cornea. This part is pretty intense and you know that if you move your eye the laser would hit the wrong places. I expect there's an auto-off switch if you were to move too bad, though. Anyway I tried hard to keep focused on the spot and before long it was over and they gave me some valium to help me sleep when I got home. After waking up my sight was already not too bad but it was quite a bit worse than it had been with contacts. Over the next two weeks I struggled to adjust to my new vision. It was fluctuating quite a bit and my nighttime and low-light vision was not up to par. As I healed things got better, and I also just adjusted to the new vision quality. With contacts I had extremely good (20/12) vision, and now with LASIK, after fully healing, I'm at 20/15. For a while I was feeling so-so about the experience as a whole but now I am quite glad that I got it done. I think the subtle degradation in vision is worth not having to deal with contacts for many years.
My 30th Birthday!
So I decided that I would drive down to Idyllwild on my motorcycle on my birthday to take care of the propane thing and to drop my motorcycle down there. Before my short trip I celebrated my 30th birthday with Janel. She made it an incredible special day. Her first gift to me was a new pair of even better crazy pants! After this we go to New Renaissance and she allows me to pick any singing bowl I want!! Finally, she got me a 90-minute float in a sensory deprivation tank for the following weekend. Such amazing gifts! The next morning I get up super early for my trip. On my way out of Portland it rains like crazy and by the time I put my gaitors on my feet are already soaked. After Eugene the going gets better. I stop for Dairy Queen in the cascades and the driving becomes quite beautiful with the fall color. The ride to Reno is super long and I arrive quite tired. I get a super cheap hotel room at Harrah's for the night and then decide to walk around. I stop in at a climbing gym that I found on the strip and explain that it's my 30th birthday. I have a great time climbing and am blown away by the outdoor climbing on the side of the building. Here's me climbing above the strip:




I couldn't believe that this place was here. I was super stoked to get to climb that night. The climbing on the side of the building goes all the way up over 100 feet:




Unfortunately I couldn't climb all the way to the top since I didn't have a rope or a lead belayer, but I hope to come back some day to get on it. The second day of my trip was pretty uneventful. After Reno the 395 follows a beautiful canyon and then climbs up to 8000 feet as it passes through Mono county and near Mono lake. This section of the drive was beautiful but the gas stations were sparse which made it interesting for me. There was also a good amount of construction that made it a bit slower. After this section I passed through Mammoth and Bishop and drove down the scenic corridor East of the sierras. This was a really relaxing ride and my heated gloves came in very handy (thanks Mom!). After the scenic stretch I got into Adelante and Victorville which are some of the most depressing 'cities' I've seen. Everything is planned development and strip-malls. Ugh! Less than two hours later I arrived in Idyllwild. The next morning the weather was beautiful!




I got the propane setup and ensured continuing electricity service. The next day I drop my bike off in Pasadena and take the subway and train to get to Ontario for my flight.
Hospice Wrap-Up and Vipassana #2
My second Vipassana course, set for November 14th thru 24th, was quickly approaching. Since I would be out of touch during these ten days and my departure for Idyllwild would happen soon after I decided to wrap up my hospice work before the course. I had my final visit with Sarah, my only remaining patient, and I attended a fall memorial service with other volunteers. Looking back I felt like I had gained a lot from my hospice work. Some experiences remained elusive but I benefitted immensely from spending time with my patients. I learned a lot about what really makes us happy and what really makes our life meaningful. This perspective helped get me in the right headspace for my next Vipassana course. As before, I will not write about my specific experiences at the course, but here is a synopsis I wrote for myself afterward:




Today is my first day back from my second ten-day Vipassana course. This time the course was taken at the Dhamma Kunja Vipassana center in Onalaska, Washington. In the eleven months since my first course I had struggled to maintain my daily practice and in recent months had managed to meditate only sporadically. As a result I was somewhat apprehensive; I was worried that I wouldn't find anything new, that I would be working very hard for the same experience, and that no new wisdom or insight would come to me. Yet, from the first day of the course the character of the experience had a different quality. Now that I already knew what was coming I was able to spend more time and effort concentrating on the here and now, bringing my mind as close as possible to the ideal state for deep meditation. In addition, it was not a trial run: I had vetted the technique and few doubts remained. This time the goal was depth and progression.

As expected, I immediately ran into the standard issues all out-of-practice meditators face: Tiredness, distraction, and agitation. The Pali word Samadhi means 'mastery of the mind.' At these retreats we spend three days doing Anapana meditation simply to gain Samadhi, which is a prerequisite of Vipassana meditation. Repeatedly rousing myself from lethargy, bringing my distracted mind into focus, and forcing myself to concentrate on my breath is exhausting mental work. Nonetheless, by the third day my mind had largely been wrangled. At this point, even before we began practicing Vipassana, the slowness of time and the intensity of the work started having an effect on me. I began remembering the ups-and-downs of my prior course and became concerned that such a vicious cycle would arise again within me. Although these vicissitudes persisted for about four days they thankfully never gained the full potency of those I experienced in Vernonia. Coming out of each individual conflict resulted in some minor realization about myself but undergoing these struggles did take me somewhat out of the flow of practice. Nonetheless, by the seventh day I began working in earnest. Putting my full efforts into my meditation, and no longer wielding any doubts, the insights I was looking for starting coming. In the end, these experiences were the main differentiator with the first course.

I came to realize that at my core I am a very agitated and anxious person. I remember feeling this way in childhood but thought that in my twenties I had grown out of it and become more calm and relaxed. The reality is that I have simply covered it up and it still persists within me and that not only is it making my meditation more challenging but it is doing real harm to my physical and mental health. Of course one does not like to stumble upon such negative realities, but in the end it is a blessing to know so that one may take action. For me, I believe that action is going to be simplification of my life and moving to Idyllwild will hopefully be the first step in that direction.

My second realization centered around ego. For those of you who know me, this probably does not come as much of a surprise. I found that I am a very generous and good person but that I also think very highly of myself and am quick to dissociate myself from what I consider to be negative qualities. This incessant need to keep myself in a positive light agitates me as well, and a heavy dose of humility is needed. My final few realizations revolved around reintegrating with my family and plans for Idyllwild. Since these are future-focused I will leave the details out and hope to write about them more… when they come to fruition!

So ultimately my second course was exactly what I was looking for. Nothing spectacular happened but I became much more grounded in the technique. I saw its benefits more clearly and holistically. Most of my remaining doubts were sorted and I now consider myself to be a Vipassana practitioner. Establishing a daily practice (an hour in the morning and an hour in the evening) is my next challenge, but I am determined to make it a reality, for the good of myself, and ultimately, for the benefit of others.
Rama to Jungle
~Colin




As with my first course, Vipassana felt like much longer than a month. It also felt completely disconnected from the outside world. When I returned, it felt a little like being born again. I imagine this is how released prisoners feel, at least in a small part. In the few days after the course there were some rocky emotional experiences with Janel. I felt like the course helped me to handle them well but I also feel like maybe the course in some part caused them by separating us for ten days. Fortunately they soon passed and things were once again solid between us. We were getting so close to bringing our plans to fruition and I feel these last struggles were perhaps the final hurdle to total commitment. Moving into winter we felt realigned with one another and ready to accept the change that awaited us...

Forward to Winter 2012
Back to Index