Back to Index
Back to Fall 2012
The Great Transition
Indoor Time!
Now that we were in winter the weather really started getting crappy in Portland. As a result we turned to fun indoor activities like gym climbing, ecstatic dance and psuedo-starving myself. :-) Janel and I both had memberships at the Circuit but we also went to the PRG a few more times. I was getting close on the 5.11 finger crack and even starting to make progress on the 5.12- ringlock crack there. On November 30th I managed to send the finger crack for the first time, and it didn't even feel that hard! I am finding that crack strength is more about fitness and technique and so it doesn't degrade during inactivity as much as face climbing strength which relies more on grip. At the Circuit I was continuing to send V5s and some V6s and Janel was pushing into the V3 grade! Towards the end of my stay in Portland I went to three amazing Sacred Circle dances. Adinah was now frequently joining us and the energy was just fantastic. I even started engaging other dancers more often and realized that the method is kind of like copycat with variation. What I mean is that the best way to engage another dancer is to dance just like them, try to make eye contact and then, once you're engaged, take turns adding variation while staying in tune with one another. As far as psuedo-starving myself is concerned, I've decided to go back on calorie restriction once I get to Idyllwild. In preparation for this I have started counting my calories. I'm not restricting them yet, just getting used to tracking things once again. The next few days were filled with more miscellaneous experiences. I started getting into some pretty heavy-duty programming in my freelance work which was pretty fun but mentally intense. I began reading a book called 'What the Buddha Taught' which is the best basic overview of the Buddha's teachings that I have come across yet. (I also finally read The Giver which I really liked). I attended a concert at the Holocene featuring a band called David's Wax Museum with Jared and Jay: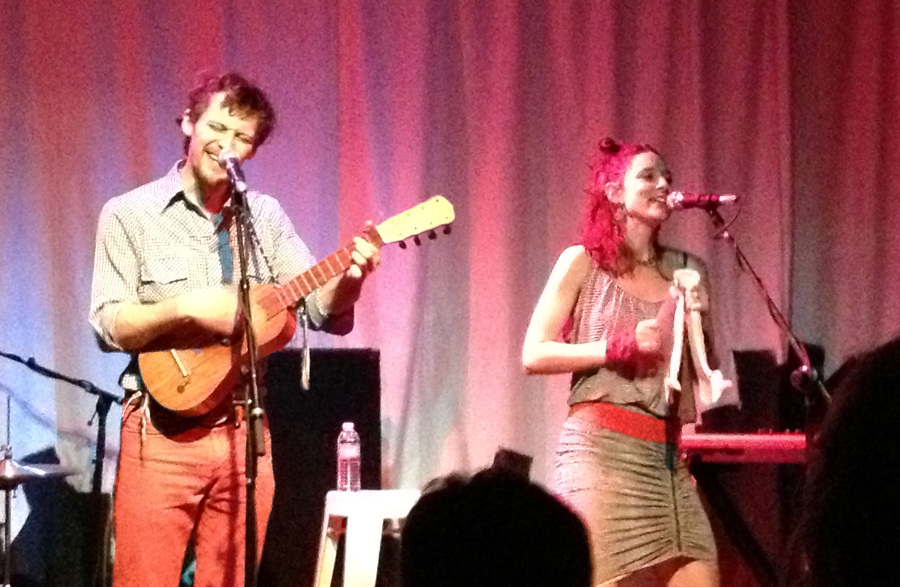 The band was really talented and upbeat. The leading lady played the jawbone which was an odd instrument I'd definitely never seen before. It was a fun evening all together and it was good to see the guys again before I left.
Last Gatherings and Goodbyes
In mid-December we started reaching out to friends to spend some time with them before departing for Idyllwild. This included random evening get togethers and chats as well as climbing and dancing together. I organized a couple of going-away parties including a bowling extravaganza and a festive-day. The bowling evening went really well. We had about ten people and I had brought prizes for achievements such as highest score, lowest score, and fasted speed. Everyone really enjoyed themselves. Mike Royer bowled the highest score and Cory had the strongest arm. Anthony had the funniest name (but had to leave early) and Justine had the lowest score (but we love her nonetheless). The prizes were received pretty well, but the lowest score prize drew the most reactions. I had included a fake lottery ticket that I got from Spencer's Gifts in her prizes. It revealed a $10,000 winnings and she got really excited when she 'won'. Others were skeptical and doublechecked the ticket but eventually almost everyone was blown away. Before things got too crazy and attachment started developing I suggested that she turn the ticket over and read how she was supposed to redeem her prize. After seeing that the money fairy was involved she realized it was a hoax and things returned to normal pretty quick. I think this is a pretty intense joke to play on someone and I doubt I'll do it again. It's too risky! Justine was very gracious about it, though, and no feelings were hurt at all.
A few days after the bowling was festive-day. This was originally designed to be a day where people would come over early and bake bread and pies and stuff with Janel and I, but almost nobody came over before dinnertime when we had most of the work done already. I also had made a mistake in the bread recipe so things weren't even going that well. Fortunately a good amount of people arrived and the food wasn't really the focus of the evening. Folks stayed pretty late and there was some really good connection throughout the evening. Adinah had brought some little homemade board games like quarto and mancala that were a lot of fun as well. It was sad to say goodbye to everyone but we knew that we would always have a home in Portland and we felt really loved. Just before leaving Portland two other things of note occurred. First, at the climbing gym, I came super close to sending the 5.12- ringlock crack. It was the focus of my last visit there and I gave it three really strong attempts. On the final attempt I fell just one easy move before the top. Crazy! The other occurance of note was Janel and I's rewatching of the Return of the King. Now, this wasn't the lackluster Peter Jackson version but the original animated one from 1979. I had loved this movie dearly in my youth but hadn't seen it in probably fifteen years or more. We settled in to watch it one evening at my vancouver apartment and it absolutely blew us both away. As far as children's movies go, it simply does not get any better than this. But for open-minded adults this movie still glitters with well-fashioned morals, beautiful songs, and the triumph of humility over evil. Tolkien's metaphors remain alive and well in this rendition while they are sadly ignored and substituted for action and special effects in the more recent films. For me, the nostalgic quality of the film was also really powerful since it had been such a big part of my childhood. I decided to re-read the books (starting with the prequel, the Hobbit) as well as add this film to the first tier of my Movie List.
Transition Trip #1
On the evening of December 9th Janel and I loaded my car and departed for Idyllwild. Our plan was to take the I-5 route and visit friends along the way. Our first stop was in Roseburg, OR which is about three hours South of Portland. Ryan Jarvis who I had met at SOAK and who had turned me on to ecstatic dance lived there. Ryan had left Portland a couple months prior after some issues had come up for him and I hadn't seen him since. I was really glad to see him again and even though we only had one evening together, the three of us really connected and he set the stage for our trip. Now that Ryan's troubles had passed he seemed like a much more inspired and confident person. His words of wisdom on this first evening of our trip really struck chords in the heart of both Janel and I and we marvelled at the truth that Ryan had come to understand his own way. I find him to be one of the kindest and most beautiful people I know and I really look forward to spending more time with him. The next morning at 7am Janel and I departed for Sacramento where I had included a small business stop-over with Sutter in our itinerary. We checked in at the Marriott in Rancho Cordova and then I went over to the office for a meeting which basically nobody showed up to. For dinner we went to India Oven with Jasmine and it was delicious as always. The next day I spent the morning at the office and then in the afternoon we stopped at Target to get some epoxy for my side view mirror (which I had knocked off backing into my garage the day we left). After this we drove to Berkeley and went for a walk. Janel and I had a really good chat about Vipassana and some other topics and it was also a beautiful campus to walk through. Around 8 we met up with Yaacov and his expectant wife Yen at a restaurant called Bistro. The food was really good and before parting we joined them for tea at Yaacov's new house in the Oakland/Berkeley hills. The house was beautiful but we didn't want to stay too late since we still had to drive to San Francisco. Once we left it was another 90 minutes before we arrived at Rob Melville's place just south of Golden Gate Park. He had set up an air mattress for us, which was very much appreciated considering how exhausted we were. Before falling asleep I had a chance to chat with Rob and reconnect a bit. The last time I had seen him was probably two years prior.
The next day Janel and I explored Golden Gate park. We walked through the botanical gardens and hiked to the top of the island on Stow Lake. After our walk we met up with Ben Sawyer (who we'd met at Burning Man) at a coffee shop. It was really great to reconnect with him in the default world. We decided to grab dinner together downtown near Embarcadero with Janel's friend Sabina and her boyfriend Jesse. Rob ended up joining us as well! We ended up at a restaurant called Unicorn which turned out to be perfect. The interior decor was really interesting and the food was really good for the price, especially considering where we were. After dinner Janel and I drove south to Mountain View to Andrey Polonsky's place for the night. Andrey and I had last seen each other about two years prior as well, if I remember correctly. He and his wife live in a modest apartment and, as always, he brings up lots of things I've never heard about in conversation. During the night we stayed with Andrey I had my first lucid dream in months (if not a year). The dream was pretty radical and involved me taking off on some wicked interstellar space travel. We decided to grab breakfast with Andrey and after tooling around on his 'Snake Board' in the parking lot (I couldn't even get started on the thing) we walked to a nice cafe in downtown Mountain View. After breakfast we drove to San Jose to grab lunch with my brother Matt. I hadn't seen Matt in a long time and it had been even longer since I'd seen him in his own life on the West Coast. He was now doing computer-related odd jobs as well as some apartment complex property management. He had also purchased a thunderbird as his primary mode of transportation. We went to a mediterranean restaurant in a nice shopping center and caught up. It was fun to see him in his element and he seemed to be doing pretty well. Janel was also excited about finally meeting a member of my family. After lunch we parted ways and Janel and I hit the road for Southern California. We drove straight through Pasadena and took the 10 toward Banning and the 243. Once on the 243 things started to get exciting. At around 3000 feet snow began to fall. Since we were more than 3000 feet from the top I became concerned that we might hit really bad conditions. Not much later the snow got a couple inches deep on the road and I debated putting chains on. Since it was night and there was basically nobody on the road I decided it was safe enough to continue on at a low speed. Even at night the surroundings were beautiful covered in snow. This was Janel's first time up the mountain and she couldn't believe how remote and different it was up there. After driving for 45 minutes through the mountains we arrived in Idyllwild. The giant christmas tree at town center was adorned with lights and everything seemed so peaceful in the falling snow. Janel was speechless and we continued to the house which was waiting for us. We setup the inflatable air mattress in the center of the main room and slept soundly after our long trip. Here's a picture I took the next morning of the South Ridge covered in Snow:




We spent the next day organizing the house and I spent some time tuning my new dulcimer. For dinner we decided to grab mexican food at La Casita's and it was delicious and authentic! On the way back through town we noticed that the local theater was playing the Hobbit so we dropped in. Although we missed the first five minutes it wasn't hard to figure out where things were at since we'd both read the book. The movie was not terribly good. The beauty and subtlety of Tolkien was replaced by the typical hollywood play-action and overemotional wrangling. Nonetheless it reminded me of the beauty of Tolkien's works and I resolved to locate my Dad's copies of the books when I returned home in the winter. The Rustic Theater, where we were, was really beautiful on the inside and unlike any theater I'd ever been in. It's ceiling was wood rafters and the juxtaposition of technology and rustic themes was really cool. After the movie many of the townspeople went out to the lobby to chat and congregate. Some of the children were even dressed up! It was such an endearing scene that Janel and I felt bad about not having liked the movie. The next day was our first 'Hemet Run'. Hemet is the closest city to Idyllwild and sits about 30 minutes away towards the West. The road down to Hemet is significantly less windy and treacherous compared to the road up to Banning to the North. Nonetheless it is still a significant trip and you do lose about 4000 feet in elevation on the way. Down in Hemet we bought some basic household items and then we returned to the house to sort them into their appropriate areas. Slowly but surely the nooks and crannies of the house were filling up with the inevitable odds and ends. The next day Janel had to leave to return home to Portland for the holidays and her first Vipassana course. I wouldn't be seeing her for over two weeks, the longest we'd be apart yet in our relationship. I dropped her off at the Ontario airport knowing that the next time I'd see her she would be a very different person. I spent another three days in Idyllwild relaxing and enjoying the atmosphere of my new home. On the third day I had a cord of firewood delivered and I constructed a rack for it underneath the deck. I met a few folks in town while shopping for gifts and when the time came to leave town for my flight I really didn't want to go. I stopped over in Pasadena on my way to LAX to see Ivan and we spent a little time catching up. At the airport I put my car in the Economy Lot and boarded my flight back to Rochester. The red-eye was nice and I managed to actually get a few hours of sleep.
Home for the Holidays
Coming back to Rochester for the holidays is a tradition that I think might be coming to an end. As much as I love the snow and the nostalgia it nevertheless feels a bit played out. I think this is because I've always thought of Rochester as home despite my disdain for its geographical location. Lately I have been thinking more about Portland as home and I am certain Idyllwild will be home before long. I feel that the place that Rochester holds in my heart is slowly transitioning to other places. I think there is a chance the same may happen for the rest of my family. If Katie ends up going to the west coast this year I think it's a near certainty that my parents will follow eventually. Anyway, this visit back wasn't nearly so much about the place as it was about my family, of course. The vibes started really good on this visit and I was optimistic that Christmas was going to be a lot of fun. The first few days revolved around reconnecting with the family, getting settled and shaking off the jet lag. I spent quite a bit of time in the kitchen with mom and Katie baking our famous christmas cookies. I also spoke to Janel often as she prepared herself for her Vipassana course. By the time it started I felt she was truly ready but it was still a very intense moment when I said goodbye, knowing what she was about to do. One of the first objectives during the trip was obtaining a suitable christmas tree for this year. Here's a pic of most of the family after we had selected one:





On the evening of the third day home I met up with Stover, Chris and Nate Bank, and Joe Halpern at a trendy restaurant called Trata that now inhabits the renovated 'Armory' where I used to play indoor lacrosse games. How things have changed... The evening was really enjoyable and it was especially fun to see Nate again. Once again the conversation trended toward Burning Man and the interests of Nate and Stover were both piqued. The following night Nate hosted a small gathering at his house in the South Wedge and we continued the conversation there. I also had a chance to connect with Elaine Hill (who had become a Yoga instructor) and her two brothers, all of whom had blossomed into really beautiful people. The next day I started reading the Hobbit again and immediately fell in love with Tolkien's writing. I figure I'll probably go on to re-read the Lord of the Rings and the Silmarillion. Why not?! Christmas was amazing as usual in the Parker family household and us kids were very excited as we awaited our turn to enter the family room that morning. Can you see the excitement in our eyes?




Here's a look at the tree with all of the presents underneath it:




My parents got me several vital things for the house, not the least of which was a set of Global Knives that will be used for years to come. They also got me a set of flannel sheets from LL Bean that are amazing quality and super comfortable. Katie made me a recipe scrapbook that is absolutely amazing and includes photos from throughout my childhood mixed with vegetarian recipes of all different kinds. Here's a few pages from it: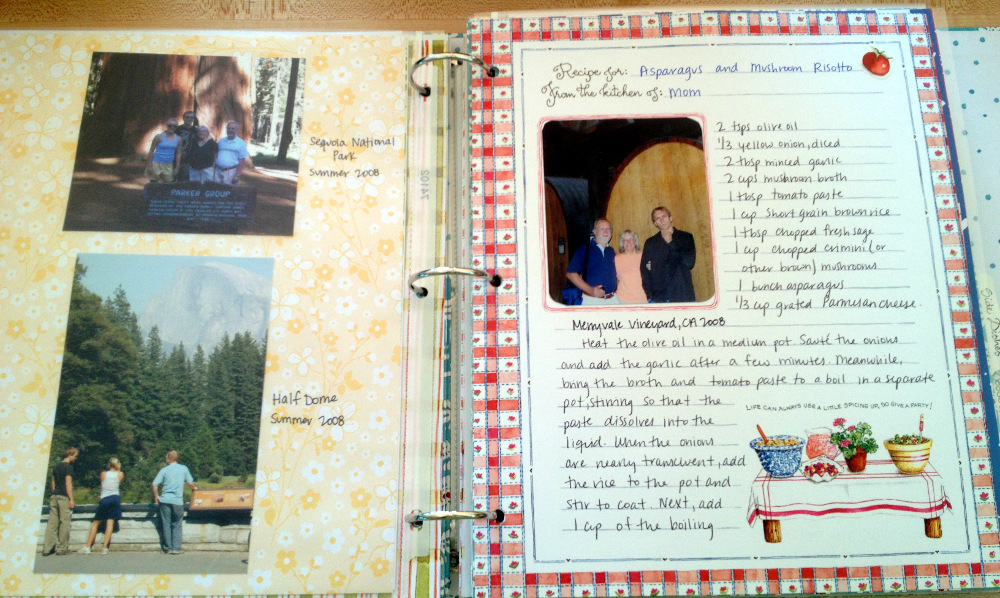 A few days after christmas we had a really large snowfall and the whole family pitched in to clear the driveway. Here's a picture of me with my mom after most of the work was done:




One new thing that the family had started doing was making personal pizzas from scratch. Here's Katie and I putting the toppings on ours: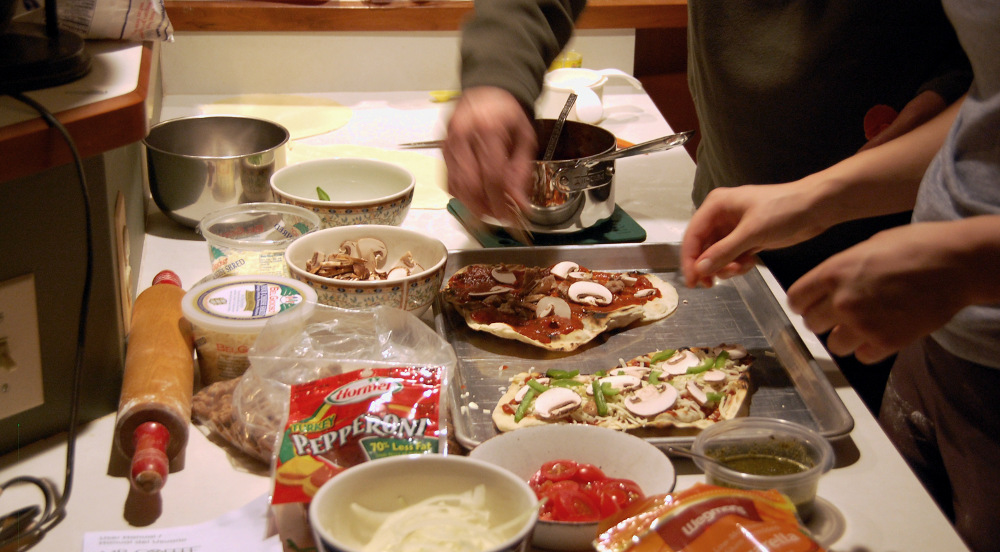 Another fun activity that Katie and I did was make our own mozzarella cheese from scratch. We had gotten a kit for christmas and the directions were easy to follow. Here's a few shots of the process and the final product, some delicious bruschetta: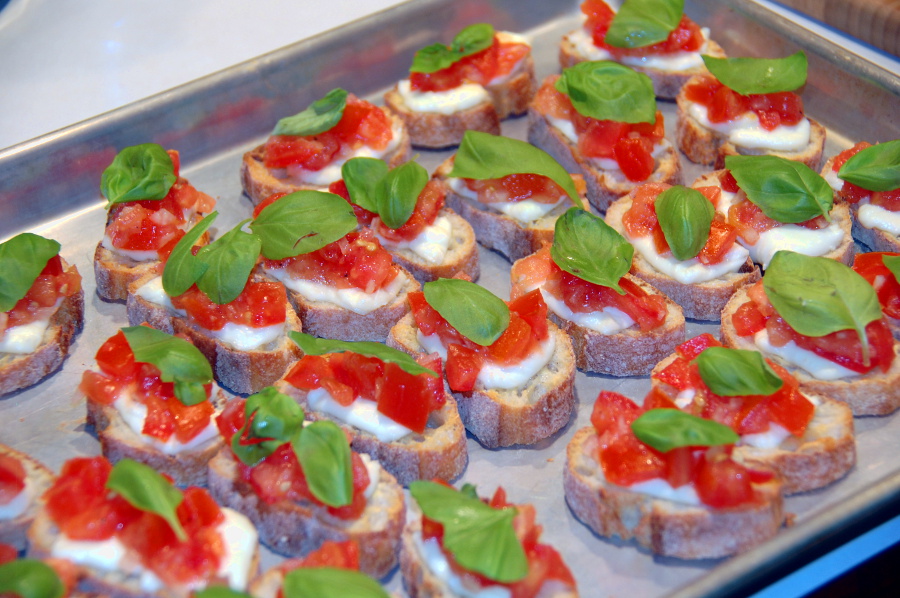 Once again I really enjoyed my return home. The only real change that I felt this year was Zoe's absence. I really miss my perpetual puppy and wonder if the Parker family will get a new dog anytime soon. Only time will tell... A few days after Christmas I returned to Southern California for New Years. It was a quick stopover that I almost cancelled (and flew direct to Portland) but in the end decided to go anyway since my friend Amelie had a pretty good evening planned. Amelie is in the music industry and used to work in promotion. She still has several friends that are close with artists and one of them invited her to a party being held at the beach house that the band 'Young the Giant' is renting in Palos Verdes. I'd never been over to this area of LA although I'd always wondered what it was like. I figured attending a party at a swanky house was just the way to get acquainted with the area. On the way to the party we picked up Amelie's friend Amy at a bar in Manhattan Beach. We then drove down to Palos Verdes and pulled up at the mansion. As soon as we stepped inside I felt like I had been transported onto the set of the TV show 'The OC' that everyone in Madison used to watch. First of all, most of the people at the party were in their early 20's, making me feel somewhat old. Secondly, it was an 'image is everything' type of crowd and it was very clear that most of the attendees were well-monied. Thirdly, I had to deal with a fair amount of douchebaggery and ditziness when traversing the party grounds. Fourthly, the house was laughably under-furnished. It seemed like the band had rented the nicest house they could find but neglected to put anything in it. All of this being said, I found most of the bandmembers to be really chill and laid back and obviously generous people. Some of the partygoers also seemed alright but I had trouble connecting with the vast majority of them. Here's the only picture I took the night of the party:




You can see the swim-up bar in the pool down below as well as the hot tub and the outdoor range. The whole environment put me in a bit of a comical mood so I resorted to jokes and ping-pong to pass the time. Eventually I ran into a couple of people that would transform the night from ironic and forgettable into a remarkable and purposeful one. I ran into Frankie after my game of ping-pong. His legs were a bit shaky and he needed steadying. I lent a hand. One of his first comments was that he was almost never drunk and that he hadn't had a drink in months. I didn't respond and he soon said that he was serious and that he was a Kundalini yoga practitioner and this was very out of character for him. I was intrigued and asked him more about his practice. Soon enough we entered into a deep philosophical conversation. Meanwhile another young man named Dean overheard our conversation and entered it. It quickly became apparent that Dean was one of the most intelligent people I'd ever met. Frankie was incredibly compassionate and intuitive. Early in the conversation it became clear to Frankie and I that Dean's philosophical and spiritual leanings were very theoretical and sorely missing an experiential component. Yet, instead of being open to such an experience, his theories had walled him off and he had built logical barriers that effectively closed him off from such experiences. After I realized this I decided to attempt to open him up. I felt that his mind and my mind were similar enough that I might be able to break through to him. Frankie realized my intention quickly and provided positive support throughout the entire process. It was a marathon conversation lasting over four hours. All three of us were acutely aware of how ridiculous it was to have such an intense conversation in the middle of a chaotic party. Drunk people regularly attempted to break it up or cause havok for us, without success. In the end I feel that I was successful with Dean. There wasn't any breakthrough moment but after connecting with him pretty deeply we reached a place where he was certainly open to some new experiences. Vipassana in particular interested him and I felt the match would be very good. All three of us exchanged information and I fully expect to see both of them in Idyllwild one day. We passed out around 6am and got a couple hours of sleep in relatively dismal sleeping circumstances. When I awoke I snapped the following three pictures of the property before Amelie and I left:




It was certainly a very interesting way to ring in the new year!
Reunion
Later that morning I received a text message from Janel. It was the first contact with her since she left for Vipassana ten days prior. It was a very intense moment to receive that text and discover she was okay and that she had made it through her course. She explained that she felt it would be best to save further contact until the next day when I'd see her in person. I agreed and returned to Amelie's to get some proper rest. The next day I flew Virgin America to Portland. It was a pretty comical flight but when I arrived Janel was waiting in the airport for me. Our reunion was the most incredible one I've ever experienced. It was so clear so immediately that Janel had gone through some very major changes. We held each other tightly in the middle of the busy airport for what seemed like hours. We took a random escalator to a quieter spot and held each other for a bit longer before falling over laughing. Later that day she told me the story of her sit. Not surprisingly it had been completely different than mine but in its own way was incredibly difficult for her. She had passed through a great deal of pain in her practice and had almost left the course. Fortunately she had persevered and in the process had let go of many behaviors that had brought her to states of negativity in the past. The changes were obvious, just by looking at her face one could sense newly won wisdom. We returned to her parents place and had an impromptu post-Christmas. Janel received some nice jackets from her parents and me and I got a camp-towel, belt, wool blanket, plaid shirt and REI gift card! The next few days involved a lot of really wonderful connection with Janel as we prepared to leave Portland in her car for the second part of our move to Idyllwild. Before leaving town we managed to squeeze in another amazing Sacred Circle Dance and trip to the climbing gym where I almost sent the 5.11+/12- ringlock crack in the back. On the 7th of January we left Portland.
Transition Trip #2
Janel and I were very excited to be actually and finally moving to Idyllwild. The plan this time was to take the 395 corridor South instead of the 5 since it was more scenic and would allow us to stop in Reno to see Romi along the way. Romi had just returned from India where he had spent several months at Amma's ashram in Kerala. We were both very excited to see him and after one long day of driving we arrived in the town of Minden where he and his mother lived. It was really great to see Romi again and it was clear he had gone through a lot of changes during his time away. His mom was also a wonderful presence and very kindhearted. We immediately knew that this stopover was going to make our trip. On the first day with Romi we got to sleep in and then go to his mother's chiropractic clinic where we all received adjustments. This was my second time ever having chiropractic work done. It was really awesome to have a link to the chiropractor since I could have all of my ridiculous questions answered. It was a really great experience all around. While we were at the clinic Romi's mom showed us the wrapping that Saph had done for her. As usual with art of Saph's creation, it completely blew my mind:




After the adjustments we grabbed lunch at an amazing Cafe in Minden before heading to a small town called Markleville where there were some hot springs. Here's a shot of the hot springs I found online: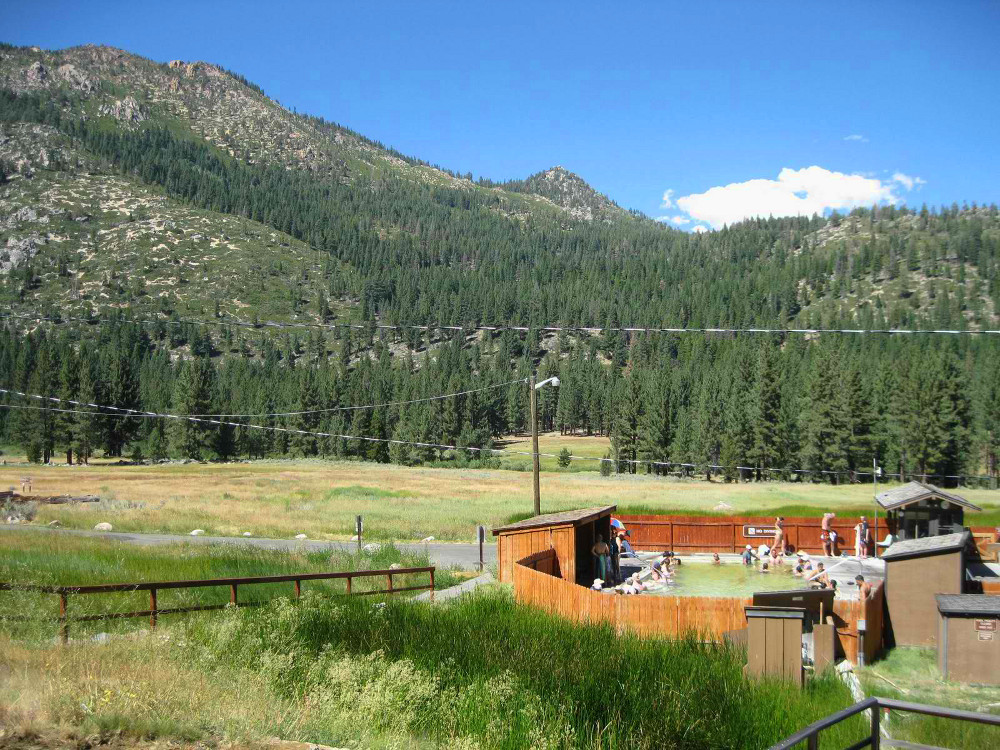 When we were there we had about six inches of snow on the ground. We took a short walk in the snow after soaking for a bit and felt thoroughly refreshed. On our second day in Minden we joined Romi for some early morning chanting and meditation. It was clear he had come a long way spiritually in his time in India and it was wonderful to feel his energy and share in some of his experiences. After breakfast we went for a walk and had a snowball fight :-) We showed the baby (our Zen Tambour) to Romi and he immediately fell in love. While he played it Janel and I simul-read the Two Towers. In the evening we shared some delicious pizza and watched Braveheart all together. I still think it's a pretty decent movie although a few parts are a bit hard for me to watch now. The next morning Janel and I had to hit the road again. As we drove south from Romi's we passed into high country. Here's Janel discovering Mono Lake at around 7500' elevation:




And here's a shot of the road as it passes the lake:




A bit further down the road we snapped a picture of this cool, tiered mountain:




As expected, driving along the east side of the high sierras this time of year was really beautiful. Here's a final shot of the landscape near Mammoth Lakes, CA:




After we descended into the desert we accelerated as the scenery deteriorated. We stopped at Erik Scaats bakery in Bishop and had lunch (which was AMAZING) before continuing and making it to Idyllwild late that night. Fortunately the roads were clear and we didn't hit any winter surprises. We were so thankful to be safely at our destination and we rested well that night.
Pure Materialism
When we awoke we were accutely aware that we were finally in Idyllwild with nothing pressing on our time. We had a brand new home and tons of projects to prioritize according to our designs. Of course certain things, like the washer and dryer, needed to be taken care of relatively quickly, but generally we were able to pick and choose what efforts to focus on each day. As it turned out, much of our early works simply involved buying stuff. Yippee! For comparison, here is the main room of our home prior to buying and painting anything:




One of the first things we did was obtain a big green lovesac, like this one: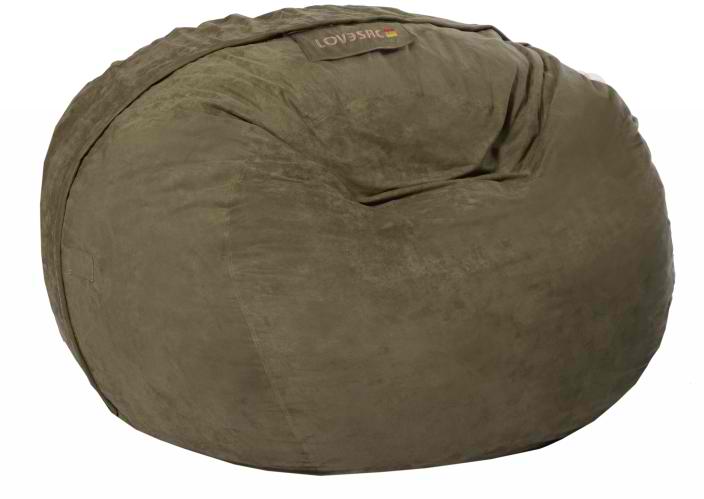 It was similar to our MojoSac that we had in Vancouver and deemed absolutely necessary for lounging, cuddling, and movie watching. We lucked into getting a nice one on Craigslist for $250. We also obtained a 1080p HD 3D Panasonic projector and 120" screen for our home theater. To complement my Phase Technologies speakers that I had gotten back from Ivan I purchased a Luxman M-2 power amplifier, much like the one I had in college: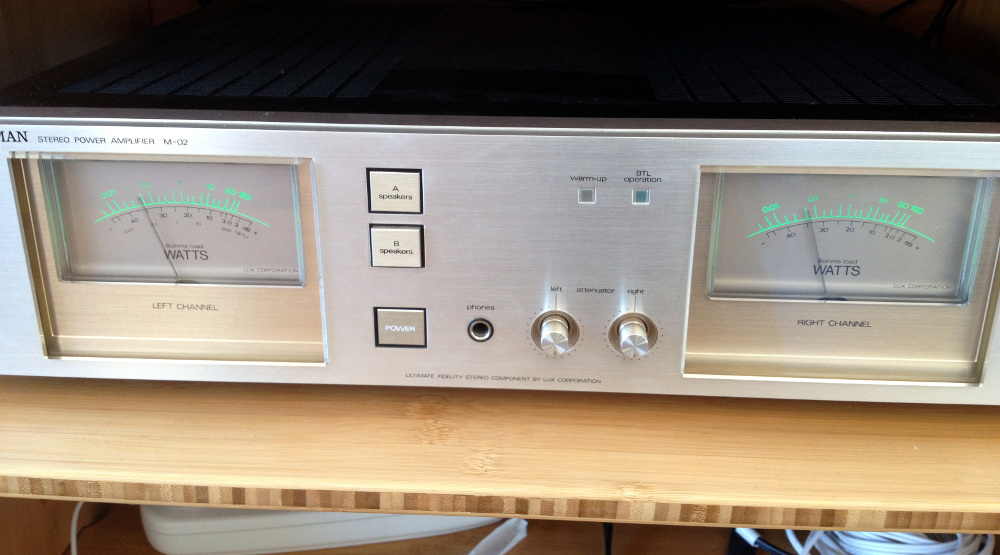 If you notice the bamboo stand that the amp is on, it's made by an awesome company called Legare that makes sustainable hardware-free bamboo furniture. Assembling it takes seconds and is like putting together a jigsaw puzzle. I highly highly recommend checking them out if you're in the market for a desk, bookshelves or the like. Next on the list was a mattress and this turned out to be a bit of a hassle. By the time we secured one we had gotten pretty good at attaching things to the top of our cars with ratchet straps. Here's a bed frame we picked up for the Zen room: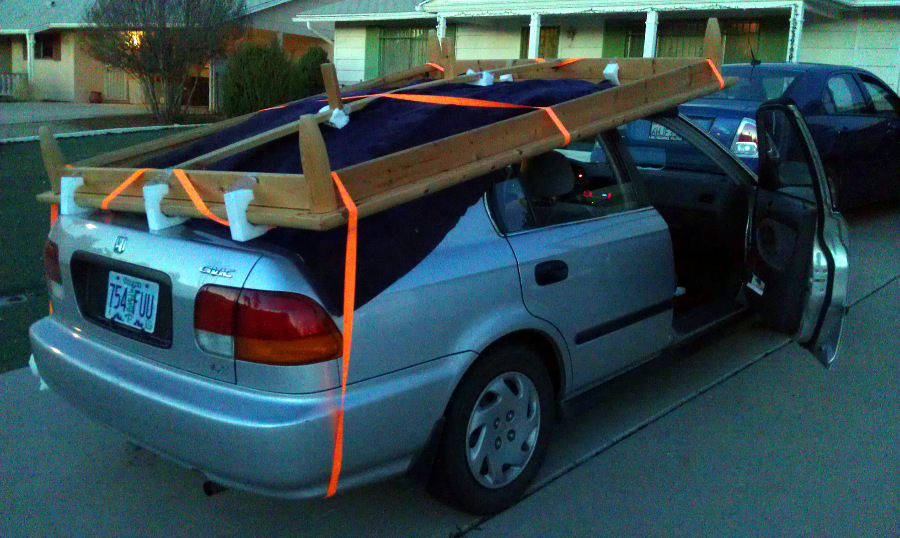 And here's Janel relaxing on top of our second LoveSac (a knockoff we managed to get for only $100!):




The washer and dryer came within two weeks and weighed in at over 150 pounds together. They suffered some damage in transit but worked just fine. It was very difficult getting them installed since we had to move and stack them ourselves in the utility closet and then cut a hole in the house for the dryer exhaust. It was a good learning experience though. One of the main multi-day projects that would consume much of the first month or so of our time in Idyllwild was painting the house. I had never painted interiors before but fortunately Janel was pretty experienced. Together we went through the long, involved process of deciding on colors and painting the trim and walls. It was actually pretty enjoyable once we got the hang of it, but it was tiring and time consuming. We started with the Rustic bedroom (Janel and I's bedroom theme) and then did the Zen bedroom before starting on the big main room. Here's a picture of the main room just before we painted it:




There are many things to take note of in this picture. First, the paint swatches on the wall. We took the color selection for this room very seriously and ended up getting 14 or so samples before making the final decisions. Next, you can see the projector screen hanging from the ceiling above the fireplace. Next, the AMAZING shyrdak rug on the floor. We found this on craigslist for only $300! It had been brought over from Kyrgyzstan by the seller's sister who had worked in the Peace Corp years prior. We were incredibly lucky to get it. On the right is a Legare bookcase and on the left is my new Hammered Dulcimer. You can also see our two lovesacs and the Zen Tambour on its pillow. This is skipping forward a bit, but here's a picture of the main room once the painting was complete:




So the painting was a pretty big success and all that remains to be painted is the hallway leading to the bedrooms.
Pretty Scenery
In direct contrast to all of the spending that was going on, we started getting acquainted with the winter weather patterns of Idyllwild. I must say I doubt there are better winters anywhere on Earth for my taste. Unlike upstate New York where you suffer through six months of cold and blizzards, in Idyllwild you get maybe five or ten feet of snow in a handful of storms but generally see lots of sun and periods of warmth. For example, in late January we experienced a heat wave and were seeing temps in the 70's for about a week. During this time we got some amazing sunsets:




Here's another:




Both of these two pictures were taken from our deck. After the warm period ended things got cold again and one night we received a foot of snowfall! On nights like this we would build a nice toasty fire in the fireplace and then wake up to a scene like this one: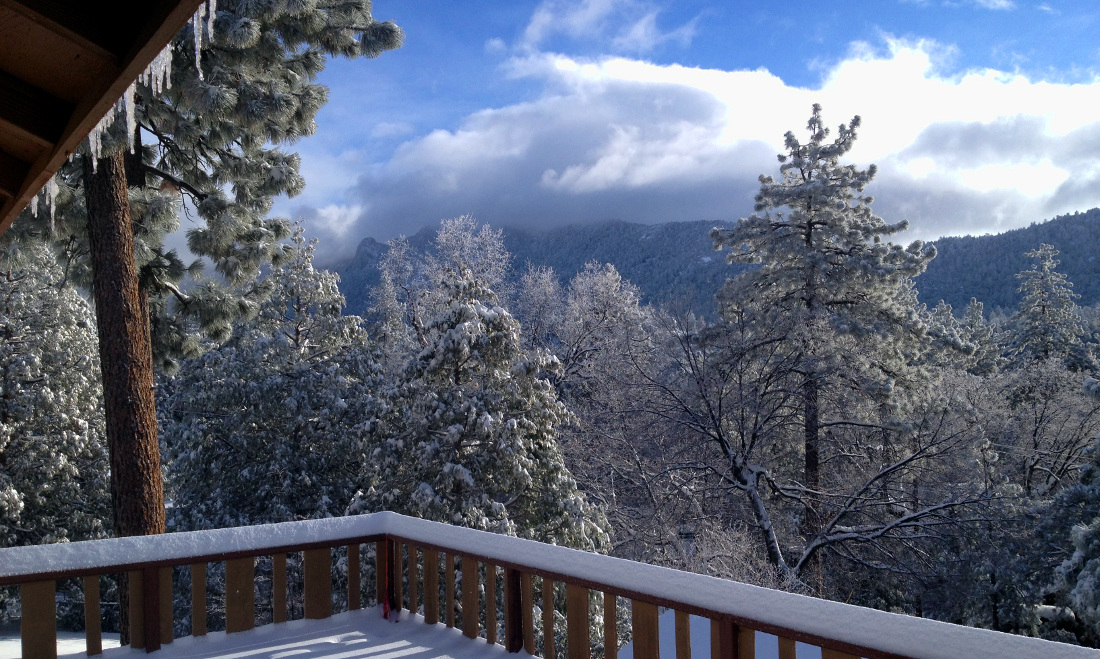 Or this one: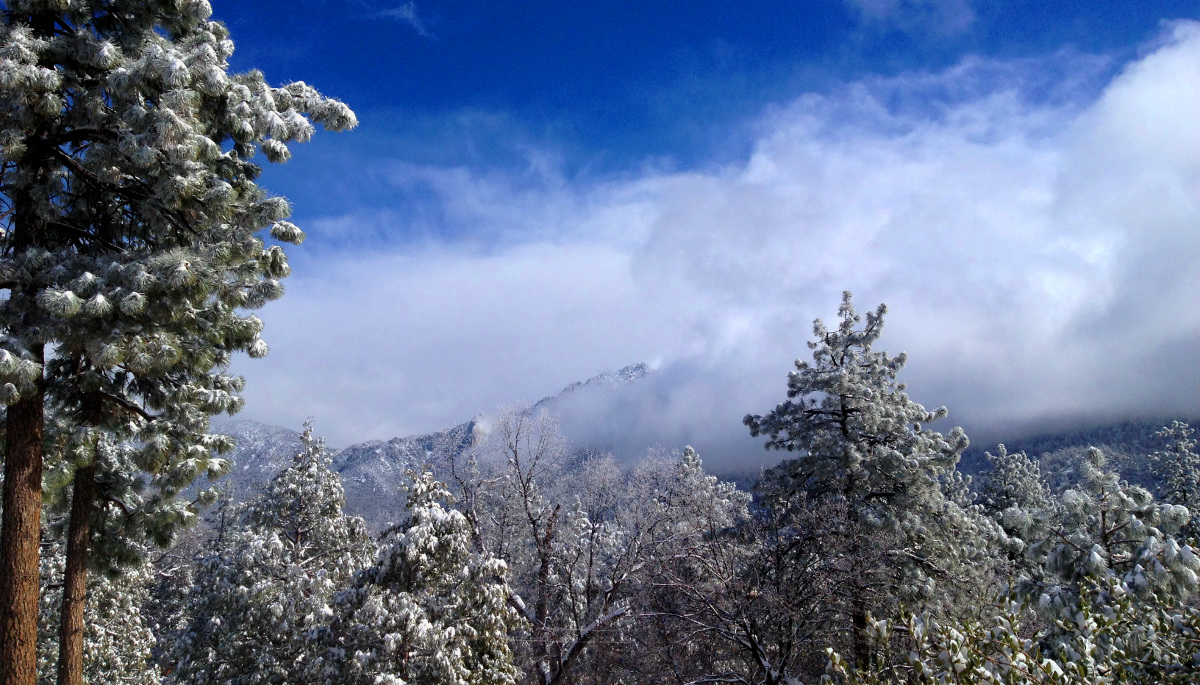 Or this one: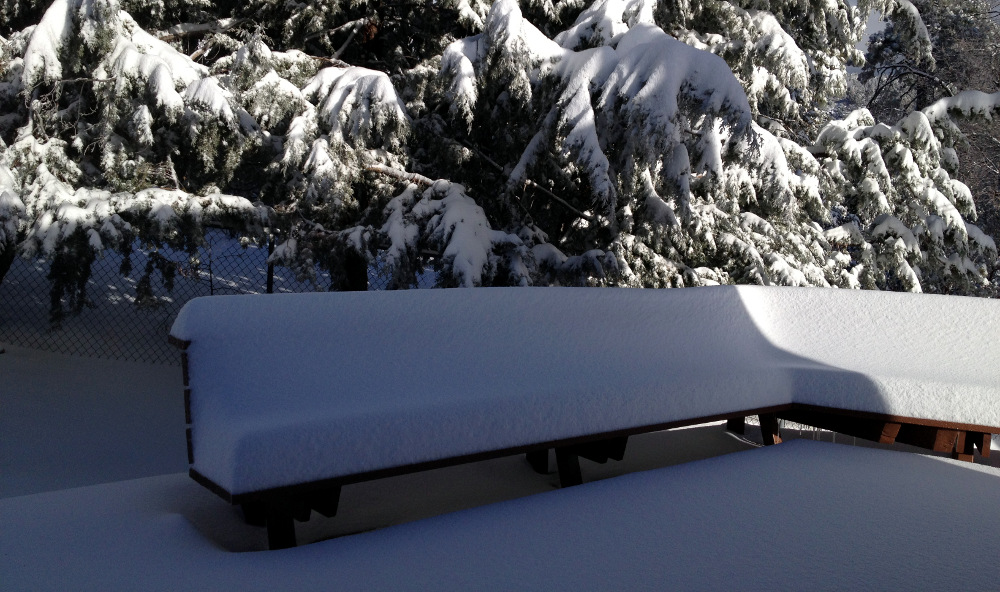 So you definitely got a taste of the seasons up here at 5500', but you weren't inundated by it. Incredibly, that foot of snow was gone in less than eight days thanks to the warm SoCal sunshine. Nonetheless, I think the squirrels were getting a bit cold since we repeatedly caught them trying to steal our Prayer Flags! Here's a couple pictures of one squirrel caught in the act: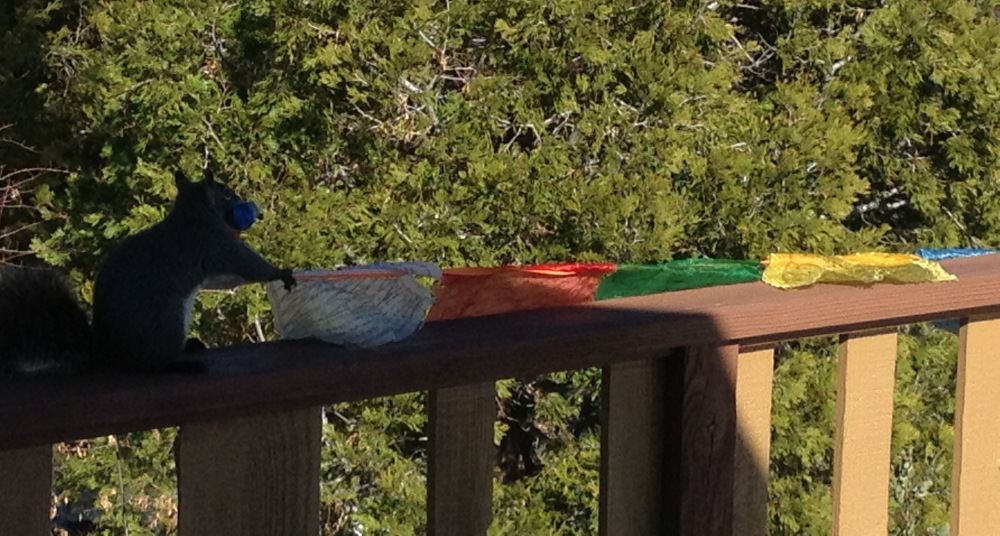 We watched from our window as this squirrel attempted to free these flags for literally over two minutes. He came back often but was never successful at anything more than putting holes in them.
First Visitors
On January 23rd Janel and I hosted our first visitors to our new home: Jupiter and his girlfriend Alex, who we had met in a chance encounter about a year before in front of Janel's downtown apartment in Portland, decided to come up for the day. They both grew up in Riverside, California and were staying there in-between school in Albuquerque and their relocation to Portland. We walked to Inspiration Point (the one at the end of our street) and caught up for awhile. In the evening we decided to watch a movie called Night on the Galactic Railroad together. It was an anime movie featuring cats and dealing with some heavy themes that was recommended to me by a friend. It turned out to be a pretty trippy but terrible movie. Oddly most of the positive reviews for it on IMDB are coherent and intelligent. In addition, the content of the reviews made me think the movie would be well-suited to my tastes. On the contrary, all four of us couldn't help but laugh at the ludicrously slow and disjointed character of the movie. When it started getting preachy and Christian (?!?) toward the end it became a struggle to even complete it. Oh well. After the movie we listened to Culprate's album Colours together (Jupiter and Alex had introduced me to Culprate) and the album completely blew Janel and I's mind.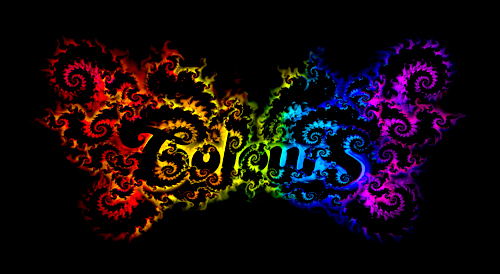 We put an open-source visualizer plug-in for WinAmp called MilkDrop on the projector when we listened and the amazing effects really amplified the music. Here's a screenshot from MilkDrop:




After this experience I firmly believe that Culprate is on par with the Animal Collective in terms of sheer virtuosity and revolutionary musical style. His music blends so many styles and genres and yet transcends and dismisses them so thoroughly that it reminds me of James Joyce's writings. The one caveat that I will make is that Culprate is as difficult as some of the most challenging Animal Collective and thus is not easy to engage. There is so much going on and the texture and timing of it is so fine-tuned and deliberate that it is easy to miss it completely unless you are in the right headspace for it. Nonetheless, if you'd like to give it a go, feel free to try (once again, headphones are recommended):



After listening to Culprate the four of us stayed up late into the night talking about computer-brain interfacing, philosophy of life and meditation among other things. I gained a profound appreciation for Jupiter's zeal for life and desire to do good. I also really appreciated Alex's compassionate presence. It was such an amazing evening and they both helped revitalize Janel and I. After they left the next morning we set about our work with renewed intensity and contentedness. Meanwhile I received a photo-text from Portland indicating that things were well with Adam, Drew and their new roommate Tasha: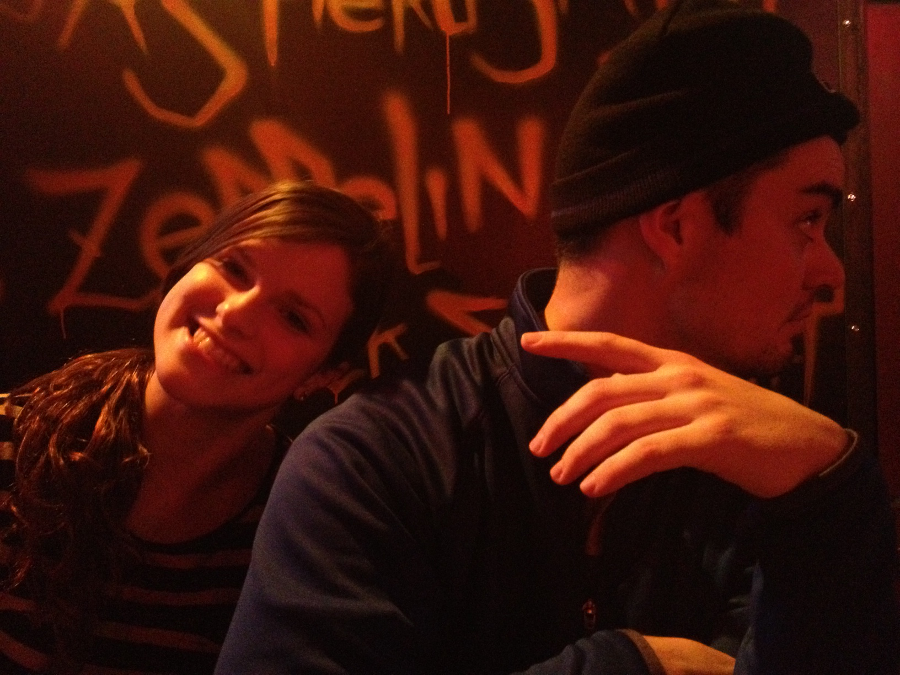 I was glad to see that everyone was getting along and that I wasn't needed to keep things interesting in Vancouver.
A Short Departure
In early February I left Janel and Idyllwild for the first time since moving there. I was heading for Twentynine Palms, near Joshua Tree, for another 3-day Vipassana course at the Southern California Vipassana Center (SCVC) there. Three day Vipassana courses are only open to old students who have completed a ten-day course and provide a good refresher and opportunity to practice the technique intensely but without a ten day commitment. I have found them to be very valuable for my practice and this course was no exception. Ever since my first ten day course I have been struggling with a certain difficulty and this course allowed me to take a big step forward in getting past this hangup of mine. In addition, I met an amazing person, Mike Alahouzos, who is incredibly kind, creative and peaceful. I learned that he and his girlfriend Diep had co-created a documentary about Cannabis that was going to be released in two years. The more I learned about this project the more inspired I became. For some reason I had never learned of many of the uses of the Cannabis plant and as Mike showed me the data and evidence I was blown away. The sheer number of non-medicinal uses alone makes Cannabis one of the most practical and multi-applicable compounds known to man. When you consider the medicinal value (especially the anti-cancer effects) it seems downright criminal that we aren't leveraging this substance more for the benefit of humanity. While I have never been a big fan of the use of cannabis myself I am now a real advocate for reform in this area. I truly expect Mike's documentary to shake things up and hopefully lead to a public outcry around our ignorant treatment of this incredible plant.
Smeeshy's Kitchen and Valentine's Day
One of the nicest things about having Janel with me in Idyllwild is the absolutely amazing food that she prepares day to day in our kitchen. As part of the process of outfitting the house we decided to get some really nice accessories for the kitchen, like stainless steel pots and pans and Global knives. These high quality tools, combined with the fresh veggie ingredients that we've been buying and Janel's incredible skills in the kitchen have resulted in some outrageously tasty meals that I have fortunately been able to enjoy. Here's a sampling of some of her dishes, most of which she created on the spot without any recipes:



Curry Spice Cauliflower over Red Quinoa and Wild Rice with Roasted Red Pepper Hummus on Carrot and Red Potato Latkas and Mango!



Pan Seared Red Peppers over Pistachio Mint Red Quinoa with a Spinach and Bean Sprout salad with Strawberries and a Balsalmic Reduction dressing!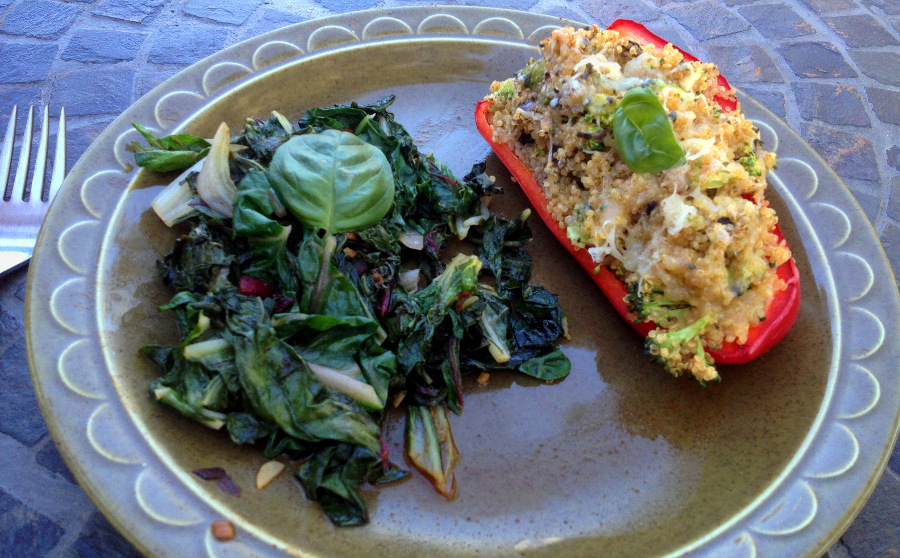 Veggie Quinoa-stuffed Red Pepper topped with Parmesan and basil with Swiss Chard and Bok Choy salad!



Homemade Teriyaki sauce over Udon Noodles with Pan Seared Asparagus, Broccoli and Yellow Pepper with Lemonade in a Mustache Cup!



Roasted Asparagus, Onions and Peppers, Swiss Chard Salad and homemade Falafel over Carrots and Sprouts with Roasted Red Pepper Hummus!

As you can see, I have been eating exceptionally well. Janel prepares a meal on par with these every single day. I wonder if I will ever get used to it... I hope not! My favorite dish that Janel has made for me (yet) was prepared on Valentine's Day. She made me a Cajun Vegetable Pasta dish that cannot be described in words. It immediately became my favorite food after the first few bites. After we had a tasty and romantic dinner together we settled in for a movie on our awesome theater. We decided to watch Equilibrium, a 2002 movie starring Christian Bale that a friend at my second Vipassana course had recommended to me:




The movie started really strongly, although it was a bit confusing at first. The premise centers around a dystopian future where all emotions have been eradicated in favor of a highly efficient society. The main character (Bale) is a 'cleric' responsible for the neutralization of any remaining artifacts or adherents to the old way of life. Thus he is shown arresting people with 'feelings' and burning original artwork such as the Mona Lisa. The presentation of the new world is done in a novel way and there are several scenes that used very subtle visual clues to indicate the sensitivity that the characters had to one-another's mental states. I was really impressed and enjoyed it despite the smattering of ludicrous action scenes. The ending didn't quite live up to the standard set by the first half of the movie, but overall I do recommend it. About halfway through the movie Janel and I somehow embarked on a long and thoughtful conversation together and decided to pause the movie so that we didn't miss it. The conversation ended up leading to some really beautiful connection between us and I think led to an even greater sense of joy at experiencing Idyllwild together. Since this conversation was so meaningful I decided to take a picture of the paused screen as a memento. Here is the shot that was on display for a few hours that night:




A pretty neat stapler, eh?
Parental Visiting #1
In late February Janel's parents (father Marty and mother Toni) came down to Idyllwild for a short visit. On their first day in town we visited many shops and stopped by the Nature Center. There are some good views of San Jacinto and Tahquitz from the hill nearby and it was a good spot for taking pictures: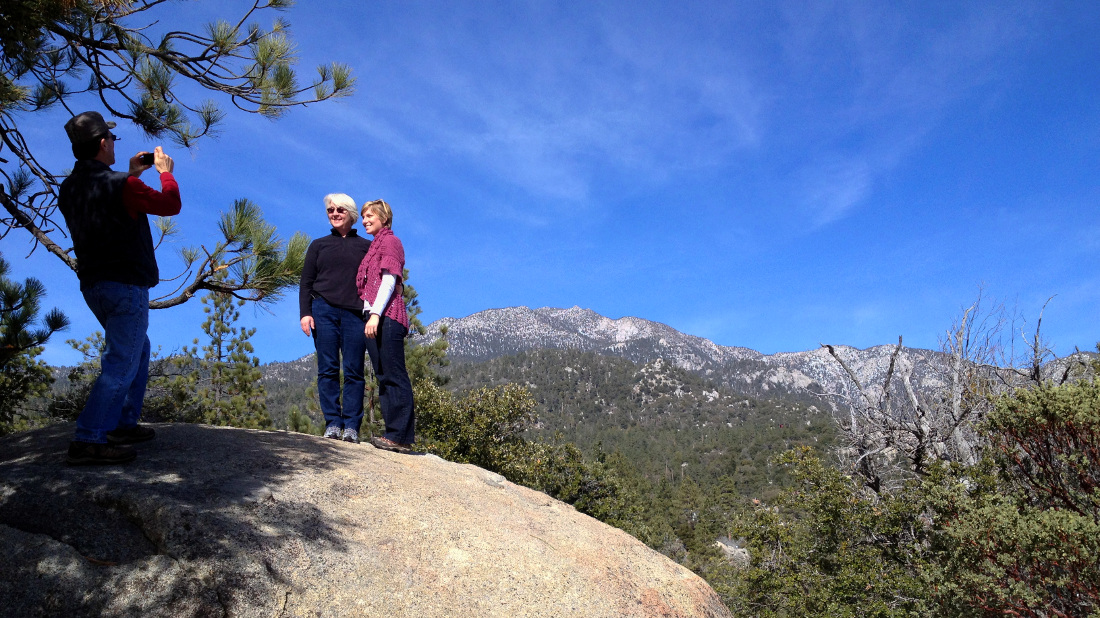 The next day we took her parents on the Pines to Palms highway down to Palm Springs and the aerial tramway there. On the way we passed through Garner Valley which I hadn't seen yet. It's a large valley South of Idyllwild that is home to a lot of ranch houses and horses. It's a really beautiful area and I am sure I will spend more time exploring it in the future. After passing through Garner Valley the land becomes increasingly arid as you lose elevation and head East. Finally the road snakes down into Palm Springs:




We hightailed it through the city on our way to the Tramway. The tram starts in a canyon on the North side of San Jacinto. When we arrived we got our tickets quickly and managed to make a tram that was just leaving the station. The ride was pretty incredible. The tram starts at 2,600 ft and ends at 8,500 ft, which is an ascent of almost 6,000 miles over 2 and a half miles. The tram cars hold around fifty people and rotate throughout the journey. The terrain is incredibly steep and rugged. Here's a picture taken about halfway up:




And here's a picture looking down as we entered the terminal at the top: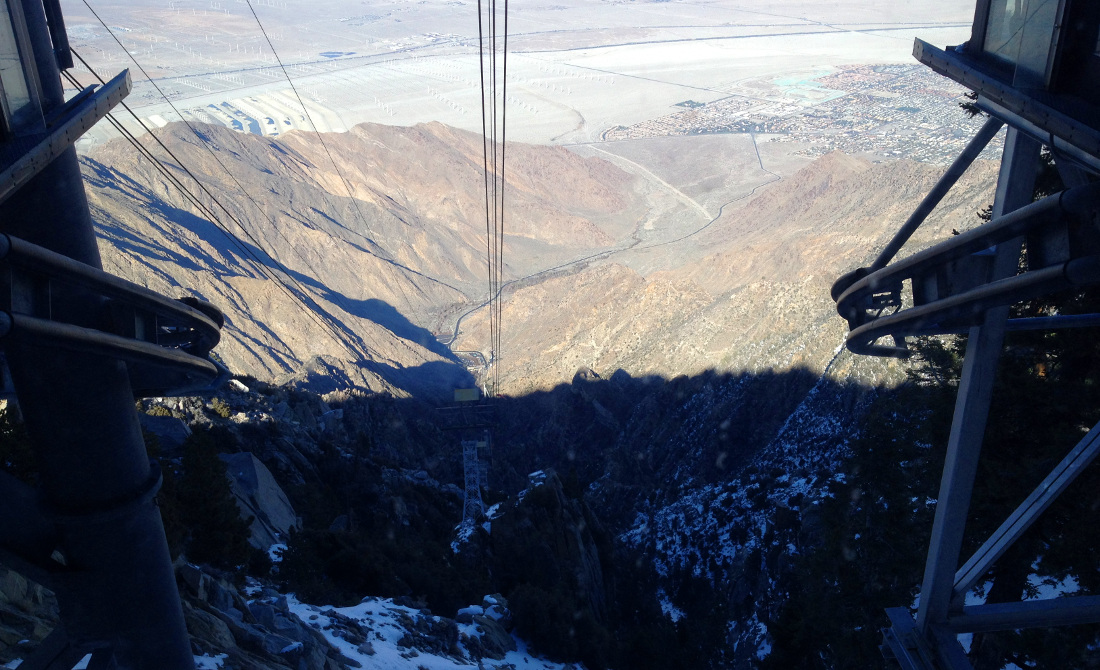 As you can see, it's an incredibly long way down. Here's the view looking East toward Palm Springs:




Once we arrived at the top we sat down at a picnic table for lunch. After eating we decided to do a short loop hike with several vista points. Here's a view towards the Salton Sea:




And here was the view back toward the San Bernandino mountains to the North:




There were several rock outcroppings on the loop hike that provided really nice views. Here's one of the ones that Janel and I scaled:




By the time we returned to the tramway station again it had gotten late and sunset was starting. The ride down the tram during sunset was really nice. Here's a view toward the wind farm near the top of the tram:




The day after we took the tram we decided to head to Carlsbad, California and have a beach day. Carlsbad is halfway between Los Angeles and San Diego and provides a generally quieter and less-busy beach experience. It's about 90 minutes from Idyllwild. When we got there we grabbed some great Mexican food at a place called Norte near the beach (yummy cactus fajitas) and then went down to the playa to spend some time reading in the sun. After a few hours we returned to Idyllwild for the evening. The next morning Janel's parents had to return to Portland. I think their visit was good despite being short. I was glad they got to experience the place that Janel and I are so excited about.
Idyllwild Country Park Bouldering
Since moving to Idyllwild I've been wondering what my climbing experience would look like. Although there is world-class trad climbing here, it's not accessible enough for training purposes unless you have tons of extra time to spare. It usually takes 30-45 minutes each way to hike to the base of Tahquitz or Suicide. As a result, I started looking for alternative climbing areas. The first place I discovered was the Idyllwild County Park which is about three minutes away and hosts fifty to eighty boulder problems. The problems aren't world-class but they are enjoyable and easy to access and provide experience on real-rock that translates to the larger crags up here. I began climbing regularly and found that I had to work my way up again. I was barely able to manage a few V2's my first time. The prospect of making this progression didn't depress me though, I was excited to explore the new rock and get back into shape. Here's a picture of one of the best boulders in the area to give you an idea of what the rock is like:




Here's a picture of me on a relatively easy crack on the other side of this same boulder:




I mostly repeated existing problems but once in a while I discovered routes that I doubt others have climbed before me. The first one of these was a route I called Orange Slice:




Here's a video of me climbing the route:



You'll probably need to maximize the video to make it watchable. Anyway, as time went on I began feeling better and better on the routes in the park and started to assemble quite a tick list. I started contributing routes to Mountain Project and eventually realized that I had put up more problems than anyone else. As a result I asked for Administrator privileges to the park and in response the site landlord gave me admin for all of the San Jacinto Mountains area! I am really looking forward to exploring more and fleshing out Mountain Project so that the county park becomes more of a regular training ground for other climbers. I also look forward to exploring the Black Mountain area nearby which is supposedly home to over 800 quality boulder problems!
Mammoth Mountain
A few days after Janel's parents left we had planned a five-day visit to Mammoth Mountain for some snowboarding. The forecast didn't look too great for fresh snow, but as it turned out, we got more than we bargained for as you'll see! On our way North we passed through Adelante and Victorville and decided to stop at a random Buddhist temple that we found before the end of the latter township. I'd seen this temple on my drive South on my motorcycle in October and wondered what it was. Here's a shot of the temple from the parking lot: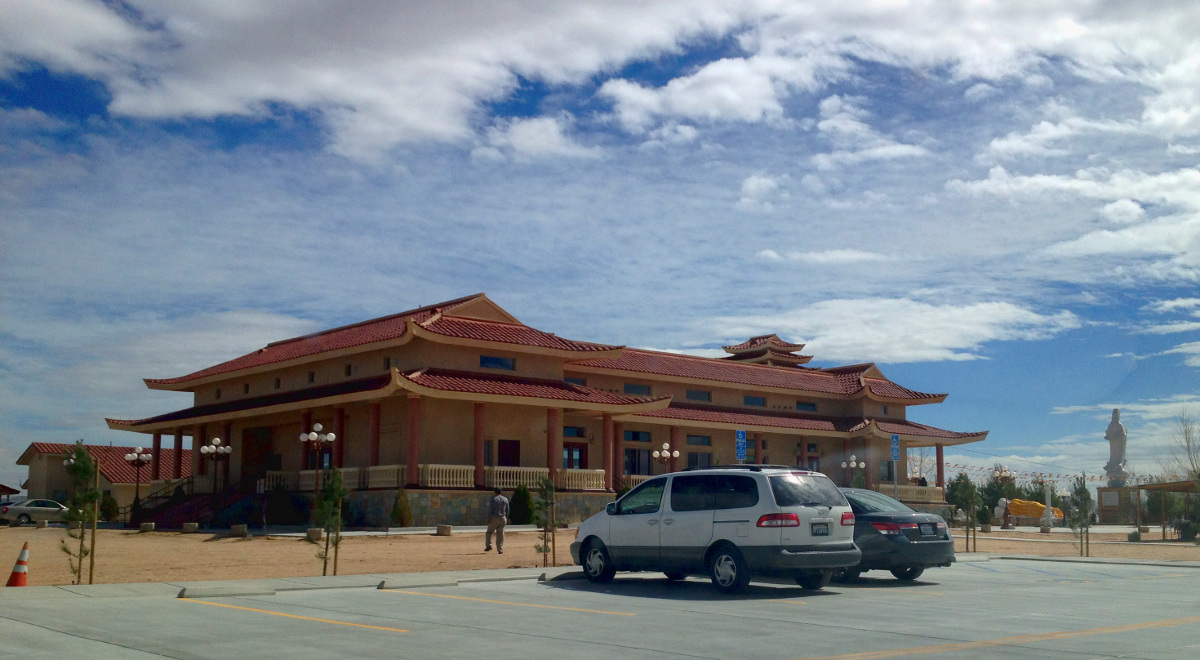 Behind the temple there were many many marble sculptures that were all brand new. Here's a sleeping Buddha:




The largest statue was in the center of a fountain. The marble was so recently cut that it almost looked fake:




In front of the standing statue was a line of statues of the Buddha's early disciples:




After exploring the statues and gardens we decided to enter the interior of the temple. After taking our shoes off we approached the main altar and seated ourselves. It was quite beautiful and ornate:




In addition to the main altar there were a few side altars including this one: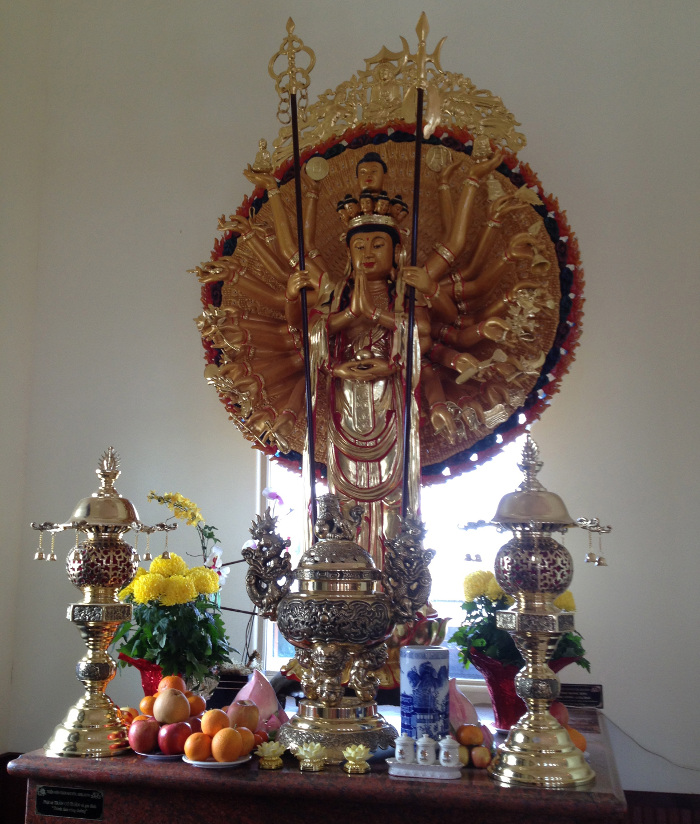 After we were done inside we exited the temple and were greeted by one of the caretakers of the grounds. He was a very charming vietnamese man and he invited us to lunch at a pavillion to the side. They had prepared a large cauldron of vegetarian vietnamese noodles. Of course we couldn't refuse and it turned out to be delicious! We were very grateful for the experience that this happenstance visit had brought us. It certainly set the stage for what was to be a wonderful ski and snowboard trip. After lunch we returned to the car and continued North to Mammoth Lakes. When we arrived we checked in to a very expensive and relatively poor Motel 6. As we weren't planning on spending much time at the motel the subpar accomodations didn't bother us too much. The next day was our first on the mountain. There was at most an inch or two of new snow but the sky was clear and it was an ideal day for taking pictures. Here's a shot looking North from the summit of Mammoth: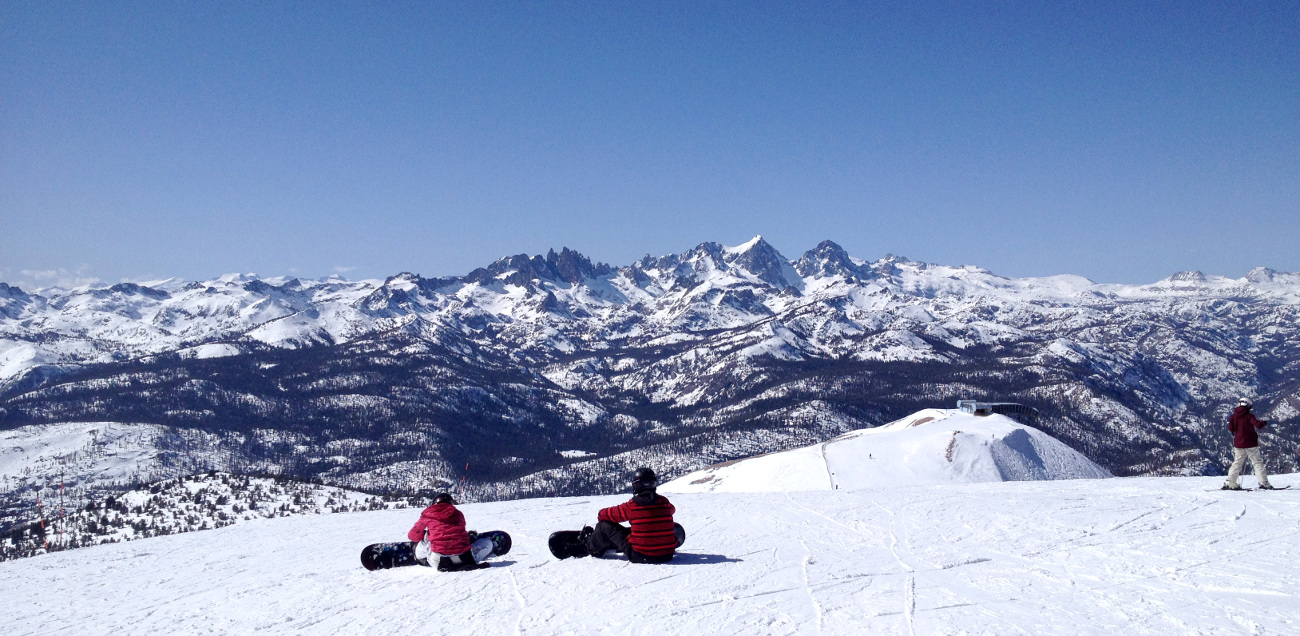 And here's another: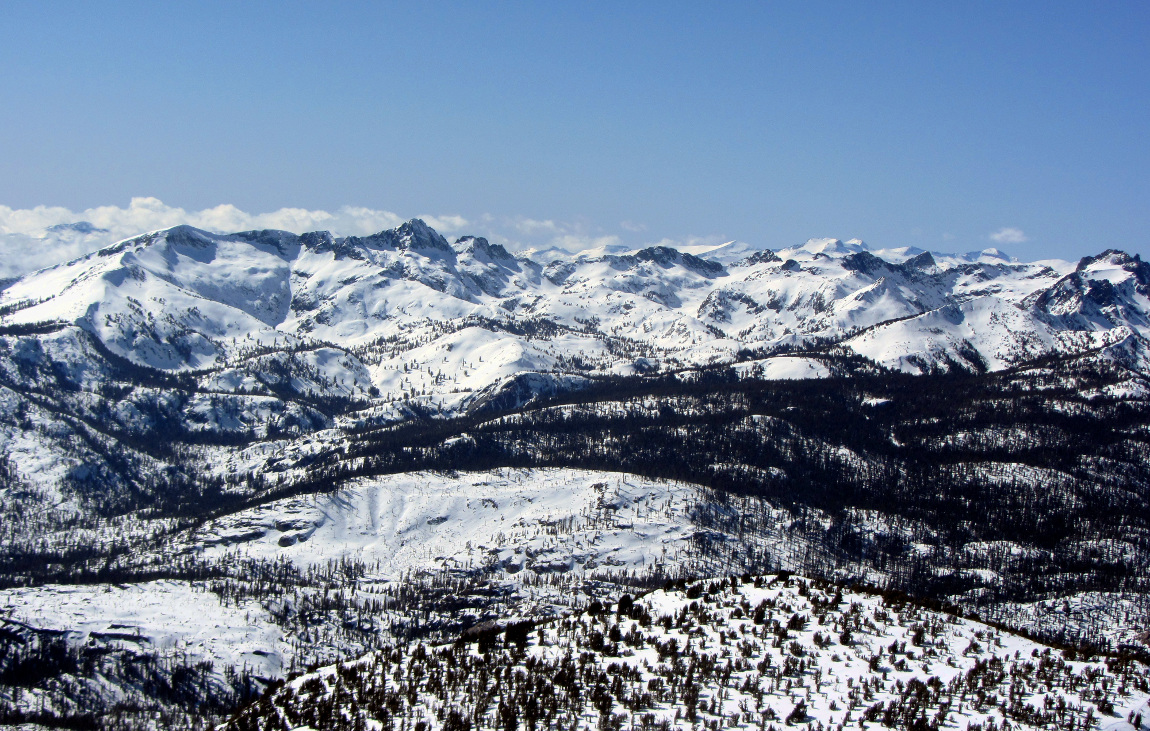 Such an incredible place! On the first day we explored much of the mountain. We both loved trees and found that our favorite areas were the Mambo trees on the Stump Alley Express low on the mountain as well as the Chair 14 and Cloud Nine areas higher on the mountain. Here's a view from Chair 14:




Janel is a very capable skier and we made a great pair together. Her experience in the trees and in deep powder was limited but she quickly adapted as conditions changed over the course of the trip: Here's a shot of her on Day 1 near the top: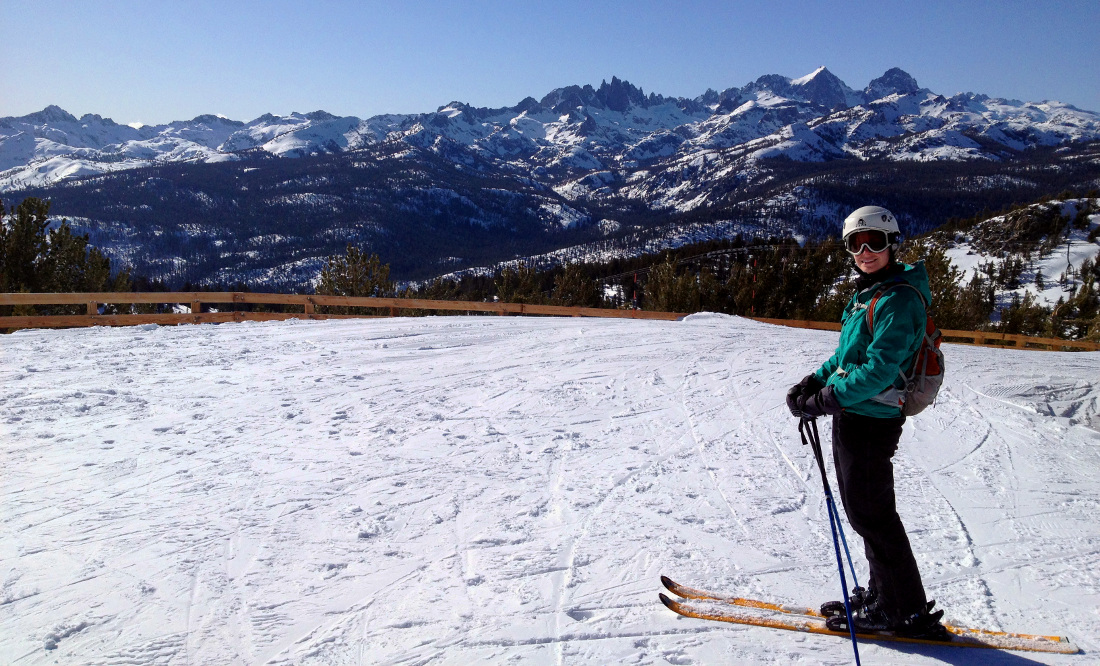 Since I hadn't snowboarded in two years I thought it would take me awhile to get the hang of it again but things came right back to me. I even started jumping more than ever before. Here's a picture of me on the first day as well:




After the long first day we decided to take a rest day since it appeared that some snow might arrive later in the week. The next day was just as sunny and it was a perfect opportunity to explore some of the hot springs that we had heard were located nearby. Apparently the Mammoth Lakes area sits above a giant magma chamber deep in the Earth's crust. Pockets of groundwater are heated rapidly and rise out of thermal vents creating hot springs throughout the area. We had our pick of a few of them and decided on the Wild Willy hot springs which were very easy to find thanks to some online resources. The drive was about 15 minutes from Mammoth to a dirt road and another mile or two on this. As we went we startled some wildlife and were surprised by their sheer number:




The walk to the springs was incredibly scenic and traversed along some small lakes in the central basin. Here's a shot of the sierras across one of these lakes:




The springs themselves consisted of two separate pools at around 102-105 degrees (basically perfect). They were primitive pools and it was easy to stir up sediment at the bottom. Of course this didn't bother Janel and I and we considered the spot paradisical. There were folks in the larger pool so we gladly set down in the smaller pool to the side. Their dogs were very friendly and came over to say hi: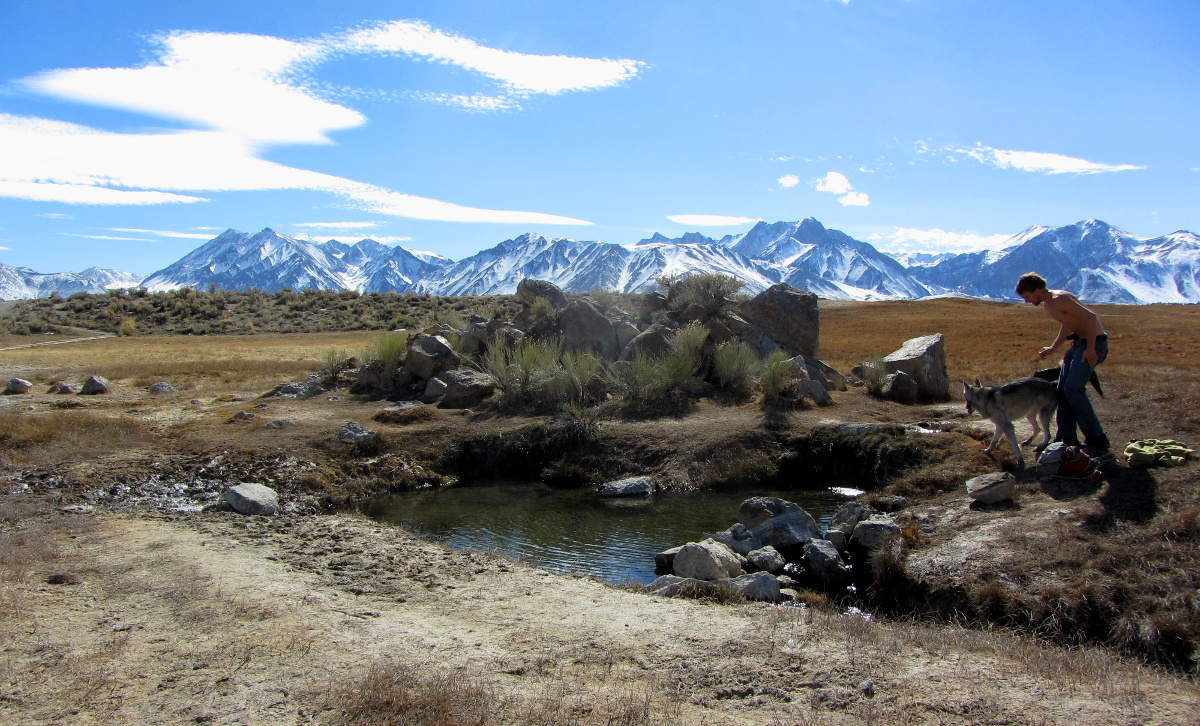 The soak felt very good on our sore muscles. I think if more people knew about these springs then visiting them on rest days would be commonplace. It might be a good thing that they're not so well known, however. After relaxing in the hot water for a few hours we decided to do a short hike in this interesting landscape. The ground was very squishy and muddy in spots and it was quite challenging to navigate the terrain without incuring a case of swamp foot. Towards the end of our hike we setup the camera for a photo of the both of us:




The night after our rest day the weather changed dramatically. Although the forecast only called for a few inches of snow we ended up getting between 8 and 12 inches of fresh powder! I had to take a conference call the following morning so we got up early to hit the mountain for an hour before I had to do the work. Since my car was essentially beached in the parking lot I couldn't get to anywhere with wi-fi. As a result I used my tethered iPhone as my internet source and used Google Voice for the phone call. The snowfall became very intense and even I had to laugh at myself giving a demo of my software in my car in the midst of a blizzard. Doing a demo to people 3000 miles away from my car with a tethered iPhone in the middle of a snowstorm is me reaching a whole new level of cavalierness with my work :-). As usual with my luck things went very well and before long I was back on the mountain with Janel enjoying the feeling of surfing the deep snow and exploring the trees. The next evening we had another six or eight inches and these two days were some of the best snowboarding I've ever done. They definitely rivalled (or even surpassed) my Whistler trip of two years prior. Here's a couple shots of the snow from Chair 12 where we spent a lot of time:




On the final day of our stay in Mammoth we checked out of the hotel and went to a coffee shop where I could do some work prior to leaving town. They were very serious about their cappuccino and this provided an opportunity for artistic expression. I call this photo 'Cappuccino Still Life with Keys and Sunglasses':




Overall the Mammoth trip was a huge success. Janel and I both couldn't believe our luck with the weather and the mountain. The lift lines were negligable, the terrain was incredible and we both felt like we progressed a great deal in these three days. I hope to make my way back up to Mammoth on an annual basis. It's a great mountain! On our way back to Idyllwild we stopped in Big Pine to see Scott and April, my friends from Portland who had moved down here. Scott was now working for Mono County and spent a lot of time bouldering in Bishop. He was planning on climbing the Nose in Yosemite in the summer (I'm envious). It was nice to see them again and catch up. When we arrived back in Idyllwild six inches of snow had fallen:


Slinky and Griffin
After returning from Mammoth we only had a couple of days to prepare our house before a pair of guests arrived. We were planning to host a fellow burner named SlinkyCat and Janel's brother, Griffin, who was on spring break. We determined that the guest room was meant to be Zen themed and we painted it warm green and yellow colours to give it a summery feel. To flesh out the space we obtained several pieces of furniture and art that worked well together. Among them were a recliner, zen-themed desk light, bamboo bookcase and desk, a bamboo privacy screen, and these scrolls:




Perhaps the most unique addition were a set of duvet covers that Janel designed and created from fabric we found at Jo'Anns. The idea was to have a border of Batik fabric around an off-white canvas-like material on one side and have the other side be entirely plaid flannel with similar colors as the batik. As we outfitted the room Janel made three of them, one queen, one full and one twin. Here's a couple shots of the room once we were basically finished with the work:




Some of these things, like the futon/twin bunk bed, weren't there yet when Slinky and Griffin arrived, but the rest of the things were. We were really happy with the room and hope that future guests enjoy these accomodations. With the fold-down futon bed we can comfortably accommodate 5 people in this room alone. Anyway, a couple days after returning from Mammoth Griffin arrived one evening and the next day I descended from the hill to pick SlinkyCat up in the Hollywood area. After snagging her, we went to Pasadena to pick up some books from my friend Max. Max's roommates were home and nursing hangovers, so we all decided to grab some breakfast together:




As you probably guessed, SlinkyCat is at the bottom left. Max is next to her and his roommates are on the right side of the photo. After we ate, Slinky and I went up to the foothills of the San Gabriels to walk up to a vantage point. Here's a shot of us two at this spot: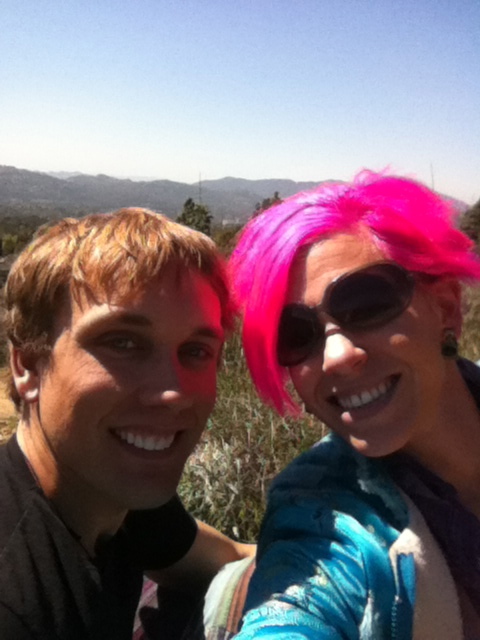 These images have not been modified. Her hair was actually that bright :-) After leaving Pasadena we started back towards Idyllwild but stopped over at the Riverside Quarry where Ivan was spending his day. Although we didn't have much time, Slinky and I decided to rope up and give a couple climbs a try. I started by top-roping Tangerine Dream (5.10d/11a) which was awesome as usual. Since the beginning of this climb isn't too hard Slinky decided to give it a go. This was her first time climbing ever. As you can imagine, she was very excited:




She ended up doing pretty well. She climbed fearlessly, at least for the first fifty feet before things got steep. Here she is near the top of her ascent: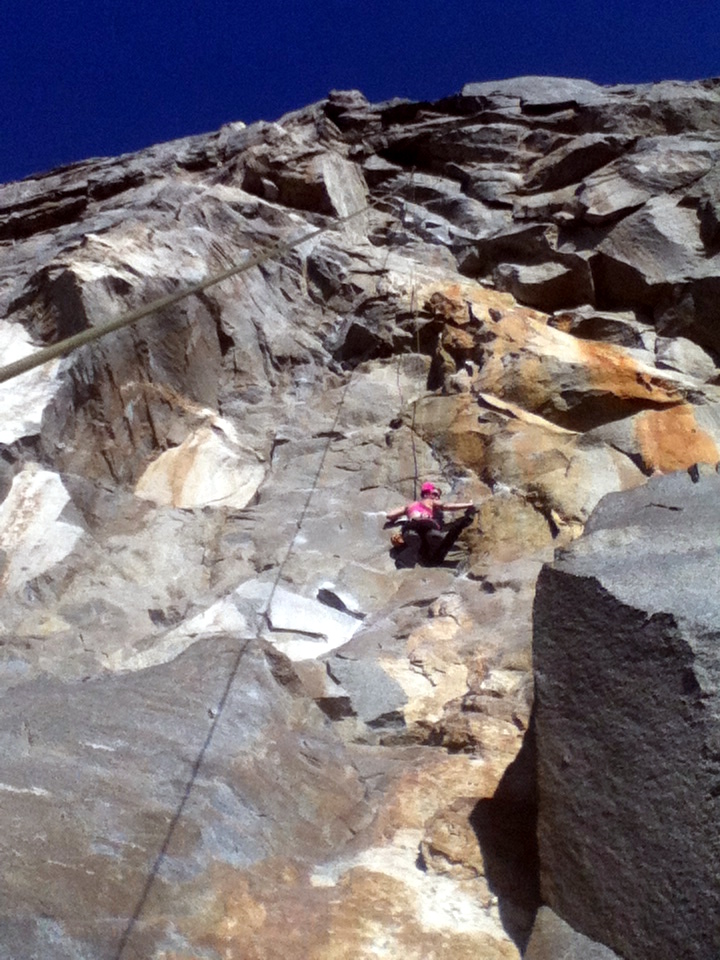 After climbing for a couple of hours we continued to Idyllwild. We arrived just after dark and decided to watch the Miyazaki (Studio Ghibli) film Castle in the Sky which turned out to be almost as good as Nausicaa:




After watching this film my ranking of his works now goes Nausicaa, Castle in the Sky, Spirited Away, Howl's Moving Castle, etc ... (there are about 10 or 12 more). If you haven't seen these films yet, I can't recommend them enough. The next day Janel, Slinky and I decided to make another snowman on the deck. We outfitted it with some of Slinky's costumery:




The next day we went into town and visited a bunch of stores in town center. Here's Slinky, Griffin and I goofing off near the Spruce Moose:




Later we visited the Funky Bazaar, a cool eclectic shop owned by a local character named Peter.




Peter explained to us that Idyllwild was full of good people, and that there were only five idiots in town. We figured this was a pretty good ratio. His shop was full of really interesting art and he also hosted weekly locals-only gatherings in the summer on his patio next to the creek behind his shop. We look forward to coming back for some of these later this year. After returning from town we set up a 2" slackline on the deck behind the house. Here's a picture of us giving it a try:




After a few days of messing around on the slackline I started getting the hang of it much more than ever before. It wasn't too long before I was able to walk the 25 foot line on occassion. I find it amazing how things that at first can seem so impossible can quickly become feasible thanks to our ability to adapt. The next day we leave for Joshua Tree in two separate cars. We almost snag a spot in Hidden Valley Campground but narrowly miss our chance. Instead we end up in Ryan Campground which is also a good one. In over twenty visits to Joshua Tree I've never successfully secured a campsite in Hidden Valley. It's by far the most sought after campground among the climbing population for its proximity to the best routes. Anyway, our campsite was plenty adequate for us and we set up camp and settled in. The first evening we went to Trashcan Rock for a primer on Traditional Climbing. None of my pupils had ever climbed a crack or used cams or nuts so we had fun learning these things over the course of a few hours. We stayed at the rock until dusk and caught a beautiful sunset. The next day we decided to climb at Playhouse Rock which is an underrated beginner area in my book. Here we are on the hike to the wall:




We climbed a pair of 5.7s and a 5.6 and I led a 5.9 as well before we were finished. Everyone did an amazing job and it was a really fun, albeit hot, day. After the climbing we decided to go for a short hike at the Barker Dam loop during sunset. Here's a cool picture of Slinky that we took on the walk: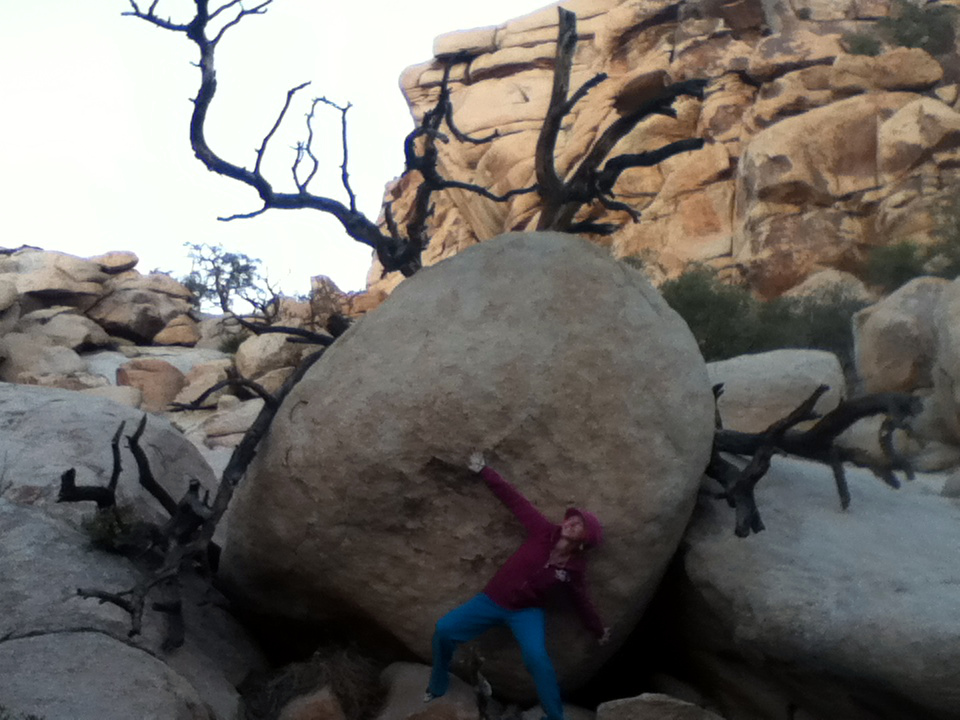 The dam was completely dry, which I'd never seen before. There was also a TON of graffiti all over it, something else I'd never seen. It was really a shame. Here's me walking along the top of the dam:




The next morning I had to get up super early to give training to a team of technical people at Lancaster General Hospital in Pennsylvania. My plan was to drive into town and prepare for two hours before the training. As I drove out of the park and my cell phone service was restored I received a text message at 7:05am that the meeting had begun five minutes prior. I shockingly realized that I hadn't taken the time zone difference into consideration and my 10am meeting had already started! I wanted to pull over and tether my iPhone to join the meeting but I soon realized that the WebEx they used required me to have an active phone line in addition to data. Since my phone couldn't manage this I had to continue my drive all the way to Yucca Valley where there was a Starbucks. Even at 90mph this took another twenty minutes and my audience almost cancelled the meeting. Apparently they had a couple of doctors in the room as well and patience was running thin. When I arrived I frantically setup my computer on the wifi and logged in. I still hadn't prepared a script for my training so I launched into the default demo-style presentation of the tool that I'd done before. I was incredibly nervous since I didn't know for sure that the tool would perform the required tasks without issue. It was still a beta version of the tool and things were not completely stable yet. As I proceeded with the demo the inside noise from other customers prompted me to go outside from time to time. However, the noise from passing trucks on the highway forced me inside often as well. All told it was an incredibly challenging situation and I was incredibly lucky to pull it off. The tool never crashed although a couple of strange things did occur; fortunately I managed to gloss right over them. I finished the training on time and answered several questions. There were a number of follow up items that I needed to work through before returning to the park but when the call ended I breathed a huge sigh of relief. They were actually impressed! It took awhile before I was able to calm down to a normal heartrate. This was certainly one of the most intense work situations I'd ever had and of course it was entirely my fault. I had told the rest of the group that I'd be back to the campsite by 11am so even though the call was over I was still facing a huge time crunch. I estimated that I had about four hours of work to do and little more than two hours of time to complete it. So instead of being able to relax a bit I dove right into my work and with my frantic pace managed to complete it in just over two hours. I sped back to the campsite to find the group sitting contentedly at the picnic table. I recounted the whole story to them and they were surprised to say the least. While I had been having this traumatizing work experience they had gone exploring the old ruins near Ryan Campground: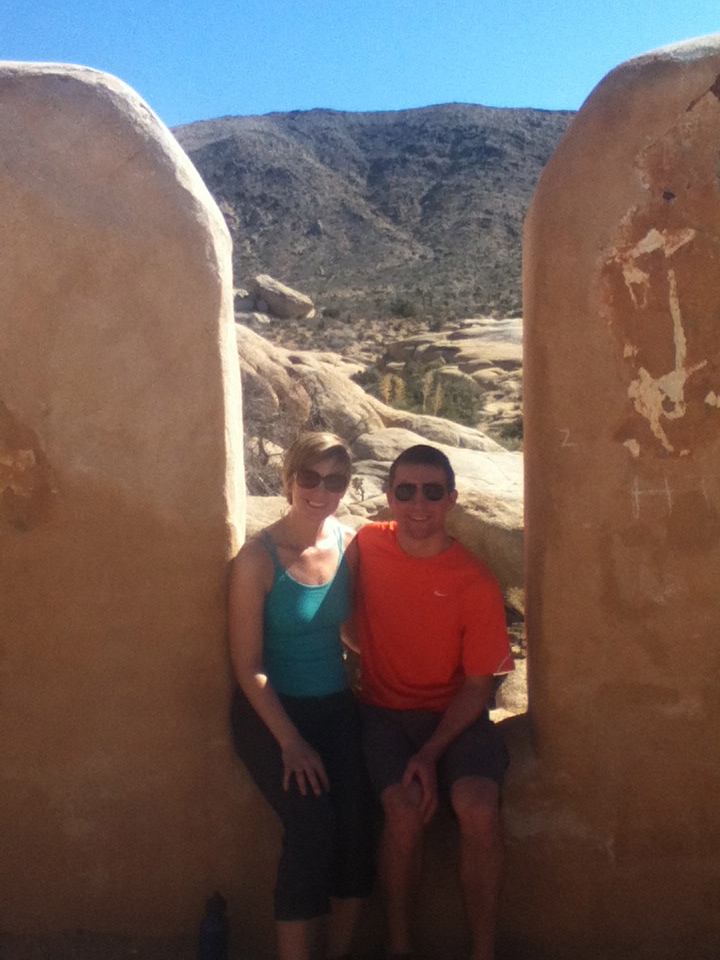 Now that I was back we prepared ourselves for another day of climbing, this time at the taller and more exposed Dairy Queen Wall. I'd spent more time climbing with beginners at Dairy Queen than perhaps anywhere else, with the possible exclusion of Trashcan Rock. I setup ropes on Scrumdillyishus (5.7), Frosty Cone (5.7) and Hot Fudge (5.9). Here's a picture of me getting started on my lead of Scrumdillyishus:




Later Janel tackled the route on top-rope:




Finally, here's a shot of Slinky on Hot Fudge:




After climbing for a few hours at Dairy Queen we returned to the car and drove to Trashcan Rock for a brief session before dark. Janel led her first Trad Climb, B-3, which was a perfect 5.1 for her. She had no trouble at all and really enjoyed herself. I am so proud of her! Considering she had never even led a sport route before this was a big leap :-) While she was climbing B-3 I led the 5.7+ sport route next to it called Tiptoe. We met up at the top and she rapelled while I took down the anchor and walked off. The next morning we decided to do one last hike before leaving the park. We parked at the Real Hidden Valley lot and made our way to the Sentinel. We hiked up the slabby back of the 200-foot tall formation and before long reached the top. Here's a picture of Janel, Griffin and I basking in the sun up there:




Slinky also found a nice little nook for herself:




Once we were finished in the Hidden Valley we drove South out of the park. We stopped at the Cottonwood Springs Oasis on our way out before heading back to Idyllwild. Slinky and I had a good conversation about Burning Man in the car while Janel and Griffin took the Pines to Palms Highway and beat us home by a couple minutes. A few days later Griffin had to return to Montana. The next weekend, Ivan, Ronen and Ronen's friend Jacob visited and the whole group of us hiked the South Ridge of Tahquitz Peak together. Here's a picture of most of us (minus Jacob) after eating lunch near the summit: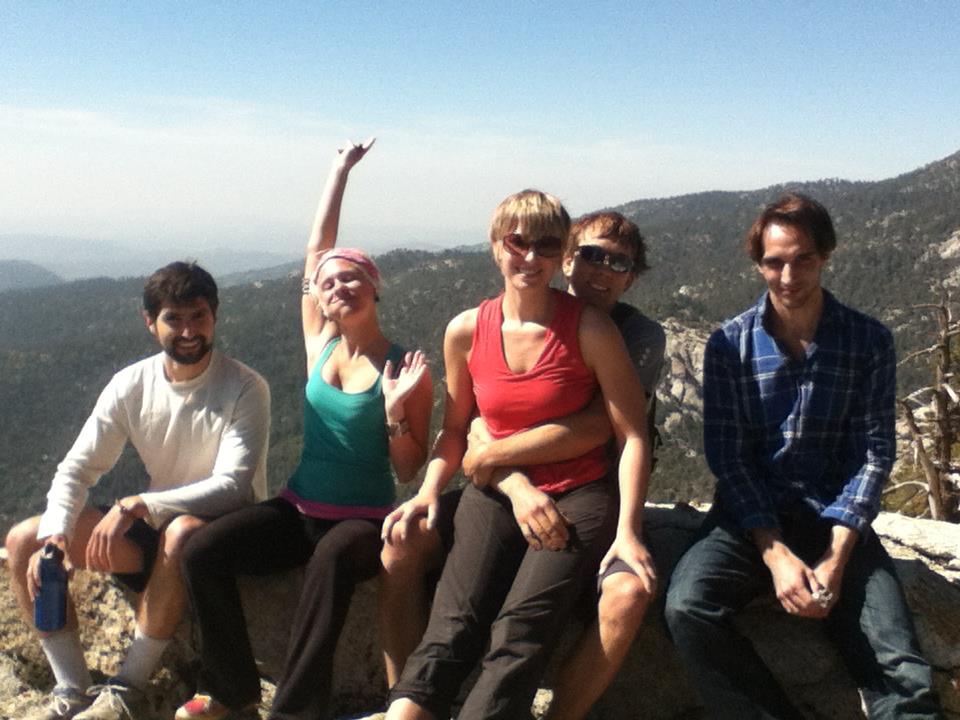 This was our last day with Slinky and the following day everyone left. Before leaving she created an awesome psychadelic work of art for us on a 2' x 3' piece of wood. Here's a shot of half of it:




I returned to Pasadena with Ivan so that I could pick up my BMW from Ryan's place and drive it up to Idyllwild. After returning it was just Janel and I for the first time in a couple of weeks. The winter was over and Spring had sprung in Idyllwild. Without any visitations planned for the next few weeks we had an opportunity to start some larger projects and continue to prepare our new home for its future purpose...

Forward to Spring 2013
Back to Index