Back to Index
Back to Winter 2012-2013
Project Time!
The Garage and The Rainbow
The day after we got back from Joshua Tree I suddenly had an idea to build a crack simulator for training crack climbing skills. At first the idea was rather simplistic but before long it had taken root and grown into a pretty elaborate design. The basic premise is that it would attach to my chimney, be 17-feet tall, and have seven cracks on it, one for each color of the rainbow. Each crack would be a different size, from finger tips to fists. Its name would be, unsurprisingly, The Rainbow. In order to create such a thing I would need to clean and outfit my garage appropriately. At the time it was still infested with cobwebs, dust and dirt. With Janel and Slinky's help we vacuumed it out (taking care to relocate spiders peacefully), and caulked all of the nooks and crevices. It ended up taking a few loooong days of work and upwards of eight canisters of caulk before it was done. In the end though I was much happier with the space than before we started. I organized the tools and obtained a few sawhorses to hold the wood for the rainbow. The first step for creating the rainbow was mixing the colors. Since we couldn't obtain the super-durable paint in small quantities of separate colors we had to obtain tints and mix the colors ourselves. This turned out to be quite fun (and also quite a learning process). Here's a picture of our color mixing area:




At the top of the picture you can see our canning jars with the finished colors in them. We put an acrylic textural additive in the paints to provide more grip on the finished project. The next step in creating the Rainbow was sanding the planks in preparation for painting. The boards were each 16 feet long and six inches wide and made of solid redwood (a very nice wood). Here's a picture of Janel sanding one with the already sanded boards in the foreground: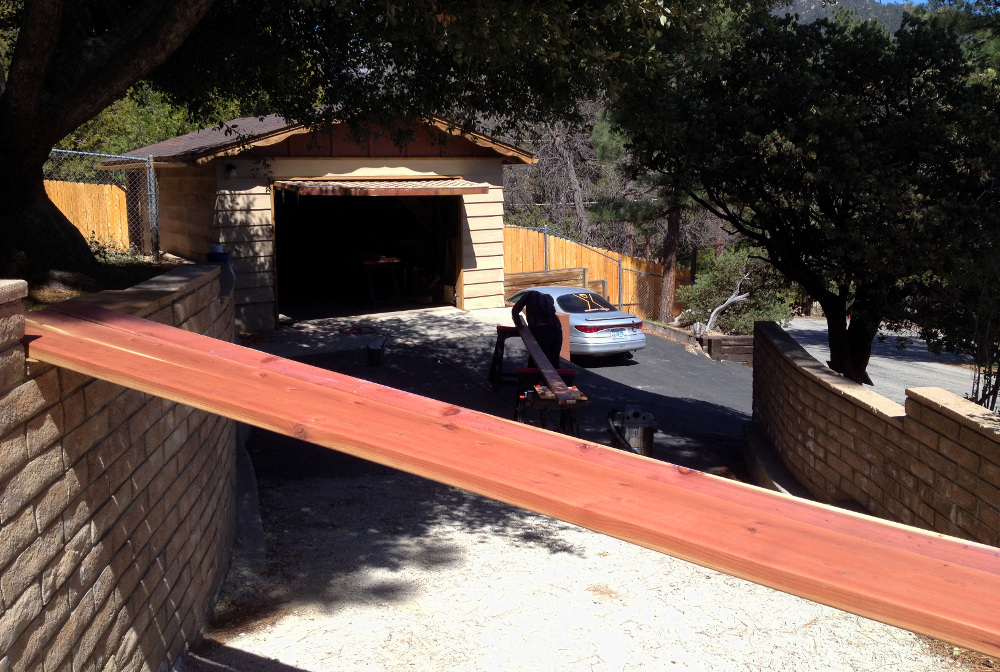 Here's a picture of the garage outfitted with some additional tools needed for the project, including a drill press that you can see on the end of my workbench:




I got the drill press on amazon for the ridiculously low price of $120 shipped. It even has a laser guide for precise drilling! Once the boards were all sanded we started the painting. This was a long process since the boards required so many coats to achieve a suitable level of opacity. It took at least three days of work to paint all of the boards. Here's a look at several of them drying in the sun: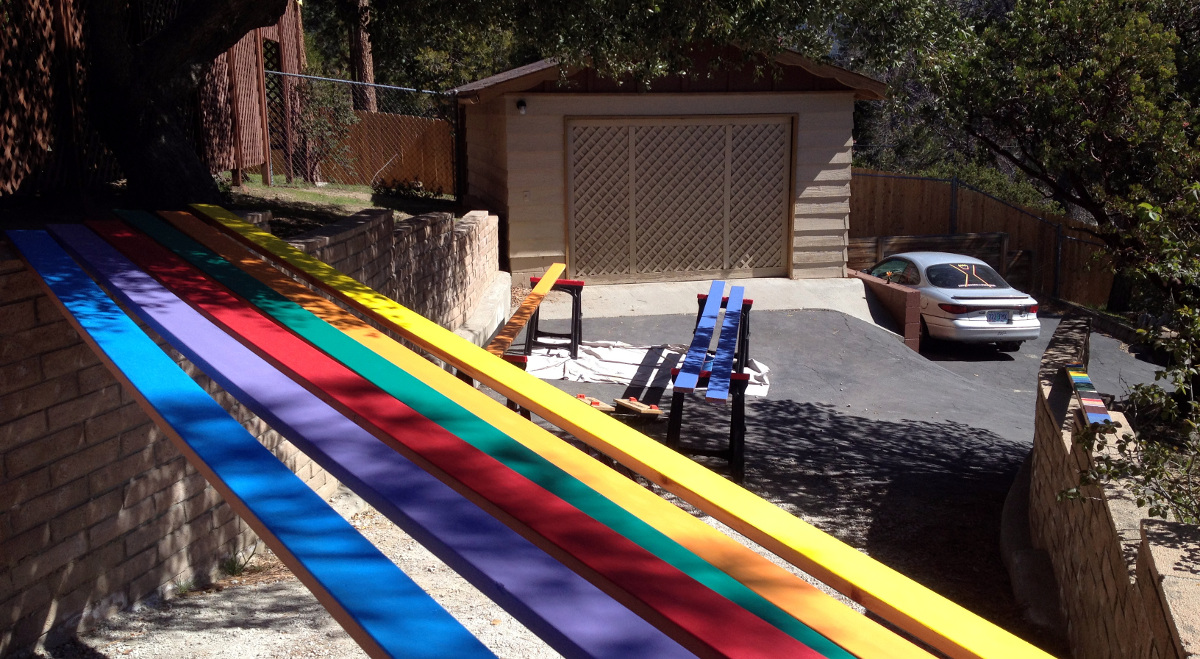 After the boards were painted we moved onto the cross beams. These were the shorter 2x4 sections that needed to have sections painted in all of the colors. We also had to paint little blocks that would serve as supports for the foothold sections:




The foothold sections themselves were 2x8's that I decided to paint silver to give the rainbow an even more obnoxious look:




Once all of these wood sections were painted I moved into the drilling and cutting phase. To achieve this I had my trusty drill press as well as a brand new Dewalt Miter Saw:




I spent many hours creating sawdust with these tools before I reached the assembly phase. In the meantime there were other events that took place. We'll return to the rainbow shortly.
Beach Day!
On the last day of March Janel and I decided to head to Carlsbad for a spontaneous beach day. As usual the weather was perfect. We went for a swim and bathed in the sun, typical beach stuff. Throughout the day there were flocks of pelicans and other sea birds traversing the coasts on the updrafts. This, combined with the clouds, made for some awesome pictures:




And looking the other way:




I still love the beach.
Vipassana Service
In early April Janel celebrates her birthday. This year she decided to celebrate it in a distinctly selfless way, by giving Dhamma service at a 10-day Vipassana Course. Since I had never served before either I decided to sign up with her, and on April 3rd we left for the Southern California Vipassana Center in 29 Palms. Unlike the two times I had sat 10-day courses, this time I would be a server, one of eight or ten people responsible for preparing the meals and cleaning the dining halls. Unlike the students we would be able to talk to one another, but we would still be meditating for 3.5 hours per day in addition to our six or eight hours of work. The experience turned out to be the most formative Vipassana experience yet for me. I wrote the following thoughts when the course was nearly done:




It is the night of the tenth day of Dhamma service at the Southern California Vipassana Center. For the past ten days Janel and I have been serving approximately seventy meditators and fifteen staff at the center. It was suggested to me by my first Assistant Teacher after hearing about my personal difficulties with Vipassana that I should serve a course. I am very glad that I took his advice and feel that this experience has been at least as valuable as sitting another ten day course would have been. From the very beginning I thoroughly enjoyed my duties in the kitchen. I was responsible for cooking most of the main courses (surprising, no?) as well as dishwashing and preparing the dining halls for mealtime. My lack of experience, instead of making things stressful, added excitement to my work and allowed me to fully engage myself. This, coupled with the help of several amazing co-servers, created an environment that was a joy to be a part of. For the first five or so days the focus was definitely on the work, and although we were meditating 3-4 hours per day my meditation was consistent and not too different from what I'd been experiencing at home prior to the course. All the same I was happy and in a very good place and I was also slowly becoming more sensitive and more focused. On the sixth day I discovered a new posture for my feet and began feeling more centered in meditation. I also started eating less and this helped to enable some profound meditation on the evening of the seventh day. My relationship to my meditation was slowly changing and this was allowing me to develop more awareness than ever before. In these moments of heightened awareness I was able to perceive the truth of the teaching more clearly and felt much more grounded in the technique. Despite the fact that I have been practicing Vipassana for almost 18 months I still manage to generate doubts about myself and sometimes about the technique. For the first time I found myself, while serving this course, having experiences that might permanently silence these damaging thoughts. The affect on me was remarkable. I came out of the meditation hall on the evening of the seventh day feeling so much joy and gratitude. My heightened state of awareness made the desert around me a fountain of beauty. It was truly wonderful. The next few days brought their own set of challenges. Nearing the end of the course I was beginning to feel a bit homesick at times but setting an intention to finish the course well certainly helped. In addition I mustered the energy to continue working hard at my meditation and additional successes occurred. Finally on Day 10 I engaged in a conversation with Dorian, one of the long-term servers at the center, that was incredibly inspiring and cemented my feelings about the practice. Day 10, Metta Day, as usual turned out to be the icing on the cake. Apprehension about being able to leave was certainly present, but it was relatively easy to keep myself grounded thanks to the positivity all around me. Despite the difficulties, every Vipassana experience I have continues to ground me more and more in this wonderful Dhamma. While I know that the hurdles are far from over, I expect this trend to continue and my higher self absolutely looks forward to the next course and the rest of this wonderful, albeit intense, lifelong journey.
Rama to Jungle
~Colin




Janel's experience at the course was somewhat different than mine on account of her duties. Instead of serving in the kitchen she was appointed the female manager. As manager she was the first point of contact for the female students when they had concerns or difficulties during the course. She was also expected to be in the meditation hall whenever the teachers were present, which meant that her schedule was more demanding. On top of this, the students could come to her at any time of day with concerns and they often did. As a result her experience was a bit more intense than mine yet incredibly beneficial in the end. The course ended on a Sunday and we decided to check out a nearby place called the Integratron on our way back home. The integratron is a very interesting place with a fascinating history that you can read about here. It was designed and built by an eccentric man named George Van Tassel using entirely wood, glue and paint and designed to be acoustically "perfect" (and perhaps a power plant of some kind). Since his death it has changed hands many times and presently hosts sound baths done with crystal singing bowls. Here's a shot of the outside: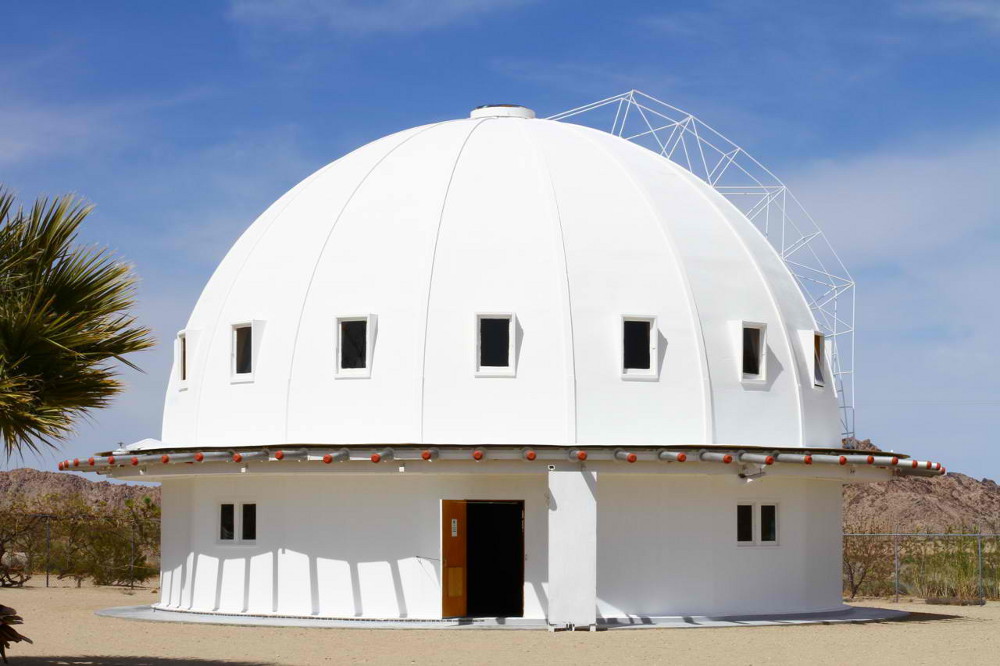 And here's a picture of the interior room where they did the sound bath:




As you can see it is has really beautiful woodwork. The sound bathing session lasted about 45 minutes and involved the use of several massive crystal bowls. The sounds generated were surprisingly loud and the vibrations shook our entire body. Hearing and feeling the notes oscillate through harmonic and dissonant frequencies was a very unique experience. It's something that's very hard to describe but if it sounds interesting to you I would highly recommend it. After the sound bath we relaxed in the hammock village outside the integratron for awhile. One of the people who worked there gave us some recommendations on places to eat nearby. According to him, the best spot was a restaurant called Pappy and Harriet's in a wild-west themed village called Pioneertown:




It seemed like a cool spot but there were dozens of people waiting for tables (due to Coachella recently being over) and the menu was distinctly un-veggie friendly. As a result we decided to tour the place and then grab lunch at Sisters Cafe in Joshua Tree (which is awesome). Anyway, here's a few pics from inside: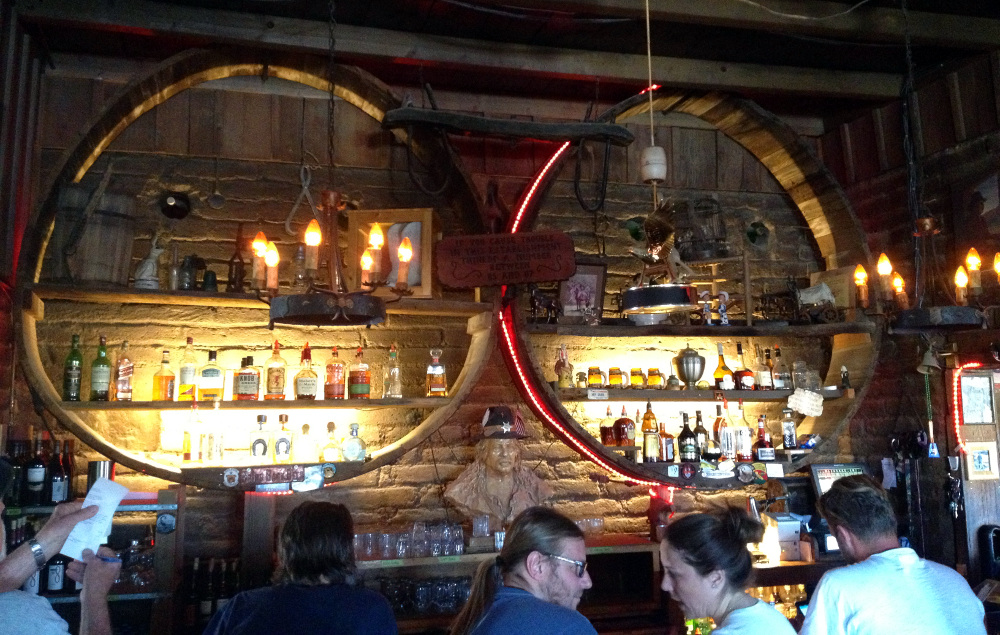 After grabbing lunch we drove home and were surprised to find the flora in Idyllwild so changed. There were wildflowers and manzanitas blooming and the air was incredibly sweet. We were so glad to be home.
Red Rocks 2013 (...and a bit of Vegas)
In late April, Janel and I went on a climbing trip to Red Rock Canyon Conservation Area (near Las Vegas). Last year I had climbed a couple of classic routes (Epinephrine and Dream of Wild Turkeys) on the Black Velvet Wall here and this year I was back to attempt a few more with Ivan. In addition, Janel and I were going to attempt a few moderate routes to further our partnership in the climbing realm. We arrived late on a Thursday afternoon and checked into the Days Inn (at the Wild West Gambling Hall). Since it was still rather early and Janel had never been to Vegas, we decided to spend a few hours walking the strip so that she could experience the ridiculousness that it is. We walked through the new mega-resort, the Cosmopolitan, and weren't particularly impressed. It's on the right-hand side of this picture of the strip, in blue:




They had an interesting bar that was designed as if it were suspended in a giant chandelier but otherwise it wasn't nearly as impressive as the interior of the Bellagio or Venetian. Speaking of which, the Bellagio's art rooms were one of Janel's favorite sights that night. Here's a look at the blown glass flower ceiling:




Behind the reception area was the first themed room:




Past the reception was the main fantasy-art room with an emphasis on butterflies and mushrooms:




Also a windmill, oversized tulips and raindrops:




More giant mushrooms:




The end of our walk took us to the distant resort of the Venetian. Despite the investment in getting there (we had to endure the flippant wantonness of many a vegas sojourner), the canalways were impressive as usual:




The little shops were also pretty nice in the paseo area:




Returning to the hotel on foot was a bit painful. We arrived at about 2:30am and immediately hit the sack. We had been planning on climbing a long multi-pitch route the next day but due to our lack of sleep and experience in the area we ended up deciding on a two-pitch 5.6 called Physical Graffiti in the Calico Basin. The rock in this area is remarkably red, very soft on the hands, and very featured:




The hike up to the climb itself took about 30 minutes. When we got to the start we unpacked the climbing gear and soon realized that I had forgotten Janel's harness at the car :-/ I ran down to get it and by the time I returned was quite winded. We racked up and started the climb. The rock was so nice, and the climbing was quite interesting for a 5.6. The first belay station was a convenient ledge with a two-bolt anchor. Janel made quick work of the first pitch, here's a shot I took of her finishing it up:




The second pitch was very long, around 200 feet. It was a splitter crack with accompanying face features for hands and feet in most places. When Janel finished the pitch she reported to me that she had been climbing parts of it with both her hands and her feet in the crack, and that she had felt solid handjams for the first time on a climb. She and I were both really excited about this development. Although it had only taken us 90 minutes or so to complete the climb we both felt really good about it and had a lot of fun! Here's a picture of us together at the top:




After we finished the climb we hiked back down towards the car. I still felt like I had some gas left so I attempted an inspiring sport climb on the prow of a huge boulder on the way back. The boulder was called the Cannibal Crag and the route was named Have a Beer with Fear. The route was graded 5.11- which would certainly make it a challenge for me. Here's a picture of someone else climbing it that I got off Mountain Project:




As you can see, it's an intimidating and overhanging line, especially towards the top. There was one part where I had to go nearly fully horizontal, which was pretty kewl. I needed a rest on my first attempt but I sent it second try. :-) After this I was satiated and we returned to the car. Once there we decided to check out the Red Rock scenic loop drive which I had actually never done before. The loop is about 12 miles long and showcases many great vantage points within Red Rocks. Many of the main climbing areas are accessed from the loop as well (Black Velvet Canyon being a notable exception). The first part of the loop takes you through the other side of the Calico Hills. Here we spotted a few climbers on an awesome looking route:




Further on the scenic loop we started getting good views of the major walls of Red Rock Canyon. Here's a look:




The leftmost and largest of these three mountains is Mount Wilson. The Aeolian Wall is at the top right of Mt. Wilson and is one of the largest big walls in Red Rocks at over 2500 feet of vertical. The next formation (the middle one) is called Rainbow Mountain and hosts the massive Rainbow Wall at the top-right. The third and rightmost mountain is called Bridge Mountain and is host to the least amount of climbing of the three. Here is a closeup of Mount Wilson:




At the parking lot where these pictures were taken there were a bunch of chatty ladies in a convertible who offered to take a picture of Janel and I. We couldn't refuse:




After driving the scenic loop we grabbed Thai food and returned to our hotel. That night we decided to complete our tour of the strip by visiting Luxor, Mandalay Bay, and Excalibur. From the causeway near Excalibur we got a good vantage point on New York New York:




At some point Janel decided to put a dollar into a penny slot machine and give it a try. The game was called Golden Goddess. It took us awhile to figure out exactly how it worked (we really never totally got it) and before long she was gambling proper. After a few plays she started increasing the number of 'credits' per play and I thought it was going to be over quick. Surprisingly she put nearly the full amount in for one play (I think it was 40 cents or so) and she got four horses on all three lines (with a WILD). For some reason this resulted in her winning $6.40! Here is a picture of Janel right when she won:




She played a few more times before I was able to convince her to quit while she was ahead. In the end her $1.00 had turned into $5.55. Such an amazing win ratio is rarely achieved in Vegas I am sure. She proudly ventured over to the cashier and collected her winnings. Later that night she bought herself a Malt Shake with the money to celebrate :-) Of course she could have put the money towards the purchase of the world's largest gummy bear, but it was ultimately her choice:




After nearly getting lost in the MGM Grand we returned to the hotel for sleep. The next day we met up with Ivan and his girlfriend Jeanette to do some moderate sport climbing in the Calico Hills at a place called Panty Wall. Here's a look at the wall from the approach: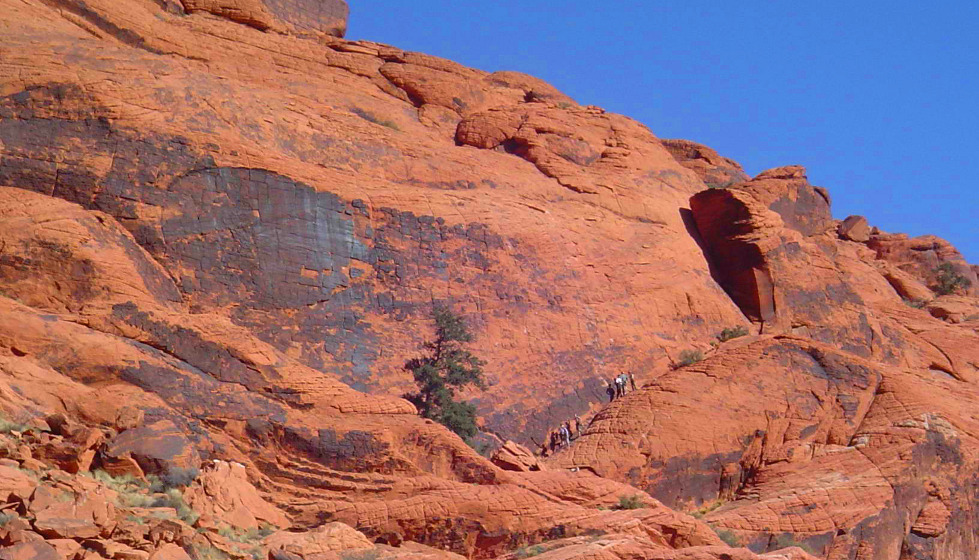 As you can see the rock is bright red and very featured. The routes were between forty and sixty feet long and very consistent. We hopped on some 5.7's and 5.8's first. There were a lot of people at the wall so we had to trade spots to get on other routes but it was never inconvenient. Janel started by top-roping a few climbs without any falls. Here's her finishing a 5.8:




These routes got her confidence up a bit and she decided to attempt a lead on a 5.7 called Silk Panties. It was really inspiring to see her make the attempt but in the end she made it look easy! After finishing and cleaning the route we took a lunch break in the shade for a bit. After this Ivan and I decided we'd like to attempt a few more challenging routes on the steeper varnish of the left side of the panty wall. The first route I did was a trad climb called Panty Raid that was around 5.9+. Here's a look at the line: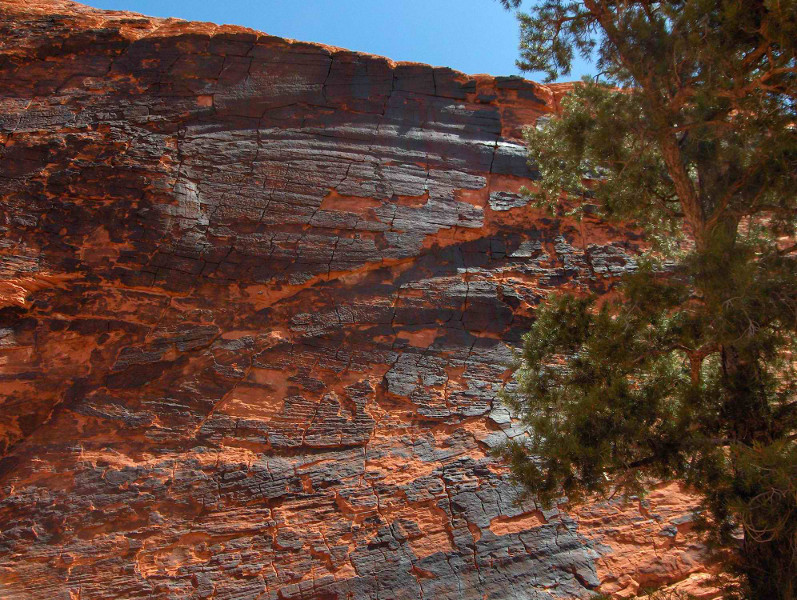 It doesn't look like there's much of a line for trad gear but it's possible to get nuts and small cams into the cracks in the varnish. The climbing was really unique and unlike any other trad routes I've done before. It wasn't too challenging but the movement was varied enough to keep my attention. Towards the top it gets steeper and the varnish more solid, requiring longer moves between solid edges and finger locks. Super kewl! The last route that we did was another big step up in difficulty. It was called Viagra Falls and checks in at around 5.11+! Here's a picture I grabbed off mountain project of someone on the route:




As you can see it's very steep movement on small holds. I gave it a first go and right after clipping the first bolt I pulled the crux move on a greasy pinch and before I knew what happened I slipped off the wall. Ivan caught me before I hit the ground but I did slam my foot on a small ledge at the base of the climb. Fortunately no damage was done and I prepared for my second attempt. On this go I decided to skip the greasy hold and deadpoint to a better hold higher up. This strategy worked. Progressing through the first four bolts of climbing was really pumpy and intense. There were several points where I felt like I was too pumped and nearly fell but somehow I held on and got the redpoint. The distance from the fifth bolt to the anchors was about 30 feet on 5.8 terrain, so that added a bit of spice as well :-) That evening we decided to hang out at the pool for awhile before getting to sleep early. The next day was going to be the central climbing day of the trip for Ivan and I. We got up around 6am and picked up Ivan and Jeanette around 7 at the campground. We spent a brief bit chatting with Ryan, Keane and Brian who had climbed in Black Velvet Canyon the previous day. Their ascent of Epinephrine went really well, Ryan even bootied a #5 Camalot C4! Now it was our turn to head to Black Velvet. The rental car did a great job on the dirt road approach and by 8 we were on the trail to the base of the climbs. Janel and Jeanette joined us for the approach but eventually returned to the car for a day at the Hoover Dam and Lake Mead. At this point Ivan and I were all alone. Our goal for the day was to climb Triassic Sands (5.10) and Only The Good Die Young (5.11). Here's the view of Triassic Sands from the approach trail:




The climb goes just left of the green dotted line. It starts in the offwidth corner at the bottom right of the photo. Once you reach the big ledge above you go left into the overhanging crack system (crux) and then climb an 80-foot plus handcrack to the next belay station. After this an easy handcrack pitch leads to another large ledge where the Indian Creek-style splitter corner 4th pitch starts. The 4th pitch isn't really visible in the photo. When we arrived at the base of the climb there was a team of two that had just gotten started. Bummer! We decided to head over to the other climb to do it first. When we got there it also had a pair of people just starting. How unlucky! We were a bit bummed and decided to head back to Triassic Sands and wait for our chance to start. On the way over we passed a thin corner crack that looked really good. I thought it was the start to Wholesome Fullback (5.10a) and it looked much better than just waiting, so we decided to climb it. After climbing the initial corner and pulling some difficult and somewhat run-out face moves above, I started doubting that the climb was Wholesome Fullback. I made it up to a belay ledge and brought Ivan up. He brought the guidebook and we quickly realized that the climb was actuallyOur Father (5.10d). The next pitch was the classic crack that makes the route famous. Looking up at it we were very intimidated but yet inspired at the same time. I decided to give it a try. Here's a picture of this pitch from the guidebook:




Climbing this pitch was my best trad climbing effort ever. I used all of my crack technique and protection skills to climb efficiently and safely up the corner. At one point, which appeared to be the crux, I faced a boulder problem to a finger lock that seemed just beyond my ability. I gave it one try and then rested before my second attempt. Just as I was about to try (and fail) again, I noticed a rail on the left wall and realized that this wasn't a crux at all. With the rail this section was actually totally reasonable. Once I figured this out, I cruised the rest of the way to the anchors and clipped in. Ivan took his turn and managed to pull it off without a single jam. Instead he resorted to liebacking which is a lot more strenuous. After we finished we rapelled the route and walked back over to Triassic Sands. When we arrived the way was clear for us to get started. I led the first super-long pitch that also contained the crux. The difficulty comes after you reach the first ledge and you move left to an overhanging finger crack. There are just enough face holds to make this section manageable, but it is still thrilling. Here's a look at this bit from below:




Very steep, huh? After this section there's an incredibly long handcrack, probably 90 or 100 feet. I brought extra cams in this size range but still had to walk them and run out sections for up to 20 feet. By the time I finished the pitch the rope was adding over ten pounds of weight to me. Ivan led the next pitch, his first lead of the day. It clocked in around 5.8 and was similar to the end of the first pitch. The next pitch was 5.10a and totally unique. It was a splitter crack in a corner over a series of roofs. Here's a picture of the start of this pitch that I found online: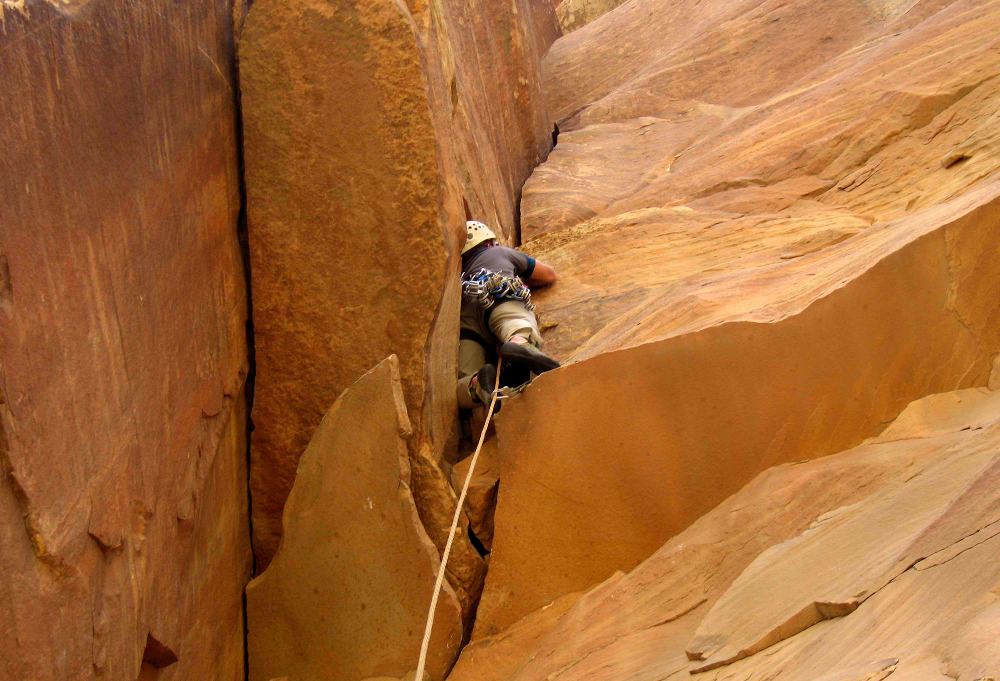 The sandstone was so smooth and featureless outside of the crack that even Ivan was forced to do handjams :-) Despite a few awkward roof sections this was one of my favorite pitches of the day. Once it was over, though, the tiredness and feeling of dehydration started to set in. Fortunately rappelling the route didn't take too long and by 4pm we were on the ground. We hiked back to the parking lot and arrived just after Janel and Jeanette returned from their day. Such awesome timing! Here's a picture of Ivan and I at the campground parking lot after our successful day:




Janel and I grabbed a few smoothies and returned to the hotel. I had to fly to Sacramento that night for business so we grabbed a quick and mediocre dinner before Janel dropped me off at the airport. I arrived in Sacramento around 11pm and Jasmine and I got a room at the Marriott. The next morning we had a three hour meeting to kickoff a new custom development initiative at Sutter. It was actually a really exciting project and I hope to be able to lead the effort from the SERJ side. There's a very good likelihood of it happening but I wont find out for another month or so. Fingers crossed! After the meeting Jasmine dropped me off at the airport and I returned to meet Janel back in Vegas for our drive home to Idyllwild.

This trip to Red Rocks was much better than even I expected. Seeing Janel overcome some fears around climbing and starting to climb stronger and more confidently myself, I feel like I am developing a new understanding of the role of climbing in my life, specifically as a tool for overcoming irrational fear. I am truly grateful that such an activity exists. To be able to make such psychological gains while engaging nature in such a beautiful and life-affirming way is truly magical. The process of course is difficult but I have a greater appreciation for these difficulties than ever before. I look forward to the rest of this year's climbing season. Tahquitz, Squamish and Beacon will all provide further opportunities for enjoyment and improvement.


The Parket Family in California, Part II
In the summer of 2008 my family visited me (I lived in Pasadena at the time) and we made a tour of the State of California, visiting most of the National Parks and major cities within an eight day stretch. This was to be their second visit and many things had changed for me since then. Of course, many things had changed for them as well, but I hoped that my new home would be agreeable to them and I was very excited to show them the work I had put into it. The plan for this visit was more open-ended. I didn't think a repeat of our hectic (but beautiful) journey the last time would be the best thing, so instead I thought we would stay close to Idyllwild for the first week before heading to Northern California and visiting Matthew. Of course one of the main reasons for the trip was for them to meet Janel, who I'd been dating for almost 18 months by this point and who they'd yet to meet, while I had spent many occasions with her family. Anyway, I picked my mom, dad and sister up at the LAX airport in a rental minivan (I'd gotten a free upgrade) at around noon on May 1st. We took the route through Banning up to Idyllwild which impressed them. My mom wasn't a big fan of the heights but we made it into town just fine.

During our first day in Idyllwild we hit up the best town shops, including the Spruce Moose and the Lady of the Lake. We spent a good amount of time picking out some new candles. I had to run home for a conference call at some point and while I was away, my mom slipped and bloodied her knee a bit. I ran over to the clinic where they'd bandaged her up and gave her a ride home. After she recovered a bit we went to the Idyllwild County Park for a picnic and a walk around the campground. After this we drove up to Humber Park to take a closer look at Tahquitz: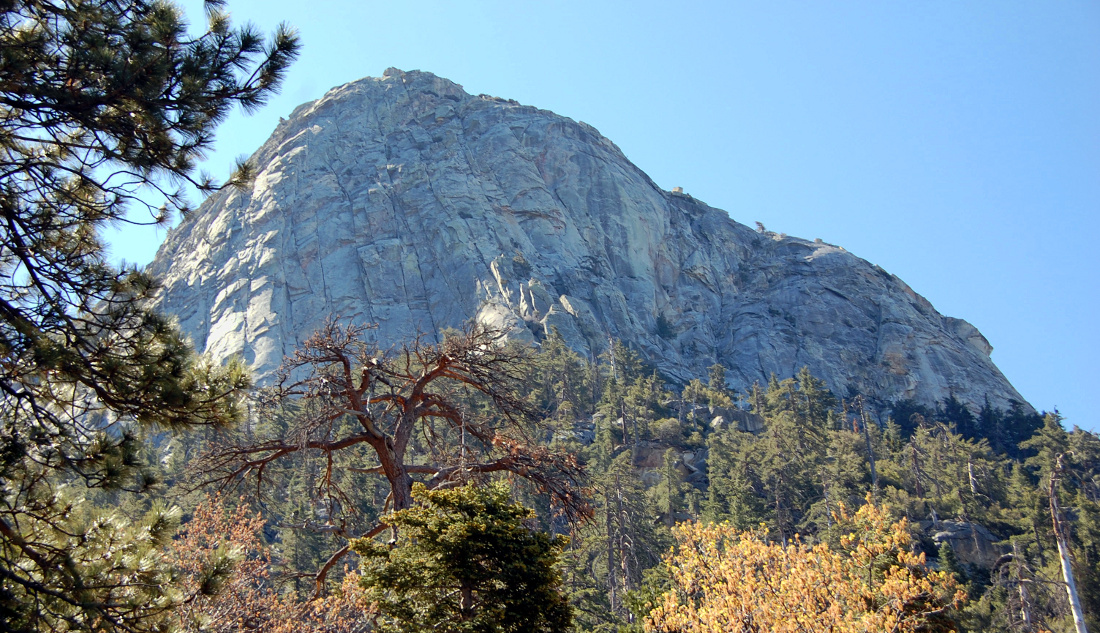 Here's a picture of Janel, Dad and I looking up at the rock:




After returning from the town we decide to head to Cafe Aroma for dinner. We end up being seated in a private room, which is really nice. Dinner is fantastic and this visit to our finest restaurant turns out to be one of the high points of the trip. The following morning we woke and left for Carlsbad, a beach town near San Diego, at 9:30am. The drive is somewhat long and the family seems to be a bit anxious about it. When we arrive at Carlsbad we select a nice spot on the beach and settle in. I'm not sure exactly why, but there is some resident negativity that comes out, particularly from my mom. I decide to take Katie and go get a beach umbrella for a bit of shade for the family and we also pick up smoothies at Jamba Juice for everyone which seems to help a bit. After enjoying the smoothies, Katie and I jump in the water in an attempt to catch some waves:




The water is a bit challenging but we still manage to catch a few and enjoy ourselves trying. After this we went on a walk down the beach and did some reading before heading to a Thai restaurant for dinner. The food was overly greasy and not terribly good, which was again, unfortunate, since members of the family were feeling somewhat touchy. The return ride was quiet but we stopped at Lowes for some brown light switches and other electrical accessories for the house. The following morning my dad helped me install the new switchs, some outlets and the corresponding wall plates. This was a good opportunity to learn. The weather was also pretty good and Katie and I did some slacklining on the deck and hanging out in the sun:




After lunch we drove out to Inspiration Point, which is actually at the end of our road, Double View:




We spent more time in town, including at the Funky Bazaar, before having a chill evening with food courtesy of Smeeshy's kitchen. The next day was termed 'Desert Day.' We left Idyllwild via the Southerly exit toward Palm Springs. This drive was a lot more amenable to my mom's exposure concern. In Palm Springs we stopped for Coffee and then continued up toward Pioneertown where the goal was to eat lunch at Pappy and Harriet's, which everyone thoroughly enjoyed: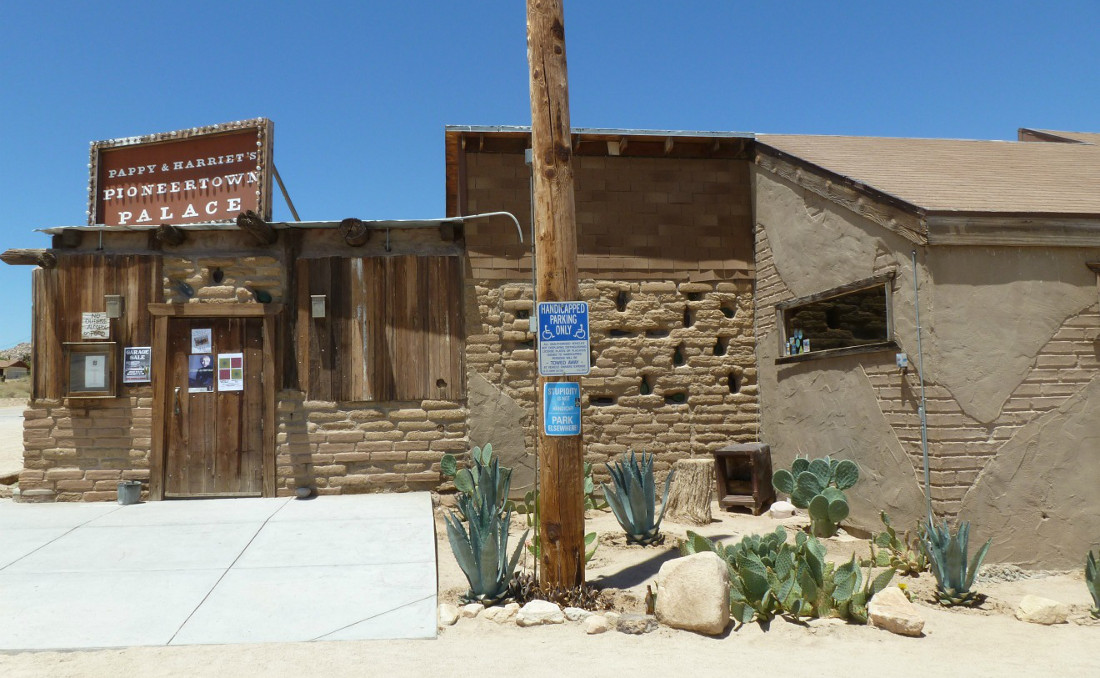 After eating we went to the 'historic' part of Pioneertown, which I had never been to before. It actually is not an authentic old west town, it was really just a set created for a few Hollywood movies. Nonetheless it was fun to explore. Here's a few shots of the area:




The original plan had been to go to the Palm Springs Aerial Tramway after Pioneertown. Janel and I had taken her parents up the tram when they visited and it was one of the highlights of the trip. I decided to make it a surprise for my parents, but once they realized what the plan was, it didn't go over so well. In the many years I had spent around my Mom, her issue with heights had only come up on a few occassions, mainly when driving up mountain roads on their previous California trip five years ago. Since these incidents were so infrequent, they hadn't informed my overall picture of my mom, and when I planned the Tram experience, it never occurred to me that this issue might come up. Of course it did, and there was very little sympathy for my mistake, which resulted in some negativity. Once things settled down we looked out our options and discovered that there was actually a very nice desert-oriented Zoo in Palm Springs called the 'Living Desert.' It sounded like a suitable alternative and we opted for that experience instead. It turned out to be a good choice, fortunately. Here's a picture of Katie and Dad after we arrived at the living desert:




The first exhibit that we saw was a large meshing enclosure with lots of desert bird species therein. Here's my favorite, the Egret:




I also learned definitively that the sound of the Morning Dove is what I had thought to be owl hooting on many occassions. After the birds, we stopped by to visit the cats: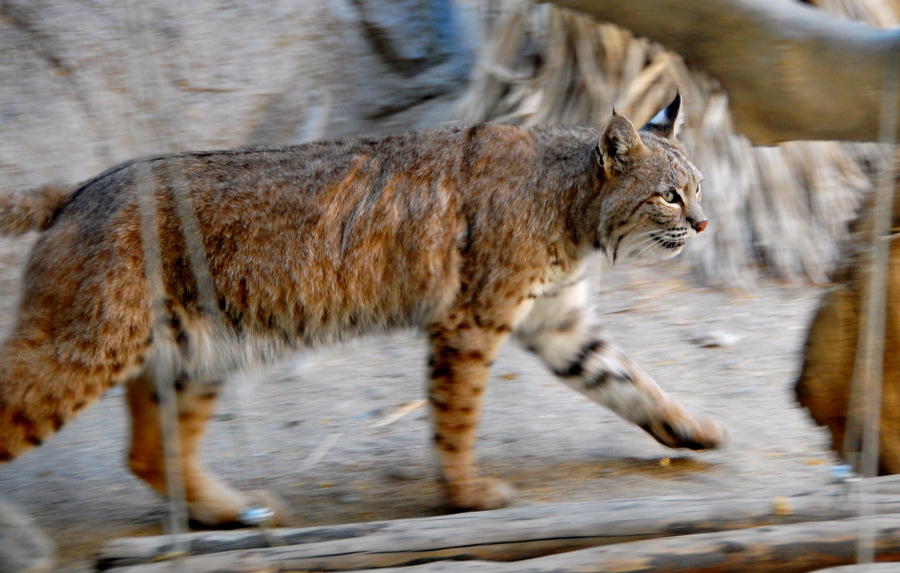 And then the bighorn sheep, which had a huge enclosure all to themselves, replete with rocky outcroppings:




Nearby we discovered this interesting lizard, although he was simply a sojourner, and not a member of the zoo population:




I'd never seen an Ibex in person before, as far as I know. Their horns were fantastic:




Finally we stopped by to say hi to the camels. I've always found camels to be funny, emotive creatures: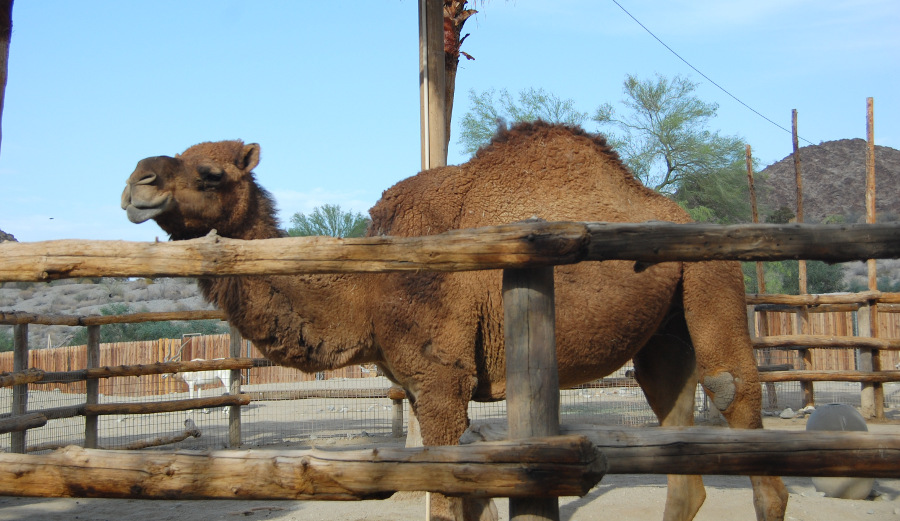 After returning from the Living Desert we get mexican food at La Casita, which is always a crowd pleaser. The following two days brought rain, which was unfortunate since many of the things to do around Idyllwild are outdoorsy and the family wasn't too interested in getting soaked. Nonetheless, we made it to the Idyllwild County Park to hike the Summit trail in the mist and it was overall a good experience for the group. On the final morning we snapped a great photo of the whole group before leaving Idyllwild for Oakland:




The ride is pretty uneventful. We take route 5 up since it's the fastest way. After arriving we pick up Matt and grab Italian food at a nice little restaurant not too far from our hotel. The next day Matt has to work so Katie, Mom, Dad and I head to Napa Valley for some more winery fun. The first winery that we visit is once again Merryvale, which has become a staple for my visits to Napa. After Merryvale we drive around the other side of the valley a bit and then grab lunch at Taylor's Automatic Refresher (which I believe is called something else now). After lunch we head up the hills on the border of the valley to a cool winery called The Hess Collection. Here's a picture of Katie and Dad outside of their barrel room:




And inside the barrel room:




While at Hess we took a tour of the vineyards led by a charismatic guy:




We learned that the grapes grown at Hess are different from those in the bottom of the valley due to the conditions in the hills. The property is also a bit more spread out. Here's a view of one of their vineyards across the way:




I really liked the grounds of the winery and it was clear that it had taken years for it to develop such an organic feel. Here's a shot of a part of their gardens:




Overall it was a great supplementary vineyard and a fine way to finish our tour of Napa this time. On the way back to the hotel we stopped at an uber cheap Dairy Queen and got some frozen yogurt treats. We then dropped by a Trader Joe's for a light snack and an REI as well. That night we caught Back to the Future on TV at the hotel and, as always, it was a nostalgic trip. The next day I separated from my family to go climbing at a gym in El Cerrito, which is North of Berkeley. The gym was bouldering only and was really amazing. They also had slacklines setup and the music they played was top notch, life-affirming dubstep. I had an amazing time and even though I was incredibly tired when I left, I felt rejuvinated in a totally different way. After climbing I went to Alameda to visit my friend Seth Selkow who I had met way back when I worked at Epic and who had been a coworked during my days at Kaiser Permanente. His house had been in a state of remodelling last time I saw him but now it was basically done and quite beautiful. He had also improved his relationship with his girlfriend Margarita and generally seemed happier than I remember. We talked about many things, including bicycling, vipassana and kaiser, and hung out together until around 11:30pm when I returned to the hotel to sleep. That night I had my first lucid dream in a long time! :-)

The following day we left for Santa Cruz with my brother as well. The drive was a bit hectic since it was a weekend and I guess Santa Cruz is a vacation spot. We parked close to the water in a field and discovered that the beachfront area was a lot like what you'd expect of Coney Island. There was a big wooden rollercoaster separating the road from the boardwalk:




And here's the entrance to the boardwalk slash theme park, underneath the rollercoaster:




There were tons of people there, and lots going on. There were dozens of rides and lots of colorful concession stands:




The beach itself was also a bit crowded, but it was nice to lay out in the sun for awhile. Here's my brother and father finding a place to plop down:




On one end of the beach was the outlet of the San Lorenzo river, which had carved out a bit of a cliff and created a small archway as well:




After relaxing on the beach for a bit, we decided to explore the far side of the boardwalk, which was a covered area with shops and an arcade:




We then decided to walk out to the pier which we could see from the boardwalk:




Here's the view back toward the beach from about halfway down the pier:




And closer:




There were a couple of spots on the pier that had become seal-friendly areas and lots of people were gathered around to watch their antics:




After the pier we walked into town and found a great restaurant called Surfrider Cafe which hit the spot for everyone:




After eating we took a long walk along the river back to the car and returned to the hotel to rest. The next day we awoke early to head into San Francisco for a tour of Alcatraz. This was to be the grand finale of the Parker visit and it turned out to be very good, albeit dark. Here's a zoomed-in view of the island from the pier, with our tourboat heading into port:




Once we boarded the boat we were treated to incredible views of the bay and the city of San Francisco:




Here's a shot of the bay bridge section from SF to Treasure Island:




As we approached Alcatraz we became able to make out the features and structures of the island: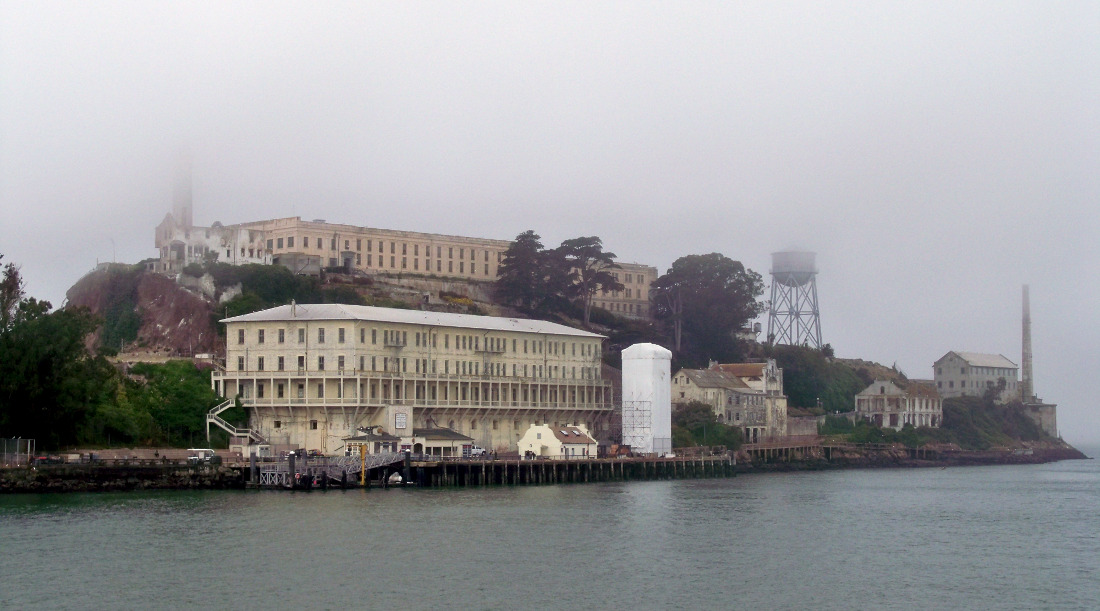 After landing we found our way to a small theater where we watched a historical overview video that was really interesting. One thing I hadn't realized was that the island had become occupied by native americans during a protest that occurred in the late 60's. Unfortunately the protest did not end very successfully. Anyway, after the short film we picked up our self-guided tour cassettes and headphones. I really liked that the tour was run in this way since it allowed you to pause the tape and take as much time as you wanted in each area without feeling rushed by a tour guide or other visitors. The cells themselves were very bleak, of course:




We had a change to look into the solitary confinement cells but they were too dark for photographs. Some of the more interesting stories that we learned about were the 1946 hostile takeover of the island by prisoners:




and the 1962 escape (probably successful) by three inmates:




Generally the subject matter was pretty dark and the energy in the place was quite negative, but I was able to entertain my curiosity and enjoy myself. Perhaps my favorite part of the Alcatraz experience, and the most hopeful one, was an exhibit at the end of the tour on something called Restorative Justice. I had never heard of this concept before, but as soon as I learned about it, I immediately believed it represents a much higher ideal and greater process than our current punishment-focused justice system. In and of itself, the restorative justice process is not a rehabilitative one. Rather, it puts the victim and perpetrator in a position where they come to an agreement on what course of action will result in a restoration of justice. If the perpetrator agrees to the course of action and performs the necessary actions, their crime will be stricken from their record and they will be free of the criminalization that happens in our current society. In addition, because the victim decided on what must be done, they may directly benefit from the outcome, instead of in the current punishment system where the victim gets nothing. I highly encourage all of you who are reading this to read the wikipedia article linked above and become informed on this concept. I truly believe it could greatly benefit our society to implement some of these ideas.

After experiencing the restorative justice exhibit we went outside and explored the exterior of the island. Once again I was greeted with a great view of the city, a view that must have pained the prisoners there:




After the tour was over we had one last picture taken before we drove to down to LAX and parted ways: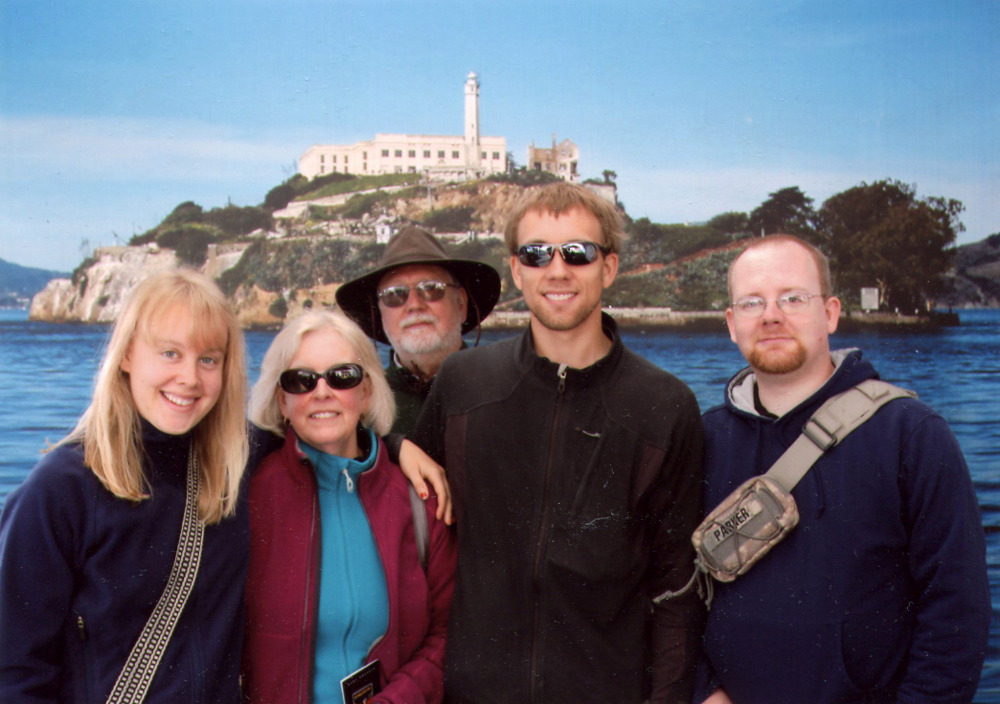 On my return trip home I reflected on the visit quite a lot. I felt that I had been a quieter presence than normal amidst my family. I sensed a greater amount of negativity coming from them, but as I was unsure of the source, I decided to remain equanimous and not reflect any back at them. Of course there were times of joy and togetherness, but they were more often the result of a satisfaction of some desire or some other positive outcome. In the empty moments I felt that there was very little peace, and I wish there could be more, for the sake of everyone. I am optimistic that the years to come will involve some positive change, but I am doubtful at my own ability to be a catalyst for it. While I have the awareness to see the problem I am at a loss for how to bring about its resolution.
More Projects and Climbing
The day after my parents left I picked up a bunch of lumber in Hemet to build a compost bin. It only took Janel and I about two hours to put together using our handy mitre saw and other assorted tools. Here we are midway in the build:




And here it is in its permanent location behind the garage:




A couple of days later our friend Dorian from the SCVC (Southern California Vipassana Center) arrives to stay with us for a few days. Dorian is a long-term resident server at SCVC and is incredibly devoted to his meditation practice. Having him at our home was delightful and he was incredibly active in helping us with our projects. During his stay with us, we trimmed our live oak tree (no small feat), setup the slackline in our yard, weedwhacked the lawn, and programmed codes for our front door. We also participated in many lovely and inspiring conversations with him. I can't wait for his return!




The evening that Dorian left, Janel also left for a short trip to San Diego. I spent a couple days climbing with a partner I met via Mountain Project named Bethan. She was a very capable climber but her lead head wasn't fully there so I got lots of experience on the sharp end, which I loved! The first climb we tackled was the Open Book, which is the country's first 5.9 and a route that's visible from our deck. Here's a pic I found on the internet of the iconic corner pitch: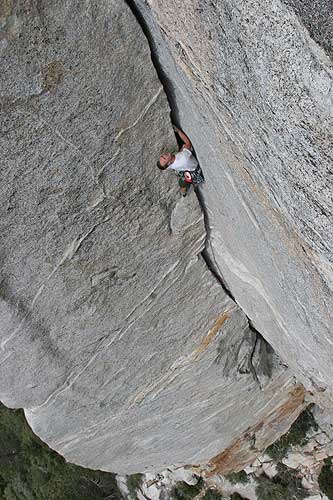 The climb itself wasn't too challenging for me but it was beautiful rock and stellar position. After climbing the route we rappelled to the ground instead of doing the walk off. We used Bethan's very thin rope in addition to my lead rope for the two rappels and at first things were good, but on the second rappel, unbeknownst to me, there was a long free-hanging section. With the thin ropes I wasn't getting much friction and I didn't tie a friction hitch for the second rap, so when I realized I was about to lose contact with the rock, I had to hold on with one hand while I tied a hitch with the other. It was pretty intense. After going off the edge into the free-hanging bit, I had the weirdest sensation when I lost touch with the rock. It was like a whole-body electrical sensation. I slowly lowered myself to the ground and was very grateful when I got there. The next route we decided to do that day was called El Camino Real (5.10a) which has an easy first pitch followed by a run-out friction 9/10a pitch and the crux, super-classic 10a liebacking pitch. I got a bit off-track on the slab and had to do a scary reversal of a couple moves but in the end I made it through without falling. The lieback pitch was better than I ever could have expected. Here's a picture of my friend Brian Luther on this pitch:




The pitch doesn't have a particular crux on it, it's simply sustained for the entire length and the crack gets smaller and smaller as you go. Most people fall near the top, and I nearly did, but I punched it to the anchors and was rewarded with big holds at the very top. Such an amazing line. Here's a picture I took of the pitch from the top: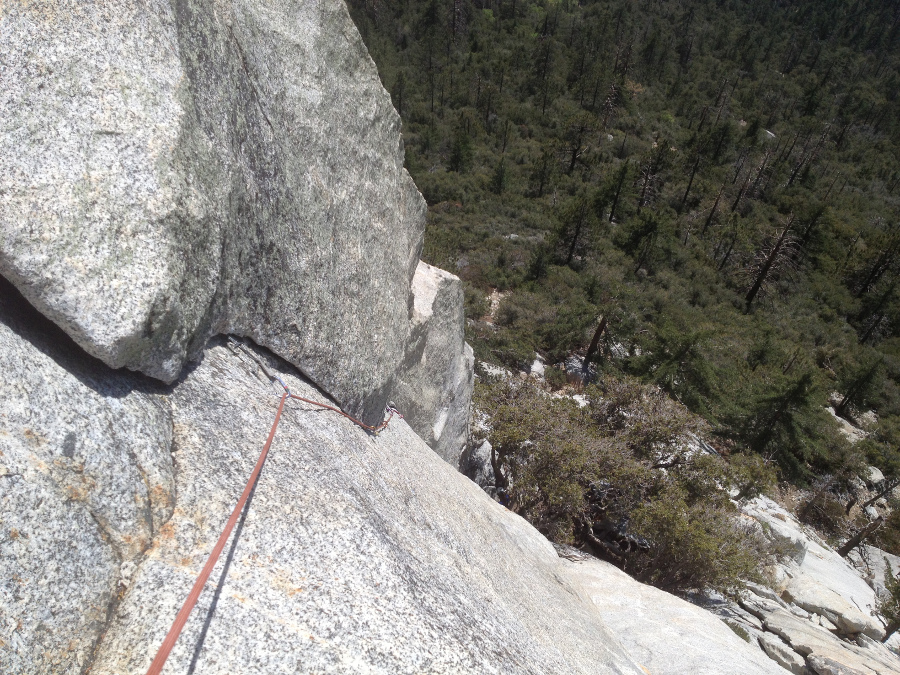 After finishing El Camino Real we continued to the top of Tahquitz via a serpentine set of 5.6-5.8 pitches. Here's Bethan following the final one:




After all of this climbing we needed La Casita to fully recharge :-) The next day I rested and we met up again the following day for more climbing. We decide to do a linkup: The single pitch Standup Flake (5.9) into The Step (5.10a). The standup flake turns out to be a lot of fun, but pretty easy for a 5.9. Next was the Step, which was highlighted by a crux roof on the second pitch. Here's a look up the top of the first pitch, with the roof of the 2nd pitch looming above:




Here's a picture I took from the final belay of Bethan on the terrain above the roof:




The route turned out to be better than I expected and once again I was flabbergasted at the reality that I live in a place with such wonderful climbing! A couple of days later, Janel and I made it up to Tahquitz to do a bit of climbing of our own. We settled on a route called Left Ski Track (5.6) which turned out to be the perfect choice! Here's a picture of Janel following the second pitch: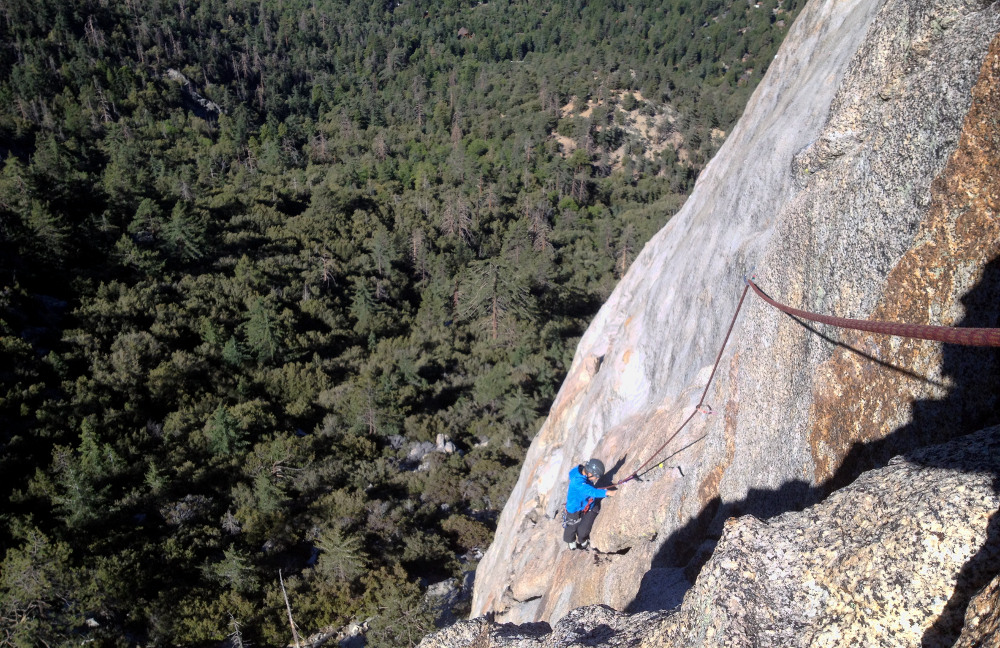 We finished the route in a couple of hours and made it off the mountain by 1pm or so in preparation of new guests.
Travel Savvy Comes to Idyllwild
My friend Frankie and his buddy Ryan came to visit on May 22nd. Frankie was planning a visit to just come up and relax, but in the end he decided to use the opportunity to film a teaser for a show he wanted to create. The show is called Travel Savvy and the main idea is that Frankie would travel to exotic places on relatively little money. The setup for his visit to Idyllwild would be that, in exchange for room and board, he would help me with projects on the property, including the Rainbow. We then decided that a great finale would be to have him use the skills he'd acquire practicing on the Rainbow to actually climb Tahquitz. Great TV, huh? When Frank arrived he immediately started filming, with Ryan doing most of the camera work. Being an 'actor' was fun, but also had its challenges. The main difficulty was actually finishing the Rainbow, which of course took longer than expected. The next step was to finish cutting and drilling the long boards and the cross boards. Once this was done, we moved all the materials up onto the deck in preparation for assembly!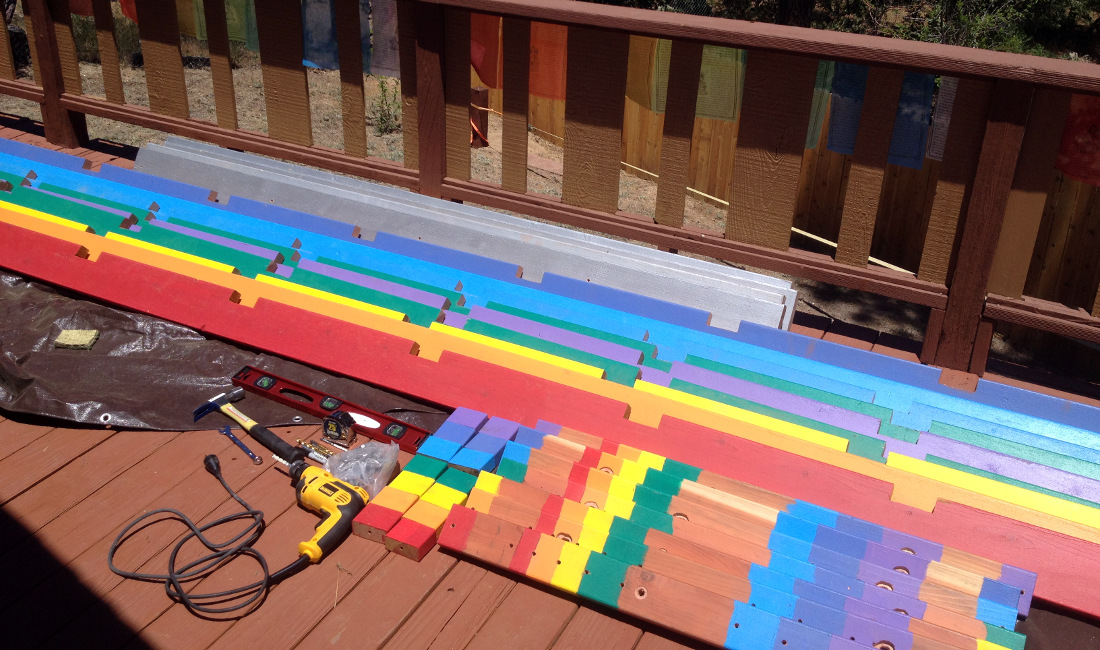 To start the assembly I had to perform the delicate job of putting the masonry anchors into the chimney. This required a lot of care with the drill to ensure that my work would not cause the chimney to crack or otherwise erode. It actually went better than expected, but took a few hours. Next we attached the cross boards and finally began putting the long boards on. Here's the rainbow with the first long board (red) on:




Putting the long boards on was challenging, but actually easier than expected. As it turned out, my precise measuring and drilling paid off fantastically. Most of the long boards went onto the frame with only a few minor scrapes here and there. It really was a beautiful thing to see that extra effort paying off. Still, the process of assembly had its setbacks and we were not able to finish the rainbow during Frankie's three day visit. Here's the rainbow halfway assembled, as we left it:




Surprisingly, this didn't seem to bother Frankie too much despite his inability to film a completed climbing wall. Nonetheless, we decided to attempt a somewhat easy route on Tahquitz called Fingertip Traverse (5.5). The first couple of pitches were about 5.3 and went pretty smoothly. Here's Ryan on the second pitch:




And Frankie on the third:




The actual Fingertip Traverse pitch turned out to be a bit more exposed than I thought and I ended up making the judgement call that we should rappel instead of attempting it with our inexperienced partners. As it turned out, lowering Frankie and Ryan was probably even more traumatizing than climbing that pitch would have been. In the end, though, everyone made it to the ground safely and in good spirits. To celebrate our climb we decided to eat at Aroma after we got down. The following day Ryan and Frankie had to leave but they assured me that a copy of the teaser would be forthcoming. In fact, after only a couple of weeks, Frankie sent me the link!



Pretty cool, no? Anyway, this concludes the Spring portion of 2013. Next up is our trip to Zion National Park!

Forward to Summer 2013
Back to Index