Back to Index
Back to Summer 2006

This page will be the repository for information and pictures related to my big trip to Panama. For those of you who are unfamiliar with my journey, here's an outline of the route Jan and I are going to take on our motorcycles:




It's quite an idea, huh? My bike you already know about, it's great for trails, dirt, and roads. The rest of my gear will be covered soon enough in greater detail, but for now, here's my packing list:

Digital Camcorder + Accessories
Sandals
Motocross Boots
Flippers
Snorkel and Mask
Sleeping Bag
Sleeping Pad
Tent
Journal
Books
Riding Jacket w/Armor
Riding Pants w/Armor
Military Long Underwear
Jeans 1 pr
Helmet
Lighter
First Aid Kit
Pillow (Inflatable)
Towel/Blanket
Waterproof Bag
Bungee Cords and Net
Food Dish
Utensils
Pot w/ lid
2 x Convertable Cargo Pants (Pants can zipper into shorts)
Bathing Suit
Socks (3 pairs normal / 1 long)
Underwear. 4 pairs
Floss
Swiss army knife x 2
t-shirts x4
Oil Filter
Toilet paper
Food
Stove
Extra Gasoline Container w/ Gasoline
Riding Gloves
Spare Tires (front and rear)
Guidebooks
Maps
Digital Camera
Tarp
Insect Repellant
Tooth brush
Toothpaste
Razor Blades
Razor
Shower Scruby thing
Passport
Power Inverter
NiMh Battaries
Regular Battaries
Belt
Title. Photocopies Only
Registration. Original + Photocopies
Insurance. Original + Photocopies
Tire Pressure Gauge
Sunscreen
Eye Drops
Rubber Bands
Aspirin
Malaria Medication
Antibiotics
Calling Card
Altimeter/Compass
Nalgene Bottles (x2)
Spare Spark Plug
Dress Shirt
Glasses
Bike Repair Tools
Tire Repair Kit
Undershirt
Vaccination Sheet (tetanus, pertussis, diptheria, Hep A/B, Typhoid, etc.) Ouch!
Intercom (Bike to Bike communication headset)


So there you have it. Sounds like a lot, huh? Each thing is crucial though, and miraculously, it all fits on the bike (with some ingenuity) :)

Day 1 - Thursday 11/9

Here's a few pics of my bike, fully loaded:




Once I finally hit the road, I had a tremendous feeling of freedom. It was 7:30am. I noticed that I was getting a ton of attention from everybody. The amount of gear on my bike was definetely turning some heads. A lot of people seemed very interested in what I was up to. Almost every time I stopped, either for food or gasoline, people would ask me where I was from and where I was headed. As soon as I said Panama, their eyes widened and the questions kept coming :) It was a really great feeling to be doing something so dramatic and spectacular, I felt very much alive.
I took a few minor routes down to NY 5/20 in Canandaigua. I stopped on the pier to get some pics of Canandaigua lake and the waterfront:




The next place I stopped for some pics was a smaller pier in Geneva on Seneca lake:




In Auburn, New York, I missed the 5/20 split and accidentally continued on 5 instead of 20. I didn't realize my mistake until I was in the suburbs of Syracuse. I stopped at a Wegmans and grabbed a sub, and took a look at a map to figure out my best way back to 20. A number of people marvelled at my space-age looking motorcycle suit and motocross boots. Once I got back on the road, I easily found my way back to 20. I probably lost about 20 minutes, but my shortcut back was very scenic and enjoyable.
Route 20 from Syracuse to Albany is considered a scenic highway. It was definetely the most beautiful riding for me so far, but my bike didn't appreciate the steep uphills while being loaded down. Pretty soon, it was the afternoon and I arrived in Albany. I decided to figure out the transfer to route 2 on my own and to explore downtown a bit. Albany's layout is pretty odd. The skyline contains a few uber-modern and plain looking skyscrapers (four of which are identical and perfectly spaced, ew.). However, inside the city, there are a number of beautiful olde buildings. I imagine they are related to the state government there. Here's some pics:




Unfortunately, I was unable to find my way to route 2 and got lost pretty quickly. I stopped at a gas station and consulted a map for guidance. It appeared I had gotten another 20 minutes out of the way. This time, however, the way back was not going to be nearly as scenic as last time. Eventually I found my way to route 2, which, all the way to Boston, was a scenic drive called the Mohawk Trail. This was definetely the most beautiful driving so far. The road snaked along a brook and up the towering aderondack mountains. The smell of the forest was heavy in the air.
Pretty soon, it began to get dark. I had planned on staying overnight at a state park near the border of Massechusettes, but when I arrived, there were signs prohibiting overnight camping. I decided to continue driving and look for good places to pitch a tent. At this point, I was in the middle of nowhere and high in the mountains, so I figured at worst, I could just pull off into the woods when it got dark enough. After a while, I saw a sign for a peace pagoda. Thinking nothing of it, I continued driving. A few minutes later, I thought it over and decided to turn back. Even if I couldn't stay there, they could probably tell me where I might be able to pitch a tent around there.
When I arrived, I was very confused. All I could see was a few very shodden looking buildings and absolutely nobody around. I parked my motorcycle and starting walking towards the main building. In a few moments, the caretaker came out and greeted me. I inquired about the place and it was explained to me that this was one of two such peace pagodas in the states. The order of monks that resided here were the japanese Nichiren sect that chant Na-mu-myo-ho-ren-gei-kyo which means "I Trust the Wonderful Dharma Lotus Flower Sutra". The Lotus Sutra was one of the Buddha's last teachings. He asked me to follow him for a greeting ceremony. I consented, not knowing what to expect. Inside the big building was a large Buddhist shrine:




It was remarkable that such a beautiful thing could exist inside such a delapidated exterior. I sat on a mat while the welcoming ceremony commenced. I felt very undeserving of such effort. I was just some bum and yet I was treated like royalty. After the ceremony, the caretaker offered me the head monk's quarters for the night since she was away in Japan. I was also invited to have a look around the place. I eagerly grabbed my camera and went around the rear of the building. The place was meticulously landscaped, very beautiful, and entirely peaceful and serene. There were many relics and landmarks spread around the yard. Here's a few pics:




The next thing I decided to check out was the pagoda itself, seen in the second picture above.




The pagoda had two levels, each with pictures in marble depicting scenes from the Buddha's life. I captured only one of them, and unfortunately, I did not take a picture of the final one, where the Buddha is giving his final sermon before dying in which he says that we should all work very hard and tirelessly for peace, both externally and inwardly.
Before I returned to my lodging, the caretaker spoke once again with me. Oddly, he thanked me. When I asked him why he was thanking me, when I was the one who was the recipient of so much kindness, he said that he thanked me for blessing their place with my presence. I had never been treated this way before, and it made me feel extremely humble. My small house was very minimalist, and I felt very much like Thoreau in Walden:




I was able to spend a good amount of time reading since it was only 5 o'clock. I read some Buddhist literature, which I felt was fitting, and ate the rest of my Wegman's sub before going to sleep.
I woke at 5:45am to load my bike and get ready for the morning ceremony. At six o'clock, I was invited into the temple. I was the only person who arrived on that morning (frequently there were no visitors, or only a very few). It was a bit awkward for me at first since I had never chanted, or drummed before, but I quickly got the hang of it. The ceremony was an hour long and was very calming. It included a walk around the grounds and around both levels of the pagoda. We also burned incense as an offering. At around 7am, I said goodbye and jumped back on my bike.

Day 2 - Friday 11/10

The second day of driving was fantastic! I quickly passed into Massechusettes and continued on the Mohawk Trail. The views were spectacular from the road. The curves were sharp and it was a ton of fun to navigate on my motorcycle. There were also very few cars.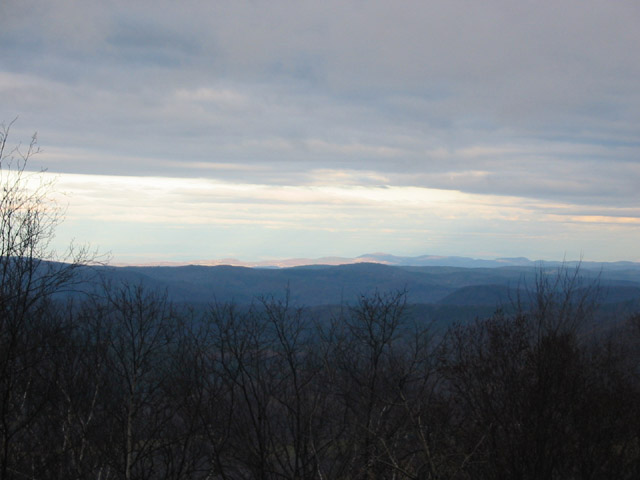 Here's a picture of one river emptying into another. The dark color of the water looked very sketchy: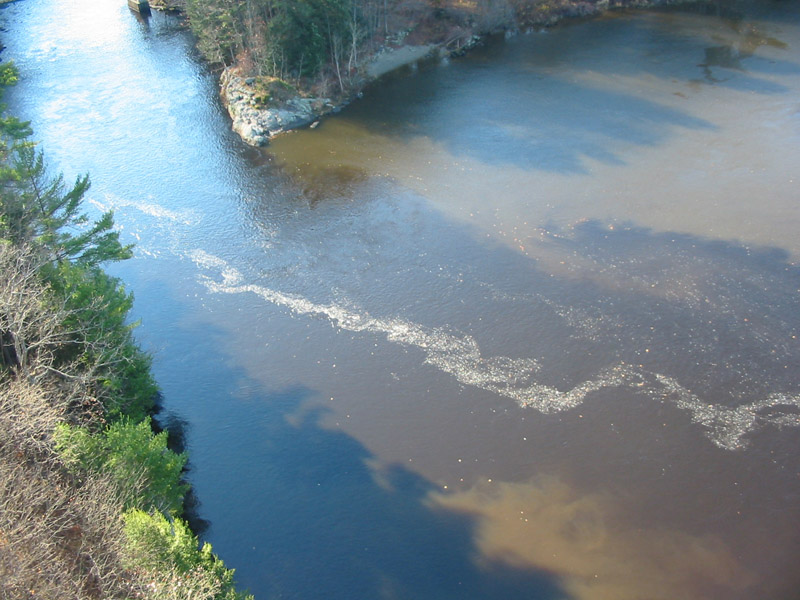 A couple of hours into Massechusettes was Williamstown, where Williams College is located. Although the campus buildings looked very beautiful, I don't think I would like being so out of the way. This was in the middle of the mountains: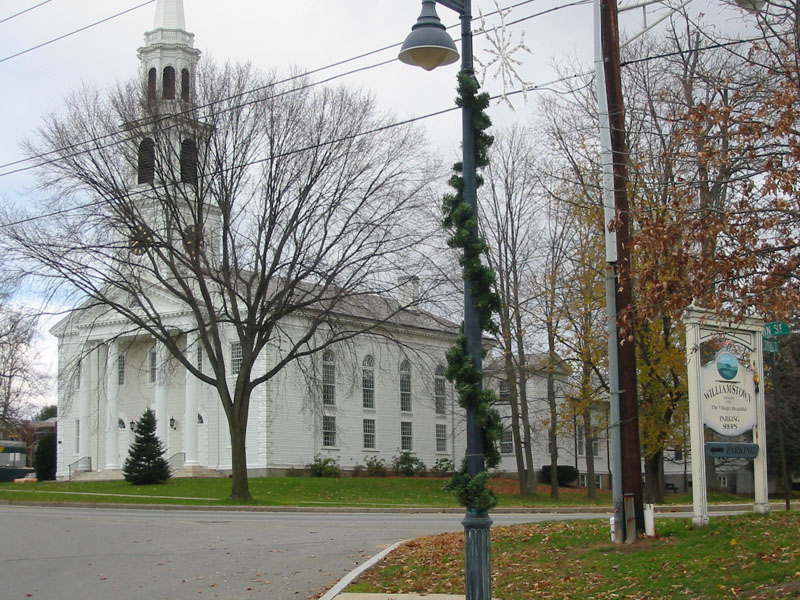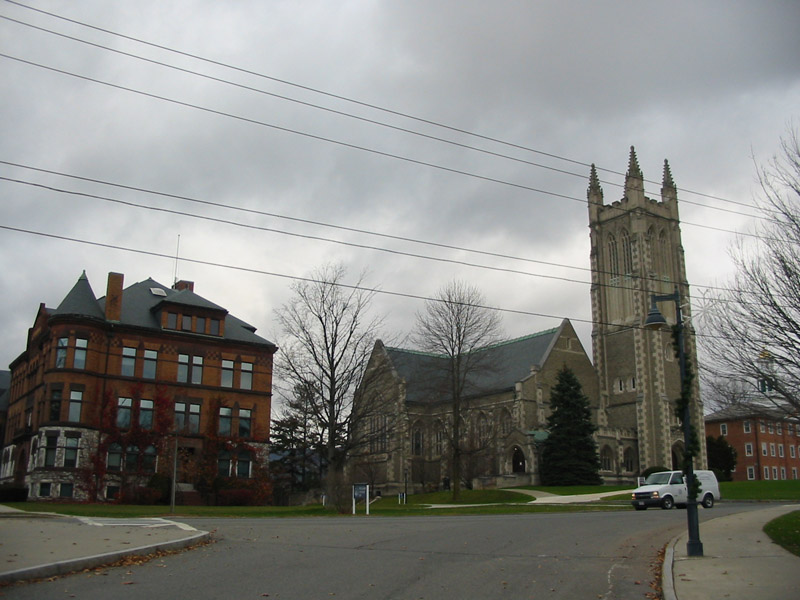 After another two hours of driving, route 2 unexpectedly turned into a highway. Despite the traffic, I decided to continue on it, since it was unlikely for me to find any good scenic roads this close to Boston. I arrived in Cambridge at around 3:30pm. The roads were a bit confusing, but Ronen helped get me on track. Here's a picture of Ronen and I, and the room in which I stayed:




Ronen is now a Math PhD at MIT. He's got his undergrad at Harvard and his Masters at Cambridge in England. I am so much smarter than he is, it's ridiculous. Ronen lived with another friend of mine from Highschool, Mike Kwong. Once I arrived, we went to see Borat, which is hilarious, and then later on we hit up a bar called 'Miracle of Science' which, other than being completely appropriately named for the Cambridge atmosphere, is the place where the picture of Ronen and I was taken. They had pretty good beers on tap there as well...

Day 3 - Saturday 11/11

The second day in Cambridge we went to a coffee shop and met up with a couple of people who also went to Brighton with Ronen, Mike and I. They are Gabby, on the left, and Annie:




Later that evening we went to a party at somebody's house, and then returned to Cambridge to go to bars again. We ended up at a place called the phoenix rising and got our dance on. It was a pretty sweet place, with a decent DJ. There was a really great crowd there too!

Day 4 - Sunday 11/12

The next day Ronen and I went to a coffeshop where Mike worked. He hooked us up with free coffee while we read a lot and talked about a variety of things. Ronen showed me some of the basics of topology, which is a field in Geometry that he is doing research in. It was very interesting. We hung out with Mike later that evening.

Day 5 - Monday 11/13

On Monday, I came down with a minor sore throat (big surprise) but I tried hard not to let it get worse. I used all of my traditional methods to tame it. I spent most of the day reading my guidebook to Mexico, and in the evening Ronen and I went rock climbing with a couple of his friends. The place we went to was the best rock climbing gym I have ever seen. I forget its name, but despite only having 90 minutes, we had a blast. I was able to climb a couple of 5.10's, which made me feel great.

Day 6 - Tuesday 11/14

On Tuesday, Mike and I joined some of Mike's french friends to see a screening for the movie fast food nation. Ronen wanted to come along too, but the line was too long and the doors closed before he could get there. Mike and I jumped in line where the french folks had been waiting for an hour already. The movie was about the American fast food and meatpacking industries and was in the same vein as Traffic, Syriana and The Constant Gardener. However, it was not as good as any of those movies. After the movie we grabbed some falafel sandwhiches (which were awesome) and decided to hit the bars. I didn't drink due to my sore throat but I had a great time learning some dirty french and joking around. Here's a picture of all of us: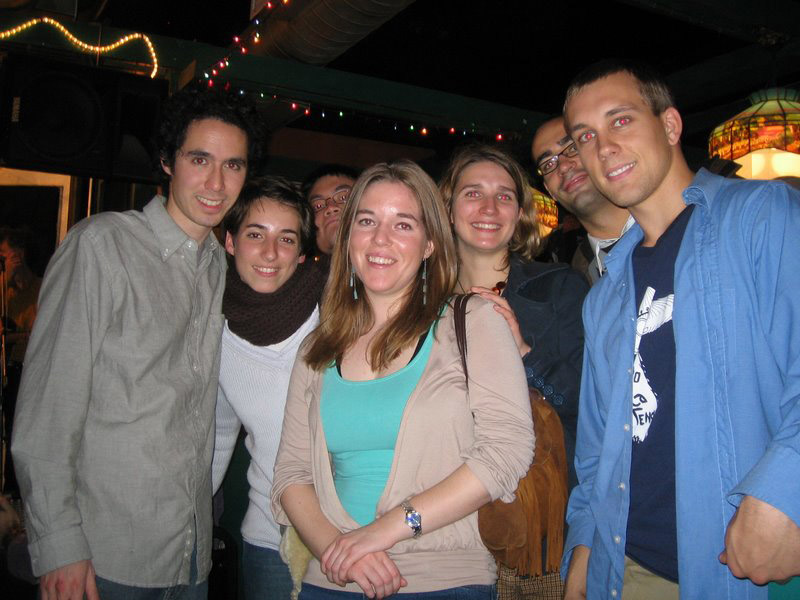 After splitting ways with the French folks, we went to another bar in Cambridge where a bunch of other Brighton folks were reputedly hanging out. Much to my surprise, I saw Zach McArthur, Jason Ling, and Andrew Mui again for the first time in at least 5 years. Here's some pics of us gettin' our steez on:




Zach, Jason and Andy were as surprised to see me as I was to see them. Jason and Andy were at MIT and Zach was teaching in the city schools of Boston. I was very glad to see them again.

Day 7 - Wednesday 11/15

On Wednesday morning at 7am I left for New York City. I stopped by Old Concord to see Walden Pond on my way out. Here's a recreation of Thoreau next to a recreation of his cabin as well as a picture of the pond itself:




The rest of the drive from Boston was a dismal one. I repeatedly lost the routes that I was trying to follow and I had serious problems with my shifter. Sometimes, when I was stopped, I'd be unable to get the shifter into first gear. I couldn't figure out why and kept kicking the shift lever down. Before the end of the trip, I had bent it and I had to stop and switch to my backup shift lever. The problem continued anyway. I arrived in Irvington well after dark, at around 6pm, and I was exhausted. I had been planning on staying at the house of my 'long lost' 2nd cousins who I had only seen once before when I was 8. They offered to let me stay there and keep my bike in their garage. My 2nd cousins are John Dorff and his daughter Julia who lives with him for the moment. Zach, who is Julia's brother, lives in the city on the lower east side. It was exciting to meet them again and we stayed awake until very late catching up. I was very glad to be off the motorcycle.
Julia is such a remarkable person and I am very glad to have met her once again. The breadth of her experience is astounding and I was eager to soak up as much wisdom as I could while I was in Irvington. Her history is very inspiring. I hope that there will be many more opportunities to spend time with her in the future. Here's a picture of Julia and John:






Day 8 Thursday - 11/16

On Thursday I spent all morning talking to John about various issues from politics to sociology. It was very productive conversation and we held very similar views. In the evening, Julia was able to give me a ride into the city so that I could meet up with Wunderlin. I brought a few bare necessities with me and left them in his appartment in upper Manhattan. We left almost immediately for a show in lower Manhattan by a group called 'El Perro Del Mar'. They are a Swedish group that had toured with Jens Lekman who I saw at Pitchfork and was a great show. The show was terrific. Although the music was very melancholy, the musicianship was pristine. The completely reversed makeup of El Perro Del Mar in contrast with Jens Lekman is so perfect that it is difficult to imagine that it is not intentional. In Jens's show, he was casually dressed while his backing group of eight or so ladies were wearing identical dresses; they were also all standing. Jens's music is also upbeat and poppy. In contrast, El Perro Del Mar's leading lady was dressed casually while her backing group of three guys were all wearing identical suits; they were also sitting. El Perro Del Mar's music is very downbeat and melancholy. After the show we returned to John's apartment to go to sleep.

Day 9 - Friday 11/17

On Friday, John and I decided to check out Central Park. I had never been there before, and I was very impressed with its size and the quality of its landscapes. There were many self-enclosed nooks that were stunningly beautiful. Here's a bunch of pics I took while we walked around:




The Great Steezy Lawn.




My castle.




A nice pondish area.




A bridgy thing.




Overarching Branch-dillies.




Big rocks and more branches.




An Ice skating rinkadink.




Cleopatra's Needle, from Egypt.

After doing the central park thing, we walked around Manhattan a bit and went to Times Square. I didn't take any pics of time square, opting instead for movies. I did get a picture of the tops of two cool looking skyscrapers at night:




And here's the New York Public Library:






Day 10 - Saturday 11/18

Today, John and I spent a lot of time reading. After noon, we decided to do some more walking around the city. We spent some time in a shopping center where I snapped this picture:




Then, I contacted Nabil, another friend from my HS days, and we met up with him at times square:




After meeting up with Nabil, Wunderlin and I headed to the Juilliard School to see one of Wunderlin's friends perform. The concert featured three contemporary percussion pieces. After the concert, Wunderlin and I saw a crazy looking vehicle and then decided to get some cocaine:




Later, Wunderlin and I watched 'Y Tu Mama Tambien' which is a mexican movie about sexuality. It was pretty good. The main character was the same guy that played Che in the Motorcycle Diaries. After the movie, I got a ride back to Irvington with Julia and we stayed up very late conversing.

Day 11 - Sunday 11/19

In the morning, I spent a long time talking with John again. Then I spent a while packing up my bike. Once this was done, I started reading some essays by Thoreau. I spent the entire day in Irvington.

Day 12 - Monday 11/20

Today I spent a long time reading and working on my bike. I learned from Jan that I can prevent the shifter from sticking in the future by rocking the bike back and forth whenever it seems to be stuck. When Julia returned in the evening, we spent a lot of time talking once again. I have learned a tremendous amount in the short time I have been here. I leave tomorrow morning for Philadelphia. The route includes lots of highways :(

Day 12 - Tuesday 11/21

The drive from NYC to Philly was only about five hours, despite the slower routes that I had taken. I managed to arrive at Jon Stover's place in Philly without much trouble. Since he was out at lunch, I decided to meet up with him. When he finished eating, we returned to my bike to find a parking ticket on it. $26. Friggin ridiculous. Additionally, my bike wasn't even in the way! It was taking up so little space that a car could still have parked in the spot. After we returned to Jon's place, we changed and hit the gym for some basketball. Jon successfully snuck me in by claiming that I was a prospective student. We played a few close games of 1 v 1 before returning and getting ready to go out.
On the way to the bar, I was walking down the street when a familiar seeming person on a bicycle went whipping by me. In a couple of seconds, I turned around and noticed it was my friend and next door neighbor Andy Baxter. He had also stopped. We couldn't believe that we had run into each other once again. It seems like there's some sort of connection between me and the Baxter family. I had run into Jon Baxter in Chicago, Buffalo and previously in Philadelphia (with his brother Andy) all within the last six months. Unbelievable!
At the bar, we ran into a group of people that are in the same program at UPENN as Jon. Here's a picture of Jon, me, and Jon's friend Rafaela: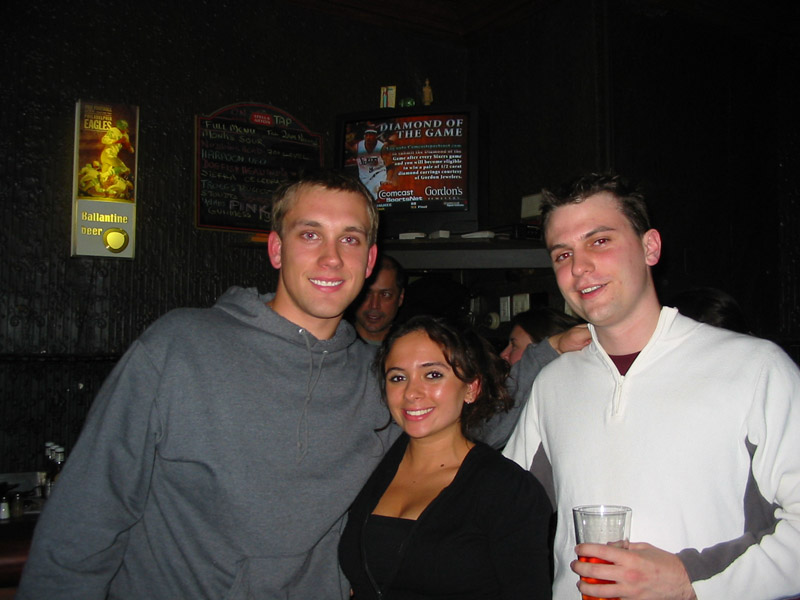 Once bar time was called, we returned to Jon's for some sleep.

Day 13 - Wednesday 11/22

I awoke (late), packed, and left Philly at around 11am. As soon as I had made it 20 miles, it started raining. It kept looking like it was clear up ahead, but I never managed to escape the pouring rain. The temperature also began to drop. It varied from between 36 and 42 for the entire ride to DC. In the end, I was on my bike, in the pouring rain, in near-freezing temperatures, at 70 mph for almost 6 hours. My boots filled up with cold water, and I was forced to stop numerous times to warm my hands and feet. The hand-dryers in bathrooms (the kind that blow warm air) were especially useful for this. The conditions were dismal, but it was a good test of my gear, and I managed to get through it without too much suffering. At around 5:30pm I arrived at Zach's parents house in DC. I was fortunate to have missed most of the Thanksgiving traffic, which was headed in the opposite direction.
Zach arrived soon after I did, and we had dinner. After dinner I packed a bag and we met up with Gavin to see 'The Fountain' the new movie by Darren Aronofsky. Although there were some hiccups in plot and dialogue, the movie was stunningly beautiful and very engrossing. I highly recommend it, although I can't imagine it being nearly as good on a TV screen. After the movie, Gavin took me to his place downtown and I met some of his housemates.

Day 14 - Thursday 11/23

On Thursday, Gavin slept in while I met his housemates. His house was three stories and there were five people living there. It was an eclectic group since everybody had learned of the house through a craigslist posting. At around 3 o'clock, we left for Thanksgiving dinner with Gavin's mom and a group of family friends. Despite being the odd man out, I had a great time and everyone seemed very interested in my trip. The food was terrific and I filled up happily.

Day 15 - Friday 11/24

I spent most of Friday morning and afternoon reading and listening to music in Gavin's house. At around 8pm, Zach and Ben Bruno showed up and we spent a lot of time coming up with some new jokes to survive the evening. The main one was especially useful at the Thomas Jefferson HS reunion that we dropped by this evening. The gag was to approach random people at an event and ask, really excitedly, if they were here for the fight. Then you would promote a non-existant fight as if it was really cool, with expressions like 'there's gonna be a big fight, bring yo' knucks.' We traversed every possible mode of this joke, and a couple of times we even lapsed into tangentially funny areas such as this hypothetical interaction: Person 1: "Hey are you here for the genocide?" Person 2: "Uh, is that some kind of drink?" Person 3: "Yeah! yeah, we're gonna kill a bunch of people!" Here's a picture of Ben and I preparing for an upcoming fight: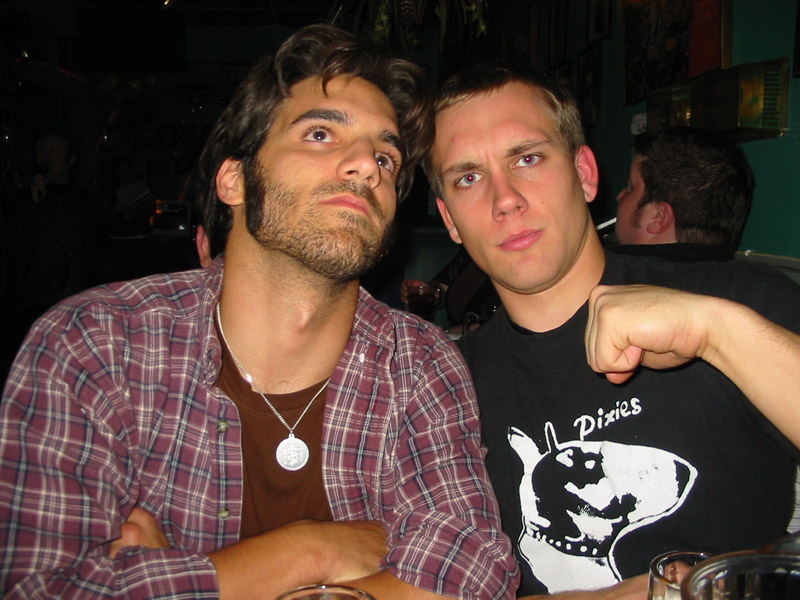 Just before the HS reunion, we stopped by Ben's house to make some craigslist and myspace postings about the upcoming fight at DC9 on Saturday. We also rendezvouz'dz with one of Zach and Ben's friends while we were there before heading over to the reunion.
As expected, the reunion was pretty lame. I did spot one girl who I had dated in college, but I didn't make any effort to talk to her, nor did I want to. The fight gag didn't work very well and nobody got the joke, so we were out of there in less than an hour.
The next stop was to meet up with Gavin and a bunch of their other friends at some random karaoke bar. If it weren't for the fight joke, which brought out much hilarity here, the whole evening up to this point would have been lame. After the karaoke bar, we went to the Wonderland Lounge to do some dancing. I had visited this bar in April when I visited Gavin and John. It's got no cover, has cheap drinks and has good DJ's and a packed dance floor. I had a fantastic time dancing for a few hours. At 3am, we went outside and I learned some spanish from a few hispanic guys that were hanging out on the street. At one point a person, overhearing about my trip, demanded that I buy a gun from him for $100 to protect myself. He explained that someone that was white like me wouldn't stand a chance. Of course I knew he was talking bullshit, and wouldn't even sell me a gun for $100, so I just went along with him. Eventually he left and my spanish lessons could continue. I got home at around 4am and hit the sack.

Day 16 - Saturday 11/25

Saturday was the day of the fabled DC9 Nouveau Riche dance party. Zach and I pre-partied at some house north of Gavin's place in DC. They had tons of good drinks, but the atmosphere was very relaxed, and we ended up talking about Philosophy for most of the time we were there.
We arrived at Nouveau Riche after all of the free sparks had been given out, AND Gavin forgot to put me on the guest list, which was pretty ridiculous, but he cleared it up immediately. Once inside however, I ran into a bunch of old acquaintances and got my dance on for like 5 hours. The DJ work was spectacular, as expected. It is a wonder that there are so many crappy DJ's around, and that so many people cannot tell the difference between one who is good, and one who just concatenates pop hits without any style or introducing any new material. I got pretty drunk by the time I left, at 3am. I decided to walk home so that I could see the area a bit. I got several phone calls from drunk friends on the way to Gavin's, all of which were very entertaining. Once I arrived back, there were a few people drinking on the porch, so I joined them until about 5am, when I decided it was time to sleep.

Day 17 - Sunday 11/26

Sunday was a low key day. Jan made his trip to DC and met up at Gavin's at around 7pm. We got to sleep early so that we could leave by 7am. I had to take the subway to get my bike in the burbs, and Jan would meet up with me out there.

Day 18 - Monday 11/27

I left at 6am to get my bike, as expected, and spent some time packing my stuff away at Zach's house. Meeting up with Jan was more difficult than anticipated but we found each other on the highway at around 10am. We hightailed it to Front Royal to get on Skyline Drive as soon as possible. Unfortunately, the road was closed due to some ice storm that had hit the weekend before. Since we were able to get our bikes around the barriers, we decided to chance it anyway. The drive was stunningly beautiful, and pretty intense since we had to dodge so many fallen trees. Jan took all of the pictures on this day, and when he returns, I'll post them. They are beautiful!!
Before long, however, we were spotted by a trooper, and pulled over. We each got $125 tickets and were escorted off skyline drive. Boo!!! We sped along another nice road until we reached Chartlottesville and met up with Zach. Our night in C'ville was a lot of fun. I was able to show Jan the UVA campus before it was too dark. He was very impressed and had never conceived of a college like this.

Day 19 - Tuesday 11/28

On Tuesday we left C'ville early to get a head start. We returned to the Blue Ridge parkway, which was open south of C'ville. The drive was stunning, again, although the curves were not as sharp, and there was more traffic. Once again, Jan took a majority of the pictures, but I have a few. Here's a picture of a church-like building in a meadow on the top of a mountain:




And here are a few pics of the sunsets we had on the first two days on the road: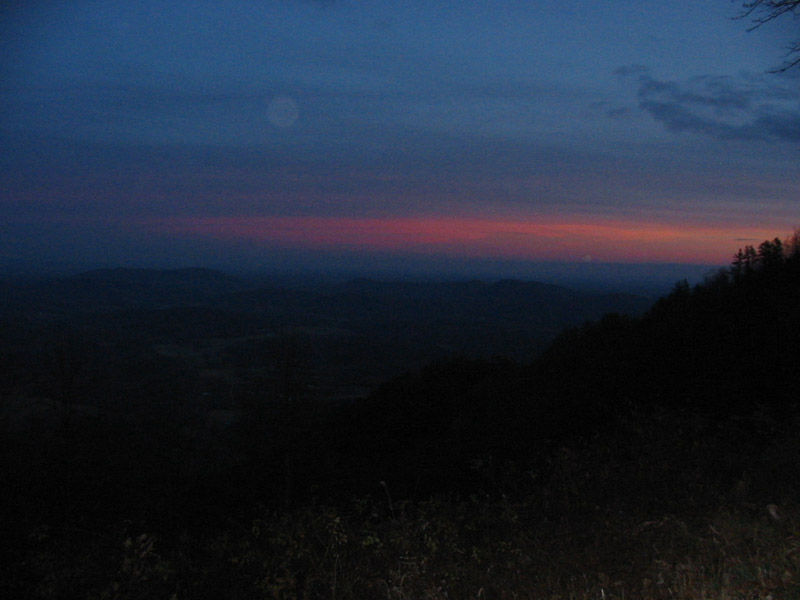 Once it got dark, we pulled off the road into the forest and set up camp. The night was very peaceful and it was easy to sleep. A coyote decided to visit us and was squeeling about 30 feet off from our camp.

Day 20 - Wednesday 11/29

We broke camp the next morning at 6am. I noticed that my rear tire was completely worn down, and we decided that I would change it in Asheville, which was a city we should reach by 2pm. Once we got on the road, it unexpectedly began to rain. Additionally, there was a lot of fog on the mountains. We put the appropriate gear on and continued, although I was very worried about my traction with my rear wheel the way it was. At some point, we were required to take a detour off the parkway, which was obnoxious since this meant traffic. The second turn on the detour was an unexpectedly steep and spiraling blind turn. I needed to hit the brakes slightly and my rear wheel locked. I began to skid for the oncoming lane. Since I couldn't steer, I decided to head for the far shoulder and try to brake or lay the bike down. I knew that I was completely fucked if a car came around the corner. One did, and they didn't see me soon enough, and I braced for impact.
The car pinned my leg to my gas tank just before my front wheel hit the side of the car. I was thrown through my windshield and my body hit the side of the car. Soon enough, I was lying on the ground, my left leg twisted in some awful way. The shock prevented me from feeling my limbs, but there was an inexplicable pain coming from my left leg. I waited in agony for 20 minutes before the paramedics arrived. I was taken to one hospital where they couldn't help me, and then I had an hour long ambulance ride to another (in Asheville) where I had surgery. I spent the next five miserable days in the hospital before I returned to Rochester to continue recovering. For me, the trip was over, my bike was totalled, and I wouldn't walk again for months.
Despite what has happened, I still maintain a positive feeling about my experience. It is very unfortunate that I will not be able to make the central american portion of my journey, but I learned a great deal in my three weeks on the road and wouldn't have changed my decision. I will make a full recovery in about a year or so, and I will be back to my normal active self. Until then, I can focus on my reading and my upcoming job with Kaiser in California.

For those of you who are interested, here are my before and after x-rays of my leg: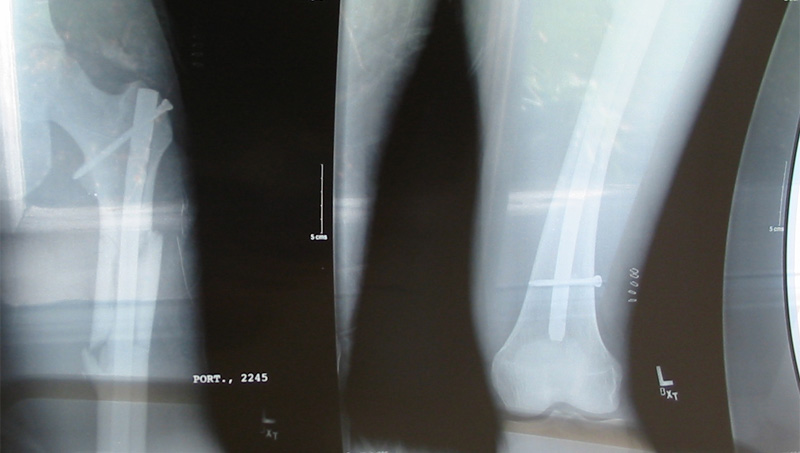 My shoulder was also injured. We believe that I tore my rotator cuff. I may need surgery there as well, but we must wait until I can walk without crutches for that surgery to be performed.

On 12/27 I received my first communication from Jan since he left the hospital. He has just crossed the border into Honduras and is having a fantastic time. He already needs new tires and has been doing a lot of off-roading. He went white-water rafting and broke his finger, but for Jan, that ain't no thang. He is going to be getting diving lessons on the coast and spending the new years in Honduras. Hopefully he makes it all the way to Panama, he still has to get through Nicaragua and Costa Rica.

Forward to Winter Recovery 2006-2007
Back to Index