Back to Index
Back to Spring 2012
The Summer of Love
Work and Hospice Update
On my way back to Portland from LA I stopped in Sacramento for a few days of on-site work at Sutter. Now that I was done with my tenure at OHSU I would be transitioning full-time into a remote consulting position. This had been a dream of mine for years and it was finally becoming a reality. While I would be working from home most of the time, I'd still be making intermittent trips to organizations around the country where I'd be contracting or working on the old CyPace software. Sutter is one of the primary places I've been helping out and it was going to be fun to stop by and meet my coworkers there. While in town I spent time with Jasmin Patel, the owner of SERJ Solutions which is the company that ended up buying the CyPace technology. Jasmin and I get along really well and it's been a pleasure to work with him. This week he was sponsoring a Sacramento Rivercats baseball game which I attended more for networking reasons than anything else. We ended up leaving around the 4th inning but while there I had the fortune of meeting his chief of operations, Megan Milligan, who struck me as very direct and earnest. After returning to Portland I settled in for my first week of remote work and I must say I absolutely loved it! I got myself a Macbook Air for its portability since I am likely to travel a lot and while I was originally planning on putting Windows on it and using it primarily for that, I've fallen in love with the usability of the Lion OS and I think I've become a convert. Hey, anything is possible!! I am now running Parallels to host a virtual Windows XP for most of my work-related usage but stick with the Mac apps for personal stuff. My favorite aspect of the Lion OS is the three-finger swipe, which allows you to seemlessly switch between virtual desktops. With this amazing feature I feel almost as productive as I used to on my multi-monitor setups. Jeeya!

Besides work, returning to Portland brought about changes in my volunteering as well. One of my two original patients had a bad fall before I left for the Southwest. I had a chance to see her briefly when she was brought back to the home from the hospital but she wasn't awake. I found out upon returning to Portland that she had passed away in my absence. I felt mixed emotions about her passing. For my own benefit I would have liked to experience her passing more intimately (I had almost no visibility into it as things played out) but I knew that she had been in a difficult place and that her passing was the natural course of things. I would not have wanted her to continue to be in suffering any longer than was necessary so perhaps it was for the best. When I spoke with the hospice coordinator she explained that there was another patient at the facility that was considered challenging but was in need of a volunteer. I could have been hesitant to accept another assignment but I know it's the right thing to do so I immediately agreed. On my next visit I met my new patient, an elderly gentleman who is actually very aware and capable of talking. This was my first male patient and my first patient who could carry a conversation. The challenge with him, however, is his depressive tendencies and his stubbornness. After meeting him, however, I felt very good about my role as his companion and I feel like I have a lot to offer in this situation. Not all of my visits with him have been perfect, but more often than not I've left feeling very good.
Le Fromage in Portland
When I visited Ivan in the Spring I kept telling him about how amazing Portland was. I invited him to come visit, and he agreed to make it a priority. As it turned out, he had a conference in Seattle in early June and he decided to fly up to Portland a few days prior to get a taste of the city. Joining him for at least part of his visit was Colin Loveness who was also on his way to Seattle to see his family. On June 8th I spent the entire day working to install the old CyPace software at an Indianapolis hospital called Franciscan Alliance (remotely, of course). I barely finished my work by 11pm when Ivan and Colin's flights came in. Colin was picked up by another friend but I came to get Ivan and we immediately went to Roadside Attraction to catch up. Colin joined us there after a couple hours and we then returned to my apartment where we listened to some dubstep and, amazingly, Animal Collective's 'Spirit They're Gone, Spirit They've Vanished'. We really only were able to focus on the first three tracks before it got too late, but it was an incredible experience nonetheless to share with Colin and Ivan.




The next morning we got up for the Portland PSU Farmer's Market in the park blocks downtown. I hadn't been to this farmer's market yet this year. We had a really fun time sampling and buying various delectables. After some time Janel met us there and we all walked around together. Afterward Ivan wanted to head to the climbing gym so we got our gear together and went over. Ivan did really well, he climbed a few of the 5.11's with only one brief rest. After climbing we decided to grab a few drinks at Cascade Barrel House. Ivan had never had sour beer before and he seemed to really enjoy it. Colin and I realized that we had gone to Cascade on exactly the same day the previous year when he and Rafaela visited me. What a coincidence! After Cascade we decided to grab dinner together and we went to the Blossoming Lotus (we originally tried to go to the Farm but the wait was too long). Dinner was delicious! After dinner we kept the party moving by heading out in downtown Portland. We traversed a few bars before the hours of drinking started to wear us down and we retired to my place for sleepytime.
The next morning Colin left on the bus for Seattle. Ivan, Janel and I decided to head to the coast near Tillamook for an adventurous beach day. The weather was looking beautiful and we ended up going to Bayocean Peninsula, which is a narrow cape that separates Tillamook Bay from the Pacific Ocean. Here's a look at the map of the area:




Here's a picture of Ivan and I walking on the beach: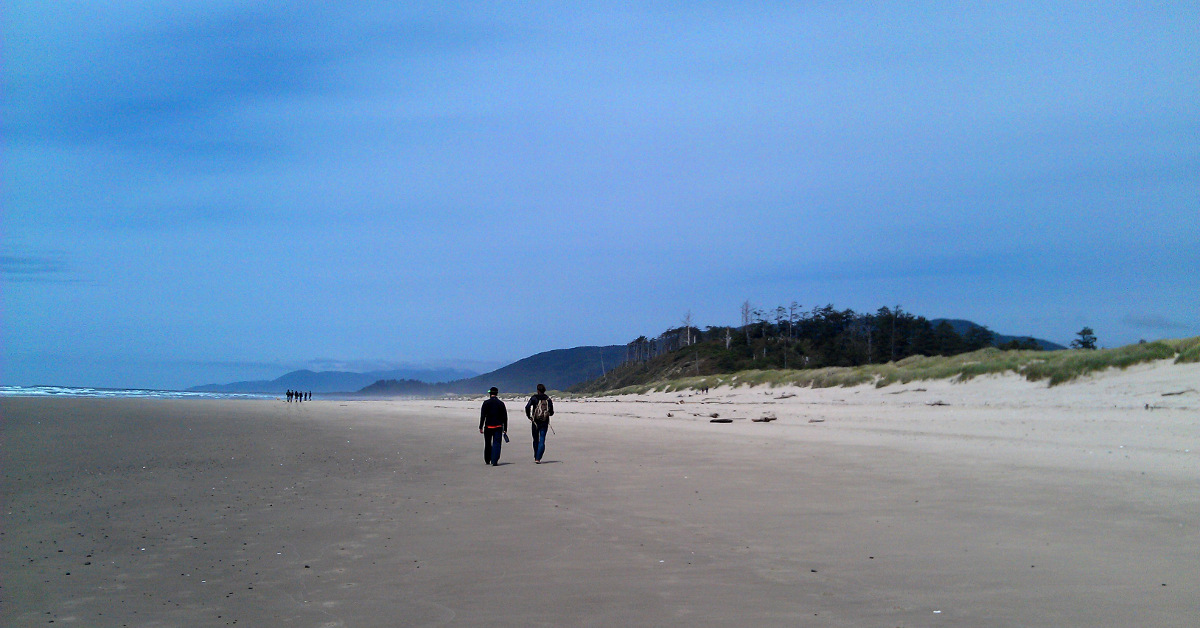 And here's a couple shots looking South along the narrow strip of land separating the bodies of water:




We spent a few hours hiking through the brush and walking along the coast exploring the trails and dunes. As evening approached we decided to grab some ice cream at the Tillamook Cheese Factory before returning to Portland for Kirtan at the Bhaktishop. Unfortunately we only caught the tail end of Kirtan but we met up with Adinah and Anthony and made veggie burgers back at our place. I am not sure if it was this evening or another but there was a great sunset that reflected off one of the high rise buildings downtown:




The next morning Ivan and I got up early to go barefoot waterskiing with Joe. I was a little apprehensive about trying it again considering how difficult it was, but Ivan was really excited to give it a try. Once we were on the boat Joe gave us the rundown on the basic technique and I was given the chance to go first. I put in five or so good attempts and came really close but my technique was off. On my last try I managed to get up for a bit but I wasn't terribly comfortable. I decided to take a rest while Ivan gave it a go. Surprisingly Ivan managed to get up on his first real attempt! Here's a video of his second go:



It amazed me how rapidly Ivan was able to get up. He just put his feet down and immediately stood up, making it look surprisingly easy! I decided to give it another try after Ivan finished and I had more success. Here's my first good run:



Now that we felt more secure in our ability to get up, we practiced a few tricks, like going down on our butts and up again. Here's Ivan practicing this:



In the end we had a really amazing time and we were both really glad to have gone. Watching Joe was also really fun, and we saw him execute the hardest barefoot trick known at one point, which he was also really excited about. After we got back from waterskiing we decided to head out the Gorge to Ozone for some climbing. Adinah and Anthony joined us as well. We climbed several challenging routes, including Masterpiece Theatre (5.11c) and Beyond the Glory (5.11d) as well as some moderates like Eight is Enough (5.8) and Chaos (5.8). After climbing we drove past Beacon Rock and then went on a hike to Ponytail Falls on the Oregon side of the Gorge. Here's a look at the falls:




Underneath the falls is a really cool cave that was perfect for a short meditation setting. Here's a look from the other side:




Once we were done with the hike we stopped at the Vista House to watch the sunset before returning to Portland, grabbing some Indian food and watching Spirited Away. The next day Ivan left for Seattle and I decided to remain in Portland to take care of some outstanding work items. Overall it was a really great weekend and I feel like Ivan got a good sense for the way of life in Portland. Some things that we were unable to find time for included Yoga and Whitewater Kayaking, but hopefully he makes it back another time!
Trip to Eugene
The next weekend Janel and I decided to take a quick trip on the BMW through the Oregon countryside and down to Eugene. I'd never explored this city, although I'd heard much about it, and I was looking for any excuse to tour around on my bike, so I figured this little idea would fit the bill. We packed up the panniers and hit the road on Saturday morning. I didn't have any particular route in mind, just that I was going to stay in the Willamette valley, and that I would stay West of the I-5 on my way South and East of it as I returned North. We ended up touring through the towns of Newburg, St. Paul and Dallas in the morning and arrived in Corvallis in time for a late lunch. The scenery was absolutely beautiful and the weather perfect. I captured this picture of a nursery under the stunning sky: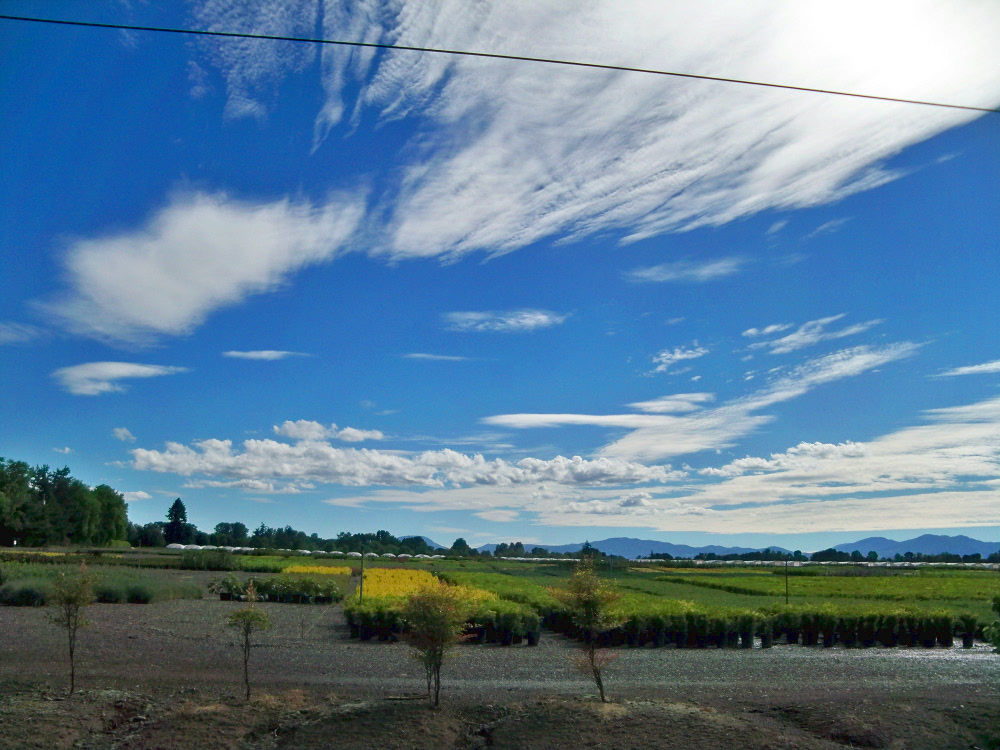 We ate at a delicious vegan restaurant called Nearly Normal's and then settled in for a siesta on the grass of one of the quads at Oregon State. After we awoke we jumped back on the bike and drove South toward Eugene. As we entered town we decided to head for a park to swim in the Willamette. Janel navigated and we found ourselves at a rose garden right next to the water. After walking down a path for a bit we reached a beach at a bend in the river:




The river is much narrower here than in Portland, but it still looks pretty sizeable. Here's a view further downstream:




After relaxing here for awhile we went to the Northwest corner of Eugene for some beers at the Ninkasi Brewery. As usual with my brewery visits we each got a flight:




After drinks we had dinner at Izakaya Meiki (yum!) and then went to a show at a venue called Sam Bond's Garage. The show turned out to be pretty loud, and it had been a pretty long day, so we ended up heading over to the hotel around midnight to get some rest. The following morning we explored the University of Oregon, which was Janel's alma mater. She gave me a shortened version of the grand tour and even pointed out the sorority house where she had been a member for all of a semester :-) I didn't take many pictures, but I captured this shot near the library where they had set out chairs for graduation: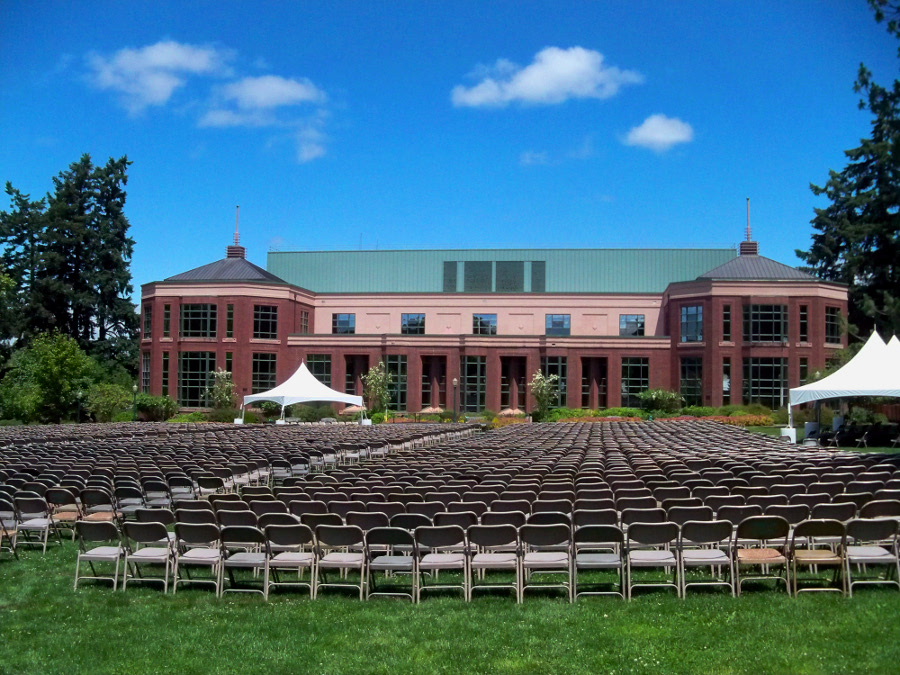 It sure brought back memories, haha. Once again I thought about how funny it would be to share similar things from my life with Janel, but alas the places of my past are usually so much more geographically distant than those of hers. After we finished touring the university we hopped back on the bike to return to Portand. The way back was less populated and even more scenic than the way down. We passed through towns such as Sweet Home, Lebanon, Stayton, Silverton, Mt. Angel and Woodburn. I thought Mt. Angel looked really nice and quaint for a small village. We stopped for some Dairy Queen yumminess in Stayton to punctuate our trip. When we arrived back in Portland we were both pretty tired and ready for some down time.
SOAK!
The week after the trip to Eugene I spent much of my time gathering clothing, costume items and gifts for my next Burning Man experience. This time it would not be at the main Burning Man event itself but instead the Portland regional event in the coastal range, called SOAK. I bought some really cool pants at a Tibet store and got a few pendants to give out. I also bought a bunch of foam visors and decorated them with googly eyes for gifts as well. I left for SOAK on Thursday morning and took my motorcycle. The drive down was absolutely beautiful and by the time I arrived at Prindel Creek Farm I was in a great mood to start the festival. I had no idea what to expect from SOAK since I was only familiar with the main Burning Man festival. I knew it would be a lot smaller, but I was unsure what the social dynamic would be like and how the different environment would affect the experience. I am not going to document the bulk of my experiences there, but it was far more than I ever could have expected. As with Burning Man where I only posted one picture, I'll do the same for SOAK, although I don't have any of myself. Here's the main effigy with some fire dancers surrounding it just prior to the main burn:




I met so many incredible people and had so many profound experiences that it deeply affected me, just as much as my time at Burning Man the prior year. In many ways the smaller setting allowed for a more centralized feeling at the festival, and I certainly felt myself in the middle of the energy there. There was so much love and creativity! This time one of the major reasons for my connectedness was my involvement with a camp. I had luckily been invited to join the Shangri-La camp, headed by three people, Brian, Jah and April, and focused on the spiritual side of Burning Man. Being a part of Shangri-La was an incredible honor and affected my experience there more than I thought possible. I also discovered something new at SOAK: Much like I was turned on to Vipassana meditation at Burning Man, I was turned on to Ecstatic and Contact Dance by someone named Ryan who I met there. It blows my mind how much these festivals can catalyze growth experiences in people open and willing to receive them. Unreal!
A Little Place in the Mountains
After I returned from SOAK I once again had to readjust to normal life. The last thing on my mind was the material world, but one morning I checked my email and looked (as I usually did) at the newest properties in Idyllwild. I had been religiously keeping up to date on the places there since my failed bid the previous year and I was surprised to find, for the first time in awhile, something that peaked my interest. A recently renovated cabin with remarkable views had just gone up for sale for $250,000. This was the very very high end of my budget, but I decided the property was good enough to fly down and take a look. Here are the pictures from the website:




As you can see, it looks to be in good shape, the deck is huge, and the views are stellar. I flew down on Thursday and got a rental car for the drive up to Idyllwild. Although it wasn't perfect, I was very interested in the place and decided to place an offer for $235,000 cash. That evening I had dinner with Jasmin, the owner of SERJ, at a South Indian restaurant. The food was very good but very different than anything I'd had before. Unlike the standard 'blob' food that I've come to love at most Indian restaurants, they cooked the food into massive flatbread-like roll-ups. Interesante! After eating I returned to Pasadena and arrived at Ivan's apartment in the middle of a dual-birthday party for Pru and Keane! Antha, Pru, Ryan, Keane, Melani, Shanaz and Ivan were all there and were getting ready to go out in Pasadena. It ended up being a really enjoyable (and late) evening. Just before bed Ivan convinced me to try and watch an anime movie he'd found called Nausicaa of the Valley of the Wind which he said was made by the same director as Spirited Away and was really good. I only made it about ten minutes in before passing out, but what I did see piqued my interest big time.

The next morning Ivan and I tried to head over the Riverside Quarry for some climbing. We didn't get there until almost noon, and it was an extremely hot day. It turned out to be a huge fiasco, and after having some minor success on Double Whammy (5.11a/b) I failed miserably on my lead of Nostalgia (5.11c) in the sun. Ivan successfully led it and cleaned the draws before we got the hell out of there! After we returned to his apartment I took a nap on his couch which was interrupted by a call from Idyllwild Realty. As it turned out, the seller had accepted my offer and I was going to be a homeowner!!! Craziness!!!! Of course now the circus really started. I had to schedule a professional inspection before leaving town, so I got the local inspector to agree to come by Monday afternoon. I didn't let the possible stress of the news get to me and focused on having a fun evening. Antha had told us about a film screening at the Hollywood Forever Cemetery that sounded somewhat interesting:




The movie, Labyrinth, I'd never seen but was told it was classic and had a cult following. Since a good electronic artist, Daedelus, was also playing, we decided to head over and check it out. When we arrived, however, we were presented with the rude fact that the screening had sold out. With a party of seven people it seemed unlikely we would get in, so we started weighing our options. At one point someone with three tickets offered to sell them to us for face value ($10 each) and I figured it would be a good idea to snag them. This started a very intense hustle on our part to complete the set and get everyone in. I made the bulk of the effort and managed to get us six tickets without too much trouble. I also agreed to be the one not to attend if we failed to get a seventh. Things were looking really bad for a long time but just before the end of the line I managed to find someone with an extra who agreed to give it to me without charge. In the end we got everyone in for $10 less than we would have had to pay. By the time we got to the clearing where the screening was to be held, it was absolutely over-full and it appeared there were no places to plop down within a reasonable distance from the screen. Undeterred, I figured that a small spot must exist somewhere near the front. Of course, I was right, and before long we found ourselves just to the right of the screen and within twenty feet of Daedelus: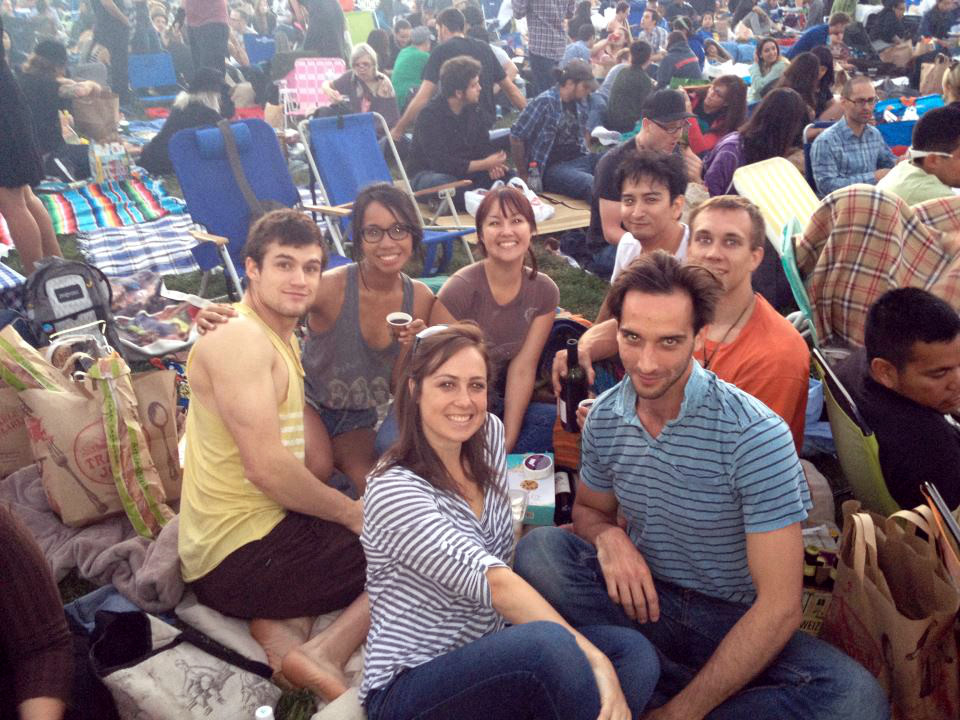 Along with us was Antha's friend Sean and her roommate Lea. Both of them were welcome company at the show. As it turned out Lea provided hilarious running commentary throughout the whole movie and Ivan, Sean and I spent much of it dying of laughter. The five or ten minute sequence featuring these guys:




Was absolutely insane and had all of us convinced of two things: First, Jim Henson did a lot of acid, and second, all of these absurd nonsensical passages were completely intentional and meant for us adults to shake our heads and laugh at. This, combined with David Bowie's ever-present man-bulge and penchant for out-of-place pedo-romantic music-video cuts made the entire experience one of the funniest and most random of my entire life. I left a happier person. When we arrived at home Ivan once again tried to get me to watch Nausicaa unsuccessfully. I made it a bit further this time, but couldn't hold on. The next morning we slept in and then Ivan and I went to Matador Beach in Malibu with Keane and Melani. I really enjoy the company of both of these two new friends. Here's a cure picture of them from this day:




They are really laid back, optimistic, and kind. I especially got a good sense for Keane during the hike out of the Grand Canyon and find him to be an admirable person. I decided to wear a colorful outfit completed by my recently acquired Tibet pants from SOAK: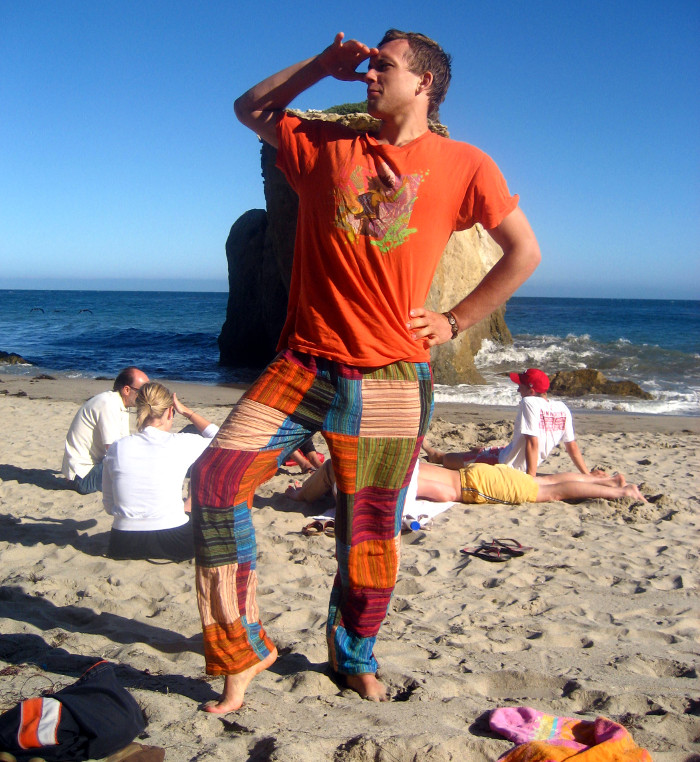 Anyway, at Malibu Ivan and I went on a nice walk along the beach to check out the gawdy properties. The entire scene was startlingly beautiful on this day. On our way back the tide had come in and provided an interesting challenge getting around some of the rock outcroppings. When we got back to the others we decided to finish the day with a bit of impromptu rock climbing:




Ivan and I both found our way up this sketchy highball chosspile. Here's a picture of us basking in the glory of dangerous random outdoor activities:




Once we finished messing around we refueled with some skittles and posed for a photo with our buddy Keane:




I love the sun (and my new pants). When we got back to Pasadena, Ivan and Melani made a scrumptious dinner for all of us and we finally got down to watching all of Nausicaa. As it turned out, it instantly became my favorite of Miyazaki's movies. If you haven't seen it already, I highly recommend it. The heroine, Nausicaa, is one of my favorite characters of any animated movie, and I feel like she would be right at home at Burning Man, don't you?




She usually is also wearing a gas mask, but not in the above picture. After finishing the movie we drifted off to sleep. The next day, Monday, I would have to return to Idyllwild to meet with the inspector. Over the weekend I was contacted on facebook by someone who had stumbled across this website and wanted to express her appreciation of it. I was of course honored and told her that it was really nice of her to reach out. Oddly she happened to live in Los Angeles and when I offered to let her join me on my next visit to Idyllwild she surprisingly accepted the invitation. The girl, Amelie, is an agent at a prominent organization that represents many top electronic artists, such as Skrillex. Certainly a very interesting career and someone worth knowing if you spend any time in Los Angeles! Anyway, we enjoyed each other's company on the way up to the hill (what folks in Idyllwild call their town) and managed to make it just in time to meet the inspector. He gave my house an enthusiastic thumbs up with a few minor caveats. After it was over and I was once again feeling really excited about my property, we returned to town to talk to the realtor. I asked my agent to have the seller take care of all outstanding issues and he agreed. We then went to Cafe Aroma to celebrate my purchase over a nice dinner and a few drinks. As I came to know Amelie better I realized that it was very fortuitious to have met her in this situation. She seemed to be interested in exploring the outdoors more, but to this point hadn't found the appropriate company. I told her that I would connect her with my friends in Pasadena and this would possibly be the boost she'd need to start! (as it turns out, less than a month later, she's already been climbing with Ivan in Malibu!) On our way out of town after dining we passed a few young people in town with their thumbs up. Since I had room to spare in Ivan's car, I slowed down to see what they needed. Comically, they had their thumbs pointed the wrong direction. They were jokingly looking for a ride to Cafe Aroma!!! They offered us a round of drinks if we took them, so of course we agreed! Back at Cafe Aroma we learned that these three climbers, two girls and a guy, had spent all day up at Suicide Rocks above town. They were all really beautiful people and after only chatting for a half hour before having to leave, they said incredibly kind things to both Amelie and I. How wonderful! Time was getting short, though, so we had to leave and return to Pasadena. Once we got back we went out to Lucky Baldwfin's with Ivan before parting for the evening. In the morning I had a super early flight from Burbank back to Portland. What a great short trip to LA!
July 4th and Ecstatic Dance
Ever since I went to SOAK I had been looking for an opportunity to reconnect with Ryan and experience ecstatic dance. As it turned out, July 4th was the day. The regular Wednesday class, titled 'Mindful Madness' wasn't cancelled and we decided to meet there. When I arrived, a little early, there was nobody present except the DJ, and it was just an empty dance floor. I knew it was going to be free-form, but as usual I was looking for another person to give me an idea of what was acceptable practice :-) I spent some time stretching and doing yoga as the music started and people began arriving. As the music started ramping up I began to get the feel for the environment and realized this was definitely somewhere that I could thrive. I started experimented with dancing to musical styles that I hadn't been too comfortable with before. I started with a dance of my own origination but as I moved around the room and observed other people I started borrowing ideas from them and incorporating them into my movement. I spent the next hour and a half bounding around the room, responding to the music and other people, and massively enjoying myself! Ryan appeared toward the middle of the dance and gave me a huge hug. After it was all over we chatted and I was once again blown away by his humiliy and calm, kind demeanor. He told me more about contact dance, which I had seen some people practicing in the midst of the ecstatic melee and I spoke briefly to two people who taught the Tuesday contact dance class. They encouraged me to try it and I resolved to go the next time I had a free Tuesday in Portland (which wouldn't be for over a month...). After ecstatic dance I returned home and since Jared wasn't interested in the fireworks I went to the Portland waterfront myself to see them. I got a good vantage point from the middle of one of the bridges but it still did not impress me much from so far away. The next night I showed Nausicaa to Janel and she really enjoyed it. The following day I received some very sad news from home. My dog Zoe, who we'd had for twelve years, had passed away just three weeks before my next visit home of a herniated disc in her spine. :-( My family was really shocked and sad by the suddenness of her decline and we had a phone call in the evening to comfort one another. In the end, I felt sad but good about the quality of life that Zoe enjoyed during her time with us.
Washington DC
That night I had a red-eye flight from Portland to Washington DC. Jon Stover, who I hadn't seen in a few years, picked me up at the airport. We went to gather Zach (!!) and JR at their place (he happened to live very close to Stover), extracted a piece of my Shure's from my right ear, and went to brunch. It was such a departure from the norm to so easily reconnect with Zach on a weekend trip, it was great! Catching up with him and Jon was a pleasure and I was glad to find that they were both doing so well. I realized that for me, the four most significant changes in my recent life were Janel, Burning Man (including SOAK), Vipassana and my Zion/Grand Canyon trip. These things weighed heavily on my late perspective and were focal points of my words to my friends. Later that day we went to a BBQ at one of Jon's friend's places and met up with Gavin there. I hadn't seen Gavin since before my motorcycle accident, about six years ago. He had since become a major DJ (Nouveau Riche) in DC and was a central pillar of nightlife in that town. Of course much had changed, but it was also remarkable how many things had stayed the same with my friends. Once again I felt like I was perhaps the most radically altered person in the room, for better or worse. After the BBQ we all met up to out in Adam's Morgan for the night. We spent the bulk of our time at two places, Bourbon and Madame's Organ. I managed to have pretty long and intense conversations with both Jon and Zach which I thoroughly enjoyed. I ended up going to sleep around 4:30am at Jon's, totally exhausted.

The next day I slept in before reconnecting with Gavin and Zach again around noon for some noodles. I was so happy to be spending so much time with them! We went for a walk and spent time at Zach's apartment before I went with Gavin to his place. I accidentally left my suit at Zach's so I had to take some Taxi rides to sort things out before picking up the metro and heading for the BMI airport to meet Jasmin for the cental (but in my mind secondary) purpose of my trip East: a sales presentation to UMBC for the ex-CyPace software.
The Business Pony Inside
My inner business pony re-emerged for my meetings in Baltimore and then Indianapolis. In three days I went to each of these two cities for what turned out to be successful meetings. Here's a shot of me in my Baltimore hotel room prior to the more important set of meetings:




I'd never been to Indianapolis before and got to spend a couple days there with Nick, who I hadn't seen in person since visiting Colorado after his wedding last fall. Here's a picture of a fountain in downtown indy:




One of the highlights of my visit was our dinner one night at a restaurant called the Rattskeller which bore an incredible likeness in both food and decor to a legitimate Munich establishment:




Here's Nick trying to decide what to order:




On the downside, I received word from Janel on the second day that her car had been stolen off the street in my neighborhood!!! I felt really bad for her but was so preoccupied that I failed to provide the support that the situation deserved and I felt that I let her down. What a business pony. :-(
Romi's Last Weekend
After a couple of days in Indianapolis I returned to Portland. That Friday I had a good hospice visit and stopped by Anthony's parents place in Beaverton on my way home. He and Romi were there enjoying themselves in Anthony's mom's berry patch. We all scoffed several handfulls of berries before they both jumped in my car and we reversed the dietary value of that snack by stopping at Dairy Queen on our way to my place. I hadn't seen either of them in quite some time so we spent the evening catching up as we made dinner. I learned that Romi was leaving for India on Thursday to become a full-time devotee of Amma at her ashram there. It was quite a shock to hear it but Romi appeared ready for the experience and was taking it all in stride. He was as full of love as ever and after talking with him briefly about his feelings I could tell it was the right move for him and I felt glad. While at my place he gave my hammered dulcimer a try:




He also brought over his mandolin to jam with me, but I wasn't really up to task. For dinner I cooked an ad-hoc version of my favorite dish that my mom makes, a bowtie pasta with lots of veggies in it. It came out great and the three of us feasted before settling in for some Nausicaa and the Big Lebowski, which Anthony had never seen. It was a pretty hilarious evening, of course, and eventually Janel and Rena stopped by. Rena was just dropping Janel off so she left soon after, but the rest of us finished the movie. The plan for the next day was to float the Sandy River so Anthony stayed over. Romi returned to his place where I'd be picking him and Saph up the following morning on the way to the river.

The float went brilliantly. In addition to Anthony, Saph and Romi, Jared also brought along several friends, some of whom I'd never met before, including Mike Royer, Sabra, Megan, Mackenzie and Shane. Everyone had a wonderful time and the group got along brilliantly. It was an incredibly social event, not just because there were new faces in our group, but also because there were so many other people floating the river that day that there were constantly new people to talk to and interact with. I thought Mackenzie and Megan were especially hilarious. They're a bright, energetic and somewhat vulgar lesbian couple that brought a lot of good energy into the mix. We spent about four hours floating from Oxbow Park to Dabney where we took out and did our ferry. Everyone agreed that it was a brilliant way to spend the day. On the way back to Portland we stopped at Saph and Romi's place so they could change and show Anthony and I their 'temple' or sacred space that they'd created. It was a really beautiful room and a great way to use the little extra space they had. In addition to meditation Saph was planning to use the room for working on his artwork, which is absolutely mindblowing. Back at our place Jared hosted a BBQ for all of the participants in the day's festivities. Janel was able to drop by as well. It was the first time I'd ever seen our back patio get much use, and it turned out to be a great time for all involved. Over the course of the evening Saph showed me some of his favorite electronic artists, including Tipper and Zymosis and I was so excited about them. I hadn't heard music so suited to my momentary tastes since Burning Man and I have since spent much of my music-time listening to these two artists, who are both amazing. Tipper is very well crafted eclectic electronic with some dubstep elements, kind of like a brighter Culprate (also worth checking out). Zymosis is a more spacey, atmospheric psychadelic sound. The songs Usual Miracle and Solar Quest give a good first impression of Zymosis. I was really appreciative of Saph for sharing his tastes with me. After the barbeque the party departed and Jared and I were the only ones to remain.

The next morning I went to the Tiffany Center for the largest ecstatic dance gathering in Portland: Sacred Circle. Ryan met me there and we had an absolute blast dancing our heads off for two hours. Afterward we grabbed Indian food together and chatted for a long time. I was excited to learn more about Ryan who thus far was the only person I'd met at SOAK and physically reconnected with. We parted in the afternoon and I prepared to head over to Adinah and Coulten's where Anthony and Jah (one of the founders of Shangri-La) were present for a potluck in Romi's honor. Over the course of the evening many more people showed up, eventually including Romi, Saph, Jess and Janel. I brought my hammered dulcimer and spent a lot of time jamming on it. I'd learned several classic beginner's songs but lately was focused more on creating sounds and melodies of my own. My intention was to follow the lead of the Animal Collective song 'The Softest Voice' and try to create a meandering style that had an ebb and a flow to it. On this particular evening I came the closest yet to achieving something worth listening to, and I got a lot of positive feedback from the other people there. It felt really good to actually be the one playing in the center of a group for once! We also had a keyboard and drum to toy with:




By the end of the evening the group dynamic had reached a very peaceful state, full of love and a perfect way to send Romi off. Here's most of the group chillin':




I said my goodbyes before leaving and returning home.
A Wedding in the San Juans
The following day was the start of yet another journey in my action-packed Summer. Janel's sister Jessica's wedding was the next Sunday on Orcas Island in the San Juan's. It was our plan to take my motorcycle up to Seattle on Monday, then to Orcas on Tuesday to go camping for a few days before the wedding festivities began. My bike was completely unpacked for the trip due to all of the things going on over the weekend. In the morning on Monday I had to do some work as well as send several forms to Idyllwild Realty and Escrow pertaining to my home. I ended up having to wait on some important items, such as the wire transfer, and would have to take care of that in Bellingham, WA on my way to Canada after the wedding. I finished as much as I could before Janel came over, we finished packing, and we left. I had to stop at my Post Office Box in Vancouver, WA to pick up some incorporation articles for the new company I had formed, Inspired HIT, LLC but this was only slightly out of the way and soon enough we were heading for Seattle. There was clearly quite a bit of stress surrounding the whole wedding and I knew that Janel had a significant part to play in it as the Maid of Honor. So when my motorcycle started making really nasty sounding noises on our ride up, it wasn't just the health of my bike that I was concerned about. The noises got progressively more severe until I couldn't continue on the highway in good conscience. I pulled off at Fort Lewis and we realized we had a decision to make: Try to return to Portland to get my car or continue to Seattle and try to get the bike fixed. I couldn't decide the best option so we flipped a coin. It told us to continue. Once the traffic had died down we returned to the freeway. Once I got up to freeway speed the sound subsided but I was still very nervous. We learned from a passing motorist that the chain seemed really loose, and then I realized that the noise was probably not the engine, but instead the chain jumping from the sprocket. We ended up making it all the way to Jessica and David's place but not before the chain got to a point where it was making noise on almost every shift. I clearly only had a very limited amount of time before things got really bad. Fortunately I was able to get an appointment the following morning at a repair shop near their apartment.

I took the bike over early and miraculously had it repaired, with a new chain and sprocket, by 11am. I picked up Janel and we continued on our trip North, feeling that the bulk of our worries were now behind us. The coin flip hadn't failed us! I personally was very relieved that the issue wasn't serious and was able to be fixed for a reasonable cost. The ride to Anacortes, where the ferry to the island leaves, was relatively pleasant and enjoyable. We spent a couple hours in town since the next ferry wouldn't leave until 4:30pm or so. By the time we reached the ferry dock, however, we realized that we had been a bit too lax with our timing, and the lines were already super long. We pulled up to the booth and the attendant told us that if we were a car, we'd have to wait three hours to catch a ride, but since we were on a motorcycle we could go to the very front of the line. Less than five minutes later we, along with two other motorcycles, were the first vehicles to board the 4:30 ferry! Here's a picture of Janel with the bike on the ferry: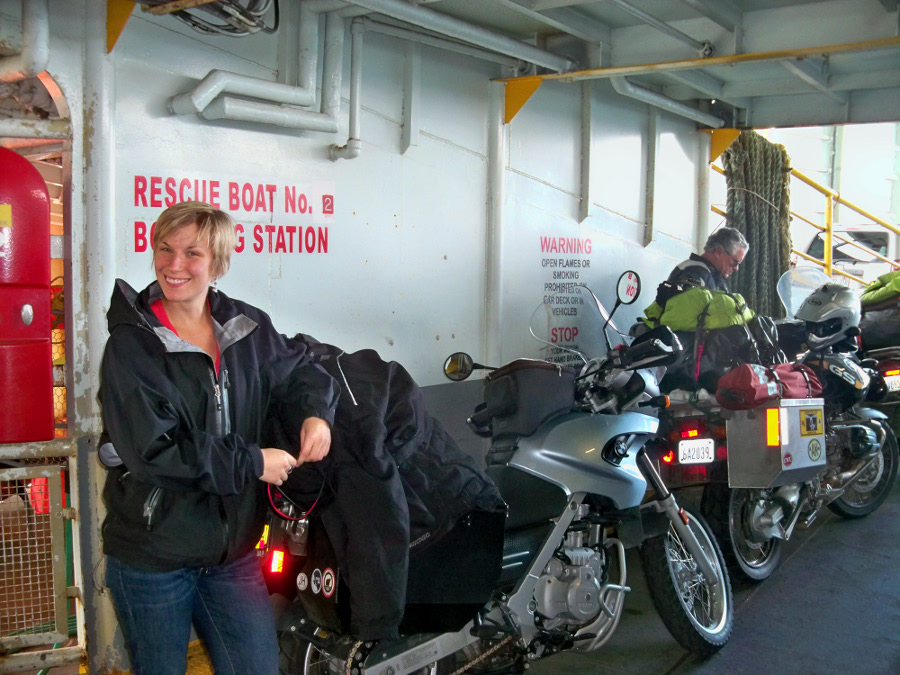 The ferry reminded me a lot of the ones my family used to take during our annual summer vacation to Martha's Vineyard when I was young. Here's Janel looking out towards the San Juan Islands:




To give you all an idea of where we were going, here's a map of the Northern Puget Sound with the ferry route




The last at the far right of the map is mainland Washington and at the left side is the Canada/USA border with Vancouver Island just beyond the edge of the map. Before arriving at Orcas we stopped at Shaw Island. Here's the ferry approaching the terminal:




And here's the terminal for Orcas Island:




Orcas Island is the horseshoe shaped island at the top with the large state park in the middle of it. This is, in fact, the park where Janel and I would be camping. It's such a popular spot that Janel had to reserve the campsite six months in advance! The site was pretty baller, though, and located on the edge of a freshwater mountain lake:




After the initial excitement of realizing how awesome our campsite was simmered a bit, we started to unpack. As we did so, a thought was triggered into my mind that I announced out loud before I even realized whether it was true or not. "I forgot the tent." I said. Janel looked at me incredulously. I wouldn't have believed it, either, but it turned out to be true. On top of the stress around the wedding and motorcycle, this came as a blow. It felt as if crossing on the ferry and arriving at the campsite had separated us from the world of stress and anxiety, but ho, here was another issue to deal with. I immediately thought of asking the park rangers what they recommended. As it turned out, there was a sporting goods store in the town of Eastsound that would likely have what we needed. We hopped on the bike and drove into town, only to find that the sporting goods store had closed ten minutes prior, and the employees were nowhere to be found. This was a bit perplexing, but we tried the supermarket to see what they might have. Unfortunately they didn't have any tents, but they had an air mattress that I figured would provide enough comfort for a single night of sleeping outside before we'd be able to get the tent in the morning. As it turned out, this was a pretty good idea and we ended up having a relatively enjoyable evening outside. In the morning we found a tent that conveniently advertised, "Fits a queen-sized air mattress" on it. So, in the end, our camping on Orcas was even more luxurious than it otherwise would have been. The necessity of the tent became immediately apparent as it started to mist the day we bought it. Despite the weather, we decided to explore the island a bit. One of our first stops was the highest point, Mt. Constitution, which rose an impressive 2700 feet above the sound. There was a convenient road to the very top and its twists and turns were fun to navigate on the bike. From the lookout point the view was largely obscured by clouds but was still pretty impressive. Here's the view looking back towards Anacortes and the mainland:




The man who had donated the park land to the state, Robert Moran, had built a lookout tower at the top of the mountain:




The view from the top was a bit more panaramic, but still cloudy: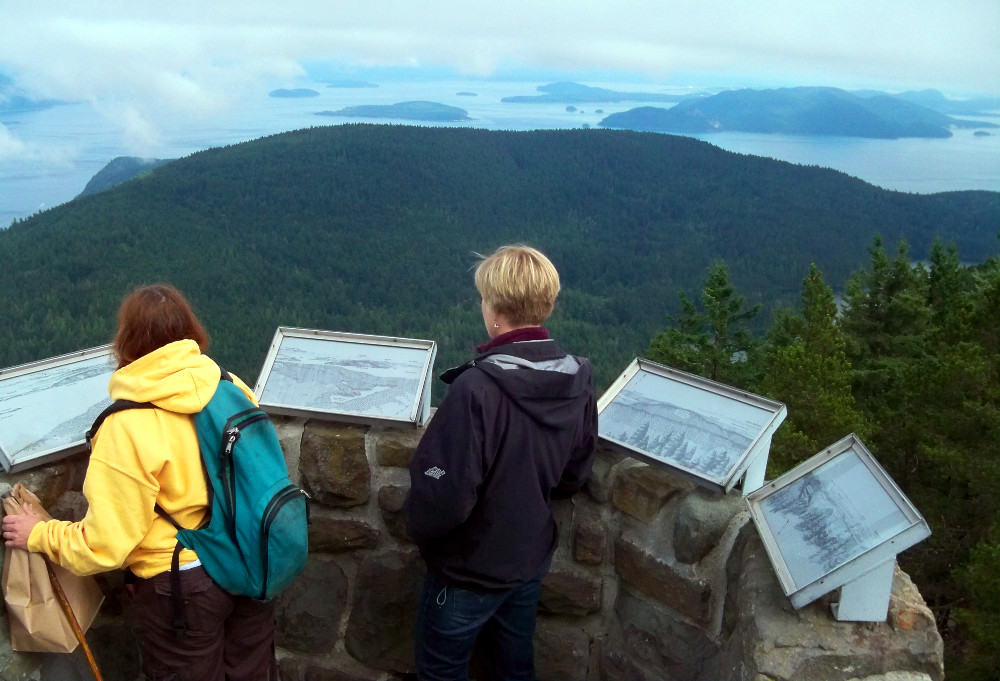 On the way down from the top of Mt. Constitution we found a really picturesque pond next to the road. In the middle of the pond was an island of flowers with a few small trees in the center. Take a look:




Further down the road there was a bend that offered a view in a different direction:




After finishing our tour of Mt. Constitution we continued on the main road across the island and passed through the town of Olga...




...on our way to Doe Bay on the far side of the island. At Doe Bay there was a small commune, restaurant, and hot springs. The bay was small but it looked out on several other islands, a few of which harbored rocky outcroppings that looked pretty good to me!




On our way back to the campsite we stopped at another lake called Mountain Lake. This lake also had some campsites that we decided were the only ones on the island that rivalled ours. Although they weren't as close to the water, the area was a bit quieter since there wasn't a road running right by. Here's a picture of a log that connected the peninsula to a small island in Mountain Lake: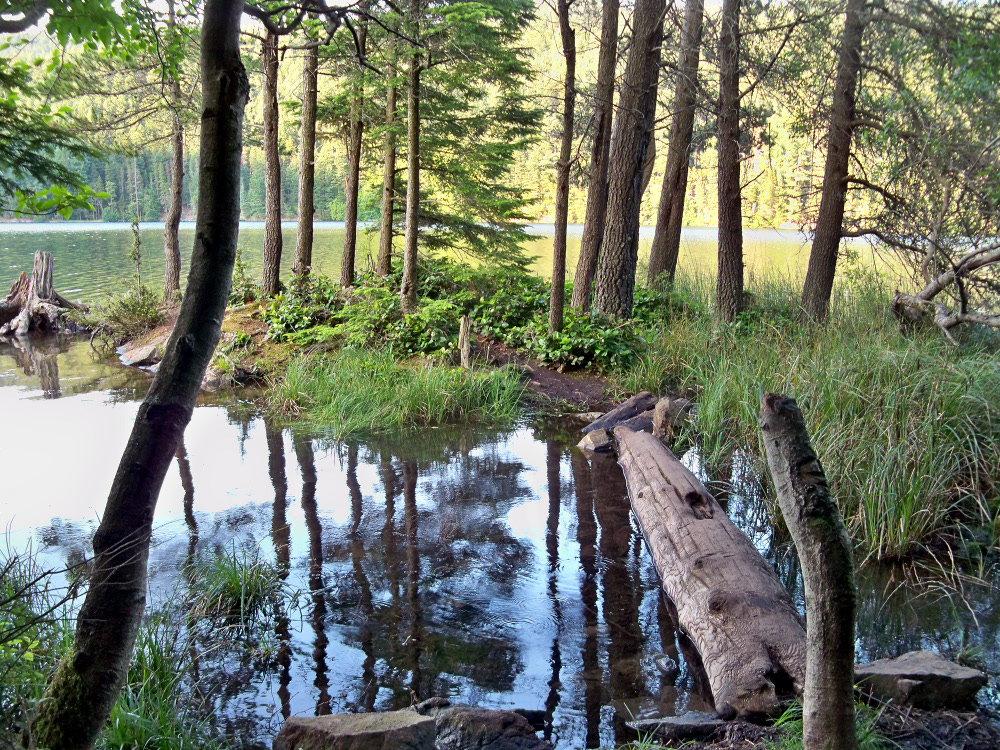 We then returned to town to get victuals to cook over the campfire that evening. We stayed up pretty late and enjoyed a few beers before bed. At night the weather turned even further and it began to rain. We brought most of the stuff into the tent and by late morning it began to clear up. In fact, the weather became basically perfect and Janel and I decided to do a hike and explore the woods. We walked up towards Cascade Falls and on our way found a massive tree that was 12 feet in diameter! We were so enchanted with the woods that we decided to go off trail for a bit and really explore. Eventually we made our way to the falls themselves and they were absolutely stunning! I truly fell in love with the quality of the woods on Orcas this day. After visiting the falls we hiked up to a lookout spot above Cascade Lake called Sunrise Rock. It was an awesome vantage point, and we could see our campsite in the distance. We then returned to camp and made dinner. At around 8pm Janel grabbed me away from the fire to call my attention to the sunset, which was gorgeous. Here's a look at it over our lake: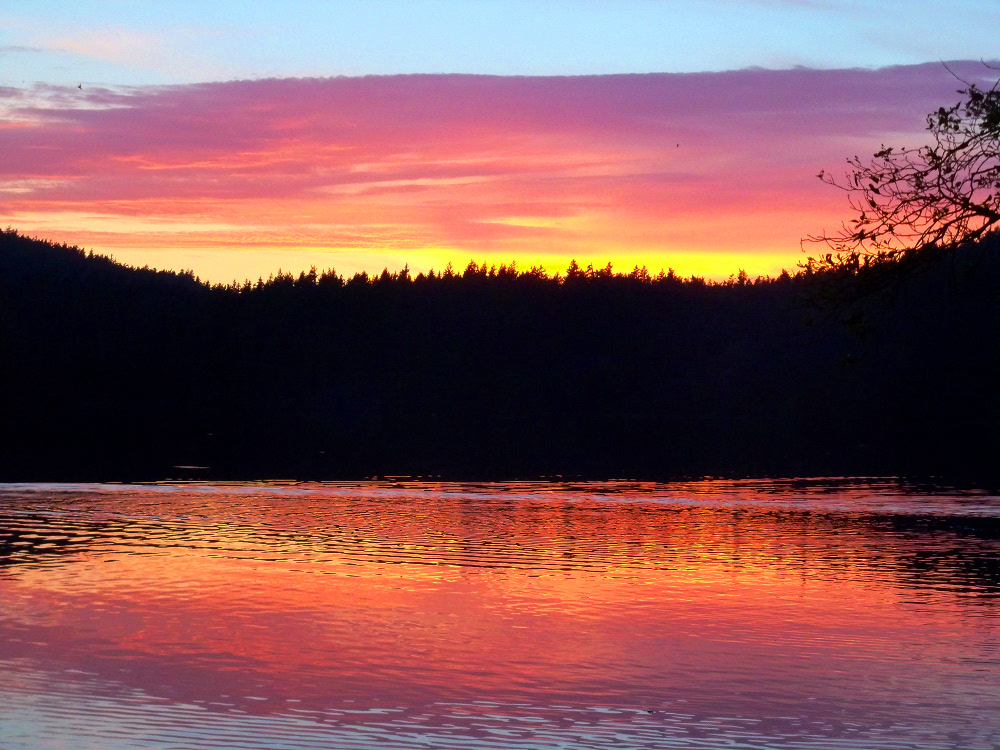 And here's a broader view:




Such a beautiful day! Sometime in the evening Janel's family came to visit us. They had since made their way to the Rosario resort on the island in anticipation of the wedding and were curious to see how were doing roughing it ;-) The following day we joined them for a picnic at the day-use area near our campground. About thirty guests attended and the weather also cooperated. At one point I decided to swim to the far side of the lake to investigate some cliffs I spotted over there. The swim was quite a lit longer than it appeared to be from shore and I was pretty tired by the time I arrived. I spent a few minutes jumping off a free into the water before trying to find a way to climb the cliffs. I eventually found a sketchy way up and was about thirty feet above the water when some highschool students spotted me from the trail. They expressed fear that I might fall verbally but I assured them I was safe. I then finished the climb and contemplated jumping off the cliffs into the water. I probably spent 15 minutes debating whether to jump or not. I thought that the water was deep enough, but I needed to jump out about 12 feet and the footing wasn't too secure. I'm 98% sure I would have been fine, but in the end I couldn't conjure the daring to go through with it, although I came very close. I remarked how crazy I must have been to do the 65 foot jump in Ithaca four times several years prior. Anyway, I ran back to the picnic just as it was waning. Janel and I then went over to the resort to explore a bit. Her parents had already moved into a room uphill from the main mansion near where Janel and I would be staying the next two nights. Here's a look at the Rosario mansion itself (not my picture):




For now, however, we were still theoretically camping. We went down to the mansion to have a look around and fortuitously arrived just prior to an organ show. The man who played the organ and ran the presentation was very charismatic and it was a really enjoyable hour. Towards the end he played the original silent movie Phantom of the Opera and played the score himself. It was pretty strange but fun to see. Here's a look at the organ room:




Eventually we made our way to Eastsound for dinner at a nice restaurant there with Janel's family, minus her sister. After dinner we retired for the evening. The following morning we packed up our campsite and moved to the resort. During the day the Ruehl family participated in a practice of the wedding but I was largely left to my own devices. In the evening was the rehearsal dinner at a mexican by day, italian by night restaurant in East Sound. Here's a picture of Janel and I on this night: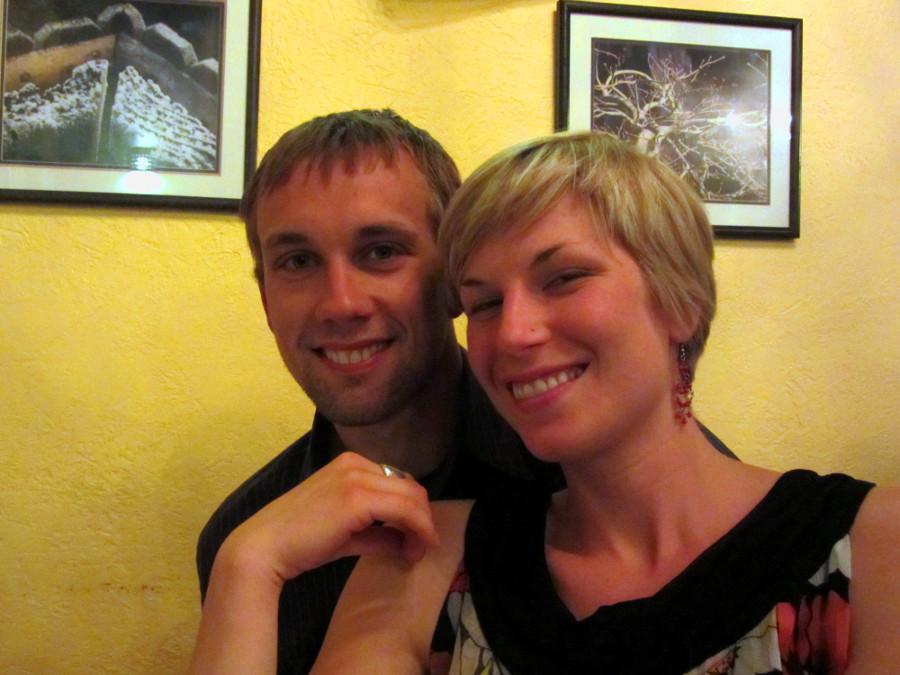 The dinner was pretty crowded but otherwise very enjoyable. A lot of the speeches were really nice and I felt good for David and Jessica. Here's a not so good picture of them listening to one of the speeches:




At the left side of the picture is the back of Janel's brother Griffin's head. I don't have any other pictures of Griffin from the wedding weekend, but here's a picture of the whole Ruehl family that includes him:




I also spent quite a bit of time with Janel's mother, Tony, and her father, Marty. Both of them are very kind and generous people. That night we slept well, the first time in a bed for several days. The morning of the wedding was relatively uneventful but as time went on things got more hectic. I was once again abandoned for wedding duties but at 4pm I made my way over to the point beyond the mansion for the ceremony. Although the weather was being a bit challenging, they decided to hold the service outside and miraculously the rain subsided for the entire duration. Here's a look at the location where the service was held: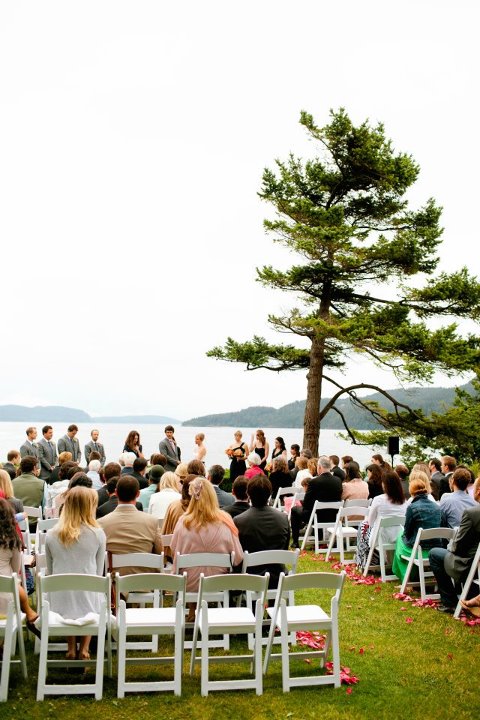 The entire thing went very smoothly and with the exception of the landing of a plane on the water, was uninterrupted. Here's a picture taken during the service that shows Janel as maid of honor: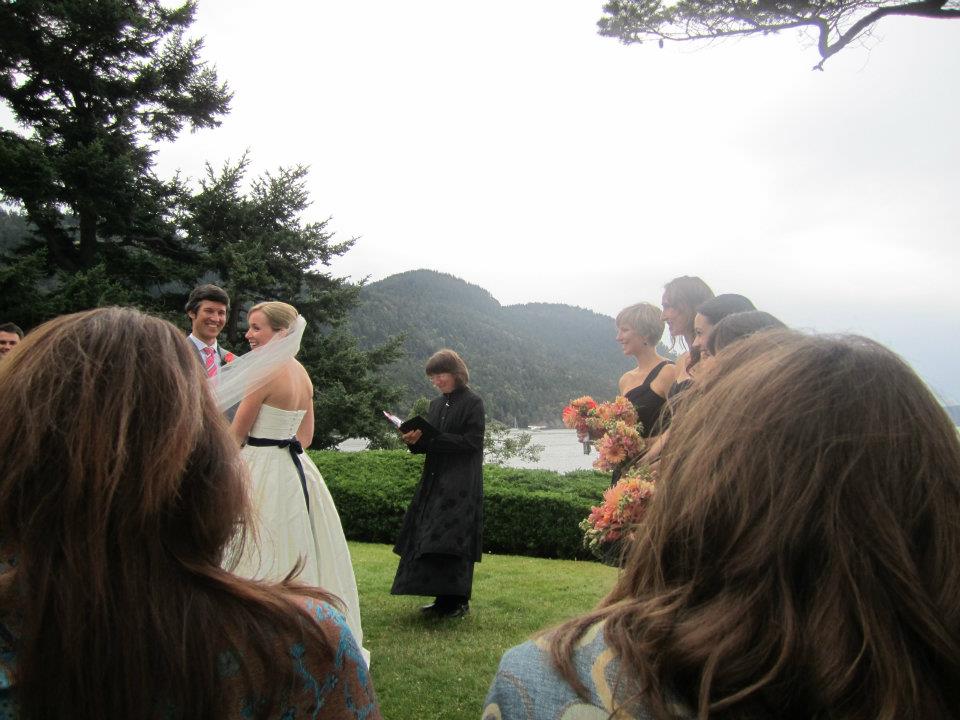 And another from the other side:




And for those of you who are sentimental, a couple more pictures of the bride and groom:




After the ceremony was the reception, held at a restaurant near the water called the Beachhouse. Here's a look at the dining room, ready to go:




Not long after the reception started we noticed a rainbow out on the water, and then another faint rainbow appeared to the right of it here's a look from the deck of the Beachhouse: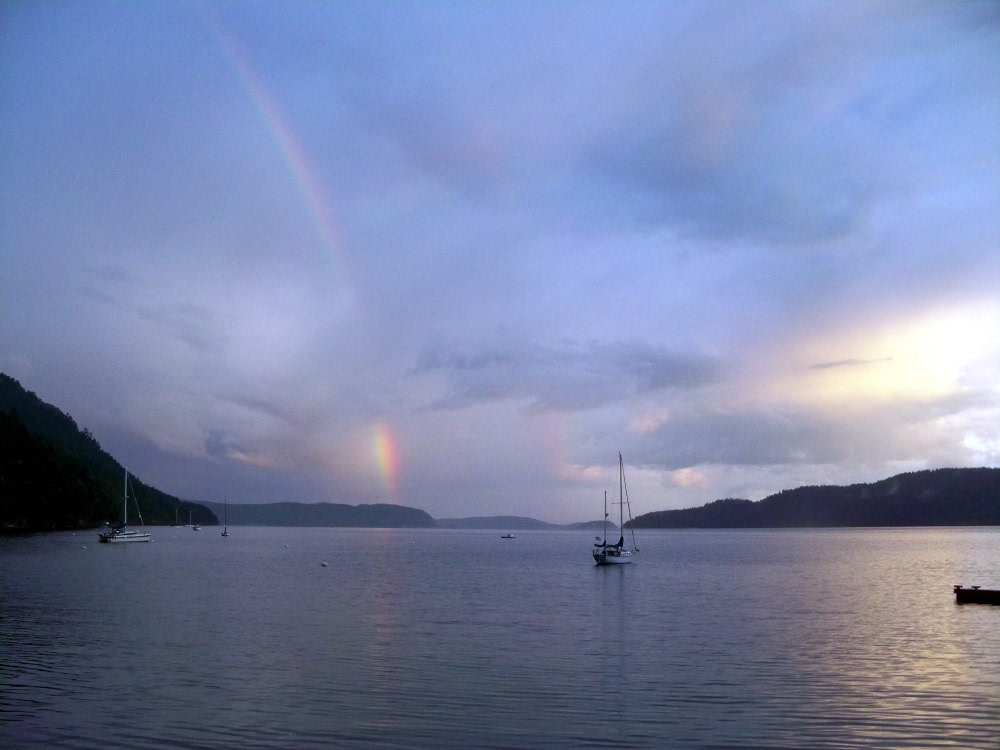 The speeches at the reception were all remarkably good. David's friend Aaron, Marty Ruehl and Janel's were the best. The quality speeches, quality food, and quantity of beverages created a very positive atmosphere and when the music started playing after dinner, everyone was in the mood to dance! Somehow I didn't get any pictures of the hopping dance floor, but all of us had a great time dancing to the eclectic mix that David had put together. The songs ranged from sentimental favorites to Skrillex dubstep. Janel and I really enjoyed dancing together and we discovered that Griffin was an incredible dancer as well! After dancing for a bit we returned to our table. At one point I looked over to the girl on my left and noticed that she had been texting for a very long time on a phone that looked similar to mine. I thought it was strange but didn't think much of it at the time. Awhile later I looked across the table to see people taking pictures with a camera that also looked really similar to mine. Then I realized that it was my camera, and the phone had been my phone as well! PRANKSTERS! As it turned out, she hadn't managed to do hardly any damage with the texting since she had trouble using my phone. She got out a couple of nonsensicle messages, including one that read "Help men of". Apparently she had wanted to send 'Help me' but hit an extra letter and couldn't figure out how to backspace, haha. The pictures that I discovered on my camera were even funnier. Apparently the girl had been making funny faces behind me for awhile, and they were all captured. When I discovered what was going on, I was indignant and chastised her, but she looked so innocent I couldn't be too made ;-)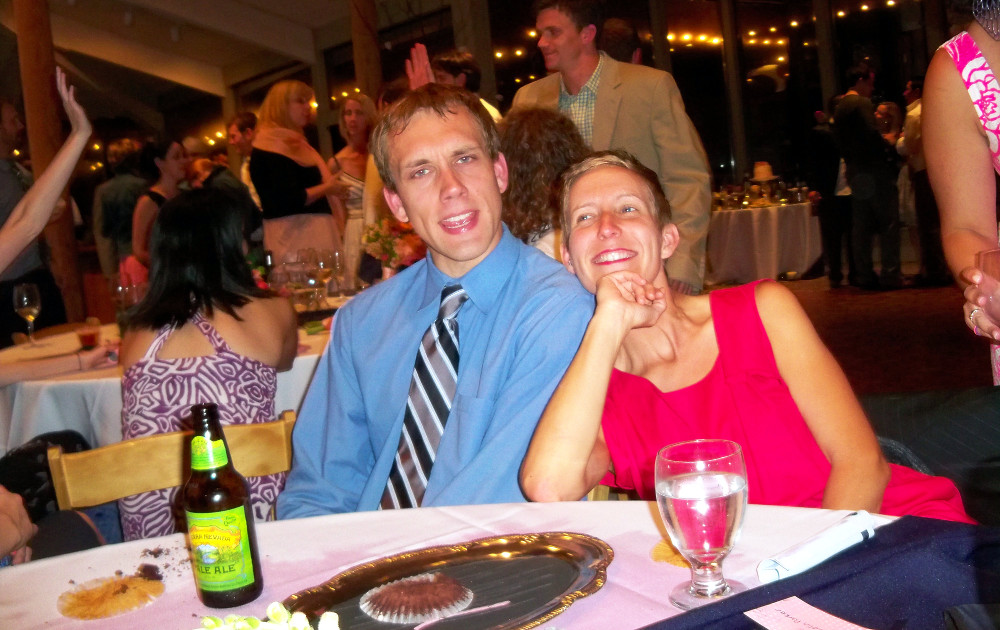 Shortly thereafter Janel and I retired to our room for the evening. The reception, and the wedding as a whole, had been a huge success, and we were both really happy for David and Jessica. In the morning I packed up the bike and made preparations for my continued journey to Canada. The week with Janel had been really special, and it was nice for us to be able to reconnect again. We said our goodbyes to one another and I made my way to the 12:30pm ferry to Anacortes.
Vancouver and Squamish, 2012
After separating from the Ruehl family I managed to make it to the ferry dock in time to be allowed on first, once again. At around 2pm I arrived in Bellingham and set about my errands. I completed the wire transfer for the purchase of my house and then I sent the patent revisions that my dad had provided to me to the USPTO via express mail. I also took care of a few work-related tihngs at a Starbucks inside of a Fred Meyer. Once done I departed for the border. The border wait was only about a half hour and I managed to arrive at Rafaela's new apartment in Vancouver by around 6pm. Mary Tarpley, her friend from dance in LA, was there along with her roommate Caitlin. They were both a lot of fun to talk to before Rafaela returned home. Raf and Mary had come up with a really hilarious new inside joke that I was eager to participate in. It basically involved telling the other person that what they were doing, or thinking, or whatever, was according to some ambiguous plan of yours and that things were going perfectly. While saying this you would perform the customary finger expression and cackle a bit. For example:

Rafaela: I really enjoyed my burger at dinner tonight.
Mary: So you ate the burger. Perfect.
Rafaela: ...
Mary: Everything is falling into place, exactly according to plan. [cackle]

It would get to the point where this was the bulk of our conversations, with each of us claiming that each other's plan was really according to our larger plan and so forth. Now this may not sound funny in plain text, but in person it was pretty hilarious. I was really glad to see Raf again, and it had been about a year since my previous trip up there. The three of us went to Foundation for dinner that night and it was as delicious as I remembered it to be. The next morning Mary had to leave for Chicago and Raf and I hopped on the bike and drove up to Squamish for a day of climbing. The weather was perfect and we managed to complete some really classic trad climbs in the Smoke Bluffs area, including Penny Lane (5.9) and the Smoke Bluffs Connection, which consisted of Mosquito (5.8), Phlegmish Dance (5.8), Jabberwocky (5.10b) and Wonderland (5.9). I felt solid on my lead of Jabberwocky and found Wonderland to be one of the best 5.9 pitches I'd ever done. Penny Lane was also incredible. After climbing six pitches we were sufficiently worked and returned to Vancouver to grab some pizza and frozen yogurt. I found out when I returned to the apartment that escrow had closed and I was a home owner! That night we started watching Spirited Away before I got too tired to continue.

We spent the next day at a park near Rafaela's apartment. I meditated and did some Yoga and Raf did some watercolor painting. She also read a short story to me called Dandelion Wine that really blew me away. We chatted at length about recent developments in our lives and it felt really good to reconnect in person once again. We then went on a walk through the park to the waterfront and on to a Cafe where many of Raf's paintings were on display. They were entirely new and many of them were my favorites that she had ever done! After taking a look at the art and grabbing a snack we went to a yoga class at Rafaela's studio that was really stellar. Once this was over we returned to her apartment to make dinner (bowtie pasta again) and get ready for the Jeff Mangum show downtown. The show turned out to be very similar to the one I saw in Portland. It was a bit too short, but what there was made up for it. Fortunately for me, he played several songs that I hadn't heard in Portland.. The show didn't run too late and we were able to get to sleep by about 12:30am. We decided that the next day we were going to try and climb the ~18 pitch Angel's Crest route up the Chief, so we needed to get an early start! In the morning we left Vancouver around 8am and started up the trail to the base of the route at 9:30am. When we arrived at the base around 10, we could see a weak-looking party of two on the third pitch and a party of three starting on the second pitch. As much as I wanted to climb this amazing classic, I made the decision that it was just too risky to start this late and be caught behind a party of three. In one of my better moments, I made the call to climb elsewhere that day, and we returned to the bike. After looking at Mountain Project for a bit we decided to climb Diedre, a six-pitch 5.8 on the apron of the Chief. We got started with the climb around noon and fortunately didn't have to deal with another party until the third pitch when we were able to pass them. I climbed relatively fast and efficiently since the route was quite a bit below my level. Nonetheless the climbing was engaging and enjoyable and the route certainly deserved its classic status. Here's a picture I took with Raf's iPhone from one of the upper pitches:




The standout quality of Diedre is its nearly 200 feet of continuous liebacking on a perfect corner crack. Here's Rafaela approaching the top of it:




Once we reached the top of the route (which we did in four pitches) we reached the broadway ledge system which allowed for a walkoff back to the base of the climb. We took this picture in the middle of the ledge system:




We finished around 3pm and returned to town for a smoothie and pizza to recharge. After resting a bit we returned to Smoke Bluffs to climb two more routes, the first being Up, Up and Away (5.9) and the second being the super-classic finger crack Flying Circus (5.10a). In the end, we didn't climb anything nearly as epic as Angel's Crest, but I was pleased with our substitutes and think that perhaps this was the day we were meant to have. Either way, Angel's Crest awaits us next summer! We returned to Vancouver and had another feast at Foundation before finishing Spirited Away and getting to sleep. In the morning I said goodbye to Raf and hopped back on my bike for yet another ride to Squamish for another two days of climbing. On this day I climbed with someone I'd never met before but who's climbing ability was vouched for by a friend. My partner was to be Sam, a leader as capable as myself and as it turned out, a really great partner! Since I would be climbing with a weaker partner the next day I decided to go all out with Sam. The routes we would do were not going to be terribly long, but they would be some of the hardest individual pitches I'd ever led on trad and thus there wasn't much room for error. Our first goal was to link up the first two pitches of Borderline (5.10b, 5.8) into a 2-pitch route called Blazing Saddles (5.10a, 5.10b) for four pitches total and then rappel back to the ground. I volunteered to lead the harder pitches of both climbs and got my wish. The start of Borderline was a challenging slab move past a bolt and it almost stymied me, but once I committed to the move I managed to pull it off. It felt really hard for 5.10b! I completed the remainder of the pitch without any trouble and let Sam crush the 5.8 pitch to the start of Blazing Saddles. Once this route came into view I marvelled at the pitch I had volunteered to lead. After the 5.10a start the route followes a thin crack and a wide crack in a corner. The two cracks converge at the base of a six foot roof which has a single finger crack splitting it. Here's a pic of it I found online:




The roof looks smaller from below, but it's a good six to eight feet from the start to the lip. It goes without saying that I was super excited to give it a try. I managed the beginning of the pitch without trouble and soon enough found myself wedged up underneath the roof. I set a bomber piece of protection to protect the roof moves, got psyched and began to pull the moves. Getting over the lip of the roof was made very strenuous by the lack of a good foothold. Here's a picture of someone else pulling the strenuous lip of the roof:




I heel-hooked the arete with my left foot and stabbed for the good finger locks above the lip. Once I got established above the roof I started trembling a bit. I was looking at a long (but likely clean) fall and I certainly didn't want to take the ride. I managed to stab a piece of protection in with my shaky hands and once I clipped it, I felt relieved and made my way to the anchor without falling. Success! Sam followed the pitch confidently and also found the roof to be exhilerating. Once he finished we rappeled off and left for the Grand Wall. Our next target was the ultra-ultra-classic finger crack Exasperator (5.10c). Here is a look at this zig-zagging beauty from the base of the grand wall:




I'd eyed this climb my last few times in Squamish and now was finally getting the chance to give it a go. Sam allowed me the lead and I got my rack all ready for it. I was planning on doing the entire 150 feet in one pitch so I needed quite a bit of hardware. Once I got started I absolutely adored the climb from the beginning. The many people who had climbed it before me polished the crack to the point where it was very pleasant on the fingers. The locks were very secure for me and the feet, although bad, were good enough to allow me forward progress without too much trouble. I made it to the halfway anchors somewhat easily but felt a bit intimidated by the crux coming up. Now that I could see it I realized the crack got very thin for my fingers at the crux and I would only be able to get a half to full pad at most in there. On my first attempt I made slow progress through the crux and instead of running it out to easier terrain attempted to put a green alien in the middle of it. I pumped out trying to clip the gear and took a fall on a yellow C3 that held me. The fall went well although it was longer than I expected. On my second attempt I also botched my locks and rested on a piece of gear. On the third try I succeeded and pushed past the crux. The next twenty or thirty feet stayed challenging but I made it through. Once past the crux I gathered myself and finished off this amazing route in good form. The final thin-hands section was incredibly fun and I used some whacky beta that worked pretty well. Here's a look at this final section (pic retrieved from MountainProject):




Once I finished Sam followed and had much less trouble than I. Although it is easier to follow, he also had smaller fingers and was able to get good locks at the crux. He was certainly an impressive climbing partner! After rappelling from Exasperator we decided to attempt the nearby Apron Strings (5.10b) which had a great reputation as well. I decided to let Sam have the lead of the crux first pitch on this one, and I'd take the 5.10a second pitch. The crux turned out to be a difficult lieback about sixty feet long that forced a miserable pump on the climber. Here's a look at someone climbing the pumpy lieback section:




Sam had to take multiple rests on the rope but in the end he managed to make it through. I wanted desperately not to fall or rest on the first pitch but I also ran out of gas toward the top of the lieback. On my lead of the second pitch I was going strong but had a bizarre foot slip and fell again. After this I finished off the route in good style and we retired for the day. All in all I was super pleased both with Sam and with the climbing we had done. We went to the campground to meet up with the rest of the Seattle group he was with and pitch our tents. The head of the group, Loni, was present at the campground. She's a 40-something year old woman who has been making annual trips to Squamish for over a decade! The whole group decided to head into town for dinner and drinks at a brewery that I didn't even know existed called Howe Sound. The food and beer were both fantastic! So good, in fact, that on my beer tasting page I plan to give Howe Sound an A! That night I rested well.

The next morning I awoke around 8am and reconnected with David Gunther. I had previously climbed with David last Summer in Portland but he had since moved to Seattle. It was his birthday and he and I planned to link a classic route called Rock On (six pitches, 5.10a) into the Ultimate Everything (ten pitches, 5.10b) in a bid to climb the chief from the bottom to the top. Here's a look at our planned route:




I'd never topped out the chief before and this climb was to rival and probably eclipse Epinephrine as my most challenging ever. We arrived at the start of Rock On around 9:30am. Unfortunately there were a couple of parties ahead of us to climb the route so we made a last minute decision to climb the parallel variation to the first three pitches called Hard On which substituted 5.10a and 5.10c climbing for 5.8 and 5.10a climbing on the regular route. This decision ended up being a very good one for many reasons, and it certainly made the day's task that much more daunting for me. Leading the first pitch was pretty adventurous and challenging. Although it was only 5.10a it was very long, varied and sustained. I climbed the same distance as the first two 5.8 pitches of Rock On. David fell once at the crux lieback while following the pitch. The next pitch, which would finish the variation, looked pretty hard from the belay. It was a corner roof similar to the second pitch of Blazing Saddles. The roof was smaller, however, but the crack looked thinner. I was really excited to give it a try but I wanted to succeed without falling or resting on gear. As it turned out, this was one of the proudest leads of my trad climbing life. Just like on Blazing Saddles I managed to pull the thin roof and got a bit pumped just after. This time, instead of trying to plug in some emergency gear, I ran it out to some jugs further up. This is always scary to do but often it's the smartest course of action. When I reached the jugs I was massively relieved and proud of myself. David also fell once at this crux before sticking it, and Sam's partner Matt (they happened to be following David and I for this portion of our link up) said it was the hardest pitch he'd ever tried to lead, and he had to pull on gear to make it over the roof. Phew! The final part of Rock On included the long, crux 5.10a pitch which was incredible, but quite challenging to lead after my struggle on the 10c. Still, I managed to pull it off without falling or resting, and before long David and I had completed the first, shorter leg of our link up.

At this point we were on the large ledge system in the middle of the picture and we had to hike a short distance (marked by the dotted blue line) to the start of The Ultimate Everything. The hike was pretty uneventful, although we did pass a group of three who were going to be climbing the same route (thank goodness we passed them!). I also managed to find a few blueberry bushes on the ledges and had myself a bit of a snack. I had only brought a half litre of water with me and was about half finished, although I was not worried. The start of the Ultimate Everything was a runout bolted 5.9+ pitch that climbed past a few quartz dikes and into a groove system. I managed it okay and found the groove to be pretty cruiser. Since the 5.9 pitches alternated with 5.7 pitches for much of this route, David and I decided to start swapping leads to save time. We both felt so comfortable on the easier terrain that we started a runout competition. Of course we didn't take it too seriously and we kept it safe. As a side note, the views by this point of the climb were so intense and beautiful that it was a terrible shame that neither of us had brought a camera on the climb. Unfortunately this also means that I have nothing in the way of pictures to offer you, my loyal reader. Anyway, the second pitch (which David led) continued up the groove to the base of a pedestal and another 5.9+ bolted face. I led this section without too much trouble and traversed over to the tree belay. David took a small fall on the face but sent on his next try and took over the lead for the next pitch, a relatively short jaunt up a ramp system. As it turned out, he also led the next pitch, a short 5.8 hand crack to another ramp. The next pitch, another 5.9, tackled a short overhanging crack and then some bulges and horizontal cracks up to a large ledge. Once again, no problems for either of us. David's next lead was a run-out 5.7 up a large dike and then left past a few bolts. He hesitated for awhile in the middle of the pitch since he wasn't sure of which way to go. The next pitch was yet another 5.9+ with sparse bolts. I found it somewhat challenging since I was so tired by this point (my 35th pitch of climbing in four days in Squamish) but I didn't fall. The next pitch, a 5.6, was too easy to swap leads for, so I just ran it out to the anchor below the final pitch and skipped David's lead. I led the final pitch as well. It had two options, a 5.10a A0 finish that required pulling on a sling on a bolt to bypass a 5.11c crux or a pumpy 5.10b traverse. We should have opted for the 10b traverse but instead chose the 5.10a. I managed to send without too much trouble (my first A0 moves ever) and I shortly found myself on top of the Chief!!!! In the end I certainly felt that this day was both longer and more challenging than Epinephrine had been for me. I belayed David up and we celebrated together for awhile before starting the long walk-off back to the parking lot. It took about 90 minutes to make it all the way back, and we were super beat. We decided to head straight to Howe Sound to replenish and reflect on this Epic day. That night I slept like a rock before awaking early and starting my long drive back to Portland. I ended up arriving at around 3:30pm and got to see Janel at her new apartment in SE that evening. We went to an outdoor screening of the goonies and caught up. 'Twas nice!
Ra-Cha-Cha
Alas, my stint in Portland was not meant to last and on the evening of the 2nd day back since returning from Canada I had to go to the airport for my red-eye flight to Rochester. I hadn't been back to see my family in about a year since I skipped my usual holiday visit to attend a Vipassana meditation retreat. I arrived at around 9:30am the next day and my Mom picked me up. We went to the Corner Bakery Cafe where my sister had recently started working. I got a yummy oatmeal dish and we ate while catching up. I was pretty tired from my flights so I ended up taking a nap that afternoon. In the evening we spent time watching the Summer Olympics which had recently started. The house definitely felt different without our dog Zoe around...

The next morning we put the canoe and tandem kayak on the van and left for the Adirondacks. Our plan was to spend five days and four nights on Hitchen's Pond, a new location to me but one where the rest of my family spent a trip the previous September. Here's a look at the map, with our put-in marked with a red arrow and our campsite marked with a green one:




The trip started a bit rocky both in terms of familial tensions as well as weather and campsite availability but things ended up turning out pretty well in all regards. Here's a look at our campsite:




And here's our view of the lake from the campsite:




The campsite we ended up with, #5, wasn't the one we had hoped for, but the lake was surprisingly busy for the middle of the week. In fact, we took the only campsite that remained available in this part of the lake. In the end, it turned out to be sufficient for our needs. On the second day we went to check out the dam between Hitchens Pond and Lows Lake. The dam had been built between 1900 and 1910 and there were the foundations of a few buildings in the area as well. Above the dam was a small mountain (er hill) that overlooked the area. Here's a view of one of the foundations as well as the rocky outcropping of the overlook above:




The view from the top wasn't as spectacular as something you might find on the west coast, but it was a nice overview of the area. The high peaks region, including Mt. Marcy, Algonquin and Whiteface. Here's a look:




After hiking to the overlook my dad and I spent some time gathering wild blueberries and blackberries. Yum!




In the evenings we spent our time watching all of the wildlife around our campsite. Two regular appearances were a trio of loons (mom and baby featured here):




And a bald eagle: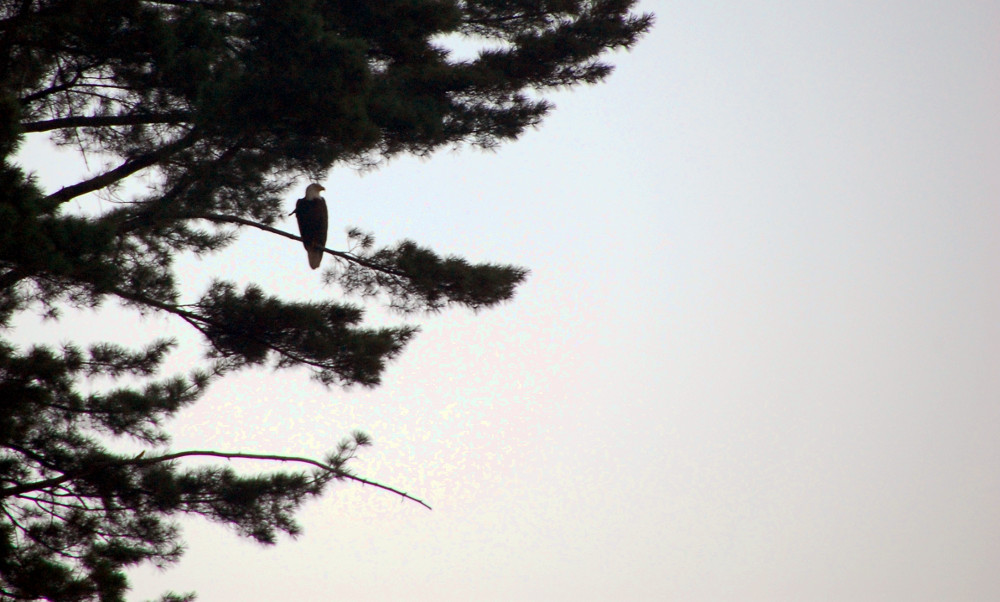 Back at the campsite there was much frivolity. Although Zoe wasn't able to make it for this trip, Katie brought along one of Zoe's friends, a favorite beany baby orangutan:




In the end the trip turned out to be really relaxing. I spent much of it reading the book Ender's Game, which turned out to be one of the best and most intense science fiction novels I've ever read. Highly recommended if you're into that sort of thing:


Return to Portland
Once I returned to Portland I had a ton to do before Burning Man. Mainly I needed to find a new place to live and I had to get some costumes made. Unfortunately both of these things turned out to be extremely time consuming. My original plan for living in Vancouver, WA was based on the theory that moving there would allow me to incorporate a new Washington corporation and avoid income taxes. This part of the plan worked out swimmingly. My assumption that there would be a livable and walkable place in Vancouver turned out to be a bit less accurate. My original idea was to head directly to 'downtown' near Esther Short park and the farmer's market. To my surprise, there is basically no residential in 'downtown' Vancouver. There was one condo complex with no available rentals and there was one massive low-income apartment complex which I couldn't qualify for. Once I realized that I would have to look elsewhere I became a bit more apprehensive. Most of the neighborhoods in Vancouver seemed very sprawly and since I wanted to stay close to the I-5 my options became very very limited. I eventually found a decent place about five minutes North of the border in an area called Hazel Dell. Since there were no good single rooms available I resorted to my old Pasadena tactic of looking for 2 or 3 bedroom units and utilizing craigslist to find roommates. Not long after initiating this process for the Hazel Dell apartment I lucked upon a 'For Rent' sign in the window of a condominium in the awesome Columbia Shores area of Vancouver, right on the water. After calling the homeowner and being somewhat disappointed I again got incredibly lucky when one of the Real Estate managers for the complex snagged me off the street and gave me a listing of available rentals there. Less than a week later I had pre-paid for an amazing 3 bedroom, 3 story condo that would be my home base for the next few months. Finding roommates turned out to be pretty easy. I had many responses on craigslist and once again got to choose the folks I figured to be the best fit. A couple guys named Adam and Drew ended up being the 'lucky' two to join me in this habitation. Here's a picture of Drew, Adam and I taken a bit later at a bowling alley:




The place itself was ideal in many many ways. The common room was sizeable and accomodated a large couch and home theatre system:




The kitchen was beautiful! It had nice granite counter-tops and lots of dark wood cabinets. The appliances were high quality too!




It was easily the best kitchen I'd had yet. I took the smallest of the three rooms (since I wasn't planning on living here long) which turned out to be on the ground floor with the garage. The room was just big enough to be cozy and not too cluttered:




The small walk-in closet was definitely handy in a room this small.
A Pair of River Adventures
One fine day a couple weeks before Burning Man I decided to plan another float of the Sandy River with some friends. Included on the trip were Ryan Jarvis, Saph, Jesse, Janel, Jeremy Bergmark and myself. Unfortunately we had some logistical issues and by the time we arrived at Oxbow State Park it was too late to attempt a float all the way to Dabney. Instead we decided to float for a mile or so within the park. Despite the change of plans we ended up having a really fun short float. We didn't take any pictures but here's a photo I got online that conveys the peaceful nature of a Sandy Float:




Then we moved the car out of the park so we could stay later without getting trapped in. Our small group decided to temporarily settle on an island in the Sandy that we named New Portland. We spent the next three or so hours talking and telling stories under the stars in our little settlement. At around 11pm when we decided to leave it had become so dark that navigation on the paths in the forest had become all but impossible. Since I had travelled the path three times I took the lead and attempted to guide us without any lighting. Remarkably I was able to perceive the faintest strip of pale white where the path went and managed to make the correct choice at the first few intersections. At the end I made a wrong turn but with Saph's lighter was able to retrace my steps and find the way to the car. I felt really good to have led everyone back without much trouble. On the way home we stopped for food at a 24-hour diner. Yum!

The second river adventure was a motorcycle-camping trip that I took with Janel to Eagle Creek. I'd heard really good things about the camping along the water in this canyon and we decided one weekend that it was finally time to check it out. Eagle Creek carves a decent sized canyon out of the side of the Columbia River Gorge about 45 minutes away from Portland. The area is famous for waterfalls and picturesque camping spots all along the trail. Unfortunately neither Janel nor I brought our camera but I'll substitute some photos that I locate online. We drove out to the trailhead in the evening one day intending to camp there at the main campground before starting on the trail the next morning. The temperature was really hot and the bike wasn't enjoying the load, but we made it alright. After we arrived we soon realized that the main campground is simply too close to Interstate 84 to qualify as proper camping. Even though it was getting late we made the difficult decision to start on the trail and attempt to locate a campsite by night. For your reference, here are a couple of maps of the area:




From these maps you can see that the trail runs along the wall of a canyon and passes several waterfalls. We knew that hiking by night we would miss some of the sights, but we figured we'd catch them on the way back out anyway. While the light remained the hiking was really beautiful. There were very few people on the trail that late. The trail at times left the creekbed and ran along the side of the canyon. In order to continue in certain spots, the trail-builders were forced to blast corridors out of the rock:




These sections certainly made the hike more memorable. After about an hour and a half, the first two major landmarks that we reached while it was still light were Metlako Falls:




And Punchbowl Falls:




Punchbowl is the most famous of the falls in this area. If you look closely at the area above and to the left of the falls, you'll see a platform of earth where people commonly jump into the punchbowl. We spoke with a ranger who reported that the water is surprisingly shallow there and that many people get injured jumping. I expressed my own surprise that there wouldn't be more signs if this was truly the case... Anyway, we continued past punchbowl and it slowly got dark enough to require headlamps. During this time we passed Loowitt Falls, although I doubt we were able to see it:




After a total of about 4 hours of hiking we found the first campsite area, but it was occupied and small, so we decided to continue on. We soon came to another spot where there was a tent on the distant side of the clearing behind a fallen tree. After debating for a while we decided to setup camp and collect firewood. We found a decent amount and enjoyed ourselves next to the fire for a few hours before bed. The next morning we awoke, broke camp, and hit the trail again. In less than a mile we stumbled upon a really amazing camping area situated a short distance away from the trail. There was nobody there and it was close to the water, but it also wasn't particularly private and the entire area was easily seen from the trail. Since we hadn't gone very far and this was the first good we found, we decided to keep it in mind but continue on. This was a good decision. Not more than a quarter mile further was a tiny, hardly noticeable trail that left the main course and wound its way down to the most beautiful camping spot I've yet found in Oregon. It was private, large, and had an amazing, large firepit. More than this, it had easy river access, and just around the bend there was a natural swimming pool carved out of the canyon by the water. This time of year the flow wasn't very strong so I was concerned that it would be hard to find a spot where the water would be deep enough to swim. This natural feature cleared up all those fears and replaced them with pure glee. We were ecstatic! We rapidly setup camp again and spent the rest of the day swimming and exploring our little slice of heaven. Before dinner we went on a short hike further up the main trail to see a few more waterfalls. At the end of our small jaunt we noticed an offshoot trail that led up a side stream. We followed it back to a cul-de-sac of stone and a beautiful waterfall falling into the middle of it:




the trail went up behind the waterfall into a carved out area under the overhang:




Janel and I spent a good half hour in this space watching the sheets of water playfully coming down from above before we returned to our campsite for the evening. The next morning we had to hike out amongst the weekend crowds that were arriving. Although it was only a three day trip it was well worth the experience and I plan to return next summer! Once we returned home we watched an episode of Human Planet together. If you haven't seen this nature documentary, you need to check it out!
Climbing (Gym) Strong
A bit of good news regarding my long term climbing recovery. After returning home from Squamish I had been climbing pretty hard at the gym, pushing into the 5.11+ grade. As a regular partner became harder and harder to find I decided to drop my membership at Portland Rock Gym (awesome as it is) and start climbing at the Circuit Bouldering Gym again. I started climbing problems that were almost as hard as those I climbed at the Arc prior to my shoulder surgeries (and finger surgery) including an easy V7 and several V6's! I am very glad that I enjoy all of the forms of climbing so much. Even gym climbing I can still find very enjoyable in addition to my outdoor multi-pitch exploits. Yay climbing!
Costumage
After the relaxing trip to Eagle Creek I refocused on getting ready for Burning Man. Janel and I partnered up in our costume-making efforts. We purchased a lot of fabric at this amazing store called Fabric Depot in East Portland. I bought a lot of Faux Fur with the intention of making a playa coat like Anthony's. We also picked out a ton of other pieces from the 'remnants' rack. In the end several of our outfits would match, something we hadn't originally intended. Our favorite matching costume was sort of a steampunk daemon style. Here's a look at Janel: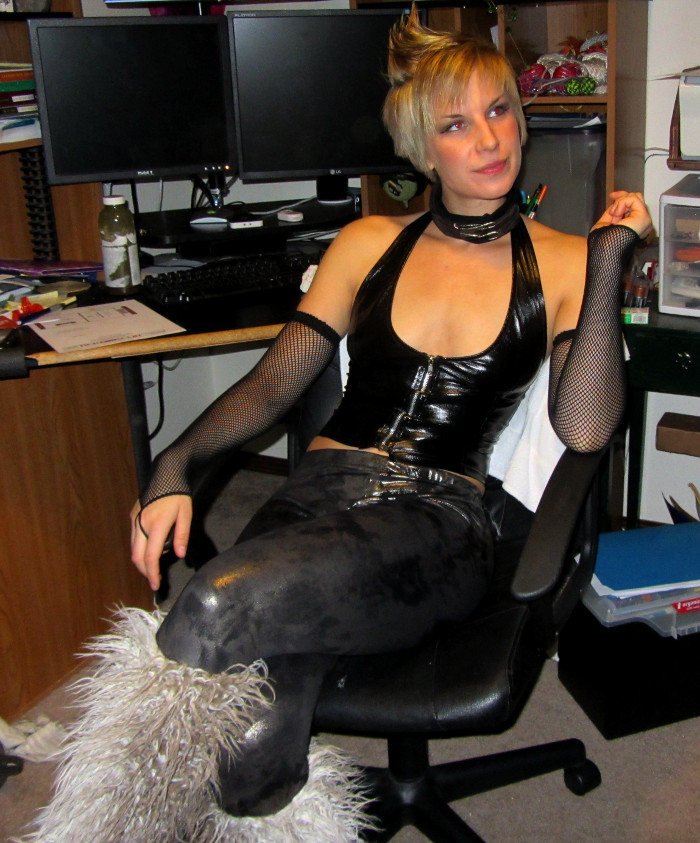 And here's us together:




Of course we're obviously not on the playa in those photos, so let me skip to the good stuff.
Burning Man 2012!!!!!!
This year we drove down to Black Rock City with Janel, Anthony and myself in one car. Jared, Colin, Ivan, and a girl named Lina travelled up from the Bay Area in Jared's car. Unlike last year we had no issues getting in and only waited about 45 minutes! We ended up camping at the exact same place as last year, 9:00 and I(ris). This year our camp was slightly less minimalist, with some shade cover provided by a tarp attached to the back of Jared's car. We also decorated a bit more by putting up prayer flags at our corner of the intersection. Our surroundings were similar but one less-than-appreciated change was the presence of a super-loud camp just across the intersection. Despite the fact that few people went there, they played music extremely loudly ALL night. As a result we soon learned that earplugs were a must for any napping. As usual we didn't take many pictures at Burning Man, but here's one of Janel at our home base: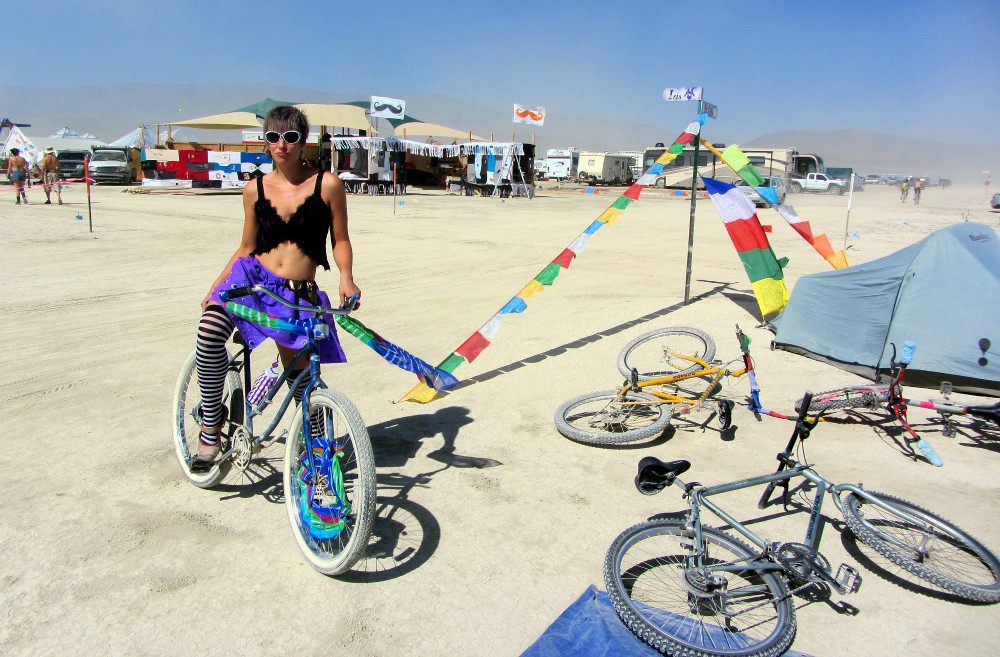 And here's us together in the same spot:




Notice my infamous neon orange felt diaper-like costume. So I'm not going to give you the play by play of what happened on the playa this year, but I will give you a metaphysical recap. My burn was very different this year than my first year. My first burn was very much an exploratory experience. I saw many things that previously didn't exist in my worldview and I met many people unlike anyone I'd ever met before. This year, knowing what to expect, I wasn't so blown away. Instead of exploring the outside environment I spent more time exploring relationships and connection, principally with Janel, but also with other people that we met. With Janel's help I found myself in the role of helping and giving to others more than I had my first year. I felt like Burning Man was asking of me, instead of just giving to me as before. It took some time for me to adjust but eventually I embraced this change. Towards the end of the burn Janel and I connected on a profoundly deep level. Although we had been growing apart somewhat this summer we found ourselves quickly recentered and refocusing in our relationship. On the last three nights of the burn we came to the decision that Janel would join me in Idyllwild. This was a liberating reality for both of us. Of course it meant a tremendous shift in priorities, especially for Janel, but by the end of the burn we were convinced it was the right thing to do. In addition to this realization we also discovered more about the purpose of the house in Idyllwild. It is meant to be a refuge for people and is not meant to belong to one person in particular. It is our duty to prepare it for others and to serve others while we are there. Although we don't know exactly what value it will serve we expect more shall become clear in time. With such an overwhelming amount of guidance coming from Burning Man, once again, I have decided to celebrate my New Year during the temple burn instead of after Christmas. I have never had much affinity for our existing new years traditions anyway. This brings me to the last thing I want to remark about Burning Man this year. The temple was absolutely staggeringly beautiful. I had predicted that the 2012 temple could not live up to the quality and beauty of the one in 2011 but I was dead wrong. While it was very very different, it nevertheless had an otherworldly beauty to it, and seeing it burn was one of the most intense experiences of my life. Here's a look at it the night of the burn:




And here's an amazing photo captured of Janel and I at the temple burn site on the final night:




So there you have it, Burning Man 2012 in a nutshell. Once again I feel grounded in my conviction that Burning Man is one of, if not the, most important thing happening in the world. Holy Steezles!

Forward to Fall 2012
Back to Index