Back to Index
Back to Fall 2007
Our Powers Combine to Form C-Colin!
After Thanksgiving I had only a few weeks of work before my grand two week vacation started. By utilizing my four floating holidays optimally, and by claiming to work remotely for a few additional days, I was able to schedule the entire thing without taking any paid vacation.

I arrived home on December 22nd, and was very excited to see my family again although unfortunately, Matt was unable to return from the West Coast this year. On Saturday morning, we went on our traditional christmas tree trek through the woods of upstate new york. The weather was very cooperative this year, and we were lucky enough to find a good one before noon, when the shop closed for the season. That afternoon Rafaela arrived in Rochester. She was staying with her family in Toronto and decided to take a bus down to visit me :-) It was pretty exciting since my parents were able to meet her and also because Chris and Nate Bank were hosting a party that night and she could attend.

After grabbing some very nice italian at Rizzi's with the family, Rafaela and I headed over to the Banks. I was excited because I knew that a number of people I hadn't seen in years, some since Highschool, were going to be there. Even Jon Stover was going to be able to make it. The only quirky aspect of the party was that they were going to hold a Yankee auction. I figured this was a perfect opportunity to put together a gag gift. Rafaela and I went up to the attic and found some of my old house soccer trophies, which we figured would be perfect for our purpose.

As I mentioned, the party was being hosted by the brothers Bank, including Nate: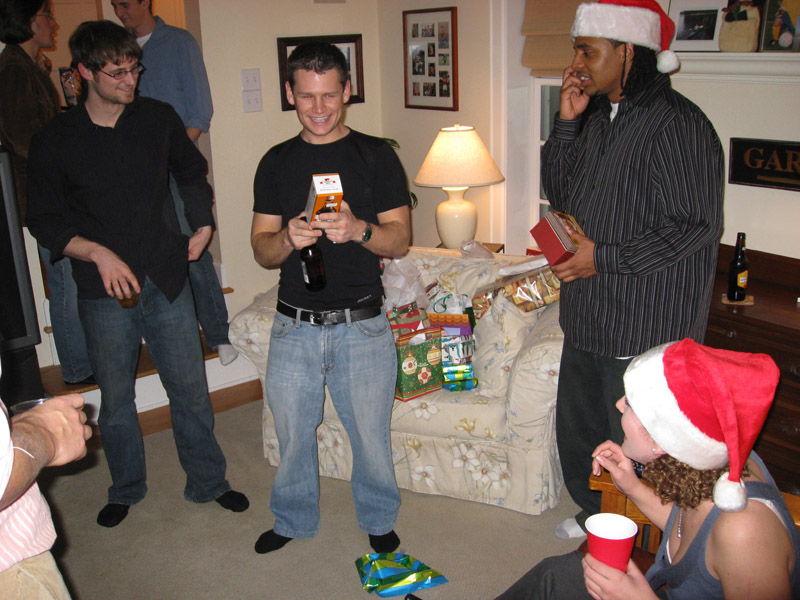 And Chris: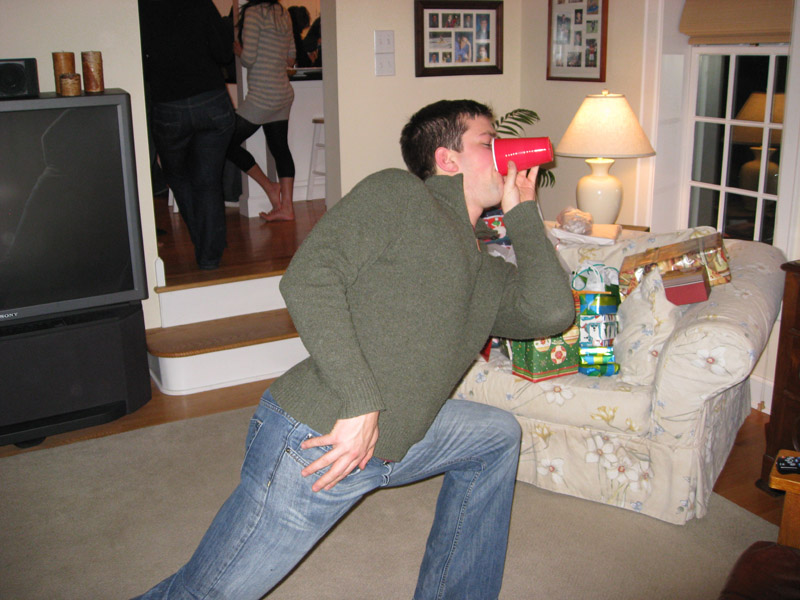 The number of people that showed up who went to my highschool was lower than I was hoping for, but I still had a great time. I especially was glad to be able to catch up with Nate, who I hadn't seen in years. As expected, the funniest point of the evening was the Yankee auction. Here are some of the gifts people received:




That last one of course is my soccer trophy from when I was like 10 :)
Rafaela and I were extremely excited when we received our gift to open:




However, when we found it was a flameless, scented, anti-mosquito candle, we were heartbroken (since my uncle was a mosquito):




As compensation, they allowed Rafaela to open another present and it turned out to be far better. A 9 volt Battery!




The following day Rafaela had to head back home to Toronto. Before she left we exchanged christmas gifts. I got her a couple of free trade items, including a sling bag and a journal/notebook. She got me a replacement sleeping pad and convertible pants, which were both amazing ideas and have gotten a lot of use already. We also found time to go to Cobb's Hill and snap a picture of me discovering downtown Rochester:




I was sad to see Rafaela go, since we were only able to spend a little more than a day together. However, the real focus of my trip was meant to be on my family, so it was appropriate to only have her visit for a short time.

Our family celebrated Christmas in the traditional way, by spending the evenings in the company of family friends and the rest of the time together. Everything went a bit more smoothly this year than most, which was nice since Christmas can be a bit hectic sometimes. The morning of Christmas itself was wonderful. I especially enjoyed my mom's reaction to the pictures, picture frames, and iPod that I got her. I also was very well taken care of, with a couple of new shirts for work and a rare copy of the Iliad by Homer in the original Ancient Greek.

As I grow older, I am starting to appreciate my family a lot more than I used to. I sometimes feel there is more that I could be doing there, but that my job and ambition to save are preventing me from taking full advantage. My hope though is that by leaving the corporate lifestyle as soon as possible, I can have more time in a few years to spend with my family and be a positive influence.

After a couple more days in Rochester, I hitched a ride with Danner Hickman, an old Highschool friend, to New York City to visit John Wunderlin. Here's a picture of Danner and John:




John and I spent a few days wandering around Brooklyn and visiting various bars. I was surprised at how cool and indie a lot of the places we went were. It made me realize how much more work I should put into finding places around LA, since they must be there as well. John is currently holding various odd jobs before starting Law School at NYU in the fall. Danner works for a small airline company that flies exclusively between NYC and London. After a few days in NYC, the three of us drove down to Gavin's place in Washington DC for New Years.

The deal was that Gavin was going to be DJing at a nightclub in DC called the Rock and Roll Hotel. It's a large indie joint that he was frequently playing at, and they had given him a number of comp tickets, so we could all get free top-shelf drinks and some grub. The setup seemed ideal, and we were expecting to have a fantastic night. Here's us superexcited:




And John with his friends: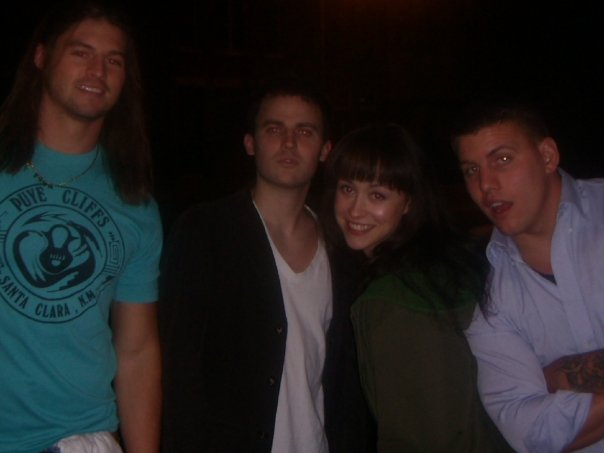 And finally Danner joined in the happiness:




When we arrived at 9pm, the place was already pretty crowded, but the dance floors were not yet hopping. The obvious thing to do was hit the bar. I had several Maker's Mark and cokes, along with a few helping of Sparks to ward off any lethargy. I then had a few beers. I remember being somewhat surprised and disappointed with how little of the alcohol I was feeling at that point in time. Even at midnight, I remember holding a bottle of champaigne thinking that I still had to hurry up since the bar lines were getting long and the dance floors were heating up. These concerns quickly melted away as I slipped into a nice drunken state and found myself dancing will all sorts of indie girls. I started downstairs, on the stage in the rear, and before long had moved all the way upstairs.

At some point I remembered trying to dance with a girl who wasn't really interested, and then sitting down in a comfortable chair. The girl in the next chair over seemed to be really upset, so I tried to comfort her. I was able to sooth her a great deal, when all of a sudden she started to throw up on the floor. Although it was a surprise to me, I assured her that it was alright, and not to feel too bad. Pretty much everyone has been in a similar situation. It was a really special moment for me because I felt like I really touched this girl and prevented her from feeling horrible about herself.

Not much later in the evening, I was talking to someone when all of a sudden the lights came on and the music stopped. I looked over at Gavin, who had just started DJing. It was only about 2:10 am and it was clear that the bar was closing and everyone was being asked to leave. I was very confused and alarmed. Given that everyone had paid so much, with the promise of a party lasting until at least 4:00 am, it didn't seem fair for the place to kick everyone out. Of course, there was no way I was going to convince anyone, so before long I found myself out on the street, along with two hundred or so other people. Since it wasn't a great part of town, and there were no cabs in site, it escalated into a pretty bad situation. Some people were many miles from home and very concerned about how they would make it. Others were still very drunk and upset about the party ending, to the degree that there was a lot of shouting and obscenity. There was one person in particular who was going off especially intensely at the crowd. I walked up to him and did my best to comfort him and console him. To my surprise, it worked, and he actually hugged me and began to cry. This was the second unexpected, and powerful moment of the night.

As much as I was intrigued by the drama that was unfolding, I knew that I had to help get Danner home, and I decided to start walking North with her. At the very least, we could walk home in 2 hours, or perhaps cut off a Southbound cab before he hit the rest of the group. After having a funny dialogue with a homeless person, we got our wish, a cab ride back to Gavin's. Although we didn't have enough money to pay him, or a key to get into Gavin's apartment, everything ended up working out pretty well for us. The night could have been a great deal better though, if the establishment had kept their promises and stayed open, but that's what you get sometimes.

After the party, Gavin got a bit sick, so John and I bought him some steaz (Steez) so he'd get better: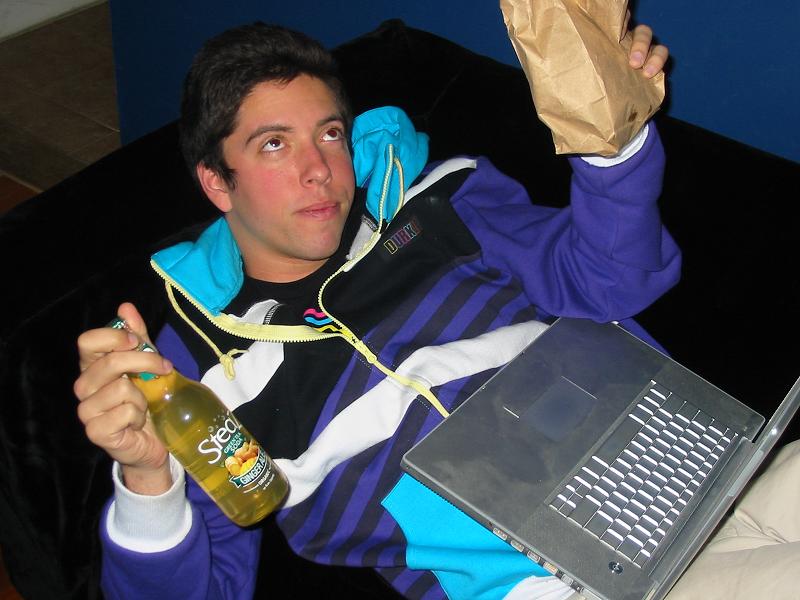 John and Danner had to return to New York City, but I stayed behind with Gavin for a few days until my flight back to LA. Gavin found some time to give me a tour of the XM radio headquarters, which was really cool, and also to show me the secret to happiness:




Unfortunately, I got sick myself just before leaving, and my day of travel back to Pasadena was absolutely horrible, and lasted an excruciating 12 hours. The night that I returned I was overcome with a strong fever, and became delusional. It was very hard to keep my mind from wandering into irrational day-dream like states. I forced water into myself and slept with many covers, succeeding in breaking the fever in only six hours. This was the first time I had been sick in about eight months, and due to the travel and drinking, I can't really blame my body.

Back in Pasadena, some changes had taken place. Marc had decided to leave and return to France, and our new chosen roommate Colin Loveness was moving in. You're probably thinking two things. One, it's unbelievable that we would have another Colin, and two, the name Loveness kicks so much ass. On top of that, Colin and I happen to also have many other similarities, besides just our name. Primarily, we're both huge fans of Thug Motivation 101 by Young Jeezy. Here's a picture of Colin and his girlfriend Grace and new boyfriend Dan: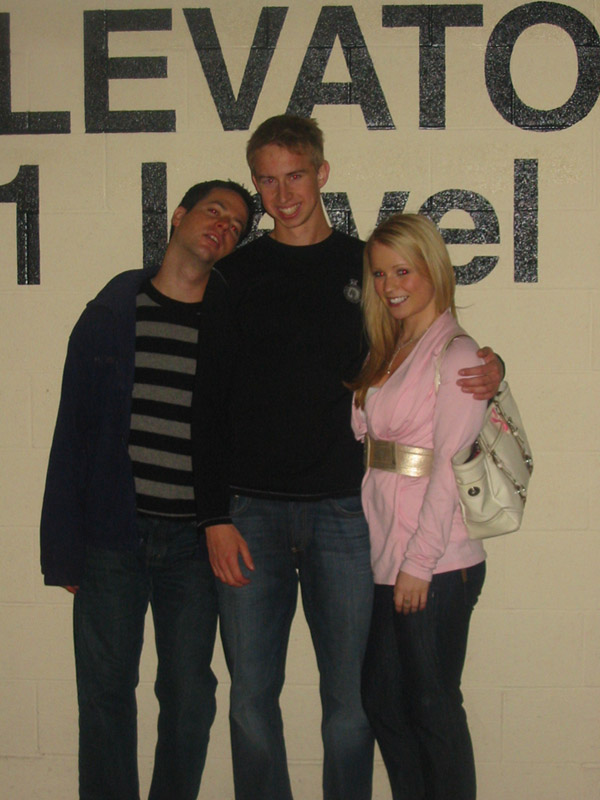 Since we both enjoy outdoors activities, it came as no surprise that Colin wanted to come along to Death Valley with Stover and his friends Sasha, Adam and **** on the first weekend of the new year. In fact, because Colin ownes a Pathfinder, we decided to take his car:




We somehow managed to fit six people in the car, with all of our gear, plus supplies and firewood, water, chairs, etc. Of course, it required we get a bit crafty with his rooftop rack :) We left for Death Valley on a friday at about 6pm. Since it was the middle of Winter, this meant the entire drive was going to be in the dark, and much like the first time I had gone to the valley with Jared about a year before. We camped at the crappy campsites at Stovepipe Wells since we were very tired and it was getting late. In the morning, we awoke to check out the sand dunes:




Colin had an amazing amount of energy, and was sprinting up and down the shifting dunes. We also had a hilarious sequence of 'king of the dune' duels that were exhausting. At around this time, Stover realized it was going to be confusing having two Colins, and decided to name me Colin #2. Of course, it stuck. After the dunes, we decided to set our gear up at the next campground, Furnace Creek. I had never been to these campgrounds before, but assumed they would stink as much as Stovepipe Wells. I was dead wrong.
Somehow there were these trees growing near the campsites in Furnace Creek that dropped a ton of pine needles and duff. This made the ground very soft and provided some naturaly shelter and privacy. We absolutely loved our camping area: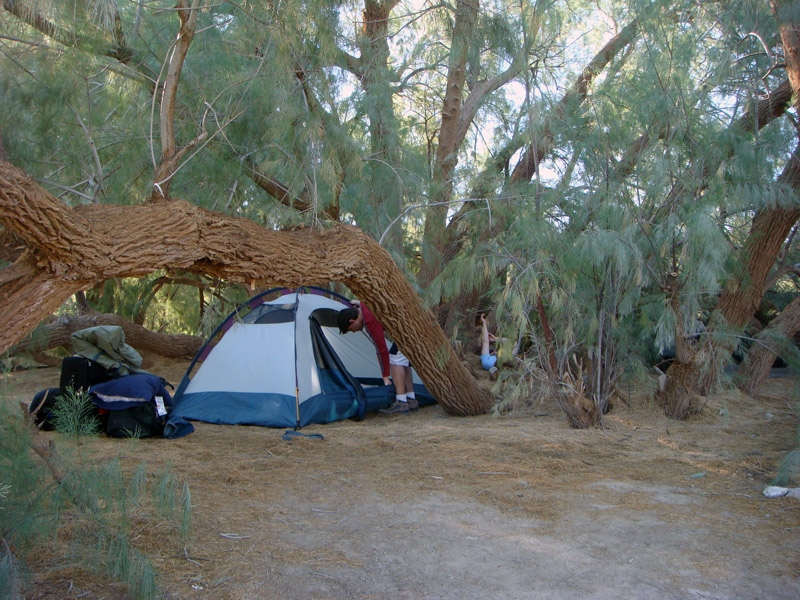 Once we had everything ready, we ate lunch and left for some canyon climbing at Golden Canyon. Canyon climbing is like a combination of hiking and rock climbing where you attempt to scale a mountain by going up one of it's canyons. Typically they get steeper as you go, and this one was no exception. Here's us at the entrance: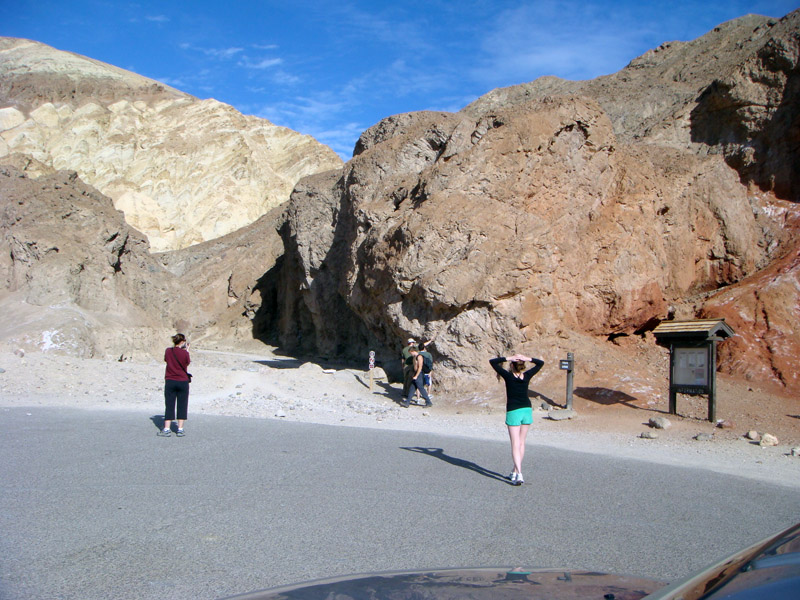 Stover and Adam a bit further in: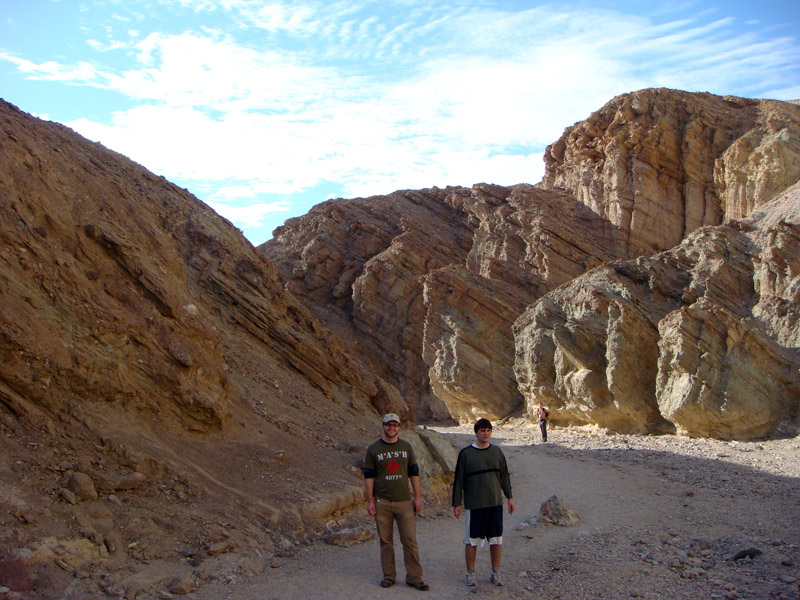 Adam, Sasha, Colin #2 and Stover about 500-800 feet up:




A beautiful view towards the East:




Here's a picture of Sasha and I working together at the very top of the canyon:




After climbing Golden Canyon, the group split up, with Colin and Colin attempting more intense canyons while the rest of everyone hiked the trail toward the East. The next few canyons that Colin and I attempted were very difficult and required a lot more rock climbing. Because the rock was so loose in some areas, this was quite a challenge. Here's a picture of Colin trying to get around a boulder in the way: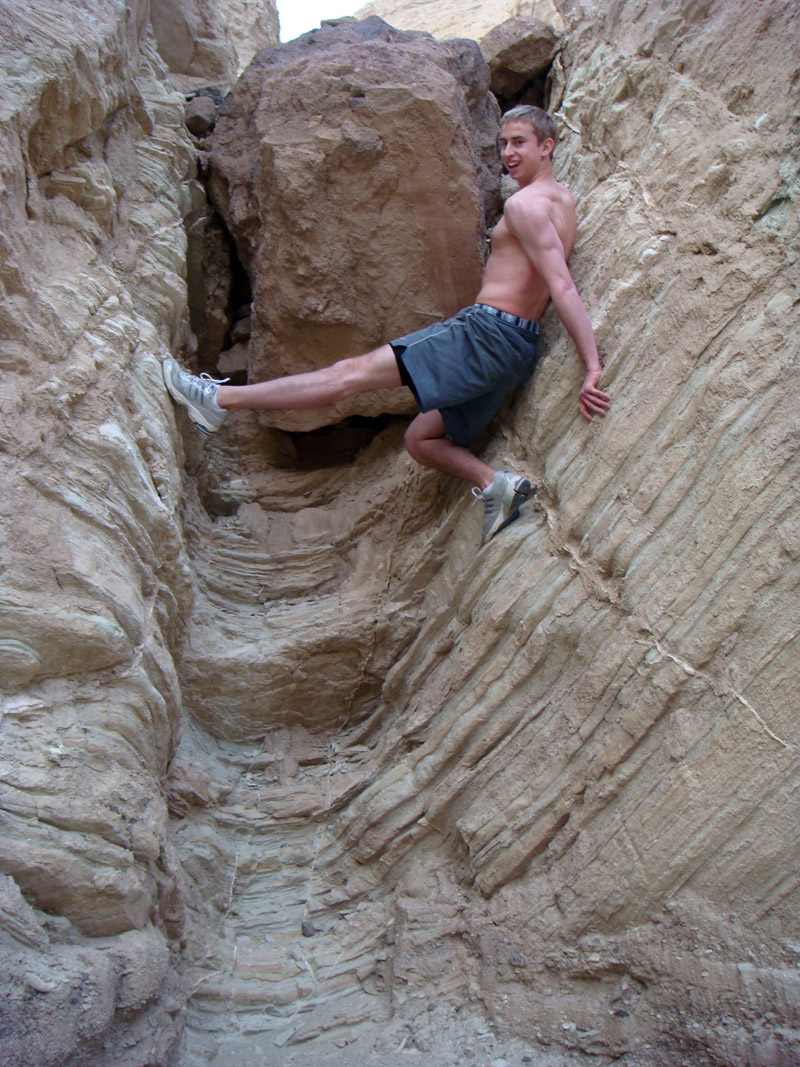 At one point, I was climbing a 12 foot wall and very near the top when a hand hold completely gave way. I immediately knew I was falling and spotted a flat-ish spot to land. With the help of Colin I made it down safely, and thankfully the stone missed us as well...
Once we had been beaten by the last canyon we tried, we returned to the bottom of the mountain, only to find that a beautiful sunset had materialized:




We returned to the campsite for a long night of indulgence and comedic discussion. In the morning, we followed Colin #1 to the Death Valley airport. On the way, we spotted a Coyote with a busted leg running along the road:




Colin #1, being a pilot himself, loved the airport. Apparently people can just fly into and out of the place anytime of day, for free, no hassles:




After the airport, we loaded the car and headed for the last few sites to see before going home. The first stop was a place called Zabriski Point: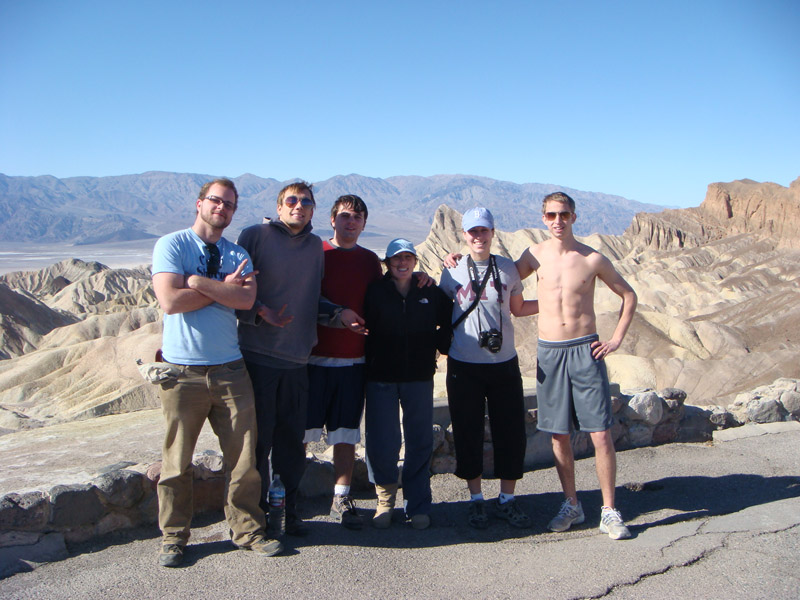 Next, we swung by Artist's Rock:




And then made some discoveries at Devil's Golf Course (you can see the snow capped Telescope Peak in the background):




And finally here's our sad walking home picture: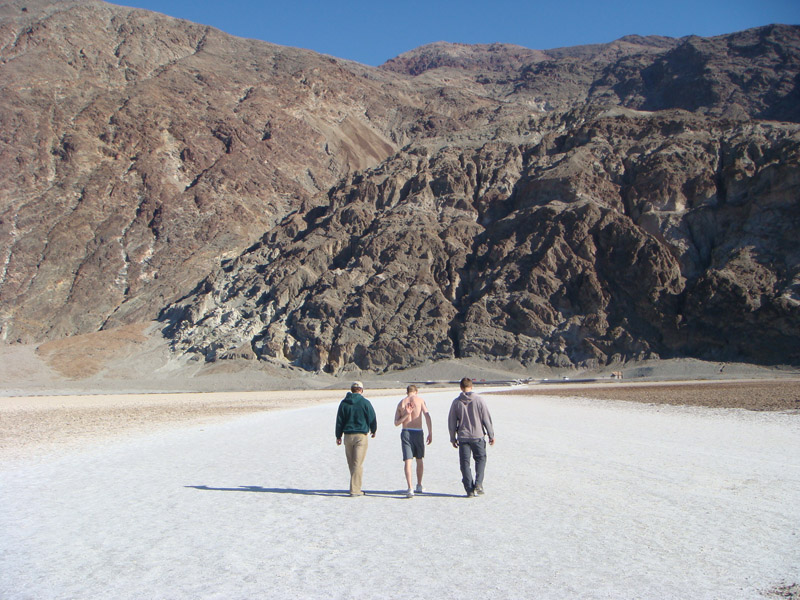 After returning from Death Valley, Colin and I started going to the ARC, which is an indoor rock climbing gym in Arcadia, focused on bouldering. I was extremely excited that Colin was interested in climbing as well, since it meant I'd have someone to go with and push me. Here's a few pictures of us at the ARC:

Climbing at the Arc

I also finally found myself a replacement bike, which has worked out great so far: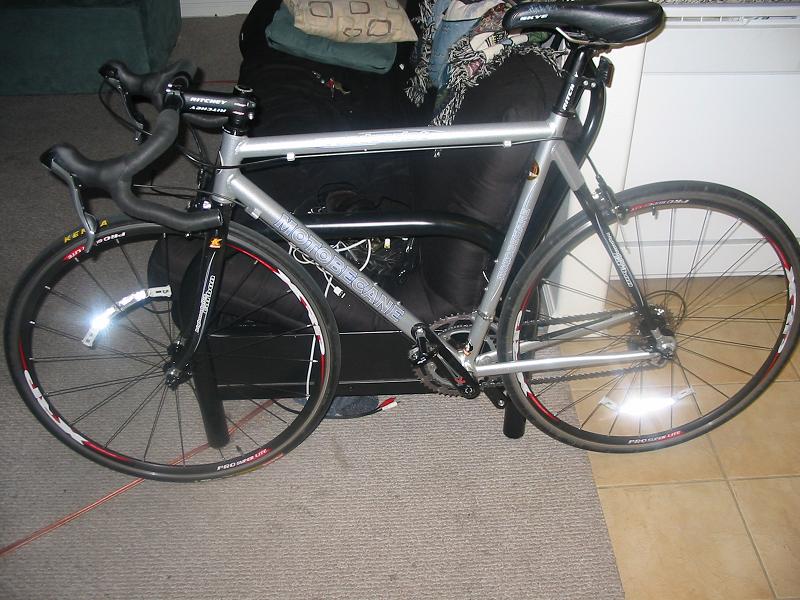 I got it off of www.bikesdirect.com, which has amazing deals and I highly recommend for their no tax and free shipping policy.
In early February Kaiser upgraded to the Spring 07 version of Epic, which was a lot of work. They also had Jared fly down from NCAL for the week. We both put in a lot of hours over the weekend to assist with the upgrade, and in return, were given a few comp days. We decided to take them just after the following weekend so that we could make a four-day trip down into Baja Mexico. The idea was to take my car since we would blend in as much as possible.

We left on the Saturday morning at about 4am so that we could cross the border just as it became light. On the drive between LA and San Diego, we noticed a bright light in the sky, just above the horizon, that started slow at first before accelerating and becoming brighter. We lost it as it hit the horizon and theorized that it may have been a meteorite that made it through the atmosphere. It was a very strange site. An hour or so later we found ourselves at the Mexican border. We had heard that entry into Mexico was simple, but we were still surprised that all you need to do is stop at a light and wait for it to turn green.

Once we were into Tijuana, we searched for a place to get our tourist cards and some insurance for the car. We followed a few signs but quickly learned that signs usually mean absolutely nothing in Mexico. After finding nothing for a while, we realized that shops probably wouldn't even be open yet, and we decided to head for Ensenada and take care of things there. The drive from Tijuana to Ensenada is a toll road that hugs the Pacific coast. It's a beautiful drive and gives a bit of respite from the traffic craziness in Tijuana, even if the toll is a bit much (~$6 each way).

In Ensenada we parked near the harbor in a lot beside a government building. We then spent the next couple of hours walking around and trying to find out where we should go for tourist cards. In the end, we learned that the building we parked next to was the right one all along. After scoring the tourist cards we continued South, looking for a bank or somewhere else to change some money. After driving through a somewhat run down residential area, we found ourselves in New America, a giant developed area with WalMart, Home Depot, and a bunch of other massive retailers. The two banks there weren't open, but we sort of realized that we could probably make do without any pesos for most of the trip. After leaving New America, we found route 1 and started South again. Now we were in Baja Mexico proper.

After Ensenada we drove through several small run-down towns, all of which had several buildings painted the color of Tecate or Corona. We later found this is an ugly characteristic that all of Baja shares, and perhaps all of Mexico as well. One of the surprising things was that the landscape was greatly varied and mostly green in color. Jared and I had both anticipated very arid and sandy landscape. Route 1 is one lane in each direction for the entirety of Baja, so passing is inevitable, and sometimes done dangerously on the mountain curves. In general though, the road is in very good condition, and the drivers are as courteous as they would be in the states. The posted speed limits are ludicrously low though, and nobody follows them. We commonly drove 20-30 km/h over the limit and never had any trouble (not that there were any cops to give us trouble...) The one thing that was a huge pain in the ass on the 1 was the frequent speed bumps that will destroy your suspension if you're not looking out for them. Eventually, however, we learned to detect the warning signs.

As far as language, we found that speaking minimal Spanish was very useful, especially at places like gas stations and restaurants. In spite of this though, there were still many awkward moments, but taken in stride, they do not matter much. Lastly, the overall feeling of safety was very high as soon as we left Tijuana.

As an example of the green and empty nature of the land, here's a picture of some cattle that were grazing just South of Ensenada: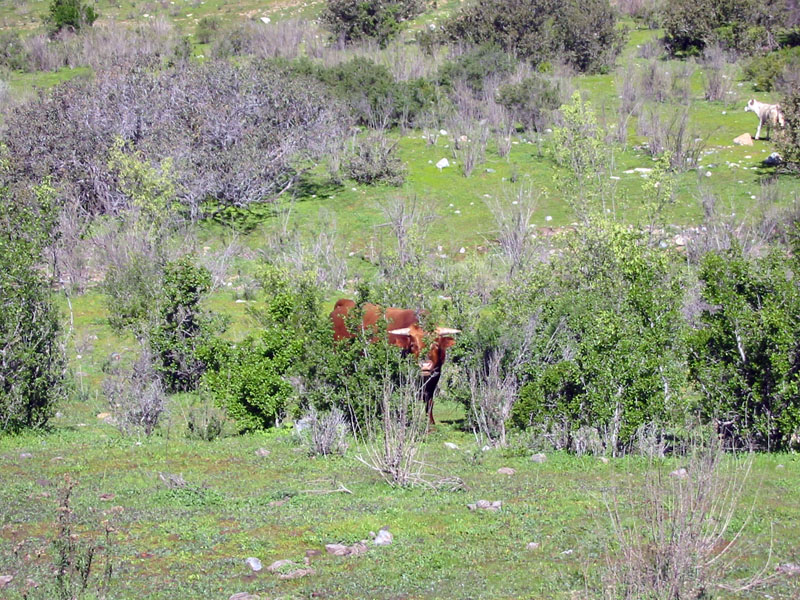 At some point North of San Quentin we decided to take a side road in the hopes of seeing the Ocean, which we hadn't seen since leaving Ensenada. It was at this point that we learned that every time you leave the paved Route 1 in Baja, you have to expect an adventure. The road was horrible. My car, being the world's worst to take on such roads, had an awful time avoiding potholes and could barely creep past 15 mph without making me worry that bolts were going to come loose. The scenery around us was generally open fields with sticks and wire to mark terratorial boundaries:




As we neared the beach, the road hit some patches with standing water. Worried that I would get stuck, I took the car off road and attempted to cross a field. I stupidly let the car stop at some point, only to realize that I was in a patch of mud:




After trying for twenty or so minutes to get the car out, a local person spotted us and brought over his old beatup pickup. He tied a nylon road around my frame and attemped to pull me out, but it snapped on two consecutive tries. We then tried to use some nylon rope that we wound around four times. This succeeded in pulling my car out :) We were finally able to enjoy the view: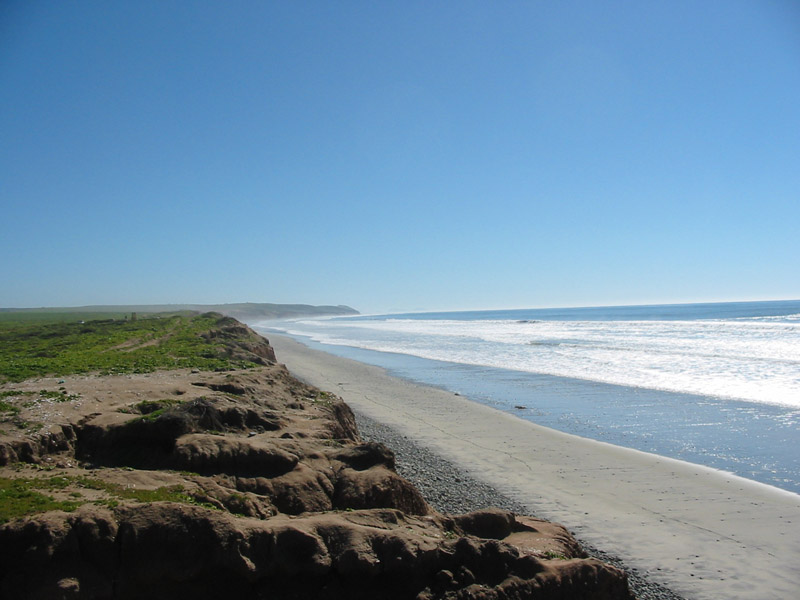 After checking out the coast and contemplating setting up camp here, we decided to keep moving South and make more progress. After another hour or so of driving we arrived in San Quentin, which was the only town of any legitimate size since Ensenada. We stopped for lunch in a hotel restaurant and checked out some flyers. Jared read something about volcanic domes in our guidebook, so we decided to take another side road to check them out. The road turned out to be at least as bad as the previous one, yet much longer. After driving on it for about two miles, it turned from rocks into a sand road. Although the sand provided much less traction, it was also much smoother. We were confounded that we were not closer to the domes (which we could see in the distance) or to the beach. At some point about 45 minutes off the main road, a thick fog settled in and we were faced with the decision to turn around or continue into the fog toward the ocean.

We decided to continue onward. Every time we crested a hill, we could see two more hills in the distance. The road was very uneven and oftentimes the sand would scrape against my undercarriage. In about fifteen more minutes, we finally spotted a few cars parked in a sort of lot. We stopped as well and walked down a ravine to the ocean. I was very happy to finally get out of the car: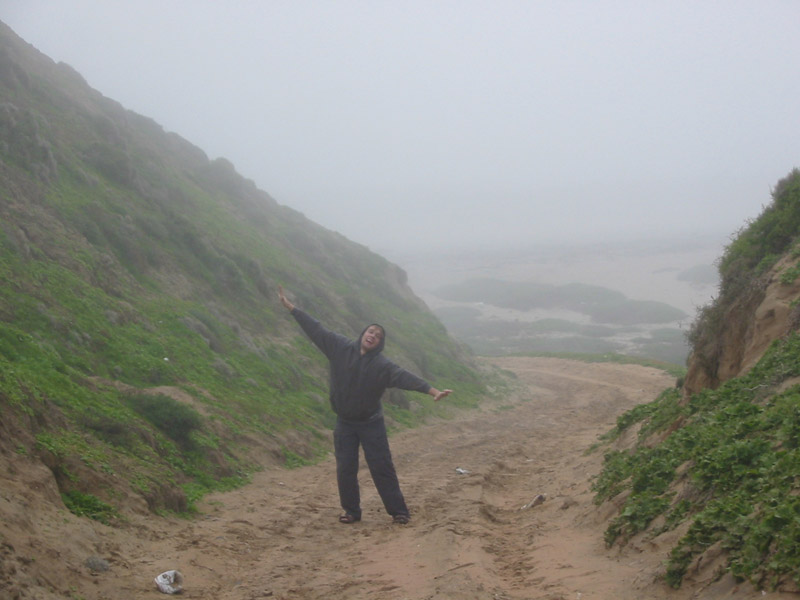 The folks in the last picture appeared to be gathering clams or something, we couldn't be sure. After the beach, decided to try and head back out of the fog to find a campsite further down the coast. As soon as we got back to the main road (from the sandy one) we realized the fog was moving quickly inland. By this time I was thoroughly enjoying driving on the sandy road, so we turned around once again, back to the coast, drove into a field full of flowers and decided it was where we'd setup camp:




The field smelled beautiful, and with the sound of the rolling waves in the background, we figured it would be beautiful even if we couldn't see anything. As the sun went down, there was a sort of halo effect indicating that it was a clear perhaps a hundred feet above the ground: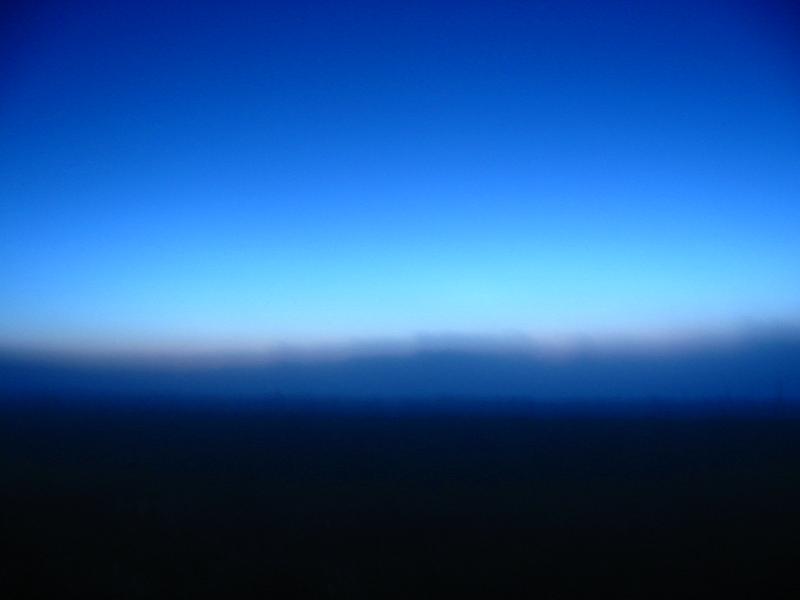 Everything in the fog was trippy. Jared nearly got lost on his way to grab my camera from the car. Setting up the fire in the mist was really difficult, but once it was going, we stayed up a couple hours. Just before going to bed we heard a pack of coyotes nearby, and decided to stash the food away from the tents. It wasn't until the morning that we were able to get a decent view of where we were: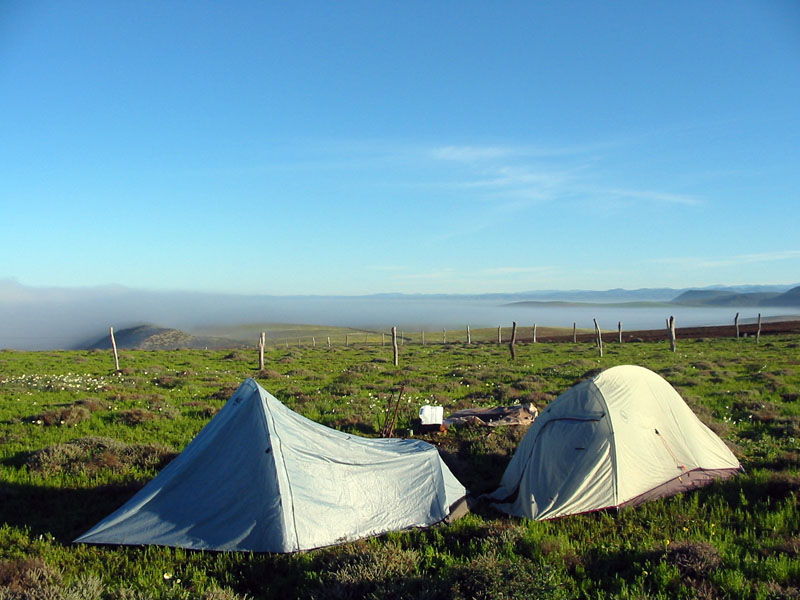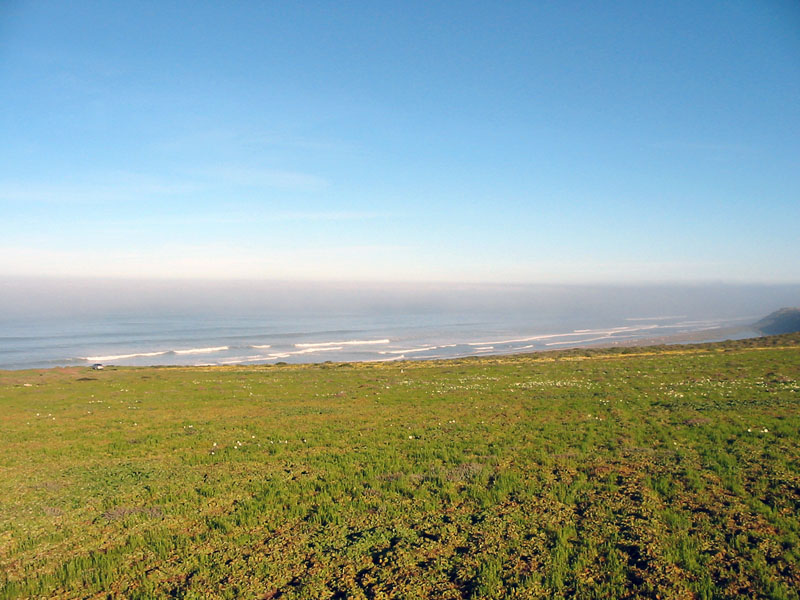 After breaking camp and stashing our wet tents in the back seat, we jumped back in the car and hit the sandy road for the last time:




Once we were back on the main road, we realized that we had taken the wrong road to the volcanic cones all along, and the right one was a couple miles further south on the 1.

South of San Quentin the road turns Eastword away from the Pacific and slowly crosses the peninsula. The landscape changes dramatically at this point. It becomes a highly varied desert with an astonishing number of different plants. All of these were found within a very small area beside the road:




In the very middle of Baja, the altitude is a bit higher, and the high desert area greatly resembles Joshua Tree, except instead of J-Trees, they've got lots of Organ Pipe cacti:




The drive on the second day was a lot faster since there was less traffic and the roads were straighter. We made a lot of progress, but because we wanted to see the Bay side of Baja, we decided to head for Bahia Los Angeles instead of going directly South to Guerrero Negro. After driving about sixty kilometers on the offshoot route 1, we spotted the Sea of Cortez: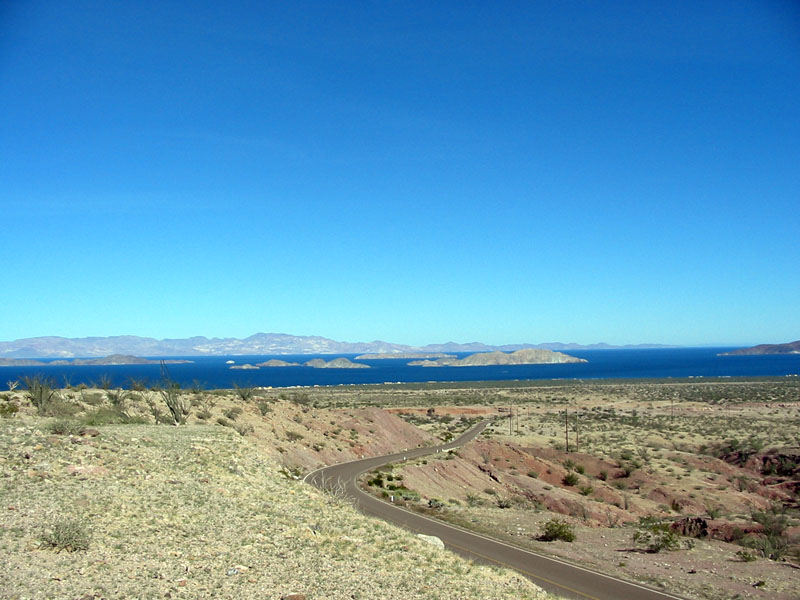 Bahia Los Angeles is a small fishing town of a few hundred people that has a very peaceful feel to it compared to the other towns we had driven through. The entire town sits on the land beneath a tall mountain peak:

Panorama of Bahia Los Angeles

The bay contains a number of beautiful but barren islands, and the water is very clear, although certainly not as much as the carribean. Jared and I went into town to a grocery store and asked around for the location of a campground. Before long we had ourselves a private site right on the beach: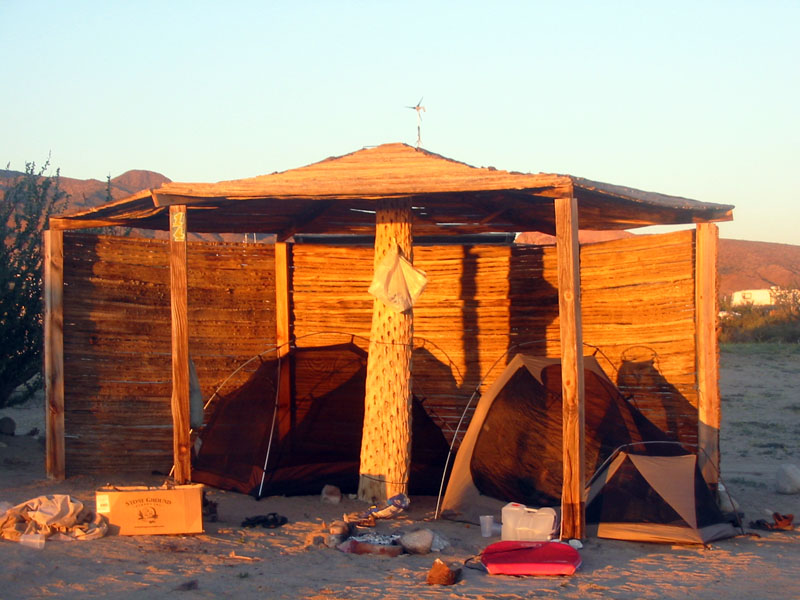 Since we arrived late in the afternoon on 2nd day, we only had time to get booze, setup camp, and enjoy the sunset:




We decided to spend the entire third day exploring Bahia Los Angeles and drive the entire way North on the 4th day. We struck off to checkout a lighthouse that we had seen from the main town area...




When we got back to the camp, we noticed that the clouds had developed into some interesting formations, and we anticipated a beautiful sunset:




Unfortunately, the clouds pretty much cleared up by the time the sun went down, so we captured a beautiful picture of the sunrise instead: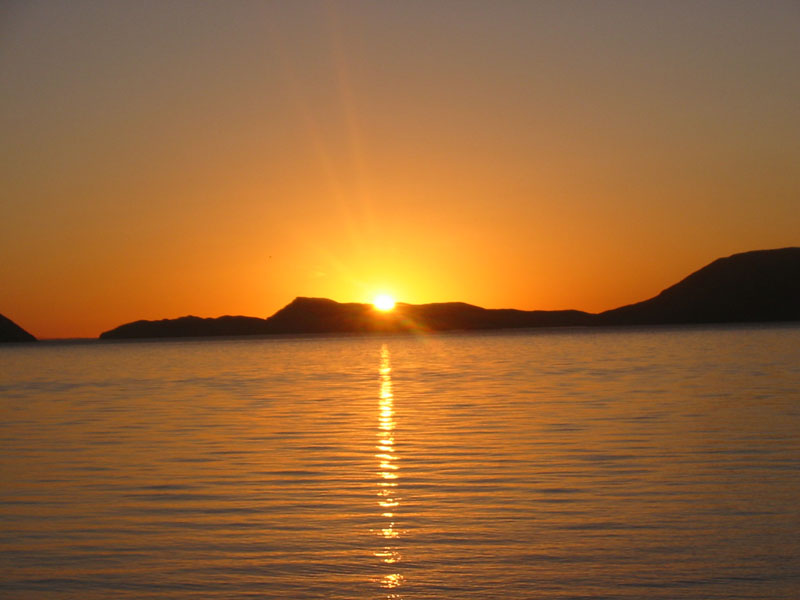 Our time in Bahia Los Angeles was very relaxed. At no time was there any concern about safety or any issues making ourselves comfortable. In fact, I would highly recommend this as a final destination for anyone with only three or four days to drive down Baja.

Our drive back North was actually not very rushed at all. We had an opportunity to stop for dinner in Ensenada, and I even managed to lock my car keys inside the car. Since in mexico any available service is nearly free, I had no trouble getting someone to jimmy the door for a mere $20 (including tip). We also stopped into a pharmacy where we learned that pretty much every desireable American prescription drug is available, for a decent sum, to the general public. By the time we hit the border, it was about rush hour on the Tuesday. There were about twelve different stations for cars to pass through, and our crossing didn't take more than an hour, and all they did was ask us a few questions.

In general, I feel that Mexico adds an extra bit of adventure to a vacation. Since everything is more economical down there (especially gas), its a very viable alternative to a number of destinations in the US. Also, since our tourist cards last six months, and we've broken the ice with this trip, I figure we'll be making a lot more journeys like this one.

After the three day week at work, Colin and I decided to head out to Joshua Tree for some climbing. Since we knew there weren't going to be any spots left (especially on a long weekend), we asked some folks that Colin knew were heading out that way to save us a spot. They gladly obliged, and we found ourselves not only with a nice spot in Ryan Campground, but also meeting a large group of chill folks from the LA area. We arrived late on Friday night and setup our tents to sleep. In the morning, I was the first person out of my tent, and I went to put my contacts in. When i put the contact in my left eye, my eye starting stinging violently. I thought it might have been the contact lens itself, so I squirted some more solution into my eye, only to amplify the pain. I figured that it must have been the solution after all that was causing it, and I pryed my eye open with my fingers and poured a ton of water in to wash it out. It turns out that the little travel bottle of solution was one that I had filled with hydrogen pyroxide months before and forgotten about. Fortunately, I didn't seem to have any damage to my vision, and only suffered a red-eye for the remainder of the weekend, not even photosensativity. After my ordeal, and most everyone else woke up, Colin snapped this shot of the group so far: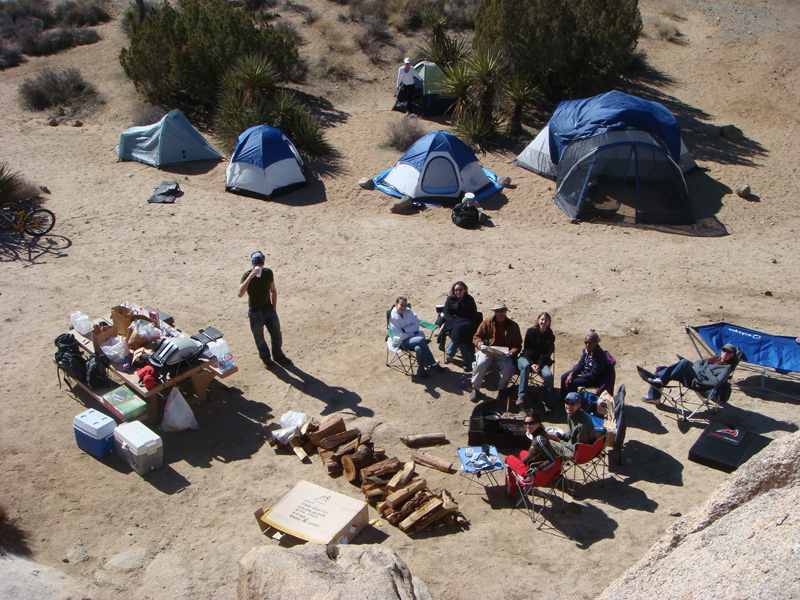 Over the course of the next day or so, another dozen people showed up. They were:



Alison



Jamie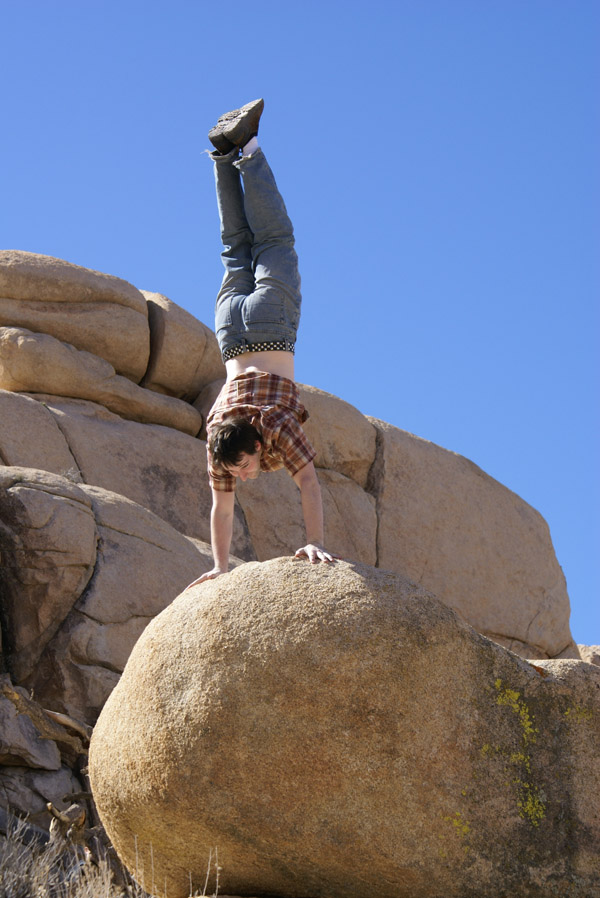 Ben



Paul



James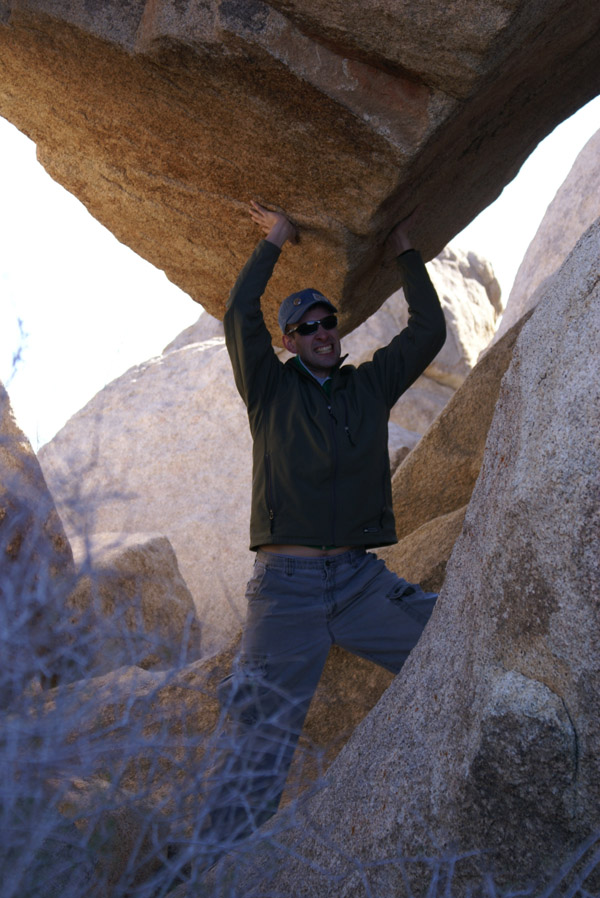 Matt



Mandy at the Samuelson Rocks



Stewart and his girl




The names of some of the folks I've forgotten, as is typical of me.
Other than my Hydrogen Pyroxide mishap, one of the main themes of the trip centered on the duplicate Colin's. Stewart came up with a back story about how we were superheroes who could combine powers to form C-Colin. I won't tell you if it's true or not, but I will say that you should watch out. In addition to this, Stewart also let me try some Vegemite on toast, straight from Australia. It actually tastes something like cheese and is not nearly as bad as people make it out to be. On both of the two days, Colin, Alison and I split off from the group and went climbing together, which you can check out here:
Joshua Tree Climbing #1
Here's some of the pics though:



Colin #1 on "Sky's the Limit" V0+



Colin #2 after conquering "Hahaaa" V0



Alison on a 5.10d Double Crack



Colin #1 Rappelling down the Double Crack

After we returned from climbing and had some delicious dinner, we prepared for a nighttime scavenger hunt courtesy of James, the organizer of the trip. He had brought a number of high-powered lasers and set them up on various rock formations around Joshua Tree. The idea was that once one laser was turned on, it would point at some other location less than a mile away, and the group would have to find the next laser in that region with their headlamps and flashlights. The game was a ton of fun and required a lot of teamwork to pull off. Because James had a super slow shutter night mode on his camera, he was able to capture some nice pictures:



The first laser



The lasers split...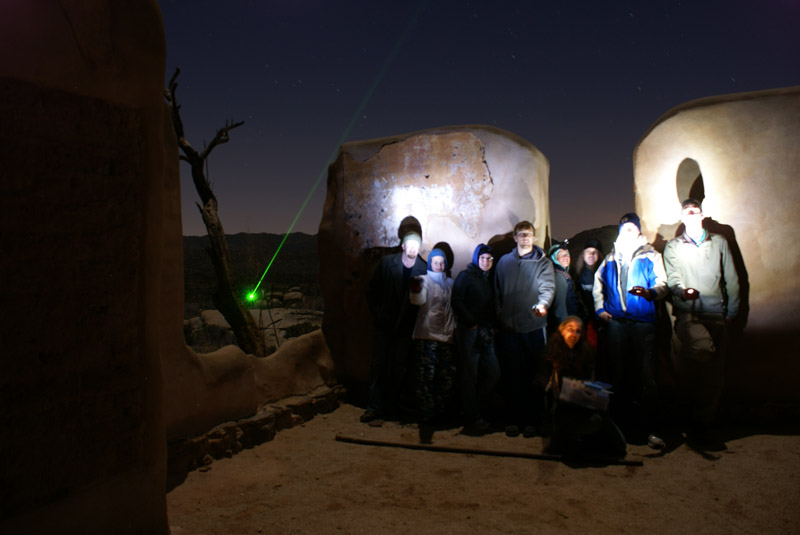 The Treasure at the Ruins

Along with these nice shots, he was able to capture some other cool photos with his wacky camera:




On the second day, while Alison, Colin #1 and I were bouldering, the rest of the group decided to go paint over the petroglyphs near Barker Dam:




They also captured this awesome picture with San Gorgonio mountain in the background:




After dinner, we were able to make it to Keys View to watch the sunset:




Once it got dark, we spent a few hours playing around with this really cool frisbee that James brought. It had a bright LED in the center than changed colors, along with some fiber optics that brought the color to the rim. There effect was a disk that was actually pretty easy to catch in the dark: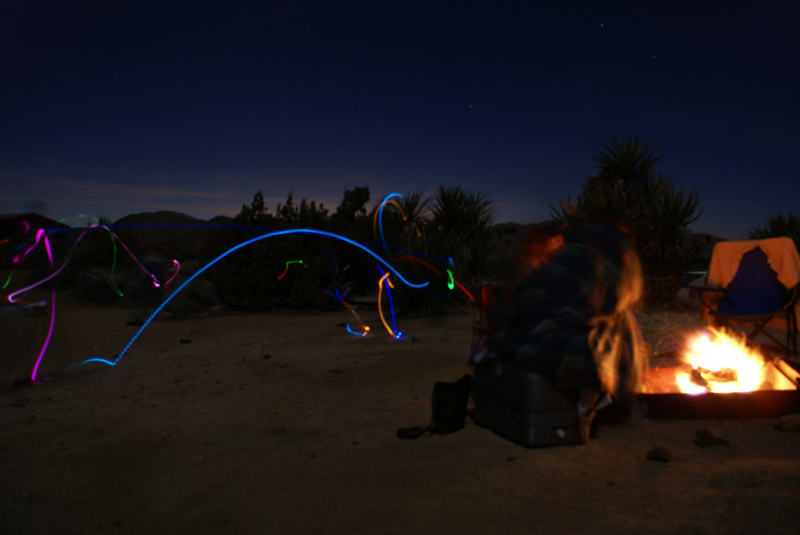 Later that night, we left for home. I was extremely tired behind the wheel, and Colin and I ended up crashing for a couple hours at Alison's place in Riverside before making the last leg of the trip.

On Friday of the week after Joshua Tree, Rafaela flew in from Philadelphia to visit. I was very happy to see her and planned to make her trip very enjoyable. On the first night in, I got her some Saladang and flowers and prepared a nice dinner in our apartment:




Colin and Rafaela got along great! Here's a picture of them acting like gangsters on my couch:




Rafaela and I went climbing together a lot during her trip here. I was very glad that she enjoyed it as much as I hoped she would. We also were lucky enough to catch a Built to Spill concert in Echo Park. Natali and Claudia decided to come along too. Here's the first opening act, Helvetia:




The second band was the Meat Puppets: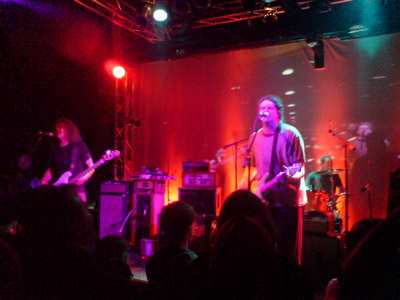 Here's us excited before Built to Spill came on:




And finally, Built to Spill themselves: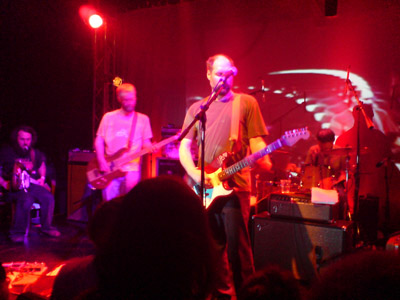 The show was absolutely amazing, and even the Meat Puppets were pretty good. One thing that I did not expect was for Natali and Claudia to enjoy it as much as they did, but I was very surprised there. Overall, it was a wonderful night and I am extremely glad that we had gotten the tickets.

On Monday Rafaela and I went to a place called Stoney Point for some outdoor rock climbing: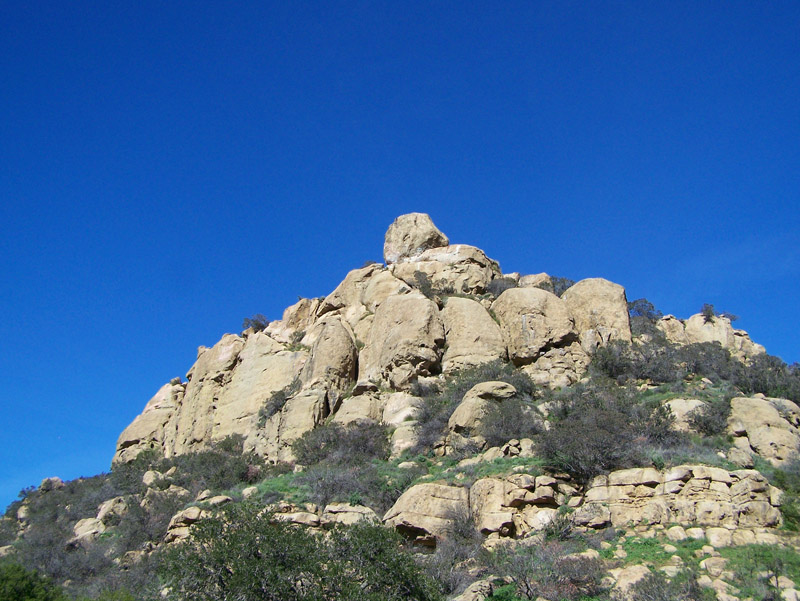 This large sandstone crag is about 30 minutes from Pasadena, and has been a popular climbing spot for many decades.



The Famous Conqueror Pose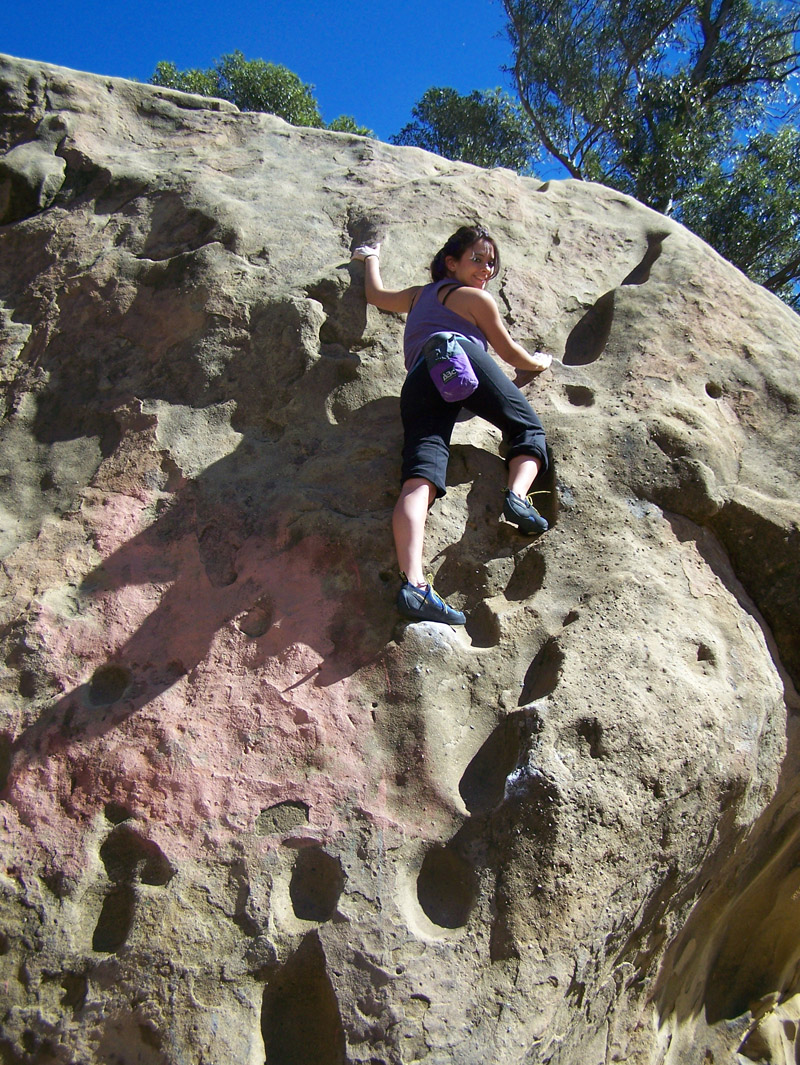 Rafaela Tackling a VB Route



Myself on "Untold Story" 5.7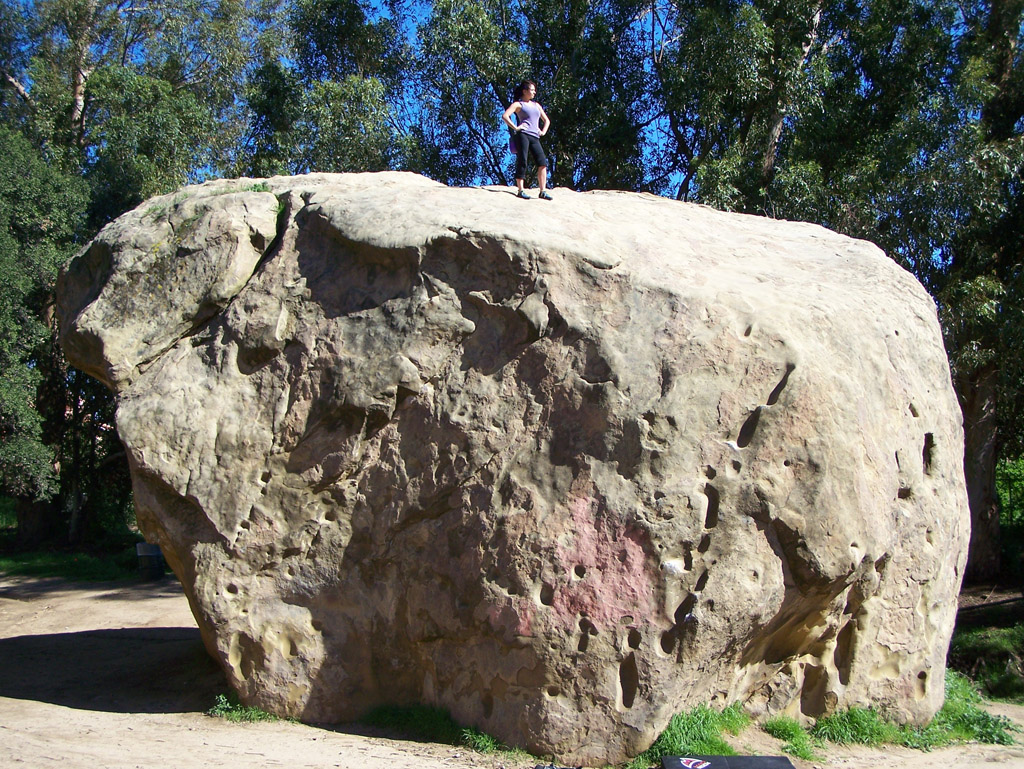 Rafaela on top of the Turlock Boulder

I was very excited to have found out about this crag, and expect to make many more trips here in the coming year.

On Tuesday night Rafaela and I hosted a party for the various groups of friends that we had in the LA area. The party was centered around a showing of Wet Hot American Summer on our theatre. Overall, everything went extremely well and I think everyone had a great time together. Although things got off to a slow start, people weren't opposed to starting the movie later, and it went over really well. Some of us even stayed up to about 2:30am in the pool throwing the football around.

On Wednesday I got news that I was going to be promoted to an HR manager at Kaiser, which essentially means that I will be in charge of the salaries, raises and etc, for my new team, which should eclipse ten people and will be multi-regional (NCAL and SCAL). It's an exciting promotion for me and actually more than I expected to get, although I do feel that I deserve it and hope to do a good job. Also on this day, Rafaela had two very successful interviews with some planning and design firms. The one that was her first choice pretty much gave her the indication that they wanted her and it was a matter of time before they would have a spot to put her in.

Overall, the entire week of Raf's visit went very well, and we had many opportunities to spend quality time together. Once Friday rolled around, I was again sad to see her leave.

On Saturday morning Colin #1 and I headed back to Stoney Point for more climbing. The details are here:

Rock Climbing at Stoney Point

Here's the Pic of the trip though:



Colin #1 on "Krunk's Traverse" V0
Rafaela left on Sunday. I'm beginning to get a bit sick of her doing that all the time :-/. Anyhow, the following week included a trip North for some more web services work with the National folks. While I was up there, I decided to make a trip to Lake Tahoe to visit James and do some snowboarding, and Jared decided to come along too.

Jared and I ducked out of work early on Friday (around 11) to head up, and we decided to take his new Honda Element since it has 4-wheel drive. The drive up was extremely beautiful and punctuated by spectacular views of the snowy peaks of the high sierras. Once we were in Tahoe we snaked up the mountain (getting lost a few times) and found his apartment right beside the slopes of the Heavenly resort, exactly where he bragged it would be.

James, Jared and I grabbed some delicious Thai food at a place called Orchids Authentic Thai in South Lake Tahoe before hitting the hot tub and meeting up with some outrageous girls. Before long, the whole group had come over to James's loft and the debauchery started. Here's the tamest pictures I could find from the whole evening:



Jared and James in the Cabin



Becky and her much less attractive boyfriend.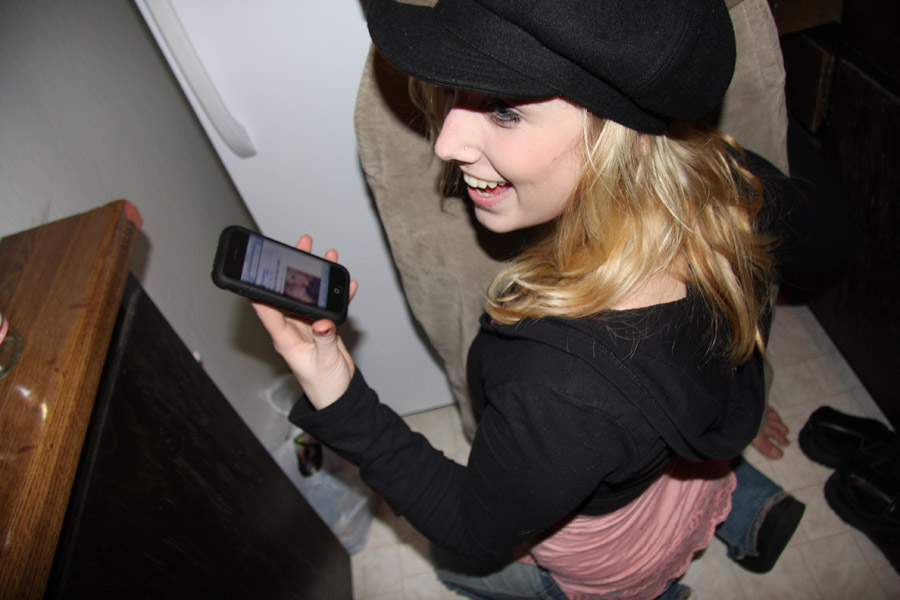 Emily and James's hip cell phone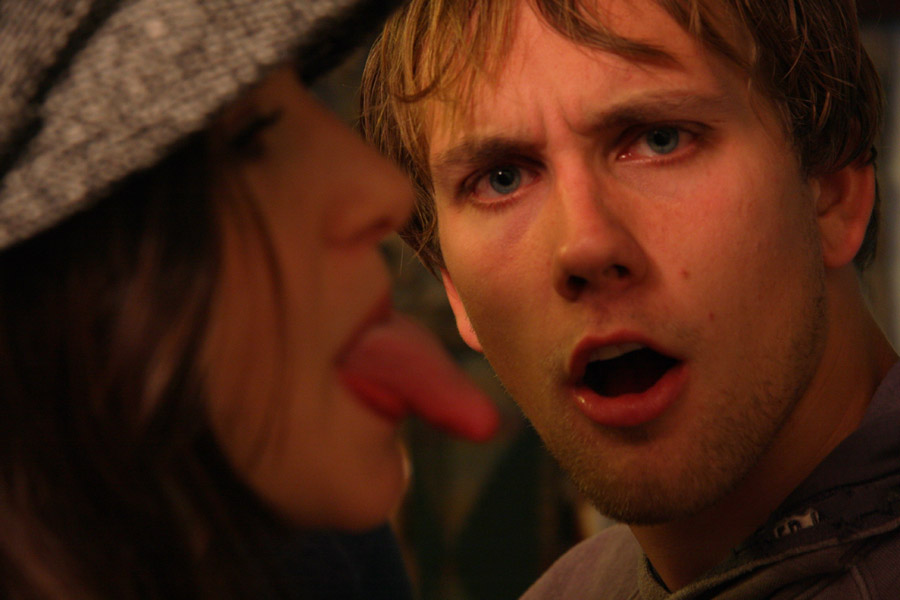 False Debauchery

The next morning we got up early and prepared for the slopes. Both Jared and I were very excited. It was his first time snowboarding and my fifth, but first in about six years. One of James's friends Brandon boarded with us pretty much all day, and he was a huge help to me in nailing down the various techniques. James spent most of his time coaching Jared, who was still working on staying up. We started at Boulder Lodge since there was a beginner run nearby. Here's a map for reference. Boulder is at the bottom left on the Nevada side of the mountain:




After a couple runs down the 'Edgewood Bowl' I took the North Bowl lift and started on some of the blue routes. The progress I made was phenomenal, and I loved the challenge. By the end of day one I had become very comfortable with both the toe and heal edge of the board and was working on my transitions. I had gone down the Olympic run several times without falling and was absolutely loving it. Jared was also enjoying himself, and taking it slow and safe. He even joined us for a run down the olympic route before the end of the day.

One thing that we hadn't expected was the strength of the sun on the mountain. Since we didn't wear sunscreen, both James and I received bad sunburns on our faces. Other than tending to our burns, we spent a long time in the hot tub to relax our aching muscles and prepare for the morrow.

On Day two we started on the California side of the mountain. We went up the Gunbarrel lift and traversed over to the Powderbowl lift. Then we went down Maggie's Run to the Canyon lift. The Canyon lift took us up to the very scenic and relatively easy Ridge Run, which we practiced for the whole morning. I even spent some time in the board parks with James and Brandon, although I didn't do any jumps. After a while we decided to take the Sky lift to the top of the mountain for the view:




At this point Jared split with us so he could snowboard all the way down to his car at the California lodge, and meet up with James, Brandon and I at the Boulder lodge. We were going to board all the way across the mountain. This turned out to be a challenge since there were lots of near flat spots which are difficult for snowboards. We had to maintain speed and avoid obstacles. We ended up making very good time, however, and arrived about twenty minutes before Jared. By this time it was about 4pm and we had time for one more good run. We decided to take the camera up this time. Here's Jared all ready to go:




Brandon was giving me some pointers to handle a complete white out:




Here's a picture of Lake Tahoe taken from the North Bowl lift:




And Brandon and I preparing to exit the lift:




The whole gang on top of the Olympic Run:




How stylish can you get?!




A snowball to the HEAD! Notice Nevada and California in one shot!
Heavenly Panorama




Brandon hopping on Olympic:




Jared and I chilling halfway down Olympic:




Masterful Leapage:




My famous Nazi Gasmaskesque style: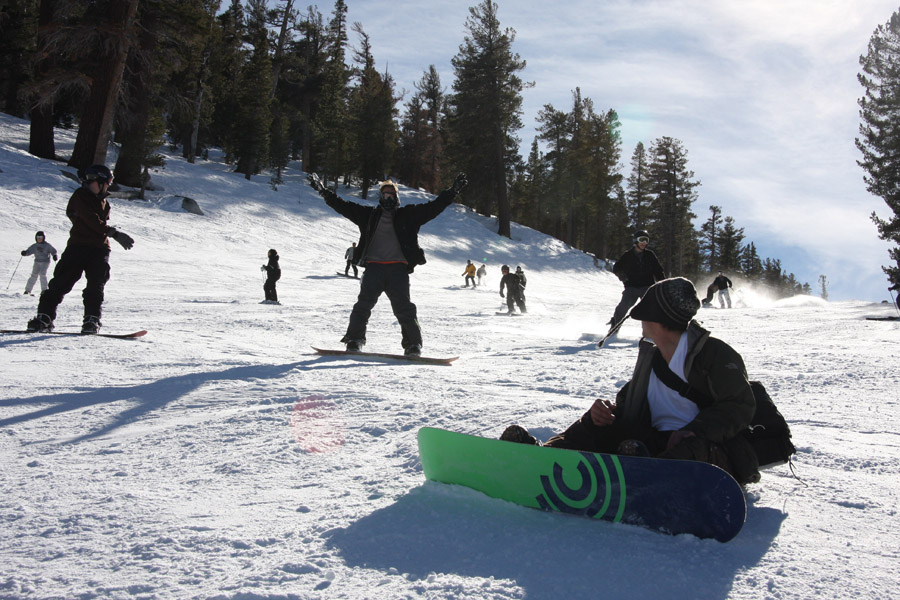 Brandon Jumping Again: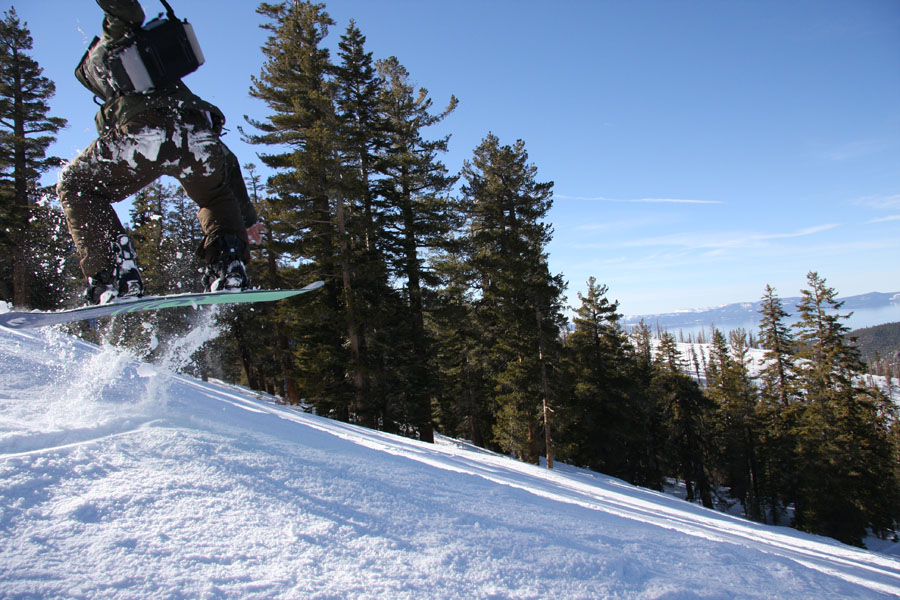 When the day was over we were all extremely sore, but still sad to have to have to stop snowboarding. I really fell in love with it on these two days. Heavenly is a wonderful resort for it and I had the optimal equipment and encouragement to make progress. I really owe James a lot for making the weekend possible.

After we finished bording, we immediately started packing James's gear into Jared's car for the ride back. It ended up taking a lot longer than expected, and James and I didn't roll into the Courtyard Marriott parking lot until a bit after 1am.

On Monday, I hardly did any work, and Jared and James and I decided to go into San Francisco for some grub in the evening. On James's recommendation, we went to a place called Straits in the downtown mall near Markey and Geary. The food was absolutely fantastic, probably the best food I've ever eaten in my life, and reasonably priced at that. If you're ever in San Francisco, please check this place out. You will not be sorry.

On Tuesday I worked until about 4pm before leaving to return to Pasadena. The drive home was no sweat and when I arrived I was very glad to be home. It seems that the weather has shifted in Pasadena and things are becoming noticeably warmer. In fact, there is the distinct smell of spring in the air, and it is time to end this Winter section.

Forward to Spring 2008
Back to Index