Back to Index
Back to Summer 2007
How I Made It In Vegas
At the Lips' concert, I met up with a girl named Kelsey who I hadn't spoken to since college. She had recently moved to San Diego, so I called her at the last minute and she met up with Jared and I during the show. We spent a few hours hanging out in Pacific Beach where she lives before leaving for a very late drive home. I was very excited about having a new friend to hang out with who was into good music and artsy stuff.

The following weekend, Kelsey was able to find time to make it up to Los Angeles to hang out for a day. She brought her dog Fable, who was thrilled to see a new place. Since the weather was really nice, and she had never been to Venice, we decided to make it a beach day. When we arrived the waves were upwards of eight feet high, which is the highest I've ever seen them in Venice. I messed around in them for a while, but after getting repeatedly destroyed, and not catching anything, I called it quits. We also spent some time walking along the boardwalk before heading back to Pasadena. Here's a couple stylish pics of this stylish girl:




In the two weeks immediately following the Flaming Lips show, Jared and I were also able to see Built to Spill and Clap Your Hands Say Yeah at a couple venues in Hollywood. The Built to Spill show was amazing, as always, but the Clap Your Hands Say Yeah show was a bit dissapointing due to audio problems. One of Dan's coworkers, Kent, came along with us to the Built to Spill show. Kent (or Kentine Ice as I call him) is a great kid, totally hilarious. He came along to one of the Princess parties earlier in the year as well. My friend Jon Stover was able to take one of Jared's extra tickets for the CYHSY show. Stover is a longtime friend of mine from childhood and he moved out to LA this summer to begin his career in Real Estate. It was through Stover that I met Rafaela, since they were in the same program together at UPENN.

Jared's trouble with Kaiser was continuing as we were having a very difficult time securing him a position there. As a result, he started looking into some contracting work as well as full time positions at other companies. After a few weeks it seemed like nothing was going right when he was finally given an offer by Kaiser to start in Northern California. Although the conditions weren't up to his expectations, Jared was happy to get something secured so that he could work on his knowledge and start earning a paycheck again. However, this meant that he was moving out and Dan and I needed to find another roommate, again.
I put another ad up on Craigslist and once again received a ton of responses. After meeting with a number of nice people, we decided on a french fellow named Marc Antoinne, or as we pronounce it, mah twah. Here's a pic of Mah Traw, myself and Dan:

**** Pic of Marc, Dan and I ****

The week that Marc moved in was also the week that Jared moved out, right around the 20th of September. Nobody was sad to see Jared leave.

What else happened on the 20th of September you might ask?!? Well, The Arcade Fire played a show at the Hollywood Bowl! Naturally, I wasn't going to miss this opportunity, and neither was Kelsey, so she drove up to LA and we got tickets there. Since we got the tickets so late, they were very very poor. I had no idea then how large the Hollywood Bowl is, but now I know it's absolutely huge. Even sitting halfway back from the stage is inadequate. There are only two options, buy crappy tickets and sneak into a good section, or buy really nice tickets. We chose the former ;-)

We were able to nudge our way into a pretty nice section, although it probably can't compare to what it would be like right near the stage. The band was touring for the release of their new album 'Neon Bible' which is very solid. At the time, I hadn't heard it, but that didn't stop me from ejoying the performance. I did feel that the material from 'Funeral' is a bit stronger, though. Here's some pics: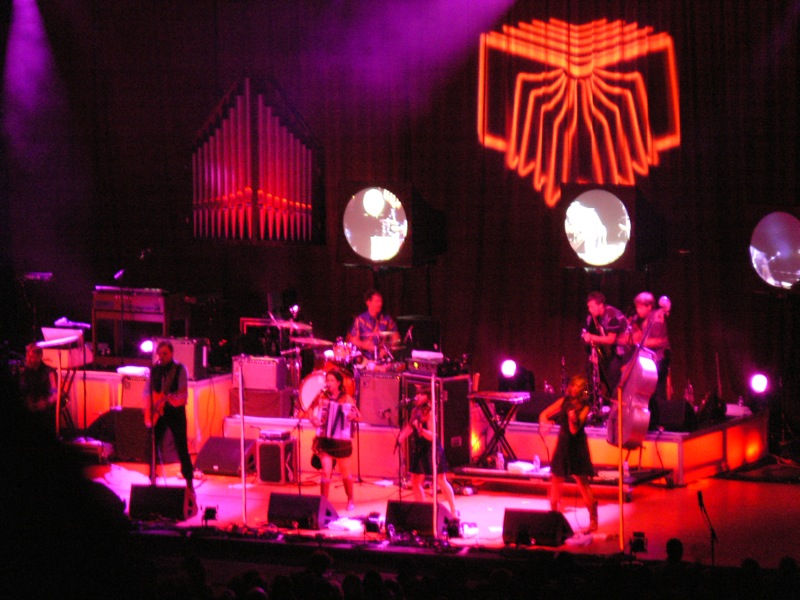 This was my first non-festival concert of this size, and I must say that the experience confirms my preference for smaller shows. Although I think they did a great job given the setup, it's nearly impossible to produce good sound and an intimate setting in such a place as the hollywood bowl. If we had stayed in our assigned seats, it would have been terrible.

After the show was over, and we were on our way to the subway station, I realized that I had lost my wallet. There is nothing that bugs me more than losing something, especially a wallet with about $200 cash in it. We frantically searched where we had been sitting, but found nothing. This put me in a pretty bad mood. We ended up walking about 30 minutes to the subway, followed by a 45 minute metro ride to Union Station. However, because of how late we were due to my wallet search, we had missed the last train up to Pasadena and had to find a taxi. There were several people waiting ahead of us, so it wasn't until another 90 minutes had passed that we made it home, and the fare was around $35. This made me feel even worse, since Kelsey had to pay, but I was just glad to be home so I could sleep. Somehow, Kelsey wasn't even slightly irritated by this whole chain of events, which is very noble of her.

The next morning, I got a phonecall from the Hollywood Bowl peoples and they had found my wallet. Although the cash was missing when I picked it up, this lightened my spirits a lot. To celebrate my quasi-goodish fortune, Kelsey and I grabbed lunch at Doughboys before she had to leave for San Diego.

Now that Jared and Rafaela were both gone, I was essentially on my own again. I had been aching to find more time for reading during the summer, and now that I had it, I began to take advantage. I fell into a very good study routine after work every day. Also, on weekends, I typically went to the beach to read and swim and sometimes played basketball with my friend Stover in Century City since my leg was getting a bit better. This style of life is much more introverted than the way I lived this Summer, but it suits my current mood, and I am glad to be getting so much work done. My favorite study work is in Ancient Greek, which has been even more enjoyable than I expected. I hope to read the Iliad once I've completed a few lesson books.

In mid-October Rafaela had a week long break from college and decided to fly back out here to visit. I was very excited for her trip and had planned an excursion to Joshua Tree. Since I had to work Saturday night, we decided to leave very early on Sunday morning. We ended up arriving in Joshua Tree around 10am and had no trouble finding a campsite in Ryan Campground. Since most people leave early on Sundays, we essentially had the campground to ourselves. We had a very relaxing day and fell asleep under the stars. I didn't bring my camera with me on this trip, but here's a few pics of two Joshua tree Oasis that I had taken on previous trips but never posted on here:




The remainder of Rafaela's trip was very good. We were able to be comfortably close to one another and less cynical than during the summer. She left on the Wednesday following the weekend at Joshua Tree. That next weekend, Kent and I decided to go on a bit of a bike adventure. I had recently purchased a few bikes, and was looking to give them some action beyond the daily commute to work. Here's the three that I bought:

Jamis Dakar XC Comp



Simonetti XTR



Kona Paddy Wagon Single Speed



I decided to take the Jamis that day since we were going to be doing some off roading. We first headed for the Rose Bowl, which was buzzing with activity for the UCLA vs Cal football game that day. The traffic was awful but we were able to bypass all of it on the sidewalks. Next, we turned South on Arroyo and followed the canals. There were some really nice off-road parts in here, exactly what we were looking for. Unfortunately, we were spotted by a few cops on horseback and they kicked us out since apparently bikes are not allowed down there, for no reason. We rode for a while on Arroyo until we found a bike path. The path was very nice and followed the 110 and the Canals toward Los Angeles. At some point, the path literally went down into the canals, and you could ride up on the cement sides, and back down, which was quite thrilling. Eventually we came to a park and decided to try to climb to the top of a large hill that was there. It was a bit tough to bike up and we walked a good portion of it. Once at the top, we snacked on some soup that I brought and rested on benches.

When we were ready to head out, Kent noticed that his tire was flat. Since we were 20 miles from Pasadena, we called Dan and had him come to pick us up. Before Dan arrived, Kent bought us snowcones from a mexican street vendor. The man literally scraped the ice off of a big ice block on his cart. It was very refreshing though, since it was a very hot day. After about 20 minutes Dan arrived and we dissembled our bikes and rode home.

A couple of weeks later I successfully convinced Kaiser to let me take a trip to NCAL to learn perl programming from George Neusse, one of the few technically brilliant people at the company. Since I still needed to drop some of my brother's stuff off in San Jose, I decided to rent a car and drive all the way up. The only National Rental car near Pasadena is at the Burbank airport, which is kind of annoying to get to unless you're driving, which I couldn't since I was picking up a car. I decided to try and bike all the way there from work at around 4:00pm that Friday, pick up the car, drive home, load it, and leave for NCAL, expecting to arrive at around 1pm. This plan had some variables in it, but I was optimistic.

The ride to the airport was a lot of fun, but it was longer and more complicated than I expected. I hit a few hills, but surprisingly the single speed Kona was able to climb a bit, probably thanks to its light weight. On most of the city straightaways I was cruising at the speed of traffic, something I've rarely done before on a bike. This trip really made me fall in love with the Kona, especially when I was able to pack it into the rental once I got it. It took about 90 minutes to bike to the rental car agency, and they gave me a brand new Black Pontaic G6 GT with only 450 miles on it. It's one of the better rentals I've ever gotten.

I left Pasadena at around 8:30, after packing all my stuff, and my brother's stuff into the car. I brought my entire CD collection with me, since the car's sound system was so good and my Ipod is in for repairs. The drive up was really enjoyable. And I made it to Jared's temp place as around 1:30pm. The following morning, Jared and I got up at around 7:30 and left for Yosemite National Park. The drive to Yosemite from Pleasanton is not as nice as the approach to Sequoia, but the entrance we chose was not optimal for inbound scenery anyway. Jared and I entered the first campground after getting into the park. The plan as to have a nice relaxing day today before doing more park exploration on our way out Sunday.

The drive through the park on Sunday was spectacular. The most memorable part was when we pulled into the first turnoff at the bottom of the valley and I got my first view of the mighty El Capitan:




At 3,000 vertical feet, El Capitan is one of the largest exposed granite formations in the world. It is also a haven for lunatic rock climbers who have to spend upwards of four nights on the rock to make it to the top.

Ok, so I know you're thinking two things:
- Where do they go to the bathroom?!?
- The rock wall isn't that tall, it doesn't take 5 days!!

For the first question, I honestly can't tell you. Perhaps they leave it on ledges, or perhaps they throw it down at like 3am when nobody is gonna get hit by it, i dunno... As for the second comment, I can show you exactly how long the journey is. Consider these two climbers, who are about 25% of the way up:




You'll notice the top guy is wearing a yellow jacket, which will make him much easier to pick out in these next pictures:




Convinced yet?




How about now?




Now I know you're convinced. How these folks make it up without dying of exhaustion, I have no idea. Also, what happens if they can't make it and need to come down?!? I don't think any rope could reach them and I doubt a helicopter or something could fly close enough to the wall..... Well anyway, you don't have to do it yourself, but ya gotta have respect for these guys.

But, in case you do want to try it for yourself, we took a picture of what it would look like to start out:




Doesn't look that bad, right?!? Well, Jared and I both tried to climb it, and we didn't make it much further than 5 feet off the ground, so I promise it's tougher than it looks ;).

The other side of the valley from El Capitan is also pretty majestic:




But it doesn't compare at all with the ridiculous size and height of Half Dome:




Here's a shot of the cliffs a bit further East of El Capitan: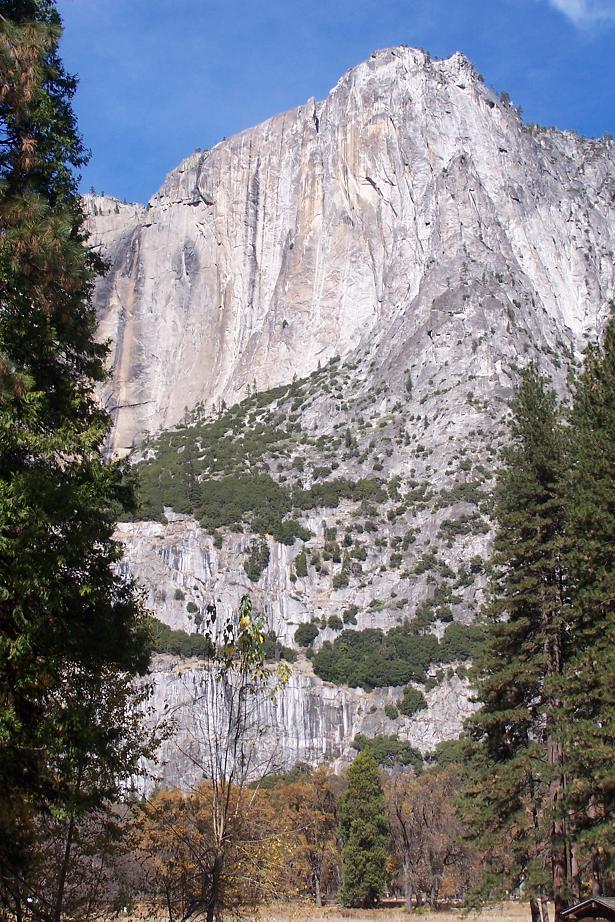 This was the last picture we captured before leaving the park and heading home.

Overall, I felt that Yosemite, from what I saw of it, had very different strengths than Sequoia. It seemed that Yosemite's attractions were mostly at the lower elevations, whereas Sequoia is known for its towering peaks. Yosemite definetely seemed more commercial, but it also had many more campgrounds as a result. I'm glad that the two parks aren't indentical and offer a great deal of variety to visitors.

For the week of my Bday, I spent most of my time in my hotel room practicing my Perl and CGI programming. Essentially I was learning how to build web-based tools that could interact with the various servers that Kaiser had. In addition, my learning in this area has turned me onto not only Perl and CGI, but also HTML and SQL. By the time I'm done working on these exercises, I will have a good grip on a number of systems and languages that are very powerful and useful. It is also possible, although doubtful, that this website might be getting a facelift in the near future.
Pretty swizzle, nizzle?

After returning from NCAL I struggled to get into my normal work/study schedule once again. After an entire week off, it is very difficult to keep oneself focused. About midway through my first week back, I was working with a girl from the Cadence team named Natali, who I suspected of being uncommonly cool and open-minded for a kaiser employee. On a hunch, I linked her to a wikipedia article about the Potala Palace, which is the true home of the Dalai Lama. As I hoped, this kicked off a kick-ass conversation about religion and philosophy that extended past five o'clock when I would normally leave. The next day, we sat down together to troubleshoot a strange Cadence issue relating to Hyperspace reports. The work session was as exciting as work session go. We weaved throughtout the system chasing leads and trying to figure out where these Cadence settings were located. Eventually, we were successful in finding some obscure Cadence global which had our data by using journal files. To celebrate our good fortune and bask in our 1337 sk1llz, we went to lunch together.

Our two hour lunch was even more thoroughly enjoyable than I could have expected. It very quickly became clear that having met Natali is one of the luckiest and most joyous events of my life. Her story is remarkable, and her great compassion and honesty are an inspiration to me. I hope to spend a lot of time with her, both to learn and to simply enjoy her company as a friend. Here's a picture of Natali:

***Need Picture of Natali***

The weekend after meeting Natali I went to Joshua Tree with Stover and a couple of his friend's, Sasha and Adam. This was my first (and last) time staying in Blackrock Canyon, because the rest of the park was full, even this late in the season. Despite how crappy the Blackrock Canyon campground is, the trip was a great success, and everyone had a wonderful time. Both of Jon's friends were easy to get along with, and I expect I will be seeing them a lot more in the coming months. This was also my first time getting back on the rock walls since my accident. Although we had a blast doing some bouldering, it became clear that I needed more gear to setup top roping anchors in J-Tree, so I'll be hitting up eBay shortly.

The following week was Thanksgiving, and Mah Twah and I decided to take a three-day road trip around the American Southwest. His friend Anand had recently been kicked out of Germany for being non-Aryan, so he decided to tag along as well. The three of us left at 5am on Thursday morning. Our first destination was Death Valley. This would be my first time there since Jared, Wunderlin and I visited in January. Here's a picture of our crew just before arriving at the National Park:




The first attraction once inside the park is the Dune Sea near Stovepipe Wells. Here's the frenchman and germanman enjoying themselves in the sand:




This joy lasted only a few more seconds, when Marc accidentally slipped. He started sliding down a tall, steep dune, when I snapped this picture instead of helping him:




It turns out he just wanted to hand me his car keys for some reason...
After we finished with the dunes, we headed south on the main route through Death Valley. At some point we stopped and decided to hike up into Golden Canyon. This is something that I couldn't do because of my broken leg when I was last here. The hike turned out to be even more fun than expected, and the color of the rock certainly fit the name 'Golden'. Here's me, not crippled, hiking up: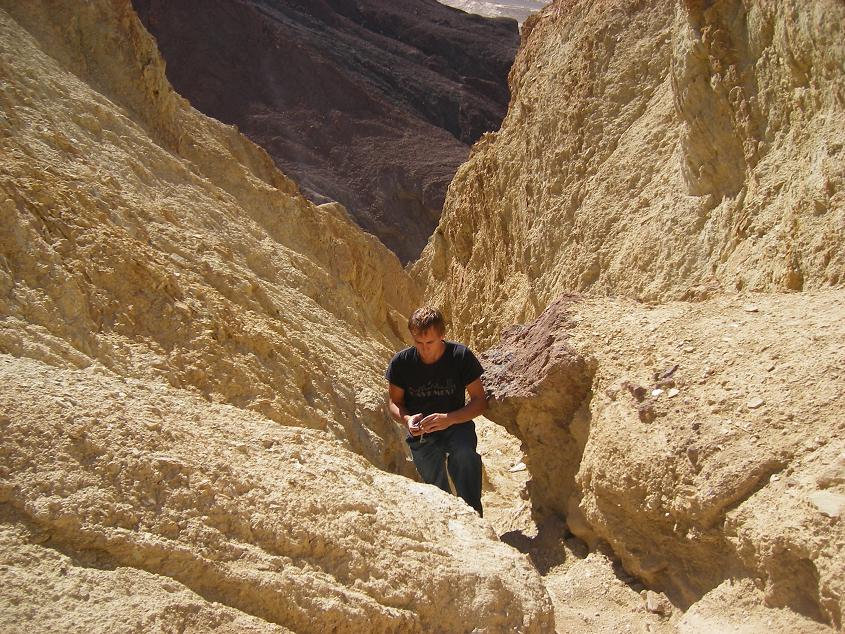 And here's Marc, having conquered our small portion of the canyon:




Because we were in a bit of a hurry to get to Vegas, we weren't able to continue climbing the canyon. I would really like to come back to Death Valley sometime to explore this and the many other canyons that for some reason seem very inviting to me. After Golden Canyon, we stopped for a bit in the salt flats, which hadn't gone anywhere since I last visited:




And, of course, the all-important lowest point in the country:




After Badwater Basin, we drove down a very scenic road called Artist Drive. The colors of the rocks here were beautiful. Because of the excessive brightness of the sun, however, the colors were largely washed out in my camera's pictures: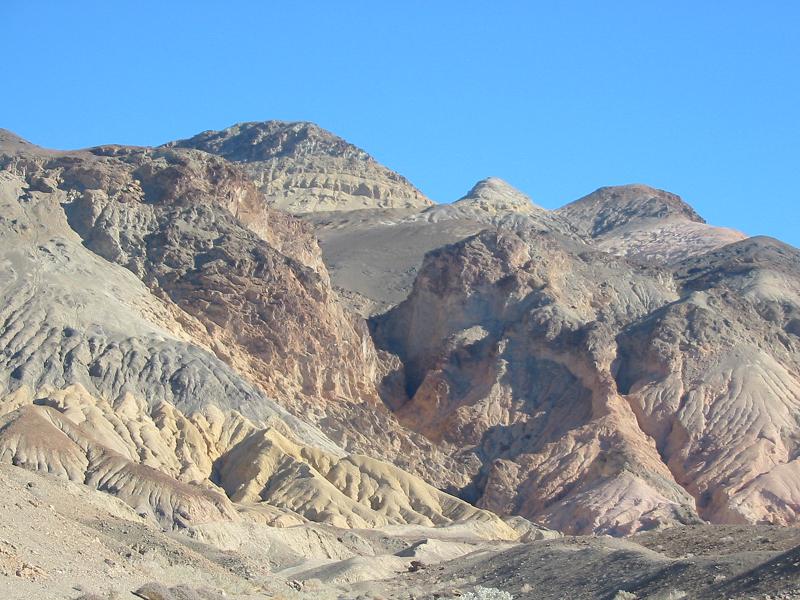 After Artist's drive we continued on our way to Vegas. The views as we entered Nevada were grand, with large mountains rising out of the desert all over. Eventually we found our way to Vegas, with the first major landmark on the strip being a faux Sphinx, faux Pyramid and faux Cleopatra's Needle:




In order to get to our hotel, we drove down the middle of the strip, which took about 2 hours due to traffic. We eventually parked and checked in though, and were happy to find that parking was covered by the hotel. After having a few drinks in the room we decided to head out and meander around the strip at night. Here are some of the major installations on Las Vegas Boulevard:



Caesar's Palace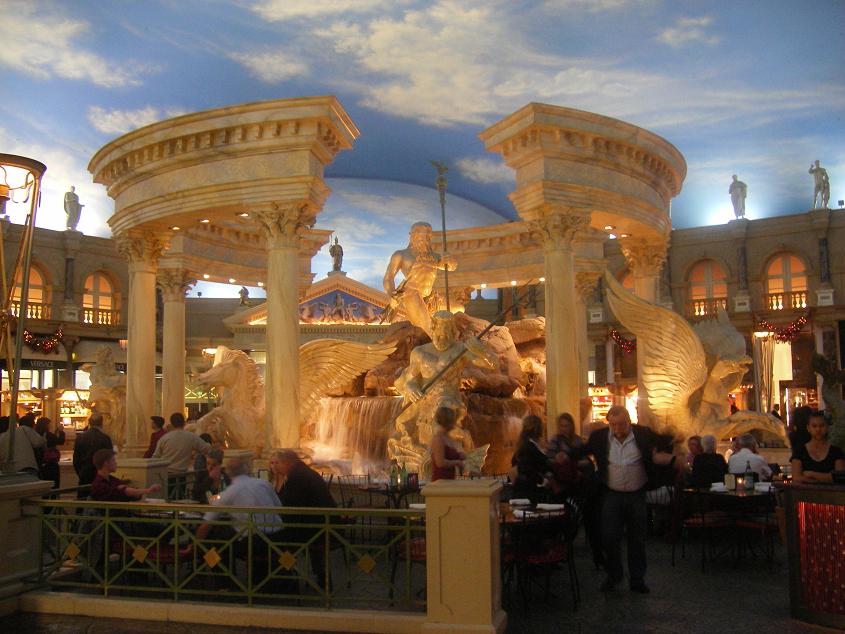 Inside Caesar's Palace




The Trio




Evil Trojan Horse




The Bellagio




Inside the Bellagio




Paris




Excalibur




New York

The evening basically consisted of just walking around gawking at things. It is incredible how many small-scale representations exist in this faux city. Much of it was very beautiful and made the trip to Vegas worthwhile in spite of how dehumanizing it is there. Everything else in Vegas seems like a Corporate Cash Grab. Everything is either overpriced (shows, shops, restaurants) or designed to strip you of your money (clubs, casinos). Nonetheless, we managed to fully enjoy ourselves this first night.

The next day we got up early and went to see the Hoover Dam and Grand Canyon. Our first stop was the Hoover Dam, which is a large Hydroelectric Dam on the Colorado River which effectively created Lake Mead:




Here is the Hoover Dam on the downstream side:




And here's the side where Lake Mead was created:




After the Hoover Dam we continued on towards the Grand Canyon. Our plan was to visit the West Rim, which supposedly is an Indian Reservation where they have a skywalk. However, when we arrived at 4pm, someone explained that they were closed for the day and that it was $50 per person, which I feel is ridiculous. Seeing our dejection, he did let us know that we could have a free look by driving down another road a few more miles. The road took us through an extremely large Joshua Tree forest before taking us to a vantage point where we could see Lake Mead in the distance:




After this, we were able to drive down a road which gave us views of the Grand Canyon. We got out of the car and hiked up a hill to get a good view. There was an interesting looking cactus on the way up:




And now here's some pictures of the Grand Canyon from afar during a sunset/moonrise:




On the way out of the park, we snapped a few more pics of Lake Mead that came out very well:




On the way back to Vegas we saw a couple of desert houses with true christmas cheer:




In Vegas that night we decided to check out the Venetian, which we had missed the previous night:



Inside the Venetian




Inside the Venetian




Inside the Venetian




Inside the Venetian




Go to Venice
The rest of the evening went uneventfully and the following morning we left Las Vegas, probably, for me, for good. It might be interesting to come back in 20 years or more when there'll be a lot of new craziness to look at, but I certainly am no fan of the culture there. Our first destination after leaving Vegas was the Mojave National Preserve. At the first junction inside the park, we spotted an abandoned house which we investigated: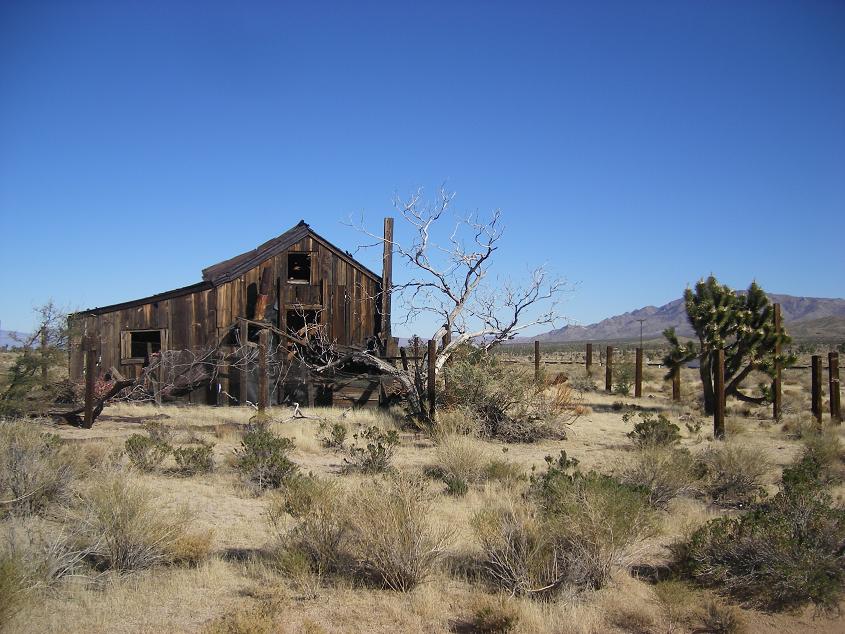 Near the house we found a huge Joshua Tree. Here's a picture of Mah Twah trying to get some shade:




We were able to make out some colossal sand dunes from a great distance and decided to drive closer to get a better look. It turns out that these sand dunes are over 600 feet tall. Notice the people on the top in the second picture:




After Mojave, we decided to drive through Joshua Tree before arriving back home in Pasadena. Here's some pics from the Wonderland of Rocks:




And finally, at around 9pm, we arrived home, exhausted. The trip, while a bit rushed, turned out to be a huge success! Since Thanksgiving has now come and gone, I'll put the next entries under the Winter heading, even though it's not gonna feel that way around here.

Forward to Winter 2007-2008
Back to Index