Back to Index
Back to Settling Into Pasadena 2007
After James left, Jenny and I had some talks and realized that since things probably weren't going to escalate any further, it might be best to just be friends. We still had a lot of fun together, but we decided that some more freedom might make things easier on us both, and we could still hang out under these new circumstances.

I learned that Rafaela had scored an internship in Los Angeles during the Summer via a contact that she had met during her visit here. I was very excited because this meant that we could hang out a lot more. It was with the City Planning group in City Hall for Los Angeles, and although it wasn't a paid internship, it was sure to result in a lot of connections and a serious resume boost.

Rafaela arrived on May 22nd, and I planned to take the next day, Friday, off so that we could make a 4 day camping trip to Big Sur. Before I begin, I'll make the disclaimer that I accidentally erased all of our Big Sur pictures, so the pics that I show here will all have been taken by other people, but they will be places that we visited.

The Region of Big Sur is not contained within one specific park. Rather, it is the entire California Coast between Carmel and San Simeon which are between San Francisco and Los Angeles. Here's a map that you can reference:




Since all of the State Campgrounds were full, we decided that we would just wing it the first night and look for a camping spot in the Southern edge of the region. Then, the next night we'd try to find something further North. The drive up was pretty scenic, especially the coastal spots of route 1. However, as soon as we started to approach the mountains, a huge fog descended on the road. We literally couldn't see a thing. The fog seemed to be moving upwards from the ocean. We could see the road directly ahead, and the rock wall to our immediate right, but nothing else. We felt this was really unfortunate since it made it hard to see the beautiful coastline.

The road was very curvy, and it was hard to drive faster than 25mpg. I ended up with much worse fuel economy than I anticipated. As a result, I had to fill up a few gallons in Gorda, which isn't so much a town as it is three buildings and an old gas station that charges $5 per gallon. I forked over the $15 and we continued. We were also making pretty poor time at this speed, and we decided to stay at the first campground we found. The first one on the map was Plaskett Creek, and we turned in. We were happy to find that they still had some sites left. We picked one, pulled up, and unloaded our stuff.

Since gathering of vegetation for the fire was legal here, Rafaela and I treked into the woods to find some dead shrubs and trees. The vegetation was dense, and pretty annoying, but we found some good stuff not far in. I hacked away at it and in an hour or so we had plenty for the night. We built our fire and popped some vicodins and settled in for a good discussion. Having the folding chairs and some extra blankets made for a comfortable and thoroughly enjoyable evening. The only worry we had was that the fog wouldn't lift the next day. I ended up taking a good quantity of Vicodin and was thoroughly content. When we retired into the tent at around midnight, I stayed up to listen to some music.

At around 1:30pm, my stomach started acting a bit funny. Before I knew it, I had a regular puking schedule. Every 45 minutes or so, for the next 18 hours, I had an uncontrollable urge to vomit. Eventually, there was nothing left. I ended up getting no sleep until around 5:30am when it was light. I slept for like 3 hours before waking up and breaking camp. I felt pretty good, except for the puking every once in a while. We packed up the car at around 11am and hit the road. The fog was still substantial, but there was evidence that it would lift for a good afternoon. Since we still had a long drive before the really scenic parts, we figured it might lift before we got to Julia Pfeifer Burns state park.

As predicted, the fog began to lift and the ocean became visible:




On the way to Julia Pfeifer, there was a construction zone that required us to go very slow to avoid workers. It turned out that my 45 minute cycle was up amidst the middle of this run, and I repeatedly puked into solo cups while somehow driving stick through the zone. I can't imagine what the workers thought. I pulled over as soon as we were through and disposed of them. We arrived at Julia Pfeifer Burns at around 2pm, and the fog had lifted a great deal. We parked and made the short hike down to an overview spot where we could see the beach and the waterfall: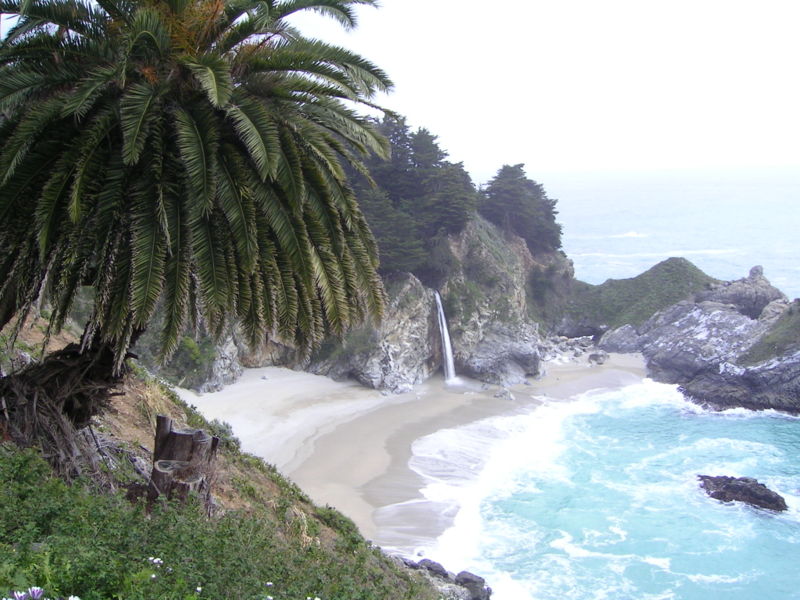 The further we made it up the coast, the more the fog lifted, until it was barely visible at all:




There were lots of turnoffs, and opportunities to take pictures, but we needed to find another place to camp, so we only stopped a few times. We decided to try for some of the first-come-first-served sites at Pfeifer Big Sur State Park, but we learned that they were full once we arrived. Across the street, though, there was a private campground that had some availablility for $25 a night. We decided this was good enough for us, and setup camp. Since there was still quite a bit of sunlight left in the day, we decided to do a short hike across the street in Pfeifer Big Sur. There was a waterfall hike and a nearby small mountrain trail so we did both. While I was walking, I noticed that a few bumps were starting to form on my forearm. I was worried that this was a sign of impending poison ivy, but I put it out of my mind. The hikes were pretty good, and we saw some large Redwood trees. After returning to camp, we picked up some marshmellows at the general store and found some more wood to burn that night. I stopped at the showers to clean myself of any potential poison ivy oil that might still be on my skin or clothing. I was exhausted from a long day of puking and had slept very little the previous night, so I passed out pretty early.

The next day, when we awoke, we noticed there was almost no fog. This was a good sign. However, I had skin irritations appearing on my legs, and the stuff on my arm was becoming a bit more pronounced. I immediately know what was going to happen and told Rafaela that we had to leave that day. We packed up the car and left. Since the rash hadn't gotten bad yet, I was still able to enjoy the day, and we stopped at Pfeifer Beach before leaving the area. The beach was really beautiful and had a variety of rock formations in the water. One of these we were able to climb (not without some fear) and snap some amazing pics of the water rushing underneath. Unfortunately, I don't have these pics anymore... We also spotted some seals not far from shore that were sleeping on top of one of the rocks. After watching the seals for a while, we went back to the car and drove South.

Since it was so clear, we stopped at a bunch of turnouts and snapped pictures:




We also hiked down to the water in a few places where we were able to grab some really good pics:




On the way back South, we noticed a beach where lots of strange, large objects were on the shore. Out of curiosity, I pulled into a parking lot and we stopped. We learned that this beach had been the home of a colony of Elephant Seals for thousands of years. These beasts are absolutely huge! Here's a couple pics of them: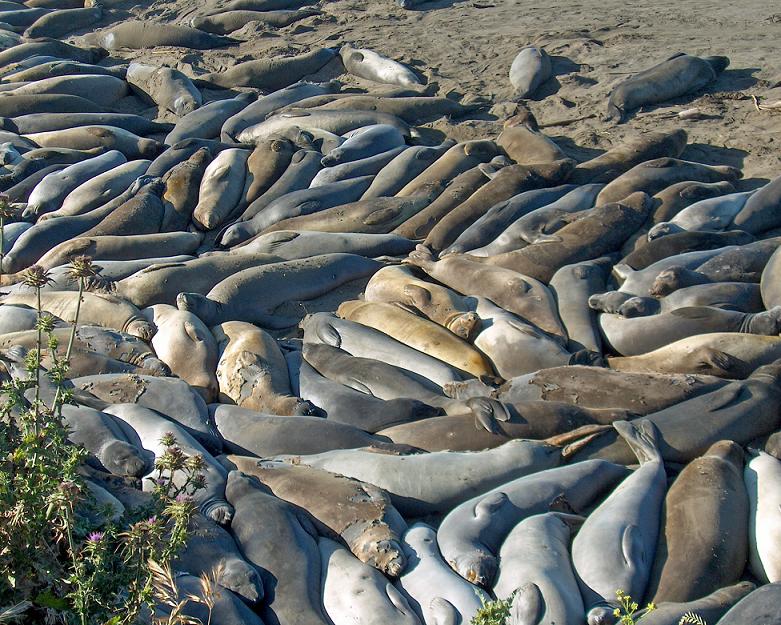 As I drove home from the seal beach, I noticed my legs becoming increasingly itchy. I knew I was in for it, and was verbally lamenting my lack of awareness in the woods at the first campsite. I took a quick shower upon arriving home but knew that the oil had already done its damage, and it remained to be seen how bad I got hit. I had purchased tickets to see the Ladytron DJ tour that night at a club called Avalon Hollywood, but I felt in no mood to go. Somehow, Dan and Rafaela convinced me to go, and I took some vicodin to make it easier on myself.

The club turned out to be an amazing venue. The drinks were extremely expensive ($15 apiece) so we didn't buy any, and just drank the bourbon we had in our flasks. The layout of the place was very cool. There was a main stage that was mostly for techno:




The Ladytron duo were spinning on a different stage that was on the second level. It was a smaller area, but it was perfectly suited for what they were doing. They were arguably the best DJ's I have ever heard (up there with DJ Gavin Holland) and they really helped me to get my mind off my affliction:




The show was from 11pm to 7am, which I found awesome, but we left around 5am. We spent a lot of time sitting on the balcony watching the people dancing below. When I got home, I quickly passed out, not looking forward to waking up.

The next day I noticed the rash spreading over the entirety of my legs and much of my arms. Even my ear started to feel a bit strange. On the third day since returning, it had completely covered almost half of my body, and was reaching a state that I had never seen before. It was absolutely miserable. It was in many of my joints so that I could hardly move around. The itching was so intense that I felt physical pain from it. I went to the hospital but they could do nothing but prescribe antibiotics in case I developed an infection (which I did). Knowing that I had to endure this pain for the next week or two, I was in a miserable state of mind. I can honestly say that this brought me lower than my motorcycle accident did. To have something that invasive and disgusting spreading over your body, without knowing when it will stop, is not a good feeling.
I called in sick to work that week, but still tried to do what I could from home. It was very hard to lift my arms, or to type. I spent hours on end laying in the exact same position on my bed, without moving an inch. I wouldn't let my roommates see me, and I even cancelled my trip to Northern California for the next week since I didn't think that I was going to be any better by then.

On that Thursday was the first positive sign for me. Although the rash was at its height, it started showing signs of reversal, and this did wonders for me mentally. My physical pain abated somewhat and I started feeling a bit optimistic. This trend continued into Friday, and I felt so much better that I asked to have my plans for the next week reschedules, so that I could still go to Northern California. Fortunately this was still possible, and everything was reinstated. We also got Rafaela some plane tickets so that she could accompany me. We decided to leave on Saturday morning so that I could spend the weekend with my friend Rob Melville who lived in Berkeley before work on Monday.

Kaiser provided me with a rental car that turned out to be a Pontiac Grand Prix. It was a pretty nice rental. We pushed a CD in the player and made our way from the Oakland Airport to Rob's apartment in Berkeley. Just before we arrived in Oakland, literally less than 12 hours, one of the major connectors for the Bay Bridge was destroyed when a gasoline truck slammed into a railing and overturned, then exploded. As a result, we hit bad traffic on our way to Berkeley and decided to stop in Emeryville to get some food. We went to a place called the public market that had food from all over the world. We grabbed some falafel and hummus and stuff. We reached Berkeley at around 3pm.

Rob's place in Berkeley was really nice, he lived in a house with a group of nerdy people who kept to themselves a lot. We ran to the store to grab some beer and returned to his place. Then we went to Telescopic Ave to check out the hippie boutiques. I bought a few indie things for friends at the Buffalo Exchange, and we returned to Rob's place to have a few beers. For the evening, we decided to take the metro down to Oakland to check out a bar called the Radio. It was an alright bar, but we unfortunately got too drunk and left without grabbing our credit cards.

The next day we all went into San Francisco to check out the waterfront district. This involved walking around the piers and grabbing some of the most delicious bread I've ever had at a huge bakery nearby. There were some rafts that were built to host a colony of seals: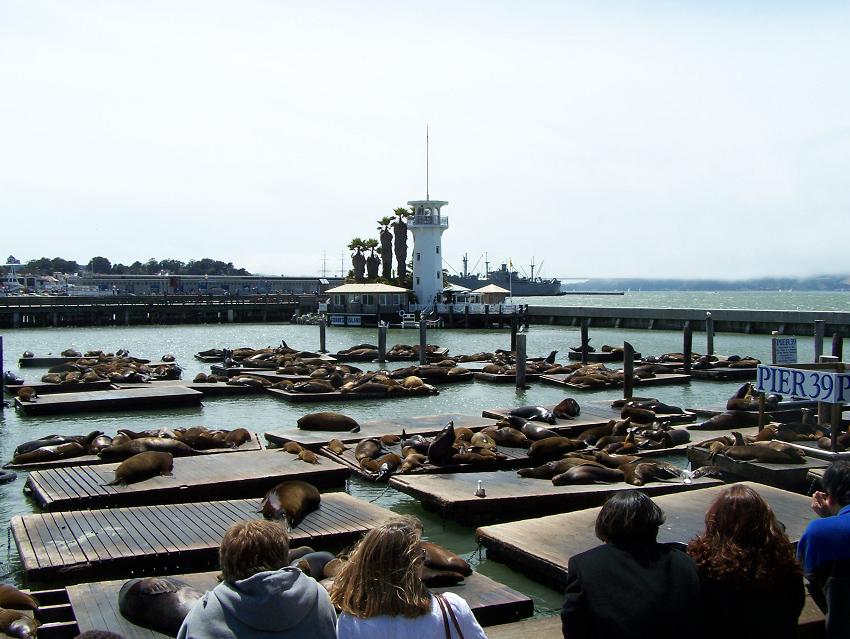 It was a lot of fun to watch them fight for spots on the rafts. Some of the bigger ones had entire rafts to themeselves and would knock anyone off who tried to take it over. While we were watching the seals, a bird decided it would be a good idea to poop on my shirt. I had to take it off and put it in a plastic bag for the remainder of that excursion. After we returned to the car, we decided to drive around in some of the hills of the city. It still amazes me how steep some of the roads are. This isn't one of the steeper ones, but you get the idea:




That night we moved into the Marriott Courtyard in Pleasanton. It was nice for Rafaela and I to have a room to ourselves. At this point, the rash was almost completely gone and I felt like I could exist normally again. The business purpose of the trip was that I was going to teach a course in Cache Technical Topics and I had to spend some time preparing for my first lesson the next day that night.

The next day we met for lunch and decided to go to Napa Valley for some wine tastings that afternoon. I made my best effort to get out of work a bit early and we jumped in the car and headed North. Rafaela had researched a few wineries that were very central in Napa and we figured we could just wing the rest, which usually works out for us. The first winery that we went to was Robert Mondavi. This one was pretty upper class: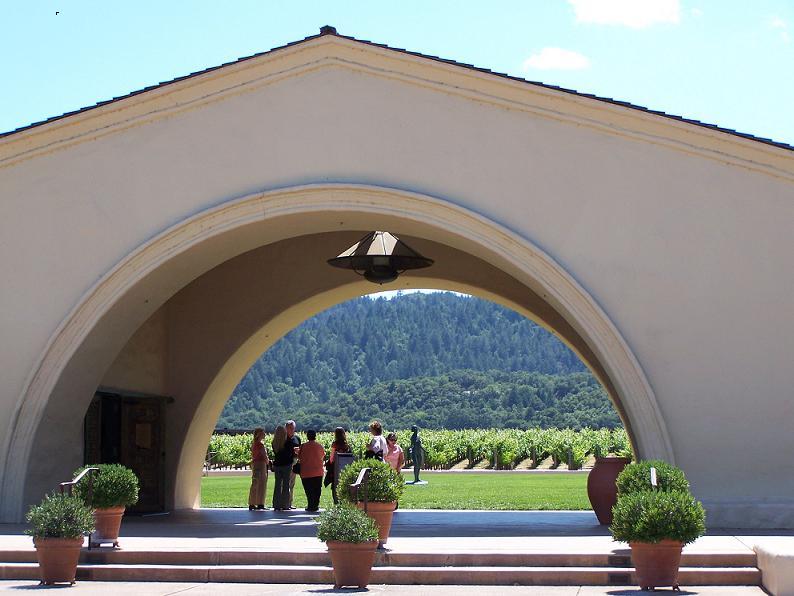 Wine: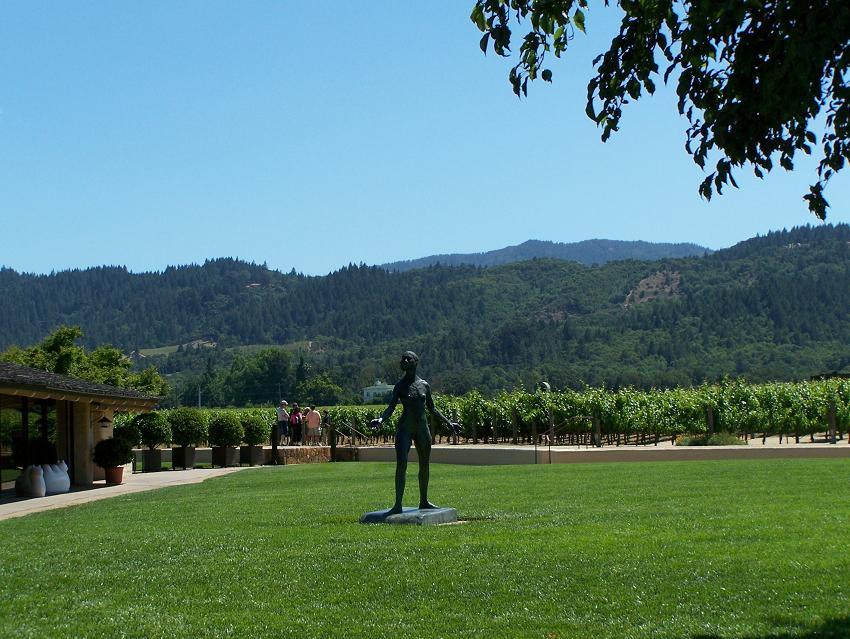 Robert Mondavi offered a tasting of two wines for $10, and you could keep the glass. The amounts were small, and this seemed a bit steep compared to what we were expecting. It was our first stop though, so we didn't mind. The next winery was Berringer. This one was also very nice, although a bit more rustic than Robert Mondavi. The tasting room at Berringer was full of people, and their prices were much more reasonable. We got a tasting course of 4 wines for $8. The portions were again small however. I preferred the tasting at Berringer to Robert Mondavi, but we decided to continue on. The next place we stopped was Merryvale Vineyards. This turned out to be the jackpot we were looking for.

We were given a tasting course of 8 glasses of wine, and their corresponding 8 glasses of the reserve quality, all for $15 each. These glasses were poured substantially. It was actually very interesting to compare the tastes of the regular vs reserve. I was surprisingly able to detect a difference. He also gave us each 4 glasses of $100 dollar wine just for being friendly! All together, it was 20 tasting glasses each, and we were really feeling it. Here's a cute picture of Raf and I together:




After Merryvale, and a bit of a nap, we decided to grab lunch in the town. We went to an upscale place called Market and had the only vegetarian things on the menu, which were pretty good. Then, we drove back to pleasanton and got some rest. During the remainder of our trip, we spent some time in San Francisco in the parks and hills, doing general sightseeing. We also ate two nights at Sozo Sushi in Pleasanton, which is the most creative sushi restaurant I have ever been to. Their specialty sushi menu has around 60 different items on it. If you ever go there, I highly recommend the Sozo roll. Although it's expensive, it's totally unique and absolutely huge. On Friday morning, we returned home to Pasadena.

Jared's eventual plan to relocate to Pasadena was coming closer to fruition, and I had given notice to the powers that be at Kaiser that he was going to be moving out and starting the process. In Early June, Jared moved out here, and lived on the couch before Claudia was fully moved out. One of our first projects was to rebuild the rooftop kayak rack so that we could try out the Kayaks in the ocean. I found some clean carpet in a dumpster, and we headed to Home Depot for some 2x4's. We pretty much followed the same method as the first time, except we used screws, and got a few metal corner braces, that helped a lot. It turned out much sturdier than #1. Here's a picture of the car all loaded up:

***Image of Rooftop Rack***

We immediately hurried off to Venice beach to test them out in the waves. Kayaking in the ocean with regular kayaks, and no skirts, is really hard. The waves easily topple you over, then you need to drag the heavy, water-filled kayaks out of the ocean and empty them out. It was almost impossible to make it past the breakers, and I only did it this one time: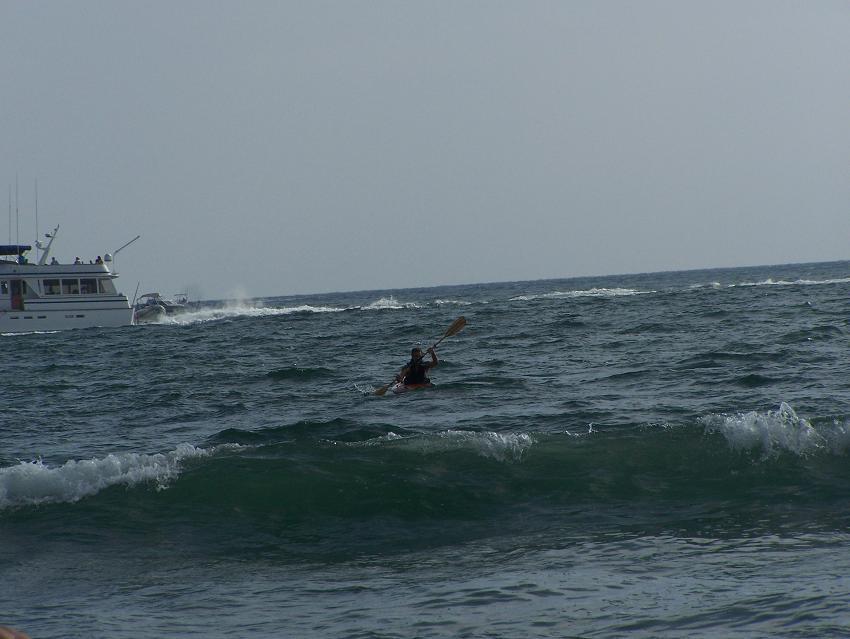 We took the kayaks out on two consecutive weekends. The next project of ours was to build some of our own furniture, which neither of us had ever done before. We went back to the Home Depot and bought a good amount of pine lumber, suited to the purpose. We also got some red mahogany stain, some shellac, brushes, and screws. It was a lot more fun that I expected, and both my mini table and Jared's bookcase came out great. Here's a picture of my finished table: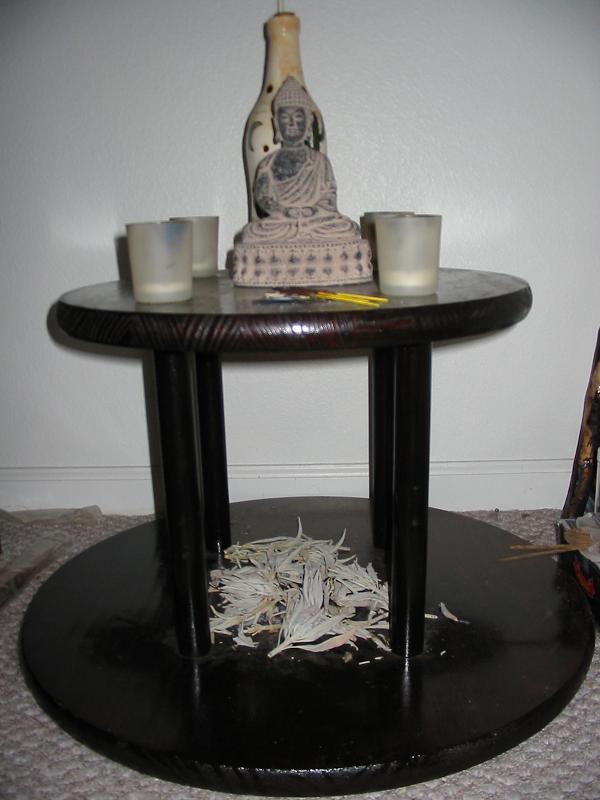 The next weekend, Jared, Rafaela and I decided to head up to Sequoia again, to see what it was like in the summer. We also planned on doing a hike and camping at one of the wilderness campsites. This would be my first instance of real camping this year, and I was very excited about it. We decided to stay at a place called Panther Gap which was at around 8100 ft elevation, and then hike to the summit of Alta peak, at 11500 ft. I'd never hiked nearly this high before, so I was interested to see what it was like. Most of all, I had read that Poison Oak doesn't exist above 5000 feet, so I was very relieved.

The hike from Wolverton to Panther gap was very difficult. Even though it was only about 2.5 miles, we were severely weighed down with all of our gear, and our water and food. It was also an elevation change of +1500 feet. However, when we finally made it, we were rewarded with the greatest view I have ever seen. It was fully panoramic, so we had to take a number of pictures to capture it:




On the far left, we could see the high sierra's, the tallest mountain chain in the continental US:




Amazingly, the campsite was in the middle of this amazing view, and we could not pass it up. I was amazed that the spot was available at all! The fire ring was perfect, and had some larger stones around it to sit on. There was also a good deal of downed wood nearby, so we were pretty much all set. We spent most of the rest of the first day marvelling at the view and tending to our campfire. I already knew that this was going to be a great camping trip.

The next morning, I awoke early to the sounds of an animal around our campsite. I got out of the tent and spotted a buck that was only about 15 feet away. I tried not to startle it, and woke up Jared and Rafaela. Raf snapped this picture of our friend Frank:




We thought that Frank was very shy, so we tried not to scare him away. Little did we know that he didn't care about our existence at all. Soon enough, he even brought along his wife and their two young bucks:




They hung out with us for a while in the morning while we were getting ready for our trek to Alta. At around 10am, we started on the 9 mile roundtrip hike. We only brought water with us, and were much lighter than we were the previous day. The going early on was pretty fast, in spite of a bit of lightheadedness from the altitude. Soon enough, we were able to see the peak itself: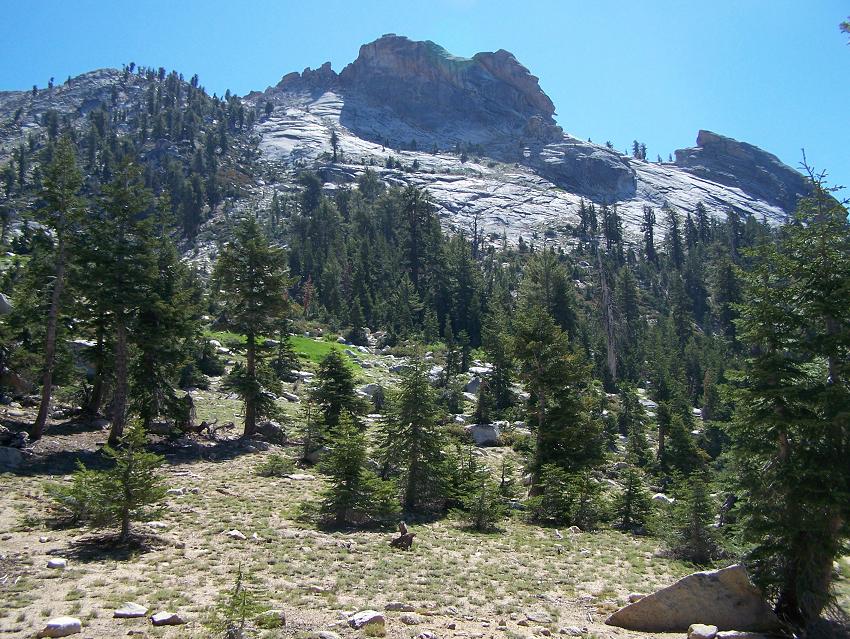 It didn't look so terribly far away at this point, we figured... We took rests every so often as each step began to get a bit harder to take. On one of these rests, we spotted a Marmot: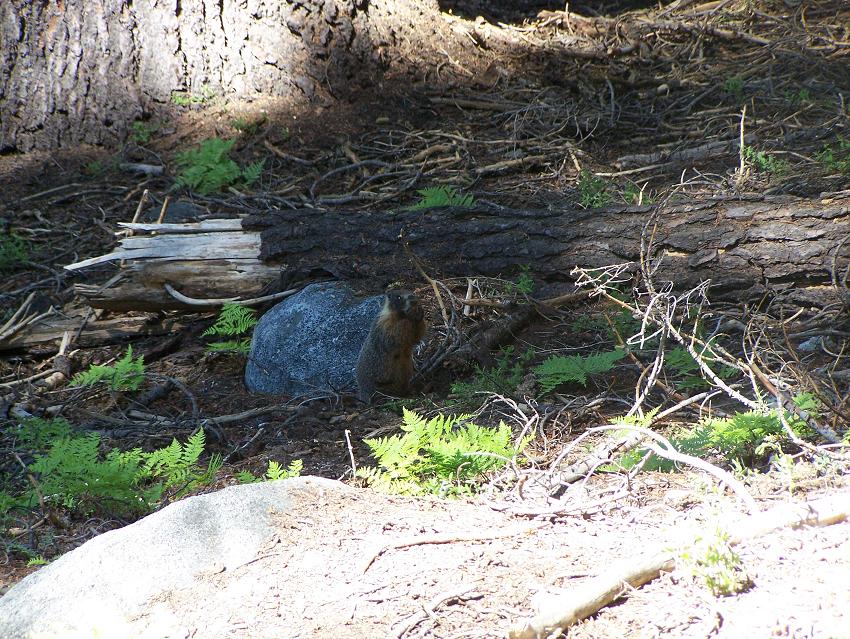 The views of the high sierras continued to get more spectacular along the way. This picture was taken at around 10,000 feet, with only 1500 feet to go:




When we turned up the back edge of the ridge and began the approach to the summit, all of the normal trees could no longer survive, and the landscape was very barren. Every step was increasingly steep, and the oxygen was very thin. It was so difficult that we had to take breaks every 5 minutes. The only trees that could survive at these extremely high altitudes were Bristlecone Pines, which are the oldest and hardiest trees in the world. Half of the year, they are buried in 8 feet of snow, and the other half of the year, they are baked with relentless sunshine. Here's Jared and Rafaela resting next to one:




The final 500 feet was torturous. Every step was a trial. We were determined to make it though and with a final push, we reached the very top:




There was a metal lockbox at the top with a notebook for people to sign who had made it up that far. Jared signed it:

"This would have been a lot easier if I wasn't blind." ~Jared Gorski

Followed by my signature:

"I just pushed some blind guy off the mountain." ~Colin Parker

Rafaela still hasn't told me what she signed it with. The view from the summit was completely panoramic and magnificent, and these pictures do not do any justice:




The way down was MUCH easier than the way up. In fact, we only took three breaks the whole way, and Jared even ran some of it. We made it back to the campsite at around 2pm. We decided to eat some mushrooms that afternoon and just relax with our beautiful view from Panther Gap. Although they hit strong at first, for some reason they only lasted for like an hour or so, and we ended up eating everything we had in hopes of getting something going. It worked ok for Rafaela and I, but not so well for Jared, who wasn't feeling anything. In the evening, the sky turned into a beautiful sunset and Jared was able to snap some pictures:




The sky was full of layers of color and the clouds were completely illuminated:




In the forest, the hues were so intense that it looked and felt like there might be a forest fire occuring. I had never witnessed anything like it, except maybe the Aurora Borealis, but this was far more intense:




As you can imagine, this was quite a site to behold in our state. When it finally got dark, we tended the fire and talked a while before falling asleep, exhausted. The next morning we packed up and hiked back to the car. On the way, we suddenly ran into a large black bear, less than 50 feet away from us, digging for some grubs in the trunk of a dead tree. We started making a ton of noise to try and scare it away, but it wasn't budging. Jared started blowing his whistle, I banged a stick against our bag of garbage (mostly cans), and Rafaela was yelling. Eventually, it turned and looked straight at us, acted pissed off, and lumbered away, extremely slowly. Rafaela snapped this pick as it was walking away:




That was the first bear I'd ever seen in the wild, and I'll be honest, I wasn't scared at all. If I had been alone, it may have been different, but I figured I could at least outrun Rafaela :) Once back at the car, I started the long ride home. As usual, I was the one who had to remain awake, while everyone else caught some zzzzz's.

Princess Party!!

A week after the Sequoia trip, Jon Stover visited from the East Coast. He had accepted an offer with a Real Estate firm in Century City and was here to try and find a place to live for when he came for good in August. He spent most of his time doing research online, but I did manage to get him to come to Doughboys and the beach with us one day.

Not long after Stover arrived was the week of the 2007 Pitchfork Music Festival in Chicago. I had already purchased tickets, since it was apparent that the lineup was going to be phenomenal. However, I was a bit apprehensive about the cost of plane tickets to Chicago in the summer. They were typically running at around $300. One day, I had a brainstorm that I might be able to get Kaiser to send me to Madison for training, and then I could just use the rental car and drive down to Chicago over the weekend. Fortunately, there was a Cache Systems Course for the new Cache version the three days before the Pitchfork weekend. This was absolutely perfect!!! I tried very hard to get my managers to approve the training, but they took the general consensus that I already knew this information or that they could get someone to come to kaiser and teach the whole group at a smaller cost. I kept pushing, and eventually they were so frustrated with me that they signed the Travel Authorization.

Rafaela of course came with me and I also brought extra tickets for Amber and Shawna and Dana and her new boyfriend Mike. In Madison, instead of staying in a hotel, I stayed with friends, including Duffy, Patrick Poyser and John Evans to save money. My training was actually very useful, and while I was at work, Rafaela was able to explore downtown, which she felt was very interesting.

Nothing tremendously interesting happened the first few days. Meeting Duffy again was a lot of fun, and free meals on Kaiser is always good, but ya know. On Thursday, Rafaela, Patrick and I met up for Mugaritas at Pedro's on the West side. I'd told Raf about how they have 36 oz mugs of strong margarita for only $4.25, so we had to check it out. After having a couple there, we went back to Patrick's place to get some rest. This was Thursday night. The next day, I had a shorter class and invited Rafaela to come with me and let Patrick give her a tour of the new Epic campus. For those of you that don't know, Epic invested about $200,000,000 into the construction of a new corporate headquarters in Verona, WI. The two designing teams are the ones who designed the Microsoft complex in Seattle, and the folks who designed Disney World. As a result, the campus was a techonological marvel, as well as very artistically styled. It truly is world class. However, it's not quite finished yet, so these pictures were taken before it was fully complete: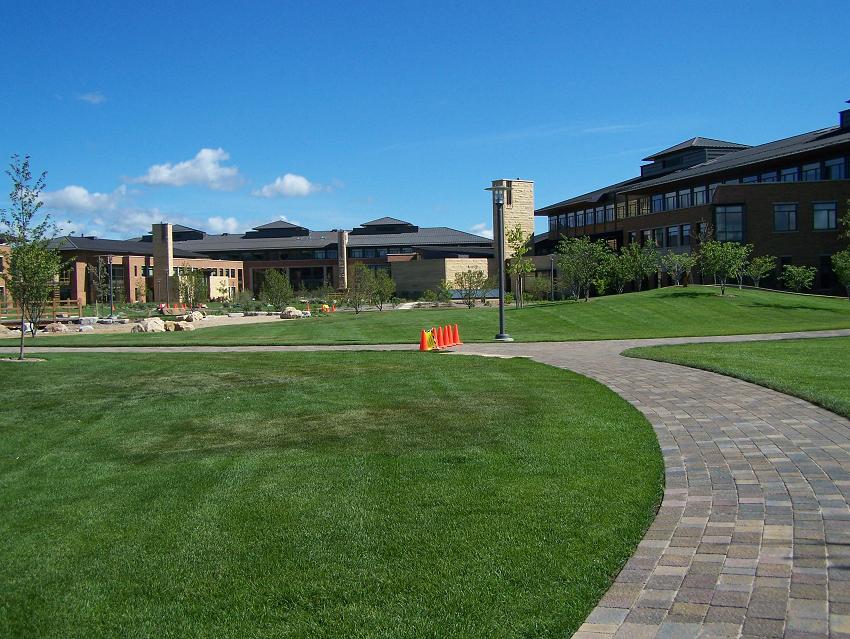 I left training early, and picked up raf, who had heated up our 3 Ian's pizzas. Then, I picked up Amber and Shawna, and we hit the road for Chicago. We hit quite a bit of traffic on the way down, but we made it to the festival with plenty of time before Sonic Youth came on. Here's a picture of us, all together and full of happiness:




Slint, the first band, sounded really good. I wasn't so into the next act, some derivative of the Wu Tang clan. Sonic Youth was absolutely fantastic though. They played their landmark 1988 album 'Daydream Nation' in its entirety. Totally awesome. We didn't get any pics, but there are vids on Youtube. Just search for 'Sonic Youth Pitchfork'.

That night we slept at the house of one of Rafaela's friends in the 'burbs. It was very convenient.

Before going to the festival the second day, we stopped by a town nearby which featured a number of houses designed by Frank Lloyd Wright. The architecture was certainly very interesting, and aesthetic. It would be awesome if all houses in this country had so much thought put into them. Here's a picture of one of the houses:




The second day's lineup was:
Yoko Ono
Cat Power
Clipse
Mastodon
Iron and Wine
Girl Talk
Grizzly Bear
Voxtrot
Battles
Califone
The Twilight Sad
Fujiya & Miyagi
Oxford Collapse
Dan Deacon

We were also joined by Dana and Mike on the second day:




Unfortunately, we missed Dan Deacon. We caught Battles, Grizzley Bear, Iron and Wine, Girl Talk, Clipse and Cat Power, but it wasn't nearly as interesting of a day as we knew Sunday would be. As a result, we spent a lot of time walking around, and looking at people and stuff. Here's a picture of some stuffed animals that we knew wouldn't cause children to go insane:






Rafaela found a stuffed animal with a split personality to match her own:




I don't have any pics of the bands from the first day because I was capturing video bootlegs with my digital camcorder. My favorite acts were Iron and Wine, Grizzly Bear, Battles and Girl Talk. The second night, we tried to contact Rafaela's place, to sleep in the same location, but for some reason he was unreachable. As a result, we searched for a cheap hotel throughout the near Chicago suburbs. Not surprisingly, even the cheap hotels were very expensive, upwards of $150 per night. We ended up getting the last vacancy at a Days Inn in the crapiest part of town I'd yet seen. The hotel was horribly kept, and even at 11pm there was load music and children screaming and running around everywhere. Since we were desperate, we ended up taking it. Their charge was $100, but since it was obvious that nobody had cleaned our room before we moved in, I haggled them down to $50. Rafaela and I slept on the floor while Amber and Shawna took the beds. We got some very good sleep.

The next day, Sunday, had the most amazing lineup:

The New Pornographers
Stephen Malkmus
De La Soul
Of Montreal
Jamie Lidell
Junior Boys
The Field
Menomena
Deerhunter

We arrived at the festival pretty early and claimed a spot in the shade underneath some of the trees. We had never heard of the first few bands, so we figured that we'd just relax and listen. Deerhunter's opening song, however, changed this plan. We quickly noticed that something was different about this band, and stood up to join the crowd. Their set was a very atmospheric sort of My Bloody Valentine, with many builds. It was a complete surprise, but set the stage for the rest of the day. Unfortunately, my digital camcorder died in the middle of the Deerhunter set, and i wasn't able to capture vids from the rest of the Sunday bands.

While Menomena played, we spent a lot of time walking around, although we were very impressed with their set from a distance. The next band to come on that we watched intently was the Junior Boys. I wasn't terribly impressed by their first album 'Next Exit' but I found their live show to be thoroughly enjoyable and much more upbeat and dancier. The next act to take the stage was Jamie Lidell. I had heard from Gavin that Jamie was something else, but I didn't know what to expect. He turned out to be arguably the most entertaining act of the festival. As a one-man act, his set was indescribable. Again, all I can refer you to is Youtube. I know there are some vids posted there of his pitchfork set. Rafaela snapped this picture of him in his hilarious stage getup:




His style was a fusion of soul music and beatboxed electroclash. He would loop his vocal beats on top of one another to create complex layered melodies, and then sing inspired soulful lyrics on top. It was totally unique and the crowd loved it. The next band that we caught was Of Montreal. Although I had heard many good things about this band from others, I had never heard there album material directly. They were very theatrical and the music was very solid. Here's a pic of them doing their thing:




After Of Montreal was Stephen Malkmus, formerly of Pavement. He was playing solo accoustic and I had no idea what to expect. Fortunately he played a good number of Pavement songs and his set was very enjoyable. I wasn't impressed with his dress though:




The last band to play on Sunday was the New Pornographers, who I hadn't seen yet. I was very excited to see them perform my favorite songs, and I was not disapointed. Although Neko Case was not with them, they still kicked butt. Their drummer somehow was able to smoke cigarettes, drink beer, and perform dazzling tricks with his drumsticks all while playing. Here's a pic of the entire crew:




After the final set was over, we left and headed back toward Madison. We made it in good time, and I still had an hour or so to stop by and say hi to Martin, who had just returned to Madtown for Grad School. Rafaela and I woke up early the next morning to leave for the airport so that I could get to work in Pasadena at a reasonable time.

A couple of weeks later, my sister Katie visited from the East coast. Katie had recently graduated from High School. Here's a pic of her with my mom on graduation night:




And with my dad:




She also had accepted a Division I scholarship to play lacrosse at the University of Connecticut. Here's a pic of her scrimmaging this summer:




Since her plane ticket was costly, and she had never been to California before, I decided to try and make her week here as jam-packed as possible. After picking her up at the airport at around 5pm, we headed directly to Venice Beach to check it out. We played some basketball and walked around the boardwalk.

I decided that since Sequoia had been so beautiful the last time, it would be nice to camp at Panther Gap again and do a different hike. The morning after I picked her up from LAX, we left for Sequoia, and brought Jared along. We packed a bit lighter this time, since we knew that there was clean water near the campsite. The hike up to Panther Gap was still strenuous, but we made it in less time. We were worried that our beloved campsite would be taken, but fortunately it was not. Katie took some of her own pics of the view: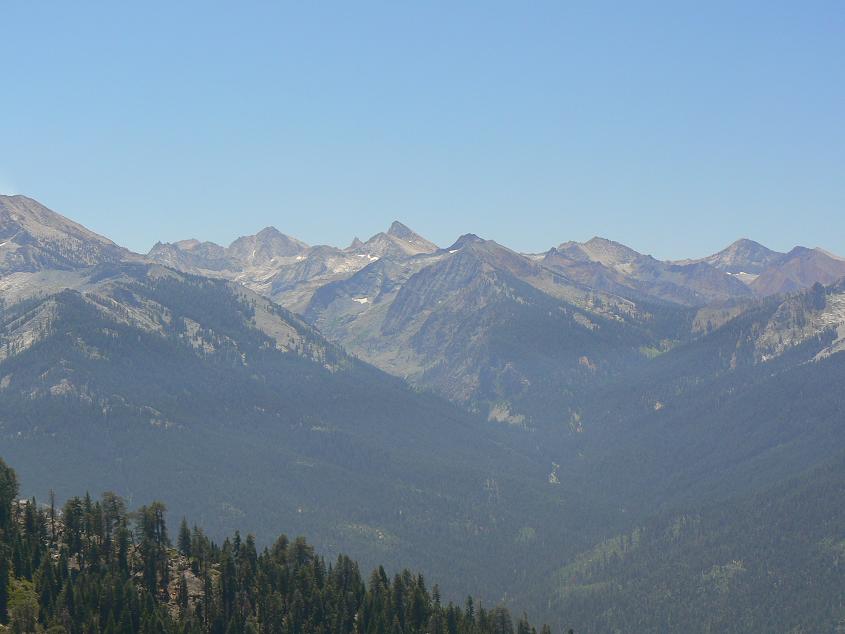 She also snapped some of our campsite after we got things setup:




Not long after we got there, one of Frank's friends, Steve, dropped by for a visit:




And later that afternoon, one of Steve's friends, Franz, stopped by:




We spent about a half hour following the bear through the woods, keeping our distance, before doing a small hike up the nearby hill. We were able to get some pretty good views of the valley from up here. Here's a pic of me enjoying the view:




And here's a huge rock that we spotted down in the bottom of the valley. Notice how tiny the trees are next to it:




After we returned to camp, we built a fire, and then turned in:




The next day, we decided to do some hikes up to Pear Lake before heading out. We packed away all of our stuff and carried our backpacks down to where the path forked up to Pear Lake, and stashed the bags behind a fallen tree. We just brought some water with us, and went on our way. The way to Pear Lake turned out to have views that rivalled the Alta Peak hike, which was completely unexpected. The first stop on the hike was a place called the Watchtower. It was a rocky outcropping that had a 2000 foot dropoff. Here's a few pics:




These people at the bottom were mere specks, not even ants. This picture was taken at 10x zoom: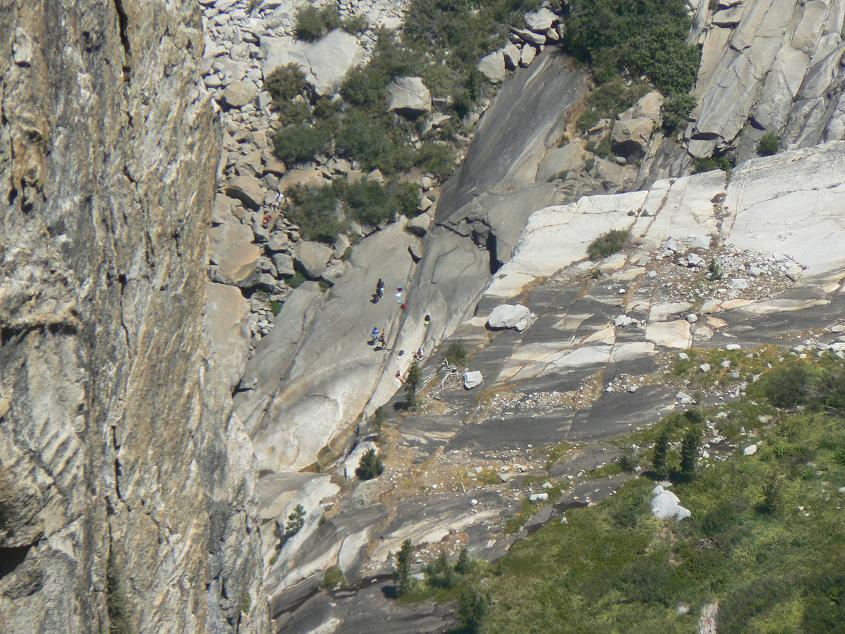 Here's a picture of the trail we were on. It wasn't for people that were scared of heights.




Eventually we finally reached the lake. It was absolutely beautiful and sat at around 10000 feet. The water was very clear and somehow had fish in it: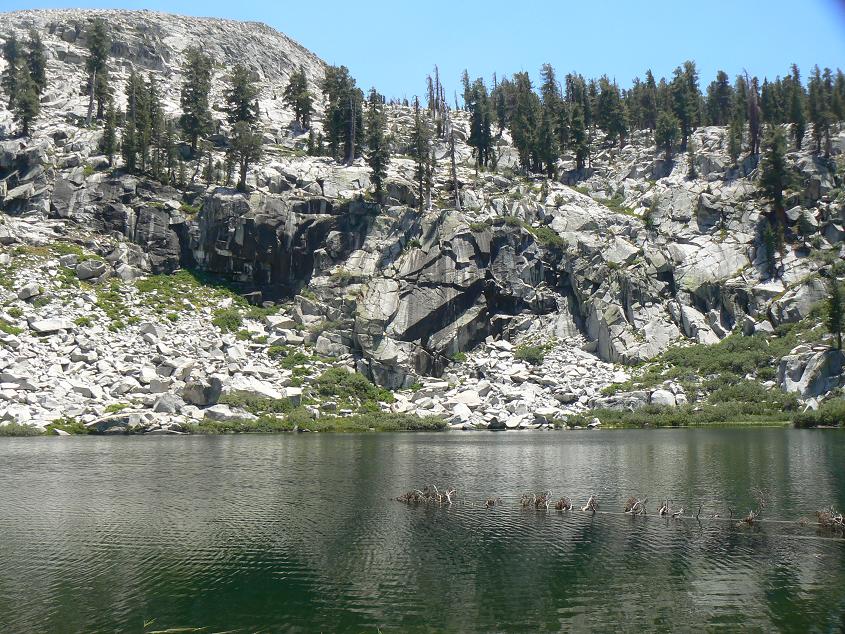 Jared and I decided to go for a swim:




After we swam, and chased the Marmots away from our stuff, we headed back to the car to drive home. On the way, we stopped at the General Sherman tree again to see what it was like in Summer. My sister captured this pic, which gives a little more perspective on its size:




On the drive home, as the sun was setting behind us, the clouds were completely illuminated with color. It was one of the most spectacular sunset I've ever seen, rivalling the one the previous time at Sequoia:




The next week, Rafaela somehow got us invited to a party thrown by the Princess of Morocco in Beverly Hills. We weren't going to turn it down, so we got Katie, Jared, Dan, Rafaela, and myself on the list. It was pretty hard to follow the directions to the house, on top of the hills, but we made it eventually and were greated by valet parking. We made it through the bouncers at the front no problem, and entered the house. It was very evident that the primary purpose of this house was to host parties. There were many very open rooms full of lounge chairs and couches:




There was a two-level balcony overlooking the LA skyline that had many tables and an infinity pool and jacuzzi.




We tried to fit in as well as possible, and perfected our douche poses, which you can compare with our normal poses.
Normal:




Douche:




The bar was exclusively top shelf, and 100% free. The champaigne was $100 per bottle and it was going fast: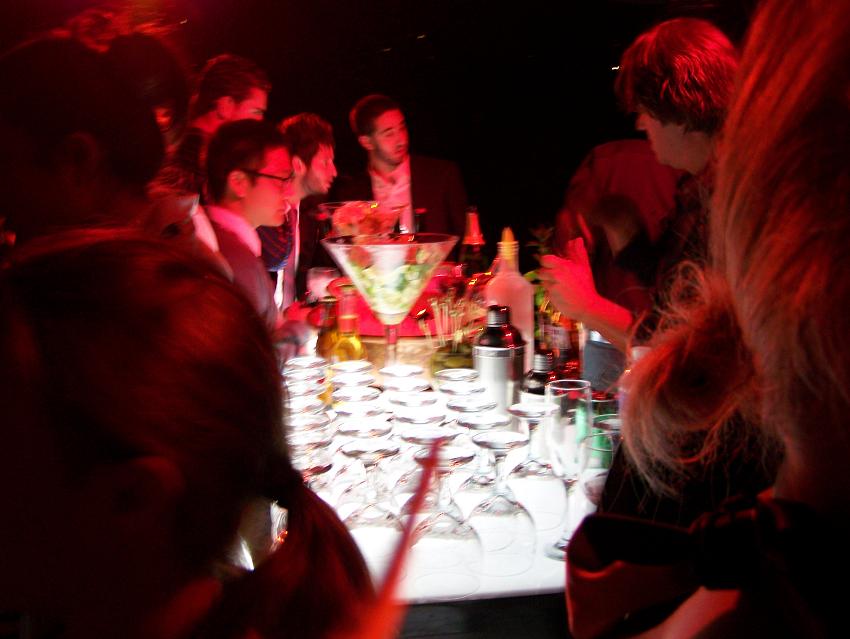 Here's Jared and I enjoying our drinks:




Later on, I was very drunk, and became greatly frustrated with my sister.
Normal:




Frustrated:




It was a very enjoyable evening and I got very pleasantly drunk. I hardly remember being driven home, but I awoke the next morning in my bed, which is the important thing. The next day was the last full day my sister was in town. We decided to take a day trip to Joshua Tree and do some hikes. This was going to be my fifth time in the park since January, but as always, something new always happens.

This time, the something new was an acute thunderstorm that was passing over a part of the park. It was an absolute deluge, but we were never caught in it directly. It caused the air to have a very refreshing smell, and we frequently heard loud thunderclaps:




On our first small hike from the car, we spotted this very oddly shaped Joshua Tree:




Here's some other funky fawna we found:




The second small hike that we did was to see a small dam that had been built in the park in the early 1900's to contain some water. Since it was now late summer, the amount of water was greatly diminished and the lake had become mostly dried up:




Jared spotted the dam:




Then I climbed onto it:




We also stopped by to take a look at the Native American Heiroglyphs again. Even though I'm 1/8th Native American, I couldn't read what they said!!?!?:




And neither could Jared because he turned momentarily retarded: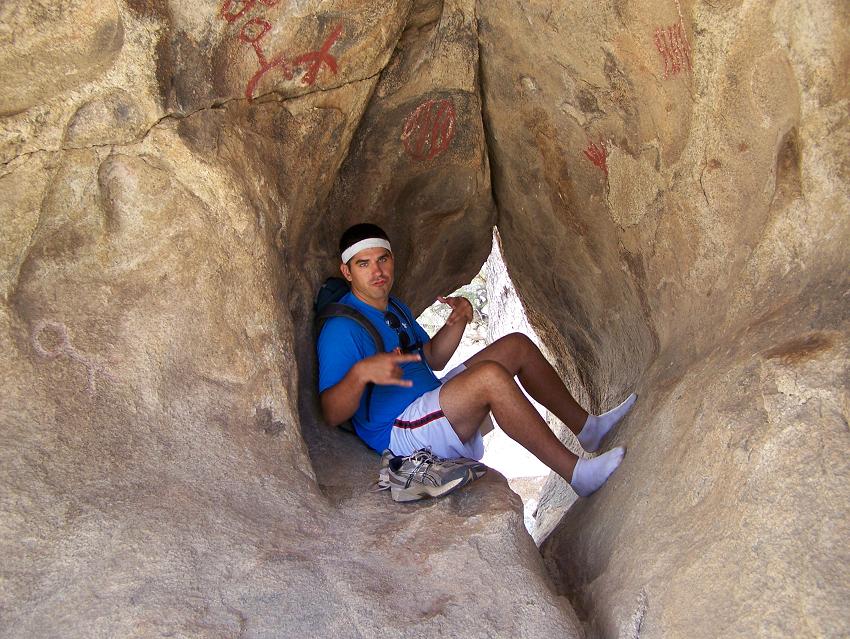 The next hike that we did was up Ryan Mountain. This trek is not too long, but it's quite a ways up and was very tiring in the blazing heat. Here's some pics from up top: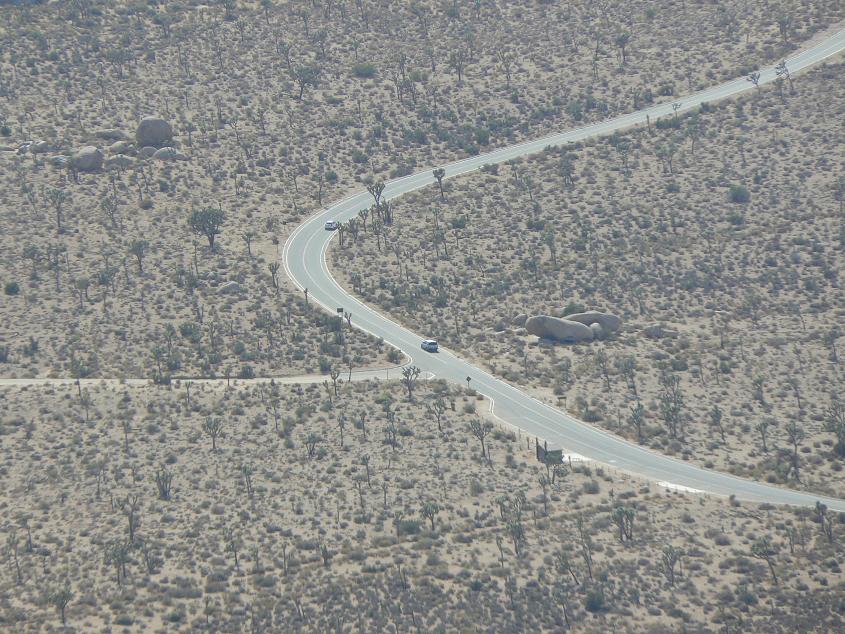 Once we got down from Ryan Mountain, we headed South toward Cottonwood. We passed through the Cholla cactus patch again:




We stopped at the Cottonwood Oasis and did one last small hike to the top of Mastodon peak. The peak is not very high, and the climb is fun because it involves some rock scrambling. Oddly, there's a picture of what looks like a Manatee at the top of the peak, so I think it should be called Manatee peak. Here's a view from the top:




On the way down from the top, Jared got a bit excited to be done with hiking for the day: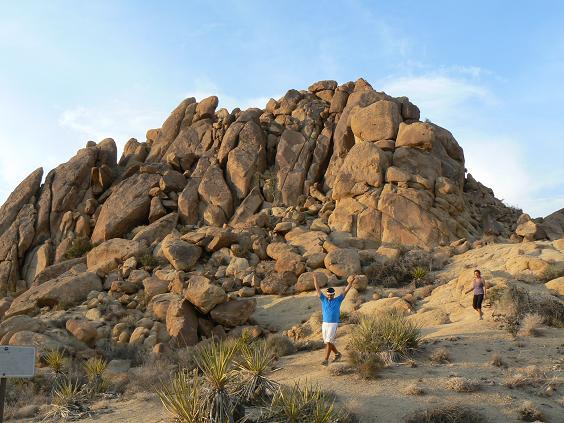 We were all exhausted from the long day, and many of us slept on the ride home. Thankfully, Jared was driving this time. Katie left to return to Rochester the next day. I think she got the complete experience while she was in LA.

The weekend after Katie left, Jared, Rafaela and I decided to do one of the hikes in the San Gabriel mountains right next to my house. Since there were tons of trails everywhere, we decided to just make random decisions and see where it took us. It was pretty amazing how much poison oak there was, but thankfully it was easy to spot since it turns red in the fall and I had studied the leaf patterns. We were able to avoid it and I didn't develop any rash this time.

Most of the poison oak was in the form of small plants, but one example that we found was a full blown shrub. Take a look:




Of course I didn't actually touch it. We did a lot of climbing on rocks off the path and turned around after a few hours. It was a really enjoyable hike in the end, but I really don't like the poison oak, it's literally all over there.

The following weekend, we were invited to another Princess Party, at the same place. This time, the crew was Dan, Rafaela, Kent (Dan's NASA friend), Jenny, Jake (Jenny's boyfriend), Ronen (my friend from way back) and myself. Here's Raf and Kent on the way to the partay:




Here's Ronen and the rest of us trying to be as cool as possible: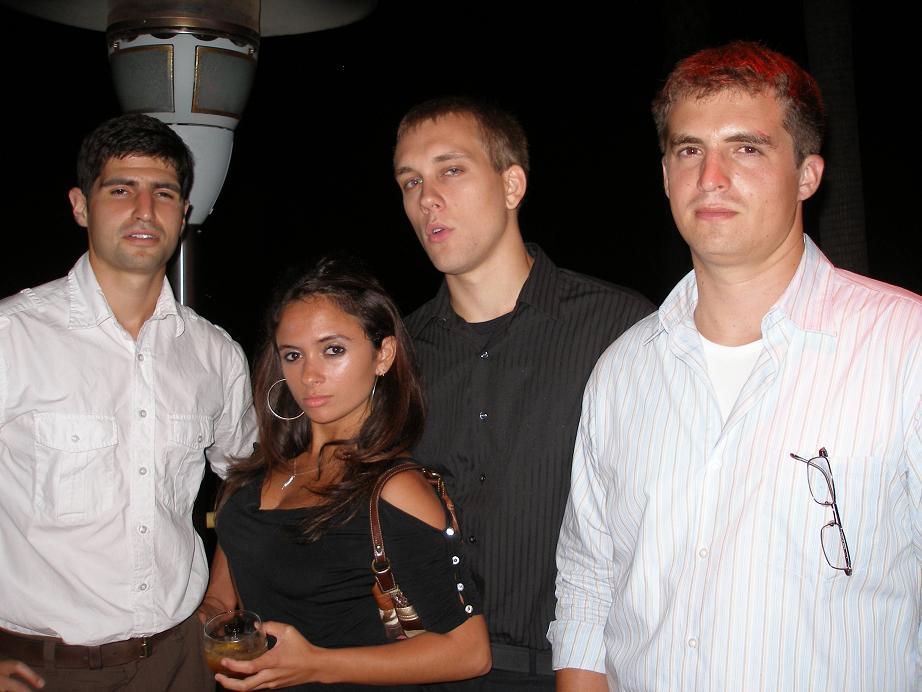 Rafaela and I were experiencing terrible mood swings all night: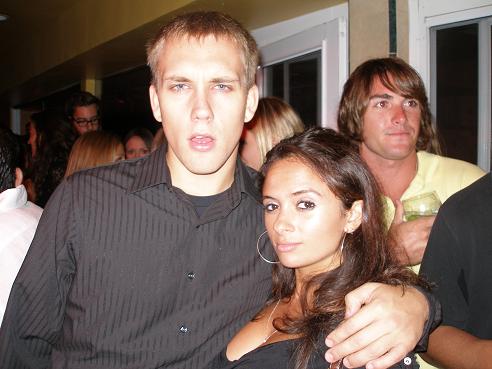 The other guys were having their own issues as well. Jake's on the right:




The girls were doing a lot better. This picture is high on the spice factor:




Coincidentally, the only picture taken, either night, with the princess in it, was behind me while I was posing humorously on the pool table:




Enjoy that picture, because it's the last princess party picture I've got! The next weekend after princess party #2, Rafaela and I went to the Sunset Junction Music Festival. They block off a large part of the area where Santa Monica Blvd and Sunset Blvd intersect and have stages setup and play lots of music. We showed up just before the Blonde Redhead set. They were outstanding and very tight live. They played a couple songs that I recognized from Misery is a Butterfly, but most of the material was from their new album, 23, and I hadn't heard it. It sounded amazing though:




The next day we got a big group together to go to the beach as a sort of farewell to Rafaela since it was her last week in town. It was also a chance for me to try out the new boogieboard that I had just gotten. A bunch of friends came along with us, and it was a special day for Rafaela. I took her out to dinner that night at Saladang Song, which is a more authentic Thai cuisine compared to the normal Saladang. I think it is actually better. We spent a lot of time together for the remainder of the week before she left on Thursday.

Even though it was sad to see Rafaela go, and I miss her, I have tried to use my extra time to catch up on reading and other things, like this website. I'm currently reading the Thousand and One Nights which is very hard to put down, and I'm also working on learning Ancient Greek, which is very difficult.

The weekend after Rafaela left, Jared and I learned of a free festival in San Diego featuring the Flaming Lips. We couldn't believe it and left the next morning for the show. We arrived an hour after the gates openened and still were able to secure a spot at the very front for the Flaming Lip's stage. Many bands played before them, and they were all pretty good. They included:

Flaming Lips
Z-Trip
Black Rebel Motorcycle Club
Galactic
Delta Spirit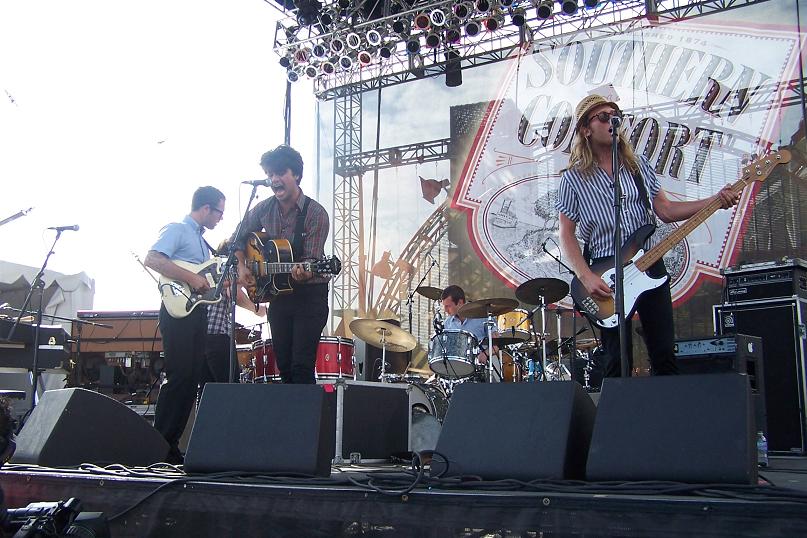 We took a few pictures during Delta spirit, but only captured movies for the Flaming Lips set, which was absolutely mindblowing. It was substantially better than the show in Seattle, and not just because I wasn't in severe pain and standing in ice water. Here are a few captures from Jared's movies: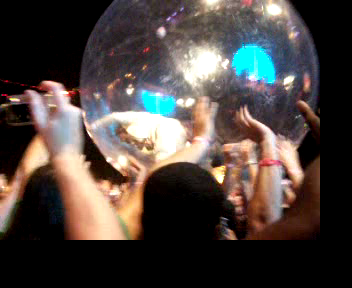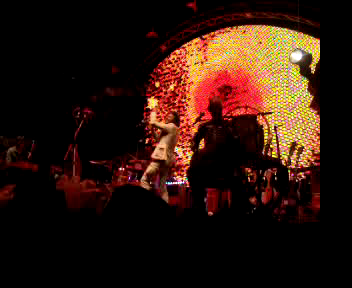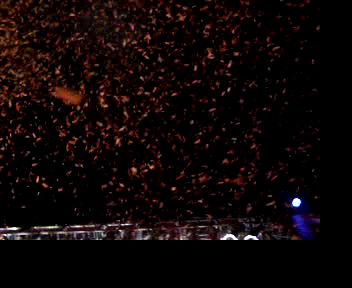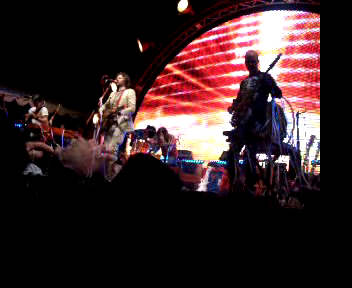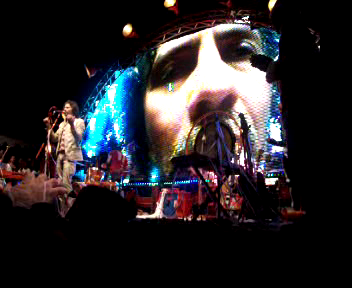 They had a giant LCD screen behind the stage, and apparently this was their very first show using it. It doubled the psychadelic effect of the performance. They also used a lot more Confetti this time around. When the show was over, there was about 2 inches of it on the ground where the crowd had been. I simply am at a loss for words to describe the bliss that is the Flaming Lips live. No other band comes close to bringing up these feelings within me. I absolutely love Wayne, Steven and Michael for doing this for so many people.


Forward to Fall 2007
Back to Index