Back to Index
Back to Winter 2008-2009
Swine Flu, Schwine Flu

By the time Spring had rolled around in 2009, lots of changes had taken place. The economy had gone to shit, resulting in Rafaela's architecture firm downsizing and her losing her job. I had lost my job at Kaiser as well, and had since started working again for Cedars Sinai in Hollywood. My days started very early and I no longer was able to stay up late. Climbing had largely taken over my life, and both indoors and out I was pushing myself to my limits. I had also started working for a new company called CyPace. I was slated to take the CIO position and it became obvious very early that I was going to be providing the technology that would make us successful. I spent almost all of my time with Raf, climbing, or working on CyPace. As a result, the number of adventures that I had started becoming less frequent. This trend would accelerate throughout the year and into 2010. Fortunately, Rafaela kept me as honest as possible, and we were able to steal away for some of the best trips thus far.
Visitors
Throughout March and April 2009 I had a number of visitors dropping by. James Schilling, Martin's brother, came through town on a couple of occassions to do some climbing out in Joshua Tree. The pictures from those trips are included in the last section. In addition, a bit later, Chris Bank, one of my long-time childhood friends flew into town and we also spent some time climbing at the Arc and hanging at the beach. I'm still waiting to get the high res copies of the pics, but here's a taste:



Rafaela Sticking a Roof Move



Chris Analyzing a Route



Chris on the Stalagtite



Me Campusing a V0



Me Chalking Up on a Slab Route



Chillin' at the Beach

Once the round of visits had stopped, Rafaela and I started focusing on getting back into a routine. Rafaela had more time to pursue her other talents and hobbies now that work wasn't in the way, so she starting getting back into Dancing and Painting. As an introduction to the style of modern dance that Rafaela enjoys, she took me to an Alvin Ailey performance at the Walt Disney Music Hall in downtown LA. The show was sold out and was absolutely incredible. I was astonished at the quality of the performance. They had the audience totally hooked from the beginning of the show to the very end. I felt that their classic piece, Revelations was the definitely the highlight of the show, and included a great deal of emotional expression that this style of dance seems to lend itself to.Unfortunately we didn't take any pictures, but you can learn more about this dance group Here. Rafaela began taking dance classes in Pasadena and Hollywood as well. She was interested in seeing if she could improve to the point where she could audition for a dance group, but that would come later. As I mentioned, she began painting more regularly, in addition to the dancing, and several of her works from early 2009 are among my favorites. Here's a couple of them:

***Get Painting Pics from Raf***

In addition to these artistic persuits, Raf also started working toward her LEED certification, which is a standard for green building design. She figured that as long as she had the time, getting important certifications would help her get a leg up when the job market sorted itself out in her field. She spent a ton of time studying for the exam, which occurred on ___________. Being as smart as she is, she had no trouble passing on her first try, which of course was cause for a celebration.
Baja California and Cabo, Mexico
Sometime in May, I found out that Jared and Long were going to be heading down to Cabo to stay in a resort and that they had room for two more people. Luckily for Rafaela and I, they invited us along. I guess one of Long's friends, another doctor, had earned a huge bonus, and had put a small fraction of it towards a weekend at this resort with her friends. When her husband found out, he forbid her from going, which I think is totally ridiculous. Anyway, she couldn't cancel the reservation, so she offered the tickets to Long. The thing is, this was no ordinary resort. It was one of a small number of six-star resorts in the entire world, and the room that we got was around $800 per night. Lots of four and five star resorts that are really nice still have that characteristic flavor of mass accomodations. This resort, called One & Only, was distinctly different, and you will see why. Because Jared and Long were coming from Colorado, they were going to fly down. But since Rafaela had never seen Baja, and we were only 1100 miles away in Los Angeles, we decided to drive all the way. Naturally this was going to be quite the adventure with my crappy car, bad spanish, and all the military checkpoints.
The night before we entered Mexico we drove down to San Diego to get a head start. We stayed there at the place of one of Raf's friends. The next morning we woke up early and hit the road. After crossing the border, we got our tourist cards in Tijuana at the border to avoid paying the fee in Ensenada and also since we didn't expect the customs office in Ensenada to be open so early. After dealing with the usual border nuisances, we got back in the car and started cruising down the coast. In an effort to maximize our driving during daylight hours, we stopped minimally as we passed through each town. Once we passed the turnoff for Bahia de los Angeles, I was in completely new territory. We had heard that the land become increasingly arid near Guerrero Negro and this certainly was the case. Unlike the desert further north, the land here had just about no living vegetation whatsoever. It looked completely desolate. Right around Guerrero Negro is the border between Baja California Norte and Baja Sur. At some point I drove the wrong way down a one-way loop in the border area which attracted some attention, but when I straightened myself out, we got through without difficulty. Here's a picture of the border area that we took on our way back North: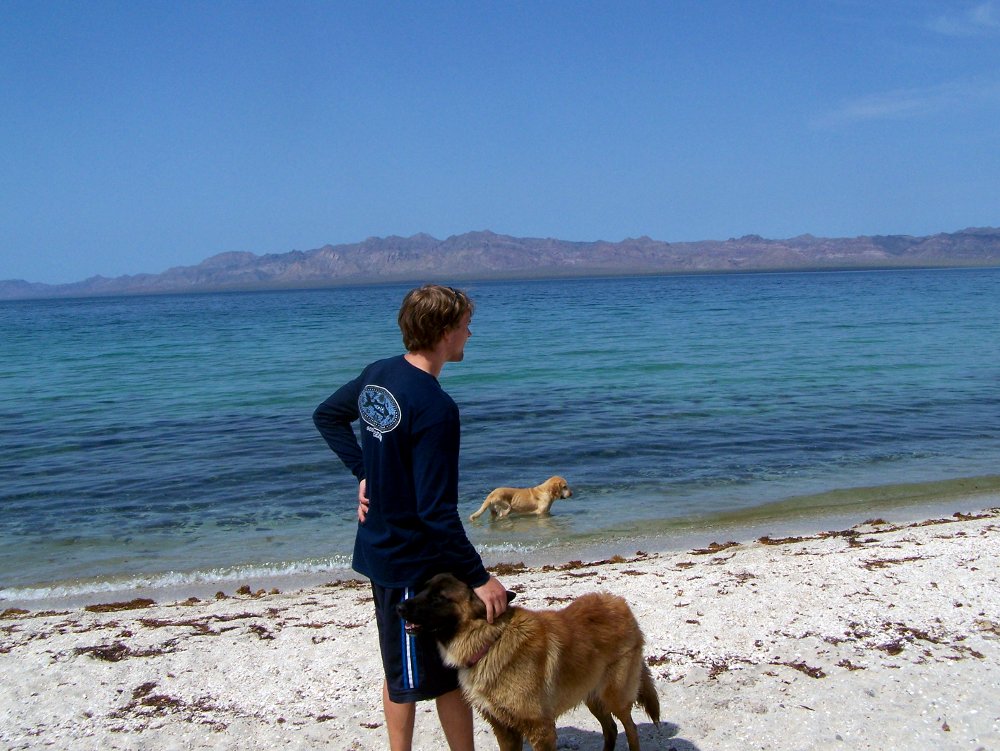 Once in Baja Sur, the road all of a sudden cuts across the peninsula once again toward the Sea of Cortez and the town of Santa Rosalia. Using Rafaela's GPS, we were able to track our progress across this arid desert highland. The landscape was much like the area around Guerrero Negro, but as we approached the opposite coast, it became increasingly rocky and mountainous, and some shrubs, cacti and other plants started appearing again. Before you reach the coast, you start on an incredible downgrade that many of the trucks on the highway had difficulty negotiating. The grade is so steep and the terrain so rocky that you don't see the coast until you're only fifty yards from the water. All of a sudden the bay, and the town of Santa Rosalia came into view. The town was nicer than many of the other ones that you see along highway 1, and it occupied a perch of land overlooking the sea. As usual, we marvelled at the number of Corona, Pacifico, and Tecate signs everywhere as we passed through. After passing Santa Rosalia, the next town was Mulege which is found at the entrance to the Bahia Concepcion, one of the main camping and RV areas in the middle of the Baja Peninsula. We entered the area of Bahia Concepcion as the sun was setting, and it was beautiful. Unfortunately we didn't take any pictures that night since we were worried about being caught on the road at nightfall. Here's a picture of me standing by the water on the way back North, however: Once past the bay, the road continues south through some rugged terrain on the way to the town of Loreto. We had anticipated being able to camp somewhere along the bay, but no obvious camping spots made themselves apparent to us. We decided to chance it and attempt to make it to Loreto and a couple of camping sites that we knew existed there, even though this meant driving at night, which was dangerous in Baja due to the animals that freely roam across the roadway. The drive from Mulege to Loreto turned out to be incredibly nerve wracking. There were cattle everywhere that had come out at night to masticate in the cooler temperatures. My strategy was to catch up to the nearest truck and tailgate it as long as possible, so that if anyone was going to hit an animal, it wouldn't be me. Unexpectedly, there was a military checkpoint in the middle of this area, and having to be stopped and searched caused me to lose my protector. Thus, for much of the drive I had to go slowly, with my brights on. A drive that would have taken 90 minutes during the day ended up taking almost three and a half hours at night. When we eventually arrived in Loreto, we were exhausted from being on the road for almost 17 and a half hours straight. We drove around town until we located signs for the campsites. The city was much bigger than I expected, and in the end, the campsites were much crappier than I expected as well. Considering they weren't in a nice part of town, I decided that we should get a hotel instead. After turning down a room at an expensive spot on the main drag, Raf and I found a much quainter establishment that was air-conditioned and clean for only $25 for the night. Settling down into our hotel room was really relaxing, and we knew that getting the room was the right move.
Driving as far as Loreto had its advantages. We had gone an extra 75 miles further than planned, and that meant that we would easily make it to the Cabo airport by the time Jared and Long would arrive. This allowed us to be a bit more leisurely with our driving the next day and enjoy the sights a bit more. Once we left Loreto, the road once again curved in toward the center of the pensinsula in very rocky terrain. Here's a picture of the road at this point:




After we gained more elevation, a strange fog set in, presumably coming from the Pacific. Since it was still a desert, it created a strange atmosphere. We were basically driving through a cloud in a desert. You could hardly see the cacti and other vegetation that were lining the roads. Once we passed Ciudad Insurgentes and Ciudad Constitucion, the fog began to lift and the road became much clearer as it headed South toward La Paz. As we neared La Paz, it became clear that this was by far the largest city on the peninsula. We entered it to get some gas, but then quickly turned and started south on the Loop that the road forms on the southernmost tip of the peninsula. We arrived at the Cabo airport about an hour before Jared and Long's flight arrived. Once we had everyone comfortable in the car, we drove south towards San Jose del Cabo. The city of San Jose del Cabo sits on one of the capes at the South end of the peninsula. The city itself is sizeable with a population of about 50,000, and is centered around a beautiful large bay. The One & Only Resort is located on the eastern end of this bay, on one of the outcroppings of land that juts into the Pacific Ocean. The entrance to the resort was at the very end of a street that passed many other 'lesser' resorts. As with everything else on the property, the gate was incredibly ornamental and we were treated with an almost laughable amount of undue respect. The cobblestone road inside the resort was led to a small loop around a fountain where we were greeted and the valet's accepted the keys to my porsche. While we unloaded our belongings there were several 'servants' who seemed uneasy at the thought that we might carry our own stuff to the room. I think we ended up needing a little bit of help to make it in one trip. When we were taken to our 'room', we were introduced to our own private butler who would be servicing our 'every need' during our stay. Inside, the room was absolutely beautiful, especially the balcony overlooking the ocean. Here's a couple of pictures of our room that I got from the One and Only website: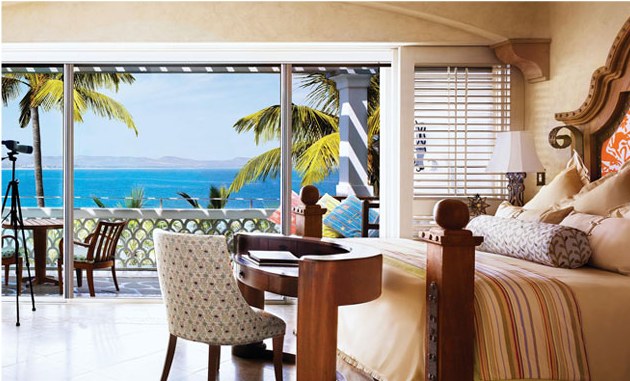 And here's the view of the ocean from our balcony:




They had left all sorts of goodies around the room for us, including a healthy amount of local high-grade tequila. In fact, every time we left the room, folks from the resort would tidy everything up and leave gifts in random nooks to be discovered by us when we returned. Another nice thing was that, because of the Swine Flu, resorts in Mexico had been having trouble attracting tourists and as a result, were offering discounts or other incentives to attract business. In the case of the One & Only, they gave us $150 of spending money each day that we could use anywhere on the resort! We ended up using this money for our dinner each night at the resort's fine restaurants. On the first day in Cabo after arriving, we woke up to our free daily breakfast that we ate out on the balcony. While we were eating, we were visited by a friendly lizard that was pretty large:




After gawking and the lizard and feeding a few bright yellow tropical birds, we ordered some snorkeling gear so that we could check out some of the marine life I'd read about at Santa Maria Cove, which wasn't far away. Here's a picture of the cove that I found online:




Unfortunately for us, the weather was a bit rough that day, and the surf was not calm. Not only did this make swimming near the rocks (where the fish were) hazardous, but it also decreased the visibility significantly. Jared and I were able to get some pretty good views of a bunch of tropical fish, but the girls were wary of swimming so close to the rocks in the waves so they enjoyed the beach and surf without worrying about snorkeling. After spending the morning at Santa Maria Cove, we decided to check out the town of San Jose del Cabo and get some food and alcohol. We found a large grocery store and were greated by a perhaps too friendly worker there. He pretty much followed us around as we made our purchasing decisions and although he was harmless, I don't think he knew how to be quiet. We ended up buying a ton of bakery products because they were so cheap, and also some stuff to make margaritas with. When we got back to the resort we spent our afternoon and evening relaxing and exploring the beautiful campus.
The next day was our trip down to Cabo San Lucas at the very Southernmost tip of the peninsula. This town is smaller, but more touristy than the other Cabo. The first thing I did was purchase a long sleeve shirt to cover the sunburn I had already developed. Then, we headed for the docks in an attempt to walk to the fabled Lover's Beach. We quickly learned that the only way to get to the beach is by boat. The marina itself was overrun with glass-bottom boats and their operators who wouldn't leave you alone unless you agreed to their price and got on board. Fortunately we found a reasonable deal pretty quickly and took off without too much of a hassle. The only thing we made sure to do was arrange for most of the payment to come after the tour had completed. Here's a picture of Rafaela and I on the boat:




And Jared and Long: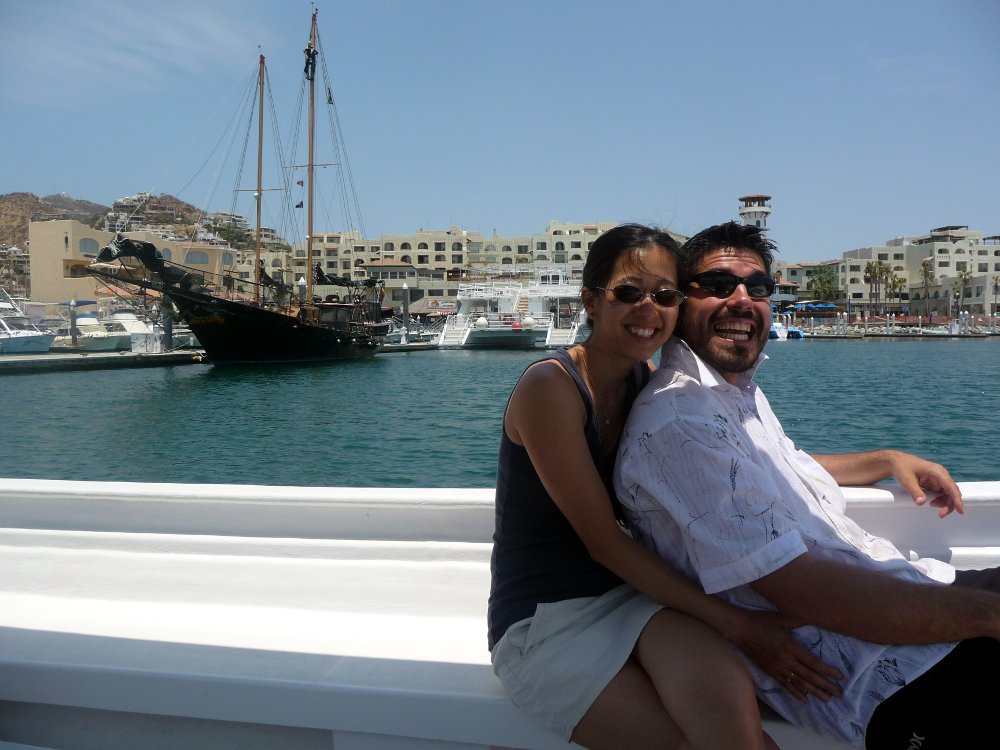 The ride in the boat was much better than expected. Several of the spots we visited had so much underwater life that the glass bottom of the boat actually turned out to be really cool! I think it also helped Raf and Long see the things that Jared and I had seen when we were snorkelling. There were also many cool rock formations that we saw, like the Arch:




And Seal Rock:




After checking out these marine landmarks, we were dropped off at Lover's Beach. Here's the beach on the approach:




As you can see, there were several tall rock formations on either side of the beach that looked prime to be climbed. I did a bit of scrambling and traversing to get my climbing itch out. Here's Jared and I scampering up a strange looking boulder:




If you look closely you can see about ten random bolts all clustered together at one spot on the left-hand side of the rock. I have no idea who put those bolts there or why, but they're the exact same type of bolt that is used for climbing, so perhaps the area had seen some development... Anyway, once we had our fill of Lover's beach, we returned to the boat and then the dock and then my car and then the resort. That evening we all went for a swim in the resort's beautiful pools and after dark we snapped several shots of the metallic lanterns that dotted the premises. Here's a picture of one of the resort's bars:




And here's the nearby pool:




And here's a selection of both hanging and non-hanging metal lanterns that made the grounds of the resort absolutely stunning at night:



Another pair of pools:




The main area and restaurant:




Rafaela the Pyromancer:




In general, the woodwork, stonework and metalwork of the resort, generally the quality of materials as a whole, set this place apart from the other nice resorts I'd stayed in. It seemed like an incredible amount of detail and effort went into designing and building the resort, beyond what can normally be expected in a touristy environment. Personally I feel that attachment to or need for this level of luxury can be a dangerous thing, and I certainly would not want to even grow accustomed to it. That being said, it was fun to find myself once again in an environment so out of character with my normal endeavors. It reminded me a great deal of the princess parties in this respect. After our three days were up, Rafaela and I piled back into my car and started our return drive North. My goal was to make it all the way to Pasadena in two days, meaning that I would like to make it halfway up the peninsula, to Guerrero Negro at a minimum on the first day. I filled up on gas before leaving Cabo, and we began our trip. Sometime past Loreto I found myself with less gas than expected. By the time we reached Bahia Concepcion, I could no longer be certain that the gas we had would even allow us to make it to Mulege. As a result, I pulled over into one of the homesteads on the water, and ran around asking people for gasolina in Spanish. One man was able to help and he set me up with a gallon of gas for a reasonable price. This is when the picture of me with the dog by the water was taken. When looking back toward the land from the Bahia, there were a few decent sized mountains to be seen:




After driving for about 13 hours, we made it to Guerrero Negro. Once we had passed into Bahia California Norte, we found the first available hotel by the road and stopped. Once again we were setup with an air-conditioned hotel room for under $30, yes! Here's a picture of Rafaela with a bag of marshmellows next to my car outside our room (#3):




Perhaps the best thing about our room was the book we found on the bedside table:




I think that about wraps up this section pretty good.

Forward to Summer 2009
Back to Index