Back to Index
Back to Fall 2008
I'm Fired?! What, Me Worry?

Throughout the Summer, and into the Fall, there had been a string of issues that occurred at Kaiser that were becoming higher and higher visibility. Each of these issues had caused some amount of downtime in the production system there, and leadership was becoming increasingly stringent in an attempt to tighten change control and prevent further issues. By this time I had become a Manager at Kaiser, and my team consisted of about 11 people between Northern and Southern California (hence all the business trips). We were called the 'Care Everywhere and Core Application Instrumentation Team', which basically means that we still supported Care Everywhere but were also doing more custom development work. It so happened that sometime in October, one of the members of my team made a change on one of the servers hosting KP.org. The change that she made was requested by one of the national teams, but since she had done this thing before, I signed off on it. Unfortunately, when she performed the work, she followed the script for non-production instead of production, and caused KP.org to go down due to an obscure difference in the change scripts. Once I got clued into the problem (about four hours after it happened), I was able to fix the primary issue within a couple of hours. In the end, however, the overall downtime eclipsed five hours, and the visibility of this incident reached the upper management of Kaiser Permanente. The employee who worked under me was put on paid administrative leave while they performed an investigation into the issue that occurred. In the meantime, the powers that be imposed a ridiculous new system for change management that required managers like myself to join a daily 7am!!! conference call to discuss approvals for changes. The call typically lasted 90 minutes and was the bane of my existence. The person who was put on leave was one of my best workers, and as a result of her leaving, the load on me increased at least 25%. I began working 11 hour days and struggled to keep on top of all of the development projects I was given. In short, my job at KP started to suck royally.
After about five weeks of the 'investigation', Friday, November 21st rolled around. I was told that I had a meeting with the HR department regarding the conclusion of their investigation. I expected that they were going to inform me that my teammate had been fired. When I arrived, I saw her, and she looked really sad and angry, so I assumed that this was the case. Nothing, however, prepared me for what was to actually happen. When I got into the meeting, both my boss and my bosses boss were there. They both looked pissed, and I soon found out why. The CIO of Kaiser had personally asked that the manager of the offending employee be terminated as an example to other managers that they would be held responsible for their employee's mistakes. I laughed at the HR manager in disbelief when this was explained to me (in fewer, more sugar-coated words), and I was let go along with my two bosses. They both apologized to me profusely and explained that they had tried very hard to save my position considering how vital I was to so many projects. I told them to cheer up, and that this wouldn't make much difference in my life or Kaiser's. I went over to Parson's and cleaned out my desk. All of the managers from the 5th and 6th floors met me in a conference room and exchanged handshakes, hugs and apologies. It was nice to see how much people appreciated me, but it was a bit sad to be forced to leave on these terms. On my way home, I stopped by at Moule & Polyzoides, which was an architecture firm where Rafaela worked. I told her of the situation, and that we were going to celebrate that night with Pizza and Champaigne. She was definitely down. When I returned to the apartment I made a few phone calls, and within a few hours I more-or-less had a new job lined up at Cedars Sinai Medical Center, which is a hospital in Hollywood. I also managed to negotiate a $10,000 raise, which suited me perfectly! After thinking about it a bit longer, I realized that I made out better than I thought. All of the unfinished work that I left behind at Kaiser was probably worth $10,000 alone just to not have to do it! I would no longer have to expect long days and 7am phone calls, and I was going to get more experience at a different company.
Lake Tahoe
My start date at Cedars was set for late December. I was planning on visiting my family in mid January, so I essentially had a few weeks to kick around and decided to rent an apartment in Tahoe for the month and get some snowboarding in. I hooked up with a couple of travelling English dudes online and we went in three-ways for the flat. I set myself up with a season ticket at Heavenly, which was about $350, and left for Tahoe. While I was there, the snow was a bit off and on, and since it was still early in the season, the base was pretty thin. Nonetheless, I took the opportunity to improve my technique and control. By the end of my two weeks in Tahoe I had made dramatic improvements in my ability to board in the trees, which involves quick turns and the ability to cope with rapid changes in terrain and gradient. I still needed work on jumping and turning when switch. The last couple of days were especially sick since Heavenly got almost a foot over two days. Unfortunately I didn't bring my camera with me, so pics will have to wait until my next visit. The only problem I encountered in the trip was that the heavy snowfall on the last few days made Tahoe a challenging place to leave. My car is absolutely a death trap in bad weather so I was forced to get chains for my tires to leave. I was able to find a pair for only $30, and putting them on the car and driving with them was a good experience to have. I found that putting chains on my tires without gloves on in the freezing cold actually makes for a pretty shitty experience, but at least I was able to make it home safe.
Cedars Sinai
My first day of work was the day after I returned from Tahoe, totally exhausted. Since it was my first day I decided to drive in, but I had worked out a bus route that would take me to within a ten minute walk of the office building from a bus stop a couple blocks away from my apartment. This meant that it was possible to achieve a 90 minute (each way) commute using a single bus. Although this sounds pretty crappy, I was happier doing it this way then combining buses and trains, because at least I could read or work on the bus without having to get up every so often. The work environment at Cedars was very different than that of Kaiser. While KP had been live on their EMR system for several years and was becoming more and more rigid in their processes and change control, Cedars was the opposite. They hadn't even gone live by the time I arrived, and making changes was the name of the game. Someone like me is much happier when they have the license to make the necessary changes to the system without jumping through hoops, so this change was definitely welcomed from me. In addition, instead of being a part of a massive 300 person multi-regional team, I was one of three people that were charged with administration of the EMR database system. This meant that I could be much less specialized and learn some more broad skills, while still applying my specific knowledge when troubleshooting. The final nice thing about the new work situation was one of my team members, Dawn Faircloth, who I had previously met at Sutter Health while I was still at Epic, and who I had met on and off throughout my time in the industry. She is one of the most positive and hard working people I've ever met, and having her on the team was really wonderful. So, outside of the 3 hours of commuting each day, things at Cedars were pretty much ideal. As far as the commute went, I tried to make the most of it by reading on the bus. I read East of Eden by John Steinbeck and Don Quixote during this time period. I highly recommend both books, although East of Eden is a more powerful and emotional book whereas Don Quixote is more witty and entertaining.
New Years in Tahoe
I had gotten Rafaela a new snowboard for Christmas, and we decided to test it out over New Years since I still had my apartment up in Tahoe. Also, gas prices were at a record low (about $1.60 per gallon in CA) so driving up again wasn't going to cost much. When we arrived in Tahoe at around 11:30pm on New Years Eve, I called Martin (one of the English dudes) to let him know we were close. He explained that the had just had a run-in with a rowdy neighbor downstairs who had threatened them with a hatchet. After talking to the property management, they assured us that there weren't going to be any more problems. In spite of this, the moment Rafaela and I unpacked and closed the door of the apartment, we heard some noise from down below. I had Raf hang back while I went outside to see what the problem was. The person downstairs was inflamed again. One of the managers was a really husky guy and he came over and just about got into a fight with the guy. After a bit, the man seemed to calm down, and Raf and I went into town to check out the aftermath of New Years. By the time we got into South Lake Tahoe proper, the year had passed, and there were massive crowds out in the street. It seemed to be dying down, so we just cruised around a bit so Raf could get an idea of what the area was like. Since we were planning on getting up early the next day for snowboarding, we didn't stay up too late and returned before long.
On the first few days Rafaela and I spent most of our time at the bottom of the mountain practicing. Raf's boots weren't fitting well, so she was having issues with pain, but in spite of it, she was learning quickly and before long was able to manage the 'floating leaf' without any assistance. After a stormy day on which most of the mountain was closed, we decided to head up to the Olympic Run on the Nevada side. Raf and I took the lift up from the Boulder Lodge and prepared to go over to the North Bowl Lift when we found something was wrong with Rafaela's bindings. Somehow a crucial screw and its plastic holder had fallen out of the binding rendering them useless. I told Raf to stay put while I returned to the car to try and find it. I was really worried that I'd have no chance finding such a small part, and that I'd inevitably have to go buy a new binding. Once I arrived back at the car I starting searching frantically. Of course, no trace of the part could be found. I spent about 15 minutes looking under every mat and in every crevice between the seats. I even started thinking about how I could put together a makeshift substitute using things I had around the car. As a last ditch effort I closed the door of the car and started retracing our steps up to the lodge. Given that it was snowing, I knew it would be slightly covered. About 5 feet from the back of the car, I spotted a small black dot underneath the snow. I crouched down and brushed the snow off, and was super excited to find that it was the part! I returned to Raf as quickly as I could and we hopped on the North Bowl Lift together, stoked that the day had been saved. Going to Olympic was a really good idea, since that run is wide and not too steep, even though it's considered a blue square. I had a lot of fun because there are a lot of trees on both sides of the run and the day before had deposited a good amount of snow around. If we were smart, we would have remained at Olympic for the rest of the day, but instead we decided, after a few hours, to traverse the mountain back to the California side for the Ridge Run. Switching from Nevada to California in Heavenly is a huge pain in the ass for a snowboarder, especially a new snowboarder. I felt bad for Raf since it took so long and was not enjoyable. Once we reached the California side, we had a bit of fun on the ridge run, since the views are so incredible, but we soon realized that we had to traverse back to the Nevada side since that was where my car was. After we returned to Nevada, via this absurdly roundabout route, we were both tired and ready to pack up. In the end, I think Raf did a terrific job on her first three days on a snowboard and we both had a lot of opportunities to do what we enjoyed. Her goal now is to learn to switch edges, once she gets a decent pair of boots! :-)
CyPace: First Contact
Within six weeks of starting at Cedars Sinai, something happened that would change my life forever, for better or worse. On February 4th, 2009, I met Nick Raker and was introduced to the idea of CyPace. Looking back on it, it's hard not to be emotional about some of the ways that things went down early on. For starters, I don't think anyone ever gave me the straight story about this company. Nick and Jeremy Murtishaw, my two contacts, both incessantly played it up. As a result of this, as well as some of the names that were being dropped, I thought that the company was somewhat well established and had a viable and established business plan. I later found out that this was not the case, and that I was to be the key to success for this company, and for everyone involved. As of the time I'm writing this (a whole year and a half later), it appears that the successes will have justified the difficulties brought into my life by CyPace, but nonetheless, so much of my life has since been given to this company in a non-cooperative and almost exploitative way that the name can still not bring up solely positive feelings within me. I began working with CyPace in a somewhat upbeat and excited mood, since what they were trying to do, namely solve the problems associated with Epic EMR implementations, directly tied into much of the technology that I had already created. I agreed to start with a 250,000 share initial equity stake, with an additional 250,000 shares due to me once the product had achieved a provable state (called POC, or proof-of-concept). This amounted to approximately 4-5% of the company, which seemed like a big chunk to me at the time, especially since I expected to be only one of many major contributors. If I had known that I was to be largely shouldering the burden of the entire company, I would have demanded far more, and I wouldn't have had to play equity catch-up for the next year of my life. For now, I'll leave the topic of CyPace at rest, as it is sure to come up again repeatedly throughout the next several sections. You can be sure that the paragraphs I write about the company will, like this one, be full of the emotional dualities of political game playing and business success.
More Joshua Tree
Once the weather started warming up slightly in the desert, more trips to Joshua Tree were planned. I had taken about three months off, and allowed my fingers to completely rest. I figured that by the time March rolled around, they were ready for action! At first we had a few trips to Josh with some relative newbies to climbing, so this provided an opportunity for us to ease back into it. On the first trip it was Jared, Marie, Colin, Rafaela and myself. We started in Quail Springs as usual. Here's a picture of me belaying Jared on a route on Trashcan Rock: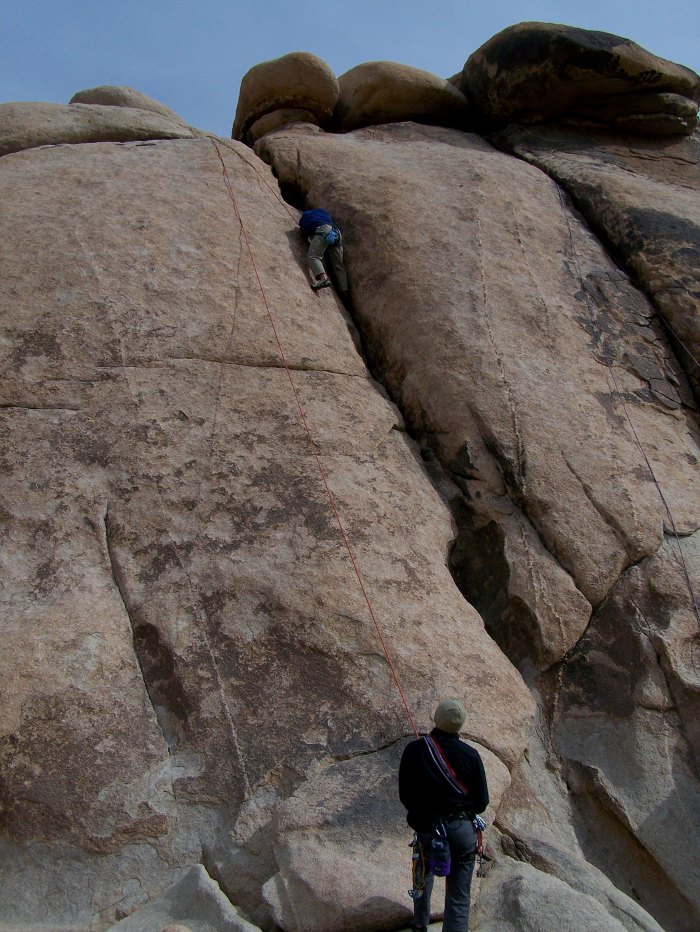 After everyone was feeling sufficiently comfortable, we went over to Cyclops Rock, near Hidden Valley, and climbed the Eye, which is a long 5.3. Here's a picture of me leading this sparsely protected route:




The reason the route is called the Eye is that it heads directly for the cave in the middle of the top of Cyclops rock. Here's a picture of me belaying someone from the cave:




The top of Cyclops Rock is about 120 feet off the desert floor. I was glad that everyone was able to make it to the top of the climb. Here's a picture of Rafaela and Marie at the top, as well as an explorer in the background: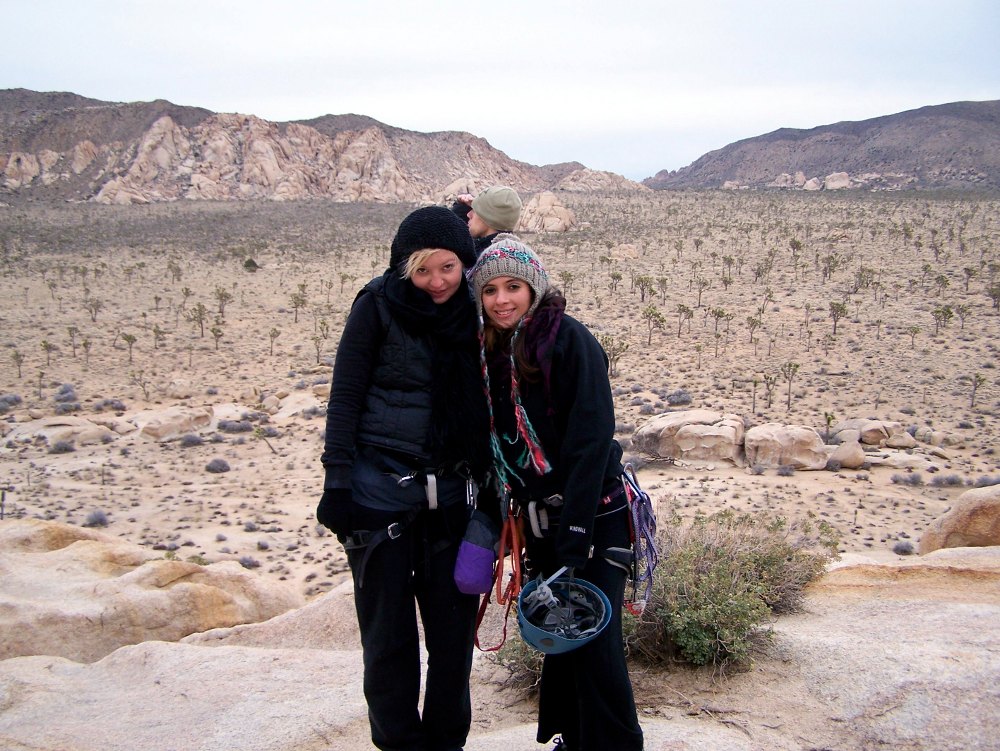 Before we left the park, someone snapped this shot of San Gorgonio Mountain rising above Joshua Tree:




For the next trip to Josh we skipped the beginner areas and went to a beginner-intermediate spot called Playhouse Rock:




Here's a picture of the group showing off our massive cams (except in Jared's case):




Over the course of the March to May timeframe in early 2009, we probably visited Joshua Tree at least six or seven times. I wont bore you will pics and stories from each of them, but here's a few highlights:



Me Belaying Rafaela from the top of White Lightning 5.7



Rafaela Following on Minotaur 5.7 at the Atlantis Wall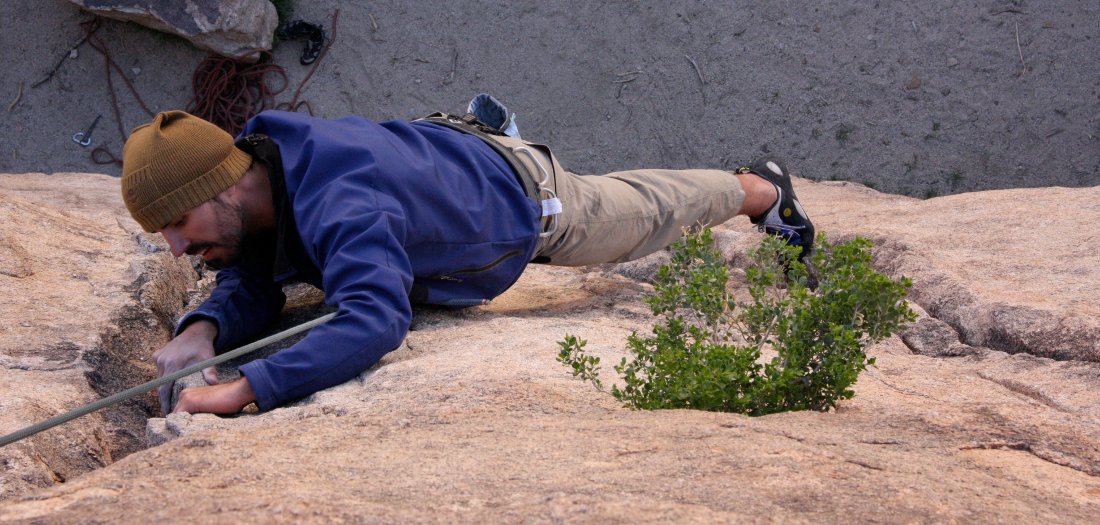 Jared on Minotaur 5.7 at the Atlantis Wall



Long (Jared's girlfriend) on the last moves of Frosty Cone 5.7 at the Dairy Queen Wall



James Schilling on the Swiss Cheese Wall 5.7



Getting ready to lead Rock-a-Lot 5.7 in Rock Garden Valley



The view from Rock Garden Valley



About to plug some gear on a 5.8 in Rock Garden Valley

So, as you can see, we certainly got a good amount of climbing done in early 2009. I was absolutely loving it and became very comfortable leading routes and setting up anchors for other people to climb on top-rope. At the end of the Josh season, in early June, Raf and I climbed a 3-pitch 5.10a called Bird on a Wire. This was the crowning climb of the season, for sure.
The Quadruple Birthday Party
In March, Dan, Katie (Dan't girlfriend), Rafaela and Colin decided to celebrate their birthdays at the same time with a big party at PGV. A lot of friendly faces were able to make it, and I certainly look back on this as one of the best parties we'd thrown while in Pasadena. Here's a picture of Raf and her cousin prior to the festivities:




One of the two birthday boys, Colin, and his girlfriend Grace:




And the other birthday boy and birthday girl, Dan and Katie:




And here's the four of them together!




If you're wondering why Jared's been making appearances in the pictures lately, it's because he and long visited for a week or so. He had since been setup with a job at Kaiser where he could be full-time remote, so he was doing a lot of travelling, especially to Colorado. Once in a while he made it back to LA though, and on this occassion he came to the party and made it out to J-tree with us.

Forward to Spring 2009
Back to Index