Back to Index
Back to Spring 2009
The Last Pitchfork

By the time Summer rolled around, I had become a fixture at Cedars and had gotten into a pretty good routine to manage the commutes. I spent most of my time on the bus either reading or working on CyPace, and at one point I even had my first few lucid dreams in a looong time. Things were looking pretty good, the only mixed development was the continuously increasing amount of time I was putting towards CyPace work.
The Subway
Sometime in early June, Rafaela, Jared and I arranged a trip to Zion to check out a few more hikes in the park. We were interested in trying a form of mixed hiking and climbing called Canyoneering which involves making your way down a sandstone slot canyon despite all of the obstacles. Once again we were able to secure a camping spot inside the park, and on the second day we obtained permits and left for the start of the Subway hike, one of the entry level canyoneering routes in the park. Surprisingly, the hike started in a sparse forest populated with grassy meadows and furns. We couldn't even see any canyons nearby!




Once we passed through the forest, the ground sloped away and down and became exposed white sandstone, called slickrock. In the distance we could see mesas and clifflines:




Route finding became somewhat difficult. The only markers were desultorily placed cairns that were commonly toppled. The further down into the canyon we went, the more reddish hued the sandstone became: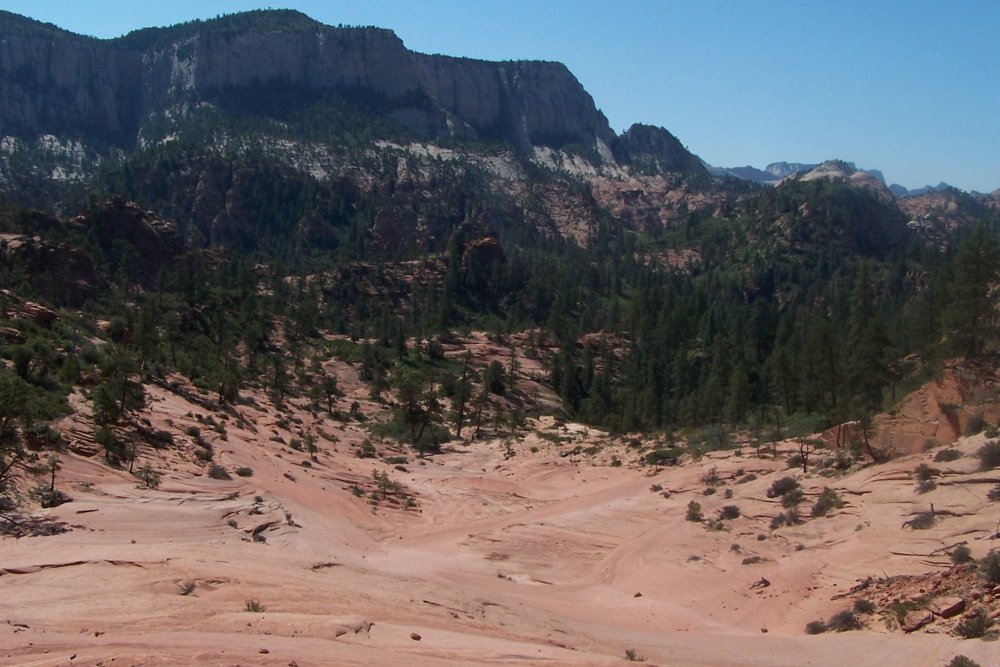 Hiking across slickrock was different from any hiking I had done before. Because there weren't any real trails, only cairns to follow, it felt a lot more free-form. The hike was also surprisingly long, and at least three hours passed before we even approached the entrance to the narrow part of the canyon:




Moving from the top of the canyon to the sandy bottom was challenging, and involved a lot of careful traversing of loose debris:




Once we reached the bottom of the canyon we were ready for some problem solving and boulder scrambling. Here's a picture of Raf and I, excited to be on level terrain:




Notice that I'm wearing swim trunks and amphibeous shoes. That's because canyoneering involves lots of wading and swimming through tight sections. Just behind us in this picture is where the water started, although for quite a while we were able to avoid getting wet. Jared decided to go all out in a wetsuit since reports indicated that the water would be really cold. Here he is sporting this stylish apparel:




We enjoyed the first few obstacles, requiring some class five downclimbing (only for me) and getting around large boulders. As the canyon continued to narrow, we starting reaching places with drop-offs:




To get down this first one, I rigged a simple doohicky with my climbing rope. Unfortunately, about 20 people decided to use my doohicky and I had to spend about 20 minutes lowering each of them before I got the chance to continue: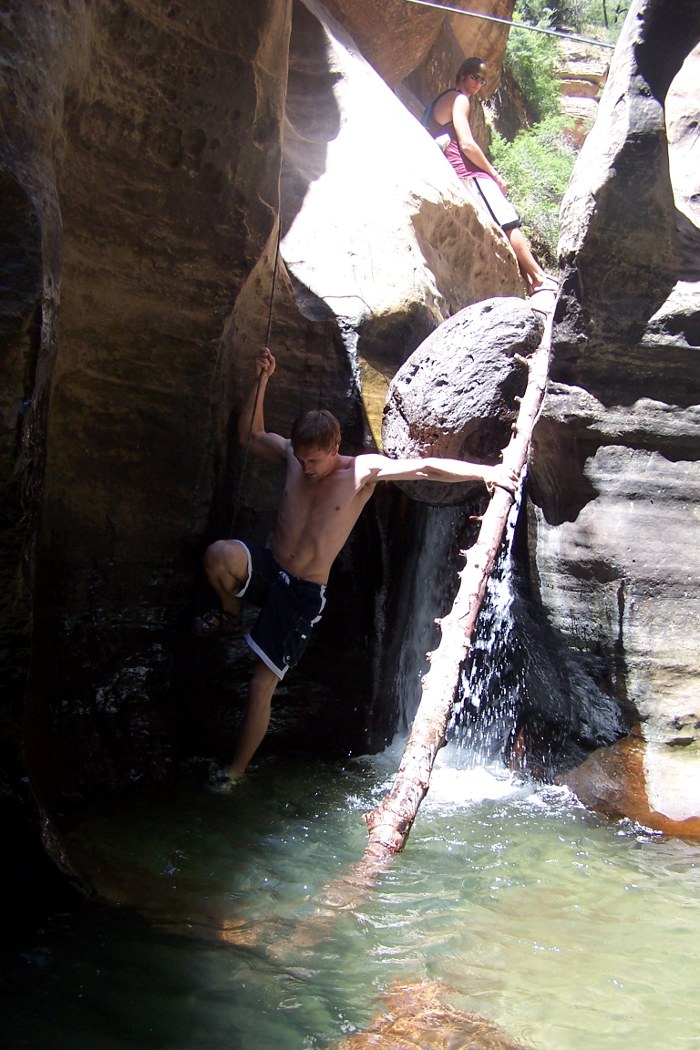 After this obstacle we reached aanother narrow section with a deep pool at the end of it. Here's Raf and I approaching the pool:




After going a bit futher, we reached the part of the canyon that is known as the subway. It was really beautiful, but unfortunately only lasted for maybe ten minutes of walking:




Towards the end of the subway, we reached another spot that required a 30 foot rappel. Here's a look from the top of the rappel down the canyon:




And finally, the subway continued to expand until we emerged into the daylight at the bottom of the canyon:




The remainder of the hike involved following a river for another five or so miles. Here's Jared doing it the easy way:




The hike out was actually pretty gruelling, simply for its length, and the fact that at the very end we had to hike up to the rim of the canyon, which involved an elevation gain of about 800 feet in a very short span. Once we arrived at the ending parking lot, we waited until someone could drive Jared up to retrieve the car at the starting lot. Once we arrived back at the campsite we were all exhausted. The site itself had been taken over by an incredibly friendly stinkbug, however:




Fortunately he never sprayed, and after standing still for about an hour, he left.
Observation Point
The day after we hiked the Subway, the three of us decided to do the hike to Observation Point, which is one of the more strenuous hikes in Zion. It involves hiking from the floor of the canyon to the very top of the Northern Rim, gaining about 3,000 feet of elevation in five or so miles. We were also influenced in a positive fashion by this sign:




Some parts of the hike felt pretty steep, especially early on, but for some reason I felt incredible that day, and I set a blistering pace. Jared and Raf, accomplished hikers as always, kept up, and we dispatched the hike in impressive time. Here's a shot of Zion Canyon from the spot where we entered a back canyon:




And here's Raf and I trailblazing towards said back canyon:




The walls of the canyon in this section were incredibly tall and sheer:




The sub-canyon itself had very featured rock throughout, and there were even places where you could tell that some massive change had occurred in the formation of the rock: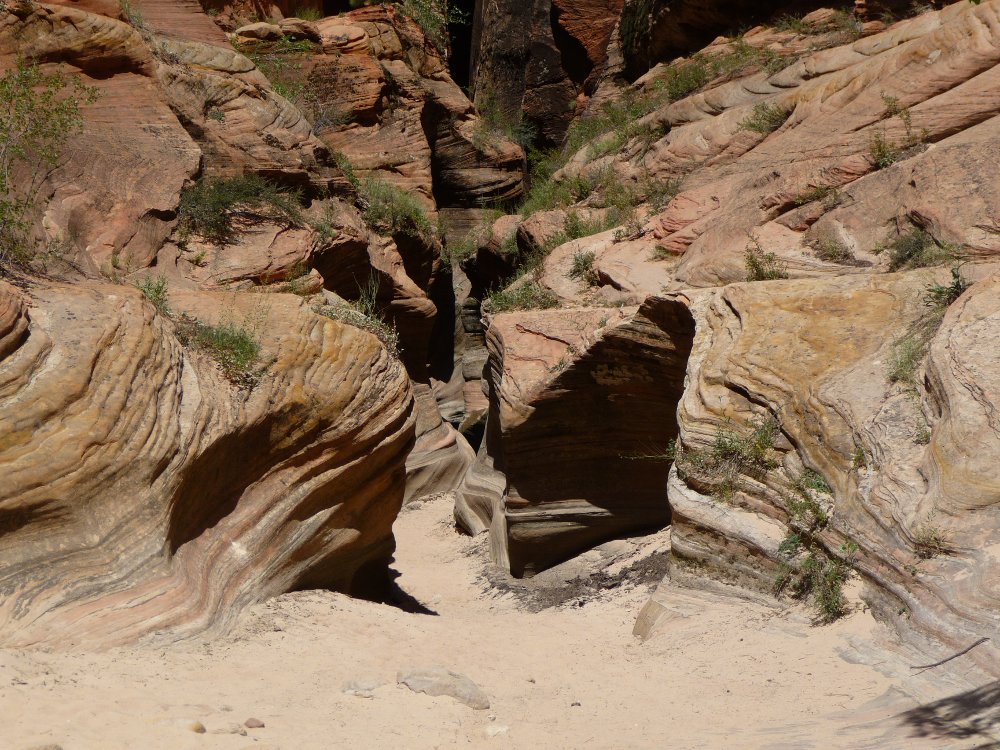 Here's the last shot we took as we exited the sub-canyon and started the final ascent toward Observation Point:




After another hour or so of steep hiking, we finally reached the summit. The views from Observation Point were incredible. Almost as amazing as those from Angel's Landing the previous year. However, now that we were on the top rim of the canyon, we had even more perspective of the sheer size of the canyon. Here's a picture of Jared, Raf and I at the very top:




Here's a shot of the ridiculous view:




And this is the ridge to Angel's Landing in profile: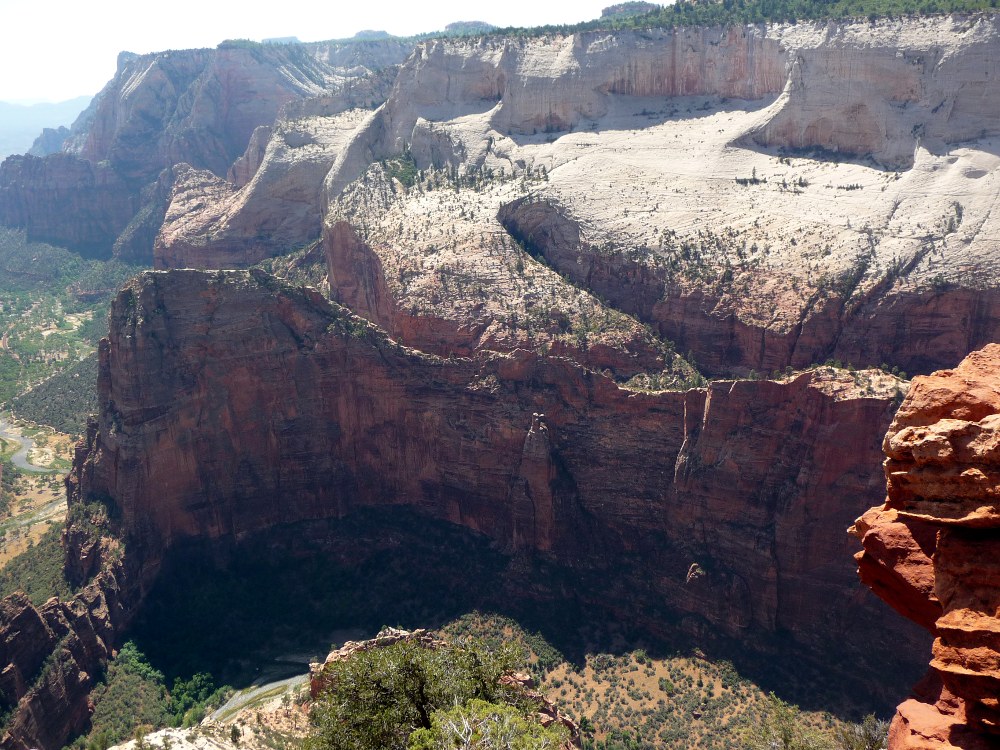 And finally, we got a good view of the switchbacks that started off the hike: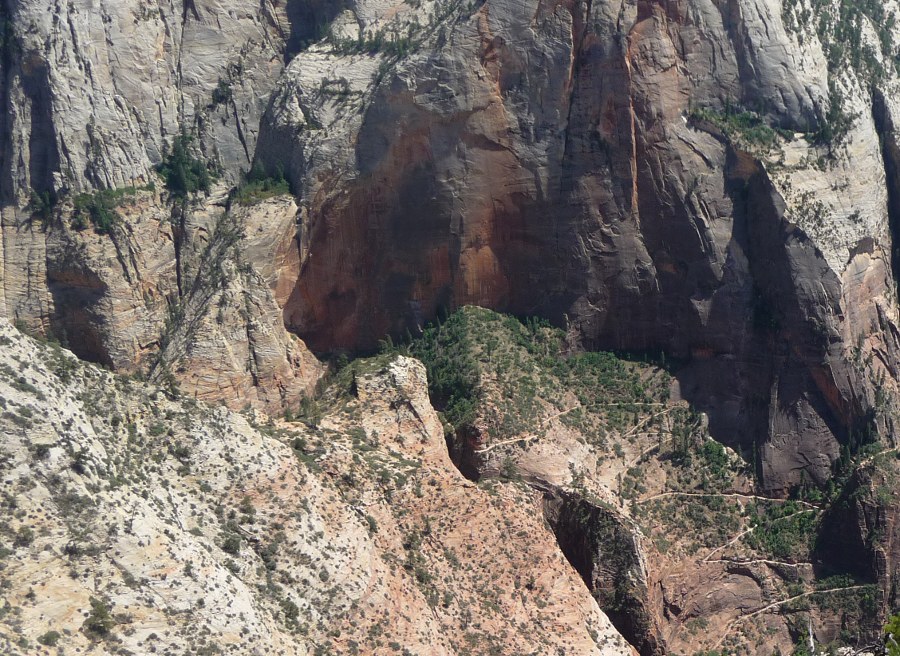 Once we finished the hike we were all tired, but I felt like this may have been the best I'd been able to hike since my motorcycle accident. I had very little pain and I was just cruising, which felt really good.
King's Canyon
A few weeks after Zion, Rafaela and I took off for the extended weekend of July 4th and went to King's Canyon National Park. This was the one of the few remaining National Parks that I hadn't yet been to in California and we were planning to do some backpacking. There is only one road that enters the park and it dead-ends in the middle of King's Canyon. The drive into the canyon was incredibly scenic. Here's one of the first views that we got from the road:




As we drove, we continued to approach the floor of the canyon where there was a rapidly flowing river:




Once we reached the road's end, we parked and entered the ranger station to see which trails we could obtain a permit for. As it turned out, there were only a few remaining options, and we settled on one called the Granite Basin, because it sounded alpine. Opitnce I parked my car at the trailhead, we loaded our packs and started up the steep switchbacks. About a third of the way up, we snapped this picture of King's Canyon beyond the road's end:




This was the first time that I had used my father's old external-frame backpack on a camping trip, and it actually turned out to work really well! Here's a picture of me resting next to it:




After another few hours of hiking, we reached an alpine meadow with an incredible view of some nearby peaks:




Here's a closeup of the mountain at the top left: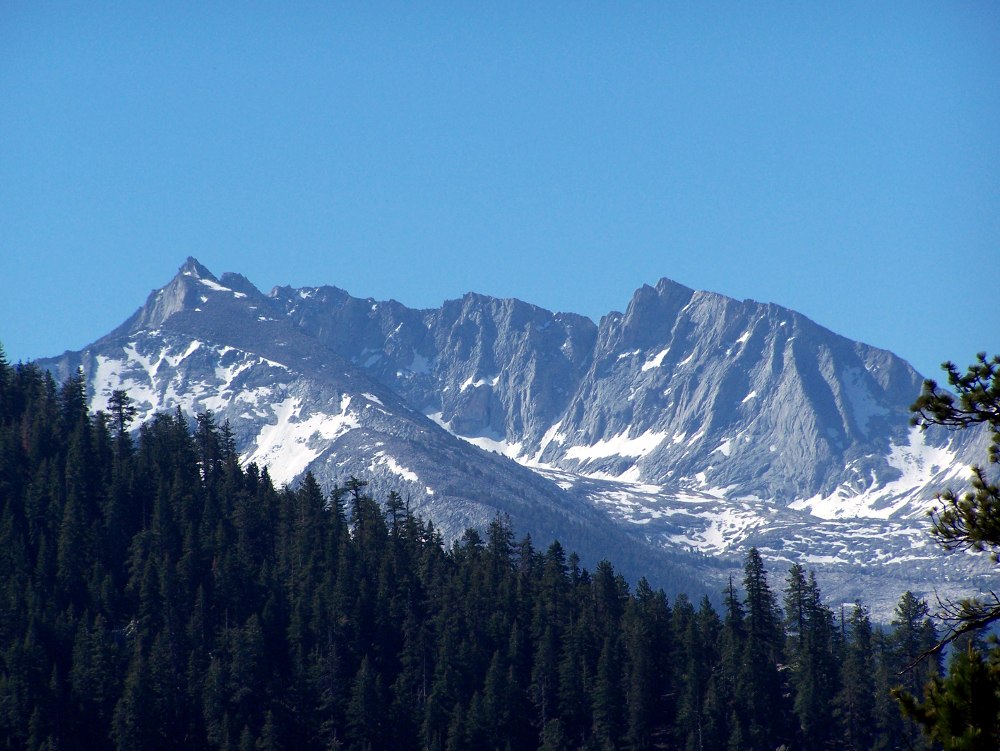 After a difficult four or five hour hike, we arrived at a small half-way campground. We decided to camp here and do a day-hike to the granite basin the next day, instead of hiking up and camping in the basin. This turned out to be a good decision, since we later found out that the granite basin was overrun with mosquitos. Regardless the day hike up to the basin was a lot of fun. Here's a couple shots of the ridge crest just above the basin:



The basin itself contained a small campground and several lakes, such as this one:




I expect that there must have been some pools of standing water near the lakes, because as soon as we crested the hill overlooking the basin, we were attacked! by swarms of mosquitos. We passed a few hikers who were on their way out of the basin, and they warned us about going down and looked pretty miserable from the difficult camping experience they must have had. So instead we spent our afternoon on the ridge sightseeing before turning back. On the way down from the ridge we snapped this picture of Rafaela in front of a series of alpine meadows:




At one point we found a clear, cool stream of fresh snowmelt. As per tradition, I readily drank from it with no concern for 'parasites' or any other contaminants, and of course I was absolutely fine as usual. Here's Rafaela kneeling beside the brook:




We also spotted a very strange ridge across the canyon that almost looked like an S-curve. Take a look:




After our day-hike, we made some lunch, took a nap, and decided to pack out that evening instead of waiting for the morning. This would help us make the most of the next day since we'd be driving at night instead of the day time. We packed up and hiked out without much trouble, which was more evidence of our better shape of late. On the way out of King's Canyon my car got incredibly low on gas and I had to fill up at an ancient-looking station inside the park, that had some really cool, but super old gas pumps. I think I paid $30 for six gallons (the minimum), ouch!
Pitchfork 2009!
Earlier in the year, when we caught wind of the lineup for this year's Pitchfork Music Festival, we were excited about it, but not enough to justify flying out to Chicago to attend the festival. This all changed when we learned that the Flaming Lips were going to be headlining. With them, Built to Spill, Yo La Tengo, M83 and a bunch of other great indie bands playing, we decided we had to go. Rafaela and I decided to combine the trip with visits to our respective families as well, and this would also be the first time that I'd meet Rafaela's parents, when I dropped her off with them in Niagara Falls, Ontario. To start the trip, Rafaela and I flew into Buffalo where my dad picked us up in a rental car. We slept one night in Rochester and then left super-early the next morning with my sister Katie for Chicago. After driving for 11 hours, we arrived. One of Rafaela's friends who had an apartment there offered to host us, and we got our things setup before heading over to Union Park for the Friday shows, including Built to Spill and Yo La Tengo. We luckily made it to the front row for both shows. Here's Long, Jared, Rafaela and I waiting for the show to begin (those are media people in front of us):




If that's not one of the strangest photos you've ever seen, then shame on you.

Yo La Tengo came on first, and they played a selection of the crowd's favorite tracks. For a band like Yo La Tengo, who tend to be a bit noisy and over the top when live, this guaranteed that their set would be incredible, and it did not disappoint. They played energetic classics like Sugarcube and Cherry Chapstick that I had always wanted to hear live. I especially loved their rendition of Cherry Chapstick, which I unfortunately did not capture on my digital camcorder. Here's a picture of Ira Kaplan of Yo La Tengo about to go crazy on his guitar:




The Yo La Tengo set ended up being absolutely legendary, containing many of their most popular tracks played brilliantly and noisely. After another hour or so, Built to Spill came on. Of course, Built to Spill is one of the greatest live bands ever, and as usual, they killed it. Here's a pic of Doug Martsch doing just that: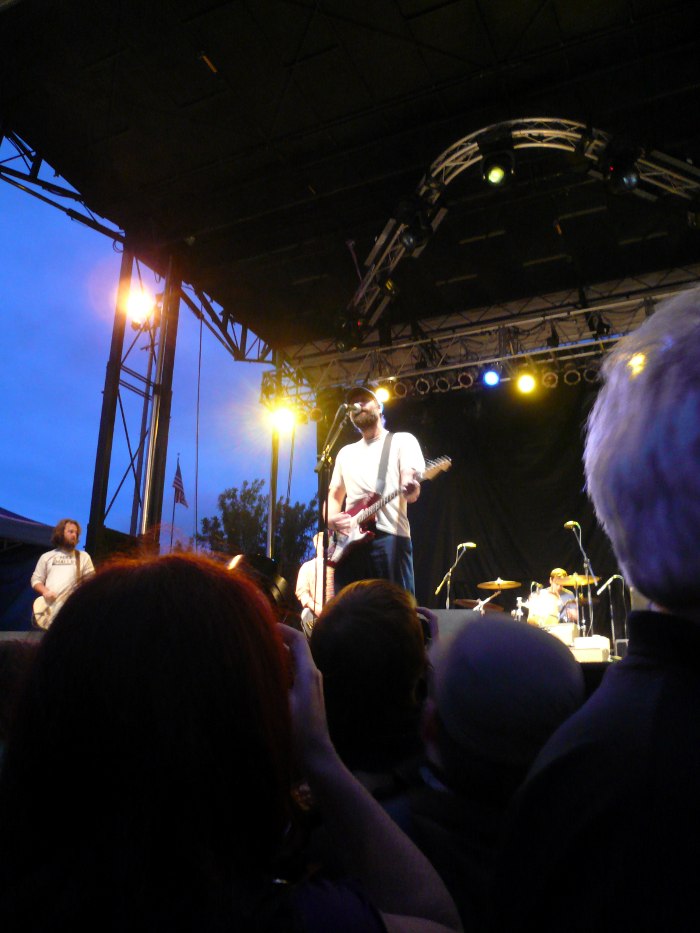 On the second day of the festival, there weren't any bands that we were totally stoked to see, so we just relaxed and listened to a bunch of artists that we'd never heard before. We regularly walked from stage to stage, listening in on whoever was playing and hanging around if it sounded good. One of the ones that stuck in my mind was the Dutchess and Duke. They were a folksie rock band that played really uplifting music. They even had poster-cards with their lyrics to make it easier to sing along!




Other interesting bands from the second day included Final Fantasy, MF Doom and the National. Since the Flaming Lips were headlining the third day, we all made sure to get to the park at least an hour before it opened. There were maybe ten people there when we arrived. When they opened the gates an hour later, everyone sprinted across the park to the main stage. As usual, we all secured front row seats! This time, we had about nine hours of other bands to listen to in advance of the Flaming Lips. Fortunately for us, most of them were really good. One of the ones we didn't expect to be so fun was the Mae Shi, who were playing their last show together as a group. They were incredibly charismatic and on several occassions I made contact with band members which adds a personal feel to any performance. Unfortunately I don't have any pictures from their set, however. Some time after the Mae Shi, M83 came on the main stage. I really like their music, but I think their set was marred because the bass was way too high, and it drowned out their music. Regardless, it was nice to see them play. Here's a couple pics of this two-person band:




After M83 finished, the crowd started getting a bit antsy for the Lips. This was by far the most heavily attended Pitchfork Festival ever, and by the time the Lips came on, there were over 10,000 people hemming us in to our spot. Here's Katie and Rafaela waiting for Wayne to start the show:




Before the show began, Wayne came out several times to talk to the fans. There was a hilarious guy near us who kept shouting 'Wayne! I've been a fan since '02 Wayne! Since '02!!', which is especially hilarious since they've been around since 1983, and at least half the audience has probably been a fan longer than that! :-) Here's a shot of Wayne with his list of songs that the fans wanted to hear:




And here he is about to start the show off in traditional style, in his bubble!




And finally, the glory of the Flaming Lips Live:




The show was mindblowing, as usual. I only wish that Wayne would have spent less time talking and more time playing on this particular occassion, since they had a shortened time slot. In the end though, everyone had a great time getting covered with graffiti. We had one of the security guards take this picture of the five of us after the show was over:




On the day following the Lips show, we drove all the way back to Rochester to drop my sister off, then I went to Niagara Falls to meet Raf's parents. We had some time to kill before they arrived, so we walked around on the Canadian side of the falls for a while and I took care of some CyPace phone calls. I was a bit nervous when I finally met Raf's parents because I had learned that Raf's father was a bit intense and he didn't warm up to people really well. Fortunately, at dinner, we started talking about my company, and he gave me some business advice. By the time the dinner was over, we had actually had a full-fledged conversation on religion that was actually pretty engaging and intense. I think in the end, her dad might have felt slightly embarrassed for engaging in such a conversation with me, instead of being more reserved, but I think that generally I left a good impression. After dinner, I left to return the rental car and re-unite with my family.
Full Time with CyPace
By the time July had come, things had started to take shape with CyPace. We had secured a development partnership at a small nearby medical center, and this finally enabled us to create a functional product. I remember that we anticipated having something salable within two or three months from this time, but looking back on it, that was overly optimistic. Nevertheless, this opportunity was exactly what we needed to proceed, and part of the deal even included a little bit of money for CyPace in exchange for the free copy of our software. This was ideal, and the amount of money was enough to bring me onto the project full time. I was to be the first full-time employee in the company, and this enabled me to work on the product all the time, and avoid my ridiculous Cedars commute. When I abruptly left Cedars, they were a bit upset, but I don't think I caused any hard feelings. From that point on, my work place would be my bedroom. In addition to the salary, I also negotiated an increased equity stake in the company, raising my ownership from 5% to something like 8% around this time.
More Shows
Within six weeks after the Pitchfork Festival, the Flaming Lips and Built to Spill both came to Southern California. We got tickets for the Flaming Lips show in Pomona and the Built to Spill show in Santa Barbara. The Flaming Lips show occurred first, on the 18th of August. They passed out laser pointers at the entrance to the show, which was pretty interesting. At one point in the show, they turned off all the lights while Wayne held up a giant mirror. Everyone in the audience aimed their lasers at the mirror and the effect was ridiculously awesome. Being in that room was like being on the inside of a prism, with a thousand beams of light angling in every direction. Here's a couple pics from the performance:




For the Built to Spill show in Santa Barbara, we stayed overnight at the house of one of my friend Adam's friends. Adam Luetto is a young strapping lawyer who I met through rock climbing at the Arc. He went to UCSB, so he had some friends in the area so staying with them made sense. While we were in SB, Adam showed us around and we did a good deal of bar hopping, especially before the Built to Spill show. The show itself was played in a relatively small bar on State Street. The place only fit maybe 150 people and it was packed. We were near the front, directly in front of the 'stage'. Basically, the band was barely off the floor, and it was an incredibly intimate setting. The sound engineers had done a great job, in spite of the poor setting, and the show was the most mesmirizing of any Built to Spill show I'd seen yet, and that's saying a ton. I felt completely enraptured by the music for the entirety of the set. The complex layering and brilliant songwriting, as well as the tightness of the group and their incredible feel for improvisation all made the show very memorable. Here's a blurry pic that we took of the band playing:




Built to Spill is one of the few bands that I will still see whenever they come around, and I imagine that very little will change that.

Forward to Fall 2009
Back to Index