Return to Index
For Climbing Glossary and Ratings Information, Click Here
Season 4 (2011): I'm Back! (or most of me, anyway)
Recovery, Continued...
So after the year turned I spent my last two weeks in Rochester getting ready for my physical therapy regimen. I took off my sling in the first week and started doing range-of-motion exercises soon after. The level of pain was noticeably greater than it had been for my left arm, and I attributed this both to the scope of the surgery and to the doctor probably not being as good. Nonetheless I persisted in my exercises with even greater discipline than before, and in anticipation of being able to climb this year, I started a pretty rigorous workout schedule. As the months wore on, I continued to heal and progress. I began lifting with my left arm and once my right arm was capable, I started doing some exercises at very low weights. Over time I increased the number of exercises and slowly increased the weight. I expect that I will be fully equalized between right and left arm sometime in August this year.
The pain in my right ring finger slowly subsided throughout the beginning of 2011, but it soon became clear that the injury that I stupidly caused was not healing on its own. I am more bummed about this than my shoulders because it was totally my fault and it turned out to be the last lingering injury. Once I started at OHSU I scheduled an appointment with a hand surgeon in Portland. After evaluating my hand, he explained that the next step would be a pulley reconstruction. This would involve taking a tendon from my wrist and wrapping it around my finger to act as a new pulley. He said that I would have long-term stiffness in that finger, but that it would be as strong as new, and they've had very good success rates with that surgery. I asked about the recovery time, and he explained it was somewhat long, at 3-6 months (of course). The only bit of good news was that he said that I probably couldn't do any more damage to the pulley by climbing, so that if I wanted to climb this season I could, and then have the surgery in the winter when the rain came back. Obviously I would be somewhat handicapped by my inability to fully utilize this finger, but if I was careful I should be able to climb at near 90% of my full ability. So, I decided that once my right shoulder felt capable of bearing substantial weight, I would start climbing once again.
Easing Back Into It
As it turned out, I climbed for the first time at the local Portland bouldering gym, The Circuit, on May 21st, 2011. In order to wrangle in my tendon and prevent it from causing additional finger issues, I created a custom hoseclamp-ring for my finger:




It turned out to work really well, except when I climbed in cracks outdoors, when I would use tape. The Circuit turned out to be a really awesome bouldering gym. They've got two locations in Portland, and each of them is bigger than the Arc. Here's a few pics of one of the locations:




The ratings were about one to two grades softer than the Arc. Thus, a V4 at the Circuit would be either a V3 or V2 at the Arc. On my first day I did a couple dozen V0's and V1's, and they felt pretty good. On the second visit, I repeated this practice, and mixed about three V2's in there as well. On the third day I sent a V3 or two as well as a V5 that definitely should have been rated V3 at most. Over the three weeks that I held my groupon I became very comfortable climbing V2's and V3's at the Circuit. I climbed a few V4's, but I tried to limit myself to avoid exacerbating my recovering shoulders/finger. After some climbing sessions I would feel a little strain in my finger or my right shoulder might throb a bit, but generally I seem to be doing well and keeping myself within the bounds that my body can tolerate. Nonetheless, I am going to remain cautious when gym climbing (especially bouldering) for at least a few more months, or perhaps through the end of the season. Overall, though, I am super pleased with my body's ability to hit the ground running. I am surprised that I did not lose as much strength as expected. I feel like I am already climbing just a couple grades below where I left off, which is amazing. I think it indicates that climbing is more about body weight, technique and ligament/tendon strength, than it is about muscles.
Frenchman Coulee
My first outdoor climbing experience of 2011 occurred very soon after my decision to start climbing. Although this may sound strange, outdoor climbing (especially trad climbing) is much less stressful on the body than indoor climbing. This is because the environment is less controlled, and precautions must be taken for safety. These precautious include climbing below your limit to reduce the probability of a bad fall (or any fall, in trad). Thus, I typically climb two to four grades below my limit outdoors, and this means my body doesn't get very stressed at all. In fact, if I could manage it, I would only climb outdoors this year and totally forget about indoor climbing. Of course, this is made difficult because indoor climbing is so convenient whereas outdoor climbing takes planning and much more time. Anyway, over Memorial Day weekend, Jared and I went to central Washington, and part of this trip involved one and a half days of climbing at a place called Frenchman Coulee:




I was super excited about climbing here based on what I had read about it in a wonderful and free mini-guide located here. The rock was a pristine columnar basalt, which I had never climbed on before. There were hundreds of routes and several featured climbing styles, including bolted sport climbs on the aretes, stemming problems in the corners, straightforward crack climbing, and even chimneys. The first route I climbed was a well-bolted 5.8 sport route called 'Clip 'Em or Skip 'Em':




After this I climbed another 5.8 sport route of the same nature called 'Vantage Point'. Next, I debated breaking out my trad rack and attempting a stemming corner. For a time, I wasn't feeling it, and I was worried I might not have the stamina to place gear. After scoping out a 5.8 stemming problem called 'Crossing the Threshold' I decided that I should go for it since it seemed like I would be able to get frequent rests by wide stemming. In the end I was super glad that I went for it, because the trad climbing was the highlight of the trip. Here's a picture of me on Crossing the Threshold:




After sending this route, which was incredibly fun, I led a 5.9 stemming corner called 'Tangled Up in Blue'. It was much harder than the 5.8, and I really enjoyed figuring out the sequences. The gear placements were plentiful and I never felt unsafe. After this route we finished for the day and I was content. In fact, I had a pretty good fill of climbing in that one day, but since everyone wanted to return the next day, I wasn't going to argue. The next day I ended up doing three routes. The first was called 'Party in Your Pants,' which was a super-tall 5.8 that ended at the top of the cliff. It was my favorite route of the trip and one of the most enjoyable climbs I'd ever done. Here's a picture of me towards the top of it:




After this, I sent a 5.9 arete on sport called Ride 'em Cowboy, and a 5.10a crack called Air Guitar on top-rope. Both of these were incredibly good climbs as well. Overall, Frenchman's Coulee was one of the best climbing destinations I've ever visited. The quality of the rock and the beauty of the surroundings were surreal, and I couldn't believe we had lucked into finding this place on a trip that originally was planned without climbing.
Portland's Indoor Scene
After returning to Portland, I continued climbing at the Circuit until my groupon expired. At that point, Jared and I were debating joining a gym or just climbing outdoors. We didn't want to get a membership to the Circuit because we wanted to work on endurance routes and avoid the injuries that bouldering seems to provoke. Part of our decision would obviously depend on the quality of the area's gyms. To evaluate them, we visited both the Portland Rock Gym and a smaller gym in Beaverton called Stoneworks. We visited Stoneworks together and found the place to be incredibly cramped. The routes, for their size, were pretty high quality, but we couldn't justify a membership at such a small place, as much as we wanted to for their very low prices. A couple weeks later I visited the Portland Rock Gym and immediately realized its quality. Although the place isn't huge, or insanely tall, it is pretty decent in both categories. The quality of the routes was also very high, and there were enough hard lead routes (10+) to keep me interested for a looong time. They also have cardio and lifting equipment, and are relatively convenient to get to. The cost of an annual membership is pretty high, however, so I knew that if I joined I would have to cancel my 24-hour fitness membership, which wouldn't really be a problem since I could lift at the climbing gym. In the end, I've decided that I will probably try to climb exclusively outdoors for the summer and fall, and then if I decide not to get surgery this winter I will get a membership at the PRG. If my outdoor climbing plan doesn't work out, I will get a membership at PRG earlier.
Portland Cragging
One of the really nice things about Portland, compared to other places I've lived, is the proximity of quality climbing. In Los Angeles you drive 45 minutes to the Riverside Quarry, which was a great, albeit dirty, climbing spot. In Portland, you've got about 5 or 6 crags within the same distance, and at least one or two of them are as good as the Quarry. Here's the list of the crags in order of my excitement level about them:


Many of these are still in the process of being developed, and some, such as Pete's Pile and the Coethedral, are still largely undeveloped areas with mammoth potential. Another great thing is that there are at least as many traditional climbs as sport routes, and this will help me get away from the crowds whenever I need to. I reserve the most excitement about climbing at Beacon Rock, which is home to many single and multi-pitch traditional climbs, mostly in the intermediate range (5.10/11-), that appear to be similar in nature to the rock at Frenchman's Coulee. I have a feeling that Beacon will become the destination that Tahquitz would have been for me if I hadn't gotten injured. Anyway, my goal is to become very efficient at outdoor climbing so that stopovers at a local crag will take less than 4 hours and allow me to progress to a new level in traditional climbing. For now I think being a solifd 5.10 trad leader by the end of the season would be wonderful.

For those of you interested in learning more about the crags around Portland, I can't recommend the Portland Rock Climbs guide enough. It's got all of the places listed about except the bottom two, and it has very high quality topos, directions, gear beta, and more. It's also incredibly recent (early/mid 2011) so the information is up-to-date.
Gear Augmentation
As every climber knows, gear is an inseparable part of the climbing world. As I got ready for the trad climbing near Portland I took a close look at my rack and decided to make a few additions. I ended up getting some DMM Torque Nuts and Peenuts as well as a few large Camalot C4's and small Camalot C3's. At this point I feel my rack is basically complete, and I should be able to make it through the whole year without buying any more gear (finger's crossed). In order to organize all of my climbing stuff, I used an armoire that was left in my room as well as a bookshelf that I got for free on craigslist:




Rafaela helped me to organize this 'climbing closet' and I re-marked all of my gear with green and red electrical tape, to remind me of Christmas!
Ozone
The first Portland Crag that I visited with Jared was Ozone. Located in southern Washington State, Ozone is a half sport, half trad volcanic Andesite crag that takes about 30 minutes to drive to. The approach is also very short, at about 10 minutes. I was pleasantly surprised at how tall the cliff was (over 100 feet in some places) and with how decent some of the vertical to overhanging routes looked in terms of rock quality. A couple examples:




Some of the moderates appeared to be a bit meandering and blocky, which was slightly offputting. As an example:




We were also surprised at how many people were there, probably about 40-50 folks, and many of the good routes were taken. As a result, I decided to jump on a moderate, two-star 5.8 as a warmup. The route, called Stigmata, turned out to totally suck. It was blocky and ledgy, and far too easy. It definitely set the wrong mood and I was worried that the rest of the climbing would be as poor. Fortunately, this was not the case, and the next three climbs we did were all much better. The first, Ripper, was a short, cruxy finger crack. Next we did Trinity Crack 5.9, which was a 100 foot crack with some good and some shit sections. Finally, we sent Carrots for Everyone, which is a classic sport 5.10a and very reminiscent of climbing back at the Riverside Rock Quarry. In the end, I felt like we got a good sample of the quality of the climbs at Ozone, and I look forward to coming back and sending all of the three-star moderates.
Broughton Bluff
When Colin and Rafaela visited Portland we decided to head over to Broughton Bluff for the first time. Unlike Ozone, Broughton is Basalt, like Frenchman's Coulee, but the columns are much shorter and broken. In fact, many of the faces aren't even columnar basalt... When we arrived there were not many people there, and we ended up getting on a moderate 5.8 warmup that had a good reputation. The climb, called 'Edges and Ledges' was certainly very blocky, but it actually turned out to be really interesting and fun. Here's a picture of me leading the route: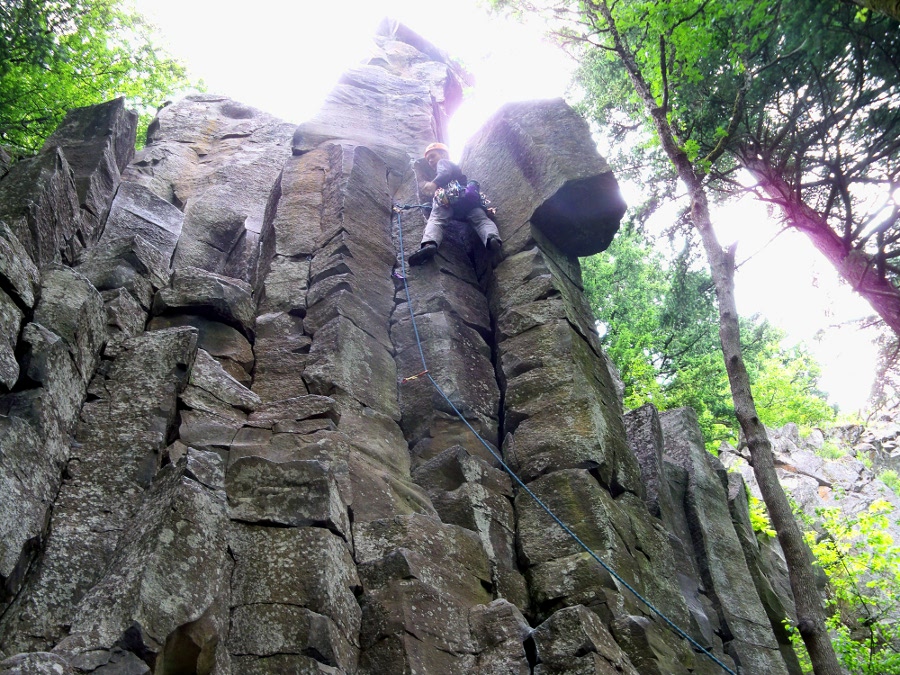 The climb proceeds up the tower above my head and culminates with some interesting slab moves to some anchors up there. As you can see, the rock at Broughton Bluff is volcanic basalt, like Frenchman's Coulee, but it was much shorter, and more broken. After leading this route and setting up the top-rope for the others, Jared and I headed around the corner to the 'North Face'. This section of the cliff was much taller, but the rock was not columnar. Here's a shot of the center of the face: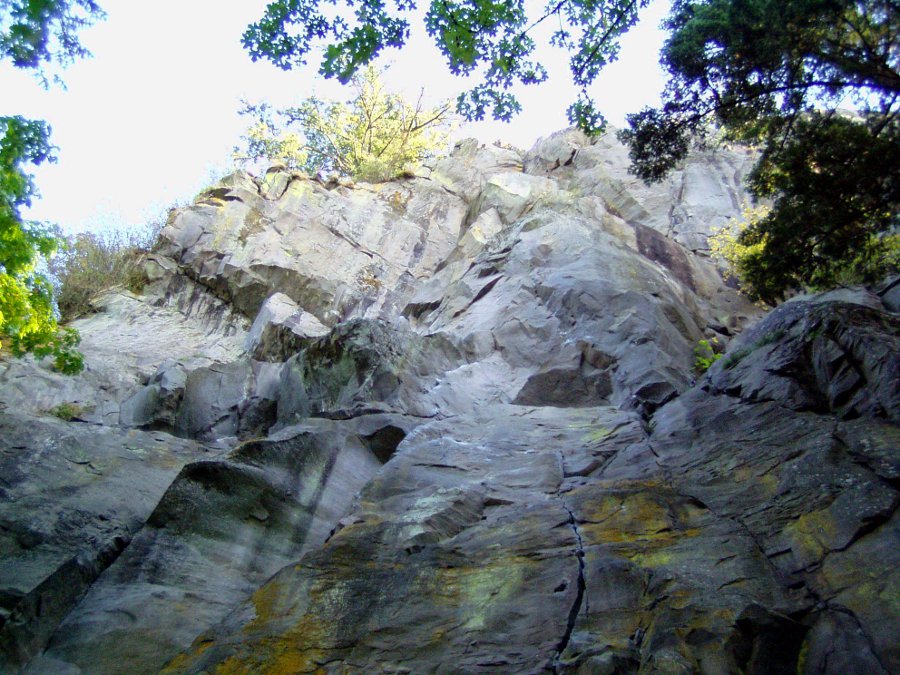 The climb that I did (called 'Traffic Court' 5.9) was up the crack starting at the bottom left of the picture and proceeding over the bulge of rock to anchors on a ledge above. The route was pretty good, if thin in spots, but the anchor was quite a bit off to the right-hand side. This normally wouldn't be a problem if I was simply going to belay my follower up, but because I wanted to setup a top-rope, this presented issues since I would have to leave directionals in to prevent swings, and also because of rope drag on the rocks that I would have to mitigate by reversing the route on my descent and taking out certain pieces. All of this caused delays, and by the time that everyone had a chance to climb these two routes, it was already getting pretty late and we decided to head back. Despite the small number of routes, we got a decent taste for the climbing at Broughton and I felt it was comparable to Ozone in quality, although different in style.

A couple of weeks later I made it back to Broughton after work with a new partner named Scott, who I met through MountainProject.com. Scott is a strong climber who has more experience than I do, so I expect that climbing with him will allow me to improve my efficiency and learn more about rope management and other logistics-related climbing practices. On this particular trip we started by climbing the classic Gandalf's Grip which is a 5.9++ 200-foot multi-pitch traditional climb with bolted anchors. The route climbs the obvious crack at the bottom center of the picture of the North Face above and then continues to the top of the cliff via a series of cracks. I led the first pitch, which involved two or three overhangs and was really really good. In fact, I think that it is my hardest trad lead to date (many of the moves felt like 5.10). I needed to rest on the rope on three occassions so I did not get the onsight. After belaying Scott up to the half-way ledge, we swapped gear and he led the second pitch. Both of us went a bit slow on our respective pitches. After he finished his pitch, I climbed and cleaned the gear. At this point we started rappelling down. After we both arrived at the half-way ledge, Scott went to pull the rope and it seemed like it got caught. As it turned out, we forgot to untie the knot on the end of the rope! As a result, I got to lead the second pitch (quite fun so I didn't mind) to free the rope. After this we descended and walked over to the Red Wall area. Here's a shot of this section of the cliff, which contains probably the highest concentration of good routes at Broughton:




The route that we decided to was a linkup of Classic Crack (5.9+) and Red Eye (5.10b/c). In the picture above, Classic Crack is the splitter finger crack at the bottom, and above the crack the face with the circle in the middle is Red-Eye. Here's another picture of the bottom of Classic Crack:




The route is one of the so-called 'trade-routes' at Broughton and has seen tens of thousands of ascents in the past 50 years. As a result, the rock is quite greasy, and this definitely made it much more difficult. I was the first one to lead it, and I found it to be far more challenging than I expected. It required solid use of hand-jams and finger-jams, and sometimes the good spots were pretty far apart. Also, the footholds were pretty terrible. I ended up falling two or three times on my gear (I had only fallen on gear once before, ever) before making it to the top. After resting on the ledge above Classic Crack for a few minutes I started up Red-Eye. This route was pretty straightforward, and reminded me of climbing at the Quarry. I was getting pretty pumped from clipping my draws on lead, so I ended up needing a rest at one point, but other than that I fired the route pretty easily. I actually found it to be easier than the classic crack. After I climbed it, we pulled the rope and Scott sent the link-up on lead as well. Then, before leaving, I climbed the route one last time on Top-Rope. I was able to do it without any rests or falls although I did get pretty pumped. We ended up leaving at around 8pm, and it was still plenty light out. The mosquitos had come out, but with long pants and a long-sleeved shirt, I was fine. It felt great to get what felt like a whole day of climbing in after work!
Farside
One of the newest cliffs around Portland is just a mile down the road from Ozone, and it's called Farside. The rock is the same type, andesite basalt, and the cliff is about the same height (60-100 feet). Since there were several 3 and 4 star routes for Farside on MountainProject, I had pretty high expectations. In addition, the climbing was supposed to be more traditional-oriented than Ozone, so I figured it wouldn't be as crowded and might turn out to be my favorite crag in the area. As it turned out, I was mistaken, and I think the stars on MP.com are just decoys to get people to visit and help clean the crag. The first thing I noticed about Farside when I hiked down to the base with Scott and his wife April (on June 26th) was that it appeared to be even more ledgy, broken and overgrown than Ozone. The first route we got on was called 2Trad4U. Apparently the name is supposed to reflect how, although most of the route is bolted, there are some gear opportunities and a few bolts are widely spaced. I thought the route was basically a pile. Too many ledges and the movement was not terribly interesting. It goes up the left-hand face in this photo:




The photo gives a good feel for the general character of Farside climbing. The next route we climbed was called The Darkhorse and it clocks in at 5.10a. This route had some interesting climbing towards the bottom and at the top where you surmount a small roof feature but was otherwise pretty average. The last route that I led on trad gear was called Day of Atonement and is rated 5.10b. This would be my hardest traditional lead to date (except that I considered it to be only 5.10a after sending). The route climbed a broken section up to a pristine face split by a vertical finger crack in the center. After doing a couple moves in the crack you had to make a long move to switch into a dihedral crack system to the left and then finish up a challenging and dirty crack above. I had to rest on a jug for a few minutes before attempting the crack and ended up pumping out on the dihedral system above, forcing me to grab a cam and rest on my gear. Still, it was a pretty enjoyable lead and remains my favorite route at Farside. The last route that we climbed was called Naughty and Nice and consisted of a bolted, sporty bottom section up a slightly overhanging face, followed by a challenging (and super dirty) traditionally protected crack system above. I climbed it on top-rope after Scott led and was pretty amazed at his lead considering how insecure and dirty the upper section was. I felt the route was a solid 5.10c. After this route we left Farside, probably unlikely to return again.
Return Trips to Ozone
Over the next month I returned to Ozone on two occassions. Both times were with a new partners, David on the first trip and Kerry on the second. With David I climbed four sport routes: Numb Nuts (5.8), No Nuts (5.8), Standing Ovation (5.9), and Step Child (5.9). The first two were a bit ledgy but relatively long and pretty enjoyable for warmups. As it turns out, Numb Nuts is the route in the second Ozone picture in the other section above. The latter two were much more fun and remarkable enough to keep my interest in Ozone climbing as a whole. Standing Ovation was a steep bolt-protected face with a short overhanding hand crack finish. Step Child was a very interesting route. It started with blocky jug-hauling up the Mordor wall into a short hand-crack section. This was followed by a fun traverse under the massive roof to an interesting sequence in a corner to surmount the overhang and arrive at the anchors. Since this was the last route of the day, and we both enjoyed it, David and I each climbed it three times.

On my next trip to Ozone with Kerry my opinion of Ozone at least doubled. Although some of the routes I had previously done, such as Carrots for Everyone and Step Child had been enjoyable, none of them were consistent enough for me to consider them local classics. On this visit I climbed two sport routes that both earned this status: Kamikaze (5.10a), and Sweeping Beauty (5.10c). The former was my second true 10a at Ozone after Carrots for Everyone and was even more consistent for the grade. It had continuous vertical-to-overhanging movement on solid edges for about 80 feet. Very enjoyable. The next route, Sweeping Beauty, was even better, but required an annoying 40 foot climb up broken rock to a ledge before the real route began. I protected this section with a single cam but it still felt a bit awkward. Above the ledge the route followed a series of eight bolts up a slightly overhanging face on incredible features. The route was long and provided great views of the Columbia River gorge during those moments that you weren't pumped. As I was climbing the upper section I felt very close to requiring a rest, but I managed to power through and got the onsight redpoint. This was definitely my finest climb thus far of the season, and I was very pleased.
Beacon Rock
Around the same time as my second return trip to Ozone I met up with Scott and April for my first trip to Beacon Rock. Beacon is an 800-foot tall basalt monolith on the Washington side of the Columbia River Gorge about 45 minutes from Portland. Here's an awesome picture of it that I found online:




The South side, which faces the river, is the one with the majority of the climbing on it:




Several of the climbs are multi-pitch, and some link-ups provide up to 400 feet of continuous climbing. I knew from the beginning of the season that this would be the likely spot for my favorite routes, but since it's closed until July 15th each year for bird nesting, I hadn't had the chance to drop by yet. In late July this changed, and as early as my first visit I knew that Beacon is easily the best crag in the Portland area. After hiking down to the base of the South face I was able to get a closer look at the wall:




As you can see, the rock looks much like Frenchman's Coulee but it's a bit more broken and taller. I think it's a fair tradeoff and I might even prefer a taller wall to the perfect geometry of the basalt columns at vantage. This way there's even more variety. The first route that I climbed was a traditional line that I setup for two of April's friends that had tagged along and weren't particularly hard climbers. It was called Little Wing (5.8) and was mostly 5.6/5.7 climbing with the exception of a single reachy crux move on a blank face from the top of a pillar. Nonetheless it was an enjoyable climb and comparable to the moderates at Ozone/Broughton. After this Scott belayed me on a top-rope attempt of a challenging 5.10b called Winter Delight. This climb, although less than vertical, was very thin and required good balance and footwork. For some reason I was feeling a bit unsure and ended up taking two quick falls off the bottom of the route. Once I got passed this section, however, I managed to eek my way up the rest without taking another rest. It certainly deserved the grade, I felt, unlike many of the climbs at the other area crags. Here's a picture of me on the middle section of the route:




After this, Scott really wanted to jump on a classic long route called Windsurfer (5.10a). At about 105 feet, this climb would prove to be a test of my endurance. It was the first true column-climb I'd done at Beacon, and took an incredible line:




It's the left-leaning dihedral crack at middle-left in the picture that goes through two small roofs. After Scott completed the lead I lowered him down and jumped on top-rope. Climbing the route required full concentration as I made move, after move, after move. The footwork required was intense, and most of the problems boiled down to stemming on small edges and chips. By the time I was halfway up my calves were in really bad shape, but I managed to rest them at times by yarding on hand jams. Each of the two roofs was great fun and just when you thought it was going to be a stopper situation, a great edge appeared that allowed you to continue unabated. By the time I had reached the top I felt like I had been climbing basically forever. Such an incredible route! This climb solidified my opinion of Beacon and made me proud of the quality of climbing around Portland. Here's a picture of the gorge that I took from the top of the route:




The following weekend I contacted Scott about attempting a link-up that would take us from the ground to the top of Beacon Rock. It clocked in at 5.10c and involved four long pitches. He immediately responded that he was game, and so we got psyched for Free for All to Dodd's Jam to Dastardly Crack. As I was leading the direct start to the first pitch, and the third pitch (which was slightly sandbagged at 5.9), I was responsible for about 250 feet of 5.10a leading. Scott was going to lead the 5.10c crux pitch as well as the final hairy section to the top-out. On the day of the attempt I had kayaked a 10 mile run of the North Santiam River in the morning and bicycled about 11 miles as well, so I already felt pretty worked. When I racked up at the bottom of the climb though, I felt solid and excited. Unfortunately this confidence escaped me pretty quickly as the 10a start gave me a few problems right off the bat. The beginning of the climb proved challenging and at one point I nearly barn-doored off the wall. It woudn't have been a good fall, and fortunately I stayed on, but I was a bit rattled. It probably only happened because I hadn't warmed up and wasn't climbing securely. The remainder of the first pitch, Free for All was incredibly good. It was super consistent right to the top and, at ~120 feet, seemed super long. After about fifty feet I managed to relax and ended up thoroughly enjoying the pitch. The belay for Dodd's Jam was a tiny ledge that barely provided room for my feet and the rope. When Scott had finished cruising the first pitch and arrived at the belay it tooks some funny manuevers to allow him to begin the next pitch with me in the way. Here's a picture I snagged off the internet of the start of Dodd's Jam (a fist-crack corner):




After this section the route passes the tree you can see at the top of the picture and enters a brutal, exposed thin-hands crack section. I could tell that it was getting hard by the way Scott was struggling, but amazingly he succeeded with no falls. I figured that being on top-rope, I'd have no issues with it, but I was mistaken. The crack narrowed to thin hands about half-way up the pitch, and it was really exposed. I was about 225 feet off the deck and I am not terribly good with thin hand cracks. I simply could not fit my hands in for a jam and ended up trying to lie-back it. This was very difficult because there were no good footholds, and I ended up falling when my foot slipped. I couldn't believe that Scott led the pitch (he explained later that he had lots of practice with thin-hands cracks, which helped). It took a couple more tries to get past the crux section and then I cruised to the top, rested briefly, and got ready to lead the final 'real' pitch, Dastardly Crack. Here's a picture of the bottom of the crack from the belay:




The rock turned out to be less polished than the first two pitches, and this allowed me to get better friction in my jams, although it also caused them to hurt more. I was surprised to find the middle section of the crack to be so challenging and definitely considered it 5.10a. I managed to send the crux without falling or resting, however, and was proud of my success on the two pitches I led. By the time I reached the anchors for Dastardly Crack, about 120 feet up, I had used most of my protection (cams and nuts) and had maybe eight pieces left, all smaller than .75 inches. Since we had a 70 meter rope we had decided that I would try to finish the route instead of stopping here and belaying. Once I got there, I wasn't terribly excited about the idea since the rock quality deteriorated greatly up above, but I decided to give it a try anyway. I went straight up from the belay into an overgrown, broken, crappy crack system and immediately got into trouble. When I was about 10 feet up, with no other protection in, I found myself desperate for a decent, reliable hold. Unable to find one, I came very close to falling back to the ledge with the anchor. Fortunately, my panic muscles kicked in and I managed to downclimb and take a much smaller controlled fall with no consequences. After this I decided to try and traverse left around a lichen-covered rock buttress. It was super sketchball and I couldn't find many spots with clean exposed rock. I had to make a few hairy moves before I could get any gear in, but I fortunately sank a bomber cam placement and felt a bit better. The next few moves brought me up to an overgrown ledge with bad rock and a fixed piton. I clipped the piton and contemplated the 30 foot fist-crack above me. I knew that the climb would be complete if I could send this fist crack, but unfortunately I didn't have any protection that would fit in it. This meant that I would have to climb the entire crack without falling. If I did fall, I'd slam back onto the ledge with the piton. I spent about 15 minutes cautiously trying the crack sequence about 15 feet above the ledge. At one point I gathered my courage and made an attempt, but when I got high enough I recognized that it would take a sequence of committing moves, not just one, to complete this section, and I smartly retreated back to the piton. I setup a poor anchor with the gear I could get into the crack and belayed Scott up. Now that we had the larger cams, Scott could lead the fist crack safely and did so. When I climbed this section, it was clear that if I had attempted it previously without retreating, there is a very good chance I would have fallen. Phew! When I topped out the hiking trail was right there, so we gathered the rope and started back toward the car. Success!
Portland Rock Gym
Towards the end of the summer I decided to get a membership at the Portland Rock Gym in anticipation of the poorer weather about to arrive. As it turns out, PRG is one of the best indoor rock-climbing spots I've ever climbed at: Their rates are reasonable, the routes are high quality, and their setters are very active. Here's a couple shots of the top-roping and lead climbing area:




Their bouldering area is also really nice, although I have not been pushing it too hard here as my shoulders are still recovering:




One thing I like about the gym is that they have three quality fake cracks that approximate outdoor cracks pretty well. I regularly run laps on these cracks and I believe it is improving my technique. As for the general climbing I have been steadily improving and just before the end of my season found myself capable of redpointing routes in the 11+/12- range.
Squamish
In late summer I decided to visit Rafaela in Vancouver and we went up to Squamish to climb one Saturday. The climbing was incredible, as expected, and is detailed here.


Tahquitz and Whodunit
For the remainder of the year I spent time at Beacon and Ozone on the weekends and PRG during the week. I got into a really good climbing groove but unfortunately was unable to make it to Smith Rock before my hand surgery. The final objective of my season was to climb Whodunit (5.9) on my visit to Southern California in early October. This trip was ultimately highly successful and is detailed here.


Hand Surgery #2
Towards the end of the year I climbed exclusively at the gym. I was climbing at a 5.11+/12- level at PRG quite confidently despite my bad finger. My final accomplishment was sending a challenging overhanging finger crack that is probably 5.11- or so. By practicing it every single time I went to the gym I managed to develop my thin crack technique enough to send it before surgery. As it turned out the secret was improvement in my footwork. On Friday November 11th (11/11/11) I finally had finger surgery. The experience was similar to my other surgeries but less painful. After it was over I felt basically fine. As it turned out they did not need to reconstruct my A2 pulley as expected. The tendon was not fully torn and they sutured it together and anchored it back to the bone. This still required a good deal of work, and I came to with my hand wrapped like so: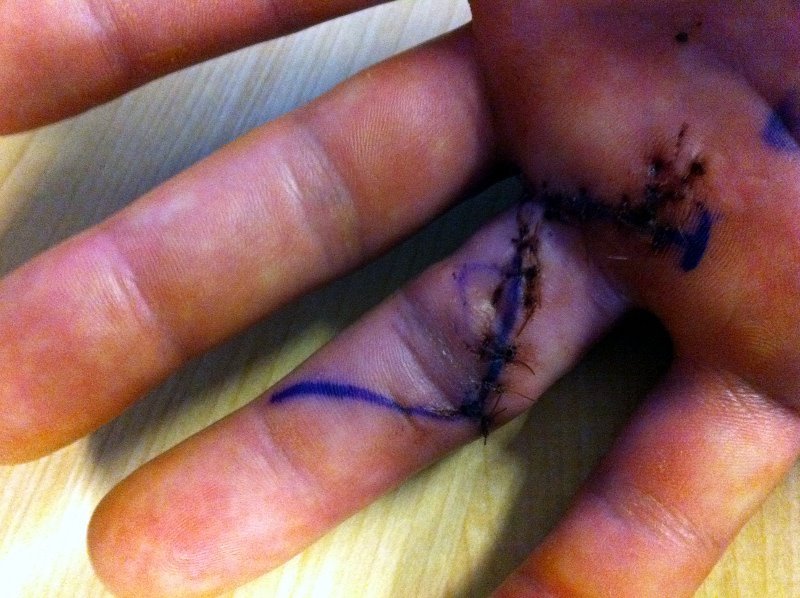 After a few days I got the bandages off and started really basic range of motion exercises. The finger looks pretty sweet with the zig-zag incision and sutures:




Although the situtation in my finger was better than anticipated, the doctor expects I am still looking at a minimum of 6 months before climbing with that finger again. My goal is going to be to try climbing in 3 months without the finger (immobilizing it via split or tape) and then gradually incorporate use of that finger starting at 6 months. Of course, the top priority is going to be to prevent re-injury, so I am going to use all available techniques to bolster and protect my fragile A2 pulley. So, this concludes the 2011 season, from surgery to surgery. Happy Winter everyone!