Back to Index
Back to Spring 2011
Return to the Outdoors
The Alsea River
After our successful Memorial Day trip to Vantage and Sasquatch, Jared and I started planning more outdoor activities in the Portland area. The first weekend after returning, we decided to kayak the Alsea River on Saturday. The water levels were within the ideal range, and so we got up early on Saturday morning, assembled the gear and kayaks on my car, and left for the Salem area. The Alsea River put-in was about a two hour drive from Portland, and the kayakable section of river was about 30 miles long. Since we weren't planning on doing this long of a run, we selected appropriate put-in and take-out spots to cut the distance down to about 15 miles. We ended up starting at Mill Creek Park near the town of Alsea and running to River's Edge Recreation Site in the Siuslaw National Forest. After we had dropped my bicycle off at River's Edge, we returned to Mill Creek Park and put in. We were very excited about the run and the weather was perfect. Before long, though, we realized that the character of the river was very different from the Mollala. There was far less water and also less elevation loss. This meant that the run was relatively tame and there were pretty long sections of more-or-less flat water. Here's a couple pictures of the Alsea that I didn't take, but gives the idea of the river's character:




As you can see, the water isn't moving terribly fast, especially in the first picture. As a result Jared and I had to paddle most of the time, and this wasn't what we had anticipated. In terms of rapids, there were many gentle rapids and a few quicker ones. There were a couple, where rocks had created a bottleneck, that were probably Class II- and quite thrilling. Generally, however, both Jared and I felt like the river failed to live up to expectations and we would be more likely to choose higher classes and faster water next time. Another thing that dampened our day was our inability to tell how far along we were at any given time. Although we were supposed to pass several other parks, there were almost no landmarks or signs visible from the river that indicated how far we'd come. This, coupled with the slow speed of the river, made us think that we were way behind on time and distance, meaning the day would be longer. As time wore on, my right shoulder began to throb, and I was definetely not too happy about the situation. But just when I started to let my negative feelings take hold, Jared reported that we were nearly done. He had spotted a road sign that indicated we were only 1/4 mile from our take out. I was completely incredulous because I thought that we had just recently passed the halfway point. Of course, I immediately felt a ton better and made sure to enjoy the last quarter mile. I was excited about the bike ride back to the car, since it would be long and peaceful and wouldn't involve using my upper body.

Once I had gotten on my bike, I started off on the 15 mile trip along the Alsea Highway. The road followed the river pretty closely and fortunately did not undulate too much, although it was consistently slightly uphill. After I was on the bike for a few minutes, the sun came out and persisted for the whole ride. This, coupled with the fact that much of the ride was through the forest, created a very peaceful and scenic environment that was infrequently penetrated by the noise of passing automobiles. I was pleasantly surprised that the five hour paddle had not sapped my body of energy, and my legs performed very very well. I took one rest at the halfway point for about five minutes. In the end, I made the 15 mile ride in only 45 minutes or so, and I felt great. I hopped in the car and started driving back towards Jared and the kayaks. On my way, I came across a person who was standing in the middle of the road and motioning for me to slow down. I did so, and as I passed him he shouted that there was a motorcycle accident just around the corner ahead. As I turned, I saw a busted-up bike being hoisted out of the ditch on the side of the road. I had a bit of a flashback to my own accident and was unable to take full stock of the present situation as I drove by. I didn't see any bodies anywhere, so hopefully the rider wasn't terribly badly injured. Anyway, once I picked up Jared we had to return the same way, and by that time the paramedics had arrived and were blocking traffic in both directions. We turned the car off, relaxed, and listened to some Pavement for about fifteen minutes until things were cleaned up and re-opened. The drive back to Portland was very long and tiring. We resolved to only travel that far for a river again if we really knew it was going to be amazing...

Later that night we had planned to go to a concert by Architecture in Helsinki. We had missed them at Sasquatch in 2005 and had heard that their live set was really good. Although we hadn't listened to any of their newer material since living in Madison, we expected it to be the same sparse, multinstrumentalist pop that we remembered. I have never been so wrong in my life. When we arrived at the show we were probably 3 drinks in and in the best moods. We grabbed a couple beers (quality local stuff) and got ready for the set to begin. The first thing Jared noticed was that there were not many instruments on stage. There was a guitar, a drumset, and three keyboard stations... weird. When they started playing their first song, we looked at each other with total WTF expressions on our faces. Apparently the band had transmutated into an 80's synch-pop band. Vocals and keyboards were now the focus, and the three or four songs that we stayed for all sounded basically alike. The crazy thing was that the (admittedly young) crowd was absolutely loving it. Anyhow, before twenty minutes had passed we were out on the street walking towards Jared's car, shaking our heads incredulously. Still later that evening I had to perform some upgrades at work remotely, and had to join a bridge call at 2:30am. By the time I got to bed around 4am, I was, needless to say, worn out.
Ozone
The next day Jared and I decided to go climbing at a recently developed area that is covered in my recently purchased Portland Rock Climbs guidebook, which I highly recommed. The place is called Ozone and it's a volcanic Andesite crag on the Washington side of the Columbia River Gorge, about 30 minutes from downtown Portland. Although many crags of this area, like Frenchman's Coulee, are volcanic basalt and formed of columns of rock, these andesite crags are instead more similar to granite cliffs, except blockier and more fractured. I typically do not enjoy blocky routes, but the guidebook had identified several quality lines so I figured we'd go and scope it out. After parking on the side of the road we hiked down the very short approach trail to the base of the cliff. I was pleasantly surprised at how tall the cliff was (over 100 feet in some places) and with how decent some of the vertical to overhanging routes looked in terms of rock quality. A couple examples:




Some of the moderates appeared to be a bit meandering and blocky, which was slightly offputting. As an example:




We were also surprised at how many people were there, probably about 40-50 folks, and many of the good routes were taken. As a result, I decided to jump on a moderate, two-star 5.8 as a warmup. The route, called Stigmata, turned out to totally suck. It was blocky and ledgy, and far too easy. It definitely set the wrong mood and I was worried that the rest of the climbing would be as poor. Fortunately, this was not the case, and the next three climbs we did were all much better. The first, Ripper, was a short, cruxy finger crack. Next we did Trinity Crack which was a 100 foot crack with some good and some shit sections. Finally, we sent Carrots for Everyone, which is a classic 5.10a and very reminiscent of climbing back at the Riverside Rock Quarry. In the end, I felt like we got a good sample of the quality of the climbs at Ozone, and I look forward to coming back and sending all of the three-star moderates.

After returning to the apartment, Jared and I made an asian stir-fry dish that Jared thought up. The major innovations were the use of ginger, bok-choy, baby carrots, broccolini, and peanut oil in addition to more typical stir-fry items like bell peppers, onions, garlic, and mushrooms. We also blanched the greens and made sure not to overcook the vegetables (we basically just steam-fried them). In the end we had an incredible dish that went very well over quinoa. In fact, I would say that this dish probably qualifies as my favorite low-calorie vegan recipe of late, and as soon as it's perfected I will add it to my recipe list here. Once we finished making the dinner, we sat down to eat it while watching game 3 of the NBA Finals. Although I do not normally watch sports anymore, the NBA playoffs this year deserve mention as being the best since the Jordan era of the NBA. The finals games, between the Miami Heat (with Labron James and Dwayne Wade) and the Dallas Mavericks (starring Dirk Nowistski) were all hotly contested and incredibly fun to watch. Jared and I would pre-tape them and then fast-forward through commercials and downtime to minimize the time commitment.
Raf and Colin in Portland
On the following Thursday morning, Rafaela arrived in Portland via Greyhound bus. I picked her up and she got settled in as I went to work. I got out of work early and we hopped in the car to go for a drive down the Columbia River Gorge. We stopped at the Vista House and at Multnomah falls, and generally enjoyed driving slowly on the forested roads with the windows down. It was a beautiful day and the air was very fresh. On our way back toward Portland we stopped at Lewis and Clark State Park to check out Broughton Bluff, another climbing area near Portland that I was planning on taking the gang to the following day. We hiked up to the cliff and checked it out. The rock looked sufficiently good to warrant our return, and we learned about the insect and poison oak in advance, which would allow us to be more prepared when we came. When we got back to the apartment, Raf helped me get my climbing gear organized. I had repurposed an armoire that had been left in my room, and had obtained a bookshelf for free on craigslist that I put inside it. I also got some posters for added inspiration. Here's what it looked like when we were done organizing it:




After that, we started preparing some salads for everyone for dinner. Colin's flight got in around 10 o'clock so we went to pick him up before returning and finishing the salads. For these special occasion salads I had procured all of the nice fixin's. They came out great! Here's a picture of the product of our labor:




As usual, the salads were huge and took us the better part of an hour to consume. Once we were done, everyone was properly satiated and we hit the sack.
Broughton Bluff
The following day I once again had to go to work, but at 2pm I got out and we left to go climbing back at Broughton. When we arrived there were not many people there, and we ended up getting on a moderate 5.8 warmup that had a good reputation. The climb, called 'Edges and Ledges' was certainly very blocky, but it actually turned out to be really interesting and fun. Here's a picture of me leading the route: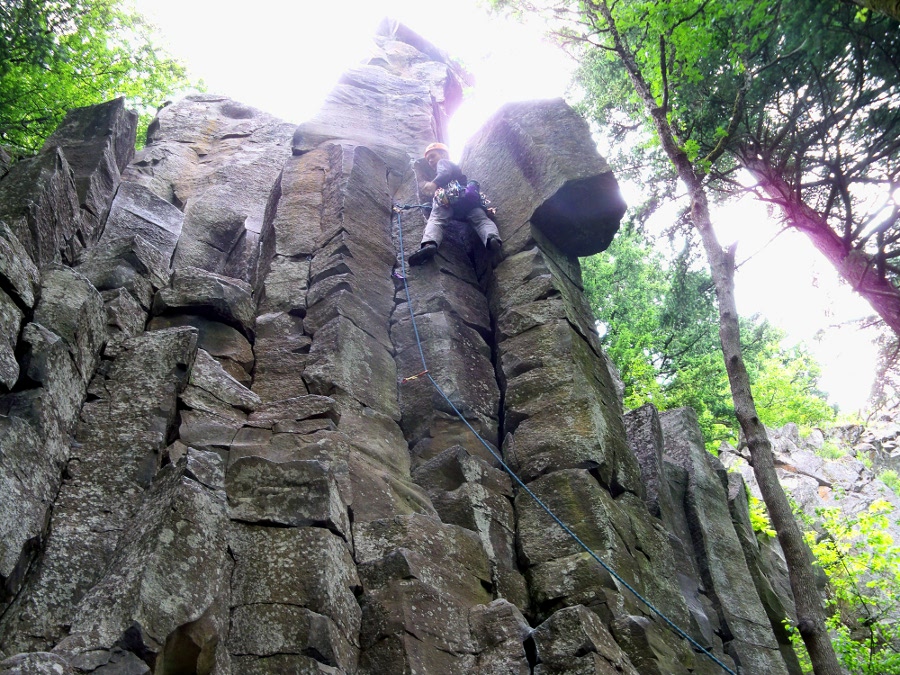 The climb proceeds up the tower above my head and culminates with some interesting slab moves to some anchors up there. As you can see, the rock at Broughton Bluff is volcanic basalt, like Frenchman's Coulee, but it was much shorter, and more broken. After leading this route and setting up the top-rope for the others, Jared and I headed around the corner to the 'North Face'. This section of the cliff was much taller, but the rock was not columnar. Here's a shot of the center of the face: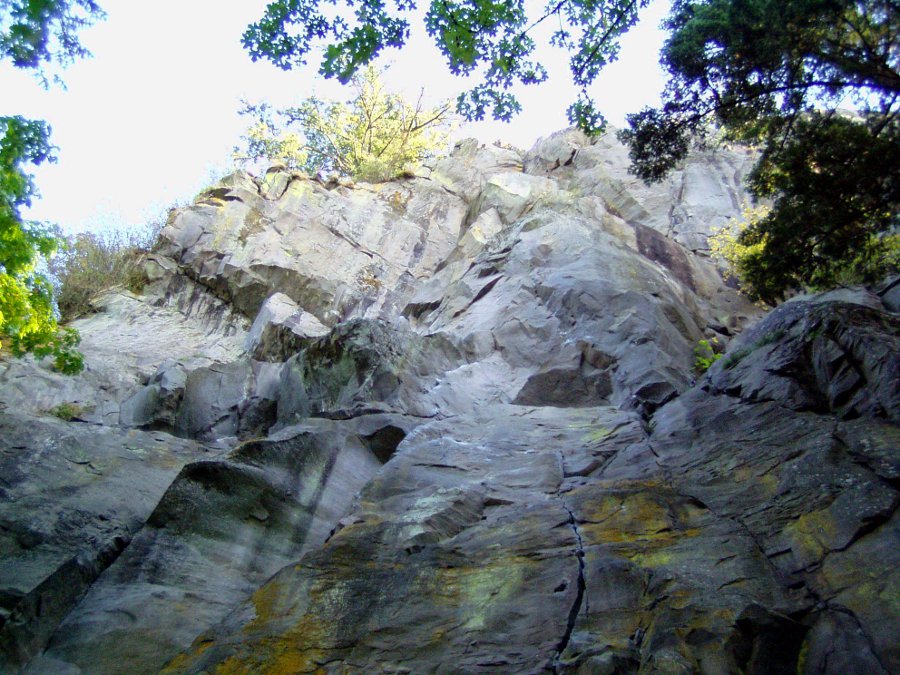 The climb that I did was up the crack starting at the bottom left of the picture and proceeding over the bulge of rock to anchors on a ledge above. The route was pretty good, if thin in spots, but the anchor was quite a bit off to the right-hand side. This normally wouldn't be a problem if I was simply going to belay my follower up, but because I wanted to setup a top-rope, this presented issues since I would have to leave directionals in to prevent swings, and also because of rope drag on the rocks that I would have to mitigate by reversing the route on my descent and taking out certain pieces. All of this caused delays, and by the time that everyone had a chance to climb these two routes, it was already getting pretty late and we decided to head back. Despite the small number of routes, we got a decent taste for the climbing at Broughton and I felt it was comparable to Ozone, although different in style. Neither spot is a destination climbing crag, but they're both good for quick getaways on weekends or afternoons.

Later that night we made the second incarnation of Jared's stir-fry recipe, and this time it came out even better than the first time. The main change was that we substituted broccoli for the broccolini. We also sliced the ginger differently and better anticipated the cooking times. In the end, the meal was probably the best I've ever helped prepare. After eating, Jared, Raf and I decided to watch some comedy and relax at the apartment, while Colin decided to meet up with some friends who lived across town and go out.
Lava Tubes
The following morning, Jared, Rafaela and I decided to head North toward Mount St. Helens to try and hike Lava Canyon, which is reportedly one of the best hikes in the Northwest. We knew that there was a chance that the road to Lava Canyon would still be closed, so we had the backup plan of the nearby Lava Tubes hike. As it turned out, luck was not on our side, and they closed the road about six miles before Lava Canyon due to snow. We turned around and went to the very popular Lava Tubes hike instead. Called the 'Ape Caves' for some reason, these tubes were formed by volcanic activity thousands of years ago. Here's Rafaela learning about them near the entrance:




Most important for us, they were 2 miles long, meaning approximately an hour to hike through (or more depending on terrain difficulty), and completely dark, thus we needed our headlamps on at all times. They were also quite cold, but since we were moving around, Rafaela and I were fine in our shorts and soft-shell jackets. After reading the sign, we descended the nearby stairs into the large mouth of the cave:




Immediately upon entering it became very very dark and hard to see until our eyes adjusted to the beams of our headlamps. The terrain at first was very rocky, with large piles of loose rock to climb and descend at intervals. Here's Rafaela making her way through this section:




Before long we were in the heart of the tunnel and the ground flattened out. The environment was pretty interesting. Instead of being black or brown, the rock had a distinctly reddish hue. In addition, the ceiling of the cave had interesting crystalling mineral deposits, creating a starlight effect when illuminated:




In some places the 'stars' appeared closer together. I think I found the center of our underground galaxy:




In addition to weird shimmering minerals, we also found spots where the lava flows had completely smoothed the surface of the rocks. We found a detached block with this characteristic at one point:




As we made our way through the tunnel, the size continued to shrink. The constrictions never were such that they caused any claustrophobia, but it did make for some interesting features: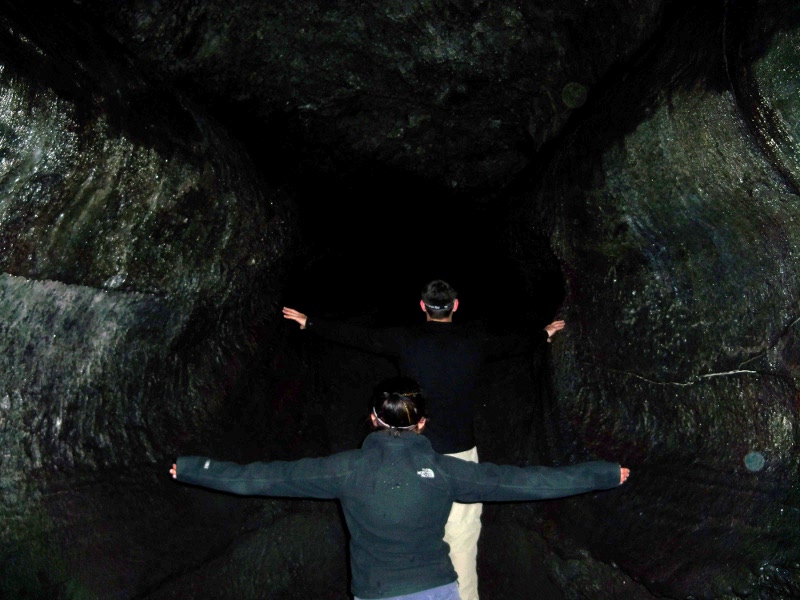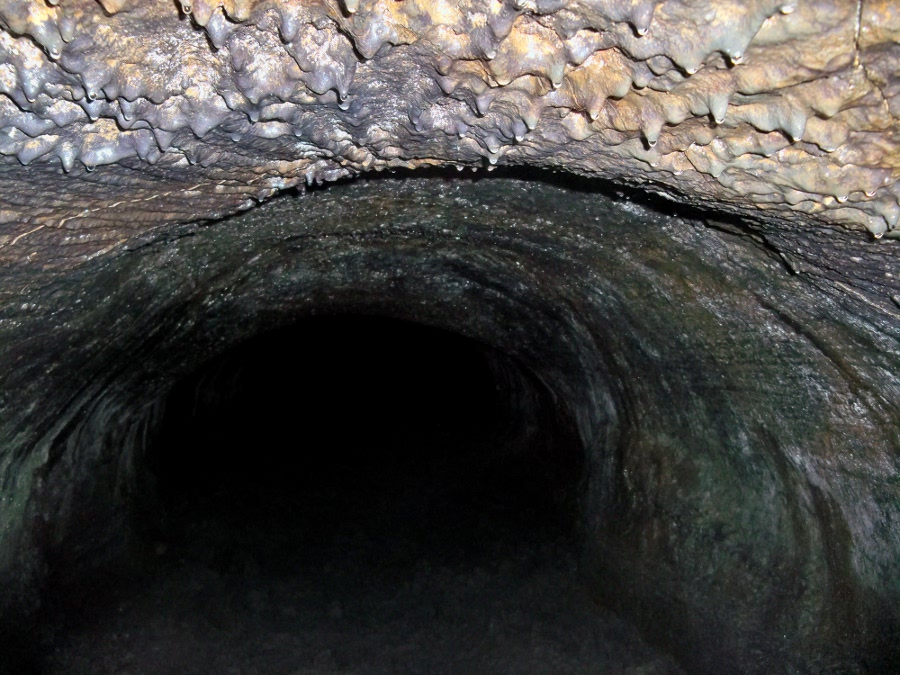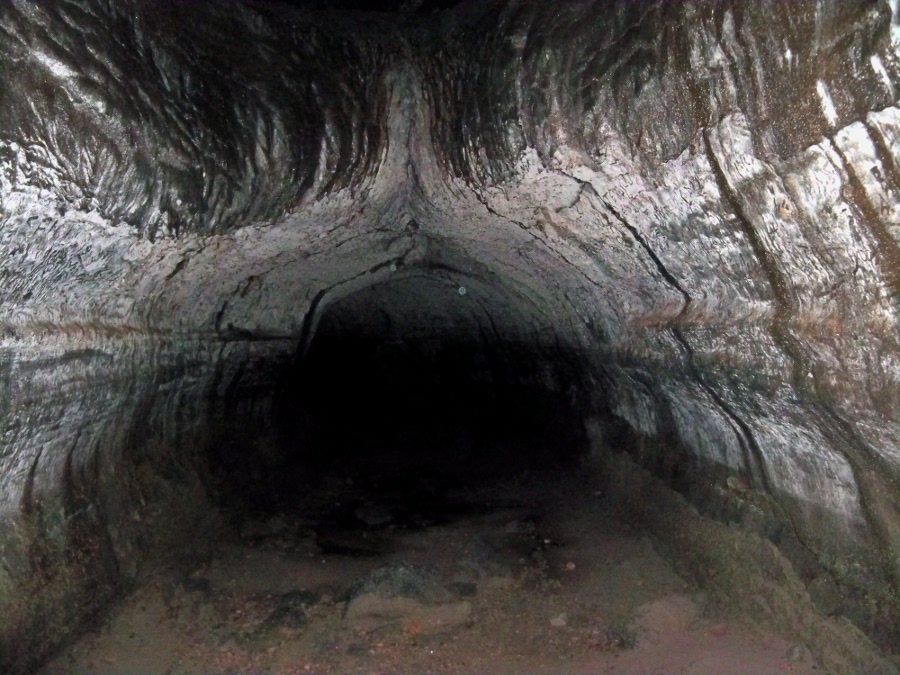 At one point there was a short, 8-foot climb required to pass, and, much like the 'crux' of Old Rag, there was a queue of people waiting to go through. It turned out to be a boyscout troop, led by several less-than-athletic adults. After waiting for about twenty minutes we passed through quickly and then were able to pass the group on the side of the cave. Here's a shot of all of the people clambering down from one of the rock piles:




After another few thousand feet, we reached the first place where any light from the outside was able to penetrate into the cavern. It created a very cool effect. Because of the contrast between the super-dark of the cave and the presence of any ambient light, it was very very difficult to capture quality pictures. I did my best though and got these two of this neat little spot:




I was very pleased with how this latter picture turned out, especially. After another short stretch, the end of the cavern came into view. There was a skylight-esque opening at the top of this room, and the exit was an angled ladder located on the left-hand side. Here's a picture of Jared and Raf looking around:




Once we climbed out of the cave, I turned around to snap this picture of the constricted exit:




And here's Rafaela and Jared adjusting to the light:




Once we were outside, all of the colors and bright lights of the external world were pretty overwhelming, as were the smells and textures of the terrain. Our senses were certainly heightened after being underground for about 90 minutes. The whole hike had a pervasive symbolic character to it. It was as if we had died and then were reborn anew in the world. I know this sounds corny, but we definitely felt refreshed in a strange way after emerging, and the hike back to the car on the wooded trail was made more interesting for the experience.
The Portland Fruit Beer Festival
After we completed the 90 minute drive back to Portland, we picked up Colin, who was a bit disheveled from the previous night, and also bothered by a corneal abrasion. We went back to the place to get ready for the 1st Annual Portland Fruit Beer Festival. Although I am typically not a fan of 'fruity' beers, the purpose of the festival was to show how creative and legitimate fruit beers could be. I was still skeptical, but a quick glance at the beer list, (found here) convinced me to go. Unfortunately, Colin didn't feel up for joining us, but we would meet up with him later. The festival was being held at the Burnside Brewing Company on the east side, and was super crowded, as Portland beer festivals typically are. Here's the poster from the fest as well as a few select brews that we wanted to try [the bolded ones we actually got our hands on]:






Standout Beers:

Alameda Brewing: Huckleberry Hound
Yellow Wolf Imperial IPA aged and "dry-hopped" with huckleberries.
ABV: 8.2% IBU's : 103

Breakside Brewing: Mango IPA
Our flagship IPA brewed with a twist: we tweaked the recipe on our best selling beer to suit it to the flavors of fresh mango. Mango additions in the mash, kettle, hopback, and conditioning tank allow this otherwise-mellow fruit to complement and enhance the Citra, Cascade, and Ahtanum hop profile of this IPA. OG: 1.063 FG: 1.010 ABV: 6.8% IBU: approx. 55

Fort George Brewing: Badda BOOM! Cherry Stout
Coming in at 6.9% abv, rich and dark as a moonless night in the orchard, Badda BOOM! has 40 pounds of raspberries and Cherries mingling famously with the Belgian yeast esters and black barley bitters.

New Belgium: Ooh La La
Ale brewed with Rasberries 8.5% abv

Ninkasi Brewing: Pinot Barrel-Aged Oatis with Cherries
Oatis Oatmeal stout with cherries aged in Pinot Noir Casks. 7.2 % and 50 ibus.

Oakshire Brewing: Blind Date
An Oat Brown Ale made with Organic Dates
Blind Date is a medium bodied Belgian Brown Ale with a balanced bitterness from Calypso Hops. It is crafted with juicy Organic Dates. It has hints of fruit, a touch of roast and a smooth silky texture from the oats. The beer finishes with a mild sweetness from the dates. 6% Abv

Upright Brewing: Barrel-Aged Pure Wit with Orange
A single cask version of our seasonal Belgian-style wit with a pound of dried sweet orange peel added to the barrel. This tart and hazy wheat beer has a tremendous nose but remains light and snappy on the palate. 4.5%

Oakshire: Gin Barrel Aged Blackberry imperial Stout
Our Imperial Overcast Espresso Stout was aged with for two months in an Old Tom Gin Barrel from Oregon's Ransom Spirits. Oregon grown blackberries were added giving the finished beer hints of Gin botanicals and a mild blackberry fruitiness which balances the sweet chocolate and roast flavors from the beer. 9.5%

Widmer: 2009 Cherry Oak Doppelbock
Cherry Oak Doppelbock is a rich ale, cold-fermented with dark sweet and red tart cherries, then conditioned on new, heavily toasted American oak. The result is a dark lustrous brew with up-front malty sweetness and cherry fruit notes completed by caramel, dark chocolate, and toasted oak undertones. The complex flavor profile balances the impressive 9% ABV and 40 IBUs.

New Belgium: Peach Love
Love is the base beer used for New Belgium's sour series of beer like La Folie. This super sour single barrel beer was aged in Whiskey Barrels with Peaches. 8.5%Abv. Ultra rare!

Block 15: 2010 La Ferme' de Demons (the Demon's Farm)
Black farmhouse ale brewed with Belgian Pilsner, French Wheat, Candi Sugar, roast malt and farmhouse yeast. Aged for over 8 months in three barrel types; Pinot Noir, Oregon Oak, and Bourbon with Brettanomyces. After barrel aging and blending, this dark ruby black ale is further matured with a touch of Oregon Tart Cherry. A demonic brew to quench only the most sinister thirst. 8.75%alc/vol 31 IBU's.

Breakside: Brewer's Bramble
Inspired by the classic bramble cocktail, this beer was aged in an Old Tom Gin barrel with blackberries, lemon peel, and juniper berry.


As you can see, the lineup had some amazing looking beers on it, but we only got to try a select few of these standouts. The others either weren't served or were sold out so fast that we couldn't get any. We tried at least 10 other beers that I haven't listed here, but they weren't terribly good or remarkable. Among the ones that we did have, the best ones, in my opinion, were the Oakshire Gin Barrel Aged Blackberry Imperial Stout, and the Oakshire Blind Date. Considering I'd never heard of Oakshire before, I was impressed with their offering. Here's a picture of the three of us enjoying the Oakshire Imperial Stout, which was a super strong brew: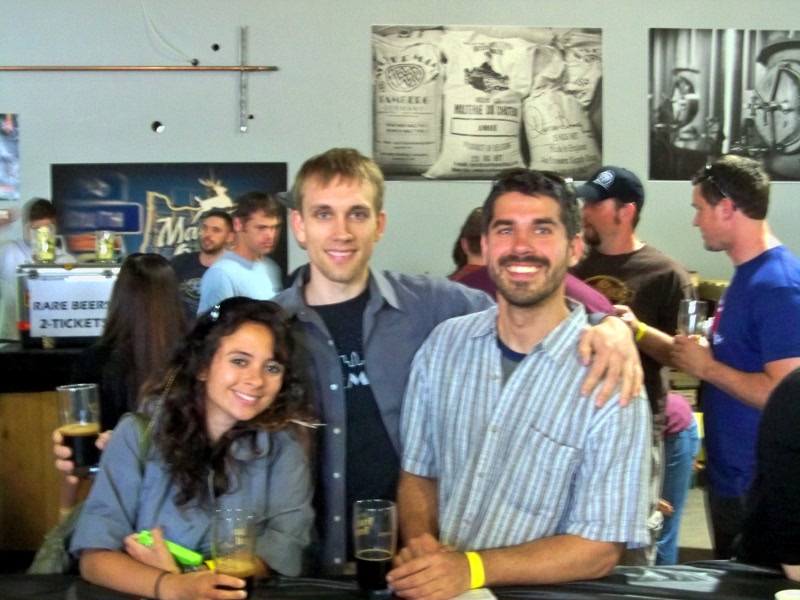 In general I was pleased with the quality of the beers, and the fact that fruit was used more as a method of deepening flavor as opposed to allowing it to overpower the brew. After we had our fill at the festival (they were also running out of pretty much everything), we decided to get a light dinner across the street at a restaurant called the Farm. Colin ended up being able to join us for this dinner, which turned out to be really memorable. The restaurant had an incredible, and vegetarian-friendly menu, and they served some amazing beers and cocktails. I was in very good spirits so I treated everyone to a cocktail of my selection. We also got a couple of yummy appetizers although I generally only picked at each to get a taste. After dinner we went to Cascade to get a round of sour beers so that Rafaela and Colin could see what it was all about. While there we had another patron capture a pair of classic photos. Apparently Colin didn't get the memo for the first one :-)




I think Jared's poses are especially classic. Bravo us. Once we had our fill at Cascade we returned home and relaxed before getting a relatively good night's rest.
Tillamook Yumminess
The following day we got a bit of a late start. Our plan was to drive toward the coast and check out Tillamook before doing a short walk at one of the iconic Oregon beaches (like the one featured in the Goonies). Because we left so late, we only ended up getting to visit Tillamook, but this wasn't a big deal since the weather wasn't ideal and Tillamook was pretty awesome by itself. Of course, the major draw (the only draw?) to this small town is the massive dairy factory there. They are famous for both their cheese and ice cream and we were eager to sample both. Here's a photo from just inside the visitor's entrance:




And here's a picture of Jared, enjoying his free ice cream sample under the glare of farmer Rafaela: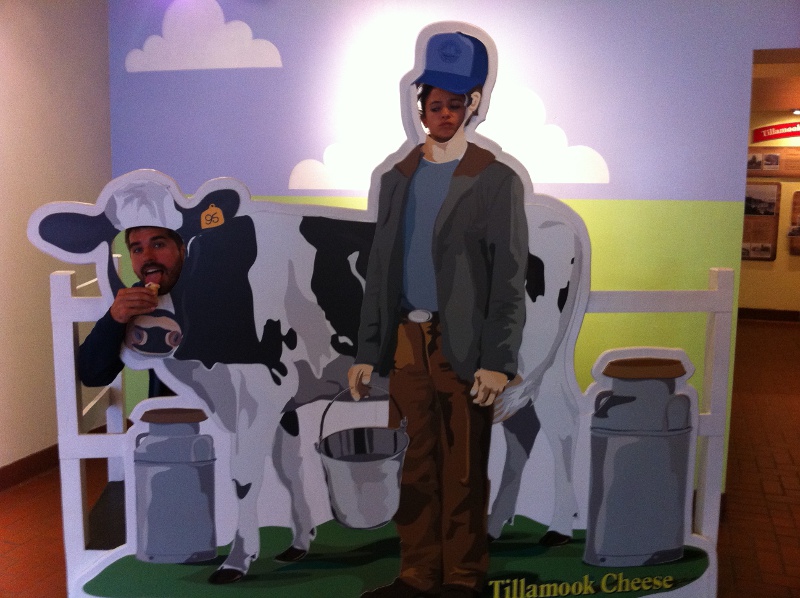 After enjoying the ice cream samples we took the self-guided tour of the cheese factory. The big white blocks on the conveyor belt below are 2lb hunks of yummy Tillamook cheese:




At the end of the tour they had help-yourself free sample bins of all of their cheeses. My favorites were the 2 year aged cheddar and the black pepper cheddar. Once the tour was complete we each got some ice cream, and Jared and Colin got some food. I had the butter pecan which was delicious. After eating we returned to Portland and dropped Rafaela and Colin off at the Greyhound Station.
Photography
I've always taken a pretty ambivalent approach to Photography. Even with respect to the photos that eventually make it onto this site, I generally have not imposed quality standards or cared who the photographer was. I've always tried to emphasize taking part in the experience itself and not worrying so much about documenting everything. Since I recently got myself a decent point-and-shoot, I have found myself more interested in the mechanics of photos that I've taken, and I've also started improving my photo editing skills with GIMP. As a result, I still do not want to over-emphasize photography in my travels but I have developed a greater appreciation for it that I hope will translate into better pictures on this site. I've also spent some time experimenting with framing and camera modes to achieve a crisper, fuller image. Here are some example photos that I took one evening from our front porch:



Rose #1



Rose #2



Sky



Neighbor

As an homage to my new enjoyment of the medium, I've decided to make a Top 10 Photos page. It should be completed soon.
James Joyce
Among the many things that I've 'gotten into' this year, I've decided to put a bit more effort into my reading of James Joyce. My half-hearted attempt at reading Ulysses last summer clearly failed, but after talking with Rich in Bellingham about it (yes, it somehow came up), I resolved to put in the necessary effort to properly approach this book. As it turns out, Joyce's books are semi-autobiographical and draw heavily from his personal experience. Thus, one of the components of my approach to Ulysses was to obtain a copy of Joyce's definitive biography, written by Richard Ellman. As I am reading his biography I have approached each of his books in turn once the age at which most of the experiences the book draws from has been reached in Joyce's life. This has proved very fruitful, and on my third attempt at Dubliners I have found an entirely new level of depth and subtlety in many of the stories.

I have also started A Portrait of the Artist as a Young Man, which was awarded the 3rd best novel of the 20th century by the Modern Library (Ulysses was given 1st). So far it has impressed me as one of the most unique books I've ever read and I am finding that his style and technique is bringing me closer to understanding the world of poetry. One example of this is the first book of Portrait, which is when the protagonist (a thinly veiled Joyce) is still a child. The prose in this part of the book is very simple and disjointed. The thoughts are poorly arranged and themes and motifs appear cyclically. Astute observations are made by the young man but he lacks the facility to interpret meaning from them. So, in all respects, the first book is written much like a child would write, or think. In this regard it reminds me of impressionism since the artist is no longer attempting a sterile, accurate reproduction but is using all of the available methods to create an artistic impression of the subject. In fact, I find that reading it actually brings about a child's mindset within me, and the more I allow myself to fall into this groove, the more the book 'clicks' and unravels itself. In addition to these stylistic elements, one of the themes of the latter chapters is the philosohy of esthetics, which I have never had a firm grounding in. I found the entire discussion very interesting. It's certainly not among the more 'grounded' and 'practical' of the schools of philosophy, but nonetheless there are distinctions there that I never knew existed and that I believe do hold merit. It's hard not to be vague without getting into particulars, but suffice it to say that I highly recommend this book in its entirety.

Another startling discovery in my reading of Joyce is his intellectual clarity at a very young age. I've always considered myself to have awakened to the world late, in my early 20's. It's clear that Joyce was very much attuned to life from much earlier. As an example, here is a quote that I've lifted from the Ellman book:

"When however the gift - great and wonderful - of a poetic sense, in sight and speech and feeling, has been subdued by vigilance and care and has been prevented from running to extremes, the true and superior spirit penetrates more watchfully into sublime and noble places, treading them with greater fear and greater wonder and greater reverence, and in humbleness looks up into the dim regions, now full of light, and interprets, without mysticism, for men the great things that are hidden from their eyes, in the leaves of the trees and in the flowers, to console them, to add to their worship, and to elevate their awe." ~ Joyce at age 16!

I expect I still have a long way to go before I start Ulysses, and that reading that book will itself be quite an endeavor. I am enjoying the ride thus far, although I expect I will be getting off prior to the start of Finnegan's Wake although it's impossible to tell at this point.
Werner Herzog
So as I'm already branching out in music and literature, I figured what the hell, might as well add film into the mix, right? On the suggestion of John Wunderlin I decided to obtain copies of several Werner Herzog movies. Prior to this I have had zero exposure to Herzog's works except that I had heard of his documentary 'Grizzly Man' on several occassions. After doing a bit of research I found that his movies can be broken up into two different types, Feature Films and Documentaries. Most of his films are older, from the 70's and 80's, and in German. Most of his documentaries came later and were produced in English. The distinguishing thing about his work, however, spans both time period and genre, and that is his willingness to let the reality of a situation shine through without interference. It seems that one defining thing about Hollywood movies is the rigid control that the moviemakers put on the scenes they are portraying. Even great directors like Darren Aranovsky are still forcing the manifestation of their ideas in their actors and in their environment. They have a message or a story and the more that the subjects conform to this, the better. Herzog is different. Although he does create a framework and a setting for his movies, in many respects he allows the pure creation of the moment to show through, whatever happens. Because of this, he preferred actors of incredible intensity and unpredictability for his feature films, most notably Klaus Kinski. For his documentaries, he seeks out unique individuals and it commonly happens that the most unlikely people become the center of attention for extended periods of time. An example of this is in his movie 'The White Diamond' where a simple Guyanese porter garners a lot of attention for his spontaneous philosophical musings. Among all of the films, my favorites were the following three [click for Wikipedia article]:




I also felt 'Aguirre, The Wrath of God', 'Encounters at the End of the World' and 'My Best Friend' were worth watching. Aguirre especially showcases Herzog's early style. In it Kinski is less restrained than in Fitzcarraldo. Encounters at the End of the World is a stark look at life in an Antarctic research settlement, where several unique people have taken residence. My Best Friend is a candid view into the relationship between Herzog and Kinski and is pretty startling.
Gardening
One day at work I noticed a bunch of tomato plants in our break room, and there was a note saying that we could take as many as we wanted. I decided to grab four plants (representing three different varieties) and figured that we could make a big potter or windowbox or something. In the end we were given a small patch of garden terrain by our landlady, and I set to work cultivating my own garden for the first time in years. It didn't take long before I had the area weeded and the four plants in the ground. Here's a look at the area: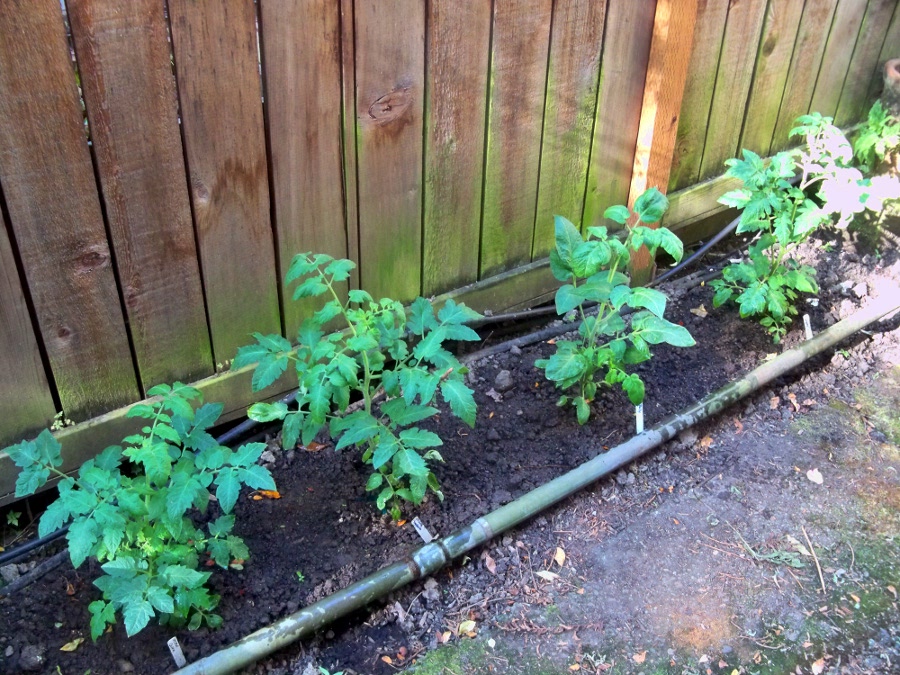 We also got a basil plant (left in a pot), and I found a few tomato cages in our basement, so hopefully we have quite a bounty before the end of the season.
Okkervil River
On June 21st Okkervil River played a show at the Crystal Ballroom and Jared and I went. I've been listening pretty consistently to Okkervil River since my winter recuperation period in Rochester and slowly acclimating to their emotionally-charged music. I feel that Black Sheep Boy is their most 'cohesive' album, but it is still not perfect by any means. Nonetheless, across the span of their output I believe they have shown themselves to be crafters of consistently high-quality music that is certainly unique. In many ways it displays a firm country grounding but without being emotionally subdued or understated. I was excited to see how good they were live, especially since on one of their EP's they included a live version of the song Westfall which was amazing. As it turned out, the show was one of the best live performances I've seen:




They played music for about 90 minutes straight and covered material from all of their albums. There were a few favorites of mine that were missed, but generally we were both very pleased. This leaves me with about four bands that I'm liable to see live whenever I get the chance: Built to Spill, Yo La Tengo, Okkervil River and any member(s) of Animal Collective. (Notice that the Flaming Lips are conspicuously absent due to recent let-downs and Wayne's long-windedness...)
Rachel Visits
In late June Jared's friend Rachel visited for a month from Pennsylvania. Rachel works with deaf children during the school-year and decided to spend some of her summer time off in Portland. She came just as the weather started getting better, lucky! Here's a picture of Rachel and Jared:

***Pic of Rachel and Jared***

Jared and Rachel were very active in the kitchen after her arrival. One day they made a delicious macaroni and cheese dinner with Tillamook cheese, as well as a summer salad with dried cranberries and fresh mozzarella. Here's a picture of the table all ready for us:




The brown dillies on top of the macaronie are hunks of homemade bread. Yum! On one Saturday morning the three of us decided to head over to the Portland Farmer's Market. On the way I snapped a couple pictures of three Portland landmarks near our house:



Colorful houses



Mission Theatre/Bar/Restaurant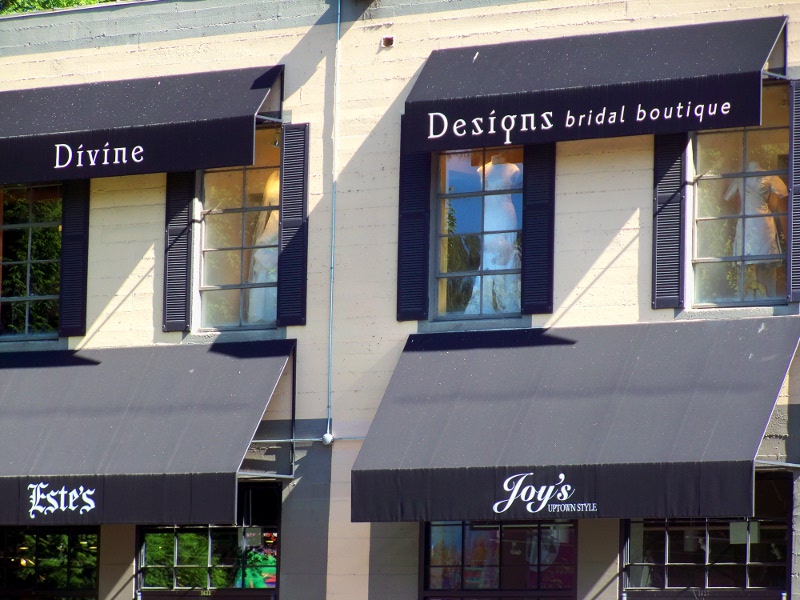 My four favorite stores

The farmer's market is held in the South Park Blocks in downtown Portland. My camera had trouble battling the sun that day, but here's a couple pictures of the park I snapped on the way to where the market was: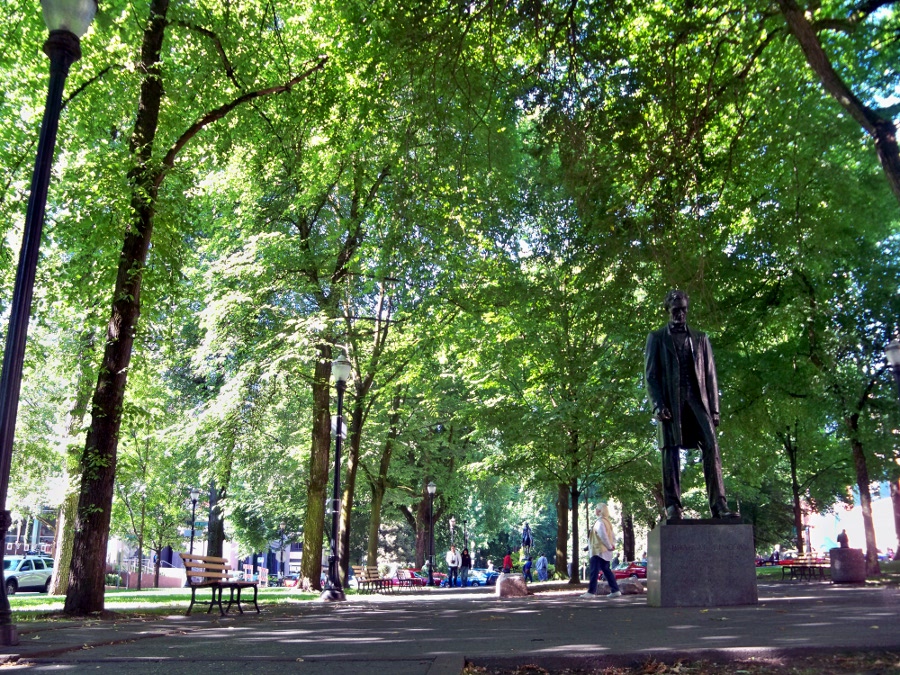 Outside of the Portland Art Museum they were holding a car exhibit featuring Alfa Romeo's and Ferrari's. Here's Jared considering a purchase:




And a look at a newer model:




How someone, even someone wealthy, can justify the purchase of one of these monstrosities in the face of a problem-ridden world is beyond me... Anyway, after passing the exhibit we finally arrived at the market. Here's a couple pics of the people meandering from tent to tent and sampling the wares:




The farmers market always attracts a lot of people. I find the quality of the goods to be top notch, but the outrageous prices keep me from buying much. It's really a luxury fair, which to me seems counter-intuitive. I always expected farmer's markets to be places where you could get fresh produce straight from the farms at a reasonable price, but instead this is more of a fine-craft food showcase. One good thing is that most of the vendors represent small independent companies, but they are clearly pandering to the wealthy uber-progressive urbanites. The best part of the festival for dirtbags like myself is the free samples. Most vendors are pretty conservative with these, but favorites like Dave's Killer Bread and The Rogue Creamery offer gracious sample portion sizes of amazing quality. We spent about two hours in the market before returning home.
Sandy River
The following week preceeded the July 4th extended weekend. On that Friday Jared and I decided to do an after-work run of the Sandy River from Dodge Park to Oxbow Park. This section of water is rated class II+(III) and would be easily the hardest run we'd attempted yet. I was really excited and expected it to be more adventurous than the previous two runs on the Alsea and Clackamas Rivers. As it turned out, I got even more than I bargained for. Prior to setting out, we read the entry in Soggy Sneakers that explained where the hairiest rapids were on the run. The worst one, it said, was where a pipe crossed the river overhead and involved a tough class III chute with a hole at the bottom. It explained that navigating it on the left was best. Jared had less trouble getting his wetskirt on so he set out a bit before me and by the time I left shore he was out of site. Imagine my surprise when, after starting, I immediately saw a pipe crossing the river and a massive rapid. By the time I reached it, I could see Jared downstream of the rapid, in the water, frantically holding onto his Kayak and trying to swim to shore. Egads! I did my best to avoid the harder parts of the rapid and managed to navigate it safely. Once I caught up with Jared I realized that not only had he been thrown, but his paddle had also been snapped. Shebang! After he dumped the water from his kayak we surveyed the damage and thought about what to do. Impressively, Jared felt okay to continue with just a half-paddle. For the next two hours we carefully navigated the most beautiful, adventurous, and intense whitewater that we had ever been in. Miraculously neither Jared nor I suffered any further setbacks, despite some very close calls. It was an incredible ride! Sadly we didn't get any pictures of the rapids, but here's a picture I found online from that section of water (not near a big rapid...):




Once we finished we only had an hour or so to retrieve the car before Oxbow Park closed. To my dismay, the road between the parks was very challenging since the river had carved itself a canyon and the road snaked up and down over 800 feet to exit it. I was forced to walk the bike for some sections and the 8-mile ride was pretty grueling. I arrived at the car with 15 minutes to spare and immediately took off toward Oxbow Park. I drove as fast as I could but still arrived one minute late. They had already closed the gates to the park! When I arrived, however, I noticed someone waiving at me from the side of the road. It was Gorski! Apparently some crusty old man in a pickup truck had offered him and the kayaks a lift just before the park closed. Breathing a sigh of relief, I parked the car and helped Jared load. When we arrived home around 10pm we were both exhausted, and very pleased to find that Rachel had graciously prepared dinner for us both. Yum!
July 4th Weekend
At the last minute I decided to take a motorcycle trip up the Olympic Peninsula of Washington for my 4th of July weekend. Colin Loveness's family was planning a gathering at his cousin's place on the beach near Sequim, WA and he said I was welcome to join them Sunday afternoon through Monday morning. I had also never seen the outer peninsula or much of the Oregon/Washington coast, so I figured I could see all of these things in one trip. In order to go I had to register my bike in Oregon and switch my license from California. I finally got around to doing these two things at the Beaverton DMV on that Friday morning and they got me for about $350! Before Jared and I left to go kayaking on the Sandy I got most of my packing done so that I could leave early the next day. I was a bit worried since my bike had been having some trouble starting lately but I figured that once I got on the road for the trip the alternator would take care of things and I would be fine. Here's a map of my journey North for reference:
| | |
| --- | --- |
| I woke up at around 4:45am and finished preparing my bike for the journey. I was very anxious to get on the road and ended up leaving at 5:40am. I had about a gallon of gas and figured I would stop at the gas station I typically stop at on the way to Brown's Camp (where I take the KTM off-roading). When I rolled up there it was around 6:15am and I had the attendant fill up the tank (about 3 gallons). Once he was done I went to start the bike and lo-and-behold, it wouldn't start. The battery wheezed out a half-hearted attempt and managed to empty itself. I pushed the bike towards the door of the gas station's market and went in. The attendant unfortunately didn't have cables, and somehow they didn't sell them there either so I was forced to wait for their next well-endowed customer. I felt pretty distressed for the 20 or so minutes that I ended up waiting. I felt stupid for not bringing my cables along (considering the recent battery trouble I'd had) and since it was so early, I was worried I might end waiting for an inordinately long time. To my excitement the next customer ended up having cables and soon I was on my way again. The ride to Tillamook was pleasant until I crossed through the coastal range and the heavy Pacific fog descended. It became quite cold and visibility was poor. I had been planning on stopping at the Cheese Factory and Creamery but it didn't open until 8am. In the meantime, I decided to stop at the MASSIVE Fred Meyer in town and snag some jumper cables and snack food for the journey. I spent an hour snacking and drinking coffee in the attached Starbucks before heading over to the Cheese Factory. On this visit I learned a bit more about the Tillamook Country Creamery Association and how unique it is for creating a market for so many family-owned farms. I still wish they had an organic variety. Hopefully it's just a matter of time. Anyway, I got some cheese samples and had a bit of ice cream (their Grandma's Cake Batter and Sticky Bun flavors are hilarious and super-yummy) while the fog layer burned off. Once I started on my ride and made it a bit further North, the fog completely disappeared and the air was clear. | |
The first town that I stopped in was Wheeler, which is located North of Rockaway Beach and South of Cannon Beach, near where the Nehalem River meets the ocean and forms Nehalem bay. Here's a shot of the town and bay:




Since I was scared to turn off my motorcycle (since I might need a jump), I took most of the remaining pictures on the trip from the seat of my bike. It was kind of annoying at times, but it made for a good excuse to ride my bike into areas normally forbidden to vehicular traffic. Anyway, here's where the 101 crosses the Nehalem River slightly futher North:




Notice the clear-cut area on the hillside. Logging areas like this are frequently seen along the roads in the Oregon coastal region. Just North of Nehalem along the coast is Oswald West State Park. At this point the road left sea-level and snaked up along a hillside, much like the California 1 in Big Sur. I captured a shot looking South:




As well as one looking North through the trees:




The next town I encountered was Cannon Beach. There were many people walking around on the main drag where lots of quaint shops were located. I pulled onto one of the side roads to get closer to the beach where the famous Haystack Rock (featured in the Goonies movie) was located:




If you look closely at the base of the monolith, you can see some people standing near the surf. Riesig! After Cannon Beach you pass through the town of Seaside. I detoured off of the 101 to get a closer look at the city proper, and although I had heard more mentions of this town than Cannon Beach, I found it to be much less quaint and unique. After Seaside was a beautiful ride up to the town of Astoria. The final few miles of this drive were atop a long bridge crossing Youngs Bay. Riding on this bridge on a motorcycle was an incredibly liberating feeling since it was just above the water and fully open, unlike most span bridges. Astoria itself has a really remarkable geography, comprising a small point of land jutting out into the mouth of the massive Columbia river. I decided to stop and grab a cup of coffee in town and ended up at the conveniently-located Columbia River Coffee Roasters along my intended path. The coffee was great and the staff were really friendly. I normally don't gush much about coffee shops, but this place is definitely worth stopping into if you're in town:




I grabbed a muffin and a cappuccino and walked across the road toward the water below the bridge to Washington State. From my spot along the water's edge I snapped a few nice pictures of the nearby pier and the bridge itself:




As you can see the weather was certainly cooperating. Since I wasn't rushed for time I spent an hour or so reading some James Joyce before I got back on the bike and crossed the bridge. The drive in Washington picked up where Oregon left off. The first couple towns I passed through, South Bend and Raymond, were nice but I'll cover them in the section on my return trip. After passing Raymond I left the 101 to follow the 105 along the coast. I figured that this diversion would provide more scenic coastal views. Unfortunately the land along this section wasn't terribly spectacular. At one point, a pretty shoddy-looking car attempted to pass me and when it was merging back into my lane, its front-right hubcap suddenly spun off the wheel. Like a frisbee, it hung in the air, deciding whether to dart to the left or right. I tried to anticipate its direction but was unable to. In the end it missed my left foot by about two feet, phew! There were a few beaches along this section of road and I stopped at one of them to get a closer look. To my surprise, they allowed vehicles to drive on the beaches, something I have never seen anywhere else (except perhaps Mexico):




Nonetheless the sky had some spectacular cloud formations and I managed to capture a pretty nice picture of them before I continued on:




Before heading back East to join the 101 again, the 105 passes through the town of Westport. Since I needed gasoline pretty bad at this point I decided to head up to town. While there I parked near the boardwalk to take a bit of a walk. It being the 4th of July I looked for opportunities to capture photos of American flags and scenes that elicited the spirit of America itself. I think I may have managed to capture both at once with this shot:




I like the fact that a seagull stood still atop the pole while I took the picture =). Here's a picture I captured along the waterfront shopping district: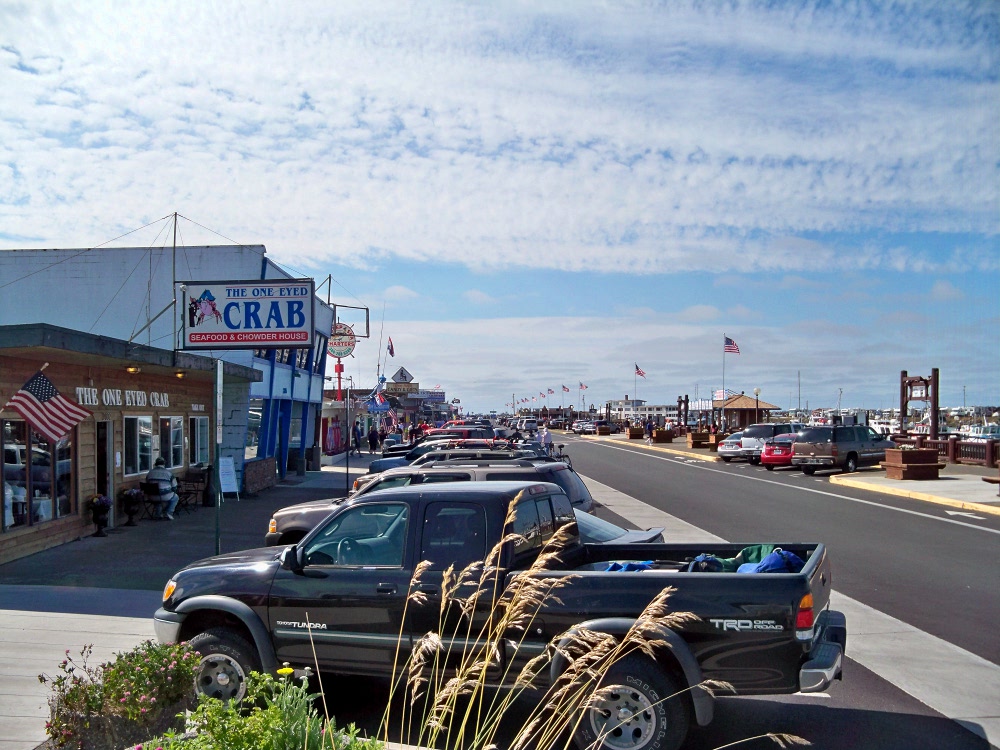 And another near the historical maritime museum:




After taking a few pictures I returned to my bike only to find that it wouldn't start. After spending ten minutes getting someone to jump me, I was on my way again, heading east to meet back up with the 101 near Aberdeen. At this point it was getting into the late afternoon and I needed to find a place to camp for the night. After passing Aberdeen and while passing through the town of Hoquiam I began to get the impression that civilization might be running out and opportunities for camping might be sparse further ahead. I decided to stop at the last RV park before heading into the Olympic Wilderness. As it turned out, the RV park was really nice and featured riverside tent-camping spots. I pulled my bike right up to the rivers edge and pitched my tent:




I still had several hours of daylight and spent them reading more Joyce. I fell asleep early and got a good nine hours of rest. To my surprise it started raining at night and although it seemed like it might letup by morning, it was still drizzling when I broke camp around 7am. After watching some beavers swimming in the river I waited under an awning for another hour, hoping that the rain would let up, but eventually I got impatient and decided to continue on my ride. The first ninety minutes of the ride through the Olympic forest were wet and foggy. The rain wasn't strong enough to get through my jacket or cause too much discomfort in my hands or feet but I still hoped that the weather would improve before I reached any scenic junctures. Fortunately my wish was granted as just when I arrived at Lake Quinalt the clouds began to break:




The lake was surrounded by mountains which I couldn't see, but I was simply happy to see the sky. On my way past the lake I snapped a photo of a nice looking lodge in the small town there:




After another hour or so of riding through the forest the road emerged along the coast at a place called Kalaloch. By this point the clouds had lifted and I was able to take some nice photographs near a lodge there. Here's where the Kalaloch Creek flows into the Pacific:




A small gazebo overlooking the Olympic coast: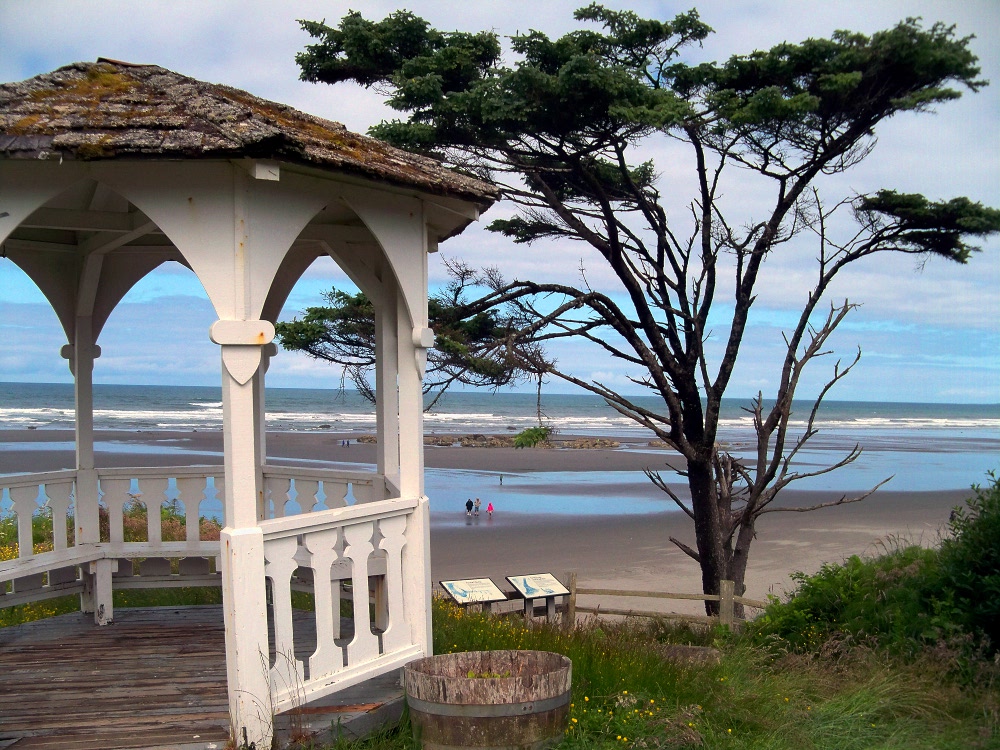 Another coastal shot near the gazebo:




Looking South along the cabins and coastline:




The Kalaloch Lodge's main building:




I was in incredibly high spirits as I drove along the coast. There was almost no traffic on the roads and the air, clean and fresh, was full of salty ocean smell. I stopped often to admire the views. At one spot there was an island in the distance with a lighthouse on it: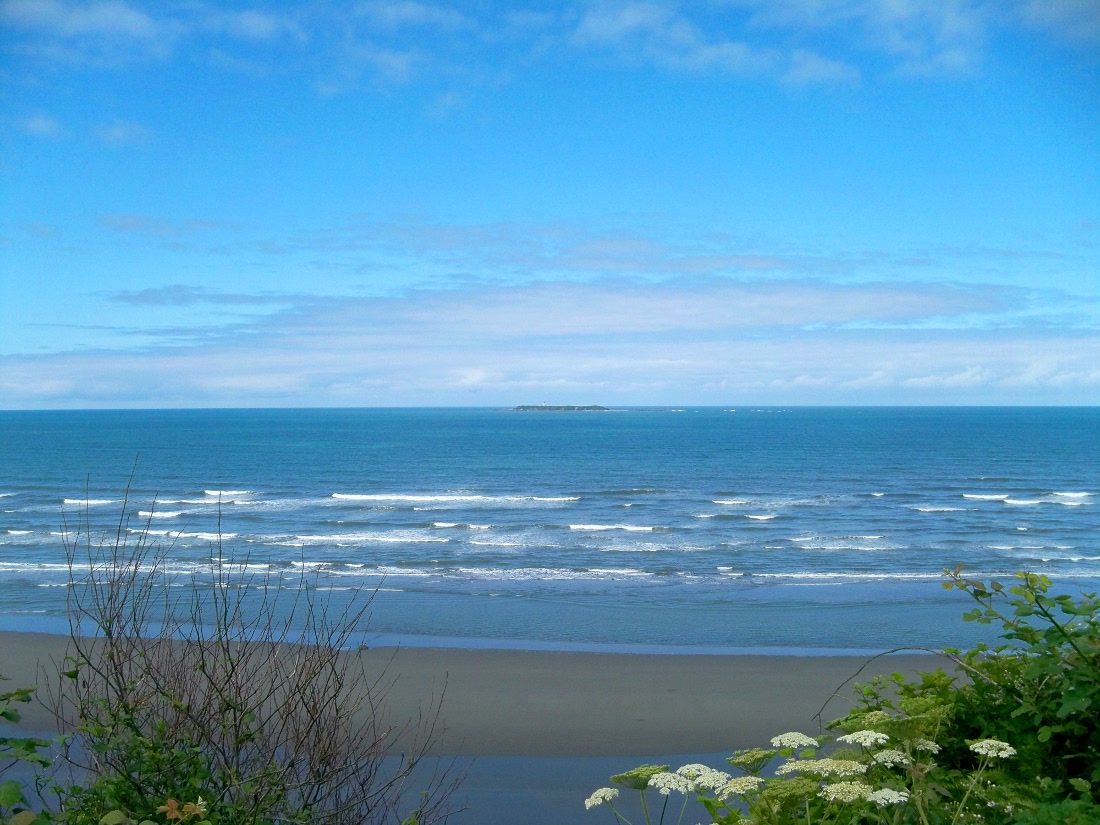 Here's a closeup of the island:




At around 1pm I arrived in the town of Forks, the only village of significant size on the outside of the Olympic peninsula:




I stopped at the gas station in town and walked over to a small hybrid coffee-shop/antique dealer in town. The lady inside was very nice. Here's a look at her fine establishment:




After passing through Forks, the 101 turns East to head toward Seattle. On the way it traverses the northern tip of the Olympic peninsula and crosses about fifty miles of park land. Somewhere in here I happened upon a pickup truck overturned on its side in the far shoulder. Apparently the accident, which had just happened, involved the truck going slightly off the road where there was a rough edge and a ten inch drop. Apprently the car had dipped off the side and the driver, instinctively turning the wheel to return to the asphalt, had caused the wheel to jam and abruptly halt the car, off axis, resulting in the flip. When I passed the car I began signalling to all oncoming traffic to slow down. Fortunately an ambulance arrived within five minutes or so... Anyhoo, further up this section of road is Lake Crescent, a large lake surrounded by peaks. I had visited this part of the Olympic park before, in 2006, when Jared, Martin and I drove across the peninsula on a rainy day to check out the Washington Coast. This time the weather was far nicer and the splendor of the park was in full array. Lake Crescent itself was very full of color:




Here's a close-up of the mountain at the far-end of the lake:




The roads along this part of the Olympic Park were flanked by wildflowers of many colors. The yellow ones were especially bright, and I even remembered them from the trip Jared, Martin and I took. After exiting the Olympic Park I passed through the town of Port Angeles. There is a ferry line that runs between Port Angeles and the city of Victoria, which is located on Vancouver Island, Canada. I managed to get a picture of the ferry just after it left Port Angeles:




There was a cool squid sculpture at the base of the ferry dock:




Within another hour I arrived at Colin's cousins' (Tom and Marilyn) cottage on the shore of the Strait of Juan de Fuca near Sequim (pronounced squim):




Many loveness family members and friends were there, including Colin, Ghyrn, cousin Peter, sister Tasha and mutual friend James. It was pretty funny to rapidly transition from a loner, inside-my-head experience to a big social gathering within a couple minutes, haha. When I arrived the group was preparing to go on a walk along the water and then to the airport. Here's a look over the water:




On the walk I was able to get my bearings and was amazed at the size of Victoria island in the distance. Once we arrived at the airport we spotted an airplane with the Burning Man logo on it:




They say that you can get into the festival for free if you skydive in, but I paid for my ticket the old-fashioned way... Anyway, after we returned to the house Colin took a ride on the motorcycle:




At that point Colin, Tasha and I ran to the supermarket in Squim to pick up drinks and supplies for dinner. When we returned we joined the party again, which had since moved outdoors to the water. Here's a pic of Colin and his mom sitting by the firepit that they have out there: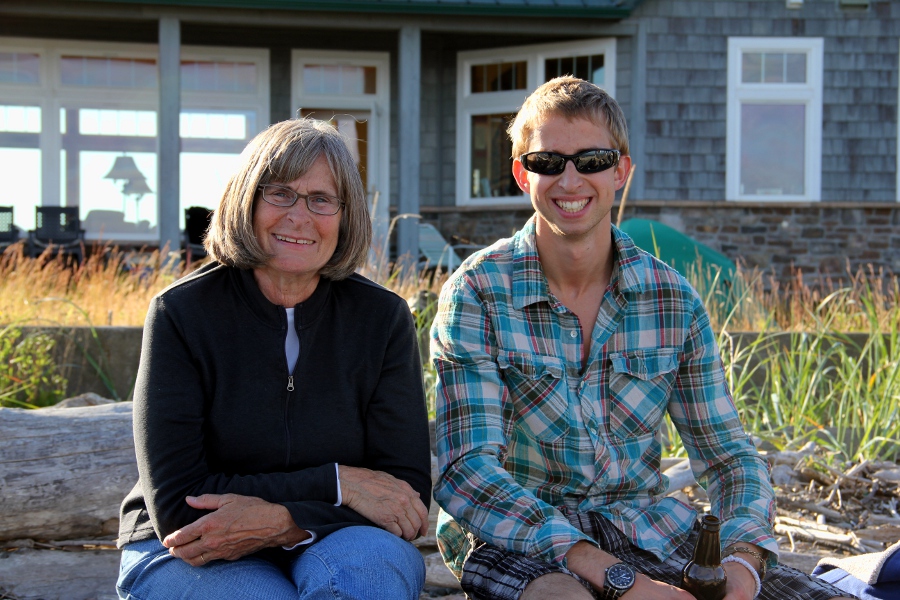 We spontaneously decided to have a skipping-stone competition. Colin and Ghyrn were both naturals (must be in the blood):




After dinner they started a fire in the pit on the beach and we sat around chatting:




After a time someone busted out the marshmellow. Adrienne captured this picture of Ghyrn enjoying one in the background with a perfectly cooked on in focus:




Pretty kewl shot, eh? After the sun set we retreated indoors and decided to play the board game Settlers of Catan:




Since I didn't know the rules and there were plenty of people who did (and I didn't want to slow the game down) I decided to just watch. It was a pretty intense game but I felt that the strategic component of the game was overstated and that much of it boiled down to luck. It lasted a few hours and then we went to sleep. I had pitched my tent in the backyard and awoke to an incredibly clear and sunny day:




Most of the others were still inside, sleeping:




After everyone woke up breakfast was started. Ghyrn and his buddies decided to make something I'd never heard of before, Dutch Babies. Here they are in the final stages of preparation:




They were delicious and a I had a few slices before I decided to head out. Since the weather was so nice, I figured that instead of taking the short way home I would reverse most of my route North and head back around the Olympic Peninsula. I would avoid detours such as the 105 and the 26, however, and the route would therefor be a bit more direct. Here's a map of the route for my return trip:




Returning this way ended up being a very very good decision. After being jumped by Colin, I was immediately rewarded with pristine views of the Olympic mountains. Here's a few shots taken in Sequim near a Winery:




The drive through the Olympics took on an almost magical character with perfectly clear skies and warm temperatures. As on my journey North there was almost no traffic and I was able to proceed at my own pace, stopping frequently to absorb my surroundings. I crossed many turqoise rivers generated from cool mountain snowmelt. The nicest one was the Hoh River, shown here:




Further South I arrived once again at the coast. It was even more beautiful than when I had driven North. The colors of the forest contrasted with the ocean and beach was especially enchanting to me:




The lushness of the normally rainy region was displayed in full splendor with the bright sunlight. Ironically, the areas where the forest had been previously clear-cut turned out to be the most intricate and varied, with several layers of growth showing through:




On my way to Lake Quinalt in the southern part of the park I arrived at the second accident of the trip. The exact same thing had happened, but this time instead of a pickup, it was an 18-wheeler. The rig had jack-knifed and crashed across both lanes of traffic, leaving just enough space for my motorcycle to slip through. Once again I directed oncoming traffic to slow. Fortunately this time nobody was hurt, but I didn't want to hang around for hours while it was cleaned up, so I left pretty quickly and continued South. When I arrived at Lake Quinalt I noticed that the area had taken on a completely different tone. The mountains, previously shrouded in mist, were now fully present behind the lake:




After passing out of the Olympic park I felt as if I had taken my fill of beautiful scenery. I was brimming with joy at having the fortune to ride through such incredible scenery for hour after hour on such a nice day. I was only halfway home, however, and the remainder of the trip had many special moments as I passed through the small villages that dotted the countryside. Two of them that I captured pictures of that I had simply passed through before were Raymond on the Willapa and South Bend. Raymond was a very small town situated on the Willapa river. The whole town was full of metal sculptures that were really neat. Here's a few pics (retrieved from a google images search):




South Bend is just a bit further South than Raymond and also on the Willapa:




After crossing back into Oregon I decided to take the 30 back to Portland, saving myself some time and seeing some new territory. The only really nice vista that I found was near Longview where I was able to get a shot of Mt. St. Helens behind the city and also capture a picture of a logging operation on the Columbia River:




Within an hour I arrived back in Portland. That night Jared, Rachel and I went to the waterfront to watch the fireworks. It was insanely crowded and because we weren't terribly close to the place they were launching from, it wasn't all that great. Nonetheless I felt that I had taken full advantage of my three-day weekend and it was certainly one of the best 4th's of my life. Later that week I purchased a maintenance-free gel battery for the motorcycle and installed it. Upon doing so I learned that the factory battery was not sealed (intentionally) and all that had happened to me was that the water in the battery had evaporated. In fact, the battery was still good, it just needed to be filled with water and charged.
Barefoot Waterskiing
On Saturday July 9th I entertained my coworker, Joe Lovato, in accompanying him on one of his regular morning barefoot waterskiing trips. Joe happens to be an expert in this discipline, and the operator of the website www.barefoot-forum.com. I figured it sounded crazy but fun, and at 5:30am that morning I met him on a boat ramp of the Willamette River near Wilsonville, OR. Joe owns his own powerboat suited to the purpose, and within a half hour we were decked out in drysuits (I'd never worn one before) and on the water. Joe of course went first to give me the basic pointers. Here's a picture of him doing a more complicated set of manuevers:



After watching him, I was pretty taken aback by how fast the boat had to go to allow you to ski on your feet. It seemed like a fall could be pretty painful. In addition, the beginner process for getting up seemed really complicated and difficult. Nonetheless, I gave it my best and actually got up on my second try! Here's a video of my third attempt:



Pretty swizzle, huh?! Yes, that faceplant hurt quite a bit and turned out to be my worst fall of the day. After resting for a bit, I tried a few more times later in the morning but I had difficulty getting up. Instead of trying to force it with repeated attempts I figured that I'd just rest and come back fresh the next time. Despite how intense the experience was, I decided that I really enjoyed it and told Joe that I'd love to try again sometime. He seems very receptive to the idea, so hopefully more improved videos will be forthcoming!
Summer Homecoming 2011
On the following Monday I left for a red-eye flight back to Rochester to visit my family for a few weeks. The two major plans for the trip were to attend the Pitchfork Music Festival with my sister and to go camping with the whole family on Cranberry Lake (again). I also had another intention on this trip home, and that was to help jumpstart the family photo organization efforts that my mom had hinted at so many times. We basically had several boxes of old family photos that needed to be organized and ideally scanned into digital format. To assist with this, I purchased an Epson Perfection V300 photo scanner and also (as incentive) a Panasonic digital picture frame. For each of the first few days in town I still had to work remotely, so I basically setup with the scanner and a bunch of photos and worked on scanning them while doing OHSU work when necessary. Over the first three or so days I managed to scan about 30 rolls of film. This represented about a quarter of the work that needed to be done, so unfortunately I wasn't going to finish during this trip. Nonetheless, I got a good stretch of time covered in the 80's. Here's a sample:



My Brother and I (left) around Christmas (1986)



My Dad, Brother and I around Christmas (1987)



Me on the Martha's Vineyard Ferry (1989)



My Mom and Newborn Sister (1989)


Pitchfork 2011
On Thursday night I picked up a rental car from Enterprise (2010 Honda Civic) and Katie and I packed for our trip to Chicago. The plan was to leave at around 4:30am the following morning and make it to the park before Battles started playing at 4:35pm. We burned a bunch of CD's of artists that were playing (Animal Collective, TV on the Radio, Fleet Foxes, Deerhunter, etc.) to listen to on our way out. The drive was pretty uneventful except that there was lots of construction on the 90, and we got reamed for tolls, as usual. The Civic got about 41 miles per gallon, which was really impressive and helped allay the cost of the trip. Thanks to losing an hour due to time zones, Katie and I arrived in Chicago around 2pm. We mostly avoided traffic, except for the last hour as the 90 got choked up entering the city. Anticipating high food and alcohol prices in the festival Katie and I ran to a grocery store to grab some snacks, beer and jack daniels. We devised a keen smuggling system to get past the volunteers at the entrance and found ourselves inside the park around 4pm. Being at Pitchfork always brings back memories, and since this was likely to be my last time I allowed myself to soak in the nostalgia even more. As I mentioned before, the first band we intended to see was Battles, playing on the 'Green' stage. I am cursorily familiar with their work, having listened to their first album about 10 times or so. Their live set was a good extension from the album material, but as my friend Seth said, it's a bit too cerebral to make much of an impression on a live audience. Here's a picture of them playing:




After Battles we returned to the 'Red' stage to see Thurston Moore, of Sonic Youth. As you may know, Sonic Youth is one of the most influential independant bands of the last twenty five years and historically they've been known for their electrifying stage performances and psuedo-anarchist leanings. Being perhaps the main member of Sonic Youth, I expected Thurston Moore's set to embody more of this energy. As it turned out, it appears he's gotten into a sort-of folkie groove with his solo material. Although the music was pretty good, I think most of the audience was let down, much as I was:




Once Thurston was done Katie and I walked around for a while since we weren't particularly interested in seeing Guided By Voices or the other bands that were playing at the time. We checked out the posters and relaxed a bit and then decided to head over to Green stage and secure a good vantage point for Animal Collective, who I expected to be the highlight of the whole festival. Once we found a good place we settled in for the hour or so wait. During this time the stage crew was constructing an elaborate setup:




Since I really wanted to enjoy the performance without worrying about my camera, I put it away. Fortunately, the pitchfork peoples released the entire video of the performance to Youtube!!!



For me, it was a truly transcendant performance, much like the experience of Panda Bear and Built to Spill at their best. The only thing that detracted from the experience was the typical Festival nonsense, namely people pushing and budging and talking and generally not being as fervently focused on the music as I was. That being said, those distractions were relatively tame as far as festivals go (thank you Pitchfork). I was surprised to find that Panda Bear's vocal duties were much less than those of Avey Tare. Considering the strength of his voice I figured he'd be singing a lot more. Avey did an incredible job, though. They played material as far back as Sung Tongs but focused mainly on their recent albums, which, although they've been growing on me, still do not impress upon and challenge me as much as their older material. After the Animal Collective set Katie and I drove to Mary's place about ten miles away to crash.

The following day Katie and I woke up around 9am and invited Ethan (Mary's boyfriend) to breakfast. He recommended the Lucky Grill nearby and it ended up being a really great spot despite looking pretty meager. Their portions were very large and the prices were pretty reasonable. I had a vegetarian omellete and it was super yummy. They also gave me a side of fruit and a small waffle.




After breakfast we went to Millenium Park on the downtown waterfront. We figured we should get in at least one non-Pitchfork activity while we were in town. To get there we actually parked pretty close to Union Park (where Pitchfork was) and just walked the twenty or so minutes to downtown. This helped us avoid traffic and parking fees. When we arrived in the park I broke out my camera to capture some shots of the surroundings. Here's some pictures of the nearby buildings downtown:




And the entrance to the park:




A stage with a dude doing yo-yo tricks: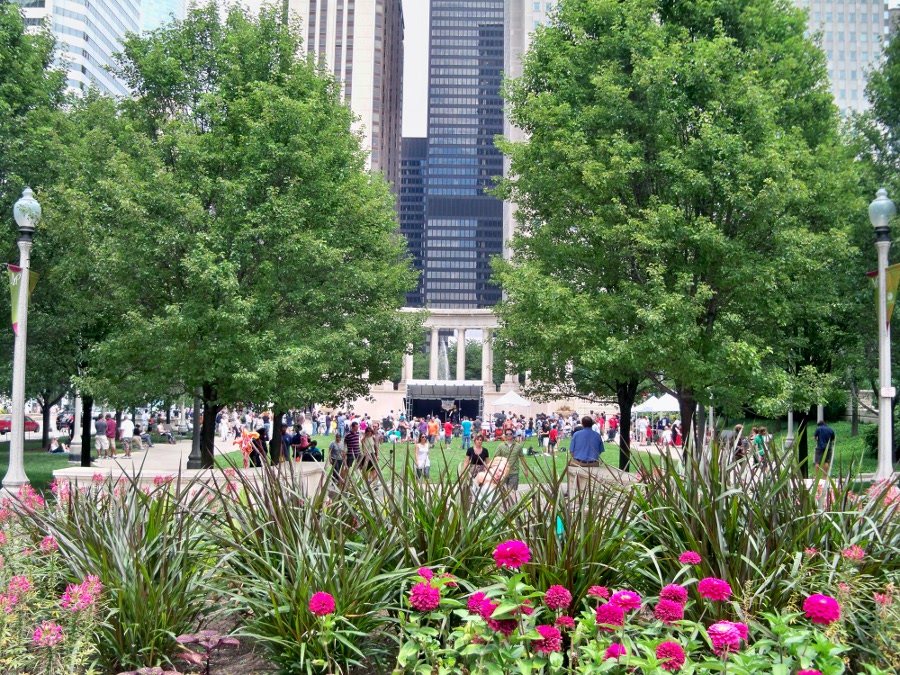 As it turned out there was a month-long free music and arts festival going on in the Millenium park area at this time, so they had performers on many stages doing various things. On the main stage they had musicians playing. This is the same stage that they use for Lollapalooza. Take a look: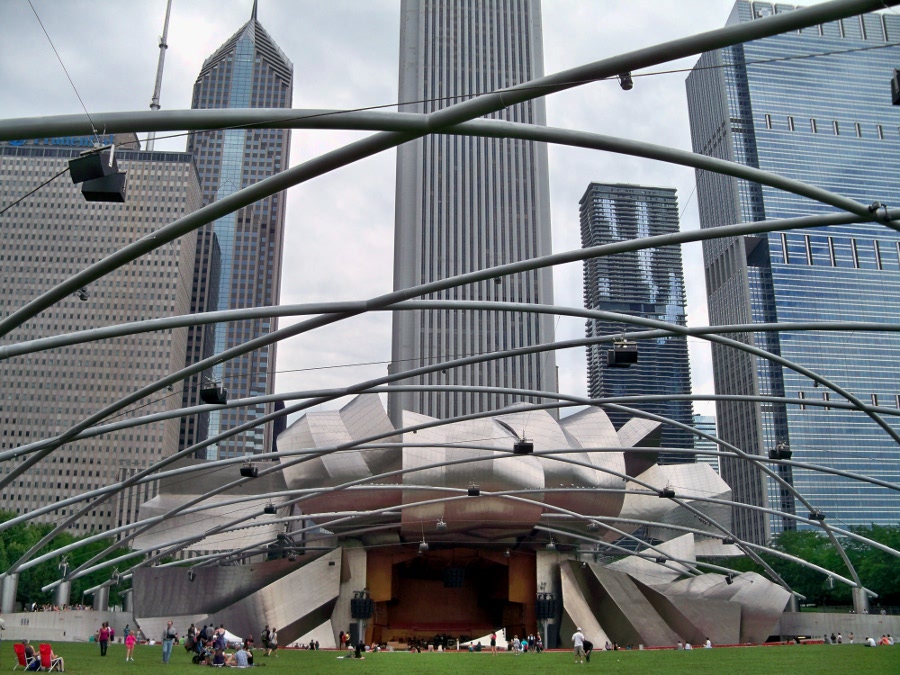 After checking out this stage we went over to where the giant bean was located (it's formally known as Cloud Gate):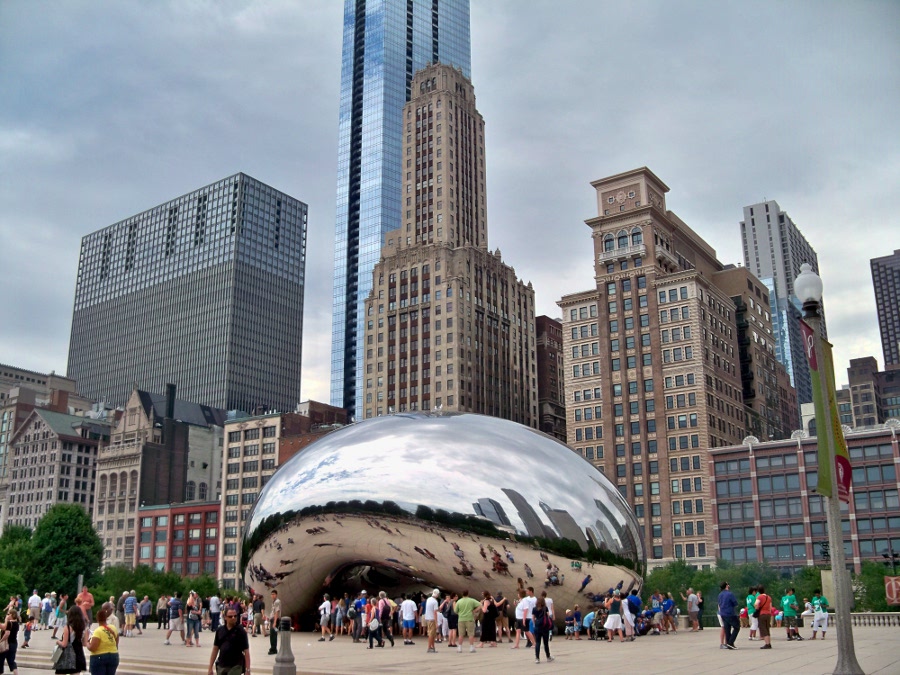 Here's a picture looking up from underneath:




And a shot of Katie and I reflected on the side:




After checking out the bean we walked over to the waterfront and made fun of people arriving at the Yacht club. The stretch of water here is mostly crowded with boats and the shoreline isn't particularly aesthetic:




We walked along the water for a bit and then cut back across into the park where there was a large fountain. We grabbed some ice cream at a stand nearby and then I snapped a picture of Katie with the fountain and city in the background:




In addition to this fountain there was one nearby called the Crown Fountain. I'm not really sure why it's named that, but it consists of two transluecent-brick structures containing LED's on the front. The LED's depict various people's faces, and the faces 'spit' water onto the black granite surface below. The installation is designed to be interactive, so people commonly use the fountain to cool off.




After seeing the Crown Fountain we walked back to the Festival and went in. The first notable band that we saw was called Wild Nothing. They played on the Blue Stage (being one of the lesser-known bands) but they sounded really good:




After their set, Katie and I once again just walked around and relaxed until getting ready to stake a spot for the Fleet Foxes. We grabbed vegan burgers from a vendor that turned out to be really tasty as well. One of the bands that played during this time was the Dismemberment Plan. As I expected their set wasn't terribly good. I've always felt they were very overrated. After they finished, DJ Shadow's set began on the Red stage. His stage setup was pretty interesting. It was just a suspended white ball with two projectors concentrated on it:




As we later found out from the video screen, DJ Shadow turned out to be inside the ball... surprise!




He was actually a really charismatic performer and I recognized several of the tracks from Endtroducing. Overall, a very quality set. As he was finishing up Katie and I went over to the Green stage to get a decent spot for the Fleet Foxes. We ended up in the center, about twenty rows back. As we waited for their set to begin the sun began to set. I captured this picture of a church at the Northwest corner of the park and the crowd behind us:




The fleet foxes played a really good show. They were really cohesive and their songs had a lot of energy behind them, especially those from their first album. One of the things I noticed was that the vocal duties seem to have largely been put on their lead singer, whereas I had gotten the impression from the first album that there were many vocalists that harmonized together. They finished with an inspiring performance of the title track from their second album, Helplessness Blues. It's an anthemic track that describes an inability to find a worthwhile cause to dedicate oneself to in modern life. I didn't take any pictures of them myself, but here's a decent shot that I found online:




After the Fleet Foxes finished Katie and I left the park and decided to try and find a brewery to have a tasting course at. Originally I wanted to go to Goose Island but we had trouble finding a convenient location near where we were staying. Instead, I used my iPhone to search for alternatives and we happened upon a place called Revolution Brewing which was actually on our way back to Mary's place. We decided to give it a try. As it turned out, the place may very well be the best bar/brewery in Chicago. It was clean, stylish, and yet comfortable, and they had a great selection of incredibly high quality beers on tap. In addition, they had just tapped a barrel of a mean Bourbon Imperial Porter that was absolutely incredible. Here's a few pictures of the bar area and restaurant:




Katie and I ordered a tasting tray of their entire offering, as well as a snifter of the bourbon porter. Here's a look at the arrangement before we started:




Delicious looking, no? As it turned out, the quality of the beer earned the brewery an A rating on my recommendations page. It's only the third place to get this rating (or higher). Katie and I both really liked their 'Revolution' emblem of the fist with the star, which you can see supporting the four corners of the bar in the pictures above. They also used it for their taps:




We ended up getting some german pretzels before heading out. What an awesome place! The next morning Katie and I left Mary's place before our hosts woke up, at around 10am. It was unfortunate that we couldn't treat them to breakfast but I am sure there'll be another chance to repay their generosity in the future. As it turned out Katie and I decided to head back to the same place for breakfast since it was so good. This time I got a Spartan Omelette and Katie got a massive skillet:




Yermie! After breakfast we went directly over to the festival and set out our blanket for a relaxing day. I was able to get a good amount of reading in while we listened to some of the earlier bands. Kurt Vile and the Violators, a band I hadn't heard of before, played a pretty good set during this time. The first band that we were interested in seeing a bit more closely was Ariel Pink's Haunted Graffiti. One of the bands that Seth had recommended to me earlier in the year, I was excited to see their purportedly crazy stage antics. As it turned out, theirs was probably the biggest let-down set of the entire festival. They sounded really off, and the lead singer's behavior didn't really match the atmosphere since the songs were falling pretty flat. Katie and I walked back to our blanket and shortly thereafter the band stopped playing altogether, after only maybe 25 minutes of music. This created a void of sound in the park for the next half our or so until the next band started on the Red stage. Very weird. Anyhoo, here's a picture I took while they were still playing:




The next band of note was Deerhunter, who I had seen at Pitchfork about 5 years ago and played a really good set then. Katie and I had listened to much of their newer material on the way to Chicago but still didn't have a good sense for it. When they started playing I felt that they weren't as noisy or as abstract as they had been previously and personally I didn't find the music particularly interesting. Generally I feel that the more a band gravitates towards the black-hole of 'indie rock' and the less they do to distinguish themselves from it, the less interest I have. Anyhoo, their sound was still pretty solid:




After Deerhunter, Cut Copy started on the Red stage. For me, their music was pretty standard-fare, minimalist electronic dance music with vapid, repetitive lyrics. The crowd seemed to love it, though. While they were finishing up we found our way somewhat close to the Green stage for TV on the Radio, the final band of the festival. I had heard good things about their live performances and had spent more time listening to their newer material than any of the other bands. I really liked their album Dear Science, especially. As it turned out, their set was really solid and I probably would have been even more enthusiastic if I hadn't been so tired from three days of festival going (plus the knowledge that I needed to drive all the way back to Rochester directly after the set ended). Anyway, here's a picture (that I didn't take):




After they finished Katie and I returned to our car and started off toward home. Thanks to some coffee and ritalin, I managed to make it without resting, and only stopping once, about halfway, for gas and a few snacks. All in all, I think that this was a good final Pitchfork for me, but I hope that some of the newer changes (namely the increased corporate presence) do not become mainstays of this traditionally 'indie' event. I did feel that despite the 18,000 person attendance (over five times what it was when I first went in 2005) the festival organizers managed to keep it safe and prevent lines from getting too long.
Cranberry Lake 2011
A couple days after getting back from Chicago we packed up and left for Cranberry Lake for a three day, four night camping trip at the family's favorite spot in the Adirondacks. At first, everything went along great. Katie and I left the launch site first in the two-person kayak and managed to secure the bluff campsite, which was unoccupied. Here's a look at the lake from the bluff:




We setup camp pretty quickly and spent the day in relative peace and quiet, relaxing in our new surroundings. I took the opportunity to do two things at once, get some sun and some reading done:




Zoe, as usual, loved being in the outdoors and took every possibly opportunity to go swimming. For the first day this was really easy, but starting on Thursday we found the beach next to our campsite (which turns out to be the best beach on the whole lake) overrun with people. At times there were up to four boats anchored along this meagre sixty-foot strip of sand, and the noise of the people (which was tolerable) was drowned out in the noise of the loudspeakers blasting radio hits (which was intolerable). We tried to make the best of it, but with people walking through the campsite and the noise, it became clear that this would be our last year on Cranberry Lake. Nonetheless the remainder of the trip sported great weather, and when the people left (around 7pm each day) we managed to find some peace and relax together. Here's a picture of my mom and dad sitting near the firepit on the bluff:




On one of the last nights we were lucky to get a really vivid sunset. The colors ranged from bright pink to purple and dark blue. Katie and I grabbed my mom's camera and snapped a couple of shots: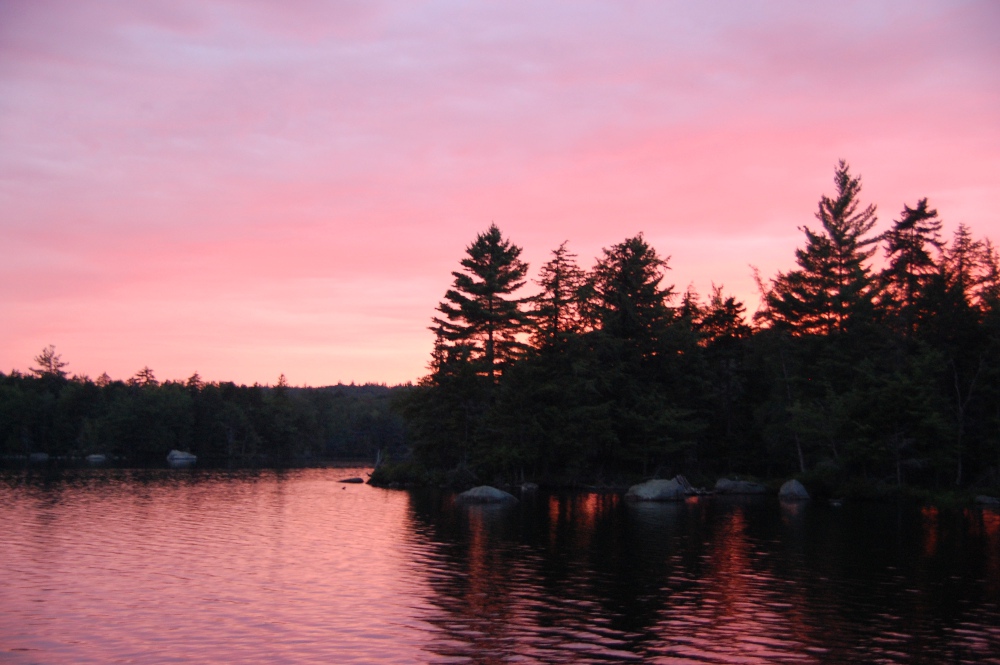 Despite the mass invasion the trip turned out to be pretty relaxing for me and I was glad to spend some more time with the family in the Adirondacks. I also got a lot of reading done and before the trip was over had re-read Dubliners, finished Portrait of the Artist as a Young Man, and made it more than half-way through Joyce's biography. On our way back we stopped in Oswego to get some food at a famous diner on the shore of Lake Ontario, Rudy's Lakeshore:




I got a veggie burger and some fries. It had been a long time since I had eaten any greasy fast food like this, and although I couldn't deny its tastiness I was somewhat concerned about its effect on my stomach. Fortunately, I didn't feel too bad later in the day, although I did develop a pretty heavy food coma in the car. Before I had to leave for Portland the next day I spent as much of my remaining hours with the family as possible. In the end, due to some unforseen travel issues in Chicago, I ended up getting an additional six hours in Rochester when my flights were re-arranged at the last minute. In the end I arrived back in Portland at 8pm that Sunday and settled in for a week of real work.
The Best of Youth
Jared was planning to leave in early August for a month on the East Coast, so we only had a week or so together before he left. We spent three straight evenings watching a movie that my 2nd cousin Julia had recommended to me five years ago on my motorcycle trip, called 'The Best of Youth':




It's a six-hour long italian drama that she considered her favorite movie. I'd owned a copy in Pasadena but I loaned it out before watching it and (as is typical of things I loan) I never got it back. We downloaded a copy and watched it in three two-hour sections. Although there were a few dialogue hiccups early on, I felt the movie was pretty captivating. Some of the drama was a bit contrived, and I felt it very hard to understand the Matteo character, but I must say that I highly recommend this movie. It basically chronicles the entire life of several Italians, starting in their young adulthood and through middle age. Oddly, it seems that the characters age at different rates (no doubt due to keeping the same actors throughout the life span). But, if you look past this technical strangeness, you'll find a raw drama that moves at a fast pace (despite the six hour runtime) and covers a wide range of emotions and human responses to critical events. There's no overt message, no moral that is being stuffed down the viewer's throat, but rather we serve as witness to a group of interconnected people as they live their lives, each in their own way. I think what I draw from it is that a human life can be beautiful even if it isn't perfect, or even 'good'. A successful happy life can be exultant and yet a tragic life can still be beautifully human.
An Active Weekend
At the end of the work week I managed to sneak out early on Friday to go climbing with one of my mountain project climbing partners, David. We went to Broughton Bluff and got on several 5.9 routes there. A couple of them were really solid, including a sport route called Frodo's Journey that was especially fun. On the first route we did, Loose Block Overhang, I struggled a bit since it started with an overhanging fist crack (a size I'm not great with) and then followed with an awkward overhanging thin hands/finger crack above. While climbing this latter crack I was quite a bit above my last piece (a medium nut) when the rope pulled the nut out of its placement. This left me about 50 feet high and if I had fallen at this point nothing would have stopped me from hitting the ground. I kept relatively cool and climbed a bit higher to where there were some good hand holds and I could get a pair of bomber cams into the crack. Although I didn't fall, and ended up safely finishing the route, these sorts of moments are pretty intense and not desirable in my book. It makes me wonder how people like Alex Honnold can possibly solo thousands of feet off the ground, on hard routes, without panicking. Craziness.

After climbing Jared and I went over to Cascade Barrel House since they had cracked open a couple barrels of their Bourbonic Plague as a special occassion. Although I still loved the brew, I was surprised to find that it no longer absolutely blew me away. My eight months in Portland had already exposed me to so much good beer as to temper my enthusiasm for my previous FBOAT (Favoritve Beer of All Time). Nonetheless, it was still an awesome time and we enjoyed sampling it and the newer beers that Cascade had on tap. On Saturday morning Jared and I left early to go kayak a 7 mile run on the North Santiam river near Salem. The drive was about 90 minutes to the put-in at Mill City and our plan was to run the river to the town of Mehama. Here's a look at the river from this spot:




Although it's pretty tame at the put-in, the river actually has several proper Class II rapids, and in fact Jared got thrown from his kayak in one of the bigger ones. The run was also more scenic than I expected and both Jared and I felt it was one of the best runs we'd done thus far. As usual I felt pretty tired after the run and biking 7 miles back uphill for the car. When we got back to Portland we drove over to the east side to help Jared's friends Kevin and Claire move into their new apartment. Kevin had recently secured a position at Intel and they were moving down from their previous residence in Seattle. With five people the move ended up taking only about 75 minutes, which was remarkable considering how much stuff they had loaded into the van. When we were done they treated us to dinner and beers at the nearby food cart 'pod'. This was the spot of a microbrewery cart that Jared had mentioned on several occassions called 'Captured by Porches'. We tried a few of their beers and I felt like the only one that was good was the IPA. In fact I got the impression that most of the food at the food carts was really sub-par, despite all the hoopla I'd heard about them. I'm not passing a final judgement, however, because I've heard of a one that servers massive veggie burgers that I'd still like to try. After the food carts we returned home and I got to bed. The next day was going to be a long one.

The following morning at around 8am my climbing partner Scott, his wife April, and their two friends picked me up at my apartment and we drove out to Beacon Rock, a volcanic monolith 45 minutes away in the Columbia River Gorge:




I wish I'd taken this picture, but alas it was just one I found online. I took a few pictures of the rock from closer up, but none of them came out particularly well, so here's another couple that I've snaked from the interwebs:




This final picture is actually of one of the routes we did, called Windsurfer. It's the super tall left-facing corner in the middle of the picture that goes through the two small roofs. When I read about the crags around Portland it was Beacon that piqued my interest the most, and now that I was there I knew it was going to be by far my favorite spot. I hope to spend some time there almost every weekend! The views from the top of each route were spectacular, and we weren't even close to the top of the wall (some routes go over 400 feet up). Here's one picture that I took from the top of Windsurfer:




The style of climbing is a hybrid between the rest of the Portland crags (like Ozone and Broughton) and the tall Basalt columns of Frenchman's Coulee. There aren't many ledges (a good thing) and the pitches are long and continuous, which I really like. Another plus is that the vast majority of routes are traditional and not bolted, and there's very few easy routes, meaning that despite the quality of climbing, there will not be that many people hording the routes there. More for me!

After climbing at Beacon for a few hours I met up with a new partner I'd met through Climbfind and we went over to Ozone. I climbed a few sport routes there on lead before succumbing to complete exhaustion and returning home. Since Jared was leaving town for a month the following night and I was too tired to make myself dinner, I suggested we head out to grab a bite. We originally were going to try the other food carts (for the veggie burgers I mentioned) but instead ended up at a vegan restaurant called The Blossoming Lotus. After arriving we immediately knew that the food was going to be awesome. Everyone's dishes looked incredible, and everything on the menu we had been provided looked delicious. We ordered an appetizer, a couple of entres and some quality brew. The meal was perfect. Much of it was comprised of things I had never had before (soy curls?) and all of it was masterfully cooked. Honestly I think it's probably the best restaurant I have ever visited. Considering this spot and 'The Farm' (also awesome) are the only two legit restaurants I've been to in Portland, I'd say this town has an impressive quality of food service.
Movies, Upgrades and Break-Ins
The next day Jared left for work and my mind turned toward the Epic upgrade at OHSU. My coworker John and I were running the show and we had been preparing for over three months. I felt highly confident that our steps would go off without many issues. Of course I expected the providers and other end users at OHSU to feel a bit of pain from the changes, but that was to be expected. To calm my nerves in the evenings I watched about a movie a night. The first one that I saw, Spirited Away is a Japanese film about a young girl's dream-like adventure into a spirit realm:




In spite of the obvious cross-cultural differences there was a palpable nostalgia surrounding the film. I really enjoyed watching it and liked its elements of whimsy, as well as the pervasive sense of innocence and morality. The movie seems like the ideal children's film and was refreshingly different from most of the regurgitated crap that Hollywood is putting out for youngsters these days. The following night I watched another movie by the same director titled Princess Mononoke which was good but not nearly as good. Another movie that I saw that I really liked was Blue Velvet, an earlier David Lynch movie starring the same guy who plays agent Cooper in Twin Peaks, Kyle MacLaughlin. In fact, I felt the movie had many many parallels to Twin Peaks. Definitely recommended.

On early Thursday morning the first major part of the Epic upgrade occurred. I was to be at work at 2:30am so I set my alarm for 1:45am. When my alarm went off, I turned it off and briefly layed quietly in my bed. A couple of minutes later I heard the front door of the apartment open. Surprised, I yelled out "Who's There?!" and listened. I heard nothing for a good fifteen seconds and then heard the door close. I immediately flipped the lights on and walked to the kitchen. I figured the person had left and shortly thereafter went to lock the door. When I did I was surprised to see someone sitting in the chair on the porch through the window in the door. I opened the door to find an inebriated looking girl sitting there. I explained that she was on the wrong porch, she disagreed. Alright, but I don't believe you live here. Ok, I'll go. Sheesh. Not long after I was at the office and worked until around 4pm before going home and resting.

A couple days later on Saturday morning I had to be at the office at the same time for the main part of the upgrade. Fortunately it went really smoothly, and the veggie pizza and other snacks made it quite a pleasing experience all around. This time I was able to leave at 10am and ended up being able to relax for the remainder of the day. The following morning at 6am Joe arrived at my place and we got my car setup for another kayaking trip on the North Santiam. The plan was to run the 10 mile section of the river downstream from the previous weekend's run that Jared and I did. We ended up getting on the water in Mehama at exactly 8am. The run was quite a bit tamer than some of the recent experiences Jared and I had but that was intended since Joe was relatively new to it. Nonetheless the run was not without its surprises. At one point there was a rapid that directed the boat directly toward a cliff so you had to execute a strenuous turn to avoid broadsiding. We also had to portage around a dam, and this was the first time I'd portaged in any of my Oregon river runs. It actually ended up being pretty easy because they had a boat ramp suited for the purpose. In the end the run took us about three hours and besides some intense butt itch I developed after the portage, was a complete success and far more scenic than either of us expected.

After we returned from the kayak trip at around 1pm I got ready to be picked up by Scott for another trip to Beacon Rock. The plan this time was to climb a 4-pitch link-up of three popular routes: Free-for-All to Dodd's Jam to Dastardly Crack. This would be my first multi-pitch since I climbed Right On in Joshua Tree almost two years prior. This route was also much harder than any previous multi-pitch I'd ever done, so I was really excited about it. The plan was for me to lead the first and third pitch, both 5.10a and long. Scott would lead the shorter but harder second pitch, which was a stout 5.10c. We started climbing at about 3:15 because we hit some traffic on our way over. The bottom of the first pitch turned out to be a bit more strenuous than I expected, and quite a shocking warmup. I managed to successfully climb it without issues but it did throw me off psychologically for some time. The pitch was pretty full value and was super long, something like 150 feet, although it did ease up significantly toward the top. It was probably my proudest clean trad lead to date! I finished on a tiny little ledge that had barely enough room for me and the rope. I belayed Scott up (he cruised it) and he continued upward into the next pitch. I could tell that the pitch was hard by the way he was struggling, but amazingly he succeeded with no falls. I figured that being on top-rope, I'd have no issues with it, but I was mistaken. The crack narrowed to thin hands about half-way up the pitch, and it was really exposed. I was about 225 feet off the deck and I am not terribly good with thin hand cracks. I simply could not fit my hands in for a jam and ended up trying to lie-back it. This was very difficult because there were no good footholds, and I ended up falling when my foot slipped. I couldn't believe that Scott led the pitch (he explained later that he had lots of practice with thin-hands cracks, which helped). It took a couple more tries to get past the crux section and then I cruised to the top, rested briefly, and got ready to lead the final 'real' pitch, Dastardly Crack. This pitch also turned out to be quite strenuous. It was clear that fewer people had climbed it, meaning the crack was a bit sharper. My hands were already a bit raw so my skin took a bit of a beating. I was glad for the solid jams, though, and managed to lead the crux section clean with a bit of grunting. By the time I reached the anchors for Dastardly Crack, about 120 feet later, I had used most of my protection (cams and nuts) and had maybe eight pieces left, all smaller than .75 inches. Since we had a 70 meter rope we had decided that I would try to finish the route instead of stopping here and belaying. Once I got there, I wasn't terribly excited about the idea since the rock quality deteriorated greatly up above, but I decided to give it a try anyway. I went straight up from the belay into an overgrown, broken, crappy crack system and immediately got into trouble. When I was about 10 feet up, with no other protection in, I found myself desperate for a decent, reliable hold. Unable to find one, I came very close to falling back to the ledge with the anchor. Fortunately, my panic muscles kicked in and I managed to downclimb and take a much smaller controlled fall with no consequences. After this I decided to try and traverse left around a lichen-covered rock buttress. It was super sketchball and I couldn't find many spots with clean exposed rock. I had to make a few hairy moves before I could get any gear in, but I fortunately sank a bomber cam placement and felt a bit better. The next few moves brought me up to an overgrown ledge with bad rock and a fixed piton. I clipped the piton and contemplated the 30 foot fist-crack above me. I knew that the climb would be complete if I could send this fist crack, but unfortunately I didn't have any protection that would fit in it. This meant that I would have to climb the entire crack without falling. If I did fall, I'd slam back onto the ledge with the piton. I spent about 15 minutes cautiously trying the crack sequence about 15 feet above the ledge. At one point I gathered my courage and made an attempt, but when I got high enough I recognized that it would take a sequence of committing moves, not just one, to complete this section, and I smartly retreated back to the piton. I setup a poor anchor with the gear I could get into the crack and belayed Scott up. Now that we had the larger cams, Scott could lead the fist crack safely and did so. When I climbed this section, it was clear that if I had attempted it previously without retreating, there is a very good chance I would have fallen. Phew! When I topped out the hiking trail was right there, so we gathered the rope and started back toward the car. Success!
Summer in British Columbia
The following weekend I decided to leave work early on Friday and ride my motorcycle up to Vancouver to visit Raf and her housemates. Raf's friend Anna was visiting from the East Coast as well. I left at around 11:30am and hit a bit of traffic passing through Seattle and Everett but managed to arrive around 7:15pm. Surprisingly the border crossing took only five minutes or so. Rafaela, Anna and some of Raf's friends from UBC had hiked one of the peaks called the Lions that day and apparently the hike was pretty epic, involving some post-holing through snow and glissading. We enjoyed some of the beers I had brought while hanging out that evening in Raf's kitchen and making veggie burgers. We ended up getting to sleep pretty early since Rafaela and I wanted to ride up to Squamish early the following morning and climb all day. We ended up leaving at 7:15am and this was the first time I'd ridden a significant distance with a passenger on the bike. As it turned out Raf, being really light, was pretty easy to ride with, and we thoroughly enjoyed the 45 minute ride up to Squamish since the weather was so nice. We stopped at the Shannon Falls Provincial Park parking area since the first route we wanted to do, called Skywalker was located here. We climbed a variation of the route that involved three pitches, one 5.7, one 5.8 and then a 5.10a. In total it was about 400 feet of climbing. When we arrived there was nobody on the route but soon after a party of three showed up and had to wait for us to make progress before they could start.

The first pitch turned out to be pretty varied. It started with a crack-corner into a thin slab past a couple bolts and then up a crack system to a ledge. I made a few bad foot moves on the slab but managed to cruise it without much trouble. When I arrived at the ledge I snapped this picture of the town of Squamish in the distance: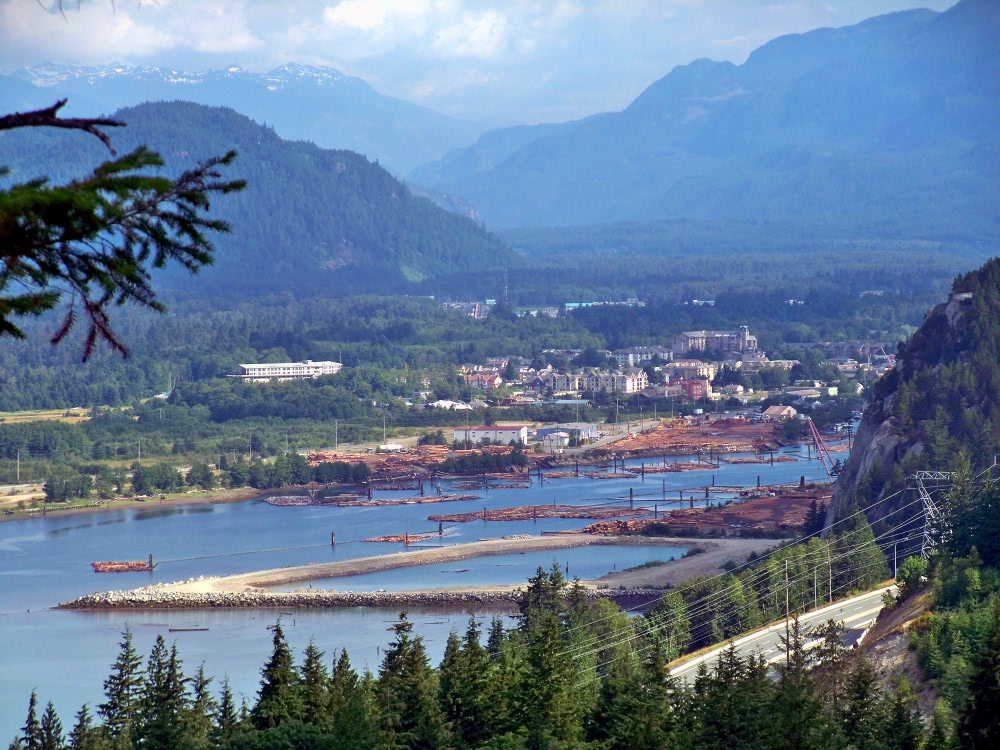 The next pitch was a 5.8 crack in a corner that required some hip-scumming to make progress. Using this technique it was pretty easy and both Rafaela and I cruised it with some grunting. At the top of the second pitch I took this picture of the Sea-to-Sky Highway:




The final pitch was the long 5.10a variation that involved climbing a short hand/fist crack and then following a long thin crack seam. Here's a picture of Raf belaying me when I started this pitch:




And here's a shot of her following the upper portion:




From the top of the climb we had an incredible view of Squamish and the surrounding mountains: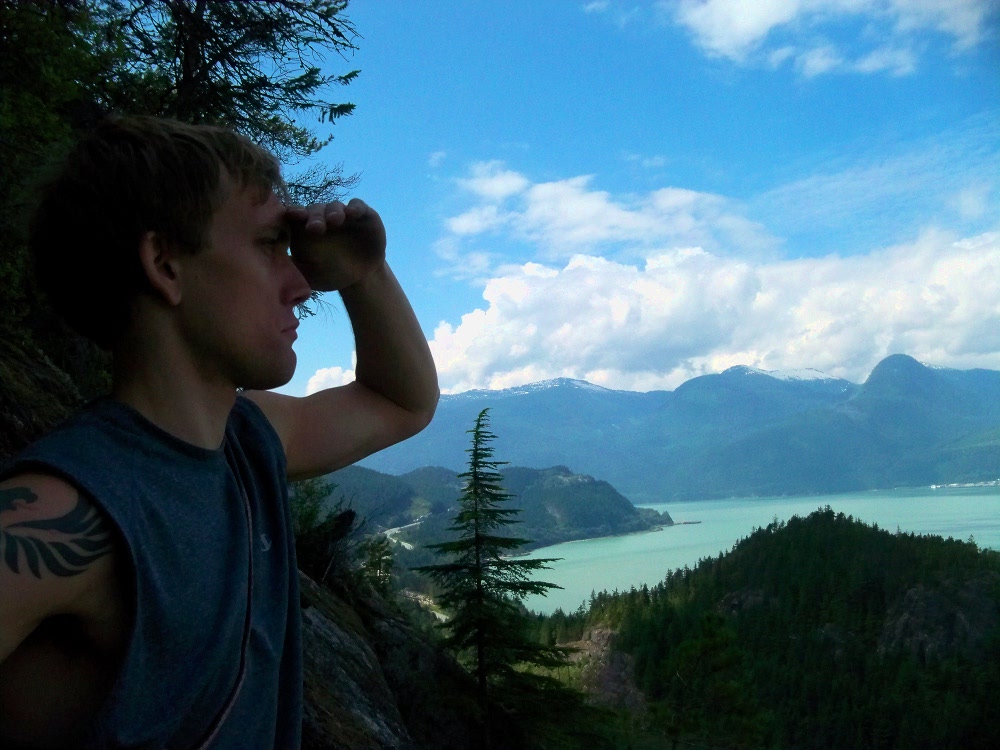 After topping out we hiked up towards the top of the massive Shannon Falls. This section of the falls cannot be seen from the tourist's trail below: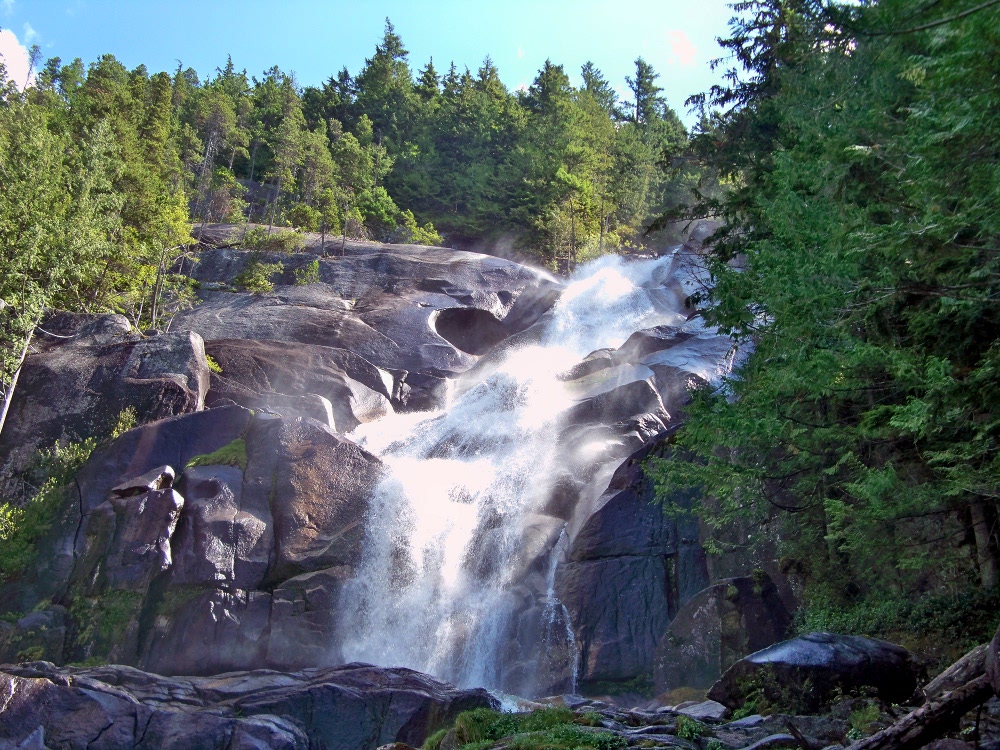 Check out the clear-turqoise color of the water in this photo:




And here's a shot of where the water goes off the three-hundred-foot drop that makes up the main part of Shannon Falls:




After hiking back down to the bike we decided to hop on and ride into town for some lunch. We stopped at a cafe that we had been to the last time we were in Squamish and got some coffee and a falafel wrap. Once we felt sufficiently replenished we decided to head up to the base of the Grand Wall of the Chief to try some of the routes there. The Grand Wall is a famous 1000-foot face that rises above the town of Squamish. Here's a picture of it from the interwebs:





The place where we climbed is just to the right of the large black dike (impregnation of rock) that runs top to bottom in the middle of the photo. The routes we climbed aren't visible in this picture because they didn't go more than 120 feet off the ground. The first route was a 5.9 linkup of two routes, Turnip and Rutabaga. Here's a picture with Turnip on the left and Rutabaga on the right: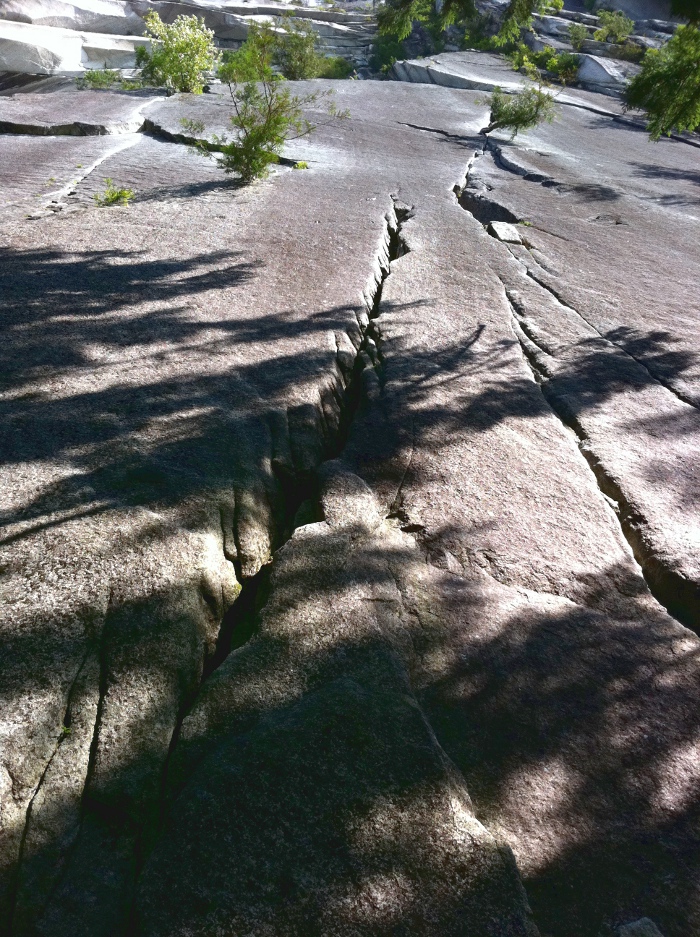 And here's a shot of Rafaela high on this climb:




The next route that I attempted was a 5.10b called Arrowroot. Although it didn't look too hard from the ground (and the grade 10b is not terribly stout), it turned out to be the biggest struggle I've ever had while leading trad. Here's a picture of the route: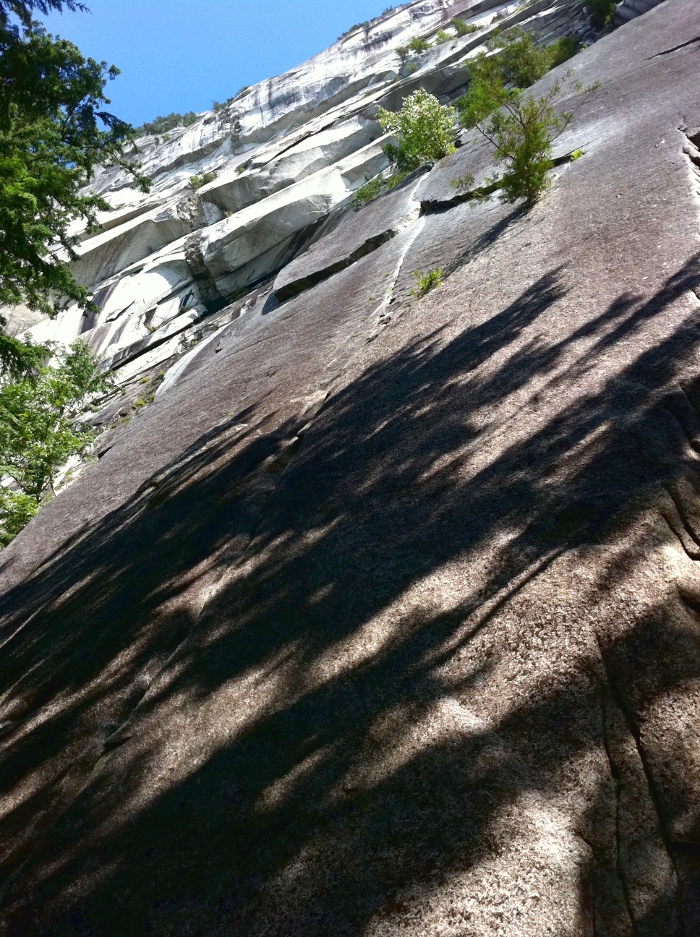 Towards the top the crack thins down to finger-sized and appears to develop a white sheen (the result of thousands of people's chalk-crusted fingers). This section was incredibly challenging and required me to place gear and make moves on tenuous finger jams without any good footholds. Ouch! Here's a picture of this section of the crack that I found online:




I succeeded in completing the climb with only two rests, which considering the circumstances I was quite happy with. After finishing this climb Rafaela and I packed up, loaded the bike, and returned to Vancouver. Again the drive was beautiful, especially with the evening sun, but I did have to contend with a bit more traffic. We arrived back at Rafaela's place around 7:30pm and began to unwind. We had a few beers and decided to head to the Gastown district and a bar there called Alibi which had really good beer on tap. We also got some food. The bar had a great atmosphere and we enjoyed drinking several good brews and chatting. We returned home, exhausted from the long day, and got a nice long rest. Sunday morning brought better weather than expected and we walked to an incredible bagel shop called Benny's to grab breakfast. I got a pizza bagel and a sun-dried tomato bagel, both yummy. Afterwards we caught the 99 bus and then walked to Granville Island to see a free modern dance performance and pick up ingredients for dinner. Here's a shot of the dance show which wasn't terribly good: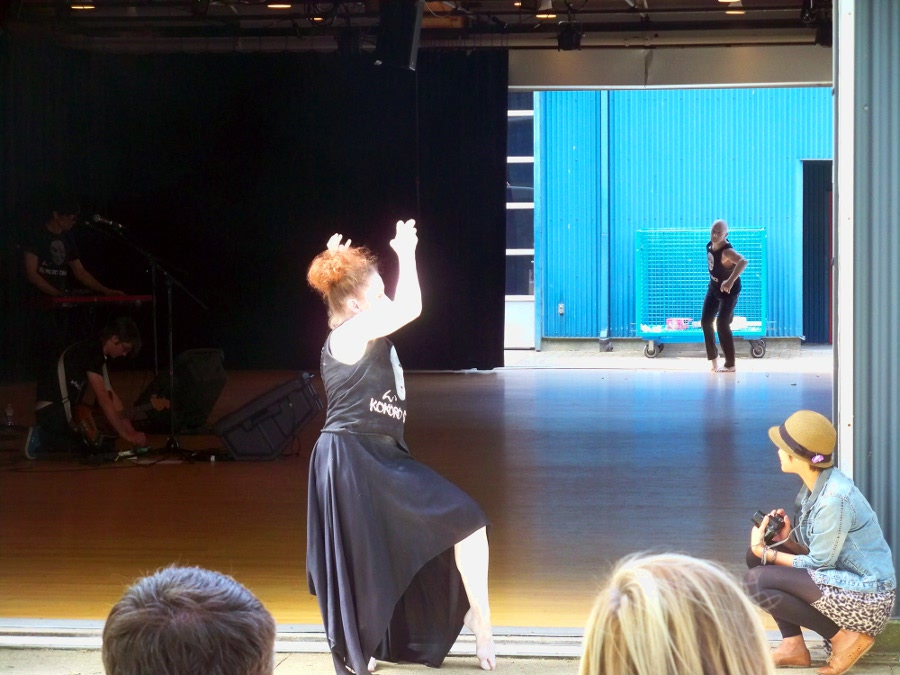 Once we finished on Granville Island we returned to Rafaela's house. Raf and I then jumped on the bike to get stuff at the grocery store. We took the scenic route home along the waterfront and I was amazed at how many people were out enjoying the good weather. The beaches were packed! Later that evening we drank some wine and prepared some delicious lemon pasta and a hearty salad:

***Pics of Food from Anna***

After dinner we watched some of The Best of Youth before I needed to get to sleep. The plan was for me to wake up at 3:00am and leave on my bike, drive all the way home and go to work. This plan actually worked out perfectly. I avoided any rain, avoided pretty much all traffic, and managed to arrive in Portland just after 9am. I was pretty exhausted, though, and ended up sleeping for a couple hours at work.


Burning Man
For the next couple of weeks I focused on getting outdoors and climbing as much as possible. I felt I was getting a bit stronger and wanted to enjoy the last month or so before I planned on having surgery on my bad finger. Scott and I went to Beacon and Ozone a few times and I led up to 5.10b/c on trad. We also worked a few harder lines on top-rope, including an 11a at Beacon and a pair of very difficult 11+ routes at Ozone that I couldn't get up. As time passed, however, I realized that a very major event was on the horizon and it demanded preparation. The event was Burning Man. I was planning on leaving for Burning Man on Sunday, August 28th, so I spent the week prior getting a few costumes ready using mostly items from thrift stores. Although I had no idea what I was getting into, Chris gave me a few ideas about what sorts of costume ideas would work so I looked around and came up with my two ideas:



1980's Amateur Athlete w/ Spandex




James Joyce


I was pretty satisfied with them. In addition to costumes I had to obtain a 'Playa Bike,' LED toys, and sort out what food I was going to bring for Chris and I. I managed to get a good old mountain bike from a coworker at OHSU and Chris and I settled on about $50 worth of rave toys on Amazon. As for food, our diet would consist mostly of non-perishable foods like vegetable soup cans, baked beans, apples, granola and peanut-butter and jelly sandwiches. I bought all of these things from WinCo foods since Jared wasn't around to hook me up with his CostCo membership. On the Saturday before departure I packed everything into my car and spent some time cleaning the apartment. There was a palpable excitement in the air but I still didn't know what to expect from Burning Man. When I left on Sunday morning I decided to take a slightly more scenic route to Nevada through the Oregon backcountry. Here's the route:




I started heading out on 84 East in the Columbia River Gorge before joining the 26 and passing nearby Mt. Hood. Then I took the 97 South towards Bend. This section of the drive was very smoky from lightning-initiated forest and prairie fires that were apparently raging in this part of the state. After passing through Bend and getting a Subway sandwich and frozen treat at Dairy Queen I took the very scenic route 31 East from La Pine. It was on this road that I noticed the first signs of my destination to come. There were several vehicles with the Burning Man logo emblazened on them:




And at one point I found a camping area and hot springs with signs up for Burning Man participants to stop and enjoy free coffee and rest. I continued on, however, planning to spend the night at a campground near Cedar Pass in California. In Lakeview I turned onto the 395 and entered California. I stopped in Alturus for gas and another sub. I then drove towards Cedarville on the 299. At this point the majority of the cars on the road were Burning Man related. There was a lot of excitement and people dressed in all sorts of strange outfits at the gas stations and rest stops. I was unable to find the campground I was looking for in the mountains and ended up pulling over at a trailhead where I saw several other cars. I learned from the other folks there that Burning Man was actually set to open at Midnight, not 6am the following morning as I thought. As a result I waited for a couple hours here before getting back on the road and heading straight for Burning Man. This last section was a bit slow due to the excess number of vehicles on the road, many of which were probably not fit to drive very fast. I arrived at the entrance to the event at around 11:30pm. It was evident they were allowing cars in but the line was several miles long. Since I had been driving all day I was a bit tired and even grumpy but the rest of the attendees were actually enjoying themselves and the waiting line ended up being an 8-car wide mobile party. There were vehicles of all sorts, tons of RV's and massive trailers and rental trucks of all sizes. There were fire dancers, lasers, costumes and tons of other things to gawk at. By the time I arrived at the gate three more hours had passed...

Now I am going to do something that I've never done before in the history of this website. I'm not going to write about my experiences at Burning Man. The truth is that Burning Man is different for every single attendee. It is a radical, unbelievable, spiritual experience. It is not for everyone, but if you feel like you are ready for some spiritual guidance along your path, or if you feel that you have issues or problems that you'd like to work out in a safe environment, then Burning Man might be a good place for you. I'll leave it at that.

Anyway, here's a picture of Chris and I inside of Burning Man one day. Chris was a big part of my experience and he made a great partner for adventuring and exploring the playa:




I returned from Burning Man eight days later, on September 5th, a changed individual. For me Burning Man was the second spiritual awakening of my life, the first taking place when I was 22. It represented confirmation of many of the ideas that I had gleaned in my searches as well as direction. I now have a much better idea of what I need to do to progress on my path. For those of you who are still curious, take a look at this time-lapse video of Burning Man this year:



Although the weather in Portland continued to be hot, and the official first day of fall is still a couple weeks away, I've decided to end this summer section now since it seems fitting that Burning Man would represent a transitional point. Besides, this page is way too damn long! :-)

Forward to Fall 2011
Back to Index