Back to Index
Back to Winter 2010-2011
Hola Portlandia!
A More Permanent Residence
When I first visited Portland in November, and even upon my return in January, there was no certainty that I would remain here. Things were greatly in flux with CyPace and I did not yet have a job, so I was basically a temporary inhabitant at Jared's place. Now that I was back in town and had a day job, it made sense to consider making Portland a more 'permanent' residence. As you already know, I live with Jared and Tyler, in a house located at 18th and Hoyt in Northwest Portland. Here's our place:




Amazingly, we have the entire ground floor of this massive building, amounting to almost 2000 sq ft. The place is located incredibly conveniently within walking distance of EVERYTHING West of the Willamette River in Portland. It's only six or so blocks to cross the bridge over the freeway to downtown and only a couple blocks in the other direction to several grocery stores and more 'happening' social spots. I am lucky that Jared found such a great spot, and feel fortunate that there was space for me there.
Regimen Days
After returning to Portland from Whistler, I immediately re-engaged my daily regimen. With the work at OHSU, I obviously had less time for reading and other exploits, but by leveraging the additional waking hours that calorie restriction provided (I found I needed less sleep), I was still able to take advantage of every day. I settled into a 6am-midnight daily routine that provided for lots of meditation, reading, and workouts. I rode my bicycle to and from work and generally kept to myself during this time. I thoroughly enjoy these periods and find that they commonly lead to improvements in my state of mind and new eras in my life. On March 12th Jared left town to return to the East Coast for a series of visits to friends and family. This left Tyler and I alone in the apartment until Tyler finished culinary school in late March. He had secured a job as a cook in a restaurant in the Southern Tier (of NY state) and was returning East to start there in early April. Living with Tyler combined with my calorie restriction and need for a stable high-quality diet provided impetus to expand my own culinary abilities. I started phasing grains out of my diet because I found that their higher glycemic load was partially responsible for periods of tiredness that I experienced. In their place I increased my intake of vegetables and fruits.

At first, I focused on cooking with new ingredients that were seasonal and available at reduced rates at the grocery. As it happened, Asparagus was the first centerpiece of my diet. In addition to simply sauteing asparagus with a variety of other vegetables, I developed a recipe for a sort of spicy asparagus and mushroom burrito filling that was very tasty and healthy. I ate it without a tortilla pretty regularly for a couple weeks and continued to refine the recipe. Once it was where I wanted it, I created yet another place on this site for recipes such as this one. If you're interested, you can take a look Here. Over time I hope to add more recipes that I find both tasty, low-calorie, and healthy. Later in April I started experimenting with Xanthan Gum, which is an emulsifier that folks sometimes use to make gluten-free bread. In general applications, it can thicken things that normally use a lot of creams or oils, such as salad dressing and even Egg Nog. If you look, you'll find Xanthan Gum (or Guar Gum) towards the bottom of the list of ingredients on many foods found at the grocery store. In addition to this, I began making more salads since I found them to be easy-to-make, high nutrition, low calorie meals. Since I typically need to eat about 700 calories when I return from work, this translates into a very large (and enjoyable) salad. Here's one of the first ones that I made:




As you can see, there are lots of ingredients. I commonly use spinach, red/romaine lettuce, cucumbers, carrots, broccoli, mushrooms, pepperoncini peppers, bell peppers, beets, sunflower seeds, blue/gorgonzola cheese, sliced almonds, tomatoes, raisins, chickpeas, artichokes, peas, green beans and avocado, although not every ingredient makes it into each salad.

On the reading front, I made lots of progress in Godel, Escher, Bach, and several Buddhist texts. I was also reading a number of books on calorie restriction as well. One of the new directions that I had taken was an interest in Zen Buddhism. I haven't gotten far enough along to offer any commentary, but what has attracted me to this tradition is, for better or worse, some measure of distaste for the cultural/ceremonial/quasi-superstitious components of Tibetan Buddhism. I found myself commonly picking apart certain texts because my interests lie within the philosophy and practice of Buddhism, and not in the history or traditions therein, which sometimes became overbearing to me. We'll see where this new direction takes me in time.
CyPace Update
On the CyPace front, several leadership changes occurred reflecting a desire to consolidate and re-approach the market, as well as the Epic situation. Since I was doing the majority of work around both negotiating and implementing the Epic agreement, I assumed the role of CEO on March 22nd. Prior to this, Nick and I expressed an interest for Ken to step down from the Board of Directors to remove the deadlock and break-up the Murtishaw father/son duo there. Ken graciously stepped down, and Jeremy took the COO role. As CEO my responsibilities are not going to change much but having the title will help allow me to engage in high-level discussions within the appropriate context. In terms of customer interaction things were still muted due to Epic's wishes to have the agreement finalized before making sales. Nonetheless, we attracted the interest of an organization named the Franciscan Alliance based out of Indiana. A multi-hospital company, they would represent a mid/large-sized sale for CyPace. Along with Hawaii Pacific Health, they would then be the first two 'new' customers of CyPace once the Epic agreement is finalized. As far as timelines for that, things were not looking ideal, since Epic's responsiveness has been lackluster. Nonetheless, we are hoping to assuage their technical concerns and move forward as soon as possible. These technical concerns largely center around the methods that we will employ to install our software and access the database. The new methodology for this that Epic and CyPace had worked out would require a large amount of work on our part to implement, and I began this sometime in late March. Unfortunately, this meant something of a regression for me since my little free time would pretty much dissappear. The only consolation is that the work should not take much more than a month and I'll be able to return to a more balanced lifestyle then. For now, return of busyColin.
Return to Madisonia #1
One day at OHSU, John (my closest coworker) and I were informed that in order for OHSU to continue to receive their 'Good Maintenance' discount from Epic, I would have to be certified asap. In addition, I would not be able to communicate directly with Epic support in non-emergency situations until this was fulfilled. Although we both felt this was pretty ridiculous considering my background, they would not waver. My manager therefore immediately scheduled me for the next round of Cache Systems Manager training at Epic in Verona, Wisconsin. Since I knew that the training would be pretty simple, I looked at the trip more as a vacation and opportunity to catch up with old friends. On my first morning after arriving in town, I drove down to Verona for my first day of training. I was surprised how much the Epic campus had grown since I had last been there (late 2008). I didn't get to see much of the newer parts yet, but here's a shot of the main campus area from inside the training complex:




I spent my entire time this trip within the training complex, so I didn't get any pics of the new buildings, but here's a couple examples of cool artwork I found in Voyager Hall. The first is a 'painting' made of tie knots:




And here's a fountain made of old brass instruments:




The training itself wasn't nearly as interesting as the setting, mainly because it wasn't very new to me. Here's a picture of us working on the namespaces lab:




After the first day of training I made plans to meet up with my friend Amber who I had known since I lived in Madison but hadn't seen in a long while. We ended up meeting at the Weary Traveler which is one of my favorite bar/restaurants in Madison. I had the vegan chili, which was incredible! Her friend Andy came along and turned out to be a really interesting guy. He worked as an arborist and did competitive tree-climbing in his free time, which I thought was really unique and cool. We ended up getting into some really deep conversation.. In the end we went back to Andy's place and listened to some really good music. It turned out to be a really late night, so I slept there and ended up going in to training in the same clothes as the previous day. I felt this was a fitting thing to do since I was visiting Madison :-). Anyway, the weather turned a bit sour while we were in training and it started snowing really hard. At times it was a near-total white-out, but it calmed down after a while and I snapped a pic: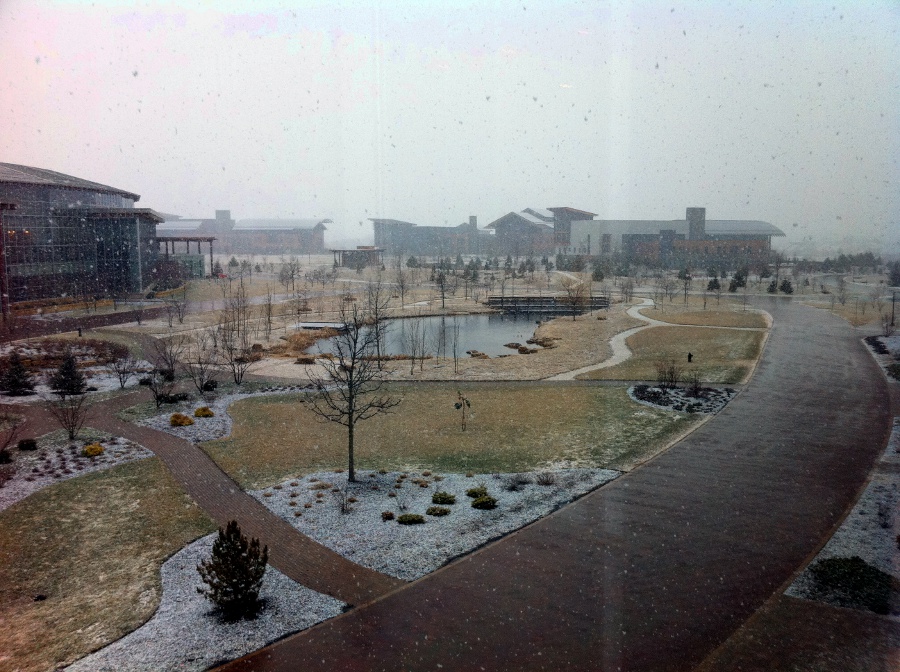 I suppose snow was also a fitting thing to experience on this trip. At the end of the training day I returned to the airport to fly back to Portland.
Tea!
I have always had a funny relationship with tea. Although I wasn't much of a caffeinated beverage drinker, I had developed some appreciation for the taste of coffee (far from a discerning taste, though) but had never really enjoyed tea all that much. I drank some of the bigelow teas that were provided for free in Kaiser's break rooms but I always thought they were sort of a wash. This Spring, I had tried a few of Jared's loose leaf teas that he had laying around the kitchen and I found a few that were more flavorful than I was used to. I created a chocolate-green tea mix that was actually pretty good, and started drinking it whenever I had a long session of CyPace work to do. When I started at OHSU, I thought something similar would be helpful for slower days at work, and they didn't provide coffee or tea in the break rooms. This led me to do some research online and try to find a site where I could get good loose leaf teas for a reasonable price. In the end, I found the holy grail of the online tea kingdom: Adagio.com. This site is really incredible, and maintains a very well-organized, reasonably-priced, eclectic offering of teas and accessories. Over the course of a few weeks, I found a few favorites that I now have in 1lb bags at my desk at work: Citron Green (Apricot Green is also amazing), Almond Oolong, Cocomint Rooibos, and Thai Chai:




As you can see, I like some flavor in my teas. I never thought that tea could be as tasty as these, and I actually look forward to my series of cups each day. I also found that tea makes a great gift idea since there are so many varieties. As a result, I've gone from largely anti-tea to uber-pro-tea in only a few months. Go tea!
Systems Roundtable
A couple weeks after returning from Madison for training, I had another, longer trip scheduled to go back for Epic's annual Systems Roundtable. This large meeting invites technical team members from all of Epic's customers to come to Madison for presentations on a variety of topics related to maintaining the system that their software runs on. It's a very complex system, and things are changing all the time, so it's helpful to have a centralized convention where everyone can be kept up-to-date simultaneously. Along with me, several of my other OHSU coworkers were attending. Most of them were planning on flying out on Monday, but I had scheduled my flight for Saturday morning so that I could spend time with some friends in Madison over the weekend. When I arrived in Minneapolis for my layover, it turned out that they had overbooked the leg to Madison. Since I had been unable to make contact with my host for the weekend, I decided to give up my seat for a voucher, and spent the next nine hours in the MSP airport sorting out lodging and doing work. I found a reasonably priced Inn on the East side town and when my flight arrived at 11pm, I had a taxi take me there.
I spent the next two days enjoying the unseasonably warm weather (on Sunday it was over 80 degrees!) and relaxing. When Monday rolled around, I worked from my hotel room for the morning and then caught a taxi to meet my coworker John downtown and check into the Best Western Inn on the Park. We parted ways for a few hours in the afternoon and I took a walk around town since the weather was so nice. This Winter there had been massive protests on the capitol square but there were only remnants remaining. Here's a picture of the Capitol Building:




On my return from my walk, I spotted a fascinating little store right next to my hotel:




Cheese!! As you can imagine, I was clearly excite about trying some artisan cheeses while I was in Wisconsin. I went inside and was amazed at the quantity and variety of their selection. Here's a look at some of the displays: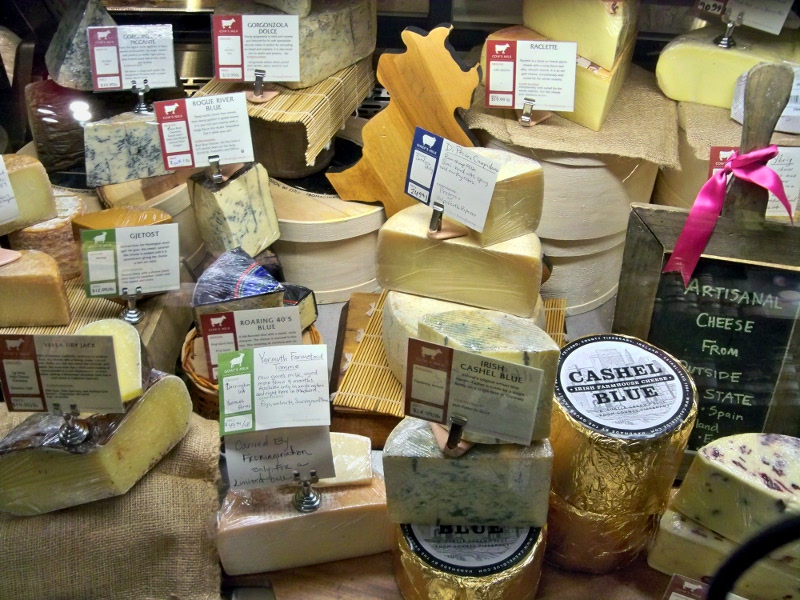 Scrumptious looking, no? I ended up buying about $15 worth of cheeses, including some Wisconsin Limberger, which is famously stinky, and some sampler sizes of cheeses I'd never had before. John and I met up again a few hours later and had dinner at Natt Spil. This experience was very nostalgic for me. They had a special of a pitcher of beer and a pizza for $14, which I thought was amazing. We had the Ale Asylum Ambergeddon, which was delicious, and my pizza was also incredible. I snapped a picture of the restaurant before leaving:




After dinner we met up with the the Cedars Sinai crew (including Dawn and Scott) at the Great Dane. Scott was feeling generous and ended up buying a lot of drinks for everyone, which was awesome. The night ended up being quite a rager, and we went to the Comeback Inn next (the Essen Haus was closed...). John and I retired around 1am or so but the Cedars folks kept going. In the morning John and I missed the shuttle bus to Epic and caught a green cab instead. We made it well in time for the first sessions. I'm not going to go into much detail on the content of the Systems Roundtable, for me it ended up being more about seeing old faces again than learning from the presentations. That being said, there were a few good ones, including a couple by my old teammates, Seth Hain and John Benton. Here's a picture of John, my old team lead, giving his to a very large audience:




It was nice to see that my old coworkers were thriving along with the growth of Epic. It was also fun to spend the day with the OHSU team, and the food that Epic had catered was top notch. So overall the conference was very enjoyable. Each night of the week the OHSU group got dinner together and sometimes a few drinks. One night I went to a new bar called Maduro with Deanna and Paul, both beer lovers, and they introduced me to the Three Floyd's beers they had there. Supposedly one of the best breweries in the country, it was no surprise that what I had was really really good. On the last day of the Systems Roundtable, we were able to take a tour of the Epic campus after the presentations were complete. It was pretty mind-blowing how high quality each themed building was. My camera ran out of batteries about halfway into the tour, but I captured some of the coolest spots from the first half:
The Far East Building
Wild West Building
Dungeons and Dragons Building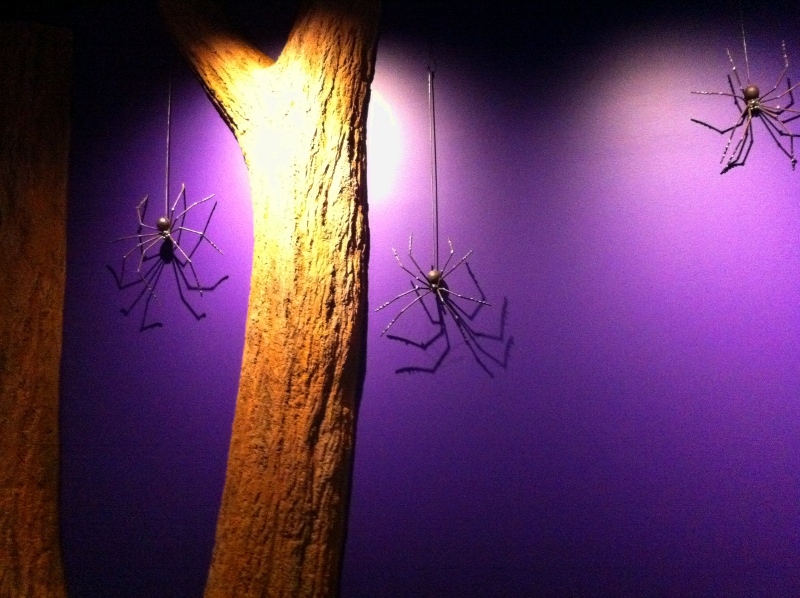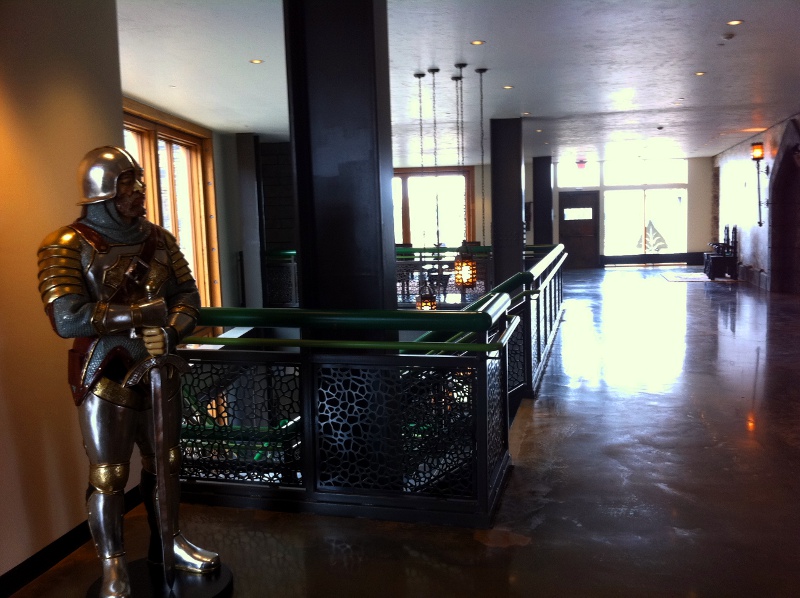 Heaven Building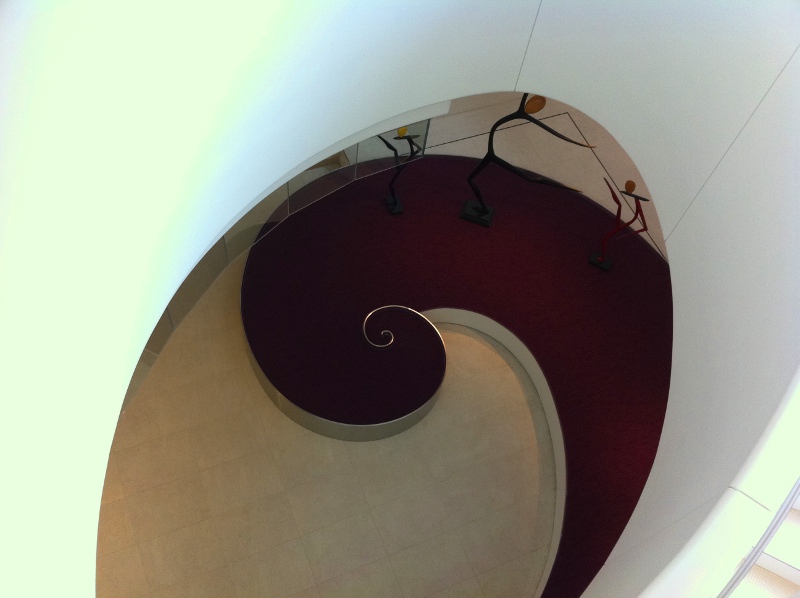 Andromeda Tunnel
Campus Tunnels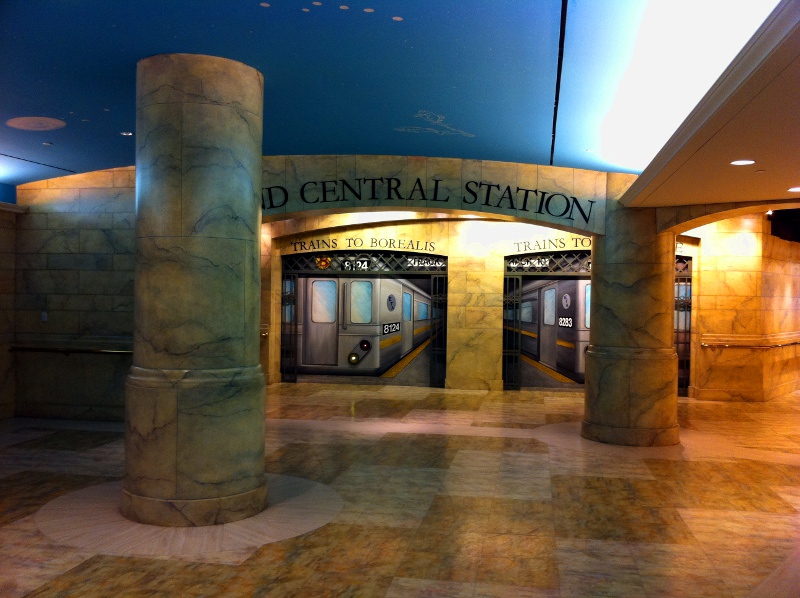 The entire campus can be accessed from any point without going outside via the tunnels such as in the last two pictures. There is one exception, which is a tree-house called the Ewok Village. Unfortunately, my camera ran out of battery before we got there. I also missed my opportunity to photograph the Indiana Jones tunnel, which was perhaps my favorite spot on the tour. Anyway, as you can see, the campus is incredibly detailed and full of expensive, high-quality art. It's an incredible sight for visitors, but I've heard that some Epic employees are resentful of it because of the cost, and the fact that many feel Epic underpays its people...
Once the roundtable was completed, I got a ride from some other OHSU people to a coffeeshop near Amber's place. Once she returned from work, I walked over and got settled. The plan was to stay with her for the weekend before flying out on Sunday afternoon. At this point I was deep into the CyPace work, so I ended up spending most of my days at the coffeeshop in the nearby grocery store since Amber didn't have functional internet (we got this setup for her while I was there). The nice thing about this particular grocery store is that they had the most diverse and high-quality salad bar I've ever seen. Even though they weren't cheap, I made myself some salads that were absolutely delicious, and very healthy. This added more fuel to my whole salad kick and caused me to branch out into some new ingredients when I returned home.
On Saturday night Amber and I went to the Green Owl for dinner. It's a vegan place that seemed very popular. I was really excited by their menu, which was loaded with courses that looked incredibly tasty. Unfortunately, however, the portion sizes were pretty ridiculously small and I could not recommend this place for that reason. Afterwards we headed up to the Northeast side of Madison to visit the Ale Asylum brewery. Although many people think Madison has quality craft brew, its historically been pretty sub-par by my standards. The Capitol Brewery and Great Dane are great places to hang out, but their beer is middling in quality. Just after I left Madison in 2006, the Ale Asylum opened, and I've heard nothing but good things about the quality of their product. Thus, I was very excited to get a tasting tray at the brewery. When we got their and ordered one, I was pleasantly surprised with the size and organization of the taste. Take a look:




Their ales were certainly the stars of the show, with the Ambergeddon being the surprise favorite of mine. Overall, I felt the beers were extremely high quality, and only the darker selections left me wanting more depth.
Way Out There Tunes
While I was at the Systems Roundtable, I ran into my old teammate Seth Hain. Seth was the person that originally introduced me to the Animal Collective and encouraged me to stick with it even though I originally found it both vacuous and slightly irritating. Considering how fundamentally the Animal Collective has changed my understanding of music, I feel Seth was the greatest influence on my musical tastes post-college. When I ran into him again, I was excited to see what he had been listening to of late. Of course, it turned out to be some incredibly 'out-there' stuff, but the way he described it was really motivating and inspiring. To my surprise, he approached me with a CD of burned tracks on the second day of the conference. Little did I know that I was about to have my second major push forward in music, once again thanks to Seth. Here are the albums that he gave me, in increasing order of difficulty:
Album
Comments

The XX
xx
Catchy, Minimalist Rock. Pretty straightforward. Enjoyable from the start, but not particularly demanding of the listener.

Ariel Pink's Haunted Graffiti
Before Today
Quirky, Emphatic Pop. Highly recommended.

Henry Flynt
Ascent to the Sun
One 45 minute track of a pair of curious, meandering, highly versatile instruments of unknown origin.

William Basinski
The Disintegration Loops
Two tracks, the first over an hour long, of short loops disintegrating as they were converted from analog to digital.

Wolf Eyes and Anthony Braxton
Black Vomit
The noisiest and most chaotic of the five albums, this one I am not sure how to approach.

After listening to much of this music, I was motivated to listen to the new Panda Bear album, Tomboy, which was just released. The album totally blew me away. To continue my tear, I obtained Panda Bear's first album, Young Prayer, as well as a collaboration called Jane - Berserker. The culmination of my recent advance is certainly the album Spirit They're Gone, Spirit They've Vanished:




This, the first Animal Collective album, has a reputation for being so noisy that it's almost unlistenable. I broke it out one evening when I felt particularly adventurous and was completely transported by the music. Once you accept the abrasiveness of the sound as simply a device to create a texture and atmosphere, you find yourself being taken into a place of profound depth. I felt very happy that I could go back there whenever I wanted, and since that first listen I have done so on four separate occasions. I am pretty mystified at how they created that 'music' and what their thoughts were around listeners, and whether people would accept it. The early Animal Collective was all self-released, for reasons which are now completely obvious to me. I am glad they had so much confidence and conviction in what they were doing.
CyPace Issues
While I was at the System's Roundtable, I developed some concern that Epic might not be keen on my attendance. Of course they accepted my registration, but I was in an interesting position considering my affiliation with CyPace. Towards the end of the conference I kept to myself a lot more, but on the last day, during the tour, we happened to run into Paul Faye, someone who I had recently spoken to over the phone in my CyPace capacity. This greatly worried me that my OHSU world and CyPace world might collide. As it turns out, I was right, and I wasn't sure what was going to happen as a result. The first indication that I got of an issue was when my manager at OHSU called me into his office and the OHSU CIO was there. She said that someone at Epic had called her at the behest of Carl, the COO of Epic, and reported that my training would have to be postponed until CyPace and Epic had finalized our agreement. The folks at OHSU took this well, but it did present a bit of a problem since they needed me to get trained in order to keep their good maintenance status with Epic. Either way, I felt Epic was being a bit ridiculous considering they were the ones that were requiring my training in the first place. After this incident, the contacts at Epic who I typically go through for CyPace became unresponsive for a few weeks. Eventually, I was contacted and learned that things would move forward, but that Epic wanted to put together a revised agreement. At this point I don't know whether the revisions will be problematic or not, but at the very least the delay is causing us quite a bit of grief.
Moto-Practice
As Spring approached in Portland, the date when I would pick up my BMW motorcycle in Montana got closer and closer. The trip back from Montana is about 800 miles, so I wanted to make sure I was comfortable on a bike prior to embarking on such a long trip. As a consequence of this, I made sure to take the KTM out to Tillamook Forest every single weekend for practice. During each trip I progressed both in my abilities and my comfort level with the bike. There was a period where I felt pretty shaky and was questioning my whole push to get back into adventure biking, but after a few really good rides in late April and early May, I became much happier with my decision and began to look forward to picking up the BMW. A couple of my rides lasted several hours and took me deep into the forest. I found some really nice ridge trails, streams, and even managed to get lost and end up near a prison one time. Another benefit was that I became much better at loading and unloading my bike from Jared's care by myself. At this point, I can do either in only 10-15 minutes, which makes the whole experience much less of a hassle.
Larch Mountain
In early May the weather started improving and Jared and I started looking for more outdoor recreation opportunities. The weekend before my return home for my sister's graduation we decided to try and hike Larch Mountain, which is a 14 mile round trip hike up a ~4000' peak that rises about the Columbia River gorge and offers good views of the surrounding landscape. In addition, the trailhead is located at Multnomah Falls, the second highest year-round waterfall in the country. On our way to the falls, we found a lookout point on the side of the gorge and decided to stop for a few pictures. Here's the 'Vista House' as it's called, with Jared standing next to it:




And here's a picture taken looking East down the gorge: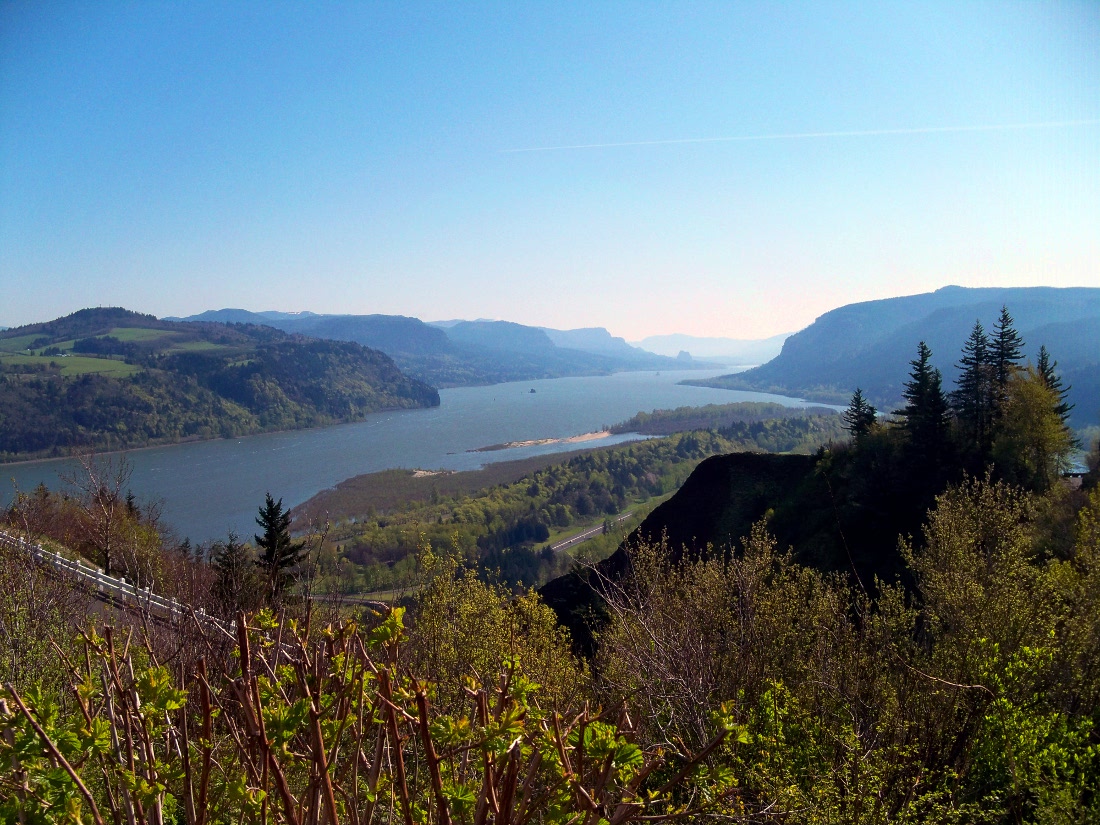 After briefly checking out the Vista House, we continued to Multnomah Falls. The waterfall was very grand and scenic, and actually had two parts:




The hike to the top of the waterfall involved about 500' of gain in slightly less than a mile. It was a good incline to get the blood flowing and remind us what a hike feels like. After we surmounted the cliff, the trail continued to follow the river that created the falls as it meandered through rapids and additional smaller cascades like this one:




And this one that created a nice misting effect:




The trees that lined the river were covered the characteristic treemoss of the Pacific Northwest:




After we left the stream, the trail started up a ridgeline and very soon entered into the snow zone. The last three miles were entirely within snow, which made the hike a lot slower and less enjoyable. Fortunately, the views that we got at the top made it all worthwhile: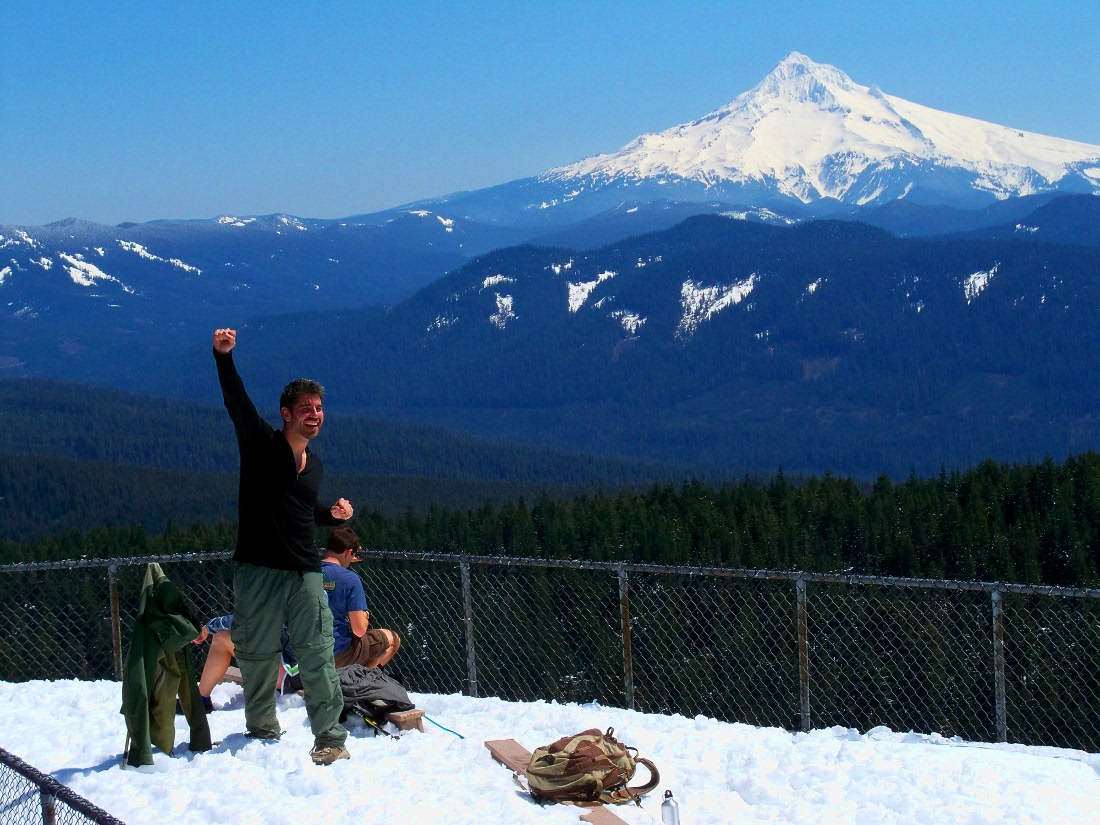 Mt. Hood





Mount St. Helens, Mt. Rainier, and Mt. Adams





Looking Toward the Coast

The hike back down the mountain was much more tolerable, despite the snow, thanks to the assistance of gravity. Jared and I totally cruised it, but I stopped a couple times to snap pictures of the trail. Here's a taste:




At the conclusion of our hike, I snapped the following two shots from the top of the waterfall:




After the hike, my legs were sore for several days. It was pretty clear that despite my current level of physical fitness, these muscles had not been used like this in a long time.
Kakie Graduates
The week after we hiked Larch Mountain, I left for Rochester to join my family for my sister's graduation at the University of Connecticut. Crazy as it sounds, I had not yet visited my sister's school during her entire 4 years there, so I figured I owed her a visit for this important occassion. I flew into Rochester on a Wednesday morning and worked remotely for a day before my brother arrived in from San Jose and we left in the van that Thursday morning for Connecticut. We met up with my sister by noon at her apartment. Unfortunately, there were issues at work so I had to go to a coffee shop for much of the day Thursday and Friday. On Thursday night Katie and I went to the John Harvard's/Tullycross Brewery/Tavern near our hotel in Manchester, CT. I knew that since it was a corporate place the beer would probably suck, but I thought it would be fun to get a truly bad rating up on my recommendation page and also Katie and I figured it would be nice to get out of the hotel room for a few hours. As expected, the beer was terrible, but Katie and I had a fun time nonetheless.
On Friday afternoon we had really good weather, so after things at work calmed down, I met back up with the family to grab ice cream at their on-campus creamery and walk up Horsebarn Hill. Here's a picture of my brother Matt and my mom and dad enjoying their yummy ice cream:




From the top of the hill you could see much of the University of Connecticut campus. Here's a couple shots:




It looked nicer than I had expected based on what I'd heard. I think they did a good job of keeping the school self-contained and maintaining a good degree of architectural cohesiveness with the buildings. In addition, there was plenty of green-space, like the field we were standing on.
On Friday night we met up for dinner with the family of one of Katie's friends. They had secured a premium table arrangement at the City Steam Brewery and Cafe in Hartford. The group was a mix of parents and 'kids', with my brother and I falling into the in-between age group. Here's a picture of everyone at our private table:




It was a tremendous dinner, thanks largely to the company, the food, and the great guest taps (their beer was mediocre, and they only had two, but the Long Trail Centennial Red Ale was superb). I had a fancy salad of some type that was uber-scruptious. It was so good, I took a picture:




The red wedges are watermelon and the white is shaved feta cheese. Yum! After dinner the kids (including Matt and I), and the adults split ways. We went to a block party in a cordoned-off section of downtown Hartford:




They had live music on an outdoor stage and the bar scene there was pretty bumping. I bought Katie a bunch of bourbon-based drinks, some of which were good and others not so much. We stayed out for about three hours before returning to the hotel. The next day was Katie's graduation and we left for campus in the early afternoon so that we could attend the reception beforehand. This was really my first chance to look at the interior of the campus. Here's a few shots I took as we walked to the building where the reception was being held:




The reception turned out to be really nice, mainly because of the food. They had lots of delectable options as well as more ice-cream from the creamery. Here's a picture of my sister with my mom and dad in the garden outside after the reception:




In another hour Katie parted ways to get ready for the ceremonies and we filed into the indoor stadium to find seats. Here's what it looked like inside:




The ceremonies were well done, with the exception of the singing of the star spangled banner, which was pretty off. Anyway, Katie's walk went great. Here's a picture of her just after receiving her diploma:




Of course we needed to adequately document the occasion for reasons pertaining to future familial nostalgia, so here's a couple shots that came out well:




Once Katie's graduation was complete, we returned to the hotel to make dinner and relax. We also gave Katie her graduation gifts. She had worked very hard at school, especially since she was balancing her schoolwork with her duties on the lacrosse team, which is basically equivalent to a full-time job. To show her how proud I am of her I got her a ticket to the 2011 Pitchfork Music Festival in Chicago. I have one as well and plan on taking her when I return to visit the family in the Summer. Go Kakie!!

The following day the nice weather continued, so Katie, my parents and I decided to head to downtown Hartford to walk around a bit. The city is host to the state's seat of government and also has a very nice downtown park, so there was much to see. We headed to the park first. We entered the park at the Northeast corner where there was a little pond:




From this area you could get a decent view of the buildings downtown, which included this relatively ornate looking one:




As you can see, the foliage was in full bloom. It really was a great day for a walk like this:




We noticed on a map that there was an 'ancient' cemetary nearby, so we detoured out of the park for a bit to check it out. There were a few gaps in the fence surrounding it which allowed us to take some good pictures. Here's a look: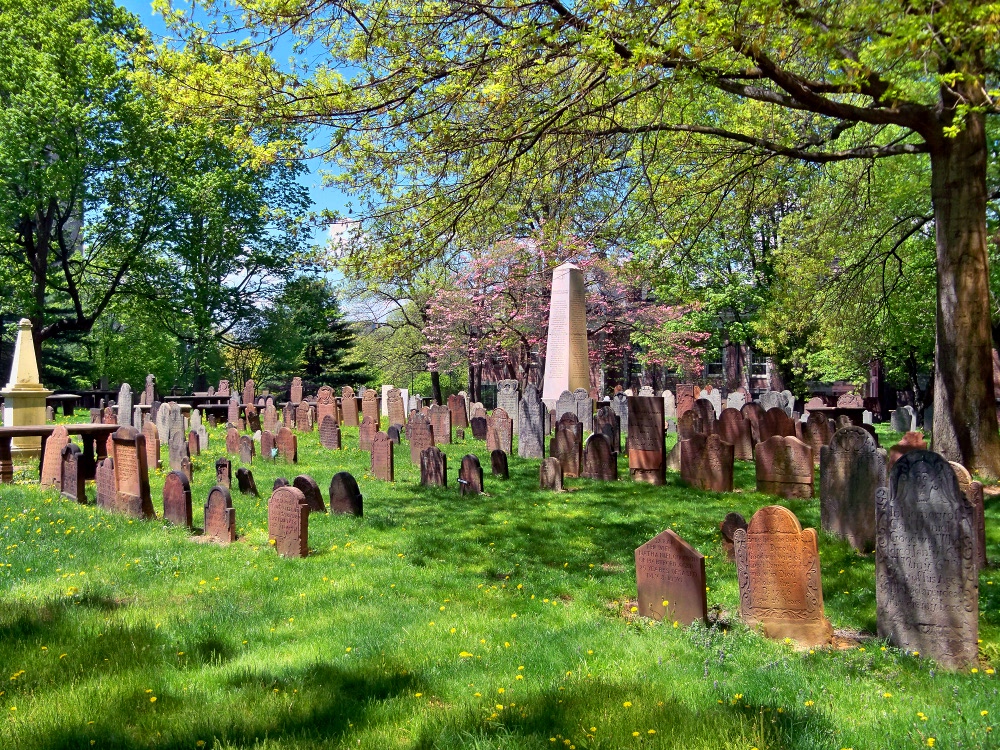 The oldest gravestones we saw were from the mid sixteen hundreds, like this one:




One was particularly well preserved despite being from the late 1600's, it appeared to mark the grave of an important person:




After checking out the cemetary, we walked toward the capitol building:




On the way, we passed an old merry-go-round that they had restored:




Surrounding the carousel were many stained glass windows that looked really nice. Here's a couple: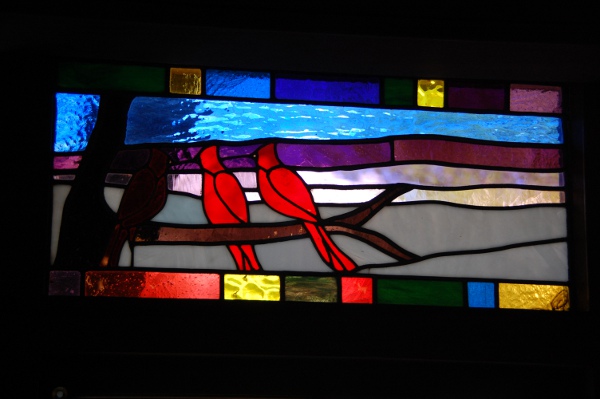 After this, we crossed a road that had a nice stone gate over it. Not really sure what the original purpose of the gate was, but it was clearly pretty old and looked nice:




Upon crossing the road, we ascended the hill toward the capitol. The building was more in the style of Albany's capitol than that of Washington DC or Madison, WI. I could be mistaken, but I believe it's an older style. Anyway, here's a few pics we took as we walked around the building:




After this we did some shopping and returned to the hotel. At around 6pm my dad and I left for the greyhound station in Hartford where I was catching a bus to New York City. When I arrived, I approached the counter and asked them to print my ticket. After giving them my confirmation number they reported that the system said the ticket had already been printed and they couldn't print another one. I was surprised and thought whether I had ever printed a copy myself, and couldn't recollect doing so. After a terse and gruff conversation with the supervisor I was left in a bad situation. I only had about twenty dollars on me and they were asking $32 for a new ticket. I had clearly purchased one already but they wouldn't print one for me. I had no access to a computer or printer. I decided to check and see if I had ever emailed myself a PDF copy of the ticket or something using my iPhone. Although I couldn't find a ticket, I found the original email that Greyhound sent me stating that the ticket was will-call and must be picked up at the station. I reported this to the supervisor and an argument ensued. I continued to press until he relented and comped me a replacement ticket. I was really surprised how hard I had to push to get a just result. In the end he explained that tons of people try to argue their way to free tickets, so I guess he does sort of need to put up a fight, but I felt my case was pretty straightforward. Anyway, I boarded the bus at 7pm and was on my way to New York.
Eine kurze Reise nach New York
My short trip to New York started off with a subway ride to meet the intrepid John Wunderlin in the lower west side of Manhattan. We ended up at eine biergarten mit steins der Kostritzer Schwarz on tap!! Kostritzer Schwarz is one of my favorite German exports, and it used to be the only beer I drank at the Essen Haus in Madison. You can see the Kostritzer tap in this picture (it's the black one):




Much like in Germany, they only had three beers on tap, a light one, regular one, and the Kostritzer, which is dark. Here's a picture of everyone enjoying the fabulous German Beer:




And here's a pic of John and I enjoying ours:




John and I stayed up really late that evening chatting and listening to Panda Bear. The next morning I had to get some work done but once that was finished we decided to head to Brooklyn to check out a massive old cemetary there called Greenwood. John and I took the subway to Brooklyn and then had to walk for quite a long ways to the cemetery's main entrance since the side entrance was closed on that day. At the main entrance there was a pretty big gatehouse:




Once inside, we decided to just stroll around and spent a few hours wandering along the many footpaths. There were many old and ornate gravestones and tombs, as well as a nice pond and chapel. Here's a few pics: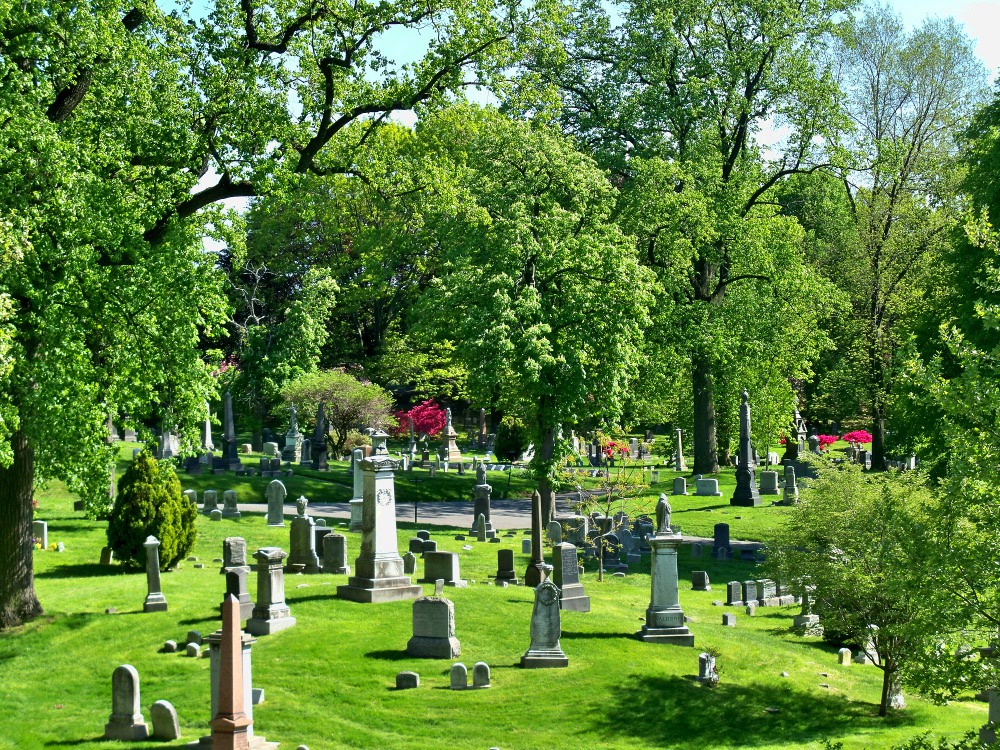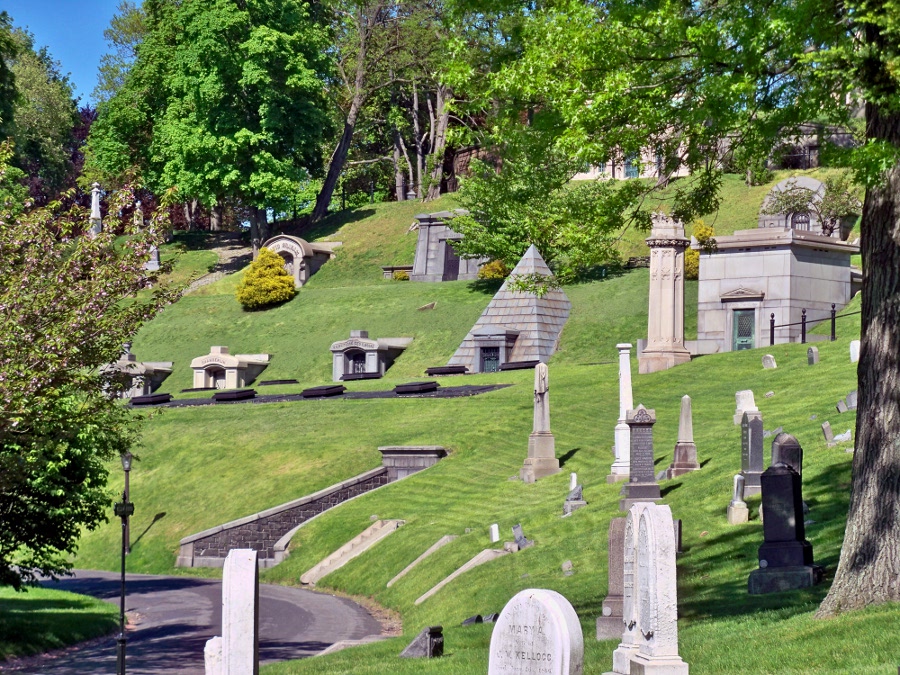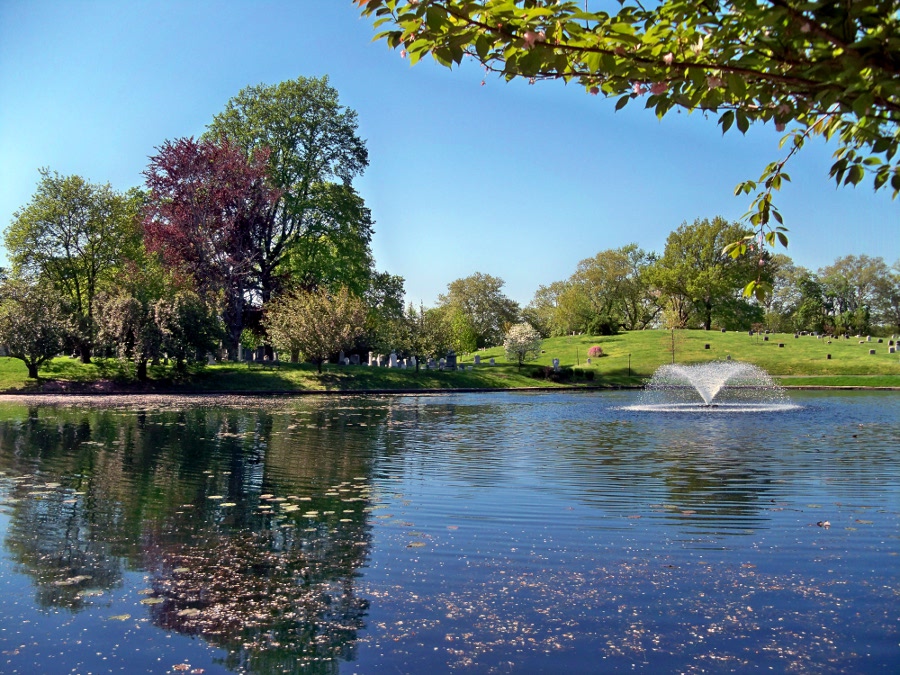 Since the cemetary was on a hill, we also had a pretty good view of downtown NYC in the distance:




As we were walking, at one point John mentioned that there were rumored to be a bunch of parrots that inhabited the cemetery. Although I had heard of (and seen) flocks of parrots in California, I thought it unlikely that one would find them here... Ironically, on our way out of the cemetery we spotted about 20 of them in a tree: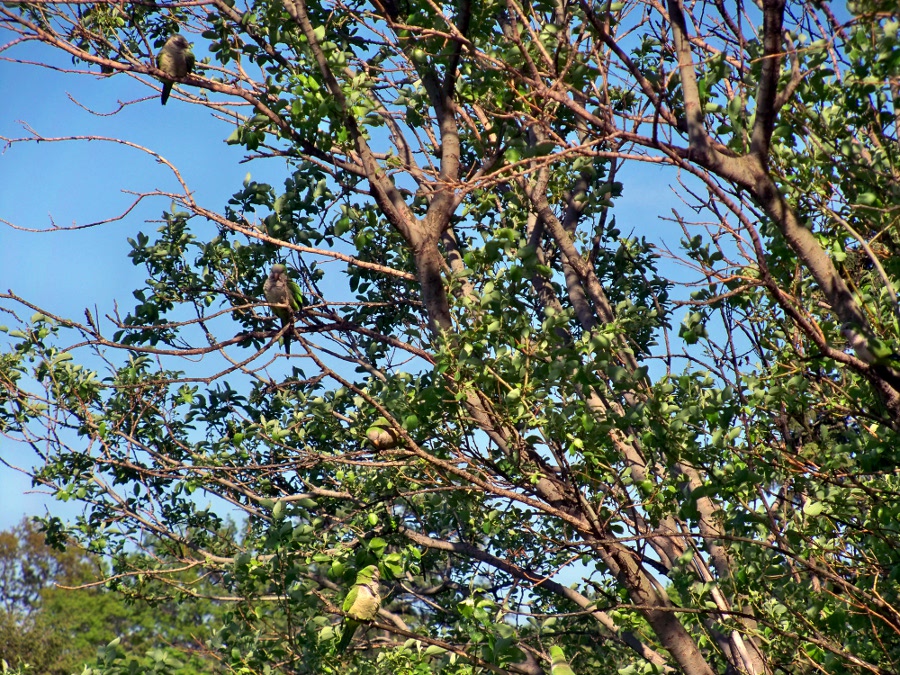 Pretty kewl, eh? Who knew that New York is tropical? After visiting the cemetery, John and I met up with one of John's law school buddies and went to Prospect Park for some frisbee. I ended up having to join a conference call, and found that frisbee was no-no on the arm-o, so I largely sat it out. Afterward we grabbed some Thai food and then John and I walked to a pub somewhere in downtown Brooklyn. The pub had an amazing variety of craft brews on tap, and one of them, the Kelso Industrial IPA (11.5% ABV) absolutely blew me away. It was so good that I pretty much immediately declared it one of my top 5 FBOATS (Favorite Beers Of All-Time). Since Kelso was a Brooklyn brewery, I figured we might be able to stop over for a tasting, but unfortunately it didn't work out that way. Instead, something else awesome happened... a couple old college buddies, John Mann and his wife Meredith, stopped by. I hadn't seen them since my motorcycle trip in 2006, three days before my accident. They were at Zach's place the night I stopped in Charlottesville, so it was really nice to see them again. John is one of the most honest and charismatic guys I know, and we realized that it was a shame that we didn't hang out more in college. He took John and I to a bar that he worked at and provided basically free drinks for a few hours. The night would have been perfect except that I ended up accidentally leaving my laptop at the bar. Although they secured it the next day, someone nicked it before John was able to go pick it up. Bummer! Fortunately I back up on a monthly basis and didn't lose any personal data of import. Anyhow, here's a photo of John pouting John a drink (can you tell which is which?):




The following morning I had to wake up at 4:30am to catch a cab to La Guardia Airport for my flight to Bozeman, Montana. The day of adventure, which I had looked forward to since I bought the BMW motorcycle in January, was finally coming to pass. My flights were relatively uneventful, but when I arrived in Bozeman, I only had $2 cash left on me, and I realized this might be a problem. Jared had mailed my wallet to Jon Reddington's (the guy selling me the bike) place in Livingston, MT. Since the Bozeman airport is like 10 miles outside the 'city', I didn't have a way of securing transportation for myself. I ended up calling a cab company and they weren't concerned about it as long as my destination was a bank where I could pull out the funds. Fortunately there was a Wells Fargo in town and everything worked out. The crappy thing was that they stiffed me $30 for the 10-minute ride, which I thought was pretty ridiculous, but that's how it goes when you're travelling. Needless to say, I didn't tip. After arriving at the Wells Fargo in the center of the city, I walked toward to Greyhound Bus station. I had about 90 minutes before my bus arrived, and only a three mile walk, so I had plenty of time. I stopped at a Co-Op in the center of town and got a salad and then snapped this picture of the downtown strip: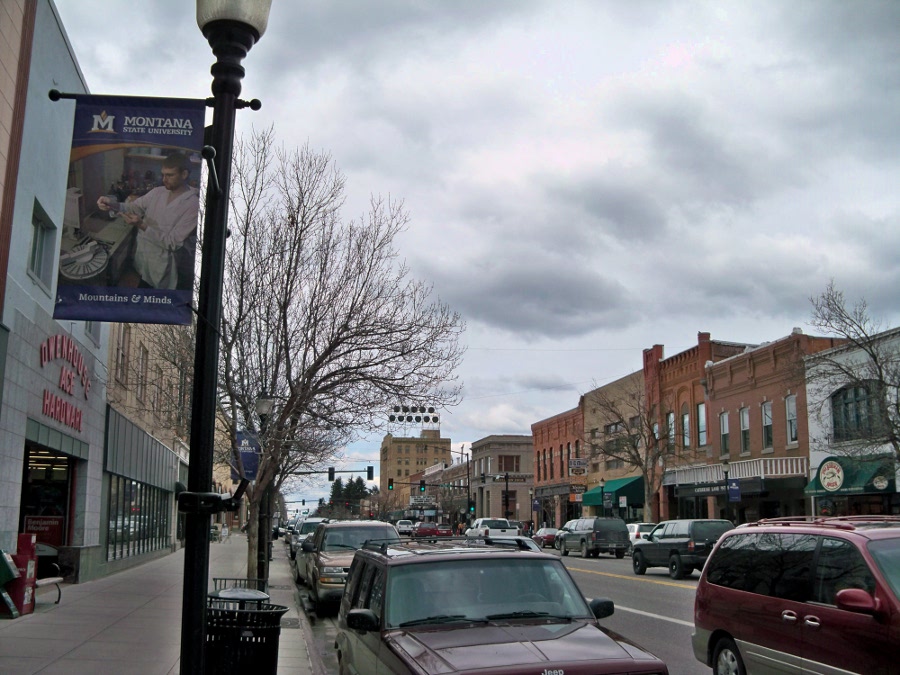 At the bus station I waited for about twenty minutes before boarding the bus without hassle. The drive from Bozeman to Livingston was only 30 minutes or so and Jon was waiting for me when I got there. As it turned out, Jon was one of the most awesome people I have randomly met in years. Upon meeting him, I immediately knew that he was my kind of guy. He was super laid back and interested in all kinds of ridiculously cool things, like DIY old-school camping, motorcycles, kayaking, and he had an awesome family and owned his own company too! I was so excited to be buying the bike from a great guy like Jon. As soon as we got back to his house he introduced me to his whole family, all of whom were very kind and accomodating. We immediately plopped down in his garage, which he had re-purposed to be his main space, more than just a garage. For example, he installed a cast iron stove:




This created a warmth and smell in there that was incredibly cozy. The first thing that drew my eye, of course, was my bike sitting in the corner:




Pretty ridiculously sleek, eh? Jon and I talked for a while and then decided to go for a test drive together. He jumped on his Harley and led the way out of town. We followed the Yellowstone River (which runs from right next to his house to the entrance of the park) for several miles until coming to a bridge where we stopped. He explained that he would commonly put in kayaks there and kayak all the way back to his house. Kewl! There were huge mountains all around and I really wish I had brought my camera. We talked at length about the camping he had done in the area and he explained that he had purchased about 20 acres of land, in the middle of a park, further up the river. His land was at 9000' and when he showed me pictures, I was blown away with the beauty. It was just like what Jared and I were ideally looking for, except perhaps even MORE remote! He explained that he originally wanted to build a cabin up there, but ended up deciding that he preferred a less permanent structure made out of canvas that he could put up and take down at will. He showed me pictures of these 'tents' as well and they seemed like an incredible idea to me. He stored his in a shed that he built up there, and explained that it was much lower maintenance and served the purpose just fine. He even setup a stove in there for heating, and had a flap in the ceiling through which the stovepipe could stick out.
After we returned to his place, his wife made pasta for everyone and we chowed down for a bit. Afterward Jon mentioned the existence of a brewery in town (amazing considering how tiny this place was) and the three of us decided to go. The place was called Neptune's and it was totally amazing. The beer, the environment, the prices, and the quantity they offered in their tasting glasses were all amazing! Take a look: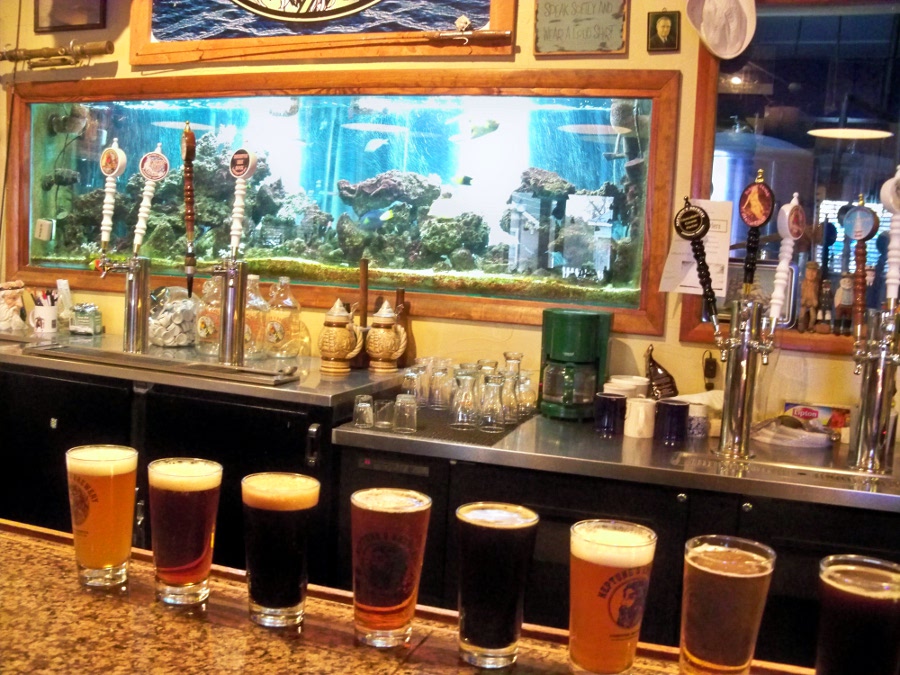 I loved the aquarium behind the bar. It was really high quality and even had coral reef in it. Before we left, the waitress took a picture of the three of us:




I was super happy at this point, since my bike had ridden so well on the test ride. It was lower and more manueverable than my old KLR, and I felt super safe riding it. I knew that the next day was going to be Epic, and I was not only excited about the fantastic people I had just met, but also the adventure awaiting me.
The Looooooong Day
The following morning at 6:00am Mountain Time, I awoke. I brushed my teeth, put my contacts in, got dressed, and went upstairs. I had a bit of coffee, an apple, and a banana, put all my gear on, said goodbye, and left on my new bike. Here is a map of my journey for reference:




It was about 6:30am when I pulled out of the garage, and I immediately got gas. Since we were up at around 5000 feet of elevation, it was SUPER cold out, something which I hadn't really considered since the weather forecast was so promising (I only looked at the high...). For the first leg of my trip, highlighted in green, and which ended up being from Livingston to Butte, I was absolutely FRIGID! I hadn't brought very warm gloves, in fact I only had my wafer-thin motocross gloves, and I also didn't have my riding boots, but instead just my sneakers. As a result, both my hands and feet were totally inoperable by the time I got to Butte. I had plenty of gas left but stopped anyway to thaw. I spent literally 15 minutes in a gas station bathroom with my hands immersed in hot water and my socks under the hand-dryer. I also filled up and got moving again at around 8:30am.
The next leg, in orange, was slightly better. I was still cold, but the heated grips on my bike were helping and I wasn't completely miserable. This was nice since I was able to enjoy the scenery a lot more. At around 10:30am I arrived in Missoula, where I was going to detour from the 90 onto a more scenic (yet slower) route through the mountains, the 12. I filled up on gas and re-thawed one more time in the gas station bathroom. I knew there was a relatively short drive South of Missoula on the 15 before it took a right and headed over Lolo Pass into Idaho. As I drove South, I all-of-a-sudden noticed that the 12 signs had stopped and there were only route 93 (or something) signs. I immediately stopped and busted out my iPhone, which, at a minute's glance, indicated that I was very much still on the 12, in fact. As a result, I continued another 45 minutes on this road, while it snaked through tons of shitty construction. Eventually I became incredulous again that I was on the right route and pulled over. After checking more thoroughly, it became obvious that the 12 had turned off just prior to my previous stop, making it seem like I was still okay when I was in-fact headed in the wrong direction. This mistake is reflected on the map in red, and ended up costing me about two hours. This put me in a bit of a down mood, but I hoped that the scenery in the mountains would cheer me up and make me forget about it.
As it turned out, I was right. After getting back on the 12, I was rewarded with clear roads (literally like 5 cars in my lane in the next 200 miles) and beautiful mountain and river vistas. The road meandered up several thousand feet to Lolo Pass. At that point there were 12 foot snowbanks on either side of the road and it was quite cold. The descent into Idaho, on the other side of the pass, involved a non-stop downhill for about 169 miles along the banks of a beautiful river. The temperature warmed up to between 70 and 85 degrees for the afternoon, and I was in heaven. The riding was absolutely incredible, the best of my life. I got tons of practice on the snaking mountain turns and felt very comfortable, safe and happy on the bike. This leg of the trip convinced me that I had made the right decision to buy the bike after all, and that the freedom and feel of adventure biking was something I really missed since my accident. After about 200 or so beautiful miles, I stopped in the town of Kamiah for gas. If I remember correctly, it was about 3:30pm at this point and I calculated I was getting about 70 miles per gallon (not bad!).
The next leg of the journey, marked in pink, started well but ended in a frightening manner. After leaving Kamiah I travelled through Western Idaho toward the border with Washington State. This section was relatively nice, but there were many towns and in some spots it was relatively slow going. Once I passed into Washington, the scenery was much nicer, but incredibly sparse. There were no trees, and just rolling hills and sometimes mountains in the distance. It's pretty incredible how devoid of... anything... this part of the country is. After driving for a couple hours in Washington the road met up with the Columbia River near the border with Oregon. At this point the scenery was pretty fantastic and I was super happy again. The gorge at this point had towering rock walls and in the evening light was really beautiful. After following the gorge for a bit, the road snaked out away from the river and up onto the plateau above. This is when everything started to go wrong.
For the past few dozen miles I had noticed an increase in the clouds and even some darker looking ones on the horizon. This concerned me, but I figured that if I hit rain it would be light and brief since the clouds didn't look terribly substantial. When I ascended the bank of the gorge, I realized this was probably not the case. All of a sudden I was caught in a front. Commonly preceeding a band of weather, one finds that the wind picks up and this is exactly what happened here. The ferocity of the wind was unlike anything I'd ever driven in on a bike, and it was downright dangerous. I fought to keep the bike upright, sometimes leaning as much as I would on the mountain turns, just to continue going straight. At one point I almost felt a bit weepy because of how terrifying the conditions were. I saw very ominous looking clouds and dust clouds in many directions and was hoping that the road would avoid them until I found a town where I could exit. In addition, I was running out of gas and wasn't sure when my bike would stop. As my bike whipped back and forth while I struggled to stay within a single-lane, cars tenuously edged around me to pass since I was going much slower than them. Eventually I saw an exit for the town of Boardman coming up, and felt relieved that they had gas there. And then, about 1/2 of a mile before the exit, I ran out of gas. The bike stopped in the shoulder and I couldn't get it started again. I immediately geared up for a long push down the road and up the exit ramp. It only took about 20 minutes with my efforts, but it was pretty exhausting. Once I filled up I called Jared to get a scout on the weather West of my position. He reported exactly what I feared, that a massive band of storms had just passed through Portland and was heading my way. Apparently I had about a half hour to find lodging before it arrived.
I immediately started looking for a place to spend the evening and FINALLY relax. At this point it was about 8:00pm PST and I had already been riding for around 15 hours, and for 725 miles. This, to anyone who knows how exhausting riding can be, is an extremely long day. In addition, I hadn't had anything to eat since my apple and banana, and was running on only those 200 calories and a few sugar-free candies. Things only got worse from here, however. I asked the attendant at the gas station where I should look for a decent motel, and she recommended the Roadside Inn across the freeway. I went over there and inquired about vacancy. The lady reported that they were booked, and, to my surprise, that all 5 motels/hotels in this town were all full. I was completely incredulous. I asked her why this was and she reported that the nearby Coal Plant was under maintenance and all the workers from out of town were being put up there in Boardman. I still didn't fully believe her and so went to a bunch of other places to check on vacancies. They were all full (and quite trashy). I decided that my only hope was to go to the more expensive Riverfront Lodge down the road. When I arrived there, they reported that they, too, were totally booked, and there was nothing they could do. This put me in a very interesting position, one that I do not often find myself in. I considered asking people to let me stay wherever, but then realized that I could just tough it out and wait for the rain to pass before heading back that night. I called Jared to see how long that might be, and he reported that the weather channel said the precipitation should end by midnight. This was a four hour wait, which would suck, but I figured, what the hell. I asked if I might plop down in the nice hotel lobby, and they said they didn't mind. I unpacked my computer and plugged in, and then ordered some food from the hotel grille. They served it to me in the lobby, and since the veggie burger and fries were SO GOOD, I actually felt pretty happy and content.
As it turned out, the rain only persisted for about two hours and then stopped. At one point I went out to check on the sky and, although it was still cloudy, the wind had died down significantly. I was getting antsy and figured I could always stop again, so I made the call to head out at around 10:15pm. I don't normally advocate night-time bike riding, but these were extreme circumstances and I knew there wouldn't be many cars on the road. As it turned out, I was right that it wouldn't rain again, but unfortunately the wind continued to be a huge pain in the butt, although not as bad as before. Nonetheless, the three hour ride to Portland was not easy, and when I arrived, at 1:15am, I was super glad the day was done. In the end, the trip turned out to be quite the adventure I was looking for, containing both the good and the bad. The fact is that it could have gone a lot worse than it did, and all things considered, it went really well so I was pretty stoked about having made it back and pulling through. I went to sleep, exhausted, and returned to work at OHSU the next day.
Spring Had Sprung!
Upon returning to Portland after my 10 or so day absence, I could see some remarkable changes in the city. The weather had improved considerably (average temps in the 60's or better), and the trees and gardens were blossoming brilliantly. Por ejemplo:




The seasonal changes that accompany the transition from Spring to Summer always inspire me to head outdoors. In Portland, where scenic beauty is so nearby and the land is so rugged, it's even more palpable. As a result, Jared and I were planning a plethora of outdoor activities, including kayaking (especially getting into whitewater), hiking, off-road motorcycling, and...


Climbing Again!
Yes, it's true. Colin Parker is climbing again. I know, it's crazy, but I think it's time. To be sure, things are NOT all better. My shoulders are still healing (and having some minor issues), and my right ring finger is still totally messed up. However, I saw another hand surgeon and he said that the next surgery they want to do would be a pulley reconstruction. They would take a tendon from my wrist and wrap it around the inside of the base of my ring finger. He explained that although I would experience some long-term stiffness in that finger, it should solve the issues that I'm currently having permanently (fingers-crossed) and should restore complete strength to that finger. This surgery would involve a recovery time of three to six months (surprise, surprise) but he recommended I wait until Winter to have it done, and enjoy my Summer and Fall. Apparently, he said, there's very little additional damage I can do, especially if I use tape or other means to keep my finger tendons in check. This got me thinking of a temporary solution until surgery. I figured tape would do in a pinch, but I came up with a pretty interesting idea that actually works remarkably well:




Yes, that's a hose clamp that I've customized to squeeze my finger tendons. And the funny thing is that it works, really well, and is stronger and more reliable than taping would be. It might not work well in finger cracks, but I don't expect to see too many of those in Oregon, and if necessary I can switch to tape at any time. To start getting back into climbing I've activated a Groupon at the local bouldering gym, the Circuit. They've actually got two locations in town, both of which are bigger than the Arc was in Pasadena! Although I don't expect to boulder much once I am healed, I don't think that a few V0-V2s is going to hurt me any as I recover, as long as I don't push it. Here's a few pics I took at one of the Circuit Gyms:




Pretty nice, huh? One thing that is very different about this gym than the Arc is that most of the 'boulders' have top-outs, meaning that once you climb the wall, you actually go over the top to a platform and take a staircase down. I really like this because it simulates topping out on an outdoor problem, something that takes commitment and many indoor climbers are unfamiliar with. As much as I like the Circuits size and route-setting, I expect that Jared and I will get more permanent memberships at a top-rope/lead climbing gym instead so that our bodies do not take so much abuse. In addition, my goal is to become a good outdoor climber, and not a good boulderer, so I need to practice with that in mind. In that regard, Portland has many nearby climbing areas that we are hoping to explore. I also expect to spend some time this year in Squamish with Rafaela and in Smith Rock when I have a chance to get out there. Perhaps I may find an opportunity to return to Tahquitz or Joshua Tree in Southern California later in the year... who knows!
Memorial Day Weekend
Since the weather was looking pretty good for the long weekend, Jared and I made some pretty ambitious plans. Our goal was to leave early on Friday for Central Washington and find a campground. Then, in the morning, go to a crag called Frenchman's Coulee near vantage and climb for the day. On Sunday we would get up, go back to climb, but then end early and go to the Sasquatch Music Festival for the Flaming Lips and Modest Mouse shows before returning to Portland late that night. On Monday we wanted to go whitewater kayaking for the first time, with all of our new equipment. As you can see, it was quite the packed trip. Add to this the fact that we were probably going to be meeting up with Aaron and Ellen, Jared's friend's from Tacoma, and it was clearly a crunch.

I was able to leave work around 2:00pm on the Friday, so Jared and I were on the road by 3pm. The drive to Central Washington took about five hours due to some traffic we hit leaving Portland. The scenery along the Columbia River on the 84 and through the hills on 97 North was really nice. Lots of rolling hills, snaking rivers, pine forests and wild horses. We expected many of the campgrounds in the area to be full due to the festival at the gorge, so we had a set of six campgrounds to scout out. The first few were in the town of Ellensburg, which is a small college town about 30 minutes from the climbing and the gorge amphitheatre. The first one we stopped at was the least commercial, a family owned spot called Yakima River RV Park. Given the name, we weren't expecting much, but once we arrived and saw how peaceful it was and that they had a totally separate area for tent campers, we were really stoked. As it turned out, we were the only people who camped there that weekend, and it was an incredibly nice place. We were even able to have a campfire, something that is generally not allowed mid-year in the region. Anyway, we never ended up checking out the other five spots, and we camped right here: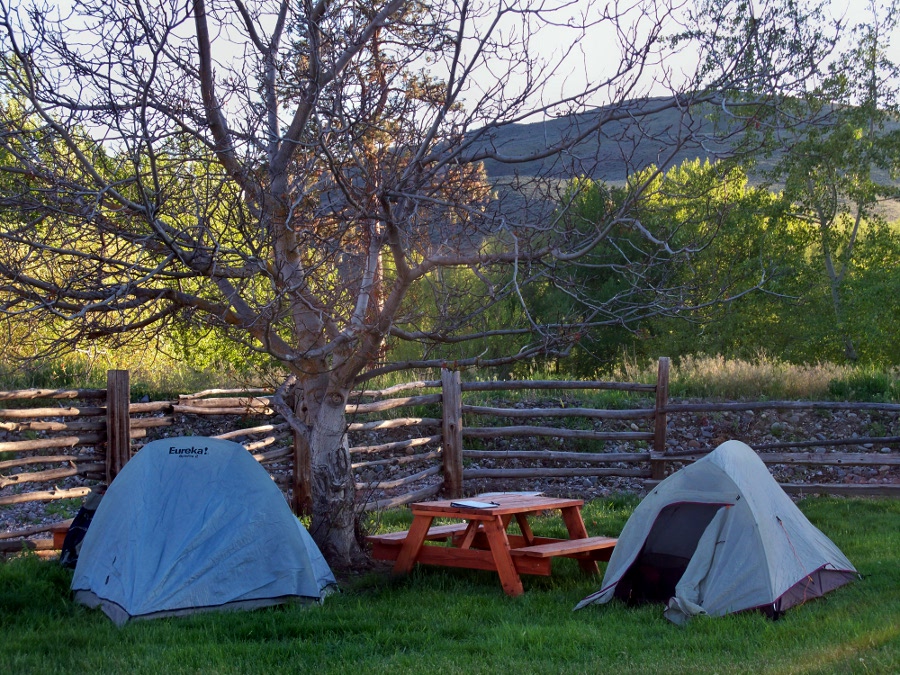 As you can see, we had a nice cushy grassy field to camp in. In addition, they had tons of chopped wood that they didn't mind if we used. Here's Jared relaxing with a crossword in the wood-area:




There were a few animals on the farm, including two horses, several rodeo bulls, a goat and a sheep. Apparently the goat and sheep were best friends, and they very much liked Jared, as long as he was feeding them carrots:




The noises that the various animals made, as well as the frogs and crickets from the nearby stream, created a very peaceful environment, especially at night. After basking in front of the fire for a couple hours, we retired early and got a good night's rest. The next morning we received word that Aaron was able to get off work and would be driving out with Ellen to join us for climbing that day and camping overnight. They left Tacoma around 9:30am which meant that Jared and I had to wait for about 2.5 hours for them to arrive. We spent some time reading and walking around the property, and when they arrived we all climbed into Jared's car and left for the town of Vantage.
Frenchman's Coulee
The Frenchman's Coulee is a hidden gem of a climbing spot that is located just across the river from Vantage. The rock faces are made of volcanic basalt columns that were exposed when a large lake broke free of its glacial dam tens of millions of years ago and spilled across the Columbia River basin. This was everyone's first time to this spot, so we weren't sure exactly what to expect. We parked in the designated area and started on a trail towards the mesa formed by the basalt columns. Here's a picture of everyone on the trek:




Unfortunately we took the wrong fork in the trail almost immediately and ended up in some super sketchy terrain where a fall from the narrow, loose trail would have resulted in death. I was pretty sketched out and asked the gang if they thought this was the right way. Checking the guide, our wrong turn became apparent and we backtracked. Phew! If I ever go back there, I will bring a homemade sign for that split. We ended up saving several other people who made the same mistake from the unnecessary risk of the other fork. Anyway, once we got back on track we quickly found our way to the top of the mesa. After crossing the mesa we descended to the base of the cliffs via a really cool passage behind several basalt columns. I failed to get a picture of the tunnel itself but we were rewarded with this view once through:




Amazing, no? The area was far more expansive and beautiful than I was expecting. I was only hoping that the quality of the climbing would be incredible to match. I immediately jumped on a sport route to find out. Although this was my first roped climbing experience in 18 months, it almost immediately came back to me, and I felt very little nervousness. Here's the first route I climbed, a 5.8 called 'Clip 'Em or Skip 'Em':




After the sport route I led another sport climb and then debated whether I should break out the trad rack or not. At one point I was certainly not feeling it, but as I continued climbing I felt better and better. In the end I decided that it would be a shame for me to have brought it and not at least attempt a route that day. As a result, I hopped on a 5.8 in a corner called 'Crossing the Threshold'. It was a wide stemming corner that had parallel cracks, one on each side:




The route was an incredibly fun lead and I never felt scared or endangered thanks to the frequent rests and moderate difficulty. The route re-ignited my passion for traditional climbing and I immediately hopped on a harder trad route called 'Tangled Up in Blue'. This one was 5.9 and significantly more difficult than the previous one although similar in style. Here's a shot of Aaron on the route after I finished:




After we finished this route the sun began to set. The sunset was a pretty nice one that looked great in contrast to the darkened cliffs around us:




I quickly climbed another route to retrieve an anchor I had left setup and then we headed back toward the parking area. On the way I snapped this picture from the top of the mesa. The sliver of water that you can see is the Columbia River down in its gorge: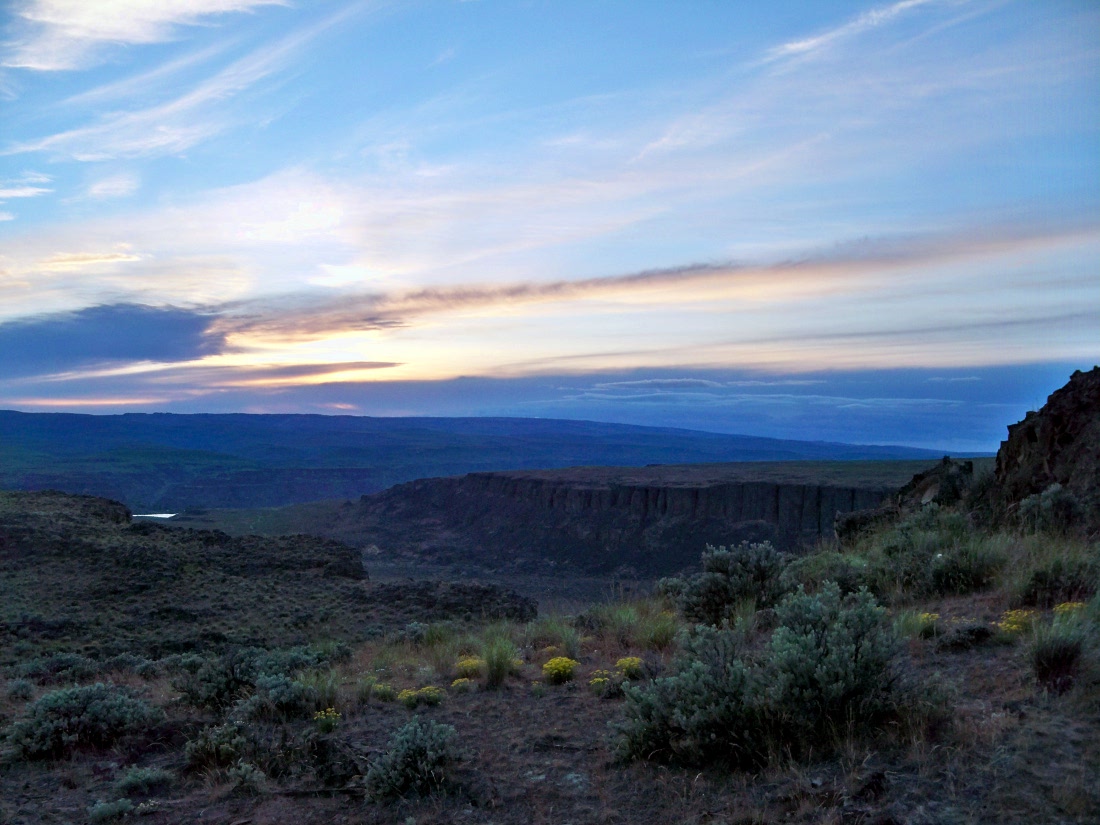 As we drove out of the park we passed a couple of campgrounds. One group of people decided to get creative and set up a tent on the top of a basalt column:




Craziness.

That night we returned to our camp in Ellensburg. Aaron and Ellen set up their tents and then we all plopped down in front of the fire to have some pizza, marshmallows, and a few drinks. Since we were all pretty tired and yet wanted to return to the climbing area in the morning we went to bed before it got too late. The next day was a bit hazier at the crag but the climbing was just as good. Since we had a short day we only got on two routes, but the first one, called 'Party in Your Pants' was an amazing and long 5.8 trad lead. I felt as if I enjoyed climbing it more than any other route I had ever done. Here's a picture of me near the very top:




As you can see, it is very tall. In fact it goes to the very top of the mesa and if you wanted you could walk off up there. After climbing for a few hours we parted ways and Jared and I left for Sasquatch.
Sasquatch 2011
The Sasquatch Music Festival is held every year at the Gorge Amphitheater, carved out of the Columbia River gorge. It's considered one of the most beautiful venues in North America. Having been to Sasquatch before, in 2005, I loosely remembered it being a poorly run festival. Unfortunately, this is the first thing that I was reminded of when Jared and I arrived. After getting all of our stuff ready in the parking area, we grabbed our tickets and headed for the front entrance. When we arrived we were confused by the massive hoard of approximately 2,000 people packed around the entrance. Once I found out that this was the 'line' to get in (even if you already had a ticket), I was completely incredulous. I had expected to be able to meet up with Raf and her friends almost immediately, but instead we were forced to endure a nearly one hour wait in this mass of people. Fuck Sasquatch!!!!
Anyway, while waiting to get in, I was exposed (rather, overexposed) to the mass of concert-goers. I normally do not try to put myself at a distance from the people I'm around, but I must say I was really dissappointed with many of the people who were waiting to get in. The general character of the crowd seemed like a cohort of druggies who were present more to party and get fucked up than for the music/scenery. For example, I saw one guy eat a half-ounce of mushrooms and some ecstasy all at once. Are you friggin kidding me? That's basically like throwing your brain off a cliff. Anyhow, after enduring this maelstrom of confused humanity for about 45 minutes, Jared and I got in. Once inside we were able to move about more or less freely, so we mosied over to the main stage where Rafaela and her friends were. Here's a picture of the main stage at Sasquatch:




It's a pretty amazing venue, so it's really sad that the festival is so poorly organized and is basically a cash-grab. The band that was currently playing was called Beach House, and although I was unfamiliar with their music, they sounded pretty good. It didn't take too long to locate the canadiens, and it was great to see Raf, Fergil, Ed and Laura again. Rafaela looked particularly tan from her recent trip to Costa Rica. We relaxed on the grassy amphitheatre field until Beach House was done. At that point we mobilized to get into the enclosed area directly in front of the stage to snag a good spot for the Flaming Lips and Modest Mouse. We had little issues gaining entrance to that area before the Cold War Kids came on at 5:45 or so. I had heard that the Cold War Kids were really good live, and they seemed pretty energetic, but they were a bit too poppy and 'we wanna be rockstars' for my taste. Generally I've discovered of late that my turn towards really 'out there' music has left me pretty disinterested in the vast majority of 'music for entertainment' that's out there. Since that covers the vast majority of bands, I am starting to question my interest in most live music (bands like Yo La Tengo, the Flaming Lips, and Built to Spill, etc. are exceptions because I feel their music conveys an artistic message as well as being pleasing to listen to). Anyway, I tried to arrange my mind and mood to be more accepting of the music that was being played and ended up enjoying the Cold War Kids quite a bit. Here's a shot of them playing their set:




After they finished we waited about a half hour for the next band, Flogging Molly, to start their set. At the time I was totally unfamiliar with their music although I was aware of their existence and relative popularity. I always got the impression that they were one of those 'alternative' bands that really really sucks (like Blink 182, Maroon 5, etc.) but appeals to a well-funded subculture. In this case, I was right, as they turned out to be an Irish band that plays the same basic drinking/moshing songs over and over, thus catering to drunk frat boys who couldn't give a genuine fuck about Ireland or its culture, but who love to drink... Since we had, by this time, made our way to the front and center about 3 rows back, we were situated in the middle of the moshing area. The next hour or so was absolutely brutal for me, and if I wasn't in a generally good mood, and super excited about the lips, I would never have put up with it. As it is, I will probably never put up with something like that ever again. I endured non-stop crowd surges and moshing that often caused people to lose their footing and dangerously fall down. I fought with all of my strength to dampen the surges and protect Rafaela who, being as small as she is, is more susceptible to that bullshit. I understand that a group of people who enjoys that stuff might enjoy themselves, but people who are unwitting participants are basically enduring physical violence, and that's how I felt. I stayed positive through it, but it seemed to go on forever, especially since Flogging Molly liked to play songs that had about ninety false endings. Ugh! Fuck Sasquatch!

So eventually Flogging Molly finally finished and Jared secured a spot at the railing for Rafaela so she would be more protected from further insanity. We waited about a half hour for the Lips to come on, with every glimpse of Wayne eliciting excitement and cheers from the crowd. Remembering the incredible performances we'd seen previously in San Diego, Chicago, and even here at Sasquatch in 2005, we were ready for them. When I found out that their plan was to play the Soft Bulletin in its entirety, I was beside myself. I would finally get to hear 'The Gash' played live!!!!! In characteristic fashion, the Lips took a bit too long to get everything setup, and Wayne rolled out in his oversized hamster ball. This gag never really gets old, though, and once again we got to hold him up! Once he returned to the stage they opened with Race for the Prize, which is their perennial opener. This time there was noticeably less confetti and he only took two or three shots with his confetti launcher. Something seemed amiss. After the first song, and indeed prior to several of the songs thereafter, Wayne gave the audience a relatively long-winded bit of background information about the next song. While I do enjoy Wayne's musings, I really don't want to hear them at a festival since their timeslot is so limited. And this wasn't all. For some reason the Sasquatch people decided that they would celebrate the 10th anniversary of the festival on-stage during the Flaming Lips set, thus depriving us of about 10 minutes of Lips music. Fuck Sasquatch!!!!

Here's them on-stage presenting the gourmet cake:




As it turns out, that strange looking thing is in fact a cake, and Wayne flung massive sections of it into the audience. I caught a rather large piece of fondant with some icing and filling attached to it. People grabbed a bunch from my large hunk but I got to taste a decent sized section of it and it was surprisingly good, albeit completely sugary. The Lips eventually got back to playing, but with the constant interruptions they were not able to make it to 'The Gash'. In fact, when they started their last song 'Feeling Yourself Disintegrate,' about 50 people in the crowd felt it necessary to bodysurf to the front as an exit manuever. Many of these people had to pass over us on their way out and I was repeatedly kicked in the head and otherwise hit by them. It was an absurd distraction and I've never seen anything like it at other festivals. So, basically, this was the worst Lips set I've ever seen. There was maybe 10% of the confetti and craziness that generates the atmosphere I love about Lips concerts, and there were repeated delays and distractions from the performance. Fuck Sasquatch!

So even though we were pretty down about things, we decided to stay in the front for the Modest Mouse show. We figured if they were good it might make everything we endured worthwhile. The setup for Modest Mouse took longer than normal, an echo of Jared and I's experience seeing them at the Rave in Milwaukee in 2005. By the time they came on we were pretty tired and not willing to put up with more surges, so we hoped they wouldn't start. Unfortunately, as soon as Modest Mouse started playing more popular music, things got a bit chaotic. Rafaela and I made the decision to bail. We hopped over the front railing to our freedom. It was a great idea, in fact, since we could still hear and see the band really well from on the hill nearby, and we were no longer in that insufferable mess. Here's a shot of the band I took from our new vantage point:




Their set was decent but nothing spectacular, again much like 2005. After a while we were joined on the hill by Rafaela's buddies who we had been separated from earlier. It was nice to have everyone in the same spot again (except Jared, who was still down front). After about a half hour I started getting antsy and texted Jared that we should leave soon. He agreed and I said goodby to everyone, met up with Jared, and we returned to his car and took off on our late night drive back to Portland. Our goal was to get back around 4:30am, sleep for awhile, and then get up and go on our first whitewater kayaking trip. The plan worked out beautifully, and by 2pm the following day we were on our way to the Mollala River, in my car, with two kayaks and a my bicycle on the back. Here's a picture of my car after we had unloaded the bike at the take-out:




Jared and I had recently purchased a lot of new kayaking gear and were excited to finally get to use it. The plan was to put into the Mollala at Feyrer Park and take out at Wagonwheel park, six miles downstream, where I had stashed my bicycle. Then I would bike the six miles on the road back to the car and pick up Jared and our kayaks before heading home. The plan worked perfectly. Once we were all suited up and ready to put in, we were super excited. Here's a picture of the river at the put-in:




The river was really high and running very fast. Fortunately we had a calmer section for awhile to get adjusted before the rapids really started. In all, we probably ran about 30 class I rapids, a handful of I+ rapids, and a couple thrilling (and slightly dangerous) class II's. It was an amazing non-stop ride that lasted 90 minutes. It was such an amazing first run for us, and we were immediately hooked. I expect that we will be doing many more rivers throughout the course of the year, so I will keep a log of them here: 2011 Kayak Log. After we finished unloading back at our place, Jared and I were totally beat. We made my signature burrito filling and ate leisurely while watching an NBA playoff game. We certainly needed some veg time. What a weekend!!!

Anyway, it should be obvious that I am super excited about all of possibilities for the Summer. I really hope my body stays intact and allows me to take advantage of this new place that I'm living and the new hobbies I've taken up. If I can also stay balanced between my work and regimen, then this could definitely be my best year yet!

Forward to Summer 2011
Back to Index