Back to Index
Back to Fall 2010
Ich Bin Ein Vagabund!
Leaving California
On October 4th, I loaded my car, finished the rest of my errands, and set off for the Northwest. Colin and Ivan helped me with my last minute preparation, which included putting the kayaks and bike rack on my car. Here's a picture of my car loaded and ready to go:




The drive to Portland was pretty exciting at first. It was raining pretty hard and the rooftop rack was not secured fully properly. At one point the kayaks started sliding back, so I stopped under an overpass and changed my rigging a bit. In all, I stopped the car three times (once because a knot came undone), but after the three stops I felt comfortable with the setup and from that point on I only doublechecked during stops at gas stations. The rain continued into the mountains but fortunately did not cause any traffic issues. After passing the grapevine into the central valley of California, the rain stopped and the wind started. The wind bothered me more than the rain because it would catch the kayaks and jerk the rack back and forth. To mitigate this, I was forced to drive somewhat slower, usually around 55mph. The wind persisted through most of the central valley but stopped when I reached Sacramento. By this point, the sun had set and since there was a new moon, the remainder of my trip would be in the pitch dark. After passing Sacramento I was in entirely new territory, where I had never been before, but I didn't get to see anything! I passed through Shasta Lake and Redding and then into Oregon. Next, I stopped for gas and was surprised to learn that in Oregon you're not allowed to pump your own gas, which I had only seen before in New Jersey. I started getting pretty sleepy around 1am and got some high-caffeine coffee to help. After another few hours, however, I simply could not stay awake and stopped for a two-hour nap near Grant Pass. Once I awoke, I returned to the road and continued to Portland, arriving at around 10am, just in time for a call with the CyPace attorneys.
Portland
In Portland, I am staying with Jared at his apartment at NW 18th and Hoyt. It's very spacious and centrally located, the perfect launching point for getting to know the city. Immediately upon arriving, I unloaded my day-to-day stuff and parked my car on the street in a spot where I wouldn't get ticketed overnight. The city immediately started proving itself capable of living up to its stereotype. I noticed that pretty much everyone looked either outdoorsy, hipter or 'indie' and there were tons of bicycles around. There are also a ton of breweries, homey looking restaurants, coffee shops, food carts and concert venues. Since I like pretty much all of these things I figure that Portland will be very enjoyable for me. Also staying with Jared at his apartment are his friend Tyler, who is in culinary school, and his friends Aaron and Ellen. Here's a picture of the gang:

***Need Pic of Gang***

On the first couple days in Portland we ate food at a food cart, drank fresh beer from a brew-pub, and went to pick our own vegetables at a farm on an island in the Columbia river. In addition to this, many tasty meals were cooked, delicious bread was baked, and flavorful beers were quaffed. I am certainly looking forward to my next few weeks here. After spending three days in Portland, Jared and I loaded his car and left for Seattle where we were going to pick up Rafaela, Colin and Ivan and then drive to central Washington where an annual Loveness family gathering was being held that weekend.
Apple Cider 2010
Colin's family had been making Apple Cider at their cabin in the Cascades for at least 30 years, and this year was slated to be the largest gathering yet, since so many of Colin's friends were coming along. We arrived late on Friday night and pretty much went right to sleep. On Saturday we started making the apple cider. The weather wasn't ideal, but it wasn't raining hard enough to be a problem. While everyone was getting the cider press ready, Jared and Ivan started working on getting some bread started: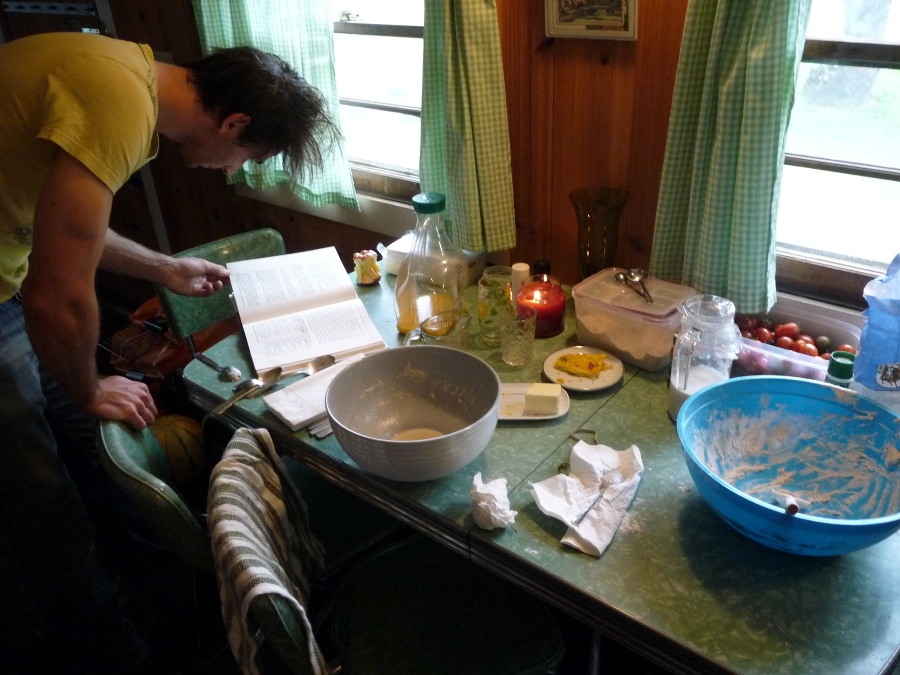 To make apple cider requires a several step process. First you start with some apples. We had several varieties, including McIntosh, Jonagold, Jonathan, Banana Apples, Red Delicious and Golden Delicious: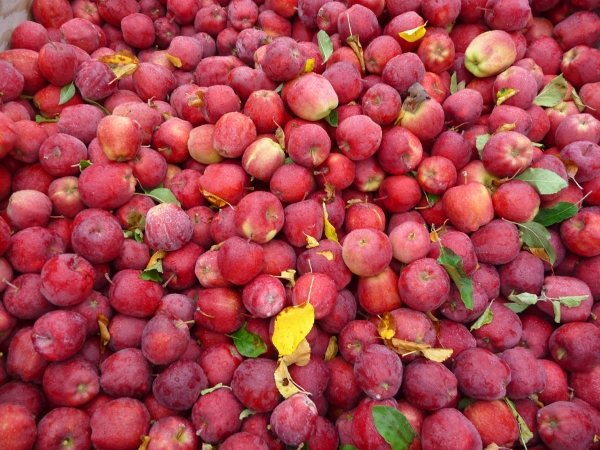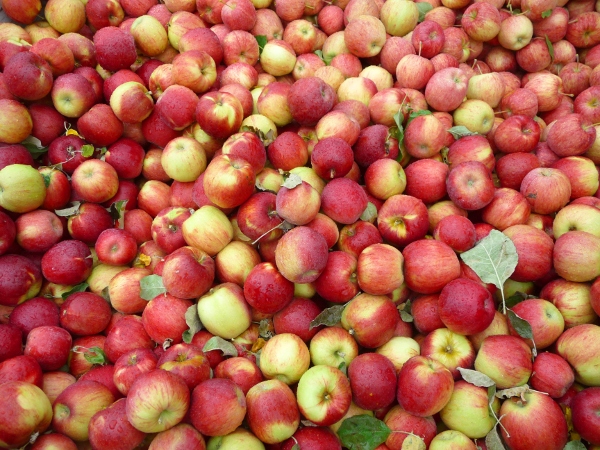 The first thing that happens is someone collects an assortment of the apples and puts them into the wash basin at the start of the assembly line. Then a group of washers take the apples and scrub them to ensure any residual pesticides are removed from the skin. Here's a picture of Rafaela, Ghyrn and Colin washing some apples:




After the apples are washed they are put into a wooden holding area where they are then picked up and placed into the grinder. The grinder is driven by an electric motor and pulverizes the apples into small pulpy chunks. These chunks are deposited into wooden barrels with slatted sides. Here's a picture of this part of the process:




Once a barrel is filled, it is then moved from under the grinder to a press which is winched by someone so that it compresses the pulp and drives out the juices. The juices run down a wooden board, through a cheesecloth and into a bucket for collection.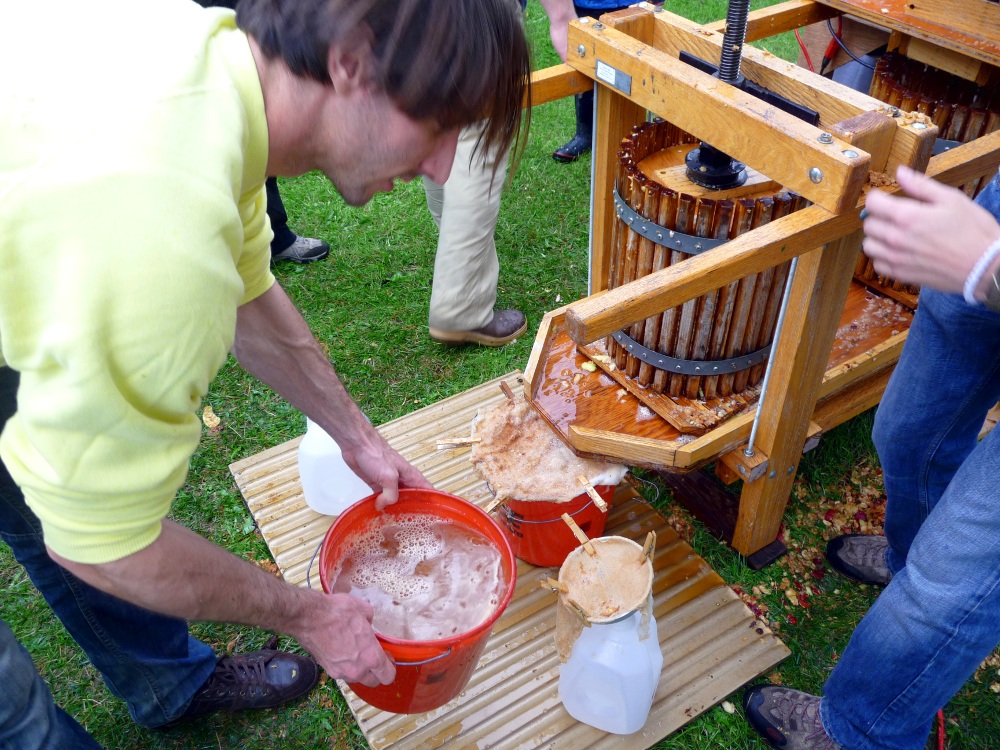 Once a bucket is filled, it is poured out through another piece of cheesecloth and into a gallon jug which is then labelled for distribution.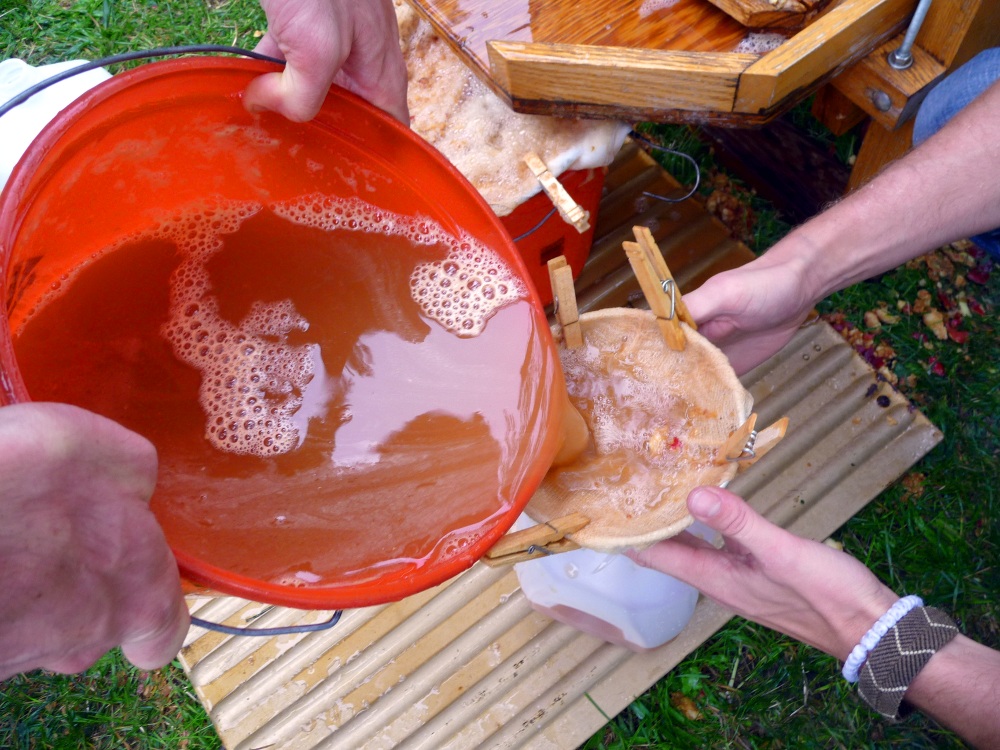 Over the course of the day and a half of pressing cider, the group managed to produce over 100 gallons! Here's a picture of the completed product:




And here's the group of us after completing our work: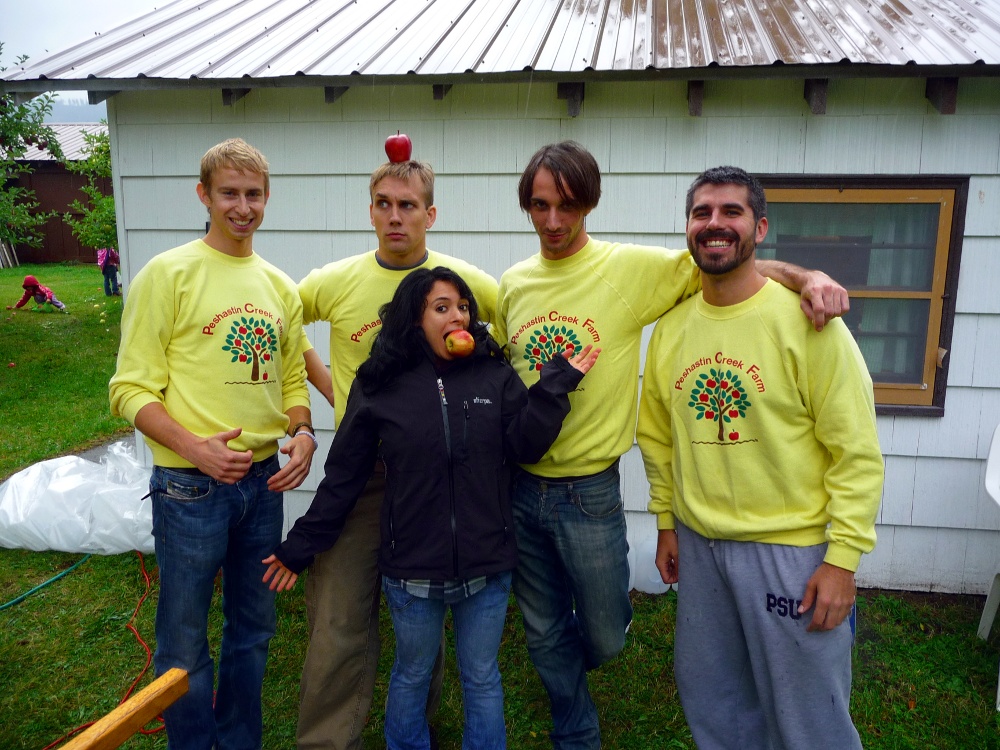 As you can see, we became completely converted to the cause. After the first day of pressing, the rain picked up and everyone retreated to the cabin for an evening of food and games. Jared's loaf of sourdough finished baking just before dinner: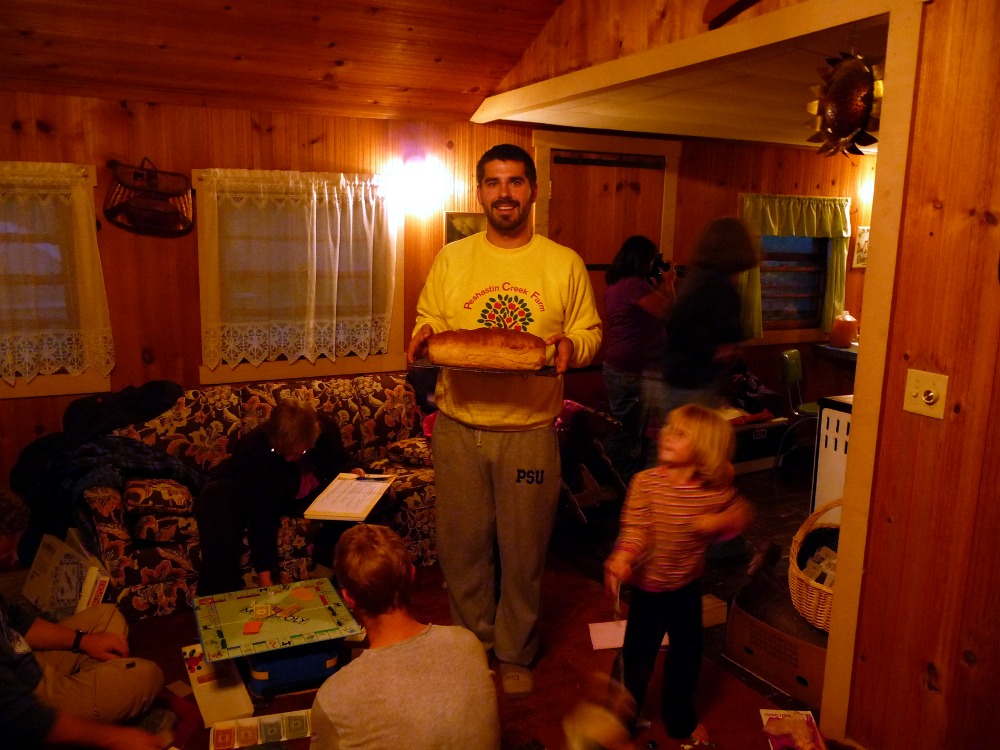 On the second day the weather was better. It remained slightly overcast but at least the rain stopped. There were a few really tall pine trees next to the cabin that looked super-climbable, so I jumped up and started up one of them. Once Ivan saw what I was doing, he immediately joined me. We were able to make it pretty much to the very top of the tallest tree, perhaps 70 feet off the ground:




In the afternoon everyone gathered together for a group picture:




After a few more hours, everyone except Jared and I left to return home. After saying our goodbyes, we located the croquet set. Instead of playing a normal game of croquet, however, we decided to just smash a bunch of apples. :-) We used apples that had already fallen from the trees and we stood next to a ditch so that the apple parts wouldn't litter the cabin property. It felt really good when you fully connected with an apple and it pretty much exploded on impact. After playing apple-croquet for perhaps half-an-hour, we made dinner and built up a campfire in the fire-pit they had in the backyard. For the next few hours we relaxed next to the fire and drank cider and beer. We then retired a bit early so that we could get a decently early start in the morning.
The Enchantments
The following morning Jared and I were planning on hiking a long one-way hike in the Cascade mountains near Leavenworth called the Enchantments. The route started at one high trailhead called the Stuart Lakes Trailhead (3400 ft elevation) and ended at a lower trailhead called Snow Lakes Trailhead (1800 ft elevation). The high point of the hike was at Aasgard Pass at 7800ft and the overall length of the hike was around 18 miles. Since this distance and elevation was significantly less than our hike up San Gorgonio, I wasn't too worried about the distance. Our original plan was to drop me off in town while Jared parked at the Snow Lakes trailhead, and then I would pay someone for a ride and then pick up Jared and get dropped off at the Stuart Lakes trailhead to start our hike. Unfortunately, there wasn't much of an opportunity to hitch rides from town, so we drove to the lower trailhead and I started trying to hitch-hike on the road. After trying for 30 minutes, there were no cars heading up to the upper trailhead and we decided to just go to the upper trailhead and worry about getting a ride back to Jared's car later. Because of these logistical troubles, we weren't able to start until around 9:45pm, which was pretty late. As a result, we decided that we should set a pretty fast pace to ensure that we would finish by nightfall.

The start of the trail took us through a very cold, dark and lush forest. The path followed a fast-flowing river. The first landmark that we reached was a neat log bridge that crossed this river about two miles from the start of the hike. Here's a picture of Jared after having crossed the bridge: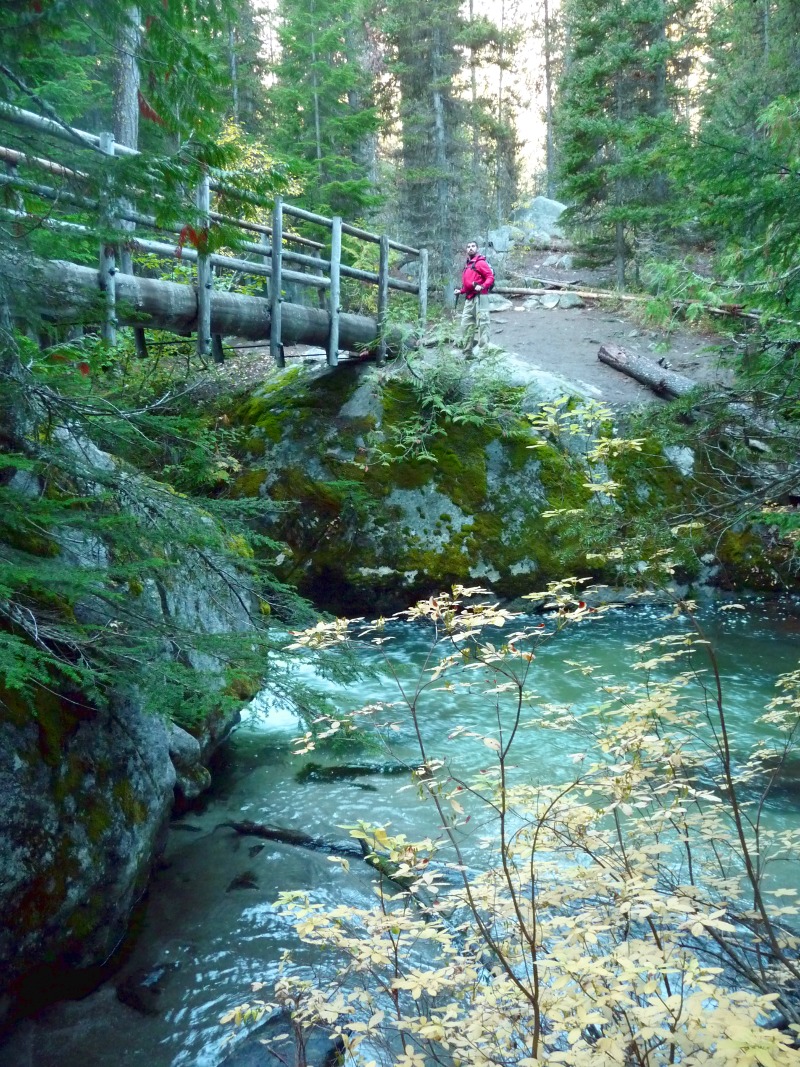 And a picture of the river upstream from the bridge:




After another mile or so of hiking brought us to another river crossing onto a boulder field:




Instead of hiking into the boulder field, however, we skirted along its edge and re-entered the forest. This part of the trail started gaining elevation and became a series of switchbacks. Along the way we spotted a really cool waterfall that totally blended in with the surrounding forest:




The majority of the watercourse that formed the waterfall was flowing under the forest floor, so it seemed like the waterfall just magically appeared on the hillside. After climbing several switchbacks, we gained a decent amount of elevation and came to some lookouts where we were able to see the surrounding landscape:




As you can see, the Cascade Mountains, although not terribly high, appear very jagged and exposed compared to other mountains of similar size. In this regard they resemble the Alps in my mind. Further up the trail of switchbacks we found a place where there were tons of downed trees all over the forest floor. I'm not sure if they died from a fire or from an avalanche, but there were a staggering number of dead trees all over:




After a few more switchbacks we reached a ridge and upon crossing it found ourselves on the banks of the large and very turquoise Colchuk Lake:




Towering above the lake were several tall peaks, including a couple that had small glaciers on their flanks:




At this point we also got our very first glimpse of Aasgard Pass, which we would be climbing shortly. The pass is 2300 feet high and you must ascend it in only 0.8 miles of distance. I'd never climbed such a steep trail before and I was very excited to see what it would be like. Anyway, here's the view of Aasgard Pass from this point:




As you can see, it looks incredibly steep from this vantage point. To get to the pass, we first had to traverse a boulder field that surrounded Colchuk Lake. In the middle of the boulder field we found our first Larch Pine, which is a rare form of pine that turns yellow and loses its needles in the fall. We would be seeing many of these later on in our journey.




The trail across the boulder field was marked with the largest Cairns I had ever seen. They certainly added to the beauty of the environment. In these next two pictures I tried to capture what it felt like to follow the cairns across the boulder field, with Aasgard Pass in the distance: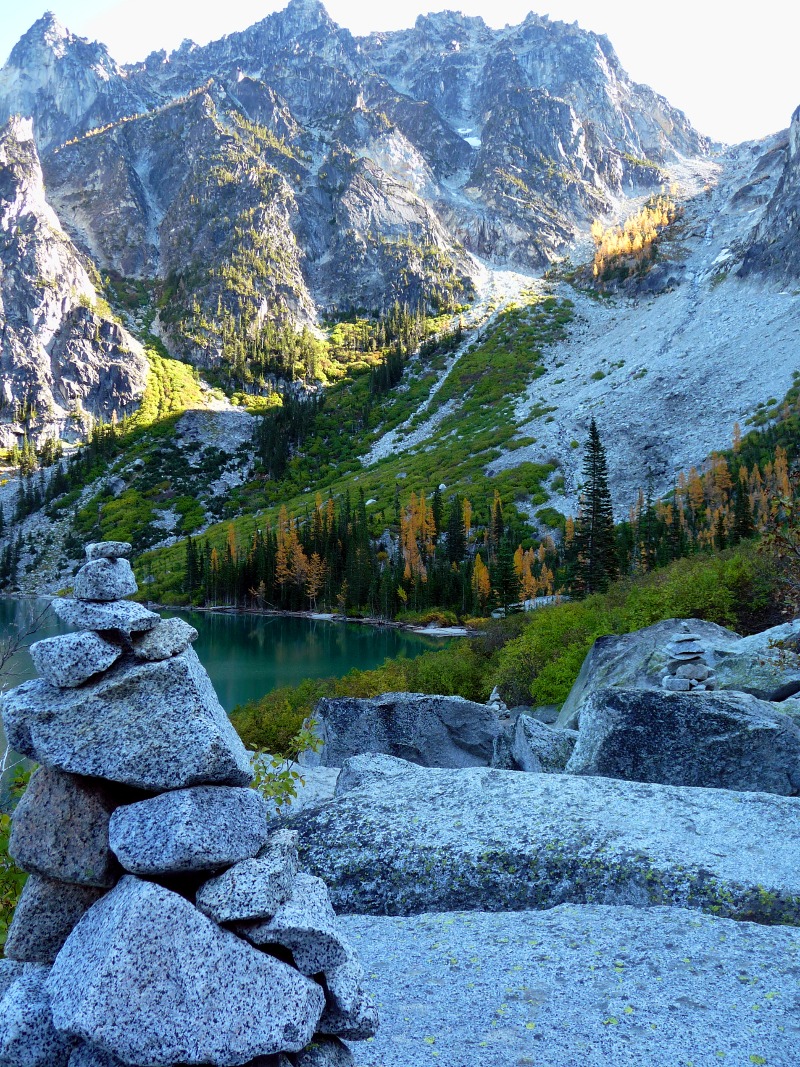 Before heading up the trail toward the pass, I went a bit off trail to snap a picture of the lake. The weather was so clear and still that the reflections in the water were almost as vivid as the mountains themselves:




In spite of the nice weather, the temperature was very low, and at this point I believe it started dipping below freezing. There was a stream of water flowing down from the pass and it was caking everything in a fresh coat of ice:




Much of the trail up the pass followed this watercourse, and therefor it was very important to be surefooted and avoid stepping on the ice. In some places the trail became very steep and required using your arms for balance. I decided to go off-trail and attempt to climb the pass by a different and more adventurous route, but unfortunately I was stopped at a spot where the rock became too steep and smooth, and there was a lot of ice:




I turned around at this point and snapped the following picture. If you look closely about an inch up from the bottom-middle you can barely see Jared making his way up the trail near a light-colored sliver of rock:




I backtracked a bit and met up with Jared at the point where we finally broke into the sun. By this point my hands were frozen from the scrambling and it was nice to have some heat to warm up. As we continued, the trail crossed over the water near a series of short waterfalls:




The splashing water covered many nearby rocks and plants with a coat of ice. Here's a little clump of grass that got hit:




The climb up to the top of the pass was exhausting, as expected, but once we were done we knew that the remainder of the trail would trend downhill and be much easier. This allowed us to spend more time enjoying the views. By this point we were well above the treeline and we were greeted with views of several pristine alpine lakes:




Considering how cold it was, we were surprised that the lakes were not frozen over. The air temperature dipped into the 20's, and I was pretty frigid in my shorts. We observed a strange phenomenon in some of the muddy flats between the lakes where ice crystals had grown and pushed up little bits of rock in the mud:




It looked sort of like crystalline grass and was very satisfying to crunch underfoot. At this elevation, the larch pines became the predominant tree, and this added a lot of color to the surrounding landscape. The views up here were absolutely stunning and much of what we saw was as beautiful as Rae Lakes, in my opinion:




We passed several lakes on our way down from Aasgard Pass. Each of them was nestled into a bank of rock and had rushing water flowing into and out of it.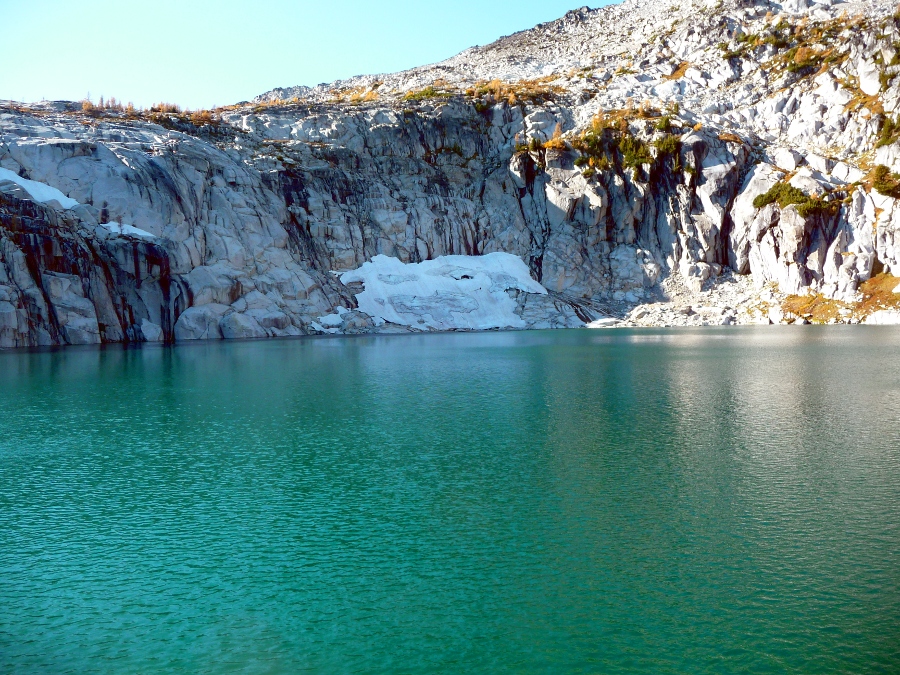 Some of the lakes were very shallow and this caused the water to seem even greener than normal. In addition, the rocky peaks above were very jagged, and this made the views seem even more exotic:




After we had descended a few hundred feet from the pass, we reached a lake that had many larch pines on its shore and even had a meadow-like area around it. There were a few scraggly trees growing out of the meadow soil and little yellow and red flowers growing close to the ground:




When crossing these small meadows you felt like you were in a fantasy world. The beauty was absolutely staggering. People had placed stones along the path that made it seem almost like a walkway across this incredible place:




At one point, the water from the lake had etched a course through the meadow and where the trail crossed it, someone had put down a beautiful log. The water had carried some yellow pine needles with it and deposited them on the banks of the water, creating a neat yellow rim that added another subtle touch to the scene:




After passing this area, we came to another turquoise lake that had a neat multi-tiered waterfall emptying into it:




Further down from this lake, there was yet another waterfall at the base of a high mountain:




The trail continued trending down from these alpine lakes into forests that were increasingly green. There were several more lakes nestled together at the lower elevations:




At the end of the final lake we found a man-made dam. The dam had stopped up the flow of the water and debris through the valley, creating a massive field of logs: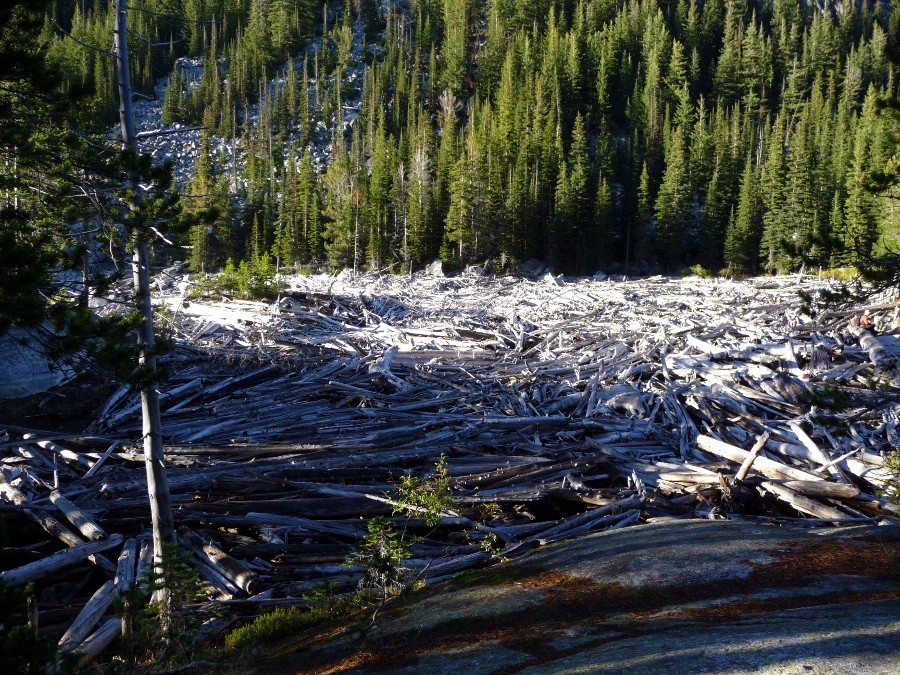 After passing the dam, we continued down another set of switchbacks into a lower valley with its own set of lakes: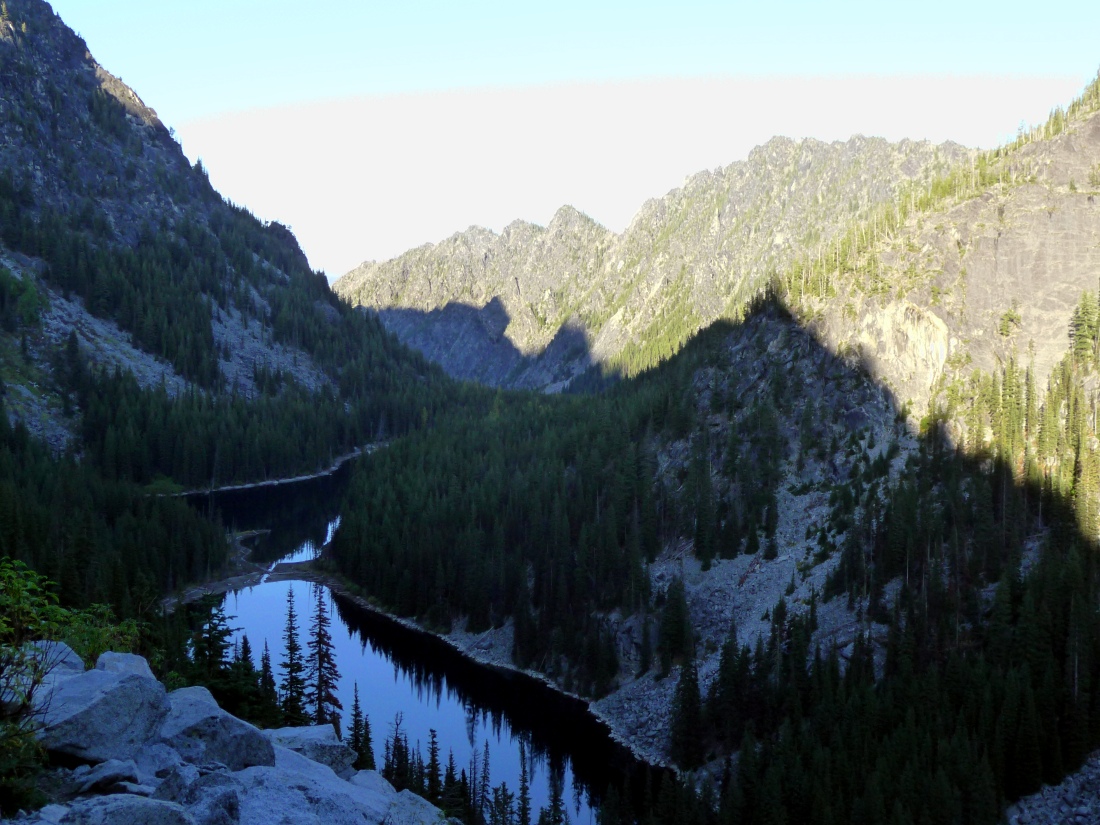 Jared and I were starting to get worried about our prospects of finding a ride back to his car since we had passed so few people on our hike. Fortunately, at this point we ran across a family of six people who said they had left their other car at the Stuart Lakes Trailhead and would give us a ride up if we wanted. This news gave us a boost of energy that really helped us through the latter half of the hike. By this point we had done many many miles and were low on energy and strength. We picked up our pace to avoid being benighted on the trail. In spite of this, we ended up having to hike for fifteen minutes in the dark and finished at 7:05pm. In exchange for the ride back to Jared's car, we offered them a gallon of apple cider which they were very happy to receive. Jared and I stopped at Safeway to pick up some post-hike victuals (Skittles are fast becoming a tradition for me...) and we settled in for the 5 hour drive back to Portland.
Martin Visits Portlandia
About a week after we returned from Washington State, Martin had a business trip to Oregon. Although he couldn't spend too long with Jared and I, he managed to free himself for a night and day of hanging out. On the night he arrived, we decided to go out in Portland. A girl named Amanda that Jared was dating decided to accompany us. We pre-gamed by drinking the awesome brew that Jared had in his kegerator. It was a rye beer from Upright Brewing, a new and very small brewer in Portland. Afterwards, we got dinner at a place called Grand Central before heading over to a random hipster nightclub for some dancing. I was feeling really good that night and was dancing quite a bit on my own. At one point when I was dancing goofily with Amanda a couple lesbians yelled at me from the railing above us. Amanda, Martin and I looked at each other and started laughing.
The following morning everyone decided to head over for a Jazz brunch at a small cafe. We got setup with a big table and ate quality food while a really quality jazz band played. Here's a picture of the group:



From left to right: Jared, Amanda, Ellen, Aaron, Tyler and Martin.

As you can tell by the bottle of champaign in the center, the folks in Portland know how to do it right. After bkfst, Martin had to leave for his meeting in Eugene, and Jared and I returned to our place.
Breading It Up!
During the past year or so, Jared had become interested in bread baking, an art that he had learned from Aaron at some point. I had already had a few of Jared's breads, and really liked them. Since Aaron was visiting Jared while I was there, it made sense for me to pick up the skill myself. I was a bit intimidated by the quality of the breads that Jared and Aaron were making, and by the whole process, but I quickly learned and became proficient enough to bake incredible bread for any occasion, anywhere. I especially enjoyed the kneeding process and the fact that you could modify the recipes to include ingredients that you thought might work together without ruining the final product. In fact, I found that experimentation typically paid off. Here's a couple of pictures of the bread that we baked in Portland:



White flour baggettes (one with egg-wash) and bourbon-soaked-raisin pumpernickel.



My first sourdough: whole-wheat pepperoncini fougasse.



Two large baggettes (Jared) and a country-hearth loaf (Colin).


Vancouver
After a couple of weeks of drinking beer and baking and eating bread, I decided to visit Rafaela in Vancouver. Although she was working very hard in her architecture program, she managed to find some free time the weekend of October 23rd for a visit and a brief getaway to Squamish. I decided to drive my car up, and it was about five hours to the border with Canada. At this point I was still keeping the vast majority of my stuff in my car, and I didn't think that would pose any issues for my border crossing. I was dead wrong. When I tried to cross, they explained that there were no guarantees that I wouldn't simply move into Canada since I had all of my possessions. In addition, they wanted me to provide them documentation of my financial accounts to guarantee them that I had the resources to get out of the country after my visit. They required me to drop off my stuff somewhere and then get those printouts for them. I was really bummed, and turned around to try and find a storage unit and library. On my way to Blaine, the nearest city to the border, I called Jared and explained my situation. He remembered that Rich, one of Colin's family friends who we met at Apple Cider, said that he was from Bellingham, which is another city close to the border. I called Colin and he confirmed this, then put me in touch with his mom, who contacted Rich and got me permission to drop my stuff off on their porch. I was pretty ecstatic and was even more incredulous to find that Rich's house was only about six miles from the border. After dropping most of my stuff off and printing out my financial statements at a library, I returned to the border. Unfortunately, they still required me to park my car and enter the building. This time they asked me a slew of personal questions about my relationship with Rafaela and even asked to look through my phone calls and text messages on my phone. I was surprised but allowed them to take a look. For the next ten or so minutes I waited while they sifted through our texts. Once done, they finally gave me permission to proceed. I arrived in Vancouver at around 2pm and Raf wasn't due to be out of studio for another three hours. I decided to bike around the city in my free time and explore Granville Island and Stanley Park. Although it wasn't a very clear day, I got a good sense for the natural beauty that surrounds the town.
While I was in Vancouver I was able to meet all of Rafaela's housemates: Fergil, Ed, John, Laura and Anupam. I think that she is incredibly lucky to have found such a great group of people to live with and there were many evenings with good conversations. They all seemed like very artistic and musical people, as well as very kind and incredibly outgoing. Fergil and Anupam both recommended that I read a book called 'Godel, Escher, Bach' which I have since purchased my own copy of. Although I am not done with the book, I find it very fascinating. It primarily deals with the source of consciousness and whether or not a non-biological process can imitate or achieve self-awareness. Along the way, it touches on a broad variety of topics, and I feel that anyone even somewhat mathematically-minded would thoroughly enjoy it.
A couple days into my trip to Vancouver, Rafaela and I went to Squamish for a hike. We decided to do a trail on the Stawamus Chief which ascends the backside of this massive granite outcropping overlooking the town of Squamish. The Chief is world-famous among multi-pitch traditional climbers as sort of the Canadian El Capitan. On the way up to the trailhead we passed this massive waterfall:




Some mist got on the camera lens, causing the bluriness in the photo. The hike up to the top of the chief was pretty grueling. It was very steep, and very continuous, although not terribly long. The top was very exposed and many ladders and chains had been bolted to the rock to allow for safe passage. Once we made it onto the top of the granite slabs, we were rewarded with a bird's eye view of the town and panaramic views of the surrounding mountains:



Logs on the Squamish River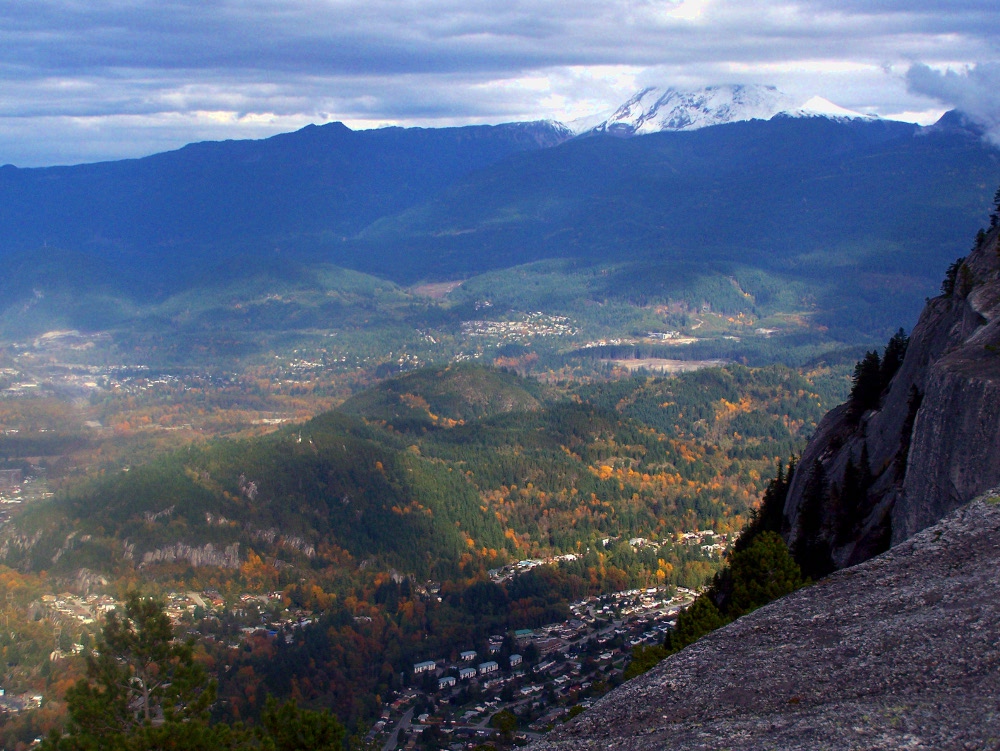 Squamish surrounded by peaks and cliffs



The Sea to Sky Highway heading toward Vancouver



A cleft in the cliff



The trail through the woods

The return hike from the top was down a pretty grueling climbers trail that was no longer maintained. This caused the duration of the hike to increase substantially, so Rafaela and I were really tired when we finally finished. We decided to head into town to grab some coffee and grub. In addition, we dropped by the grocery store to pick up supplies for me to make bread the next day. I decided to make several loaves, including two rosemary garlic loaves, two onion dill loaves, and four white-flour baggettes. I ended up spending almost the entire next day in the kitchen preparing them while Rafaela went to studio for work. I enjoy the meditative aspect of preparing bread, and learned a lot considering this was my first time baking on my own. The final product came out incredibly well as you can see in these pictures:




All of Rafaela's housemates really enjoyed the bread, and it was almost all gone by the time I left Vancouver a few days later.

The weekend following my return to Portland was Halloween. Jared and I didn't have anything specific planned, so we decided at the last minute to join Amanda and her friends, who were going bar golfing. Of course, since it was Halloween, this meant that we had to be appropriately attired:




The bars that we went to had some really good local beer on tap, and Amanda's friends turned out to be really friendly. We stayed out for a few hours before returning home. Some of the costumes that people were wearing were pretty interesting, but generally the scene couldn't compare to Halloween in Madison. During the week after Halloween, I had to fly down to LA for a pre-op appointment at Kaiser Baldwin Park. As it turned out my right shoulder needed surgery, much like my left one, and I was slotted in for a surgery date in mid-November. I knew that the waiting list was really long and this was a great opportunity to get it taken care of right away, so I agreed. As a result, I took a quick trip down and stayed with Colin and Ivan for a few days. Besides beer drinking and bread making, nothing much interesting happened, but it was nice to be back in town even for a brief while. I took the opportunity to go on a trail run alone up the Dawn Mine trail on the day before I returned, sort of as a goodbye to the San Gabriel Mountains.

B-Day in V-Town
In early November, a small trip was planned for a few LA and Portlandites to visit Rafaela in Vancouver on the weekend of November 5th, coinciding with my birthday. I planned to fly up with Colin on the morning of Friday the 5th and then meet up with Jared and Amanda who were driving Jared's car up from Portland that night. During the day, Colin and I were going to take a tour of Vashon Island, where Colin grew up, and potentially go flying. For the flight to SEATAC, Colin was upgraded to first class due to his status on Alaska. When we boarded the plane, I took the seat next to him. Since nobody complained, I stayed there and copped a free upgrade :-) I didn't take any of the meals/drinks though so as to not take too much advantage. Once we arrived in Seattle, Colin's mom came to pick us up. We stopped over at the mall near the airport to pick up a new iMac for Colin's mom. After this, we went to the ferry dock to catch the ferry out to the island. This experience reminded me a lot of taking the ferry to Martha's Vineyard from Wood's Hole on Cape Cod growing up. Once we got to Vashon we stopped at a grocery store to grab some beer and food for lunch. Colin's mom offered to make a vegetable gumbo, which I was pretty excited about. As we were shopping, I was surprised how many people recognized Colin and his mom. It really seemed like the community on Vashon was tight knit, which I really liked. I have often felt that the isolation we experience in bigger cities is pretty stifling. Throughout the day, whenever we were in public, people were continually coming up to the Loveness's and catching up.
After we finished getting groceries, we went to the house where Colin's Mom was staying. She had recently sold Colin's childhood home in favor of building a smaller home for herself, now that the kids had gone. In the interim she was staying at the old home of an airline pilot. It was a really nice house with a very large yard. When we arrived there I was greeted by Colin's dog Gus, who was a very emphatic dog to say the least. For the next couple hours we helped prepare lunch and the new iMac, while keeping an eye on the weather to see if a flight would be possible. We were getting reports that the cloud ceiling was at around 1800', which is pretty low, but enough room to fly under and get a good look at the island. In the end we decided to go for it, and Colin's mom gave us a ride out to the 'airport', which is really just a grass field with some sheds on either side. We prepared the family plane for takeoff and decided to have just Colin and I fly since there was already a lot of weight from the full tank of fuel and the runway was pretty short. Colin pulled onto the runway at the bottom and started the engine.
As the plane gathered speed and the noise and vibrations increased, I became really excited. This was only my second time flying with Colin (the other being Catalina). After taking off, we headed over the treetops towards the water at left. We passed a few houses on our way. Once we gained maybe a hundred feet in altitude, both Colin and I noticed that we were already somewhat in the clouds and visibility was becoming very poor. Colin immediately lowered the plane under the clouds and we quickly decided that we needed to land immediately. There was only about 50 to 100 feet of room above the trees and below the clouds in which we could manuever. Colin performed a thrilling steep turn over the water and we headed back for the runway. Because we were approaching at a very low angle, we could not find the runway at first. I recognized a couple of houses that we passed, and Colin headed for them. In order to give us the maximum amount of manueverability and time to react, Colin slowed the plane down significantly. It got to the point where I couldn't believe the plane was able to stay in the air given how slow we were moving. After looking for a short time, the runway came into view to our right and Colin immediately oriented the plane for a downwind landing. Our approach was a bit rough due to crosswinds but Colin maintained a solid course. At the very end of the approach Colin dipped the plane, which caused it to accelerate into a slip. At the last moment before touchdown he made several minute adjustments that allowed the plane to land very smoothly. We probably only used about half of the runway in the landing. Our time in the air was perhaps 2 minutes, but it was thrilling, and I was stoked that Colin was able to bring us back to safety in such a calm and collected manner.
After the flight fiasco, the three of us returned to the house and booked some dinner reservations at a restaurant called the Hardware Store in the town of Vashon proper. The restaurant was really nice and Colin's Mom was very well respected by many of the other clientele. Even the owners appeared at our table to say hello. I was really enjoying the small-town feel during this dinner. The menu had several yummy-looking vegetarian options and we also got some Willamette Valley Pinot Noir to drink. It was a thoroughly enjoyable meal all around. After dinner we returned to the ferry and Colin's mom took us to a mall parking lot near the 5 to meet Jared and Amanda, who arrived shortly thereafter. The remainder of the drive to Vancouver was relatively uneventful, except that we were once again acosted at the border due to my issues during the previous crossing. In the end we made it to Rafaela's place before too late at night.
On Saturday morning we all decided to head over to Granville Island to check out the public market. It's a very large one, with lots of boutiques for various things. It was a pretty cold day, so we all settled in for some coffee at one point in one of the food courts: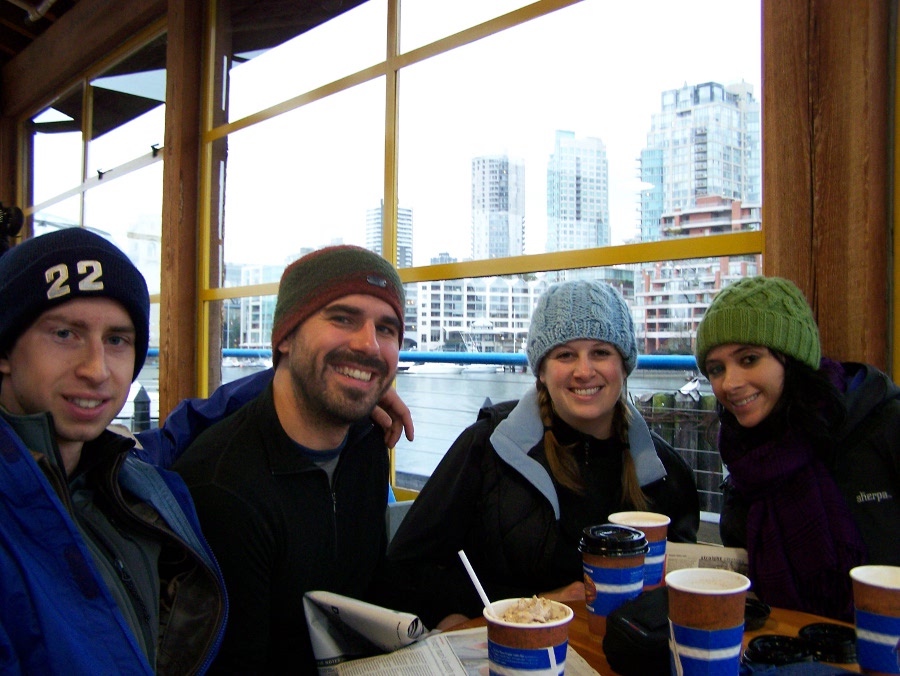 On Saturday night our group and some of Raf's roommates went to Foundation for my birthday dinner. Foundation is an amazing vegetarian restaurant on Main St. in Vancouver. The prices are incredible for the quality and quantity of the food they serve. Many of the dishes are good for sharing, especially their nacho platters. We ordered several dishes, two platters of nachos, and probably four pitchers of beer over the course of our two or three hours there. It was a really incredible dinner, with lots of storytelling and group games, and we even had tons of leftover food. After dinner, we all went to the Biltmore for some dancing. The music and the ambiance were really perfect, but unfortunately the ventilation was really poor and it got extremely hot in there. Nevertheless, we all had a great time getting our grooves on and drinking PBR for a couple of hours. Here's a shot of most of the group in which my head looks to be shaped a bit weird:




On Sunday Rafaela had to go in to studio and do some work, so the rest of us went to Squamish to check it out before it got dark. We started with the short hike to the large waterfall before the Chief. On our way up to the waterfall we spotted this very strange tree:




When we arrived at the waterfall it had even more flow than when Rafaela and I had been there the week before:




We decided to try and get as close as possible to it by going a bit off-traill. I ended up walking all the way to the boulder in the middle of this picture. I got soaked doing it but the power of the waterfall was really incredible when viewed from there: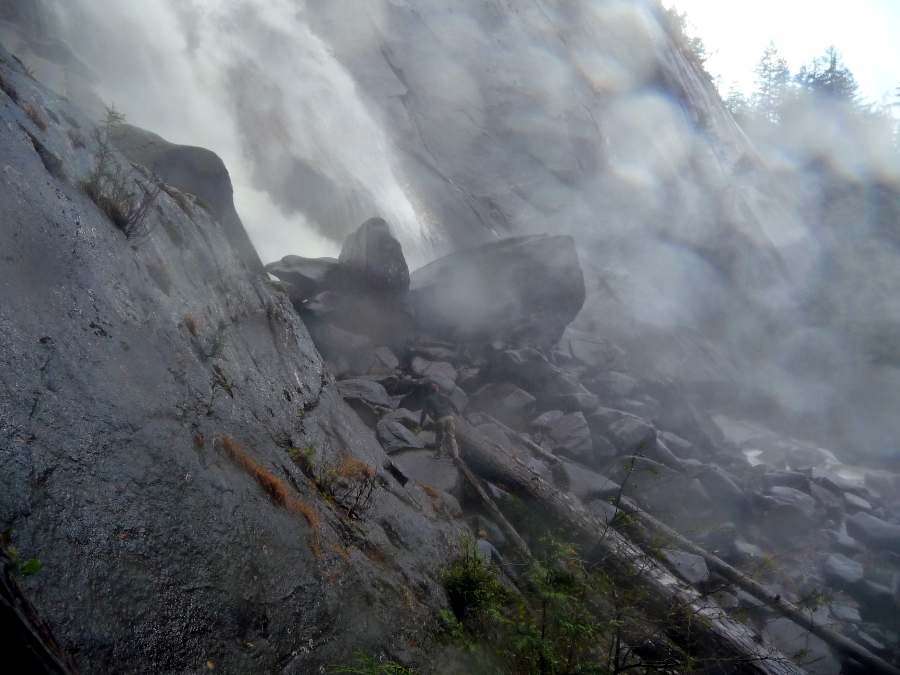 After scoping out the waterfall for a bit, we headed down the road a bit further and decided to hike up to the base of the Grand Wall of the Chief. Here's a picture of the Grand Wall from the parking lot:




On our way up to the wall, we ran across several strange mosses/fungi. Here's a few of them: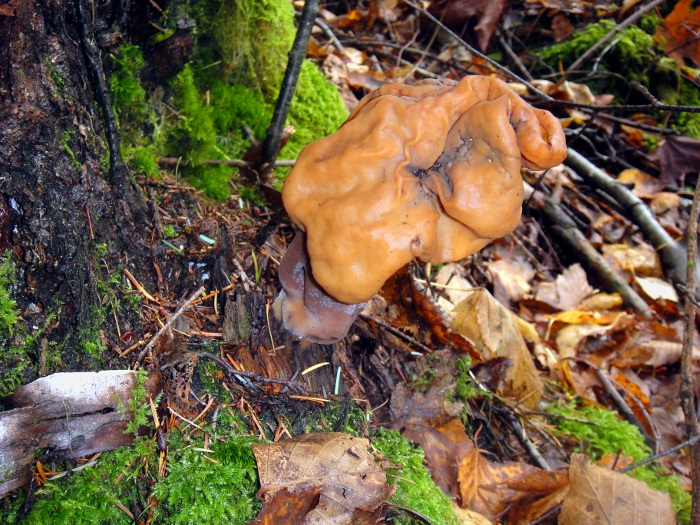 Once we arrived at the Grand Wall we were surprised to find how overhanging it was. Here's what it looked like when staring straight up:




As we walked to the left along the wall, we came to several spots where climbing routes clearly started. The last one we found was by far the most aesthetic: a pure splitter finger crack called Exasperator. Here's a picture:




I have more or less decided that climbing this route will officially signal my return to legit trad climbing. It's a safe yet challenging route that is very inspiring to me, so I feel it's perfect. After checking out the rock for a bit longer, we decided to return to the car. On the way, however, we ran across a map that told us that we were very close to the Cacodemon boulder. I was excited because I knew that Chris Sharma's seminal 5.14d, Dreamcatcher, was on that boulder. We decided that we had to find it and see how hard it looked. It took us about twenty minutes to locate the route, and it was even more impressive looking than the video. Here's a shot of the starting slab and the traverse section before the crux:




After looking at the route for a bit we returned to the car and got some food in Squamish before heading back toward Vancouver. On our way we stopped at a vantage point on a hill to snap some pictures of downtown from across the water:




After the weekend was over, everyone visiting from the states returned home except me. I planned to stay until Thursday and take a bus back to Portland. One of the days I decided to make some more bread. I baked at least six or so loaves, including my new favorite: Sun-dried Tomato and Basil. We made a little figure of Inukshuk out of the finished loaves:




On one of the evenings I went for a run down to the waterfront during a very nice sunset and snapped a couple of pictures of the mountains surrounding Vancouver:




After I returned to Portland I had only a couple days before I was due in Los Angeles for surgery. During this short time, a couple of interesting bands were playing shows that Jared and I ended up going to see. The first was Built to Spill, who I can never miss if they're playing anywhere near me, and the second was Wampire, an almost unknown band that opened for Typhoon a few weeks back and sounded really incredible. The Built to Spill show was at a venue called the Crystal Ballroom, which was an old converted ballroom on the third floor of some building. It reminded me in many ways of the Rave in Milwaukee where we saw Modest Mouse. Jared and I showed up really late, but by going to the under 21 side of the floor, we were able to get up right to the stage without any issues. The set was incredible, and the minor issues from their Santa Barbara show earlier in the year were gone. Unfortunately, they still didn't play many tracks from their latest album, but it was an awesome show nonetheless. For an encore Doug Martsche came on with his old Portland band called 'The Halo Benders' and they played four nostalgic songs. I would have preferred the standard jam session but this was entertaining nonetheless. The Wampire show was the following night and was being held in a coffee house. The band that came on before Wampire was insanely loud and really not very good. This put Jared and I in a bad mood, and the Wampire set itself was too short and uninspired to help much. I think the tiny venue and poor sound equipment were partly to blame, however. Anyhow, on the following morning I woke up super early and boarded a plane bound for Los Angeles to be picked up and taken straight to the hospital for surgery... Little did I know but this would be the end of my first, and short, experience as a vagabond...

Forward to Winter 2010-2011
Back to Index