Back to Index
Back to My Life as CyPace [Spring/Summer 2010]
Adios California!
Tahquitz and San Jacinto Peak
Nestled in the San Bernandino mountain range due East of Los Angeles is a small, relatively unknown village called Idyllwild. To get there, you must exit the 5 just before San Gorgonio Pass and head South toward Banning. The windy road rapidly gains elevation, and the scenery shifts from arid desert to alpine forest in only 30 minutes or so. Idyllwild is located at approximately 6,000 ft elevation and is a quaint and touristy community that I feel is as-yet unspoilt. Looming over the town are San Jacinto Peak to the North-east and the 1000 foot tall Tahquitz Rock. Tahquitz is famous among rock climbers for being the birthplace of American multi-pitch trad climbing and the incorrectly named 'Yosemite Decimel System' for rating route difficulties. Many of the country's first climbs at various grades were done at Tahquitz. It was my ambition to work up to the point where I would feel comfortable on Tahquitz's long routes, but alas my injuries ultimately prevented me from ever climbing there during my time in LA. Nonetheless, I took several trips up to Idyllwild to scope out the area, and on one occassion, to climb the nearby San Jacinto Peak, which John Muir claimed has the best view in all of Sourthern California.
So on August 23rd, Colin, Antha, Colin's two cousins Peter and Joel, and I all drove up to Idyllwild early to get a head start on hiking this 11,000' mountain. I had driven by the sheer northern escarpment of San Jacinto every time I'd gone to Joshua Tree. Making up the Southern buttress of the San Gorgonio Pass, here is the peak as viewed from Interstate 5:




Here's a picture of Peter, Antha, Joel and myself about halfway up the mountain: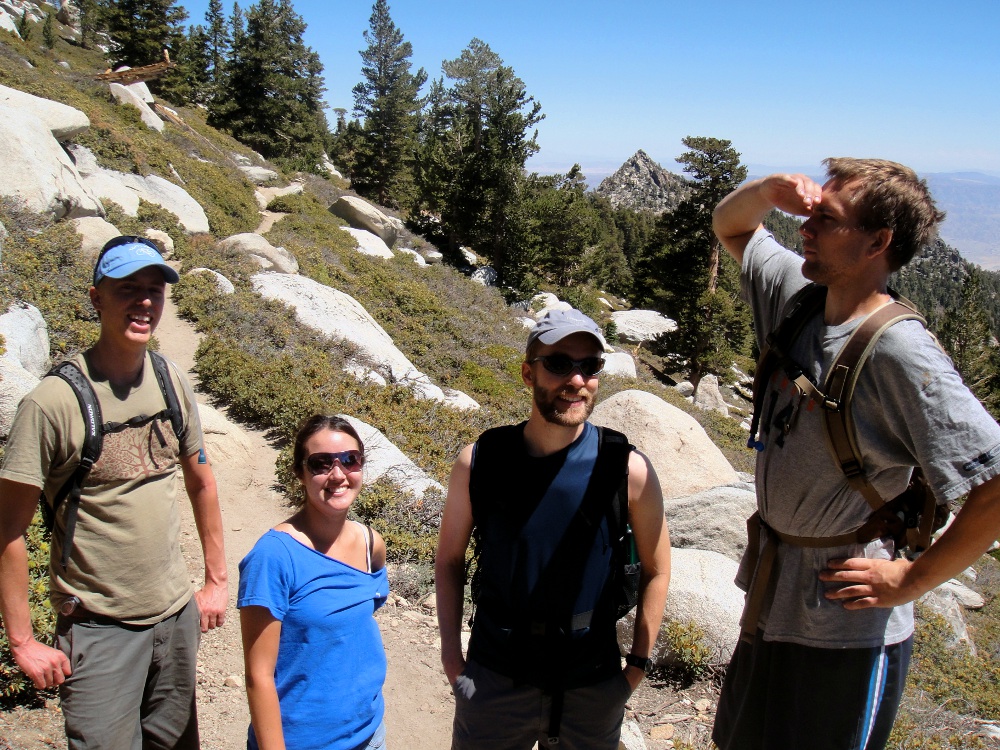 I found Joel and Peter to be incredibly interesting guys. Joel is a professor of Philosophy at Deep Springs College, a prodigious albeit non-traditional school on the East side of the Sierra's in California. Peter had spent a few years in the Peace Corps and had many interesting experiences to relate on the hike. The conversations kept my attention and made the hike seem pretty quick and easy, despite the fact that it was over 4500 ft in elevation gain and 15 miles round trip. The views from San Jacinto were very impressive although it was a bit hazy on that day. Here's a panorama looking toward the desert side of the mountain, with Gorgonio Peak and Pass on the left:




And here's a panorama looking toward the LA side of the mountain:




Colin and I hiked toward the steep northern slope and found a precarious spot near a multi-thousand foot drop-off:




Down below is San Gorgonio Pass with the I-5 running through it. Overall the hike was really enjoyable and good practice for the bigger hikes I was planning for later in the Fall. The best part, for me, was getting to spend some time with Colin's cousins, who had some really good advice for me and were full of amazing stories. On the way back down to the car we found a great vantage point for Tahquitz Rock:




Although I wasn't able to climb it this year, I will be back!
LA Unbound and Rafaela's Departure
In early 2010, Rafaela had been applying to architecture programs around the country and in Canada. She had decided that since the urban design field was in such a mess due to the recession, it made sense to go back to school to both gain additional credentials and weather the storm. She applied to many schools but ultimately the decision was between the University of Toronto, the University of British Columbia or the Southern California Institute of Architecture. Although the later was perhaps the most artsy/prestigious, it was very expensive and Rafaela's impression of the facilities was pretty negative. In the end, she decided on UBC due to the quality of the program, the location (Vancouver is beautiful!), and the relative cost. Her orientation started in late August just after her final performance for LA Unbound. As sort of a grand finale, she had even choreographed a piece for the show, featuring music by Aphex Twin, Little People, and M83. Also performing in the dance show were Mary, Felicia and Juan. For anyone who's interested, video that I captured of the entire show can be found here.

Among the songs that Rafaela performed in, one was called Wakka Wakka and it was choreographed by Juan. It was a very high energy African dance that was really good. Here's a pic of Raf, Mary and Felicia in it:




Rafaela's piece was very artistic, and demanded a lot of the audience. I thought it was one of the standouts and thought she did an amazing job syncing the dancing with the very complex and dissonant music. Here's a couple pics: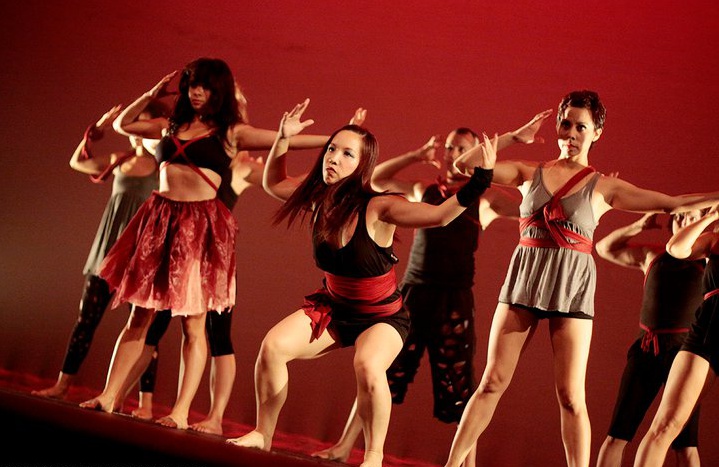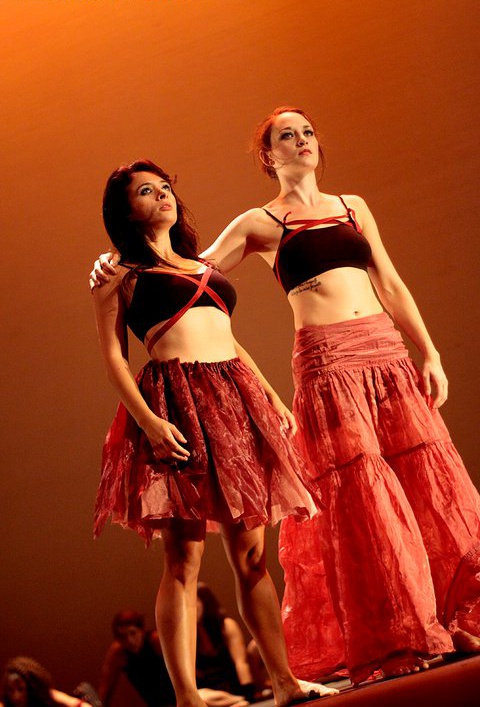 One of the other pieces that on the artsier side was called Forest. Although the costumes weren't terribly appealing, I thought the dance was thought provoking and very different. Here's a picture of Mary and Raf in this one:




In the end I thought the performance was incredible this year. The 2009 performance was good, but I felt this one had better music, a higher quality of dance, and more cohesive ideas throughout. It got to the point that the pole dancing seemed incredibly out of place in a show of otherwise high quality and artistic pieces.

Before Rafaela left town we managed to have a couple of final get-togethers with her friends to celebrate her time in California and let her know how much we would miss her. Here's a picture of us in Old Town after one of her dance performances one night:




And on the day before her departure, we all had brunch together at a French restaurant:




And finally, a funny picture roll of Raf and I taken at the Cha Cha Lounge, a bar in Silverlake that became a pretty central spot for our group in late 2010:




As you can see, there were a lot of emotions surrounding her departure ;-) Actually, although I was sad to see Rafaela leave, it was more on behalf of her other friends who would likely see her a lot less as a consequence. I knew that my time in LA was also limited and I expected that the Northwest was the likely next destination for me, meaning Rafaela and I could still stay somewhat close. In addition, I was excited for Rafaela's opportunity in BC, and felt that this transition period could ultimately be a great benefit to her. In the early morning of August 30th, after a hectic final evening of dancing and packing, I dropped Rafaela off at the airport at about 5:30am in the morning.
Inspiration Point
Since returning from Rochester in early August, I started becoming increasingly serious about trail running. In order to keep myself in good shape on days when I wasn't able to hit a trail, I would still run at least six miles up El Molino towards the mountains. This constituted an at-first challenging 500 ft elevation gain over 3 miles up and then a relatively easy downhill return. Surprisingly, I was able to avoid any knee problems and made good progress. Within a couple of weeks, I was able to do the entire run without jogging, and I started running all of the way to the base of the mountains, at the top of Lake Ave, which added one mile each way and another 500 feet of elevation gain. At some point the thought occurred to me to make an attempt to run from my apartment all the way to the top of the mountains above Lake Ave, to a place called Inspiration Point. This would involve a run of 9 miles one-way and approximately 4000 feet of uphill running. The numbers seemed absurd to me, but I knew that if I trained long enough and felt motivated, it might be possible. I decided to make my first attempt on September 4th, a Saturday, and I decided my goal would be to make it to the old Tram Station about halfway up the mountain. I knew that even this was ambitious.

On the day of the run, I woke up at around 6:30 and meditated to prepare myself for the pain I would inevitably feel. I decided to run without a shirt or my keys to minimize my weight and give myself the most unencumbered feeling possible. I had also asked Ryan to leave a liter of water for me on his doorstep at the top of Lake. When I started my run at 7, I was surprised to feel that I still was sore from my previous run three days prior. I immediately felt a bit pessimistic because I knew the soreness would increase and cause real problems for me. I had also forgotten to eat anything for breakfast and was worried that I might not have enough energy. Nonetheless, I started off toward El Molino at a solid pace and focused on the mountains looming above me. When I reached the three-mile mark at Altadena drive, I felt somewhat tired but generally light on my feet. I rested for a brief minute and immediately set off for Ryan's house at the top of Lake Ave. The run to Ryan's is particularly difficult and consistently steep for a road. I lost much of my reserves and felt pretty spent when I arrived. I drank about half of the liter that Ryan left and rested for a couple of minutes.

Although I didn't feel that well, I decided to start the trail part of the run to see if I would gain energy from the feeling of running off road. I remember the very first part of the trail being really steep and feeling as if I was completely in over my head. The beginning of the trail up to the tram station was well graded and there were several people walking on it. Seeing other people increased my motivation and I pushed ahead. As I continued the trail became increasingly steep. The fatigue and soreness in my legs caused me to nearly stop on several occassions. These periods of difficulty and negative emotion seemed to come in cycles. After I pushed through the first few, I learned to ignore them, since it seemed that after they passed I felt more positive and optimistic. The trail to the Tram Station seemed neverending. Every switchback took its toll on my body. I remember being about 2/3 the way up and telling myself that if I made it to the Tram Station without stopping or walking, I would be more proud of myself than I had been for anything physical I had done in my life. At this point, the thought of actually making it to Inspiration Point seemed an impossibility. This was amplified by my state of dire thirst. The half-liter was not nearly enough to sustain me for the quantity of running I had set before myself. I was hoping that there would be some water at the Tram Station.

When I turned a corner and found myself at the Tram Station, I could hardly believe it. I was ecstatic, and ran along the path to try and find a source of water. I was out of luck, and while I took a brief rest to stretch, I thought of asking some of the hikers for a sip from their supply. I decided against it, and began to jog back toward the trail down the mountain. On my way, I noticed the sign for the trail to Inspiration Point. It indicated that it was only 2 more miles. At this point, I had already come a very strenuous 7 miles, and had gained about 2,500 feet in elevation. In spite of my state of dehydration, I simply couldn't persuade myself to not at least try to make it up the remaining 1,500 feet. The first section of the trail to Inspiration Point meandered much more than the one to the Tram Station, meaning I would be facing an incredibly steep trail toward the end. It was also largely in the sun, and I felt my core temperature increasing steadily. At one point, I rounded a corner to find a stream running across some rocks down a gulley. In spite of the warnings regarding parasites in unclean water, I kneeled down and drank several mouthfuls. The water was cool and refreshing but I didn't drink too much since I still had a lot of running ahead of me. The trail became steeper and steeper as it ascended the side of the mountain in a series of switchbacks. At several spots I was forced to jump across boulders to continue. My legs became agonizingly sore and if I weren't in the last mile of the run, there is absolutely no way that I would have been able to continue. At a few spots I took brief rests, but I somehow managed to continue running and never walked. At one point, just when I was beginning to feel completely desperate, I turned a corner and saw the Inspiration Point lookout about 400 feet above me. I immediately knew that I was going to finish, and I began to run energetically. I finished in a complete sprint and felt absolutely elated.

There were three people at the lookout and they inquired about my run. When I explained that I had run all the way from the 210 freeway below, they looked at me incredulously. I asked if any of them had any extra water that I could have. To my amazement, one of them had carried an extra gallon simply to increase the weight of his pack. He gave me the entire jug and I greedily drank about three quarters of it. I discovered that my run had taken two hours and fifteen minutes from start to finish, including all of my rests, a time I was very proud of. When the group of three hikers left the lookout, I started to walk back towards the trail. Now that I was alone, I started to feel emotions welling up in side of me. All of a sudden I started crying. I realized that this run was incredibly symbolic. I though of how I had overcome my tragic motorcycle accident and my recent injuries. I realized that I had never been alone through these difficult times and that I was full of love that had been given to me by my friends and family through the intervening years. I was incredibly grateful, and I resolved to express my appreciation to everyone at the next opportunity. The afterglow from the run persisted through my descent and into the next big event of the day...
FYF Fest
After completing the most incredible single physical endeavor of my life, Ivan, Ryan, Pru and I decided to go to a music festival being held right here in Los Angeles. I had only become aware of the festival a couple of days prior, and although I was only familiar with a couple of the bands, I figured that for the low price of $25, I couldn't miss. Ivan and I arrived at the festival at around 3pm. We had taken the Metro Gold Line to the park and were completely blown away by how many people there were. I estimate that around 20,000 people attended the festival. Here's a few shots that I took when we arrived: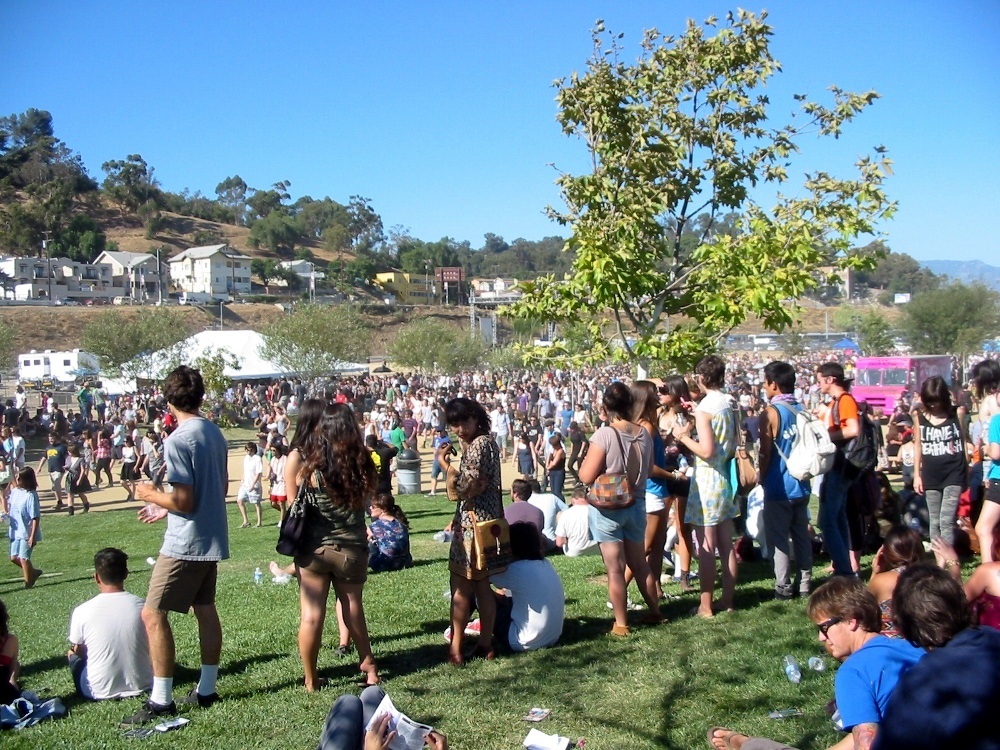 We quickly established that the festival, although inexpensive, was poorly run. The lines for everything were absurdly long, and you weren't even allowed to walk around with beer; you had to purchase and consume it in fenced off 'beer-gardens' that felt much more like open-air cages. In order to make the best of it, Ivan loaded a freebie watergun with some beer:




That's Ryan and Pru on the left, of course. On the recommendation of some drunk guy, we decided to leave the cage and check out a band called Dead Man's Bones. Aparently the band was started by some hotshot actor. Anyway, the gimmick was that they had all these costumed children up on stage with them singing solos and choruses. The songs were not particularly interesting but the band reaped applause every time a child finished a solo part. I thought it was pretty obnoxious and possibly exploitative. Anyhow, here's a picture:




After Dead Man's Bones, we headed over to the stage where the Mountain Goats and Ted Leo were playing. I had heard both of these bands live before but didn't really recall anything. Since everyone was starting to get hungry, we decided to get in line for a taco truck that was parked near the stage. This allowed us to listen while waiting in the long line. As it turned out, the wait was the longest I have EVER endured for ANYTHING as far as I can remember. We literally waited for the entirety of the two band's sets and then an additional 10 minutes. Something like two hours in total. The worst part was that the bands were totally un-memorable blandish indie rock. Basically, we just told jokes and tried to keep our spirits up during the wait. This is what we looked at for most of the time:




After eating, we caught the end of the !!! set, which was somewhat danceable, but not as good as I was hoping for. The only song of theirs that I knew was their remake of 'Take Ecstasy With Me' by the Magnetic Fields, which I really liked. After they finished, we returned to the main stage to catch the band Sleep, which I had never heard of but was being lauded by all of the other bands as legendary. They were incredibly loud and noisy. It was so loud that I could feel my eardrums vibrating, which is actually a somewhat pleasurable sensation at the right frequencies. In the end I actually enjoyed the small dose of Sleep, although their lyrics put me off a bit. Here's a pic:




After Sleep finished, the stage was setup for the headlining act, and the real reason I came: Panda Bear [of the Animal Collective]. I was super excited to see how his music would translate to the stage, considering it is so abstract and noisy on the album. Ivan and I worked our way to about six rows back from the center of the stage. The show turned out to be absolutely mesmirizing. The music was generally a loud looped noise of varying texture overlaid with looped instruments and vocals. On top of it all was Panda Bear's incredibly forceful voice. As a one-man show, he was silhouetted against an image projected behind him and he was incredible in his precision and control of the music. I recommend you check out some youtube videos of his live performances to get a taste of what I am talking about. Here's a couple of pictures that I captured:




After the concert ended, we returned home and I fell into a deep sleep. It had been a long day for me, indeed.
Hand Surgery and San Gorgonio Mountain
In early September I saw a hand surgeon at Kaiser who recommended that I have a 'Trigger Finger Release' to allow my tendons to loosen and heal at the base of my right ring finger. They scheduled me in for Thursday, September 9th. The surgery was performed under local anesthesia, and I could feel them applying a knife to the various tissues in my hand, although it didn't hurt. I was surprised how much cutting they had to do. Afterwards, they sutured me up and sent me home with a bandage. It was expected that my hand would be useful again in about a month, with full strength returning in six weeks to two months. Of course, with my newfound free time since the end of the POC, I wasn't going to let a little cut on my hand stop me! In fact, that Saturday, two days later, Colin, Ivan, Brian and I decided to day hike San Gorgonio Mountain, which at ~11,500 feet is the highest mountain in Southern California. The hike we chose is commonly done as a two or three day overnight trek, but we decided to attempt a single day lightweight push. We started on the trail at around 9am, which was a bit late. To ensure that we would have plenty of sunlight and to make a deadline that Ivan had, we set a brisk pace. We reached the summit at around 12:30pm, only 3.5 hours after we started, which is pretty remarkable for 10 miles and 5,500' of elevation gain. On the return hike we again hauled ass, and we ended up outright running the last four miles. In the end we finished the 21.5 mile round trip hike in only seven and three quarters hours. This was definitely the most intense day-hike of my life, and indicated that all of us were in really good shape for the high sierra trip we were planning. Although nobody brought a camera for the hike, here's a few pics that I found online that give a good idea of what the terrain was like: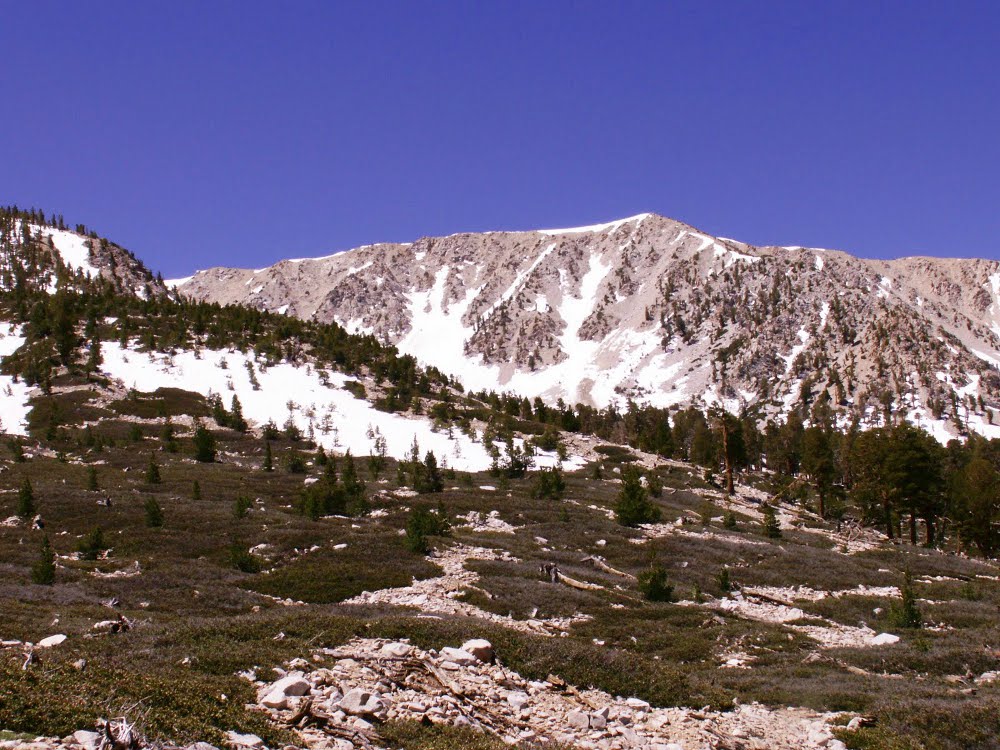 This last picture provides a bit of perspective on the position of the mountain. The road on the bottom leads to the trailhead, and the trail approaches from the left. The land gap on the top right is San Gorgonio pass, which the I-10 goes through towards Palm Springs and the High Desert. The clipped mountain on the top right is San Jacinto, which at around 11,000' is the second tallest in the area. Somewhere in the landscape at the top left will be the western corner of Joshua Tree National Park.
Mary's Dance Show and Farewell
Mary was planning on leaving Los Angeles and moving in with her long-time boyfriend in Chicago in September. Much like Rafaela, she had a final dance show planned before her departure, which fell on the 17th. The night of the show, all of us jumped into Colin's car and headed for the Ford Amphitheare in Hollywood. Our group included the Gang of Four:




As well as Pru and Antha:




The venue was really unique, with a classy atmosphere combining a sophisticated restaurant, wine and food bar, and random comedy performers that stoked the crowd. The show itself involved three large pieces, the first of which was Mary's. The quality of the dancing and the choreography was very high, especially in Mary's piece and in the third piece. In all, the performance was really mesmirizing and everyone thoroughly enjoyed themselves. I could have gone without the middle piece, which was a bit industrial for my tastes, but other than that I had a blast. After the show Mary came out and we all were able to say congrats and goodbye:




Mary's departure added a further sense of momentum to the life changes that were taking place at the time. Although I didn't know Mary very well, her departure left a mark on the social scene that had developed that summer. The signs were certainly indicating to me that perhaps four years in California was enough and it was time to move on to another place. In the end I was very glad that Mary and I had a chance to cultivate some level of friendship since I felt that early on we had gotten a skewed perception of one another.
Rae Lakes
Before leaving California, I wanted to go on one last major trip to the High Sierra. Although I had been to Sequoia and King's Canyon many times, I still hadn't really penetrated to the true high country. After having seen some of Ryan's pictures from trips he had taken, I knew that I had to put together a serious backpacking trip. It would also provide a good opportunity to spend time with Colin and Ivan prior to leaving. Since my responsibilities at CyPace had lessened after the Kaiser POC, I was able to find some time in mid-September for the trip. Fortunately, Ivan, Colin and Ryan were all able to take time off as well. We left most of the planning until the last minute, but managed to not forget anything terribly important. I was planning on bringing my father's ancient pack once again, and also for the first time a pair of boots that he sent me. The boots are from the 70's and weigh a ridiculous 3lbs each. I was skeptical that they would work for me, but I figured that I should at least try them before buying some new ones. For food, we were experimenting with a concoction of Ryan's called 'Carbo-Sludge' which was basically a blend of grape-nuts, oatmeal, cream-of-wheat, whey protein, sugar and some other miscellaneous stuff. To eat it, you simply poured some into a small nalgene bottle, added water, and drank it down. I don't think there's any way of getting more complex carbs and calories in less space/weight, and it was actually surprisingly pallatable. Carbo-Sludge was to be our breakfasts and lunch, and dinner was a base such as quinoa, couscous or pasta combined with a sauce. In addition we brought some snacks for between meals.

We packed on the night of Mary's final dance show, and we left at 2am the following 'morning'. I drove Colin's car while the rest of the crew slept. It took about five hours to reach King's Canyon, and as soon as the sun rose, we knew something was wrong. We were completely unable to see the canyon due to the presence of heavy smoke. As we continued down the canyon, we hoped that the smoke would clear but in fact it continued to get thicker and thicker. When we were about ten miles from our destination, we looked out the right window of the car and, to our astonishment, saw the forest fire raging less than 50 feet away:




We became pretty nervous and very pessimistic of our chances of getting a permit and doing the hike. When we arrived at the permit station at Road's End, we spoke with a couple that was also planning on doing the same hike and they informed us that the permits were still available as far as they knew. After them, another group of four people showed up, and as soon as the permit station opened, all 10 permits for Rae Lakes were taken immediately. We were very relieved that the hike was still on, and the ranger informed us that once we reached the high country, the smoke should be less present. We got all of our gear ready and started on the trail at around 7:30am. Here's a picture of the four of us getting started:




The first two miles of the trail before the fork meanders through a meadow and forest between the towering walls of King's Canyon. Here's a picture taken in this area when the sun first crested the canyon-side:




Once the trail forks you can either head North to do the loop clockwise or East to do the loop counter-clockwise. We decided to do it clockwise so that the elevation gain would be the most gradual. Here's a map of the loop:




Our first landmark would be Mist Falls, and we were planning on spending the night in upper Paradise Valley. Mist Falls turned out to be a series of waterfalls instead of a solitary one. Here's a couple pics: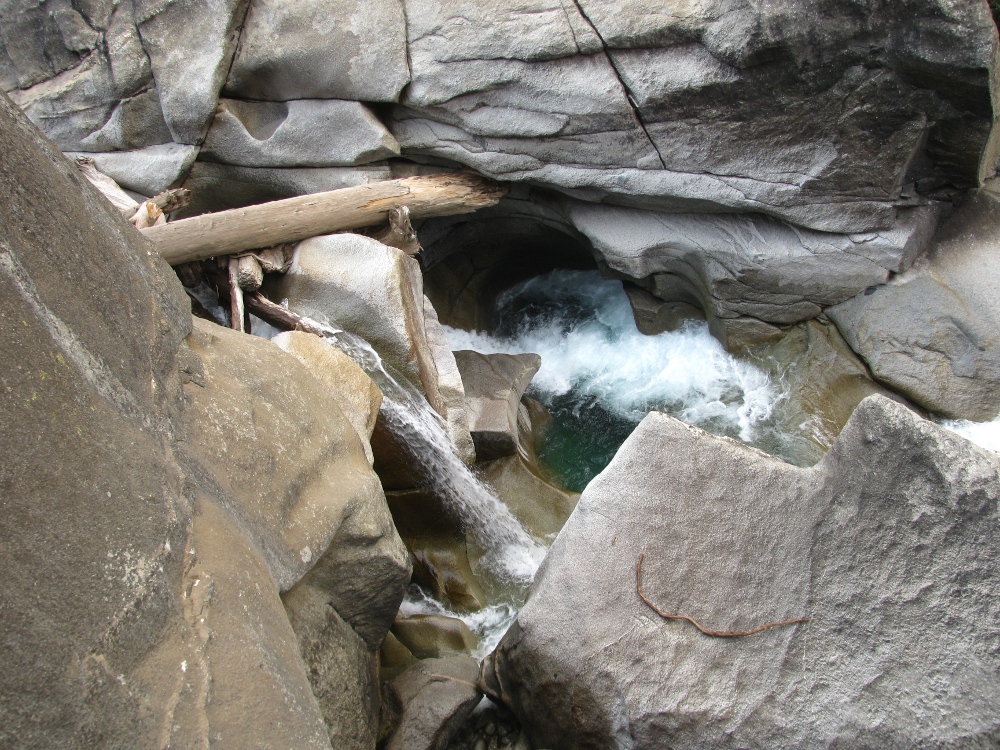 By the time we reached Mist Falls, my father's boots had already started giving me some serious problems. They were causing some serious rubbing in my heel area and I had already developed some severe blisters. I tried to ease the pain by applying moleskin and tape, but I was unable to find a solution. For much of the first day, I was in pretty serious pain and I eventually took some of the Vicodin that was prescribed for my hand surgery, and this helped somewhat.

Paradise Valley contained upper, middle, and lower areas. Each of these corresponded to places where the land flattened somewhat and the river broadened, allowing for camping on the abundant grassy areas. By the time we arrived here, the smoke had blown in and made picture taking difficult, but this shot gives an idea of how the river looked in this area:




Once we reached Upper Paradise Valley, we started looking for an appropriate campsite. There were several decent ones, but we weren't happy with how close to the trail they were. The only good one was taken by an interesting man who was on a long-distance hike alone. We rested and chatted with him for a while before deciding that we would continue for another few hours to help reduce the distance we would need to hike the next day. We didn't know exactly where we would camp, but we learned that there were several opportunities for camping along the way. After hiking another four or five miles, we reached a large expansive area that was bounded on the North side by the Castle Domes:




Below the domes was a large meadow that contained some sparse aspen and pine trees:




We decided that this would be an ideal place to camp. We made a fire pit and began to prepare dinner before it got too dark:




Once the campfire was started, we stayed up quite late telling stories and jokes. Unfortunately, we didn't capture any pictures of the campfire. Everyone slept really well and we didn't break camp until around 10am. We were pleased to see that the smoke had cleared a great deal and the views were even more impressive than they were the day before. Here's a picture Ryan captured that morning:




After another few miles of hiking, we reached the Northeast corner of the loop, which is where the trail meets up with the John Muir trail. At this point you must cross the river via a really cool bridge that sways so much that only one person can safely use the bridge at one time. Here's a picture of Colin crossing it:




After crossing the bridge, we started heading South toward Rae Lakes. We knew we would be passing Dollar Lake and Arrowhead Lake on the way. We gained a significant amount of altitude and the trees became more sparse:




At one point, some fast moving mountain streams came down into the valley and combined with the main river which we were following:




Before we reached Dollar Lake, Ivan, Colin and Ryan decided to do some off-trail hiking to avoid a place where the trail dropped into a small ravine. Since my feet were still in a lot of pain, I decided against joining them. At one point, they had to cross a stream by scrambling over some boulders: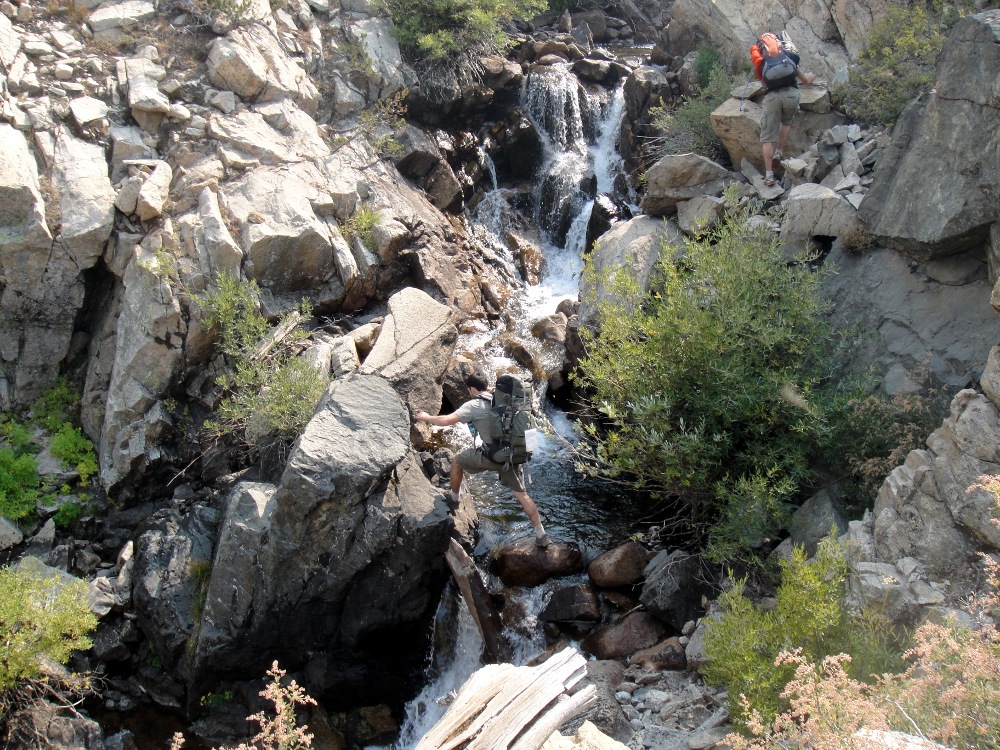 Once we rejoined, we quickly made our way to Dollar Lake. We were now above 10,000 feet elevation and there was a lot of discovering to do:




After Dollar Lake we spotted Fin Dome, which is a large rocky outcropping above Arrowhead Lake. When we arrived, the sun was just about to move behind the dome, and Ryan snapped this picture:




Two hours after passing Arrowhead Lake we finally arrived at the first of the Rae Lakes. Since we didn't have much time before the sunset, we quickly found a nice campsite on a bluff and setup camp. There was still some smoke in the air, but we managed to capture a couple of good pictures of the surrounding landscape before dark: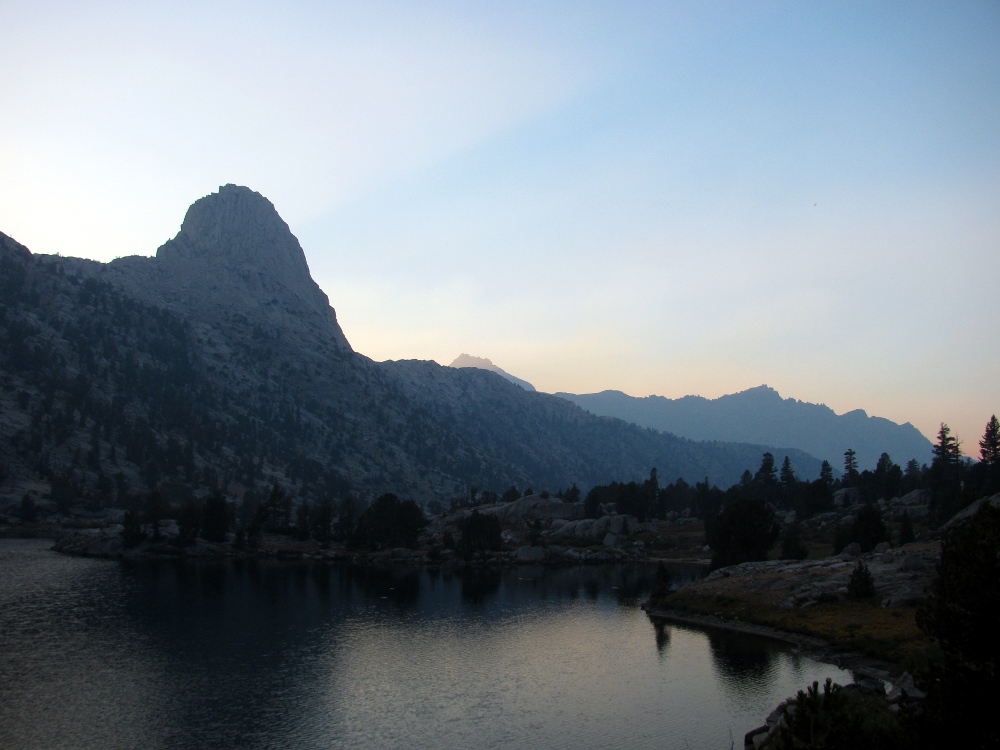 Once night fell, Ryan broke out his tripod and captured some impressive night shots. Here's Fin Dome:




The Painted Lady across the lake: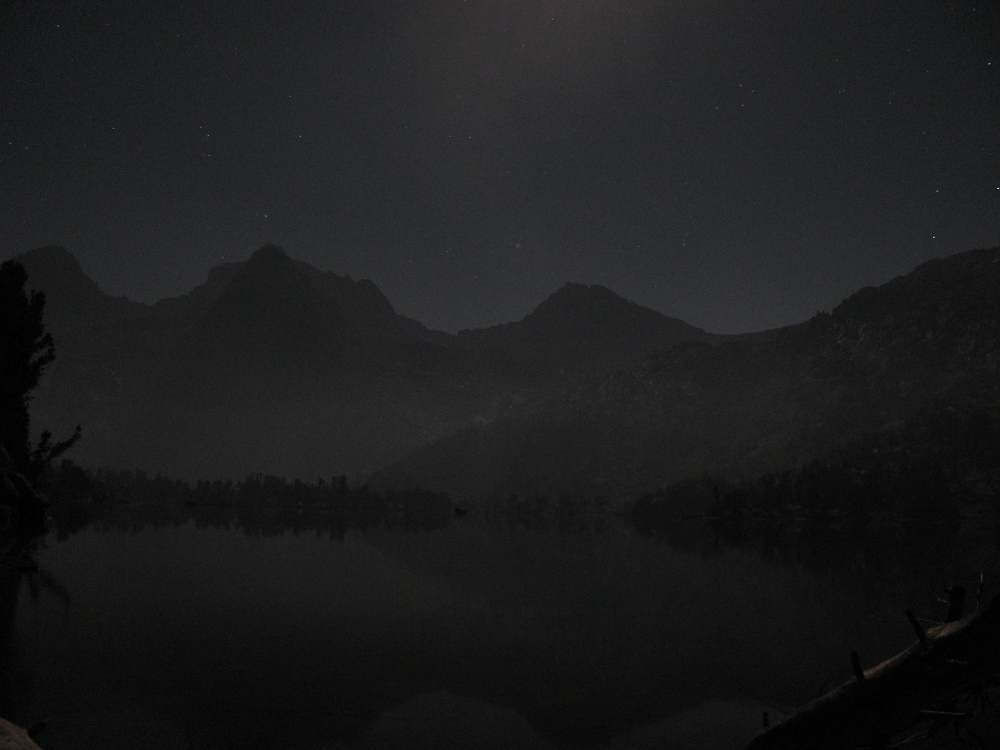 The Big Dipper: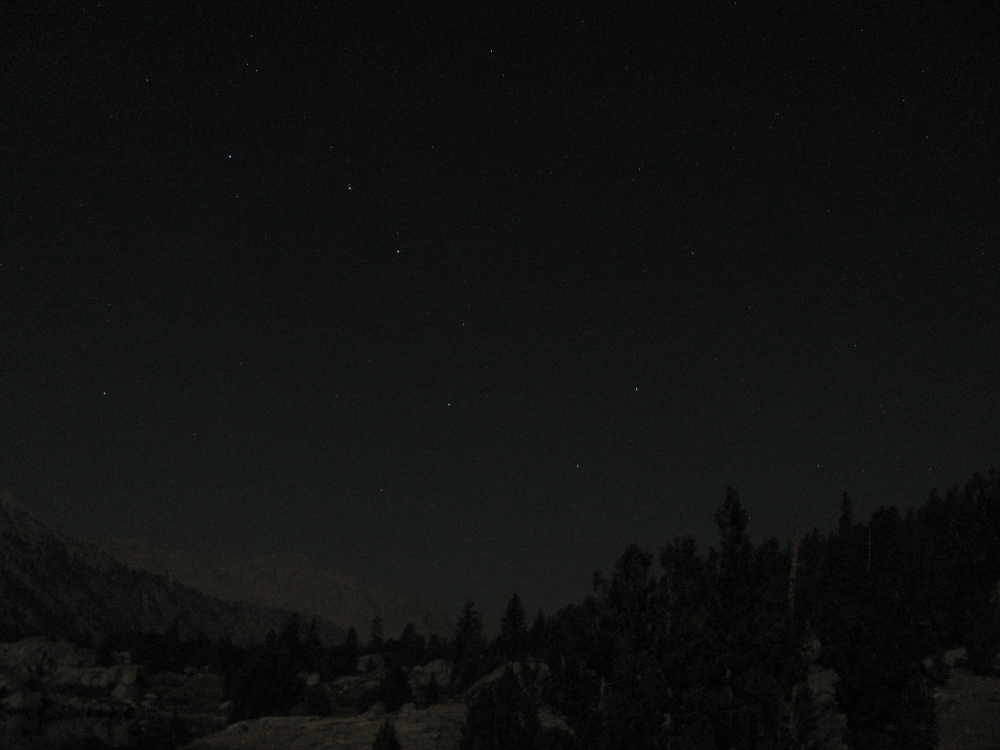 The following morning the air was clear and I decided to sit down near the water and meditate briefly. Little did I know that Ryan captured a picture at this time:




On this day Ryan and Colin decided to hike to the top of the Painted Lady while Ivan and I decided to move the camp across the lake and relax for the day. Ryan and Colin took some incredible pictures on their hike. Here's Colin scrambling up the Talus slopes leading to the Painted Lady:




A view of the Rae Lakes from midway up: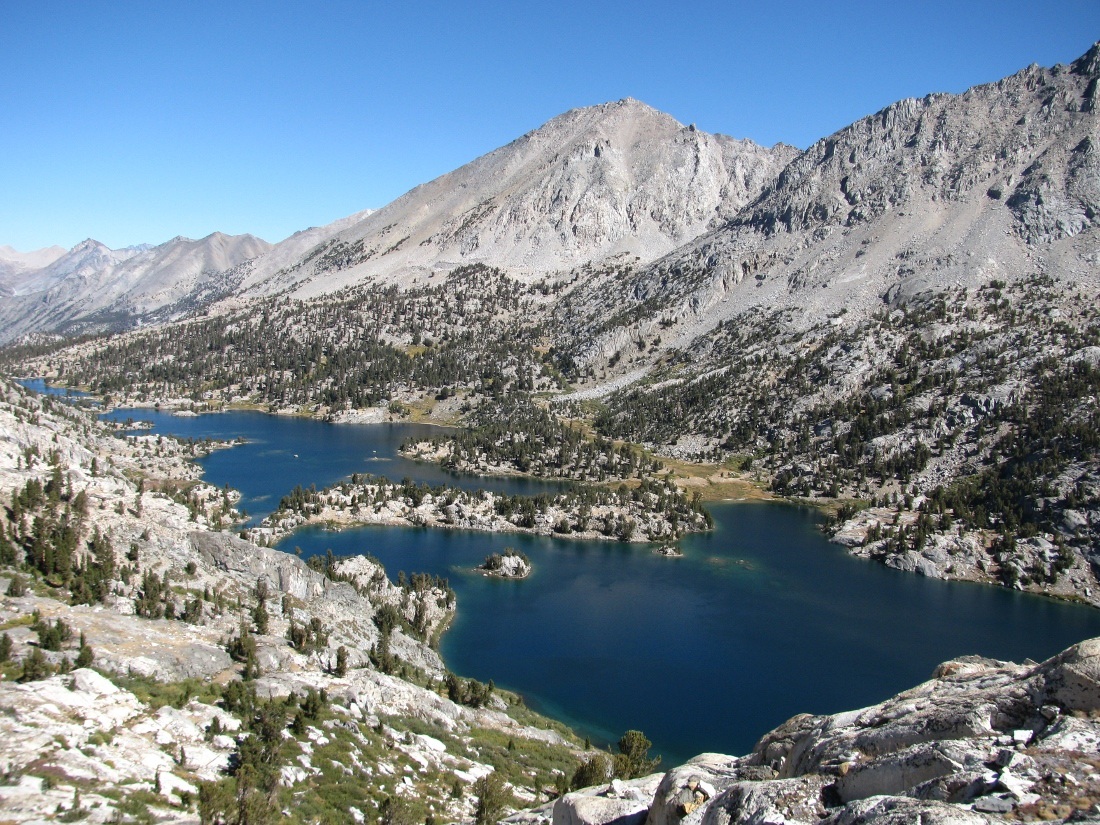 Colin resting among the boulders:




Closeup of Fin Dome: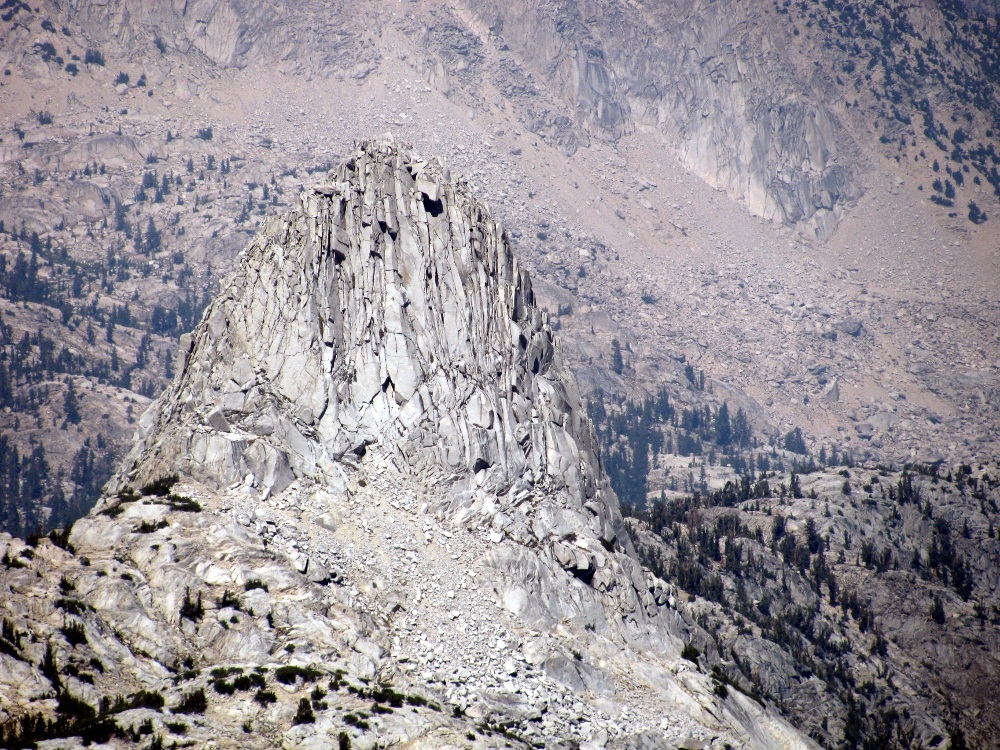 Ryan at the Summit of the Painted Lady:




On the way down from the top of the mountain, Ryan and Colin found this patch of grass that seems ideal for a camping spot. Maybe next time?




After returning to camp, Ryan and Colin decided to jump off the bluff into the water. Here's a picture of Colin about to jump:




The air remained clear for most of the day. The only clouds of the entire trip made their way across the sky above some distant peaks: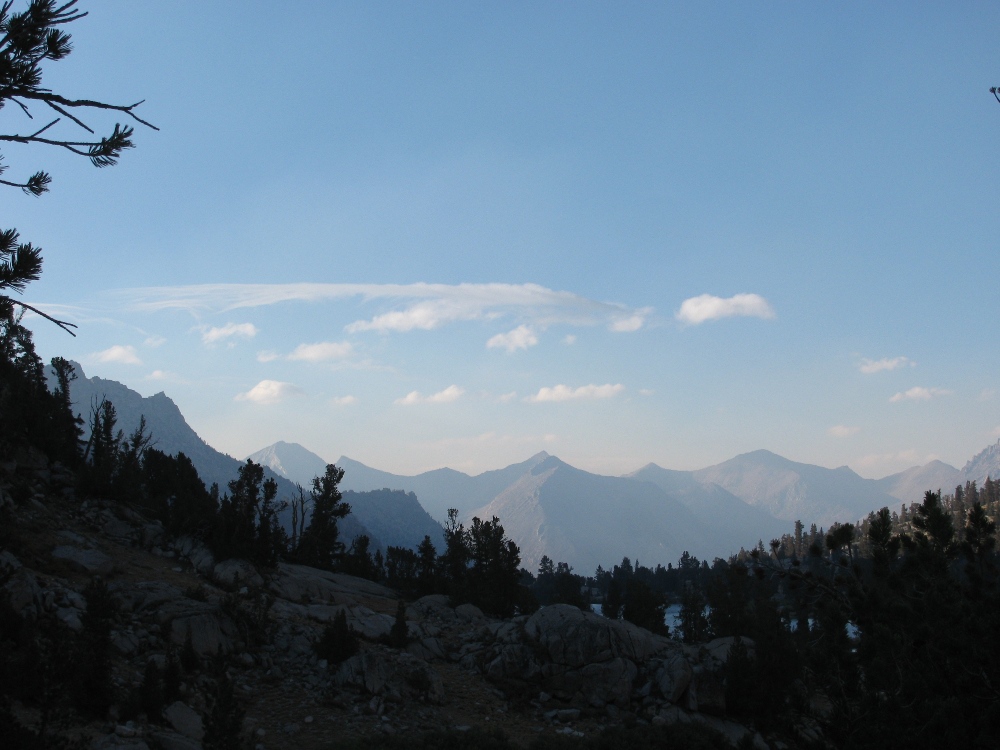 Now that everyone was back, we setup our tents on top of the bluff:




Here's the view looking South from our new campsite:




The next day we packed everything up and started hiking toward Glen Pass. Since Rae Lakes is at 10,500 feet, we had to gain about 1,500 feet to cross over the pass. This would take us well above the treeline. Here's a picture of me following Ivan up the trail with Glen Pass in the distance:




Looking back at the trail leading up to Glen Pass:




Colin and Ivan at the Pass:




The whole group resting at the top of Glen Pass:




The other side of Glen Pass:




Further along the trail beyond Glen Pass we started descending back into the trees near Charlotte Lake:




Beyond the Lake we spotted Charlotte Dome. It looks pretty good for climbing, no?




There were several massive mountains looming above the trail South of Glen Pass. Here's a picture of one of the biggest ones:




Ryan and I found a very strange looking tree:




Further down the trail toward Vidette Meadows we found this cascade:




After passing Vidette Meadows, we stopped in an area called Junction Meadow where we originally had planned to camp for the night. Although we had already done 12 miles this day, we were not particularly tired since it was predominantly downhill. In addition, the smoke had become pretty thick in the air, and we were generally against the idea of camping in the smoke. As a result, we decided as a group to push on and see if we could finish the hike a day early. This would involve hiking 22 miles in one day, which was a very large amount. Fortunately for me, I had plenty of Vicodin to spare, so I was confident my heels weren't going to stop me. As we continued, some of the rock formations on the side of the trail became very large. This one looked a lot like a dwarf El Capitan: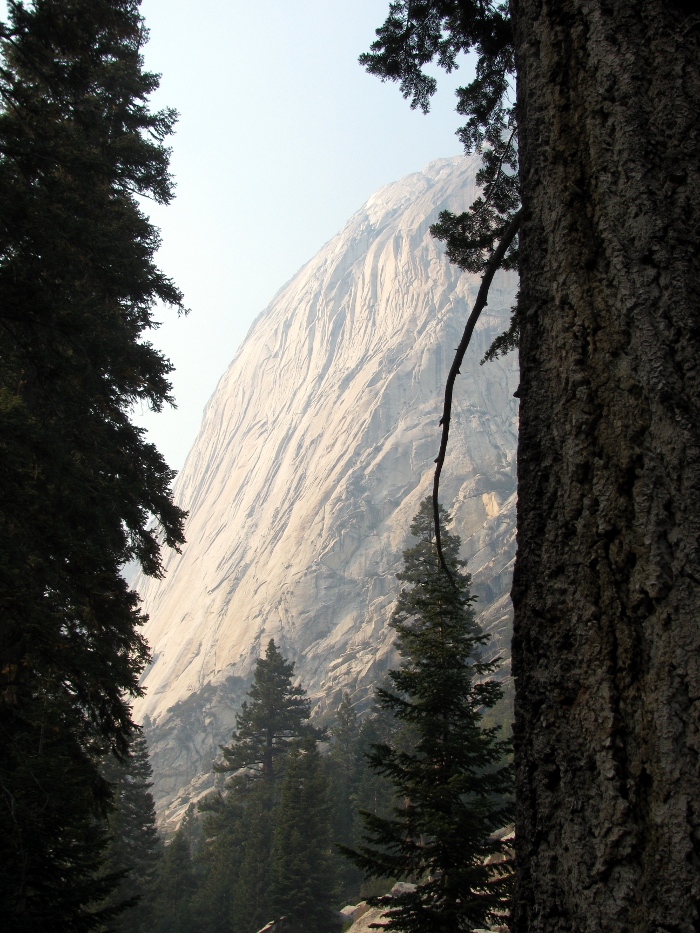 As we lost elevation, the landscape became increasingly lush, with many ferns and streams around. There were also many beautiful granite boulders. Here's a picture that captures the character of the forest at this point: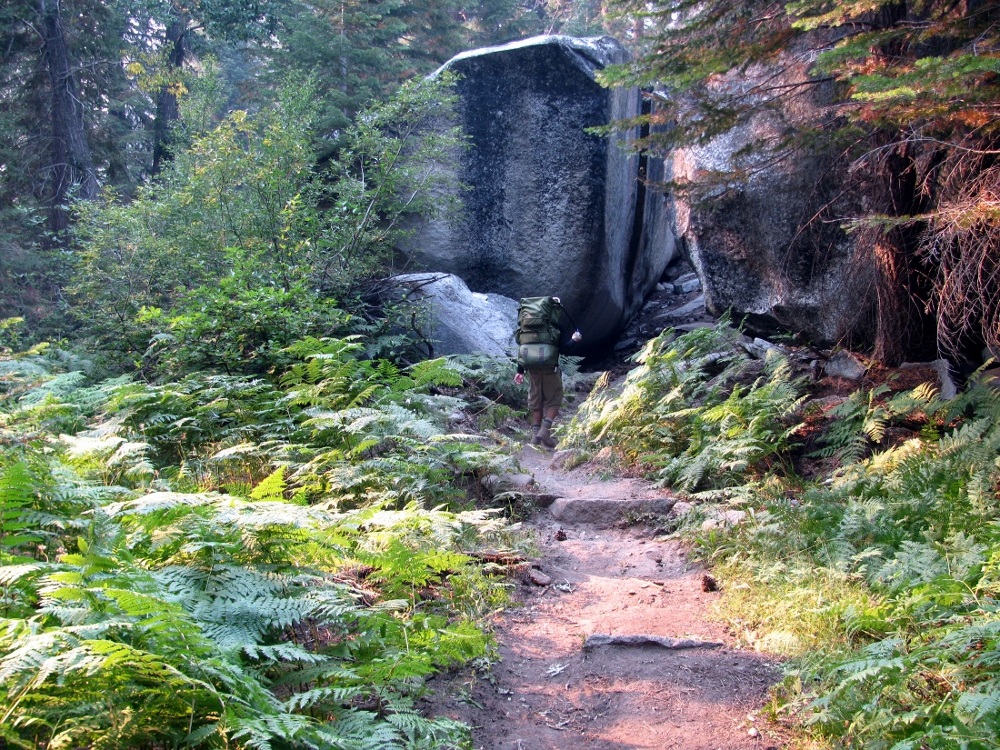 When the sun started to set, the smoke from the fires created an incredible scene:




Colin found a very strange looking tree and took this picture:




Although we had heard reports of bear activity, we hadn't spotted any bears to this point. In fact, Ryan and I never saw any, but Colin and Ivan weren't so lucky. They ran into this large black bear toward the end of the long day:




The last few miles beyond Bubbs Creek were pretty grueling. When we finally arrived at the trailhead, we were all famished, yet very proud of ourselves for completing the loop in such good form. Remarkably, we completed the entire 46 miles in only 3 days of actual hiking, plus one rest day. I felt the trip was exactly what I needed to center myself and refocus on my goals looking forward. In addition, the natural beauty of Rae Lakes was mindblowing, and there are many people who I would love to share it with. I expect I will return to Rae Lakes one day.


The Little Red Monster
Sometime in September, Colin made the plunge and bought himself a dual-sport motorcycle. Based on my recommendations, he went for a smaller, more manueverable vehicle, that would suit him well off-road as he learned to become more comfortable. In fact, he wanted a bike that would be fun to ride in the dirt even if he never wanted to get involved with the hazards of driving on the roadway with cars. In the end, he decided on a Honda CRF230L, and managed to snag a nearly new one off of eBay at an incredible discount. For a few weeks he left the bike in the underground garage of PGV and both Colin and I spent several hours practicing our turns on it. After a decent training period, we decided to take it off-road at some of the nearby OHV areas. The second place we took the bike to was a large OHV area about an hour away called Rowher Flats. There were miles and miles of trails in this arid, hilly landscape. Colin's bike, being so small and nimble, handled incredibly well off-road and we were pretty comfortable on the moderate routes. Here's a picture of Colin on his little monster:




And here's a picture of me riding a small trail at Rowher: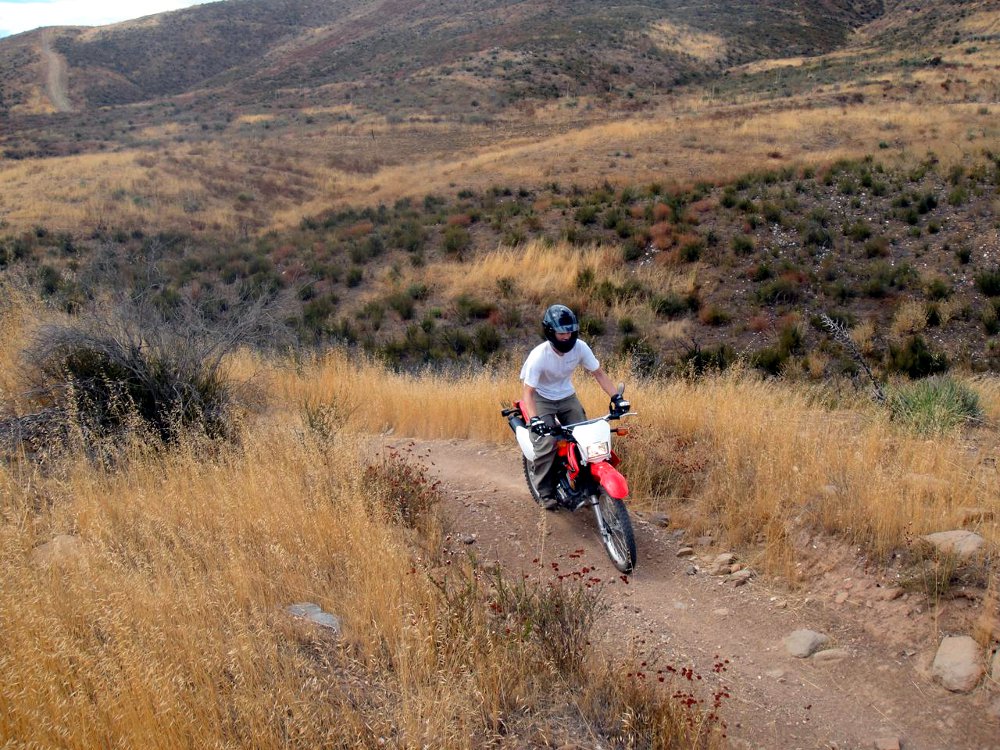 To carry the bike around with Colin's car, we used a hydraulic hitch hauler that Colin found on Craigslist, it was called a Moto Jack Rack, and I highly recommend them for everyone who has an off-road bike.
CyPace Update and My Decision to Leave
In September I finally became somewhat free of the stress of CyPace. The POC at Kaiser had finished successfully and we entered the negotiation phase. This allowed me to return to a healthier way of life and to evaluate my situation with better perspective. I realized that since Kaiser's decision might not come for some time, and there was no other major projects on the horizon, that I might as well cut loose for awhile and visit some friends. In addition, I had been meaning to make a trip up to Portland to see how Jared was doing in the Northwest, so this seemed like an appropriate time. In the end, it didn't take long for me to make the decision to leave. Over the course of September I helped Ivan and Colin find a new roommate and prepared my stuff for eventual departure. We found a swiss art student named Max who seemed to be a good fit. By the time I left town, the situation with Kaiser had reached an impasse. We had agreed on a sale price of approximately six million dollars, and the executives at Kaiser were ready to sign, but the compliance office had some concerns about Ken Murtishaw being on the board of directors of our company while being an employee of Kaiser. We figured that we could easily sidestep this problem by offering the resignation of Ken, but Kaiser was not satiated. In the end, Jeremy and Ken both offered to step down and sell their shares back to CyPace, but Kaiser still wouldn't budge. This news was pretty tough since we had put so much hard work into the POC, but I decided that I wouldn't dwell on the situation and instead, continue focusing on my personal life while working as appropriate to position CyPace for future success.

Forward to Vagabond Part I
Back to Index