Back to Index
Back to Fall 2011
A Most Agreeable Winter
Mt. Hood!
From the very start, the winter weather was much better this year than last. There were so many days of sun and warmth that eventually I figured we might as well get outside and do something! Despite the fact that I had just had finger surgery, I offhandedly suggested to my friend and fellow climber Mike Royer that we make a winter attempt on Mt. Hood. Mike had previously done some mountaineering in Kyrgyzstan and had the appropriate gear for such a trip. After some consideration we decided to actually go through with it, and Jared also decided to join in. We went to Next Adventure to rent some boots and crampons (Mike had enough ice axes for us) and got ready for a long day. We woke up at around midnight and picked Mike up on the way out of Portland. On the way to Hood I had to use my aircard to login and perform some work remotely for OHSU. We arrived in the parking lot of Timberline Lodge at around 4:30am and by 5:15 we were geared up and starting our slog by the light of our headlamps. The climb began by following the Timberline ski run for about 2 miles. As we approached the top of the run the sky started to brighten from the impending sunrise. In this first picture you can see the lodge far below at the bottom right: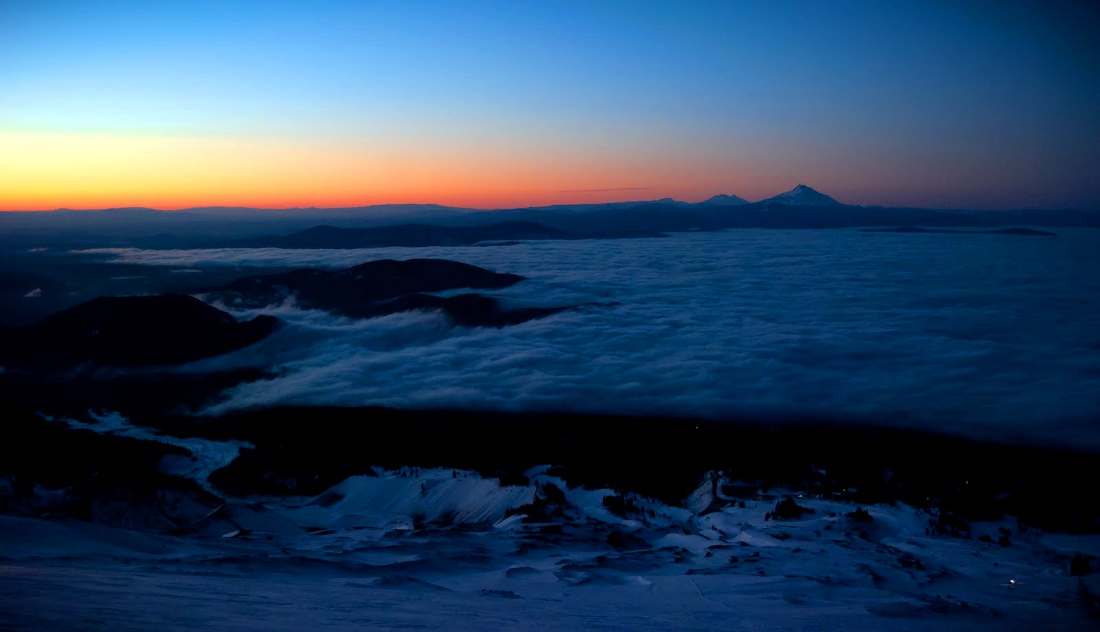 At first, the significant and continuous incline was challenging for me. The burn that I felt in my legs suggested that I was in for a very difficult day, but somehow after the first hour or two my body adjusted and I actually felt pretty solid all day! I also felt almost nothing in the way of altitude sickness, which surprised me. Here's a picture taken at this same point but facing up the mountain. You can see me in front and Jared behind with his hiking poles: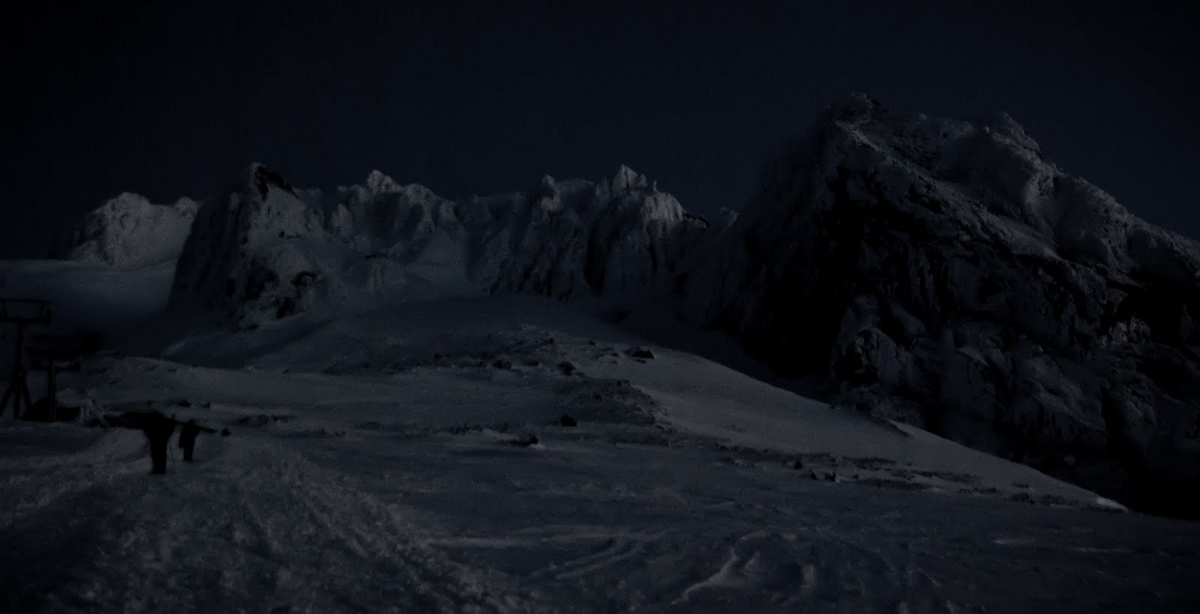 On the far left you can see the towers for the ski lift and above us are the imposing rock buttresses of upper Mt. Hood. Not long after this picture was taken the sun eclipsed the horizon:




The early morning sun glowed on the icy snow and lent a purple hue to the surrounding landscape:




After passing the top of the ski lift we continued onto the middle slopes, which were icier and steeper than the lower slopes but not so bad that we needed crampons just yet. Here's Jared making his way up at this point:




As we went around the first rock buttress the slope steepened and it became even more icy, requiring us to start with the crampons. I had never used crampons before and expected them to make the going much more difficult and slower. As it turned out, this was not at all the case, and extracting the points from the ice and snow was not a significant drain on my energy. At this point in the climb the altitude and angle of the mountain started taking its toll. I began moving in increments of 50 steps between rests. Above the first rock buttress we passed Illumination Rock and went past a few open fumeroles that smelled strongly of sulfur. Next we ascended onto a snow-ridge called the hogsback and moved toward the upper ice chutes. Here's a picture of me walking along the hogsback: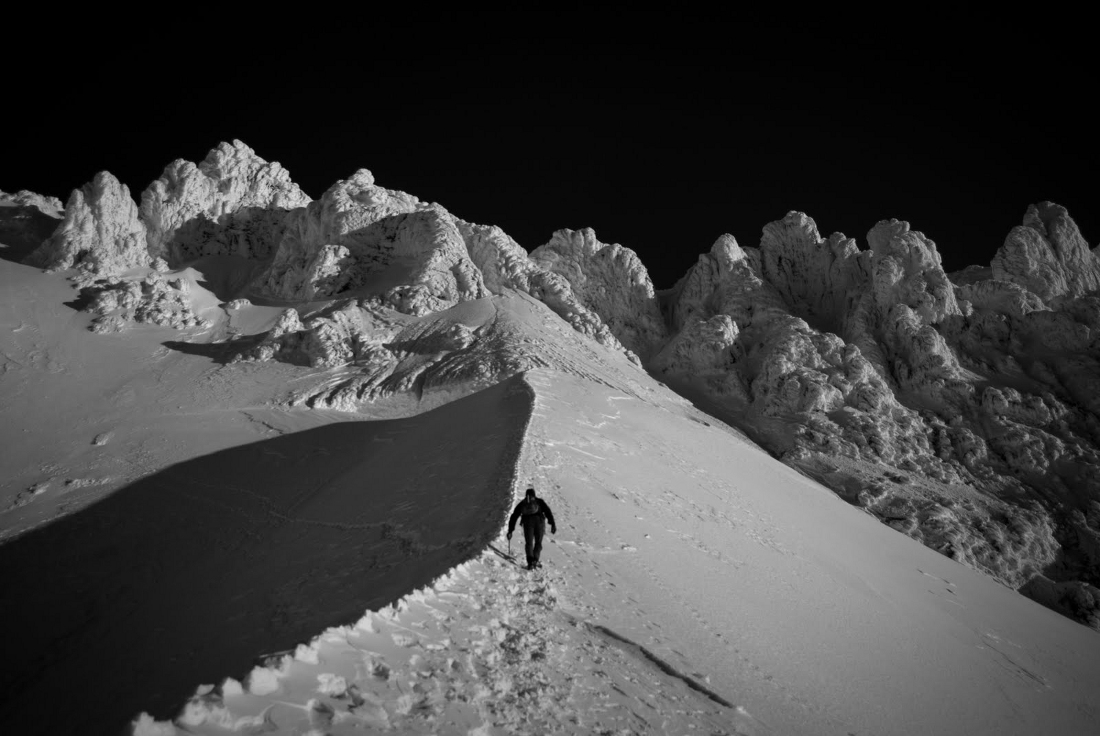 At the end of the hogsback in this photo you can see an open cleft in the ground. This is known as a bergschrund and represents a serious obstacle for hikers in the early winter before it is filled with snow. Usually the trail continues past the bergschrund and up and right through an ice chute called the Pearly Gates. Because of the bergschrund, however, we had to go left and up a steep snow field to another, shorter ice chute. Here's a picture looking down from the steep upper snow field: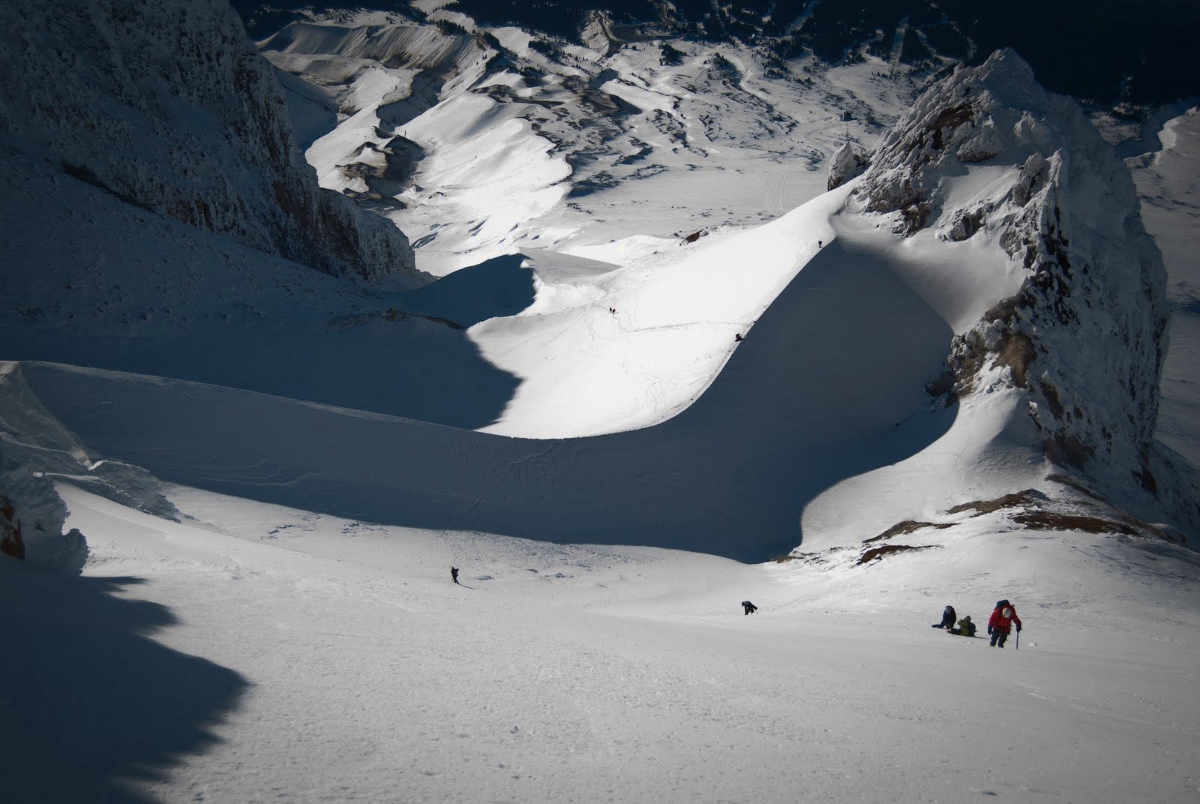 As you can see, there were a handful of other climbers up with us that day. I believe there were about 12 people in total. At the top of the photo is the parking lot for Timberline Lodge, where we started. In the center is the hogsback and in the foreground is the snow field. At this point it is so steep that an unarrested fall would result in a slide all the way to the trough below the hogsback. Thus it is important to make sure your crampons are well set, and to use at least one ice axe. This next picture is taken from the same spot, but looking up the mountain. In it you can see me heading for the short ice chute to the summit: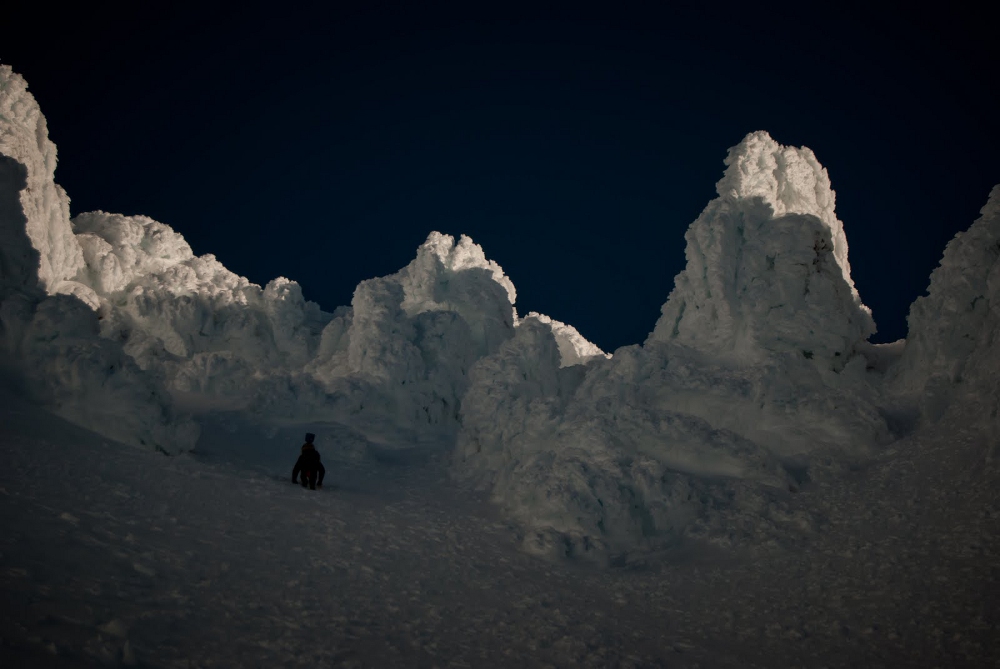 The ice that covered the rock in this area is called rime ice and it is created from the incredibly harsh and windy conditions that exist here during storms. Here's a closeup:




Negotiating the ice chute was certainly the most technical and challenging part of the climb. Although it was not too strenuous, it was clear that a mistake would result in severe injury since a fall would result in toppling down for hundreds of meters. Nonetheless, with the ice axe and crampons I felt quite secure and thoroughly enjoyed the challenge. Here's a picture of Jared tackling this section of the climb:




Above this spot there are a few rime ice covered ridges that lead to the very top. Here's a shot of another two-person party on a ridge near ours: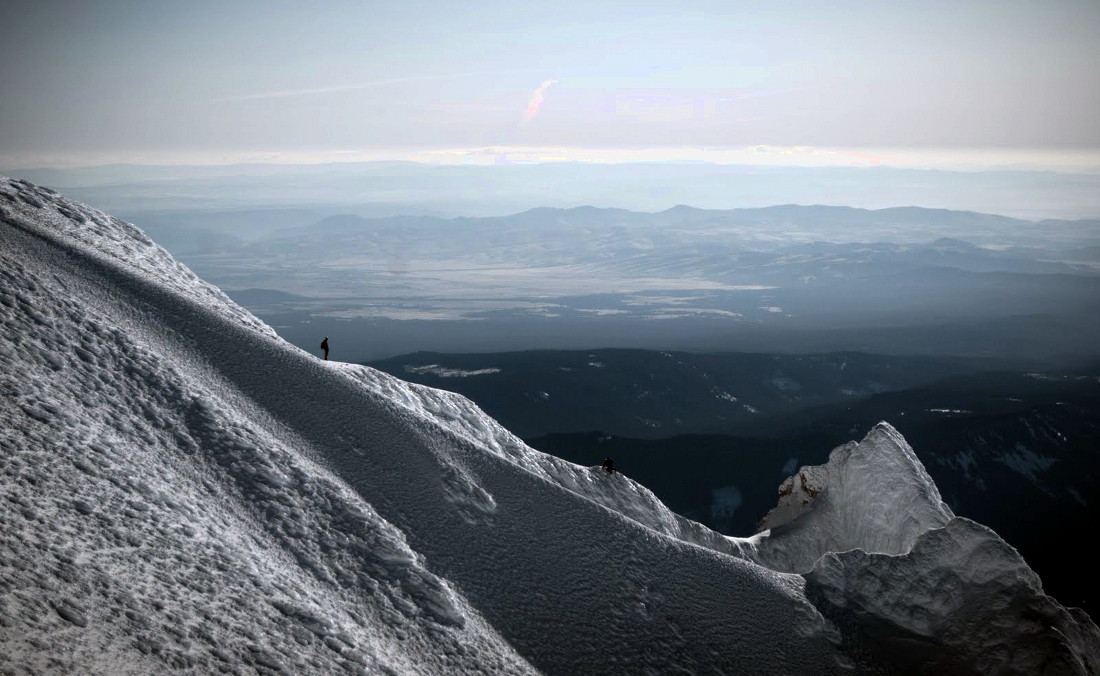 The view from this spot was amazing so I decided to clamber up to a mini-summit to get a good look:




At around 9:45am we reached the true summit and took this picture: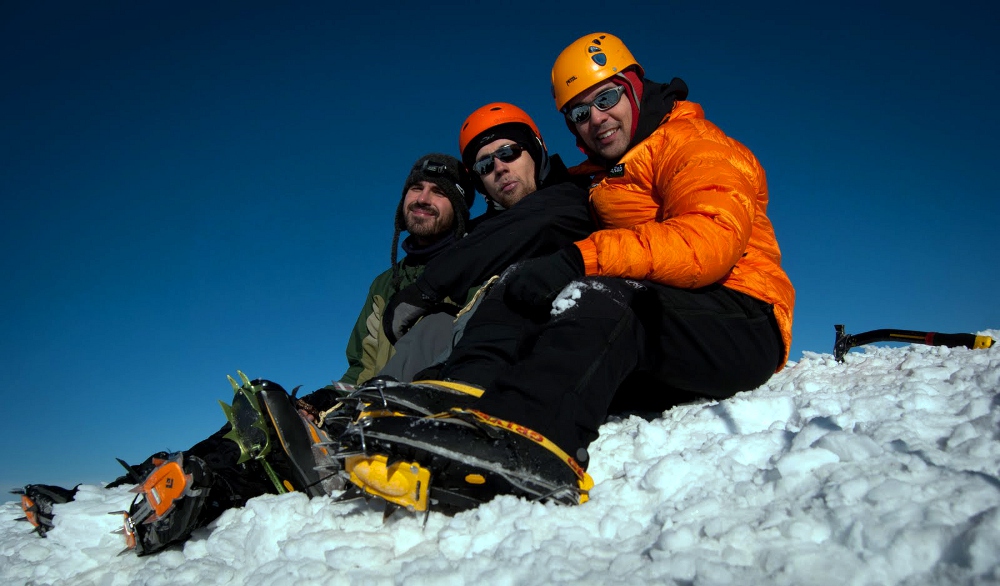 The view from the top was spectacular and panoramic. Towards the North one could see Mt. Saint Helens, Mt. Adams and Mt. Rainier. Here's Jared looking in that direction:




After enjoying the summit for awhile and eating a snack, we started heading down. Reversing the ice chute and upper slopes was pretty exciting, but once we reached the hogsback things picked up quite a bit. In fact, we didn't really take any rests on our descent and made it back to the parking lot in only a couple hours. Here's a look at Mt. Hood from the parking lot:




We got into the car and made it home by 3pm, leaving us with several more hours in the day! Although I wasn't terribly sore or tired later in the afternoon and evening, the next day and the day after were total pain-fests in my legs and back. Still, I felt great about having made the ascent and was happy to have had the opportunity during my time in Portland.
Skyrim (aka, Goodbye Life)
So as you may know, I used to enjoy playing video games a lot. I've even got a top 30 games list here. Lately I've gotten out of this habit, and until Skyrim, could not spend more than an hour playing a game before feeling a slight uneasiness. All the same, I've generally kept up on the releases of sequels to great games that I played when younger, such as Civilization and Heroes of Might and Magic. One of my favorite series is called the Elder Scrolls series, and the second installment, Daggerfall, was a hallmark game from my youth. The next two games, Morrowind and Oblivion also stole many hours of my time:




These are the largest video game worlds in existence, encompassing hundreds of square miles of virtual terrain, dozens of cities and towns, and countless hours of quests and dungeons to explore, etc. In addition, whenever a new Elder Scrolls game is released, you can be sure that it will push the boundaries in terms of graphics and game art, and be as immersive an experience as is possible given current technology. As a result of this, I was looking forward to the release of Skyrim.

Once I started the game, it became immediately clear that Bethesda had outdone themselves. The quality of the environment made playing the game more of an interactive cinematic experience than I'd ever seen before. The landscape was more mountainous than in previous games, and distant peaks that you can see through the clouds can actually be reached, just by relentlessly running (or riding) towards them. The music and sound is also stellar, and the sheer variety and minute quality of every dungeon, keep or stronghold is simply mindboggling. The reviews of Skyrim have been unanimously positive, with most publications considering it to be one of the greatest games ever made. After having spent 30 or so hours of playing it, I can say that it has truly reached a point of being a form of art. It is akin to a story that you craft as you play, with the outcomes directly influenced by the decisions that you make. The scale of it all is truly mindblowing. The game is set in the far North country of Skyrim, where jagged mountains, snow, and dragons, are a relatively common occurance. Here's a few screenshots that I feel give an idea of what the game looks like:




Pretty crazy, no? I think that considering the cost to produce Skyrim (over $100 million) and the quality of the experience of playing it, we really do need to start changing the way video games are perceived in our society. I'm not advocating that everyone should play them, or that we elevate them to the status of 'worthwhile use of time', but I certainly feel that some games, such as Skyrim, are so original, and so beautiful, that they are like reading a really good book for pleasure. It's an entirely different sort of game than, say, shoot 'em ups such as Modern Warfare. So anyhoo, if you want to try the game, come over and let's play for a bit!
SoCal 4 Bizness!
By early December the progress of the negotiations between Top Tier and CyPace reached the point where it made sense to meet the Top Tier partners face to face at their office in Southern California. I decided to make a mini-vacation out of the trip and invited Janel to join me. On Wednesday the 14th we flew from Portland to Burbank direct and arrived at 10pm. Ivan picked us up at the airport and we spent the evening back in good 'ole PGV. The apartment hadn't changed much but there was a new roommate, Carlos, who was Colin's replacement. Ivan had spread the word about my arrival and there were many visitors that night, which made me feel really good. In fact it turned into a mini-party with around 10 or so guests. Ivan, Max and I stayed up really late talking and catching up. Janel wasn't feeling great so she rested for a few hours. At around 5am I took Ivan to LAX so he could catch his flight to France. I then returned to the appt and got a few hours of sleep before rousing and heading south to Manhattan Beach where I was to meet the Top Tier crew at the Manhattan Beach Marriott. At this point Janel took Ivan's car to Santa Barbara to visit some friends and I had a day and a half alone with Nick, Derek and Top Tier (mainly Scott and Greg) to plan and discuss the possibility of merging our two companies. Much of this experience involved posturing and relationship engineering. With Scott and Greg it was pretty friendly and natural, but at dinner with the two other partners (Chris and Brad) it was a lot more intense. Originally when we sat down I was in the corner of the table, but Greg had us reorganize so that I was at the center of one side, facing Chris, the most intense partner, on the other side. What a coincidence! Although the dinner started cordially it eventually provided an opportunity for Chris to grill me on the weaknesses of our business model and for me to show my posturing colors by defending it via a strategic dose of confidence and pragmatism. In the end I think I did a good job and was later congradulated by Scott and Greg. We went from dinner to a few bars and eventually returned to the hotel lobby bar at the Marriott:




As I got to know Scott and Greg I found that they are both really good people. It amazes me how consuming the business world can be for many of its players. I also marvel that I have walked down these paths but remain quite distant in my ideals. I certainly cannot envision myself remaining a part of it for much longer. Anyway, I stayed in the Marriott that night with Scott. Here's a couple pictures I took of the back of the hotel and the nearby golf course: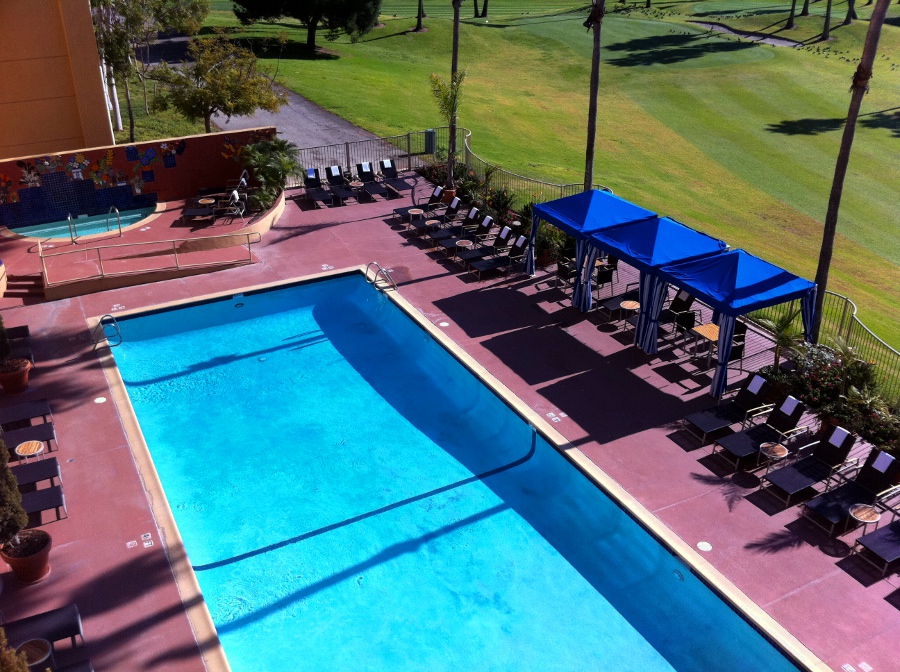 Can you say corporate-tang?

The next morning I had to go to Macy's to get some clothes because I forgot my suit in Ivan's closet in Pasadena. At around noon we convened in a conference room to go over the proposal with all of the partners. It was a pretty relaxed meeting since Chris was in and out and the other partners generally agreed with the strategy. At around 4pm I managed to sneak out when Janel returned from Santa Barbara. Our plan was to drive directly to Joshua Tree to go camping that night. The traffic that we encountered (it was Friday afternoon) was pretty annoying, but we managed to get to Yucca Valley around 7:30. We stopped at the Food4Less and picked up firewood and victuals and then drove into the park. I thought that it would be hard to find a good camping spot but we miraculously found several options in Ryan Campground, which is one of my favorites. In fact, the place we stayed at was the same spot that I'd camped at once before. Although it had been a long day we decided to hike around and do some rock scrambling since the moon was so bright and the temperature wasn't too cold. We probably stayed up until around 2pm.

In the morning we awoke and hopped in the car to head toward Keys View and Hidden Valley to explore and watch climbers. We hiked the Barker Dam trail (there was literally no water this time) and checked out the petroglyphs. Next we went to hidden valley to watch climbers and check out some routes and we finished by climbing the back of the Sentinel. At some point in the middle of the day the sun came out and we were able to take the top down and enjoy Ivan's convertible. When we parked at the Real Hidden Valley parking lot we left the top down, expecting the sun to remain. Imagine our surprise when it started snowing as we descended the Sentinel. By the time we got back to Ivan's car we had to excavate a half inch of snow from the bottom of his seats! As we returned to the campsite the snow transitioned into rain and become more intense. Our original plan was to stay the night and head up to Idyllwild in the early morning, but the forecast made it seem like Idyllwild would be totally blanketted in snow. We decided to take a nap in the tent to see if the weather would let up and then re-evaluate in a couple of hours. It was a really relaxing nap with the rain, but it persisted and barely provided enough of a window to break camp around 6pm. We decided to head back to Pasadena to relax for the night and check out Venice Beach the next day.

Our day at Venice turned out to be absolutely perfect! The weather more than cooperated; we had full sun and approx 75-80 degree temps. It was sunbathing weather, a welcome change from the dreariness of Portland that we had escaped. We spent the entire afternoon meandering around and enjoying the fresh air and scenery. We also walked up and down the boardwalk and discovered that the Sunday drum circle, which I thought had disbanded years prior, was back and thriving. Here's a picture of the people dancing in the middle of the circle:




As it turned out, neither of us regretted being unable to make it up to Idyllwild because the beach was so enjoyable. As the evening approached we quickly made our way back to Pasadena to pack for our flight. We then boarded the Gold Line and took the Flyaway bus to LAX. We made our flights with plenty of time to spare and arrived in Portland around 11pm. Overall the trip was a massive success and left me feeling really positive going into my Vipassana experience the following week.
Vipassana
So you may be asking yourself, 'What's Vipassana?' Well, it's a type of meditation that was originally taught by the Buddha but at its core is not affiliated with any particular religious tradition. I learned about it from Anthony at Burning Man. He suggested that it might be a natural progression for me and ever since then I had been looking forward to attending one of the introductory 10 day courses. Of course it's not easy finding 10 consecutive days to take off, but I had gotten approval to do it over the holidays, resulting in the fewest number of missed days at OHSU. The course that I had decided to take was being held in Vernonia at a rented site called Cedar Ridge. As the time was approaching I started extending my evening meditation sessions in preparation for the retreat. I also started thinking about what it would be like to maintain total silence for 10 straight days and meditate for such a long time. I also knew that I would have to wake up at 4:30am each day and eat only two full meals. So generally I was interested to see how I would cope with these difficulties. Once the course was over I took the time to sit down and write out my thoughts.




Today is my first day back from Vipassana. It lasted ten days, in relative isolation at Cedar Ridge 'retreat' in Vernonia. It was austere: Bunk beds, no reading, no writing, no music, and no personal items except those related to clothing, bedding and hygiene. People often think going in that not talking is going to be the hardest part of the experience. Few come out maintaining this idea. It's the practice, it's the work, it's the normal habit pattern of our mind that makes things hard. And they are hard; for everyone and for different reasons. We all felt like leaving. But we couldn't share our misery. Nobody saw anyone else's pain. We couldn't make eye contact and we forgot each other's faces, not that we ever knew them that well. The only thing we could turn to was the teacher, and the Dhamma. And the beauty of it, the practicality of it, and the tangibility of the experience of it brought incredible highs from time to time. Life became a rollercoaster of emotion interspersed with long periods of meditative calm and insight. We worked hard. From 4:30am to 9pm we managed 11 hours of meditation each day, often for periods of three to four hours at a time. And to cap it off, three times a day we were expected to sit with 'strong determination', maintaining our posture for an entire hour, despite any discomfort. And time moved slooowly. Our freedom gone, we were prisoners. This was the nature of our common experience.

My personal struggle was of course unique. The technique was challenging for me and the course moved quickly. Surprisingly I found myself 'caught behind' early, and this uncommon feeling caused severe agitation. I sought consolation with the teacher, which helped me slowly reorient my thinking, but on the fourth day I reached the lowest emotional level that I'd felt in years. During brief periods where my mind departed from my immediate environment and thoughts of Dhamma, I found myself thinking of how good and constant my life was outside of this retreat and I longed to be home. I could hardly bear the dreadful thought of six more days. Six days that I knew would feel like fifteen days. I thought of getting in my car and leaving… but I didn't. Small successes here and there, and strong conviction in the Dhamma kept these negative reactions from cascading, but they still persisted through the eighth day. To mitigate them I became watchful of myself and my thoughts. I avoided giving myself the opportunity to think about past and future, anything but what I was experiencing at the present moment. The present moment was not enjoyable, it was neutral at worst, but it was at least safe from negativity. I developed a more correct understanding of the technique and I formed a rapport with the teacher that gave strength to my efforts. And perhaps most importantly, I surprised myself with my work ethic. I never once missed a meditation session in the hall. I was a warrior, putting in immense effort in spite of the difficulties. I had to get established in the technique, I had to come to some understanding, and dammit, I was going to get that in 10 days.

In the end I was successful. While certain experiences remained elusive for me, I nonetheless came to a greater perspective on the nature of the spiritual path. This understanding came largely on the 9th and the 10th days. On the final day we were permitted to break our noble silence and communicate with others. This was to be a monumental change and at first I feared it. I expected to find that everyone's experience was different than my own, that people even enjoyed themselves. Due to this, I didn't feel like talking about Vipassana at first. But of course it was inevitable, and I was surprised to find that everyone I talked to had felt similarly. All four of the people I talked to the most had felt strongly like leaving at one point or another. What surprised me principally, though, was the variety in experience of the technique. I will not go into too much detail of this here, but as it turned out, I was on one end of the spectrum while one other person I met, Adam, was on the far opposite side; everyone else's experience, in this respect, fell in between Adam and I. But this didn't mean it was easy for Adam. To the contrary, his experience might have been the most challenging. From talking with him I realized that each of us has a unique existence in this world. We are the only one with our exact reality, and the Dhamma, the path that we take, is specific to this reality. "Trust in Dhamma, leave it to Dhamma," Goenka would say. By the end of this the retreat I found the value in these words.

One of the most profound experiences came from talking to a German named Jan, a young man of 22. The four of us took a walk through the woods and while I was trying to avoid any contentious argumentation, it forced its way in under the guise of a theoretical discussion of the ideal of Vipassana and equanimity and the nature of the technique as an ascetic practice. This discussion caused some negative feelings to arise within me and I felt like walking away. Instead, I confronted him, and politely explained how I felt, and that I believed it was due to his authoritarian tone. I didn't understand how he could be so sure of himself given that we had been exposed to the same course. It was then that he related an experience that took the conversation on an entirely unanticipated course. On one evening toward the end of the course, Jan had been walking from the Dhamma hall toward the dorms in the cold at night. All of a sudden, he suffered a collapse, and his senses, turned to full, were bombarded with white light. His ego dissolved completely in a state of infinite bliss and understanding. There was no mind, no thought, only sensation, and all sensations were equal in their infinite nature. When he came to, his senses were still highly sensitive, and his face was covered in mucous from his nose and mouth. He crawled on the ground and grasped at the objects he found, like a newborn baby. Slowly his reality came back to normal. This experience, although brief, brought him a strongly firm understanding of the Dhamma, and this was what allowed him to talk in such plain, direct language with me. His understanding was still relatively fresh, so after he communicated this, I became receptive and offered him an opportunity to explain himself in a broader sense. What he related was profound, and I think invaluable for me. His mind was very much like my own, and so his words held extra merit in their applicability to me. With this experience most of the relevant aspects of the course came to a close, all that was left was prove to myself that I could still practice Vipassana meditation even after having broken silence.

Coming back to the outside world was not as drastic as the day after Burning Man, but it was still a remarkable change. Over the next few days I hope to adjust myself to a new behavior, with greater equanimity and understanding, and I hope to establish myself in the daily practice of Vipassana. While this may not be the final practice on my path, I wish to explore it further, and expect that it will be a central component of my understanding for years to come.
Rama to Jungle
~Colin




So there you have it, for what it's worth. Here's a picture of me in the meditation posture on the day I returned from the course, complete with my full beard (that I shaved that day):




Since the course has ended I have struggled to maintain my levels of meditation due to stresses that have come up in my life. I have not despaired at all, however, because I know that these things happen and that in the end I will seek a more peaceful and simple life that will help my practice. At this point my goal is to move to attain this as quickly as I can, although I know that it will not be altogether that quick. I will also continue to sign up for and attend Vipassana courses when I can find the time. It may be awhile before I can do another 10 day commitment, but I am interested in 3-day courses as well. Another thing that was really wonderful about the course is that I met a few really cool and inspiring co-meditators. One of them, Adam Selzer, came back to Portland with me to hang out for a couple of days. Adam is a musician who writes songs for children as the band Adam and the Couch Potatoes:




Adam is at the bottom right. In addition to his musical work, which is totally awesome, he is also studying educational technology at Stanford. He and Janel had a lot to talk about at dinner! Super kewel!
A Birthday in Seattle
On the third week of January, Janel and I drove up to Seattle for the weekend to visit her sister Jessica and her sister's fiance David who was celebrating his 30th birthday that weekend. Here's a picture of Jessica and David:




The week before Seattle had been hit with a record amount of snowfall, but fortunately things had cleared up substantially by the time we drove up. The night that we arrived I got to meet Jessica and David and we got some Indian food. After dinner Janel and I spent the evening with my friend Luke, who I'd met at the Vipassana course. It was a lot of fun to catch up and chat about how things had gone in the few weeks since the course ended. The party was the following evening and David's friend, an artist, had offered to host the party at his studio gallery downtown. It turned out to be an amazing space. The theme for the night was 80's, and although I obviously have the perfect costume (my Burning Man outfit), I somehow forgot it in Portland and ended up having to cobble one together at thrift stores the day of the party! After a few hours work I found garments that I felt were sufficiently ludicrous. Here's a picture of me as the party was getting started:




And here's Janel in her 80's schoolteacher outfit (complete with shoulder pads):




As I said, the loft was a really cool spot, and the artist (I forget his name) specialized in psychadelic computer-generated graphics:




Here's Janel and I posing in front of one of the projectors:




There were lots of good food and drinks at the party, including some too-scrumptious cupcakes: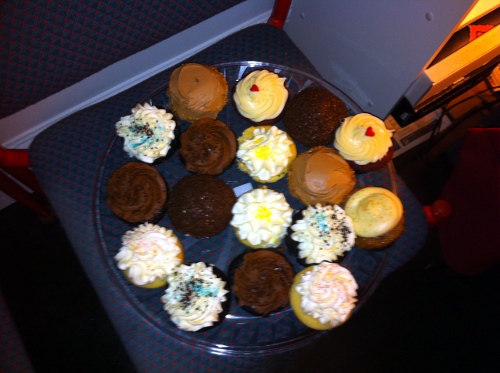 The overall quality of the 80's outfits superceded anything I'd ever witnessed before. Here are some examples:




For me the party was an interesting time. I knew only Janel and hadn't had a drink in over a month, so it was kind of a funny scene, but alcohol kept me company and I was pretty relaxed throughout. The next day we helped clean up and Janel and I returned to Portland.
Beats Antique, Hospice Training, and Vehicular Shittiness
Since I was so sad that I forgot my american flag spandex for the party, I decided to wear them to the Beats Antique show the following weekend at the Crystal Ballroom. I had seen Beats Antique at Burning Man but at that time was not really familiar with their music. Joining me this evening was Anthony, Romi and Janel. Here's a picture of us just before heading out:




The show was pretty spectacular, with the group performing for over two hours straight! Here are a few photos I found of the show: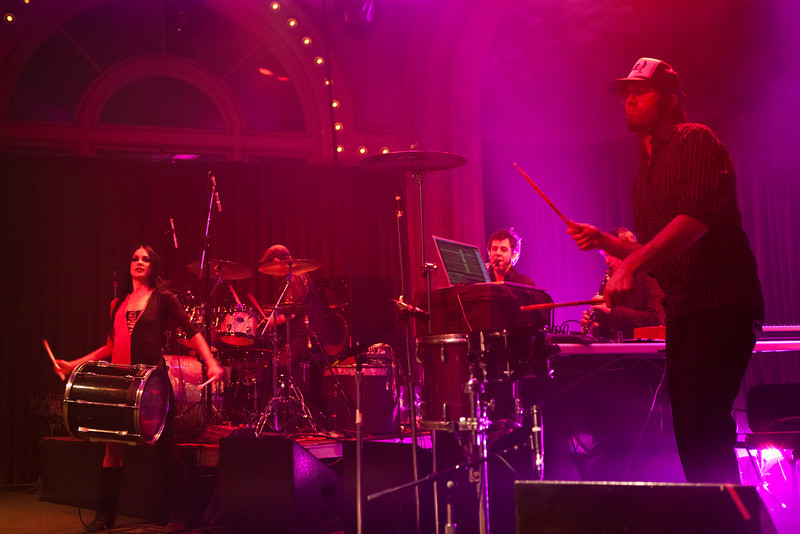 Everyone had a really good time, and the energy was so high that folks stayed in the ballroom for a half hour afterwards to continue dancing.

So, what's the opposite of Eastern-influenced Dubstep/Dance music? Hospice Volunteering!!! The day after the Beats Antique show I showed up to my hospice volunteer training with Signature Hospice in Portland at 9am. I had to get 22 hours of training over the weekend in order to be eligible to volunteer and this was my first full day. After coming back from Vipassana I have been increasingly interested in finding a way to give back in a more selfless and meaningful way. A lot of volunteer work that I've previously done have generally been good experiences, but they haven't required as much of me as I would like. Enter hospice volunteering. I got the idea from a coworker at OHSU, Jeff, who has been volunteering with Signature for over a year. Although I am very apprehensive about how well I'll be able to do in such difficult circumstances, the training that I received this weekend, as well as the support of a wonderful staff at Signature (led by the amazing volunteer coordinator, Michele Fuchs) has led me to view this as a wonderful opportunity. I still haven't gotten any patients yet, but once I'm more established I'll be sure to post an update!

When I went to the Vipassana retreat in December, I originally wanted to drive my car there. It had been sitting on the road about eight blocks from my apartment with a dead battery for about a month, and I decided it was time to revive it and get it going again. When I pulled up with Jared's car and attempted to jump it, however, I was completely unable to do so. For some reason it wouldn't jump, and I tried it twice. Unsuccessful, I ended up taking Jared's car to the retreat. When I returned from Vernonia in January I knew that I should move it eventually, and I waited until I had a reason to drive a decent distance so that the battery could charge up. It turned out that the trip to Seattle made the most sense for this. However, when Janel and I drove in her car to go jump mine, it was mysteriously missing. We took her car up to Seattle, but all weekend I wondered what had happened. When I returned, I found that the Portland traffic popes had branded it an abandoned auto, and I'd been hit with a $280 fee, two $60 fees for registration related stuff, and $250 for the tow company. Add in the $280 to transfer the title and register the car in Oregon, and I ended up looking at about $850 just to get my car legitimized again. As you can imagine this put me in a bind. Although I don't really use my car much, I still feel like it has (surprisingly) a lot of life left in it. Additionally, the fees that I got hit with would be due whether or not I decided to retrieve the car. In the end I decided to get the car back, and I'm somewhat happy with this decision, but it has been very costly. Without my recently won equanimity from Vipassana, I'm sure that I would have been much more upset than I was.
The Oregon Coast in February
The weather this winter was so good that in early February Janel and I decided to take a motorcycle trip down the Oregon coast one weekend. The forecast called for temperatures in the high 50's and sun, so we figured we should take advantage. I've really been enjoying trips on my new bike, so I was really looking forward to getting on the road, especially during a season that I never expected to take any trips! We left early Saturday morning and decided to head for Tillamook. I'd already seen all of the coast North of Tillamook, so I figured this would be a good place to start and then head South. In addition, Janel had somehow never been to the Tillamook Cheese factory and this would make a good stop for breakfast/lunch and free samples. Anyhow, here's the route that we decided upon:




On the way to Tillamook we passed over the coastal range and it was pretty chilly up in the mountains. At one point I stopped near a pretty hilarious info sign: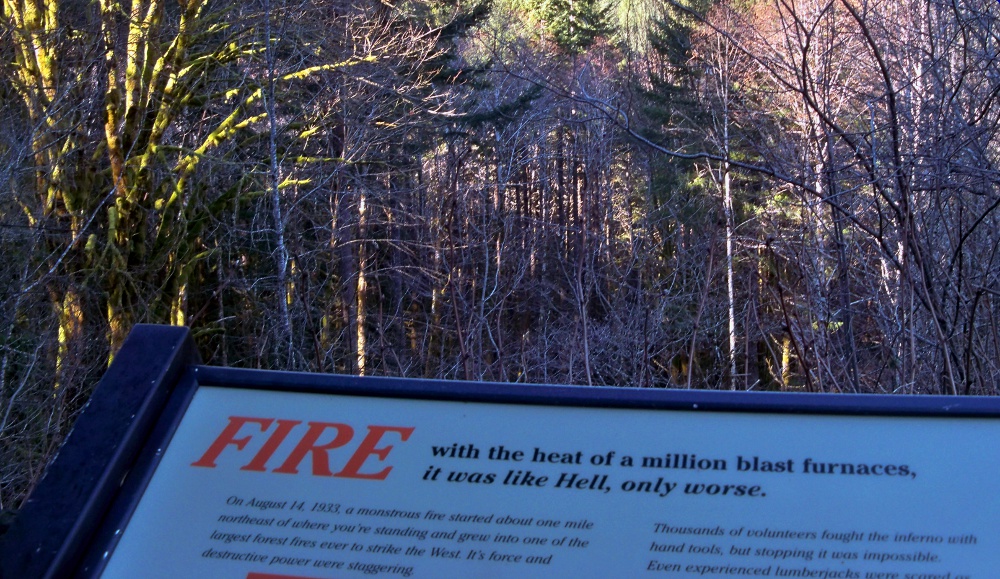 "It was like Hell, only worse" is perhaps the greatest quote ever from an info sign. After cresting the coastal range the road (route 6) snakes its way along the Wilson River down toward the coast. The river was really clear and turquoise and I was surprised to see people fishing in it this late in the season:




I hope to try and kayak this river in the Spring. I believe it's a class 2+/3. After arriving in Tillamook and getting some ice cream and cheesy goodness at the factory, we started heading South. Unfortunately, I got stuck in traffic almost immediately:




We turned off of the 101 to take the scenic 131 along Netarts bay. This section of the drive was really beautiful and set the tone for the remainder of the day. After passing the bay we started an uphill climb through Cape Lookout State Park. Here's a view looking South from the road on the uphill:




Although there were some enticing hikes that would have probably provided good views, we decided to keep going and relish the views we got from the bike or in pullouts. The first town that we arrived in was Pacific City. The first left turn allowed us to drive down to the beach. We were surprised by the size of the waves, approaching 10 feet or more here: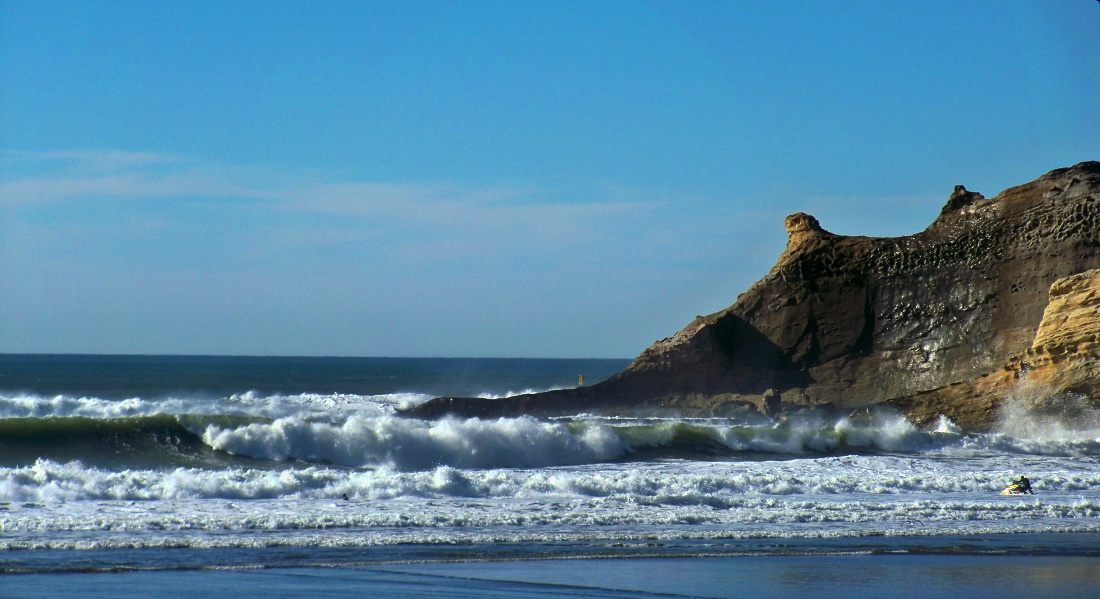 An indication of the size of the waves can be made by looking at the man on the Sea-Doo at the bottom right corner of the picture. Also visible from the beach was a towering stone monolith much like the one at Cannon Beach:




After passing through Pacific City we passed Lincoln City before returning to the scenic beauty of the coast. There were many beautiful bays and vantage points to see the massive surf. The next stop we took was at a small park at Boiler Bay, north of Depoe Bay. The waves here were absolutely massive, possibly the largest I'd ever seen in person. I'd estimate 12-14 feet at maximum size. Here's a couple pictures of them crashing:




It's hard to get a sense for their height from the photos because there's nothing to compare them to. Another cool aspect of the waves was how they pipelined. Many of them created ideal surfing/boogieboarding pipes as they broke. Our next stop was at Otter Crest State Wayside where we were rewarded with an amazing view South towards Devil's Punchbowl State Park:




Zooming in along the nearby coast we spotted some people scrambling among the rocks near a small waterfall:




As we continued further we passed a couple large bays and then entered Newport. This was the largest city along our trip and by this point it was afternoon and we were thinking about where we might stop for dinner and lodging. We decided to keep going to some of the smaller towns further South in the hopes that we could find an affordable beachside motel. As it turned out we ended up getting dinner in the town of Yachats and staying at a small motel North of here called Deane's Ocean Front Lodge. The manager of the property was incredibly kind and rented us a room for a very reasonable rate. I ended up having some issues that evening due to responsibilities I had for OHSU. I had intended to do some remote work that night but the motel wifi was firewalled, preventing me from VPN'ing into work. As a result I offloaded the responsibilities to my backup and in the end he failed to follow through, so we both really dropped the ball. Oops! Nevertheless, the motel was a relaxing spot and we spent some time at the fire pit near the beach and down on the beach itself at night. In the morning I captured this shot of the motel:




and this shot of Janel enjoying the view from above the beach cliff:




The weather remained so good that we decided to do a quick hike that morning called the Hobbit Trail. Here's a few pictures from the hike:




After the hike we continued South to Florence and decided to stop for lunch. We found an amazing Thai restaurant called 'Best Thai Cuisines' (not a good name) that was unexpectedly good. Then we refueled and started back East on the 126. This drive through the coastal range was even more scenic than the drive on the 6 and was warmer since it didn't reach as high elevations. Once we crossed the mountains we arrived in Veneta and decided to stop for some nostalgic flavored frozen yogurt at Dairy Queen (yum!). Then we turned North on the 99 and drove the rest of the way back to Portland on this beautiful route. We had anticipated that the 99 would be more enjoyable than the 5 but we had no idea it would be as nice as it was. The rolling coutryside and minimal traffic allowed us to really relax on this stretch. We also passed through Sherwood (Janel's home suburb) on our way back into Portland. We arrived just in time to catch the last half of the Super Bowl (haha) and get some of the grub that Jared and friends had made for the game.
Braid
After the coast trip I spent a week ensuring that I wouldn't get fired at OHSU. Once things settled down there I found myself with a bit of free time in the evenings and decided to try a video game that Dan Coatta had recommended to me. It's called Braid and it has a reputation for being one of the most creative independant games ever made. Here's a picture of the opening screen: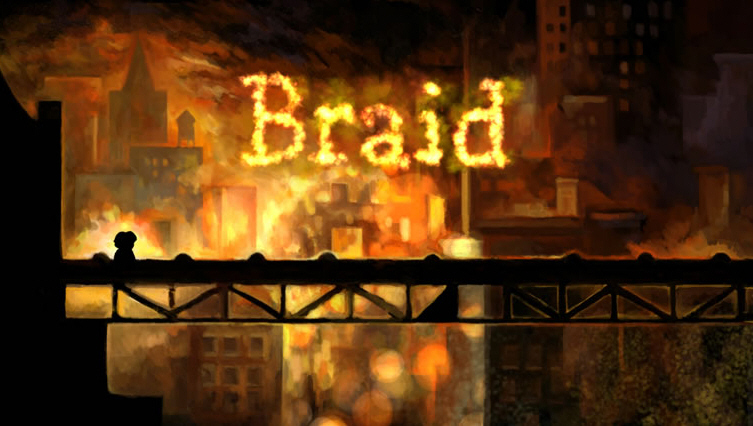 This is the image that appears when you launch the game for the first time. There's no menu or introduction. Soon enough you realize that you can move your character with the arrow keys and as you run to the right the background seems to morph and drift as in a dream. You enter a building and, walking through a door, appear in a cloud room where there are storybooks to read, and fill the player in on the backstory. The only takeaway from reading these morsels of text is that the main character has frequently made mistakes in a relationship with a girl, and he wishes it were possible to immediately learn from and take back mistakes. Interesting enough. So anyway, after continuing through another door you find yourself in a beautiful outdoor environment with lush colors and pleasing music. There are puzzle pieces that you are expected to collect, and each one becomes progressively harder to gain as you must unlock puzzles. Eventually you will make a mistake and the character will die. But instead of going to a menu, or restarting you at the beginning of the level, the screen goes grey and a small shift key is shown near your dead character. When you press the shift key, suddenly time goes in reverse, to before you were dead, and your character and all other moving objects on the screen are rewinding! So the game is basically a puzzle game in which time plays a crucial role, and all mistakes, regardless of consequences, can be reversed. It's an amazing concept, and although the game only took me perhaps six or so hours to beat over a couple of weeks, I found it incredibly enjoyable and engaging. If you are a fan of puzzle games, I highly recommend it! Here's a youtube video that shows the first world of the game. Don't watch for too long or it will be a spoiler:




Yoga Fire!
Sometime in January, Janel forwarded a groupon to me for an unlimited month of yoga lessons at a nearby studio (in fact, only 5 blocks from my apt). I had been wanting to do more yoga for awhile, and I figured it would be good training for me before I started climbing again, so I embraced the chance and bought the groupon. The studio has an interesting name:




I started going to daily classes once I received a yoga mat in the mail. I had wanted to spend more time studying asanas before starting but eventually I realized that if I didn't go, I wouldn't have the motivation to study, so it made more sense to just do it. In the end, I've really enjoyed the classes. I think they are generally very good for restorative fitness and rehabilitation, and I also find the spiritual side to be a welcome addition in most cases. I think my yoga practice can go hand-in-hand with my Vipassana as I learn to open up my body and become more connected with the sensations and feelings of the various asanas. In fact, I would really like to do a more intensive yoga retreat, and am currently looking for something that would suit me. Ironically, I feel that the general tone of most yoga retreats is more like a vacation, which isn't what I'm looking for at all. In the end I think it's possible that I might take a teacher certification course, since these tend to be much more rigorous, although I obviously have no plans to teach.
A Short Vipassana Course and Wahclella Falls
In the middle of February I decided to take another Vipassana course over a long weekend. This would be my first course as an 'old student' and I was very interested to see how much benefit I could get from such a short course. In addition, the course was being held at Dhamma Kunja, the northwest vipassana center in Onalaska, Washington. I'd heard that the facilities there were really nice, and I was excited to finally get to check the place out. In the end, the experience was everything I had hoped for. I become more grounded in the technique, experienced 'the process' despite the shortened nature of the course, and I met some incredible and inspiring people, another unexpected benefit of my path into Vipassana. One thing that I hadn't anticipated was the amount that taking this course, and meeting these people, would have on my overall willingness to stay put in my current path in life. Much like after Burning Man, wading in the spiritual waters has imbued me with a restlesness and desire to embrace this beautiful side of life, instead of continuing to allow my energy to be tempered by the sterile office environment. As a result, I have come back more firmly resolved to transition to a full-time remote situation. My current plan is to only stay at OHSU a few more months before leaving, perhaps until May.
The day that I returned from Vipassana, Adinah, Clay, Anthony and Romi decided to go for a hike in the Columbia River Gorge. The trail was to a waterfall called Wahclella Falls. It was raining lightly and somewhat cold. A typical February day in Oregon. The hike started with a short walk up a slightly inclined dirt road to a sluice gate that was unlocked and fuckwithable. I gave it a few turns before deciding it was more effort than it was worth. After this the route became a proper trail and the terrain became more canyonlike. There were many waterfalls entering from the sides of the canyon, including this one right next to a bridge on the trail: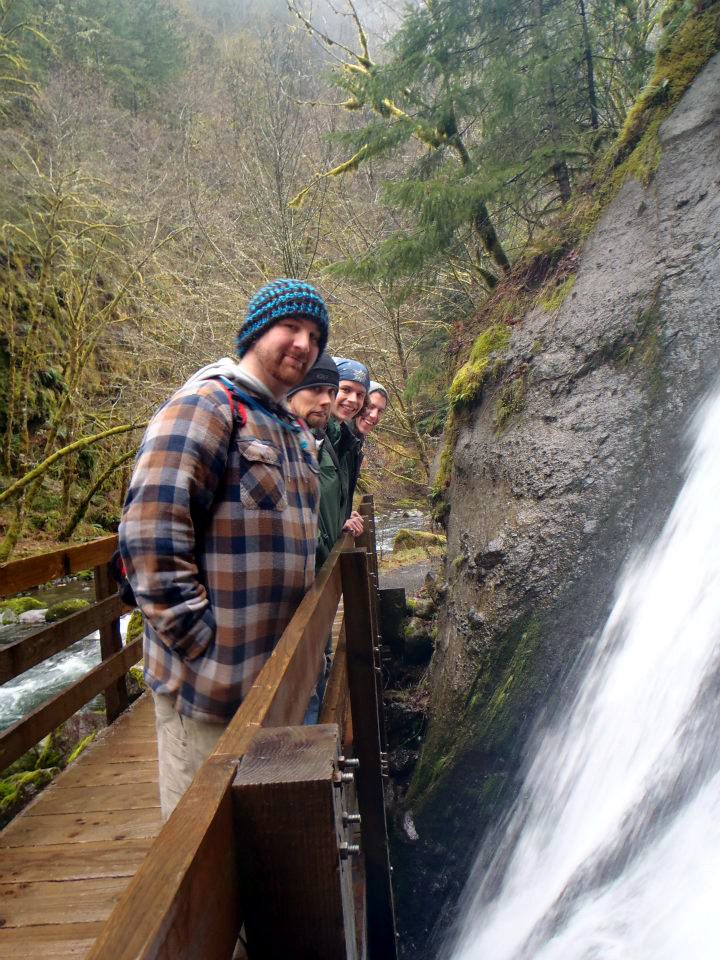 As we continued the canyon became steeper and the walls taller. There were many beautiful small waterfalls that may have only been present due to the rain. Here's a couple pics containing one of them: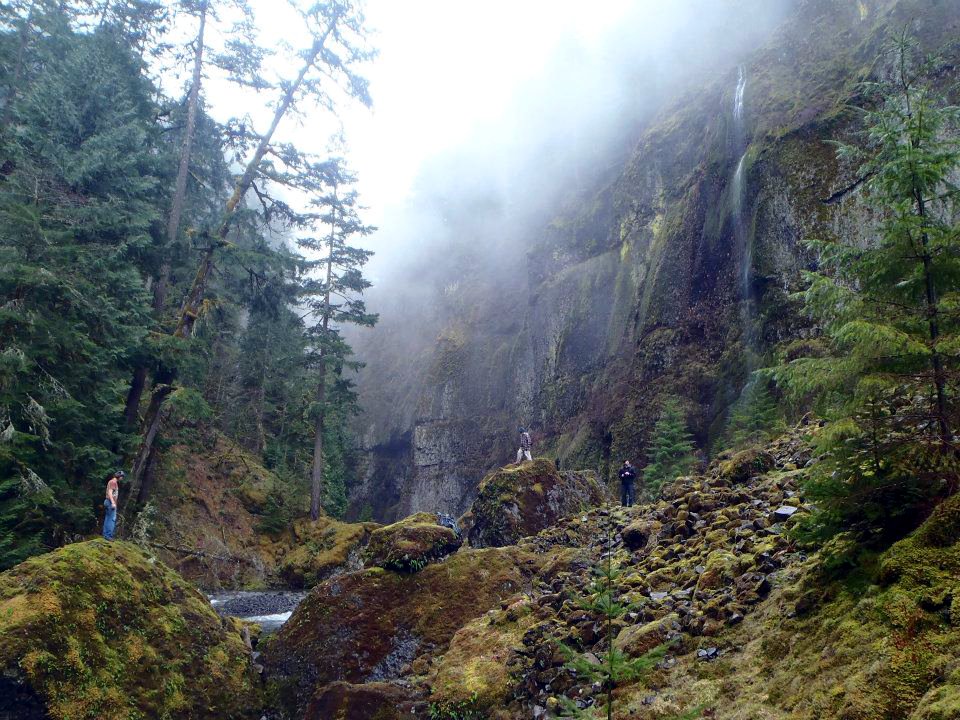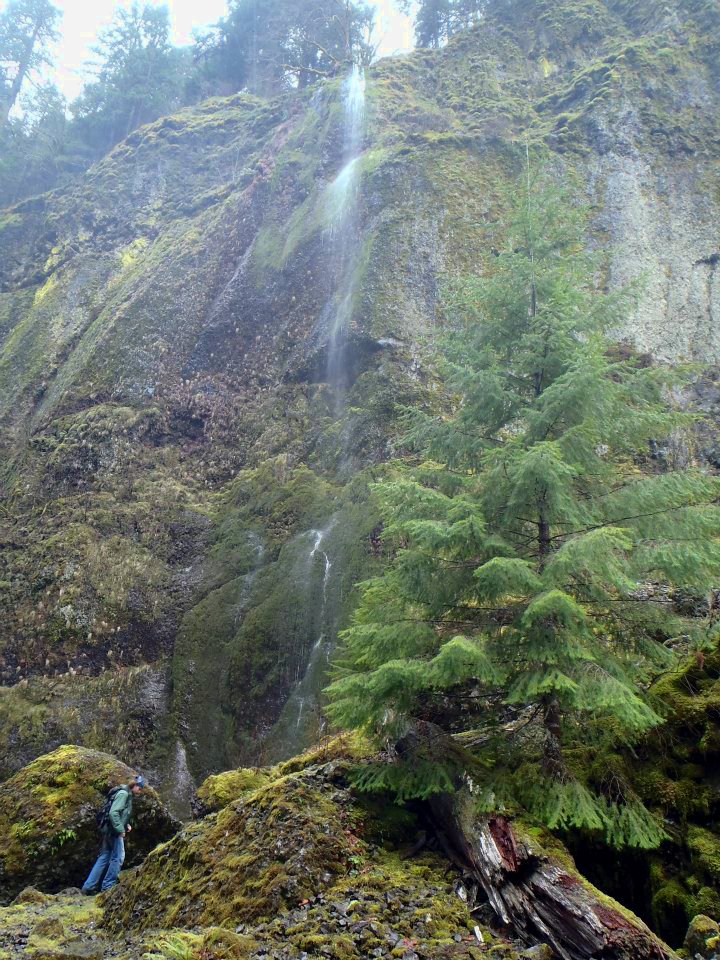 There were also many large mossy boulders that were in the watercourse and fun to play around on:




Further up the canyon and near Wahclella Falls proper, there was a small cave that was about three feet high and eight feed wide. It appeared to go back for quite a ways. I arrived at it first and decided to head in. I got about 30 feet in to where it was too dark to see anything further, and I waited meditatively for the others to discover it. Here's a picture looking back into the cave from this point: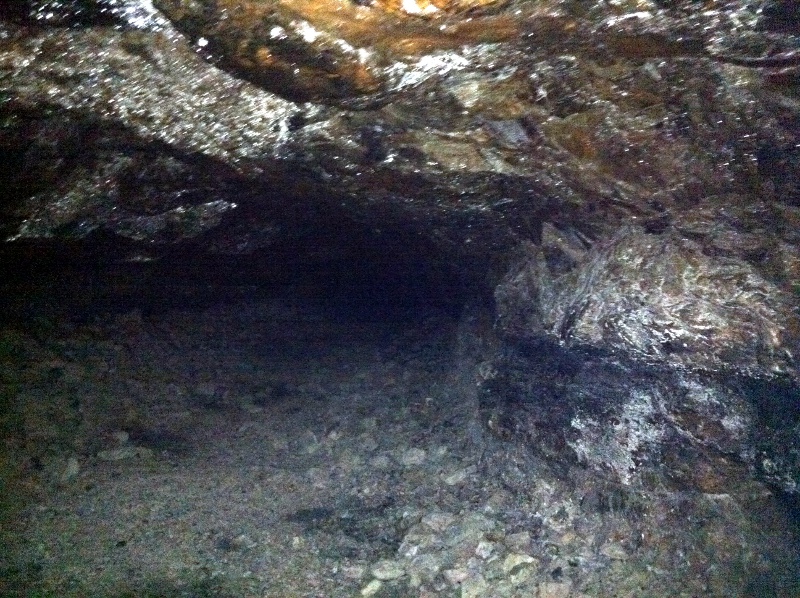 Once everyone else caught up we decided to explore further, using our iPhones as flashlights. The cave continued for another fifty or so feet and culminated in a small 'room' that was relatively dry and had enough headspace for us to sit down. The four of us sat in a circle and decided to OM for a few minutes. The reverberations in the cave created a great sound and it was a wonderful experience. After we birthed ourselves from the cave I attempted a silly colinstunt and got my left foot soaked. Then we crossed this bridge:




And finally arrived at Wahclella Falls: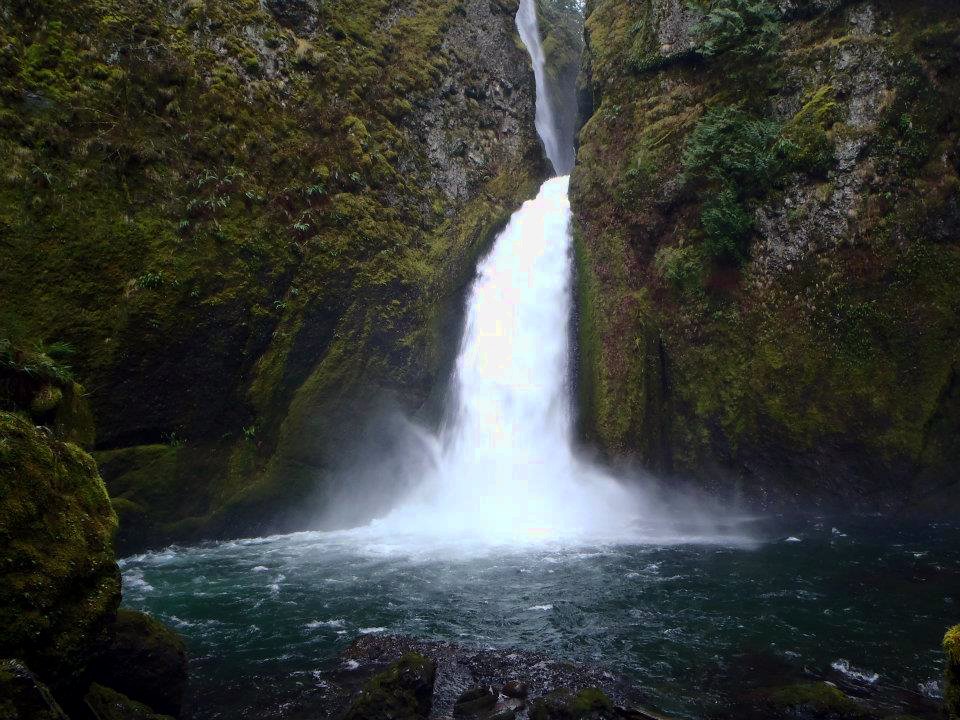 The hike, although only one mile long,, was incredibly beautiful and actually my favorite hike thus far in the Columbia River Gorge. I think it's an ideal half-day hike for Portland visitors to give them a taste of what nature in the NW is all about!
The Washington Coast Weekend
During the week after my three day course Janel had taken off work to stay at a cabin on the Washington coast. The plan was that I would visit her for the last few days up there the next weekend. I was hopeful that the weather would be good, but the forecast called for 100% chance of rain, intense wind, and cold. Nevertheless, I wanted to see her so I jumped in my car on Friday evening and made for Astoria. For some reason I decided to take the 26 to the coast and this turned out to be a really bad idea. Since the 26 goes through the coastal range, this took me to higher elevations and into a foggy snowstorm. It was pretty miserable driving but after a couple of hours on the edge of my seat I had crossed the mountains safely. Another hour or so later and I arrived in Long Beach, Washington and found the cabin on the beach where Janel was staying.
The next day afforded us the opportunity to explore the beach. While the forecast had been really dire, in reality the high winds caused the weather to fluctuate rapidly. Periods of warmth and sun were interspersed with brief storms. In fact it was really beautiful. The waves were very choppy and foamy and the wind pushed this foam onto the beach where it disintegrated from contact with the sand. The effect was almost magical. I realized that people who lived by the weather forecast would never get to see such a beautiful natural phenomenon. That night when we returned to the beach the tide had gone out, creating a very large tidal flat with a quarter inch of standing water. This layer reflected the sky so perfectly as to be a mirror. Another shockingly beautiful and unexpected scene. Unfortunately I failed to capture any pictures :-/ I felt really blessed to have been able to visit Janel for the end of her week on the coast. The peaceful, natural environment perfectly matched my meditative experience the week before. I derived a strong feeling of harmony being with her there, and this feeling will stay with me for a long time.
Another Return to Climbing
After taking three and a half months off of climbing to allow my finger tendons to heal, I decided to slowly make a return to the sport starting in March. Because I was still very concerned about the health of my right ring finger, I decided to both aggressively tape it as well as wear my customized hose-clamp tendon wrangler from the previous year. With these two safeguards combined, I felt comfortable doing some relaxed climbing at the Portland Rock Gym. In addition to my return, Janel had finally taken the plunge and decided to see what climbing was all about. For a few weeks in March, Anthony, Janel, Romi and I were all climbing together, and it was a blast. On my first day back I was pretty pitiful, but on the second day I surprised myself by climbing the finger crack with only one foothold on the face. By the third day I realized that I had not lost nearly as much ground as I expected, and I became increasingly excited about my prospects for this year. On top of this, the PRG was planning a massive addition to be built in April, so I had lots to look forward to both indoors and out! In terms of the n00blings, Janel started at a respectable 5.8 level but has since amazed me with her rapid learning ability. She is adopting technique much more quickly than most climbers and is already breaking into the 5.10- grade after one month. Romi magically turned out to be a natural climber and sent a 5.9 without chalk on his second day. He is also starting on the 10's already. Anthony has also improved and is solid in the 10 grade at this point. Of the three of them, I am most concerned about Anthony getting injured since he is pushing himself so hard. Fortunately he is staying self-aware and realizes that he might need to take it a bit slower this year...
CyPace Update
Sometime in February the negotiations between Top Tier and CyPace took an interesting twist. The folks at Top Tier, although still very excited about the possibility of buying the CyPace assets, were starting to drag their feet due to concerns around Epic's involvement in the marketplace. As time wore on, we also became increasingly frustrated with the pace of movement. Around this time, Jasmin Patel, someone familiar with CyPace who had helped us when we originally secured our development partnership with Talbert in 2009, became aware of the negotiations and was interested in seeing what part his company, SERJ Consulting, could play. In recent months I had started doing some contracting work for SERJ with Sutter Health on the side of my OHSU work, and I was also very excited to see SERJ involved. At first I tried to hook up a partnership between Top Tier and SERJ, but some fumbling on Top Tier's part left Jasmin waiting at a restaurant with nobody showing up. This frustrated Jasmin and led him to make a counter-offer which was very appealing. During the next few weeks of back and forth between SERJ and Top Tier, Greg and Scott at Top Tier got the impression that they were losing their grasp on the deal. As a result, the two of them flew out to Portland for a day to try and establish a more solid relationship with me. Surprisingly, instead of being a really business-focused trip, it had a much more personal vibe and was really enjoyable. As a result, I tried to rekindle some kind of cooperation between Top Tier and SERJ and was somewhat successful. At this point it appears that SERJ will end up buying the assets of CyPace and Top Tier will be an implementation and project management partner. As a result of grooming this close relationship with Jasmin and SERJ (for both CyPace and my contracting work), I decided to plan a hybrid business/personal trip to Sacramento and Los Angeles to meet with the folks at Sutter as well as spend time with Jasmin in LA (and of course make a stopover in Pasadena).
A Triple Trip
I left for Sacramento early in the morning on March 8th. The flight was direct and was my second on a Q400 turboprop. One of the nice things about these small planes is that they flight relatively low, and since it was a clear day I got a good look at a couple amazing natural landmarks. The first was Crater Lake:

**Pic of Crater Lake from Airplane**

And the second was Mt. Shasta, a large volcano in Northern California:

**Pic of Mt. Shasta from Airplane**

When I arrived in Sacramento Jasmin picked me up at the airport. We went directly to the Sutter Health offices where we were able to meet with some folks that were involved with some of the projects I was working on. At lunch we grabbed some Chipotle and then returned to the offices for the afternoon. One of our main priorities for the day was to demo the CyPace technology to the Sutter folks, but unfortunately only one person out of the four invited were able to attend. This is one of the things that really bugs me about managers and executives in corporations; most of them seem to be completely unreliable. Anyway once we finished up Jasmin took me to get Indian food at a place that he claimed had the best Indian food he'd found in the states. I had no idea what I was in for. The place was called India Oven, and the meager name and the fact that it was located in a strip mall had me less than psyched. However, when we entered, Jasmin knew all of the employees and spoke to them in some Indian language. When he ordered he made all sorts of modifications to the dishes. He said the purpose was to make them even more authentic and healthy. The result was easily the best Indian food I've ever had. It was fantastic! The complexity of the flavor in all three of the 'blob' dishes was amazing. We ate by using Nan to pick up the blobs with our hands, traditional style. There was way too much food but we managed to eat the majority of it. After we finished we left for the Sacramento airport to catch a flight to Long Beach.
When we got to Long Beach it was already pretty late so we went directly to Jasmin's home in Yorba Linda. His house was rather large, and in a really nice area but had a humorously small amount of furniture in it. There was tons of just open space :-) Jasmin, being as busy as he is, appears to not have enough time to spend the money that he is making! ;-) I met his wife that night and she was really nice. His children were sleeping but I got to meet them the next morning when I was treated to a traditional Indian breakfast. The food was very different than any breakfast food I've ever had. It was very heavy with spices and not full of carbs like western breakfasts. I was very lucky to have gotten a chance to try it. Around 9am Jasmin and I left to drive up to Pasadena. He had a meeting with some Kaiser folks at the Parson's buildings in Pasadena so I decided to join him to say hello to the folks up there. Among the people I ran into was Ranjith Pasumarthy who I went to get coffee with. I also spent some time talking to Stephanie Bonafacio and had a surprisingly good conversation with her. All of this left me in a really good mood and around noon I decided to walk to Pasadena Gateway Villas to rest for a bit.
Within a few minutes of arriving, Ivan and Max's roommate Hakima arrived home. Although I had briefly met Hakima in October I was unaware that she had moved in with the guys and I had never had a chance to talk to her. This meeting was an unexpected pleasure as we immediately found lots of things to talk about and areas of common interest. I was moved by her appreciation for the apartment's Wall (of vinyl and posters) and for her views on love and compassion. We spent a few hours chatting before she had to go to work but this put me in an incredibly positive mood. I managed to get an hour or so of sleep before Ryan called and came over. He and I went out to grab food stuffs for the evening and after Ivan returned we decided to head over to his house. Once there I got to hear about all of the exciting trips that the team had been on (including a climbing trip to Red Rocks that sounded amazing) as well as their plans for May which included a canyoneering trip to Zion and a packrafting trip down the Grand Canyon! Of course I was incredibly envious of these plans but then realized that their timeline for the trip was the week after my last day at OHSU! In addition, they had a few more spots open, so I am now planning on joining them on this amazing adventure. The only other thing of note from the evening is that Brian Cornelius has started brewing his own beer. While this is not particularly relevant to me given my late near-abstinance from alcohol, I still found it cool, and after tasting one of his IPA's felt like his was the best home brew I'd had yet. Here's a picture of him doing something with a beaker related to brewing:




After hanging out and enjoying some homemade pizza for awhile, we returned to PGV and Ivan, Hakima and I chatted for a bit. Since we planned to head to the Quarry the next morning, we tried to get to sleep at a somewhat reasonable hour.

The Quarry 2012
Joining Ivan and I for a day at the quarry on Saturday were Hakima, Pru, Ryan, a guy named Keane who I hadn't met before, and one of Ivan's co-researchers at Caltech, Andrea. As my first day outdoor climbing this year, and given that I'd only gone indoors three times this year, I had low expectations for myself at the quarry. I anticipated perhaps climbing a few 5.10's but largely avoiding anything harder than that. I also didn't anticipate leading anything. In the end, my excitement, inspiration and the perfect conditions resulted in something completely different. I ended up having an amazing climbing day! To start it off I led Whammy (5.10b) to get a rope going for the less experienced climbers in the group. This lead was somewhat difficult for me and furthered my original expectations. After this I had a top-rope run on Tangerine Dream (5.10d) that actually went quite well, no falls. Next I suggested that we head over to the Slander Sector to do Fueled by Slander (5.11b) which most of the group hadn't done. Keane joined me and we debated at the bottom who should lead it. Although I felt it unlikely that I should lead, he wasn't really interested in trying so I stepped up. I loosely remembered the beta at the crux but this didn't stop me from requiring a couple of takes to sort it out. I nailed it on my third try, however, and completed the climb on the next go. This felt great!

**Pics from Quarry**

After finishing I returned to Tangerine Dream to clean the anchor while the others tried Fueled By Slander and its neighbor Mudslinger (5.11d). Andrea belayed me on Tangerine Dream this time and I had an amazing time on it, sending without problem and feeling strong on the upper crux. After this I joined Ivan and Keane on Mudslinger. Ivan had just one-hanged Technicolor Tango (5.12c!!) and was a bit too pumped for the crux of Mudslinger, so Keane mopped up and handed me the top-rope. I took a few tries at the crux but sent the top without error. Considering how hard the crux was this left me feeling really incredible. Next I tried to lead Flesh and Blood (5.11b) and was unable to pull the crux roof 80 feet up. Being lowered off was kind of a downer, but I still felt great. To finish the day I top-roped Trundle Trophy (5.10c) for my seventh climb during the sunset.
Pastels
After returning home, exhausted, we spent the evening hanging out at the apartment (and maximizing our use of the hot tub). One of the main changes to the apartment was the addition of tons of pastels all over the walls. Here's a view of the ones they'd put above the fireplace:




Although I was apprehensive at first, Ivan invited me to create my own that evening. The only visual imagery that I had was the strong impressions that I had gotten on my recent visit to the Washington coast with Janel. I decided to start with that and go from there. The result, which I am only semi-satisfied with, is my first pastel as an adult:




Creating this art was a great way to spend the evening and I really admired Ivan for creating this space for people to express themselves. The next day Ivan's new roommate Joseph returned and threw a party at PGV to celebrate his birthday. We helped him to get organized and then spent most of the afternoon out at the pool playing chess and sunbathing. Ivan and I ended up tied this trip with 2 wins, 2 losses and 2 draws for each of us. At some point Max returned from the trip he was on and joined us. After most of the partygoers left, some more of Ivan's friends arrived and we had a group pastel evening. Here's the group:



From left to right it's Antha, Max, Ivan, Justice (Andrea's boyfriend) and Andrea.

We decided to play a game like visual telephone, where each of us would create a pastel on a small piece of construction paper and then pass it to the left to someone who would create a new pastel based on, or inspired by yours. This would continue for several rounds. Here's a picture of the work in progress:




We spent several hours making pastels and the end result was pretty incredible:




In this picture each of the 'sets' is placed together. The one that I started has the lake and rainbow and somehow ends up like a snowflake. My favorite sequences are the top one, of a robot, that Max started and Justice finished (both virtuosically) and the palm tree/beach one. Once again I was in awe of the quality of the time spent on this, and after it was over I felt a strong need to ruminate on the value of experiences like this, and the ability for all of us to create more spaces like this in our lives, and for other people. Incredible! The next morning I returned to Portland, inspired by Ivan to find ways of giving back.
Hospice Patients
When I returned, a very good way of giving back materialized in the form of being assigned two hospice patients. Although they typically do not assign dementia patients to first time volunteers, Michele (our volunteer coordinator) felt comfortable with me taking on these assignments right away. My first visit to the center was with the social worker, Alex, and his presence was vital in allowing me to acclimate to the environment without fear and apprehension. By observing his manner with the patients I was able to pick up on effective methods of communication and this allowed me to hit the ground running. My first visit lasted about 90 minutes, and after it was over I felt profoundly happy with both my patients and the nature of the work that I was doing. In fact, I felt very little trepidation about returning again on my own. Since this first visit I have been back for two visits alone and things are going wonderfully. I still have doubts about myself and there are empty moments where I feel I could do more, but I understand that this is a process and that I am just starting out.
Tree Down!
Saw this on my way home from work on the first day of Spring:




Speaking of Spring, onto the next section...

Forward to Spring 2012
Back to Index