Back to Index
Back to Madison Winter 2004-2005
The winter of 2004-2005 set a bad precedent for my time in Madison. It was undeniably colder than any Rochester winter I had seen, and despite the far lower quantity of snowfall, the snow seemed to cause even more problems. As you can imagine, I was extremely happy to return from UVA and find that things had warmed up substantially.
I figured it was about time to do something with my hair, and since I had so much of it, I decided to do something a bit more interesting than just hack it all off. I asked around at Epic about a good 'hair place' and Cha Cha on Mifflin St. was recommended to me. I found some pics online of what looked pretty cool, and brought it with me there. The work wasn't easy, but after they were done, my hair had completely transformed into this:




It looked better on some days than others, and over time it continued to get longer and crazier, and I loved it. The only downside was the fact that I had to use a straightening dilly every day, so I kind of felt like a girl.
In other news, early each spring Madison holds the worlds largest brat fest. People from all over the midwest come to choke their arteries with cheap links of pig parts. Here's a picture of two of my favorite germans at the festival:




Sometime in the spring, I got drunk at Brocach with a new Epic person named Nathaniel. After bar time, we got pretty hungry and stopped by Q'doba. The line was so long that it extended out the door. Not one to care about other people, I immediately cut in at the front. I was so drunk and obnoxious that I started asking everyone what kinds of beans they preferred. If they answered anything but Black beans, I told them they were wrong and racist. One girl who we had just budged behind was going along with it a bit, and I antagonized her a bit more. I eventually found out that her name was Dana and although she was there with some other dude, she gave me her phone number under the condition that we met 'platonically'. Haha, little did she know :)

Anyway, after about two weeks, I was drunk at the Essen Haus and we decided to walk over to the Weary Traveller. On the way, I figured I would give Dana a call and see if she remembered me. At first, I got nowhere, but when I said 'the guy with the hair' something clicked and we talked like old times. Each time we met up, we had a ton of fun together. She decided to come along with me to the Intonation Festival in the summer. Here is us together on the ride down:




The festival was amazing! All together it was Jared, Mindy, Dana and I who went, and we stayed overnight in a hotel downtown. Some of our favorite performances were the Wrens, Tortoise, the Decemberists, Xiu Xiu, Andrew Bird, Broken Social Scene, Les Savy Fav, and others. I brought my digital camcorder and made a DVD of the second day. It is pretty fucking awesome. Let me know if you want a copy. Here is a picture of us listening to some swank tunes:




Jared lost his sunglasses but thankfully found another pair:




Upon Jared's request, we ate breakfast one day at a true Chicago deep dish pizza place. The cheese was the most malleable I'd ever seen:




Back at the hotel, things got a little nasty between Dana and I, so I had to bust out my giant pillow penis to put her in her place:




In the summer, Martin and I decided to move into a new apartment downtown in a building called the Madison Mark. It was a huge improvement from my place on Langdon. Most of our friends moved out to the west side, but Alex stayed downtown in an apartment near langdon with three of his friends. Here's a picture of them with Martin:




From left to right it's Marschwanz, Tommy, Whitney, Rishi and Alejandro. Speaking of Alex, he had his birthday sometime in the late summer. Here's the stallion himself with MK (Gorman and Jevans are in the background):




We also met several of Alex's lady friends who worked at Marshall Field's. Little did we know that this would start a weird sequence of meeting Marshall Field's girls (in Martin's case, hooking up with Marshall Field's girls...) A couple of them posed for this fine photograph. It's Hannah and April: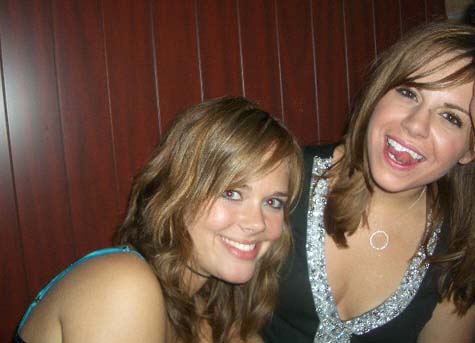 Also late in the summer, Dana and I had somewhat of a falling out, and we stopped seeing each other. I felt this was very unfortunate because she was such an amazing girl. However, my friend Zach was visiting and I wasn't going to let anything get me down. We also discovered that every Thursday night there was a DJ at Bullfeather's who would play techno. One thursday, we prepartied at Alex's before heading over. We had enough people to bust out a game of flip cup:




Later, we left for Bullfeather's and let loose. Here's a picture of me dancing with Jicky:




Jared shaved his head and joined us for once, and another cool guy named Rod joined us as well:




Around the same time, or perhaps a lot earlier, I can't remember, Tye Cook also had a birthday party. Here's a picture of the birthday dudez0r dancing on a table in his own house:




The theme of his party was crazy t-shirts. It was a drunken festival of a party, and a lot of beer ponging and fighting occurred. In the end though, the best t-shirt award was given to John Evans:




Here is a picture of him with his two runners up:




I wore my triple popped polo shirt outfit, which didn't quite qualify according to the rules. Oh well.

At some point in the late summer, Jared and I decided to take a last minute trip and go kayaking in the sea caves of the Apostle Islands in northern Wisconsin on Lake Superior. Unfortunately, we had neither kayaks or a rack to mount them on Jared's car. Thankfully, we double as carpentry gods, and managed to assemble the rack with only $30 in stuff from Home Depot (and a rug we picked up on the side of the road). We planned to leave on a Saturday morning, so on the Friday night, we bought the kayaks and carried them out into the parking lot where we were assembling our rack. It was thundering all around us, but we managed to finish the work just before it started pouring. Here's a pic of Jared's car with the kayaks on top: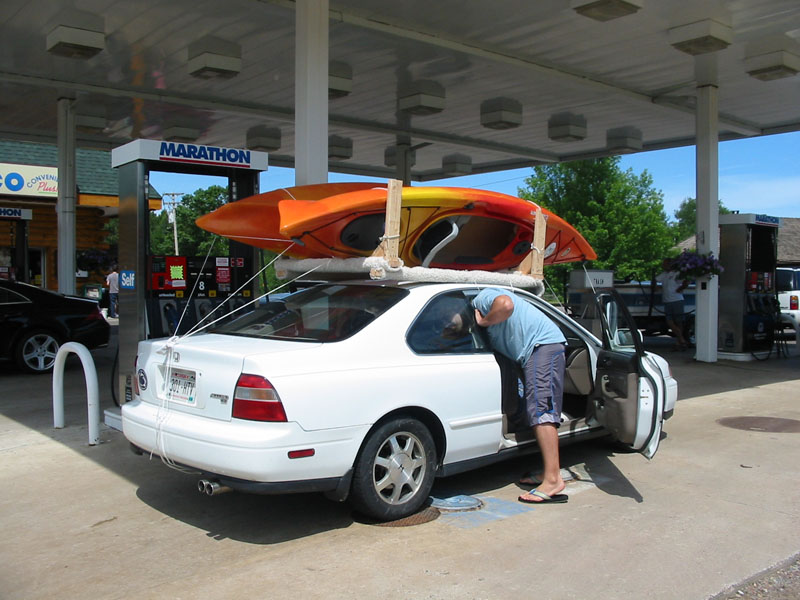 The drive to the launch site was about six hours. Here's where we put in:




Once in the water, we has about two hours of kayaking to make it to the sea caves. On the way, we found some nice looking cliffs to climb: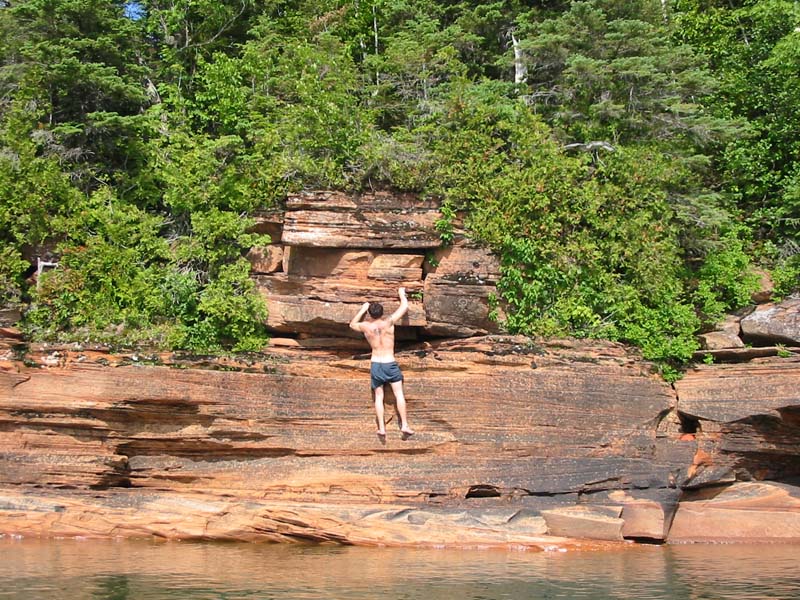 Despite the warnings about water temperature, I decided to leap in:




As expected, it was freezing cold, and I climbed out immediately. Jared wasn't up for a quick swim, so we continued on our course. After a few more minutes, we started seeing some indentations in the cliffs:




Then, some interesting rock formations started appearing.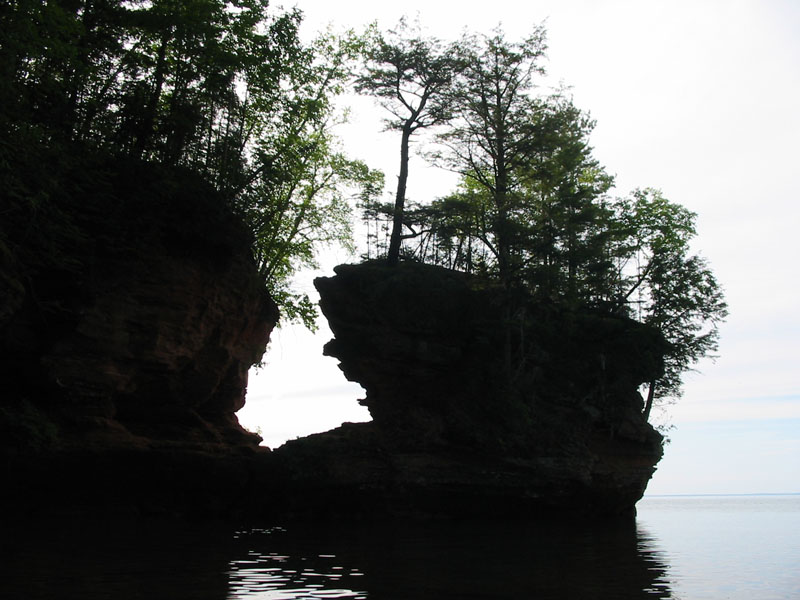 Finally, we started finding some caves to explore. Here we see Jared looking for some privacy to go wank:




However, I snuck around through the other exit and caught him. He wasn't happy about being interrupted:




Here is me exploring one of the longer caves:




The caves were about 80 feet long at the longest, which was shorter than we expected, but still a ton of fun to navigate in the kayaks. They also made really interesting noises with the waves. It was like a glub glub glub sound. Jared's kayak got stuck on some rocks and he had to do some portaging:




After we finished exploring the caves, it was pushing 6 o'clock and we needed to find a place to camp before it got dark. Since the cliffs prevented camping in the area we were in, we headed for the inside of a large island, whose shore should be protected from the waves. The paddle to our eventual campsite was brutal, and when we arrived it was already starting to get dark. I feverishly looked for a spot to set up the tent, but the dense underbrush made it almost fruitless. Because we were desperate, we ended up putting the tent up on some ground that was uneven and rocky:




The mosquitos started coming out, so I constructed a makeshift stone circle and prepared to get a fire going:




However, because we were afraid of being noticed by rangers, and also because the mosquitos raped us quicker than expected, we had to retire into the tent at a very early time. I have never in my life been in a place where the mosquitos were so bad. The air was thick with them. Several also made it into our tent with us. Unable to eat the sausage we had brought, Jared and I ended up feasting on starbursts for our meal. The uneven and hard ground also made it impossible to sleep, so Jared and I ended up just suffering all night long, unable to lose consciousness. Early the next day, we paddled back to the launch and returned to Madison.

In the Fall, I moved out of my place on Langdon and moved into a high rise building behind the Great Dane with Martin. It was apartment 701 in the Madison Mark, and we pimped it out heavily. Martin's couch and my sound/projection system were the highlights, as well as my wall o' vinyl.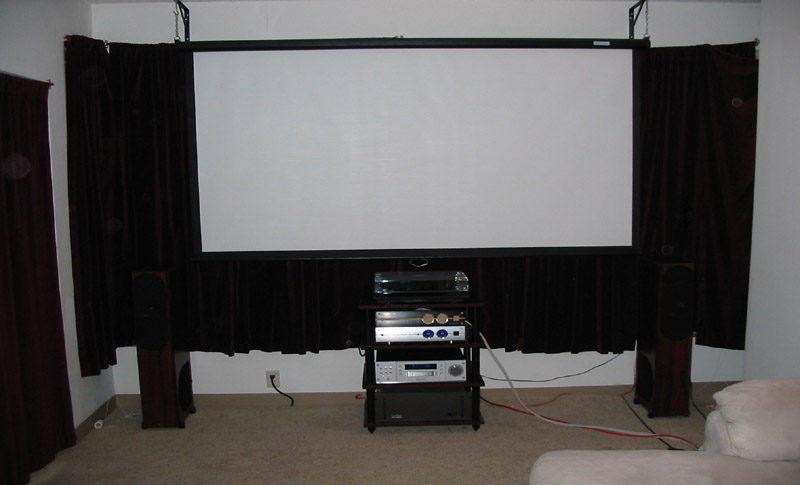 Later in the fall, Zach and John visited me. They had both just graduated in the summer and now Zach was living in C'ville and John had moved to DC with Gavin. One night we huddled around the hookah on our balcony. Zach's soul escaped through his mouth:




Then, the same thing happened to John: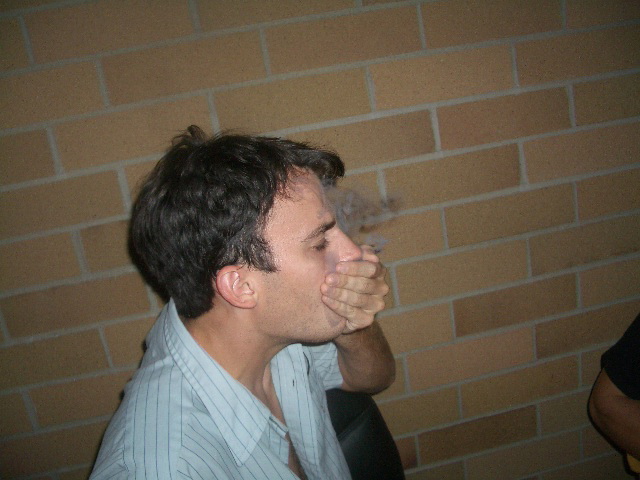 Finally, Martin came to the rescue and explained to us how to use the hookah without losing our souls: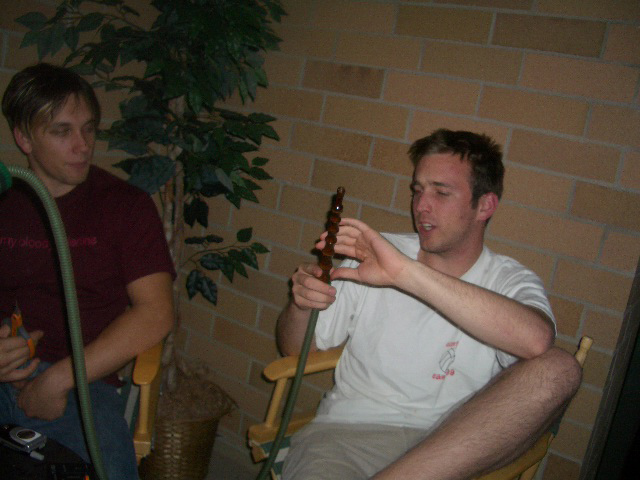 On a warm night in September, Martin's brother James visited from Wash U in St. Louis. We went to a party at Alex's place and noticed a ton of oddly dressed people walking by. We asked where they were going, and they said there was some sort of crazy coop party down the street. James and I ran down to try and get in, but they wouldn't let us without a costume. Since we didn't have anything with us, we decided to try and make something out of Alex's apartment items. Here's a picture of some girls puting eye makeup on James:




Next, we raided the kitchen area:




Here was my finished product:




Also, a spicy young lady decided to come along with us:




Sadly, the cops shut everything down before we could get in, so it was all for nothing. I guess we had a fun time anyway, and we looked hott!


Forward to Winter 2005-2006
Back to Index