Back to Index
Back to Winter 2009-2010
Spring of CyPace, Summer of Surgery
CyPace Update
During the Winter months things at CyPace started heating up significantly. We had finally released a production version of our software at Talbert Medical Center in October, and we were vigorously working on a potential sale to Kaiser Permanente. In addition, we had attracted some attention from an industry leader called Arcsight. We had several meetings with them to talk about possible acquisition. Between the Kaiser and Arcsight meetings I was making regular trips up to Northern California. We were also running a bit short on cash so we decided to attempt to garner some investment capital. This led us to the Keiretsu Forum, which is one of the premier Silicon Valley venture capitalist expos. We gave a preliminary demonstration to the directors of the forum over a web conference and were invited to be the 10th and final presenters at the conference itself. I felt that Jeremy was not doing a very good job presenting the information so I volunteered to take on the responsibilities of delivering the presentation to the investors. This was a pretty big stage. It was being held at the Microsoft headquarters in an auditoreum with about 600 people in it. I was the only one on stage and there were three big red timers visible to me counting down the laughable ten minutes that I was given. I also had to answer quick-fire questions for about two minutes. I'd never done anything like this before, and I remember that in Highschool I used to have some anxiety around presentations. I was excited to see how I'd deal with the pressure as an adult. As it turned out, I did a great job and was congradulated by many people. In fact, a professor at a nearby college asked for a copy of my presentation as an example of a good and well thought out pitch. In spite of this, however, there were few individuals there with any expertise in the healthcare arena and we only garnered a moderate interest. In the end we decided not to take any of the investment money since it became apparent that Kaiser would be paying us a solid chunk for a Proof of Concept (POC). Nonetheless, the experience was very valuable for me as a step in my development.
To prepare for the proof-of-concept with Kaiser, we had to significantly improve the software, especially in terms of performance and scalability. To achieve this, my workload was put into overdrive. It became regular for me to spend 14 or more hours a day programming. I continuously felt that the contributions of other people in the company were either of inferior quantity or inferior quality. This made the whole experience feel like a lonely and isolated solo mission as opposed to a team effort and I was not very happy. Happiness aside, it's pretty incredible that the human body can be so malleable for a driven mind. There have been times in my life where I simply could not muster the effort or the concentration to program for such a consistently long time without breaks. Programming is very mentally taxing but somehow my body adapted and made these work sessions possible. As summer approached, along with the start of the Kaiser POC, I would work even longer hours, at times for 30 to 50 hours straight. Obviously this was unhealthy, but I luckily persevered without ever becoming sick.
Raf's Birthday!
At the end of March is Rafaela's birthday (the 28th, to be precise). To celebrate, she had a party in old town one night at Le Grande Orange Cafe. This was one of my few evenings out during this point in my life and there were many people that I didn't know (mostly dancers), but I had a lot of fun. I felt a little socially inept from having mostly been staring at a computer screen the past few months. This is really not a good feeling, so I tried to just relax and stay in the background. Unfortunately someone snuck up and took a pic of me in my dazed state. Colin and Rafaela look really nice though!




Claudia drove down from Santa Barbara to come celebrate and Ariel from the leasing office came out as well with her boyfriend Matt. Here's a picture of them with Colin and Raf:




A couple weeks later Colin took Rafaela and her close friend Mary up for a flight in one of the Caltech Flying Club planes. Here's a picture of Colin and Raf in the cockpit:




And here's a picture of Raf and Mary at the concourse:




Mary and Raf cultivated a really good friendship together. I found her to be really outgoing and eccentric (in a good way) but we didn't really mesh well early on, again probably due to my social awkwardness. I was excited for Rafaela because she was developing into a really good dancer and had really embraced the art community. I tried to attend her shows whenever I could but unfortunately I had to miss some here and there due to obligations with CyPace. A couple that I was able to attend were held at Creations Dance Theatre in Silverlake. One of them, in March, featured Raf in several dance pieces alongside her friends Mary, Juan and Felicia. Rafaela also got to display and sell some of her artwork at this show. Here's a few pics: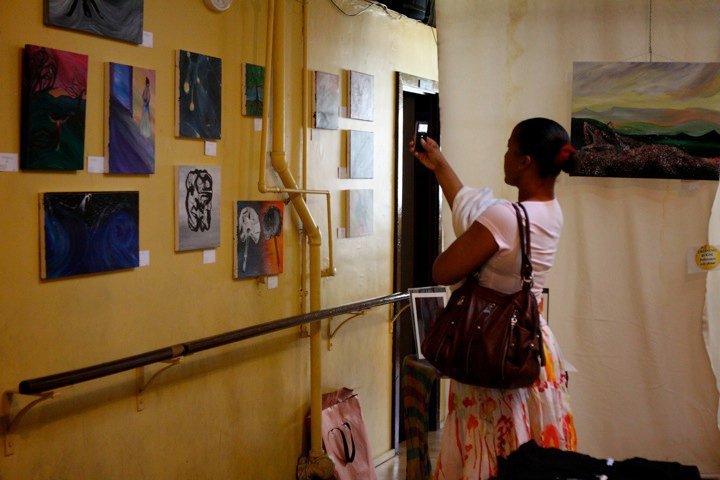 Raf's Artwork



Mary's Dead!



Mary, ???, Juan, Raf

Rafaela continued to paint and perform throughout the year, culminating with a big show for LA Unbound in September that we'll get to in the next section.
Group Trip to Joshua Tree
Sometime in early April, we planned a trip to Joshua Tree with a pretty large group. Because we had so many people coming, and it was the popular season for Joshua Tree, I decided to head out there myself early on Thursday April 8th to snag a camping spot within the park. I arrived at around 11am but was extremely surprised to find that the 'All Campgrounds Full' sign had been put up. I couldn't believe it. This was the first time I'd ever seen the entire park full on a Thursday morning. I decided to continue into the park anyway and try to find a recently vacated or otherwise hidden site. Apparently a few other vehicles had the same idea because there were several vehicles patrolling each of the campgrounds. I decided that I would have no luck in Ryan or Hidden Valley, so I sped directly to Jumbo Rocks, the largest campground in the nicer area of the park. As I drove around the loops of sites, I was disappointed to find all of them booked. Sometimes, when I didn't see a vehicle but I saw a ticket, I would still get out and scout the area to ensure that someone had in-fact dropped off some gear to mark the site taken and that the ticket indicated that the site was going to be reserved for that night. I did this several times and was really starting to get bummed.
At some point I was driving around a loop and I spotted three consecutive site posts, each with a ticket on them. I could only spot two campsites, however, and I decided to park and investigate. I ran up a hill behind the first campsite and found another site, quite secluded, that didn't have anyone or anything in it. I ran over to the neighboring site to ask if they'd seen anyone around. They replied that the folks in that site had just vacated that morning. I couldn't believe it! I was so happy that I had snagged a site that I immediately unloaded a ton of stuff and started parading around like the king of the world :-) I knew that nobody in the group would realize the service I had done for them, but I didn't really care, I was just excited that the stars had aligned to make it a nice weekend on one of my few times off from work. During the day I had lots of time to kill so I spent a lot of time with the kids from the neighboring campsite. They were really interested in climbing so I found a few safe places where they could imitate me and they had a lot of fun. I also let them play around with a few of my cams and they thought they were really cool. Once night fell I started a campfire but I soon grew pretty tired and cold without anyone else to keep my company. Colin was supposed to arrive with two friends at around 11 but I saw no sign of them. At about 1am I decided that they weren't coming and I decided to go to sleep.
At around 2am I was startled out of my sleep my Colin, who had just arrived with the two ladies. They were in high spirits from a jovial, yet long drive and I was not in the best mood. Nonetheless I roused myself and decided not to be too mopey. We built the campfire back up and had a few drinks and chatted for a couple more hours. Karly, one of the girls that Colin knew, had brought a ukelele and played a few songs, including the Postal Service song Such Great Heights, which was really cool but probably not very nice for our neighbors. In the morning I went over to apologize and they were really nice about it, although I knew that we must have woken them up at least once. On the second day Colin and Brittany went off to do some horseback riding so I gave Karly a short tour of the park. Here's a picture of Colin and Brittany with their horsies:




After they were done, we all met back up at the Real Hidden Valley. We decided to hike up the back side of the Sentinel and have lunch on top under the tree there. Reaching the top of the Sentinel without climbing is an exciting little hike because it's mostly smooth exposed rock and there's very little to hold onto at the steep parts. It's important to always help people at these places in case someone slips. If someone were to start rolling, nothing would stop them for hundreds of feet. At the bottom of this picture you can see some of the sloping rock in question. There's a couple people standing about a third of the way up:




From the top of the sentinel you can get a very good panaramic view of central Joshua Tree. Here's a shot facing the Wonderland of Rocks:




After eating Colin rested his camera on a rock to get this group shot:




Notice I am the only one tough enough to deal with the sun the all-natural way, squinting. After hiking the sentinel the girls had to head out so we returned to the campsite. Colin and I hopped in my car and drove out to the West Entrance to wait behind Crossroads for other people to start showing up. We also purchased more wood and got a pizza at the Little Caesars. ($5 large, awesome). In all, we had about ten campers, including: Colin #1, Colin #2, Rafaela, Elizabeth, Brian Cornelius, Brian Luther, Adam Luetto, Ivan, and two of Raf's dancing buddies, Juan and Felicia. Rafaela was really glad to hear that we got a spot in Jumbo Rocks. We both really like that campground and the fact that our site was somewhat removed from others was another big plus. That night was a lot of fun. We had tons of alcohol between the whole group, way more than could possibly be drunk, but we did a pretty good job! I also made my signature austere vegetarian burritos for everyone, which went over pretty well. In the morning we decided to head over to Barker Dam to do a quick hike there before heading over and hiking Queen Mountain.
This was the first time I'd been to Barker dam in the Spring for quite a while and I was blown away with how much water there was there. Usually there's only a puddle but this time there was an entire pond!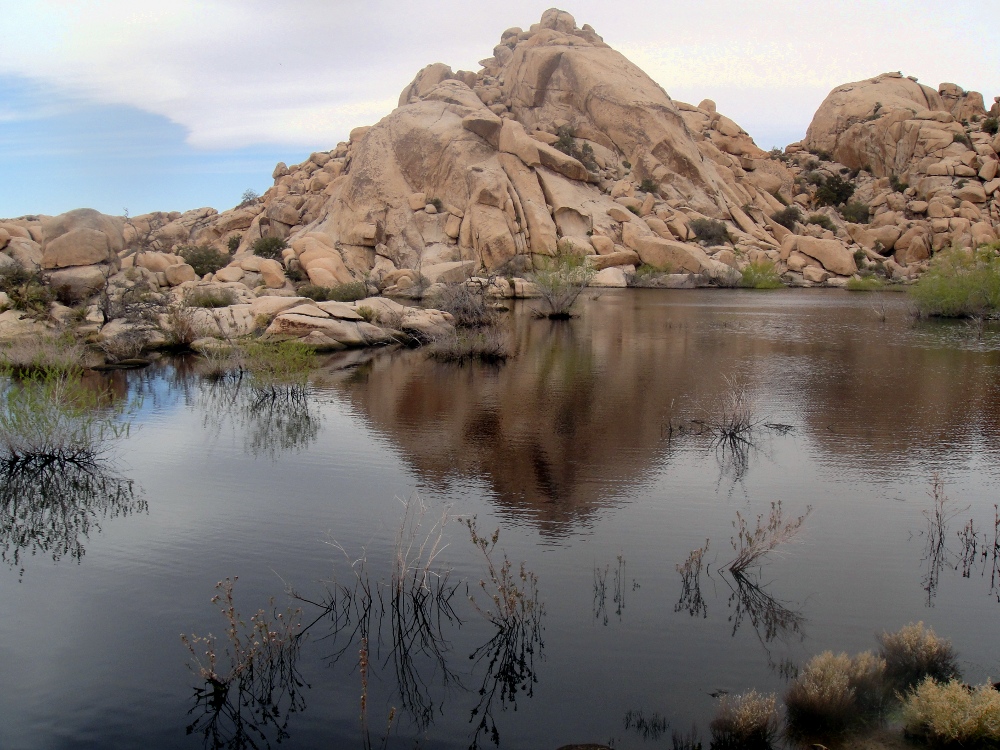 We found lots of tadpoles swimming in the water, and the whole scene was quite unlike anything I'd seen in Joshua Tree before. After checking out the dam, we headed for the 'cave' with the petroglyphs. This spot always provides a great photo opportunity, and we found someone who was willing to take a picture of our whole group. Here 'tis:




Once we finished poking around, we got back in our cars and headed for the Queen Mountain parking lot. I rode with Brian Cornelius and Liz in Brian's new Subaru Forester. The ride was a lot of fun and Brian wasn't afraid to open it up a bit off road. Unlike the time that Colin and I did the hike, we decided to make an effort to follow the cairns so that the difficulty and exposure would stay reasonable. Here's a pic of some of the group on the trail:




About midway up the mountain we found an amazing boulder with several quartz dikes running longitudinally. This was a great rest spot and also provided for some impromptu bouldering. Unfortunately I don't have any pictures of the bouldering, but I think somebody was taking some... After resting, we continued around the West side of the mountain, expecting the trail at some point to head for the summit. The route was far less direct than the one that Colin and I had taken and at some point I figured it might be more fun if we tried to blaze our own trail up instead of following the meandering, easy trail. We waited for awhile before veering off until we spotted a ridge that appeared possible. At that point we broke into small groups to scout several possible approaches and also to allow people to have some choice over the level of difficulty they desired. I stayed with the group of relative beginners to assist with obstacles. At first we weren't sure if it would be possible, but a series of surprise tunnels and narrow ledges made it possible. At one point we had to crawl about 60 feet beneath a massive boulder. To reach the final summit required walking up a massive slab for about 300 feet. It really felt like a good team-building and bonding experience and the mountain really cooperated. In the end, we summited without hitting and stopper obstacles at all. Here's a picture of Colin, Bryan Sluther and Adam at the summit:




We rested and ate lunch on top of the peak before heading down. The groups seperated completely on the descent and I lost track of several people. Fortunately, however, everyone made it to the car just fine. After the two hikes everyone was really tired, so we returned to Jumbo Rocks and relaxed for a bit. Just before nightfall some folks decided to try and find some bouldering around Joshua Tree. We headed to a spot across the street from Jumbo Rocks but then realized that the map we had was poorly marked and the spot was back towards Hidden Valley. So, we all piled into the cars and went there. I decided to tag along and watch, plus help identify the boulders using the guidebook. The guys probably bouldered for about 2 hours or so, sending several routes up to V2/3. We brought beers along and had a lot of fun. Once we returned to the campsite everyone was really beat. We made dinner, had a few more beers, and went to sleep.
In the morning we got up early and went to Hemingway to try and setup some top-ropes on the Dairy Queen wall. I brought all of my climbing gear, and although I wasn't climbing, I was responsible for setting up all the ropes and supervising. Here's a picture of everyone getting ready up at Dairy Queen:




Getting to the top of the wall while gimpy wasn't easy, but once up there it only took me an hour or so to setup the three top ropes. Here's a picture of what the wall looks like here: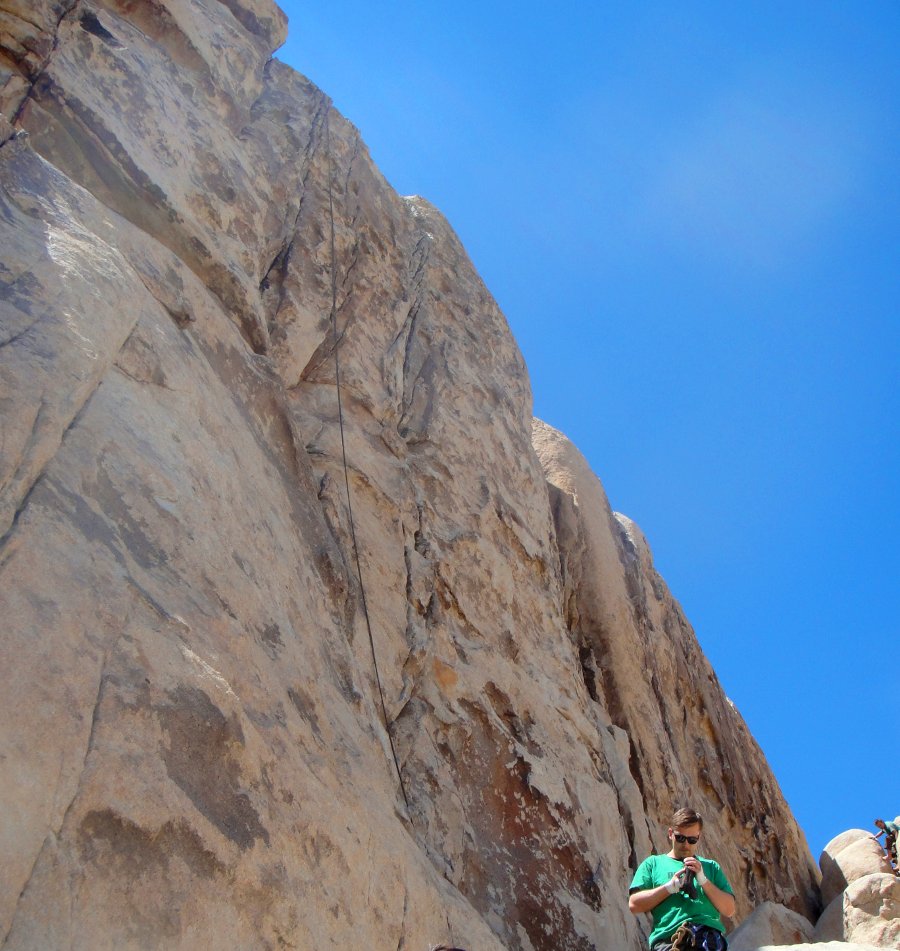 As you can see, they're very tall and vertical but very featured as well. I feel like they are some of the most fun routes of beginner climbing in the whole park. In the end, everyone had a lot of fun, and even Juan and Felicia got on the wall and did some climbing for the first time. We finished well in advance of nightfall and decided to head as a group to Crossroads for some grub to finish off the trip.
Surgery-tastic
Sometime in May I was on a business trip to Oakland talking about the Proof of Concept (POC) with Kaiser. After finishing the long meeting, I was standing near the elevators and noticed a Kaiser poster that mentioned that some injuries do not heal naturally and require medical intervention. It had a picture of someone holding their shoulder and grimacing. By this point I had already noticed that my shoulders did not seem to be improving, but this event convinced me that I needed to finally see a doctor. Since I was working with CyPace, I was providing for my own insurance via an Anthem Blue Cross short-term PPO plan. I inquired with some associates regarding the name of some good orthopaedic surgeons and decided on Huntington Orthopaedic based on the responses I got. I scheduled my first visit in early May with Dr. Vasse Panossian. I was surprised that I was immediately given his attention on the first visit and he was an incredibly personable and intelligent guy. He didn't want to delay and asked me to schedule an MRI as soon as possible. The sort of MRI that I needed was called an MRI with Arthrogram, which basically means that they have to inject some contrast fluid into my shoulder joint to improve the quality of the MRI. This sounds pretty innocuous, but it actually involves a pretty large needed being stuck about 3-4 inches into your body while they are doing ultrasound on your shoulder to guide it. After getting the MRI to Huntington, Dr. Panossian decided that I definitely needed surgery and scheduled me for the following week.
A couple days later I got a call from the medical office claiming that my insurance would not cover the surgery because they had a 'pre-existing condition' clause. I was surprised because although I did suffer the injury many months before, I had never seen a medical professional about it and there was no documentation that it existed prior to the beginning of my coverage. I spent the next few days trying to sort the situation out and ended up having to postpone the surgery to avoid the possibility of having to cover the costs out of pocket. In the end, I acquired a copy of my coverage terms, found the exact place where it defines a pre-existing condition as one diagnosed by a doctor, and called Anthem to clarify the situation. The lady on the phone agreed that the situation did not apply to me and suggested that I go through with the surgery. I was both relieved and quite frustrated at the same time since it became apparent that this was a scare tactic to try to reduce the probability that I would get costly care. Anyway, I ended up having surgery on Wednesday, May 25th. The surgery itself was really very easy. I walked in, got naked, put on a gown, sat on a bed, and was put under. When I woke up, I had a nerve block in my left shoulder and was wearing a sling with a foam block keeping my arm away from my side. I felt pretty pain free thanks to all the medication. Colin came to pick me up and I went home where I was hooked up to a cooling machine. Within 24 hours two things happened. First, the pain increased dramatically as the nerve block wore off. Secondly, I became able to type thanks to my bluetooth keyboard. Considering it was about a week before the Kaiser POC, this meant that I had no time to rest and had to continue working insane hours. Fortunately for me, I had some pain medications that enabled me to work without suffering too much. I used these strategically for the next three weeks so that I could maintain my grueling work schedule.
A couple of weeks after surgery I was asked to come in for my post-op with Dr. Panossian. At this point I was still under the impression that it was a minor surgery and that I would be healed up in only a couple months. During this consultation, some bad news had to be delivered to me. Dr. Panossian explained that when he checked out my labrum, which connects the bicep muscle to the top/front of the shoulder, he found that it had completely disconnected from the bone, by about a half inch. He explained that this was a degenerative condition and required surgical repair, which involved putting anchors in. As a result, I was going to remain in my sling for six more weeks and then slowly restore function in my arm as I underwent six months of physical therapy. This news was pretty devastating to me. Instead of being able to return to climbing within a couple months, I was now out of the game for the whole year.
The Kaiser Proof of Concept
In early June, CyPace's Proof of Concept with Kaiser began. In order to prepare the code for the POC, I had been putting in 14-16 hour days for about two months. This included all weekend days except for the rare excursions mentioned above. The first few installs of the software at Kaiser did not go very well. It became immediately apparent that some of the differences in their system were going to cause issues. As a result, I had to singlehandedly solve all of the problems we encountered and vastly improve the scalability of the software in a very short period of time. Sometime in early June I started what hopefully will be the most insane work schedule of my life. I began working 35-45 hours at a time, with very very few meals. After such a long set of work, I would sleep for four to ten hours and then start again. This wasn't the kind of work where you knock off two or four hours and reward yourself with a short break or some munchies, I was grinding it out hour after hour without interruption. No email, no youtube, no distractions. Within two weeks I was awake to see eight or nine sunrises. The experience, while in the midst of it, was somewhat soul-crushing. More because I was alone than anything. If there were teammates or coworkers who were sharing the burden, even to nearly the same degree, I would have been far better off psychologically. Instead, I had to turn against everyone because they knew how much I was suffering but they didn't respond and step up, because they thought it was too hard or too much for a person to handle. I lashed out a couple of times with some spicily worded emails, but considering the circumstances I am very proud of how I handled myself. In the future I will avoid situations like this, where I am forced to engage something singlepointedly and without equanimity, but knowing that I am capable of it does give me additional strength and confidence in myself.
This brutal routine continued for about a month, as Kaiser continued to allow us to make additional code drops to fix issues they encountered. In early July, however, the code drops stopped and we were forced to go with the code as it stood in the system. Fortunately, the code was very solid, although not perfect, and the folks at Kaiser were really loving the technology. I went on site several times to help encourage their staff to use the tools, and also to help identify issues that were occuring. Although we no longer had the ability to modify the code, there were still opportunities to fix problems by adjusting the SQL database or the Cache Globals. This period was very exciting because we had to be diplomatic to de-emphasize issues, and very quick on our feet to address problems to whatever degree we could. It was also very important for us to maintain a good relationship with the folks on the floor at Kaiser and to achieve this, Nick was invaluable. Because there were so many issues to address, I spent most of my time in my room programming, but Nick was reliably going on site to make sure that CyPace had a face there. So while the Kaiser POC and CyPace in general started as a sucky solo-mission for me, it became much more of a collaborative effort with Nick toward the end and that made it much more enjoyable. The POC ran through August so I'll save the results until a later entry.
Costochondritis
On July 5th, I was running on the treadmill in the workout room of my apartment complex when something really strange happened. I had recently gotten my sling off of my left arm and this was the first time working out since surgery. After running for about 30 minutes, I all of a sudden started feeling a pain developing in my chest. At first I tried to ignore it and keep running but a couple seconds later it intensified and I slid off the treadmill. I put my hand on the floor and tried to figure out what was happening to me. I was experiencing severe chest pain and I could not breath. Filling my lungs more than an eighth of the way with air was incredibly painful. I lumbered toward my apartment and called Raf. I struggled to tell her what was happening. She told me to have security call 911 and then she started running over. The security guard called 911 and they immediately sent an ambulance. The ambulance arrived incredibly quickly, after about 90 seconds. They immediately put me on a stretcher and put a pure oxygen mask on my face. They then gave me nitroglycerin under my tongue and medication of some kind. I was very worried I was experiencing a heart attack, although I really didn't know what one would feel like. However, what I did know about heart attacks matched all of my symptoms so I was very worried, and so were the EMTs. Breathing was so painful that I was in a miserable state. It seemed like a dream. Before the ambulance took off Rafaela arrived and jumped in the front seat.
In about five minutes we arrived at the Huntington Hospital ER and they began a series of tests to determine my condition. Over the course of the 30 minutes that tests were being run, my pain did not ease up. Having Rafaela there to comfort me was really nice and I would have been in a much worse place without her. After they completed their tests they reported to me that my condition was an obscure but thankfully benign one called Costochondritis, which is basically an intensely painful inflammation of the cartilage which connects the ribs to the sternum. The reason they had ruptured was ultimately due to my inactivity after surgery. My upper body had been largely stationary for so long that the intense exercise on the treadmill caused the condition to develop. After a couple more hours of observation they discharged me with some muscle relaxants. To get home Rafaela and I decided to take a taxi-cab. I was still in a very bad state so we needed to drive and I didn't want to wake anyone up at 3am. The taxi that we flagged down turned out to be the world's worst. The driver was utterly incapable of driving at a reasonable speed. Every time he got a green light, he would floor it, and to stop he slammed on the breaks. This wasn't just my perception either, Rafaela also was in disbelief. In addition, the driver could not understand basic english and repeatedly made wrong turns in spite of the fact that we were guiding him. At the end of it I just had to laugh, even though he had put me through a lot of pain. For those of you that are curious about the condition I had, check out this wikipedia article:
http://en.wikipedia.org/wiki/Costochondritis
Built to Spill in Santa Barbara (again)
In mid-July Built to Spill played a show at a bar called Soho in Santa Barbara. I bought six tickets and recruited Ivan, Colin, Ryan, Adam and Caroline (Adam's date). Colin and I drove up early in the day in my car while the rest of them came later with Ivan. Colin and I left around 2:30pm to beat traffic, and it was a super hot day. My car has developed an interesting idiosyncrasy on hot days, and that is that it likes to spontaneously turn itself off or accelerate. It had done this the previous summer while I was driving back from Venice Beach one time, but it hadn't happened since. I noticed that it was revving itself on the way to Santa Barbara, so I just kept an eye on it and kept putting the clutch in whenever it happened to avoid accelerating and bumping into the car ahead of me. I also pulled into the right lane so that I could bail to the shoulder if anything bad happened. At one point the car lurched forward and then died, and I lost power steering and braking. I pulled into the shoulder near an offramp to let the car cool down for a sec. After a couple minutes I successfully started the car and continued driving in the right lane. It continued to behave strangely for quite a while, but it didn't die again and eventually allowed me to drive it a bit faster. Before long we were no longer concerned about it and we were enjoying the fresh air while cruising along the 101 up the coast. Colin and I brought a bottle of wine that we swigged just before the show. It was one of the first times that I've ever quickly killed a bottle of wine and I will say that it is not pleasurable. The normally smooth texture and taste of wine becomes quite a different demon when you're swigging 4 ounces at a time. As we approached the venue we encountered several people attempting to buy tickets off of us. We figured this would happen since the last time we saw them in SB, there was a huge line of people who wanted tickets and the place was packed (not to mention the show was awesome). Once we got into the show the rest of the crew arrived and we got a couple drinks and found a good spot to listen to the opening band. I don't remember their name, but we were in a really good mood and they were pretty damn good. They definetely got our heads nodding. When Built to Spill finally came on we were more than ready. I was really excited to hear some material off their new album, but unfortunately they only played one song, and it wasn't one of my favorites. In fact, the show was not great by Built to Spill standards as a whole. For some reason Doug kept forgetting lyrics, which seemed a bit strange. Nonetheless, it was a pretty awesome show by general standards and I had a great time. For their finisher they played the extended version of 'Conventional Wisdom', which I had actually heard before. Here's a couple pics of them playing at Soho: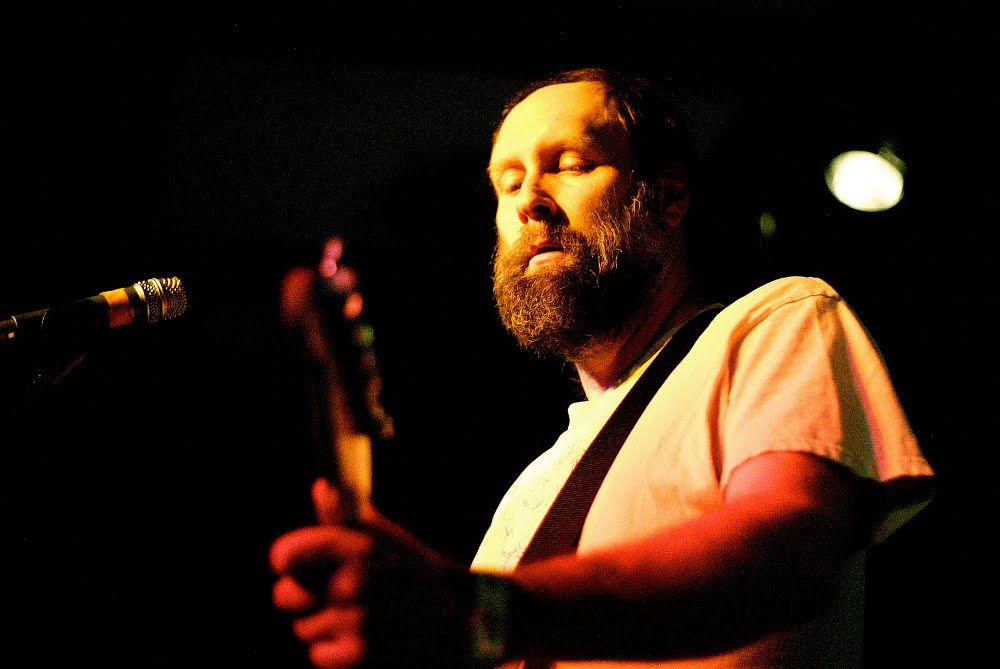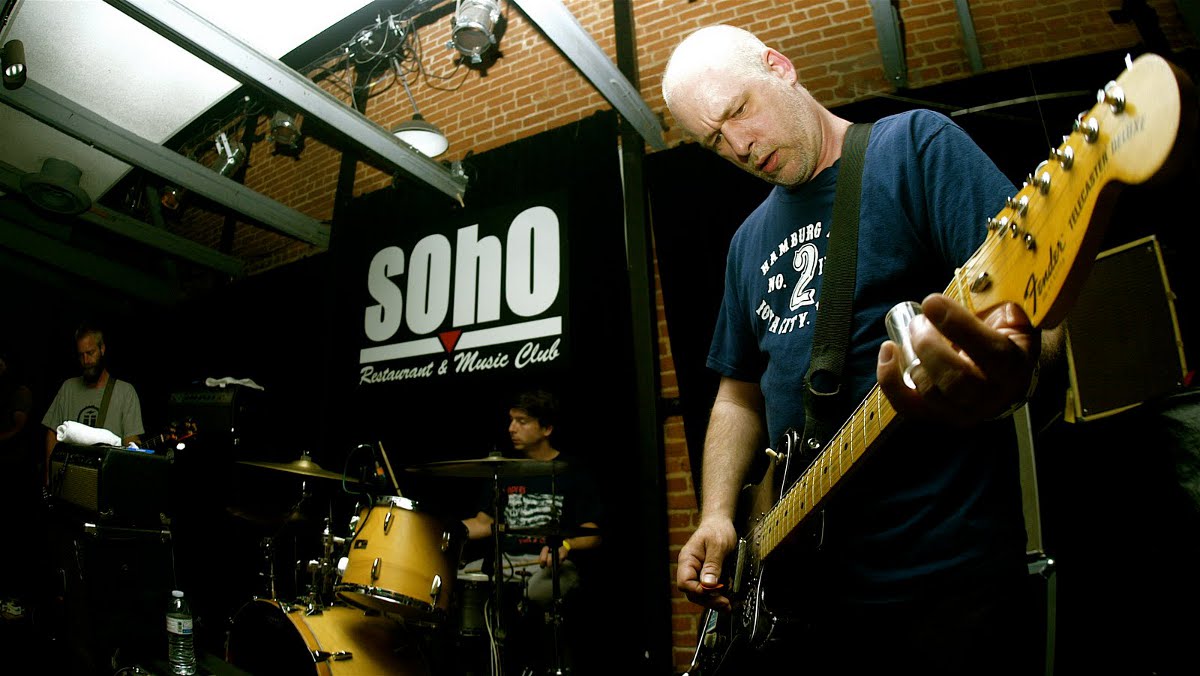 The first picture is of the frontman and major songwriter Doug Martsch. The second pic is of one of two other guitarists, the drummer, and the bassist. All of the musicians in the band are absolutely incredible, and the layering and texture of their songs is unmatched in modern music. If you have not seen Built to Spill live, I would highly recommend it. In my opinion they are the best live band in the world from a musical standpoint (the Flaming Lips may have them beat on an overall euphoria scale). After the show I actually had a chance to speak with Doug as he came out to the floor to chat with the fans. Here's a picture of me with Doug:




I didn't really have that much to say to him, so I just told him that I really connected with his music deeply and I thanked him for everything. He was surprisingly relaxed and chill. When I asked him why he stopped singing a few times, he offhandedly mentioned he forgot the lyrics like it was no big deal. I was surprised how chill he was because I had originally thought that he was a bit of a perfectionist. I guess that's only when he's on stage, and apparently not that evening. Anyhow, Colin got a few pictures of me with Doug but I'll have to get them from him to put on here.
Ryan, Pru and the Arc
Back before all my injuries, in 2009, I commonly climbed at the Arc, which is a bouldering-only rock climbing gym in Arcadia. When I first started climbing there, in early 2008, there wasn't much of a 'scene' and although it was a comfortable place, a sense of community hadn't yet developed. This slowly changed over the course of my two years climbing there, and of course continued after I left. While this didn't benefit me at all, I know that it was a really great resource for my friends and the Arc became a great place to chill and send some problems in the evenings. I made an effort to go back and visit every couple of months, but it was sad that I couldn't partake in the new social atmosphere that had developed there. Over time, the problems that I had set slowly started being taken down and my presence with the community at the Arc faded. The one great thing that I didn't miss out on was the friendships that I had already developed, as well as those that Colin and Rafaela continued to develop with the folks there. My friend Brian Luther who I had met there in 2008 had become a regular visitor to our place in Pasadena, and two new friends, Ryan and Pru, also became regular visitors. I remembered Ryan from the days when I was still at the Arc. He was the quiet muscle-bound guy who was one of the few other climbers that shared my climbing style. That is, he was dynamic and liked brute force. We had an unspoken competition going that both of us fed off of in a positive way. I think in the end he got the better of me, as I remember seeing him send a very difficult compression problem on his second try. He called it a hard V4, but it took me a couple weeks to send and I figured it was V5/6. That was right before I got hurt. I was really surprised when one evening he and his girlfriend Pru turned out to be THE Ryan and Pru that Colin and Rafaela would chat about. Meeting them outside of the gym was really nice, and as it turns out we fit right in together. Ryan and Pru are both as aggressive in their outdoor pursuits as they are at climbing indoors. In addition, Ryan is an incredible DIY handiman, and Pru is one of the kindest, nicest people I've ever met. Here's a picture of the two of them in Joshua Tree. Ryan is wearing his signature outfit:




Ryan and I went on several hikes together in the late summer after things at Kaiser had slackened off. It turns out he is a pretty avid collector of facts, and a huge science buff. We had several conversations in which we never really seemed to see eye-to-eye, perhaps due to my more mystical/philosophical slant. In spite of this, we both enjoyed our discussions a lot and our frequent hikes afforded many opportunities for them.
End-of-POC
Speaking of Kaiser, the proof of concept ended in late July. It was a very intense stretch of time for me, and there were many late night sessions of trying to figure out WTF was going so wrong with the software. Fortunately we were able to fix the issues in almost every case, and the consensus on the floor at KP was that they really wanted the software. About 90% of the use-cases came back with a positive outcome and the ROI calculation that the PM did indicated that Kaiser would break even on the software purchase within a year. All of this was great news for CyPace, and I figured I deserved some time off. I had recently gotten my sling off, and was finally starting physical therapy for my shoulder. I figured returning home for some camping in the Adirondack's would provide some much needed rest and an opportunity to put some focus back on healing my body.
Home for Recuperation, Part I
I flew home on July 30th and spent a few days in Rochester chilling with my sister and my parents. I had moved into my brother's old room, which meant that I had now slept in every room in the upstairs of our house except my parent's bedroom. As soon as I arrived Katie and I broke out the Wii and continued our epic in Resident Evil 4. We also played a bit of Link's Crossbow Training which used the zapper gun. After a couple days of minimal brain activity we got the van all loaded up and left for Cranberry Lake. This would be my like billionth time camping at the bluff campsite on Cranberry. Although I typically like a bit of adventure when I do trips into nature, the one site that is so nostalgic and so quality that I'm willing to just chill is this one. In fact, Katie and I ended up doing quite a bit of exploring on this trip anyway, so I got the best of both worlds! Here's a map of Cranberry Lake:




As per our standard procedure, we left in the middle of the week to have the best chance of snagging the bluff campsite. The drive to the put in at Wanakena is 3 or 4 hours from Rochester. We usually drive a bit further up the road to put in at the ranger school (marked by the green cross on the map) and then have someone run back and park the car in Wanakena. Katie left the dock first with Zoe and a small amount of stuff while the rest of us loaded the canoe. Once we set out Katie had at least a half hour head start. The goal was for her to scout the site to make sure it was vacant and then put Zoe's water dish on an easily visible rock so that we would know after rounding the turn from the Wanakena flow. I originally thought that my arm was not far enough along in rehabilitation to allow me to paddle, but it turned out to be only minimally painful. Nonetheless, I could not paddle anywhere near full speed, so my dad ended up doing the majority of the work pushing the super-heavy canoe along. Once we made it that far we spotted it and knew that we had our site. On the map, it's the purple cross on the small dual-footed peninsula sticking out into the subsidiary part of the lake on the left. There's a chain of a few small islands nestled in on the Northeast side of the peninsula and if you follow them northward you end up heading towards the main part of Cranberry Lake where Joe Indian Island is. When we arrived at the campstite, Zoe, as usual, immediately jumped in the water to swim out and welcome us. We spent the first evening pretty low key and got to sleep pretty early after hanging out around the campfire for a couple hours. The next day turned out to be really nice and warm, so we all went down to the beach for a little swim. Here's my dad Jim and Zoe walking toward the beach:




Zoe's favorite activity is swimming, of course, so she joined us. Zoe is 9 now:




And here's a picture of her doing her favorite thing, water fetch:




In the afternoon Katie and I decided to try and go on a little hike. We checked out my dad's maps and found some trails on the far side of the lake. We settled on the Olmstead Pond Trail which required a 3 or so mile paddle in the kayak. The route involved heading for Joe Indian Island and staying right and South of it, then turning into the West flow. With the wind on the open lake, this turned out to be pretty strenuous, and probably took us about an hour. We found a pretty cool set of cliffs along the left side of the west flow. Our destination is marked by the orange cross on the map above. Once we stopped we immediately started on the hike. The trail was pretty dark and humid and went through several swampy areas at first that were pretty mosquito infested. In order to minimize the number of times we got hit, Katie and I ran this section. Eventually we reached Spectacle Pond which was on our right. It was pretty amazing that the entire southern border of the pond was a 300' long beaver dam. In fact, the level of the trail was about three feet lower than the water. If the dam ever broke, the whole pond would drain out into the surrounding forest! After another mile or so we arrived at Olmstead Pond where we found a few campsites and a ranger lean-to. The pond was pretty large and very serene. After rounding the pond we met up with another trail that took us back towards the kayak. Since we were running a bit late, Katie and I decided to run this last portion as well. We probably ran about 3 miles, hiked another 3 and kayaked 6 miles total. In all, it was a very strenuous day, but a lot of fun! When we arrived back at the campsite, Zoe was very happy to see us and decided to swim out:




That night we enjoyed some Woodford Reserve as a family and played the categories game around the campfire. I spent most of the next day reading but after noon Katie and I decided to go on another expedition. This time we decided to hike Cat Mountain. On the map you can't see the summit of the mountain, but it's the one just behind Janack's Landing at the bottom of the map. To get there from our campsite Katie and I had to Kayak straight across our section of the lake and into Dead Creek Flow. We beached the kayak at Janack's Landing alongside a couple other vessels where the light-blue cross is on the map. There was a lean-to there as well as the trailhead. Much like the previous trail this one was very well maintained, with nice split log bridges through the marshy parts. We decided to trek to a place quite a bit further than Cat Mountain and then double back, summit the peak, and then return to our kayaks. The trail turned out to be a lot longer than we expected. At one point we came across a full bottle of mezcal sitting in the middle of the trail. We inspected it and decided to leave it there. About a half mile later we ran into a couple bros who asked us about it. We explained that we had seen it and they hurried past to go find it. Later we caught up with the rest of their gang on Cat Mountain where they were being pretty loud and obnoxious. At least they were enjoying the outdoors, I suppose. After we reached the midpoint of our hike we started another trail run. This one turned out to be quite a bit more strenuous than the previous day but we had a great time bounding over logs and across bridges. When we reached the foot of Cat Mountain again we turned to follow the trail up it. The mountain is about 1200 feet tall, and the incline made the going difficult. I dug pretty deep and ended up jogging all the way to the top. I was pretty exhausted when I got there, however, so we stopped for awhile to enjoy the view. There was quite a bit of exposed rock up there and I couldn't stop thinking about how much fun it would be to try and climb it if I had my trad rack... After twenty minutes or so Katie and I ran back to the kayaks and started back. Here's a picture of us coming across the lake from Dead Creek Flow:




As you can see, I stashed my paddle and was just yelling at Katie to do all the work ;-) The next morning there was some pretty nice fog on the water:




Here's a picture of the view of the lake from the beach near our campsite. The 'peak' on the far right is Cat Mountain:




At some point in the evening a set of loons came by to visit. A once endangered species, they are now pretty plentiful in the Aderondack's and are famous for their notable call:




To hear their call, go here: Loons Calling . It's a very peaceful sound when heard from a distance over the lake at night. After four days at the site we packed everything up to head back. Overall it was a really relaxing trip for me and I had enough time to finish the book I was reading. It was a set of Science Fiction short stories. My favorite one was 'A Rose for Ecclesiastes' which you can read Here or Here or Here. I highly recommend it. After getting back from Cranberry Lake, Katie and I started running every day around my hometown. I decided that while my arms were in bad shape I should focus on my cardio a bit more. After a couple more days in Rochester I flew back to Pasadena and continued trail running in the San Gabriel Mountains. Since the POC had finished I had a lot more time to do this.
Catalina Island
A couple of weeks after returning from Rochester was a long-planned excursion to Catalina Island. My roommate Colin and his brother Ghyrn wanted to fly a couple of plains out to Catalina Island, off the coast of LA, and camp there overnight. I was totally down for the trip, and also coming were Ryan, a girl named Antha who Colin had met recently, and Colin's friend Quintin who was visiting. Unfortunately Rafaela and Ivan were unable to make the trip. Colin knew Quinn from back in Seattle, but Quinn had spent the past few years in Argentina and Ecuador. Colin had recently visited him in Buenos Aires for a couple weeks. In the couple weeks before the trip to Catalina I had done a few hikes and several trail runs to prepare myself for the long hikes with a pack that we were planning for Catalina. This was also going to be my first time flying with Colin, which was also very exciting for me. Here's a picture of Colin and I taking a look at the aviation map of Los Angeles:




I was given the front seat since it was my first time flying, and Antha was in back. In the other plane was Ghyrn, Ryan and Quinn: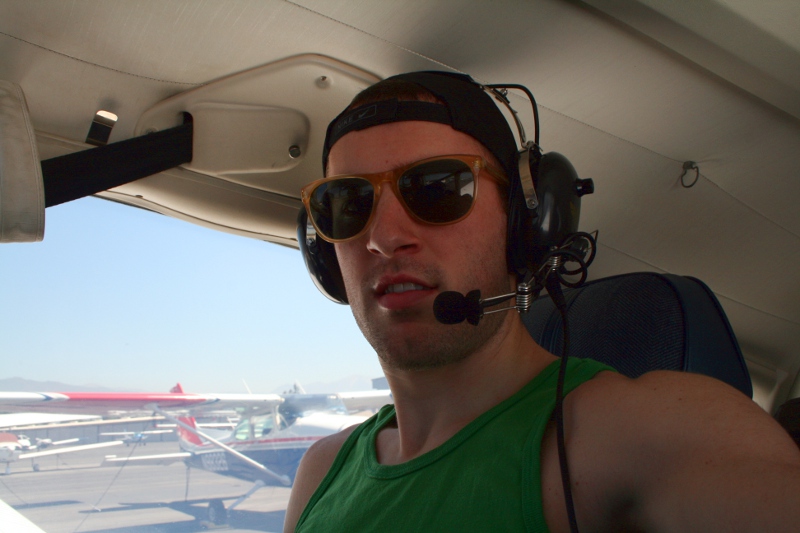 The takeoff was really smooth and the skies were quite clear at first. We first crossed over the Long Beach airport and seaport: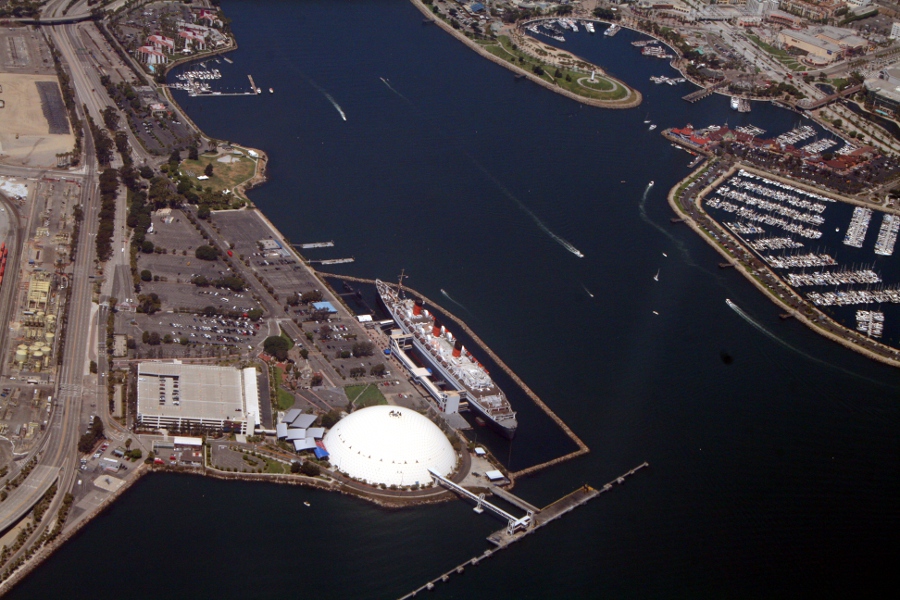 Next we proceeded to head over the ocean toward Catalina:




It was cool to listen to Colin talking with the control towers and requesting clearance, etc. Colin even let me fly the plane for a few minutes at one point using the copilot's controls. All I really had to do was maintain altitude and bearing, which was pretty easy with the guidance of the instruments. As we approached Catalina the fog cleared and we got some pretty spectacular views:




Here's a side view of the runway on Catalina:




As Colin approached for landing the winds picked up significantly. We started getting blown around quite a bit but Colin handled it like an expert and the landing was super smooth. It was pretty exhilirating for me. Here's a picture of Ghyrn on his approach:




A few pictures of the airport and our pilots: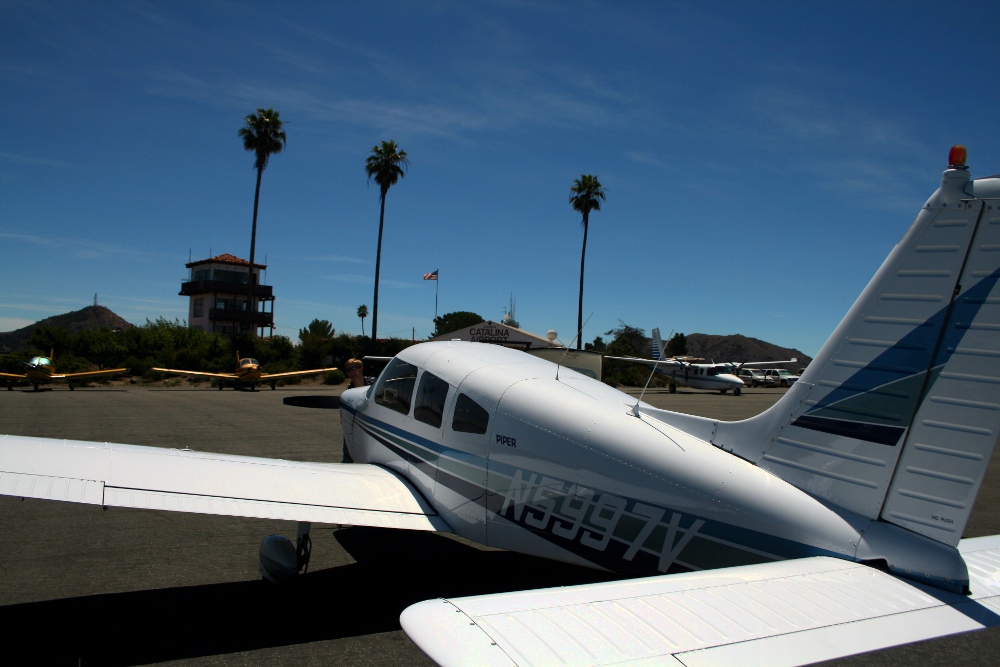 After we landed and parked the planes, we saddled our packs and struck off on an 8 mile trail toward one of the remote beaches on the west of the island. Here's a map: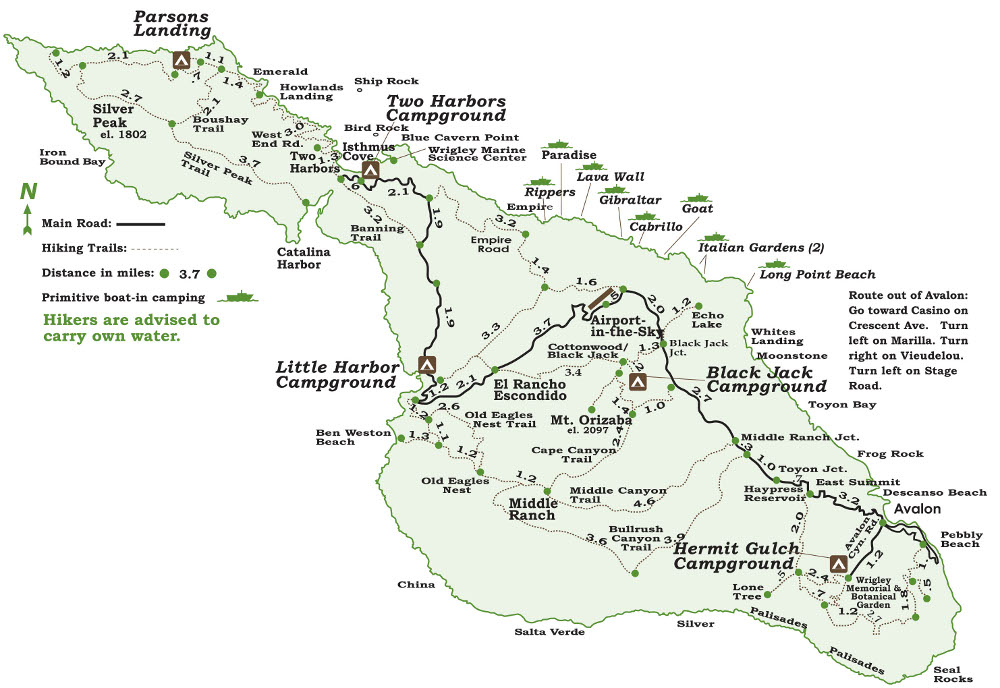 Our path took the yellow and then green lines from the airport to Little Harbor. I was really surprised at how wild and undeveloped the land on the island was for being so close to a major city. There were literally no buildings on our hike. The land was really arid and open, and aside from a few shrubs and some buffalo there wasn't very much dotting the landscape. Here's a picture that gives a sense for how it looked out there:




The buffalo themselves were pretty riesig. Here's a picture of Ryan and I when we were pretty close to them: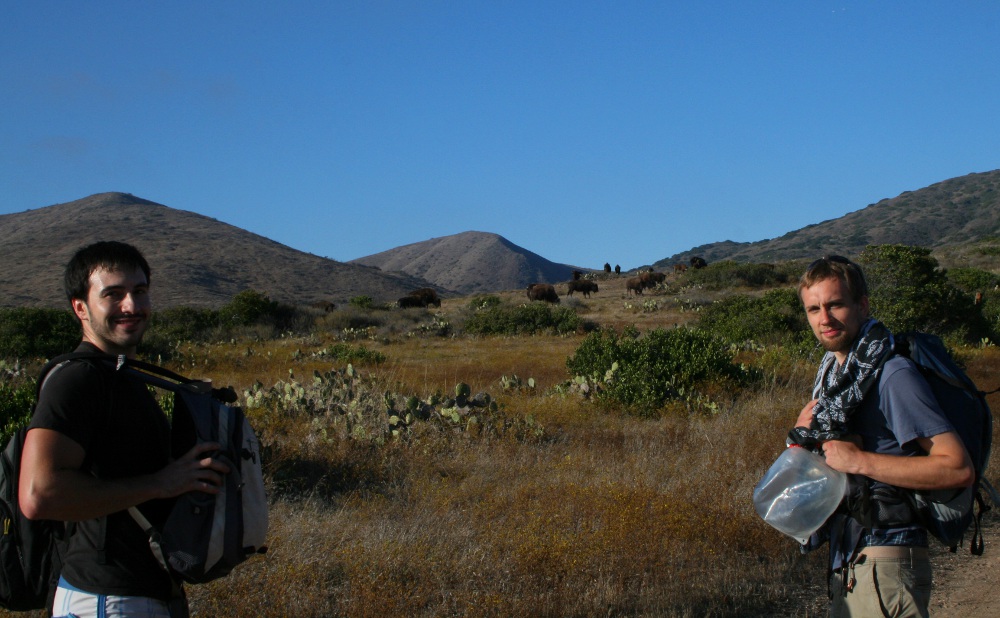 Here's a shot of Colin and Quinn as we approached Little Harbor: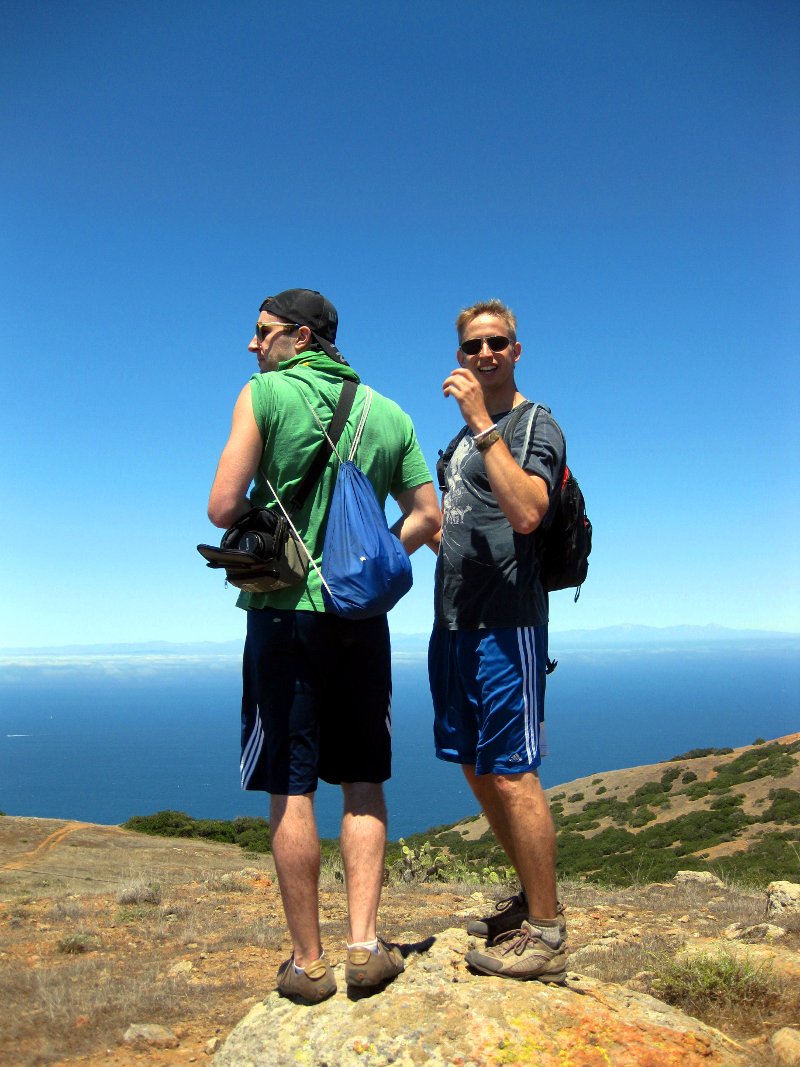 And here's a picture of the "harbor" itself, which really isn't a harbor, but a beach: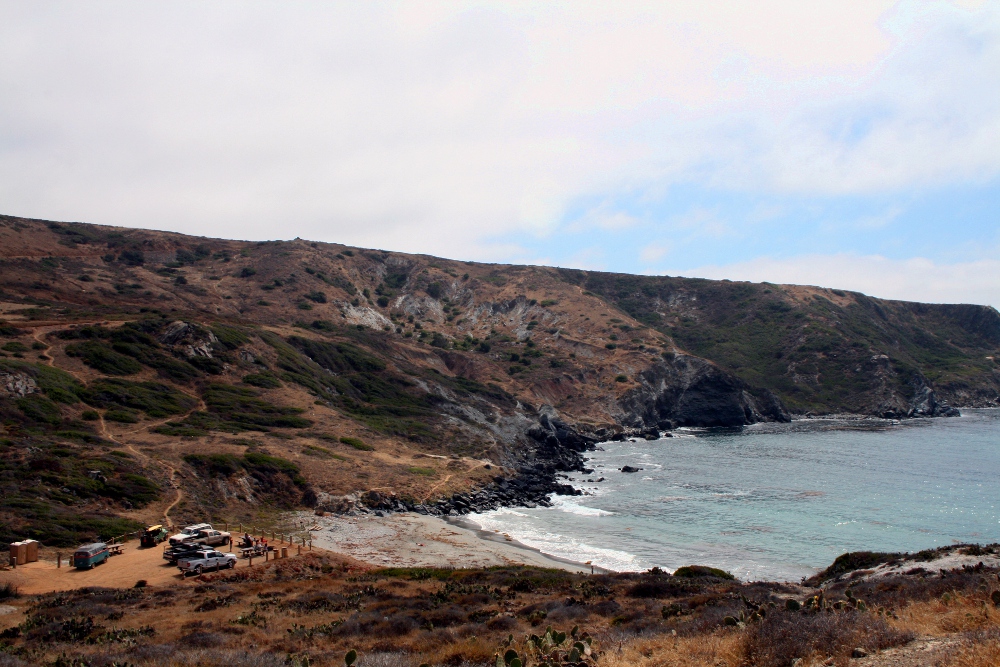 Once we got to the beach everyone laid out their towels and had a snack. Antha had brought a bounty of fresh berries that we gladly munched on. After eating, Ryan and I went for a swim. There were some large rocks out in the water that were perfect for climbing and then jumping off of. There was a ton of seaweed in the water, though, which made it a bit interesting. The water was also pretty cold, so I only swam for probably a half hour before coming in. At that point we decided to explore the beach a little. We found some very strange looking green rock that was very fibrous. After a short while I realized it was asbestos and we immediately stopped playing with it. Instead, Ryan and I created an all-natural chess board in the sand and played a relaxing game:




Most of the others left to return to the airport and find a campground since Colin's ears were bothering him due to pressure sensitivity. Quinn stayed with Ryan and I until we finished our game. We made really good time back to the airport where we picked up our camping packs and left for the 3 additional miles to Blackjack campground. This last section of hiking was pretty grueling since we had already gone 16 miles that day. In spite of this, it was also really beautiful since the sun was setting and we had the lights of LA behind us and the fog of the pacific rolling in the lowlands below and ahead of us: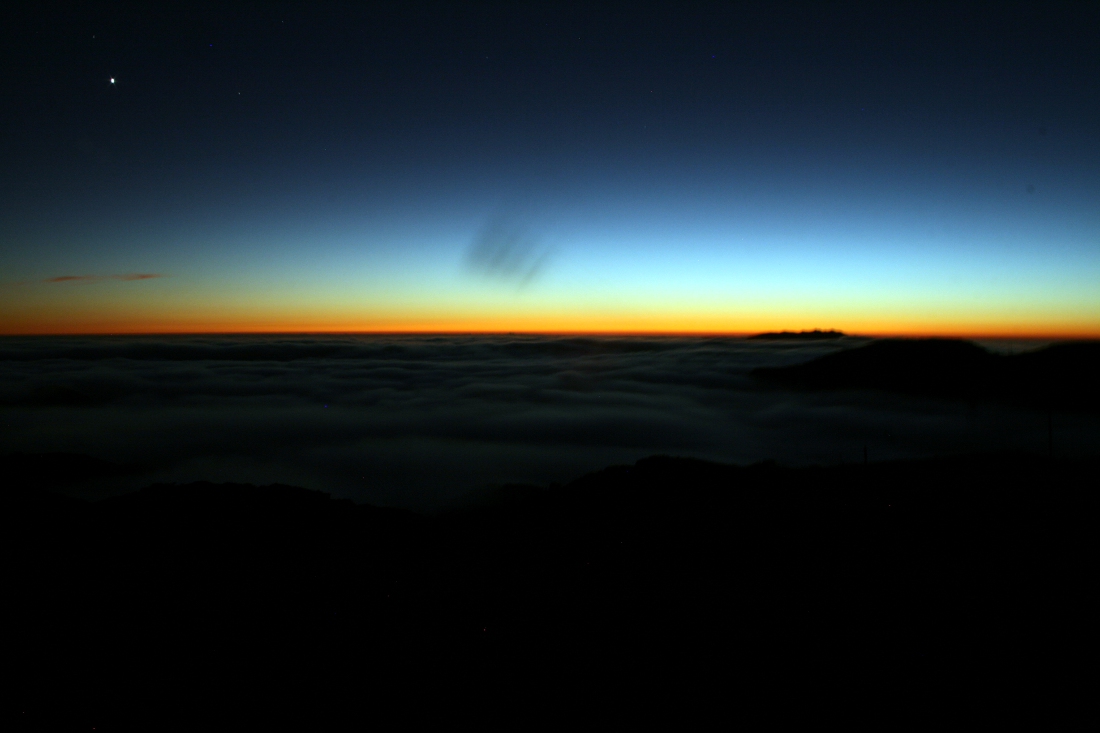 By the time we arrived at the campground it was pitch black. We immediately found the others, setup camp, and started scavenging for brush to burn for a campfire. I made my signature burritos for everyone's dinner and we stayed up telling jokes and stories for a few hours. Here's a picture of the beans cooking: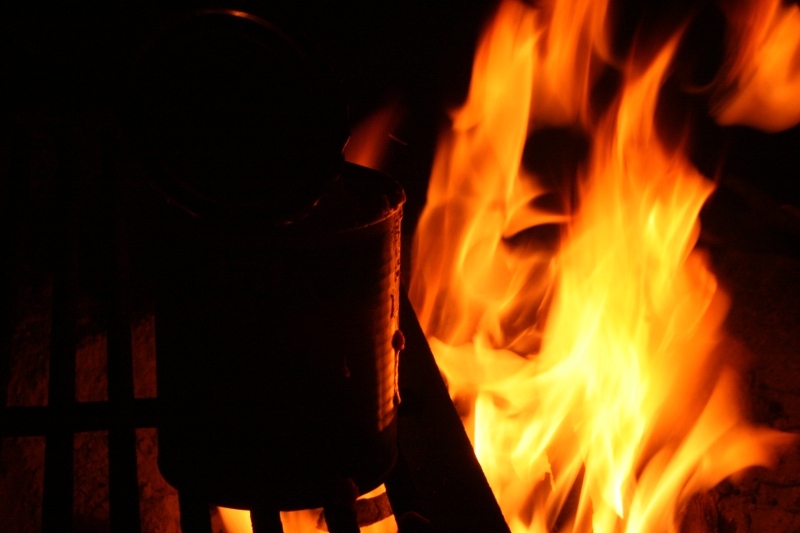 When I retired to my tent I was completely exhausted. We woke up really early so that we could fly out by 9 o'clock. Here's a couple pictures of our group breaking camp: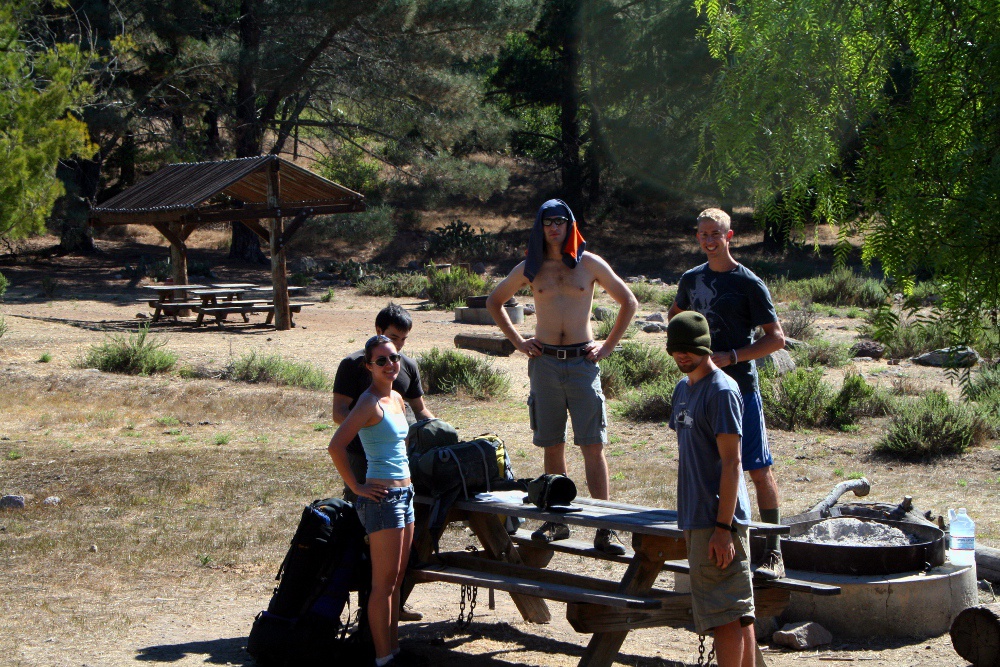 The hike back to the airport was a very sore affair for me, but conversation with Ryan and Colin helped pass the time. Here's our whole group on our final bit of hiking (almost 20 miles in under 24 hours, with packs!):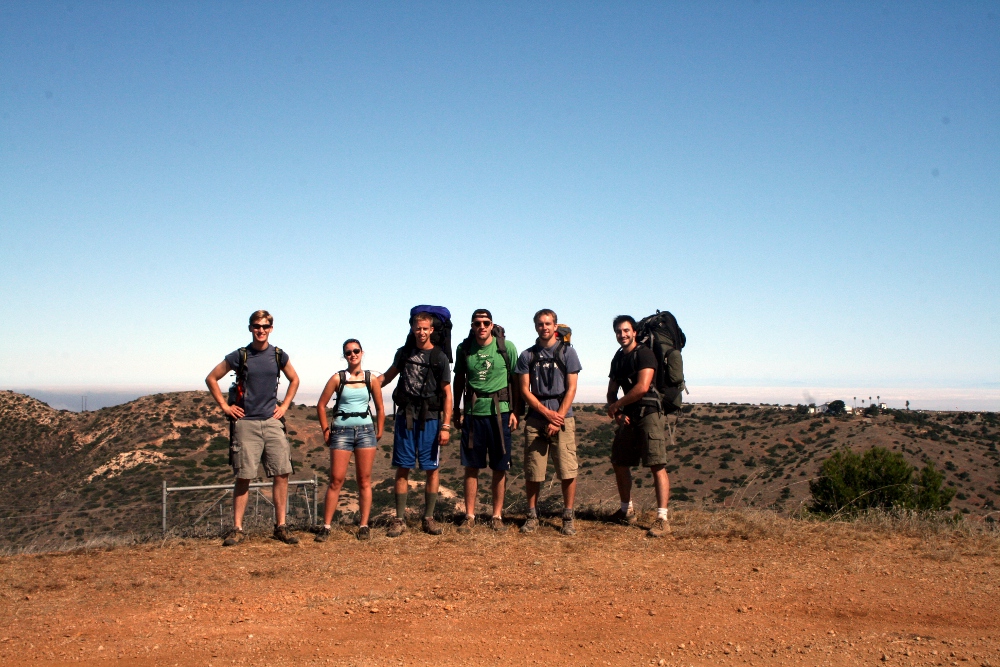 On the flight back to El Monte, I was in Ghyrn's plane this time. Even though Ghyrn seems a bit more straight-edge than Colin, it turns out he's a bit less predictable when flying. He pulled some pretty steep turns over the island that turned my stomach over a few times. It was pretty amazing what the plane was capable of, in spite of its size. Ghyrn assured me that what we were doing was minimally stressing the plane. Here's a few pics we snapped on our flight out of Catalina: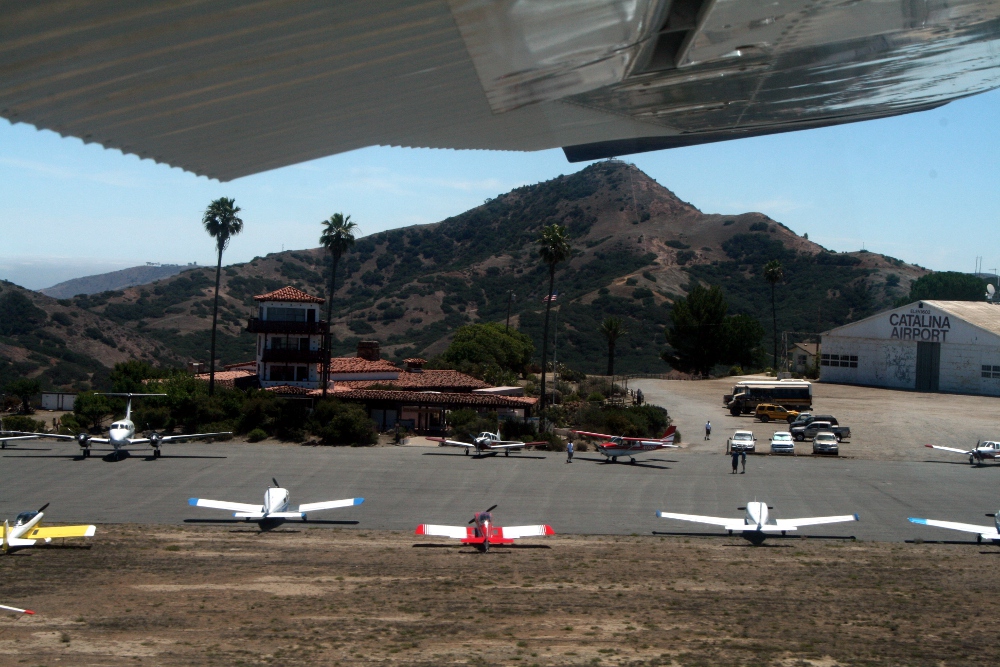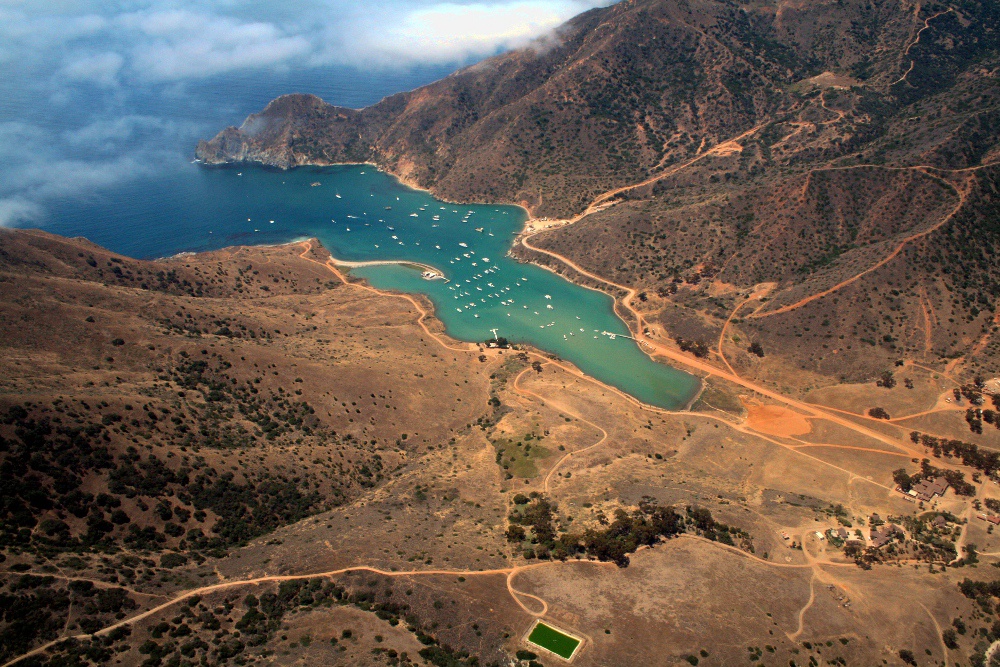 The remainder of the flight home was pretty uneventful yet bumpy. The landing was super smooth, however. In all, the trip to Catalina will go down as one of the most eventful short trips of my life. From start to finish it was about 28 hours, but it felt like a multi-day trip for sure. I'm glad that the landscape out there is relatively untouched and hope that it continues to be that way for many generations. It would be a shame if the urban sprawl of Los Angeles were to spoil the beauty of that island.

Forward to Fall 2010
Back to Index