Back to Index
Back to Winter 2005-2006
After getting back from Culebra, I spent a couple weeks in Madison catching up on my reading. I began reading a russian novel recommended by my roommate. It was titled 'The Brothers Karamazov' and it was written by Fyodor Dostoyevski. At nearly 900 pages, and full of religion and philosophy, it was a dense read and it consumed a great portion of my time in Madison. However, it was very much worth it, and is one of my very favorite books.

After Madison, I left for Washington D.C. to visit Gavin and John, who now had jobs there, for a whole month. Here's Gavin and John again:




Gavin became a pimp/producer at XM-radio:




John became a whore at the department of Justice:






John and Gavin had a swank apartment in a NW district called Mount Pleasant. They were walking distance from a number of nice places, and shared the area with a very diverse crowd. There were a ton of hipsters around too, but sadly most of them didn't get my jokes :( On one of the first nights that we went out, we took off to a bar nearby which had lots of dancing and no cover. The place was fantastic and I wish Madison would take a hint. In a gesture almost screaming "WELCOME TO DC", I got attacked by two different girls - literally forced on the ground by one - and with my pansy ass midwest experience, didn't know how to handle it. Thankfully one of the guys we went with was able to pull them off me, and the only injury was a stolen beer.

The first weekend in DC, Zach decided to drive up from Charlottesville to spend some time with us. The first thing we did when Zach arrived was drive to Giant, get beer, and return to Mount Pleasant to Break the Law! That's right, we parked Gavin's car at the curb, opened all the windows and the trunk, blared loud music, and got drunk outside. It may sound pretty lame to all you naysayers who say 'nay', but it was definetely not 'nay', and instead, it was a resounding 'fuck yeah'. Several people came by to talk to us and one even stopped to drink a few beers. I forget what his name was, but his signature move was to pour the last bit of his beer on the ground for the deceased. I can respect that. Here's a pic of the man himself next to Gavin's coche:




After Zach and I got a little drunk, we started with our antics. I stole Gavin's XM hoodie and cracked open another Buschhhh...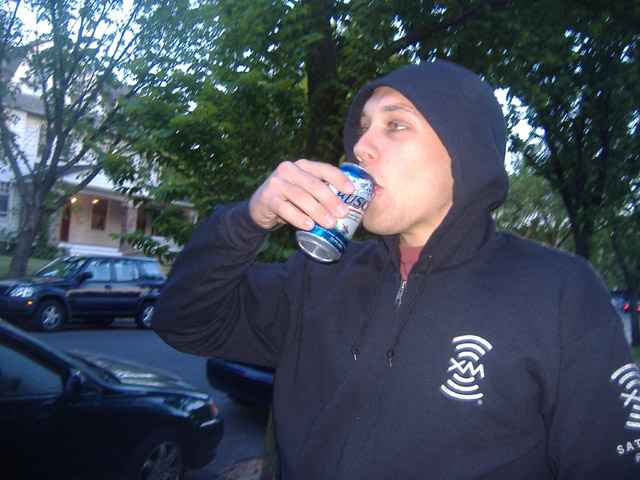 Since Zach had his back to me, I decided to poor a bit of beer into his butt pocket:




The feel of cold liquid against his warm butt cheek caused Zach to need to rub one out. Not to be shy, I joined him. Here's a picture of Gavin taking a picture of us doing our thing:




Once this was taken care of, it was already starting to get dark, so we headed inside to kill some time before the bars would get moving. For some reason, we got hopped up on rock climbing on the way in, and decided to climb the stairwell, literally. This was obviously quite dangerous since we were drunk, but thankfully nobody got hurt. Inside, Zach and I continued our bonding in Gavin's room:




Notice that I am a member of the very exclusive Pen15 club. Yeah, I don't mean to brag, but... Ha haaaa! Speaking of ha haaaa, Young Jeezy's hilarious catch utterances were a central theme for the trip. We were exposed to them thanks to Gavin's quasi-monthly podcast 'Riche Ryder Radio' for which John and I were present at the very first mix. Each mix is recorded live and they are known for their fabulous mashups. I highly recommend checking it out. You can find more here:
Nouveau Riche DC

Anyway, back to Saturday night. After finishing off the liquor at John and Gavin's. we walked to some bars for more entertainment. By walked, I mean that Zach and I terrorized people until we stumbled into a place that maintained civilized discourse. The first area we visited was a very popular district with long lines in front of each place. We waited for about 20 minutes before gaining entry into a converted pizza joint that was packed with people. We stayed there for a little while before leaving for another part of town where Gavin knew a bartender. We stopped for pizza prior to entering the bar. The guy that Gavin knew was really nice and gave us about $100 in shots for $20. I was so drunk by this time that I sat down at a random table where four girls were having a heated conversation. Oddly enough, the topic was philosophy and they were glad to have another viewpoint. I called Zach over and he pretty much set the record straight. The bar closed at 3 and we had to leave. The fun, however, did NOT stop. We decided to attempt the first EVER double piggyback right outside the bar. We had a nice crowd cheering us on:




After this difficult stunt, we returned home and went to sleep. Unfortunately, I didn't take any more pics in DC.

After three or so weeks there, Zach brought me down to Charlottesville where I lived in his house. We saw a number of small shows and I began reading Zen and the Art of Motorcycle Maintenance, which is also a fantastic book. The time in C-ville was very relaxing. One of my favorite evenings was when Jessie invited a bunch of us over for dinner. She had a little shark guy on a pole that was addicted to nicotene:




There were also a few interesting evenings at various house parties that really reminded me of my college days. Unfortunately, it was all too soon before I had to depart and return to Madison. However, I was happy to get to see Dana again. I hadn't seen her in a long time and I imagined that she might have been missing me. Once I got back to Madison, I was glad to find that it had warmed up again.

Since there was little to do in Madison, as always, I continued on my breakneak reading pace. I started reading 1984, Animal Farm, and Anna Karenina, as well as some books on Buddhist Philosophy and Religion. I also spent some time in Milwaukee visiting a friend of mine named Katrina. One day, we decided to visit a place called the domes where they have different climate zones and associated fauna in each dome. Here's a couple pics:




The first picture was taken in the arid dome and the second was in the temperate dome. Sadly, my camera ran out of juice before I could snap a pic in the jungle dome. Here's a picture of Katrina having the time of her life:




Jared and I heard about a great festival called Sasquatch being thrown near Seattle at one of the country's greatest outdoor venues. With the lineup including Beck, the Flaming Lips, Architecture in Helsinki, Clap Your Hands Say Yeah, Trail of Dead, Death Cab, The Shins, The Decemberists, Sufjan Stevens, Neko Case, Stephen Malkmus, Band of Horses, etc, we could NOT afford to miss it. We planned to stay with Jared's friends out in Seattle, and picked up some plane tickets so that we could stay for about a week. Also, it just so happened that Martin was going to be deposited in Seattle for business reasons, and he was going to be able to meet up with us out there. Jared didn't have any vacation days left, so he just faked an ass infection (seriously) to get three days off. The trip, although thrown together at the last second, turned out to be one of the most efficient (fun/hour) vacations I've ever taken. Thankfully, we've got tons of pics.

The first day that Jared and I spent in Seattle, we dressed in the crappiest clothes we had and hit the streets. We figured the best way to see a city is to just walk around it for an entire day, so that's exactly what we did. Sometimes, in the poorer parts, people would see us coming and prepare to hustle us; however, when they were able to get a better look, and see our clothes, they realized we probably had nothing, and didn't bother us. The first area that we saw was the University of Washington Arboretum:




Next, we spent some time downtown:




Then, we went to the waterfront:




Then, we walked toward the Space Needle, thinking it was going to be something worthwhile. However, very soon after arriving, we realized that the space needle FUCKING sucks and is just a ridiculous tourist trap. Those pictures where it appears that the space needle is in the middle of downtown Seattle, towering over the other buildings, are obviously taken from a hill behind the space needle itself. The damn thing is like 5 miles from downtown and is not very tall at all. I'll post some perspective pics in a bit, but first a grand pic of the darn thing itself:




After seeing the space needle, we trespassed on some hillside property and snapped the following pic before calling it a day and returning home: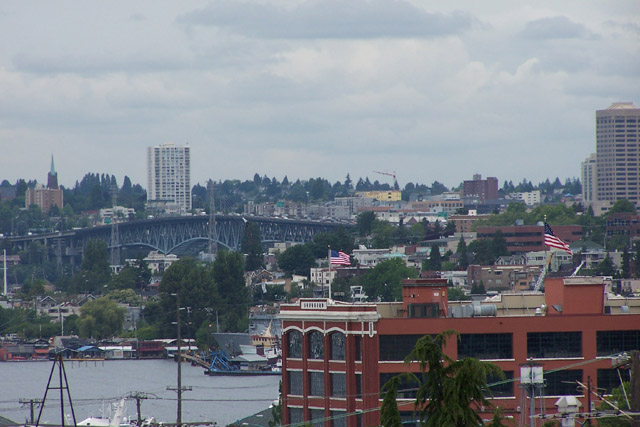 The next day, we met up with Martin and decided what to do with our one last day before the festival. We had heard that the Olympic National Park nearby was pretty tight, so we planned a day long trip to go there and check it out. The first thing we did was pick up our rental car (Mazda 3 for $40/day) and head for the ferry. We were so late for the ferry that the damn thing was nearly pulling away when we raced onboard. It was a ridiculously close call, but thank god we made it. Onboard the ferry, We had a great view of the downtown area (notice there is NO space needle):




Since the space needle was nowhere to be seen, Martin and I started looking for it: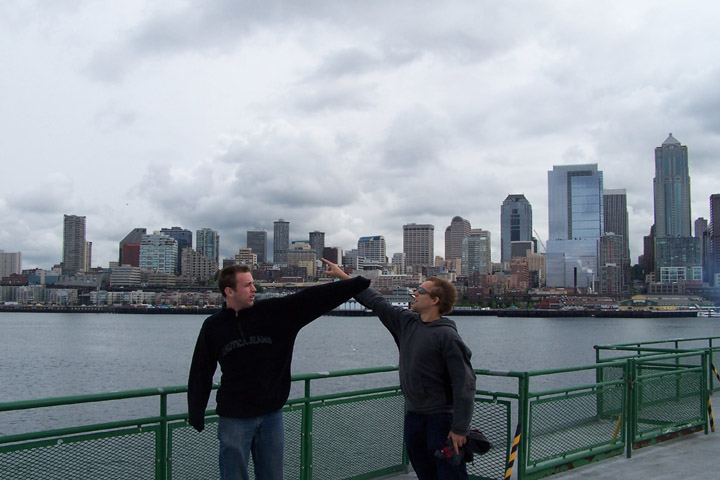 Although both of us thought we had spotted it, we needed the help of Jared to find it in the end. Here, Jared shows us how high the Space Needle appears in those postcard pictures, and we have the actual one right next to him for a comparison:




Once onboard, Martin and I took a geography lesson and after 45 hours, learned enough to plot our route on a map:




Once on the Northwest Peninsula, we drove to the Olympic national park and kept driving up a steep, precarious road until it dead-ended. Then, Martin found a trail leading up a mountain:




As we walked up the mountain, the views continued to get more spectacular. Sadly, it was raining slighty, and the clouds overhead obscured the tops of the mountains, but we still managed to capture some decent pictures: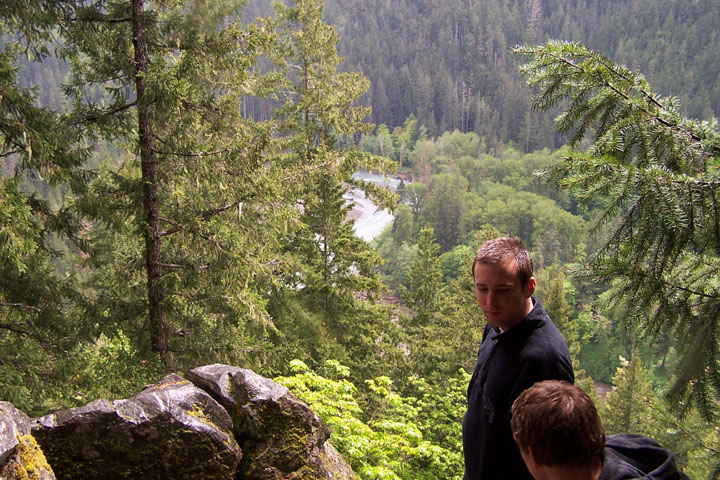 At some point, we noticed a river snaking through the canyon below and decided to head down the cliff to check it out:




We figured it would be a lot of fun to try and kayak down a river like that, although it probably wouldn't end very well given our lack of talent. I don't think the hiking was difficult enough for me that day, because for some reason I decided to try and climb up the side of the river basin. Although I made it, it wasn't nearly as fun as it looked, and I got tons of dirt on myself. Here's a couple pics of me on my way up, and another couple of the basin: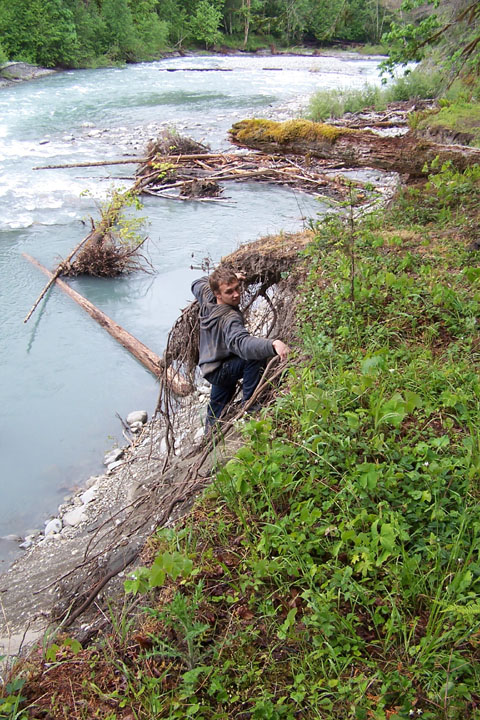 After making it back up to the main trail, we decided to turn around and head back to the car so we might have time to see another trail and then hit the coast. On our way back, we stopped by to check out a river dam that was built up on this river. Because it was dammed, this lake was created:




The next trail that we attempted was the Marymere Falls Trail: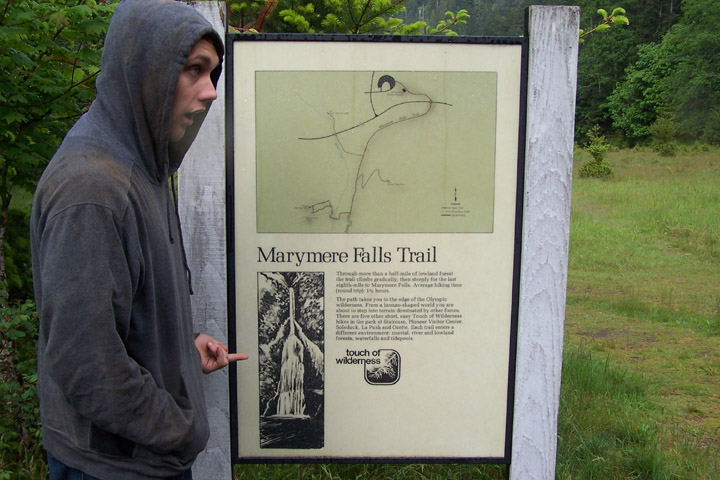 The Marymere's fall wasn't in the Mountain region, but instead the Rainforest region, which we determined to be just as good. Yes, it's true, there IS a rainforest as far North as Washington State! Jared and Martin decided that it was the perfect location to shoot their next album cover. Teenagers rejoice, for the Tag Teamers are back with their new album, 'DeepLove':




If you can see past the ridiculously over-photoshop'd wordArt, you'll see a ton of mossy crap hanging on the trees. That's your first indication that it's a rainforest. Here's another look:




I suppose another indication of the rainy nature of this forest would be the size of the trees:




Very phallic, don't you think? Ok, maybe that's just my mind. It's hard when you're hanging out with the Tag Teamers all day! Anyway, after an hour or so of walking we finally reached the Marymere Falls:




Once we had seen them, we rushed back to the car so that we could head for the coast. After driving another hundred miles or so, we finally made it. The coastal part of the Olympic park was so beautiful that I'll shut up for a while and just hit you with some pics: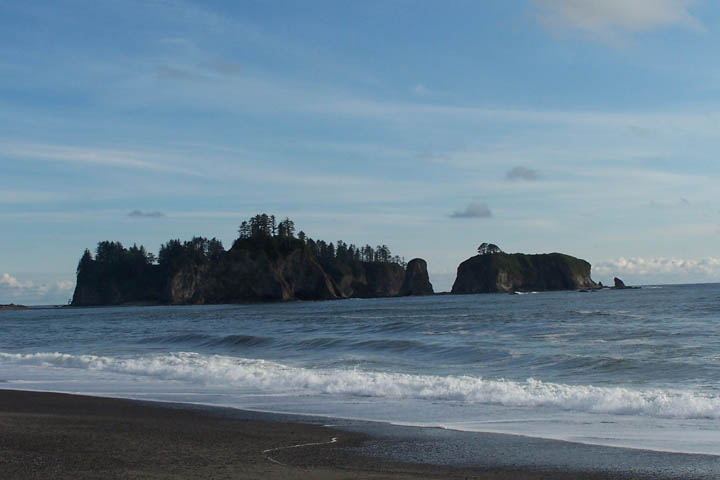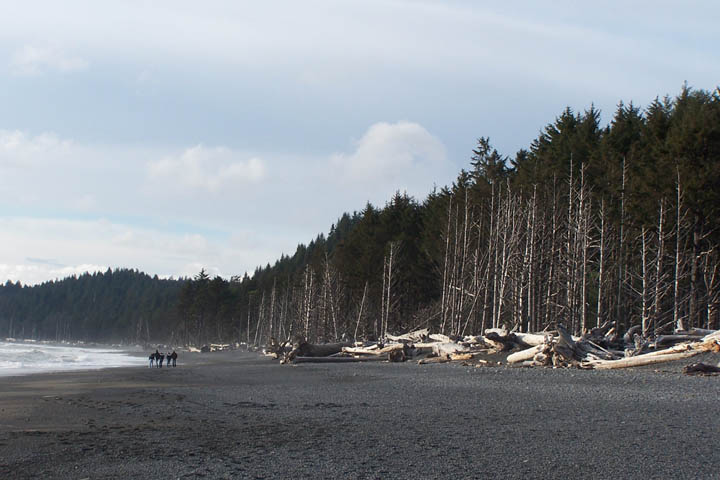 When we left the coast, the car had only 1/4 tank left. Unfortunately, there were no gas stations in the Olympic National Park, and we had over 100 miles to go before we were going to reach the first one. We were somehow able to make it 60 miles with the gas light on and barely made it into the station. We were prepared to walk, and couldn't believe we made it that far. We even put the car in Neutral at the top of hills and coasted down to conserve gas, much to the consternation of the cars behind us. After filling up, we found ourselves desperately late for the last return ferry to Seattle. We raced back to the ferry dock and even ran some red lights on our way. We squeeked in with less than 2 minutes before the ferry left. Another close call on one of the greatest days of my life!

All of the Beauty of the Olympic National Park almost made us forget the real reason we came to Washington State. Of course, that was the music! Behold the Gorge:




It truly lived up to its reputation as being the greatest outdoor venue in all of North America. It was staggeringly beautiful to have a stage setup amidst such natural beauty. Unfortunately (again), we missed the Architecture in Helsinki set, which we heard was fantastic, because we had to set up our tents in the tent park:




The crew included myself, Martin, Jared and a couple of Jared's friends, Tyler and Greg:




The first band we saw was Sufjan Stevens: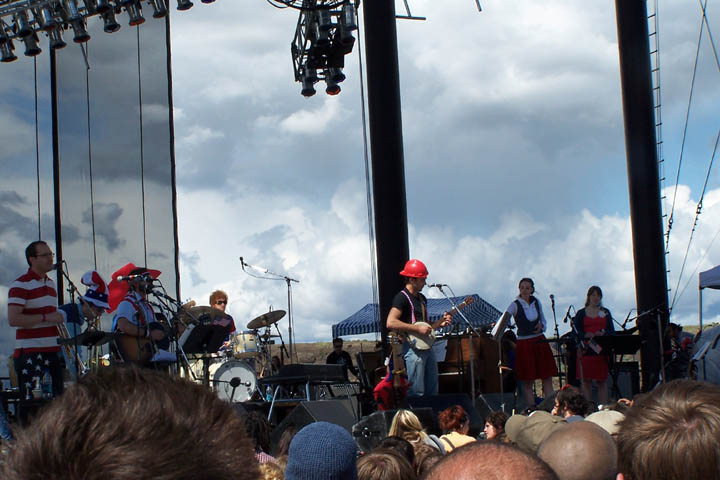 Impressively, despite the large crowds, we were able to secure fantastic points of view for each set. The amphitheatre-like seating arrangement was very conducive to comfortable listening. For the bigger bands later on, we were able to get right up next to the stage with a bit of muscle. The next band we saw was Band of Horses on one of the smaller stages:




Next, we saw the Shins, who were pretty textbook. The songs weren't much greater live than recorded, but that was good enough for me :)




As for alcohol, they were selling 24oz drinks at the shows for $8, which was a ripoff for the beer. However, they were also offering some Zima with 5.9% alcohol, which we figured was a pretty good deal. So, we ended up getting trashed on Zimas. We found that 72oz each day did us about right: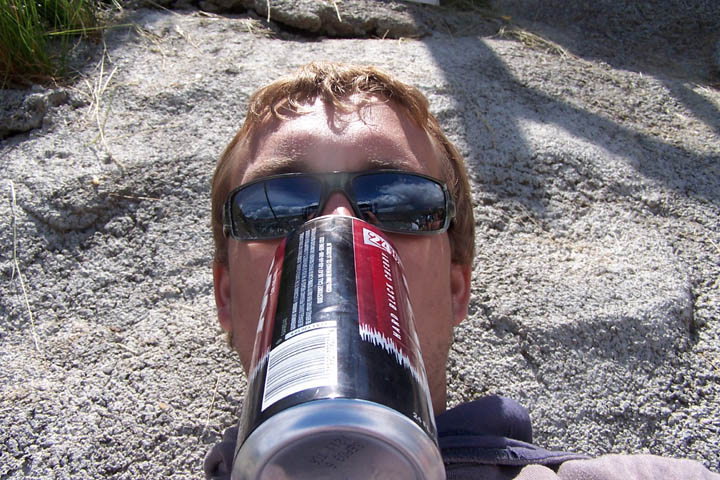 However, it turned out to be a bit much for Martin, who ended up passing out for a while. As a result, we felt obligated to put garbage on him:




After the Shins were the Tragically Hip, who I've never heard before, but they were really fantastic live. We didn't take any pics of them while they were on stage. After them was Neko Case who was cut short by one of the most epic freak hailstorms in festival history. At around 4:30pm PST, the people at the Sasquatch festival got absolutely SHAT on by huge hailbombs for an entire hour!




The hail hurt like hell and many people scattered. In the mass confusion, Jared, Martin and I raced to the front and managed to get to the very front row before the stage. The folks around us got creative and put tarps and blankets up for protection from the hail. We spent an entire excrutiating hour underneath our tarp of protection+1. A couple of times, Wayne Coyne came out to show his appreciation for our suffering and to commisserate with us, and everyone cheered. I still couldn't wait for the Lips and I figured this was worth it. By the time the Hail let up, we had quite an accumulation.




The worst was yet to come, however. Since we were at the bottom of the hill, all of the runoff from the melting ice above us ran into our area and we were forced to stand in freezing water for the remainder of the day. It was honestly one of the most difficult situations I have ever put my body through. We had to piss in empty water bottles and use other survival tactics not to lose our spot. Worst of all, The Lips traded spots with Ben Harper!!!! :( :( This essentially meant that we had to wait 2 more hours for the Lips. I was planning to leave after the Lips to warm up, but this was no longer possible. Here's some pics from the Ben Harper set:




Finally, at around 11pm, the Lips finally took the stage, preceded by 10 or so Santa Clauses:




After the Santa's, Michael Ivins took the stage:




Finally, we noticed Wayne emerging in a giant inflatable hamster ball:




Then, he began to walk on the audience. Jared and I both helped to keep him up, before Jared snapped this picture:




Finally, Steven Drozd took the stage:




Wayne setup a camera on his mic that projected his face onto a giant projection screen behind him. The effect was quite odd:




And then he busted out his Nun-hand puppet to help him sing:




Their set was absolutely fantastic. Several of their new songs worked really well live and they even played a couple of covers, including Bohemian Rhapsody by Queen. Finally, he busted out the brights and worked that audience with them:




I was in complete bliss to finally see one of my favorite bands live. They were everything I hoped for, and I just wish the set would have lasted longer. We retired once they finished, cold and wet, to our tents, which were completely soaked. So, we slept in the car after eating some cheddar triskets.

On the second day, we decided to take it easy on our bodies and squat in the fenced off areas where we had a good view, but weren't surrounded by tons of people. Here's Tyler and Martin showing off the comforts that our spot afforded us:




Here's four bands that we saw. Nada Surf, Arctic Monkeys, the Decemberists and Iron n' Wine: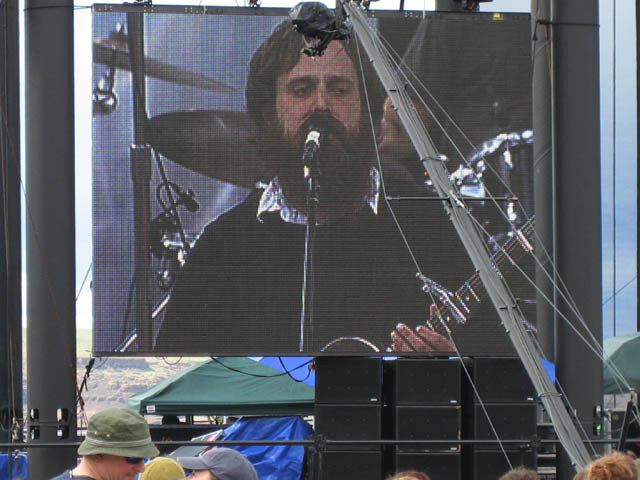 Sadly, we did not get pics of Beck, Matisyahu, Death Cab, Clap Your Hands Say Yeah (which was fuckin' awesome) or Stephen Malkmus. The Beck show was pretty sweet. They had puppeteers on stage that were mimicking the band's movements precisely with marrionettes. They then projected the marrionettes onto the big projection screens instead of the band themself. The effect was fucking hilarious. Beck closed out the whole concert in quality style, and we returned to Seattle for our flights later that night. I had four consecutive flights. Seattle to Minneapolis to Madison to Detroit to Rochester.

In Rochester I was able to see my sister's HS lax team take second place in NY state. I was very proud of her. She is looking at going to a division I school in lacrosse. I also started reading Walden, which is a fantastic book. I read part of it once in HS and didn't think much of it, but I now realize that it must have been way over my head then, because upon re-reading it, I am blown away at Thoreau's precision and intellect in describing the world around us. I highly highly recommend you check it out.


Forward to Summer 2006
Back to Index