Back to Index
Back to Summer 2013
Idyllwild Projects Continue
Back to Meaningful Work
After arriving home in Idyllwild from Portland Janel and I quickly set to work on our next few goals. In the spring, after returning from Zion, we had been offered an opportunity to purchase the adjascent parcel of vacant land and jumped on the opportunity. We hadn't removed the fence separating the parcels yet since we had no reason to, but once we returned from Burning Man we eagerly reunited these tracts. After opening up the property we set about cleaning up debris and pruning the trees and shrubs. The last thing we did was prune the top of one of the Cedar trees. This isn't the nicest thing to do, but it restored our beautiful view of Tahquitz, which I always treasure. Here's me on top of the tree with the pruners:




Over the next week we continued to work on landscaping. We also stole away to Big Bear for the Reel Rock 8 film tour which was pretty awesome, and Ivan and I managed to get up on Tahquitz to climb a great moderate linkup involving Dave's Deviation (5.9) to Piton Pooper (5.7) to Upper Royal's Arches (5.7). A couple days later Janel and I watch Avatar in 3D on our theater. I'd never seen the movie before, and it completely blew me away. Obviously there's a lot about the film that is pretty easy to criticize, but if you get caught up in it the messages are really beautiful and there is so much artistry behind the environments:




A couple of days later Janel and I attended a performance at one of the small churches in Idyllwild where a pianist and violinist played. It was a really amazing show, and just as amazing was an ancient cedar tree that we discovered in the parking lot of the church. We named it the Ultra Tree:




For the next couple of days Janel and I started preparing for a three week trip we had planned to the East Coast. It was about time Janel got a taste of where I came from ;-) Our plan was to spend three weeks doing a massive loop and staying in several places that had been part of my youth, including Rochester, the Adirondack's, Martha's Vineyard, Washington DC, Charlottesville, VA and other places as well. Here's an outline of our itinerary:


The Great East Coast Journey
On October 1st we awoke at 2:30am and jumped onto my loaded motorcycle to race to LAX to catch our early morning flight to Rochester. We connected in Chicago and grabbed a bit to eat. It was the worst veggie sandwich I've ever had. Ugh, airport food. When we arrived in Rochester my mom picked us up and gave Janel a short tour of Brighton before taking us home. We had some delicious bowtie pasta for dinner but as it gate later the veggie sandwich started coming back to haunt me and before long I was in a state of full-blown food poisoning. Alternating phases of stomach pain, nausea, vomiting and diarrhea kept me up most of the night and prevented me from eating anything until dinner the following day when my fever finally subsided. Whew! Unfortunately this bout prevents me from taking Janel on a trip around my hometown and we end up having to leave it until we plan on returning at the end of our trip. The only thing we managed to do before leaving was stop by Wegman's for food. Of course the Wegman's in Pittsford Plaza, their flagship store, is quite a spectacle on its own. I showed her the fantastic mushroom collection, including the black truffles: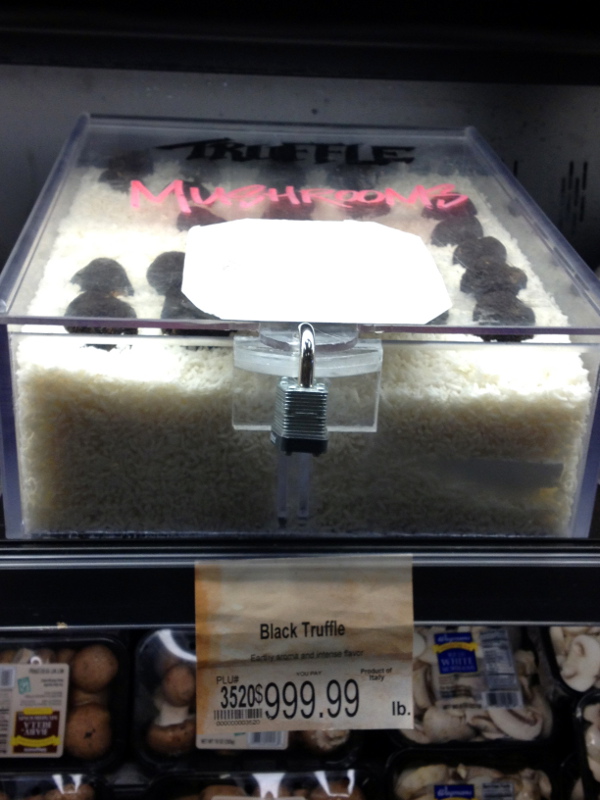 Really a bargain at $999.99 per pound! On Wednesday morning we pick up our rental car (Ford Focus) and follow my parents to Cranberry Lake in the adirondacks. We put in at Wanakena in the midst of the beautiful fall colors. Here's looking toward Cranberry from the put in:




Janel and I were in the two-person kayak while my parents were in the canoe with most of the supplies. As is the tradition, we brought a brightly colored tent with us that we would setup at the campsite if we successfully snagged it. As you approach the lake from Wanakena there is a spot where the waterway narrows:




We enjoyed the paddle out to our favorite bluff campsite which was happily vacant! We pulled into the nearby beach:




Before long my parents join us at the campsite and we setup camp. Here's a view of our camp amidst the colorful trees:




And this is what it looks like out at the bluff:




And here's the view of Cranberry Lake from the bluff: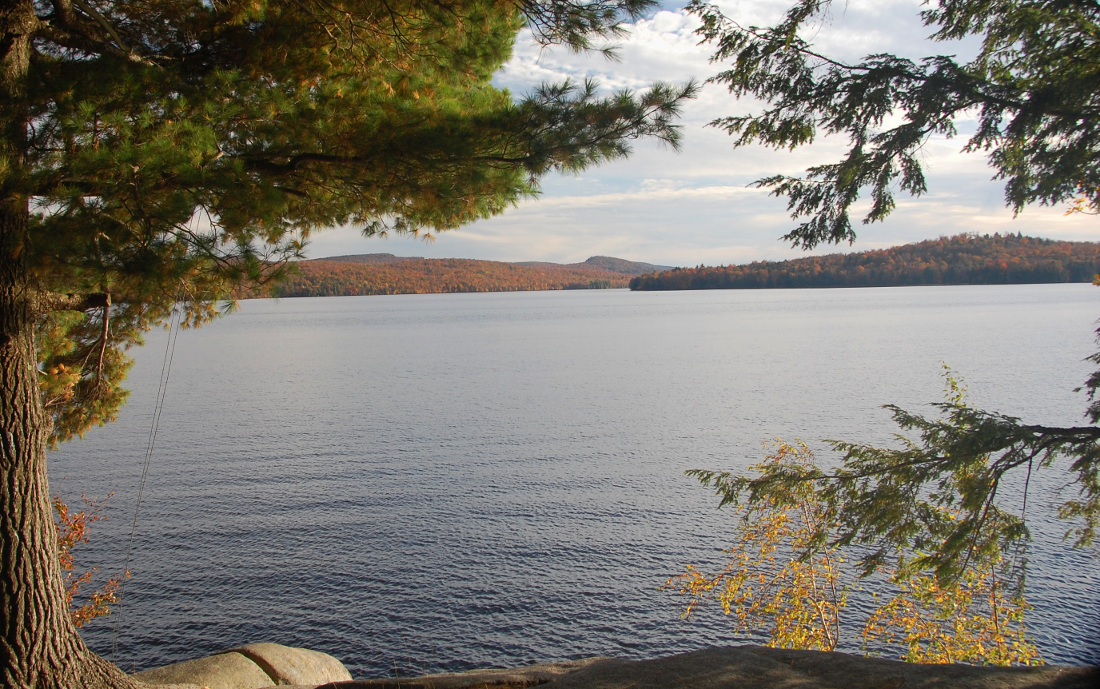 Since it was still relatively early in the day, Janel and I decide to go hike Cat Mountain. To get to the trailhead involves a few miles of kayaking down Dead Creek Flow to Janeck's Landing. The colors on the hike are really astounding:




Here's Janel at the part of the trail that crosses a bit of a marshy area:




There were lots of well-camoflaged frogs in this area, like this one: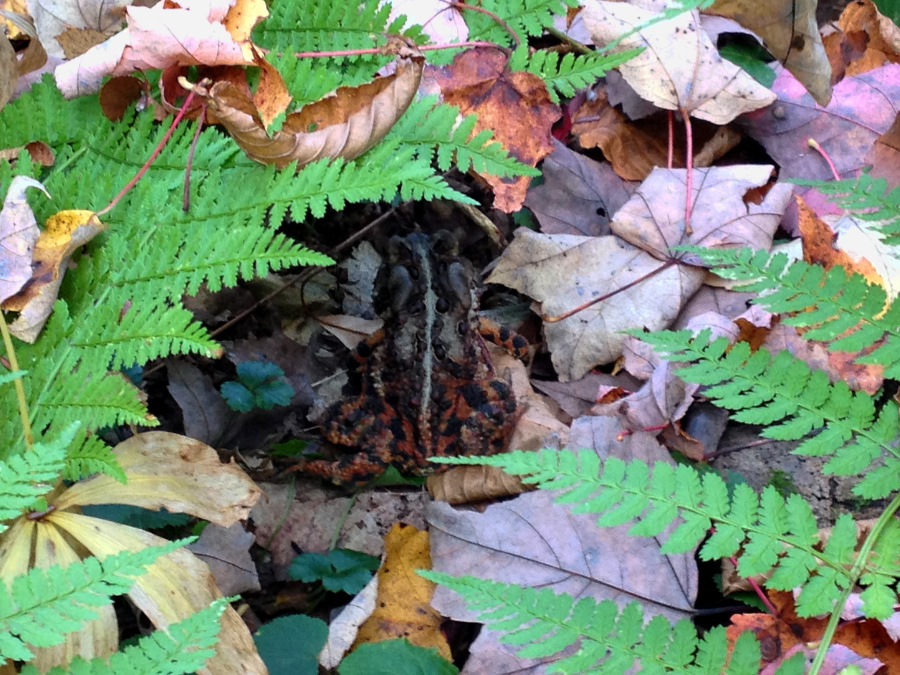 The trail meanders through several unique little ecosystems, including running streams




and fields filled with ferns: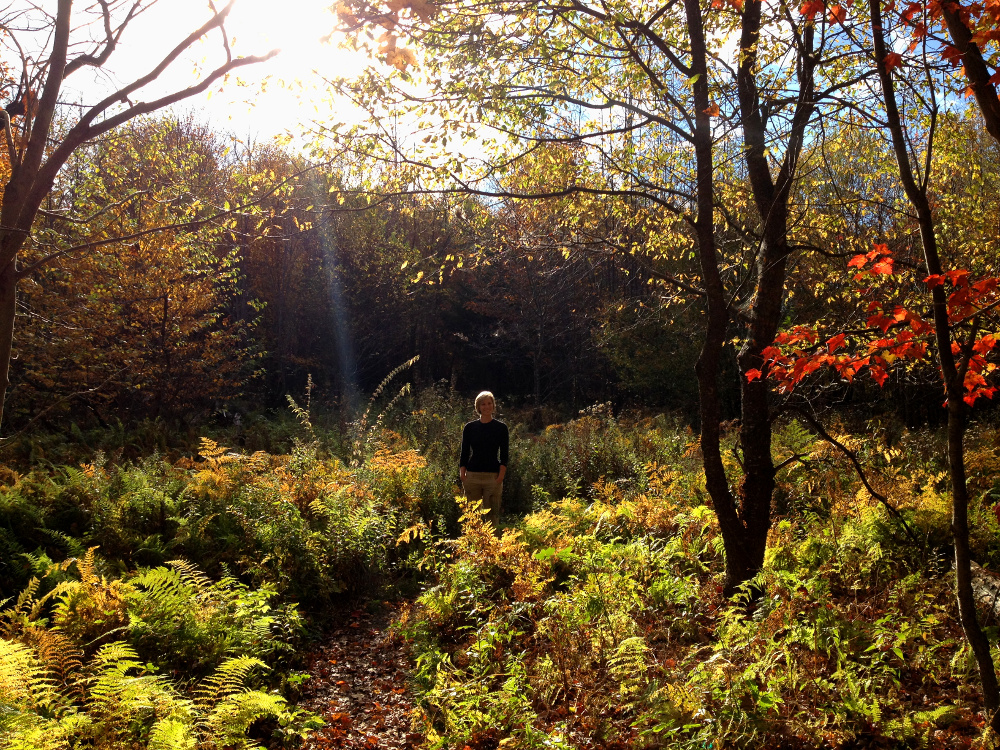 Eventually you reach a small pond that is entirely held intact by a massive beaver dam. Here's a look at the pond: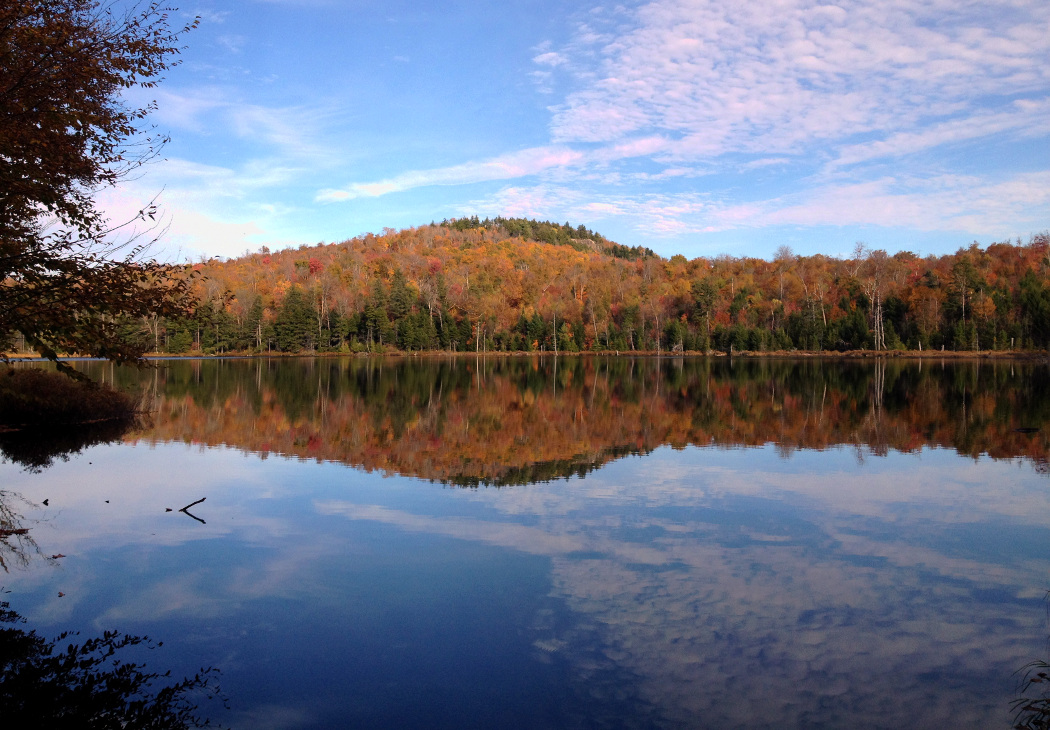 And here's a shot of the beaver dam that creates this beautiful spot: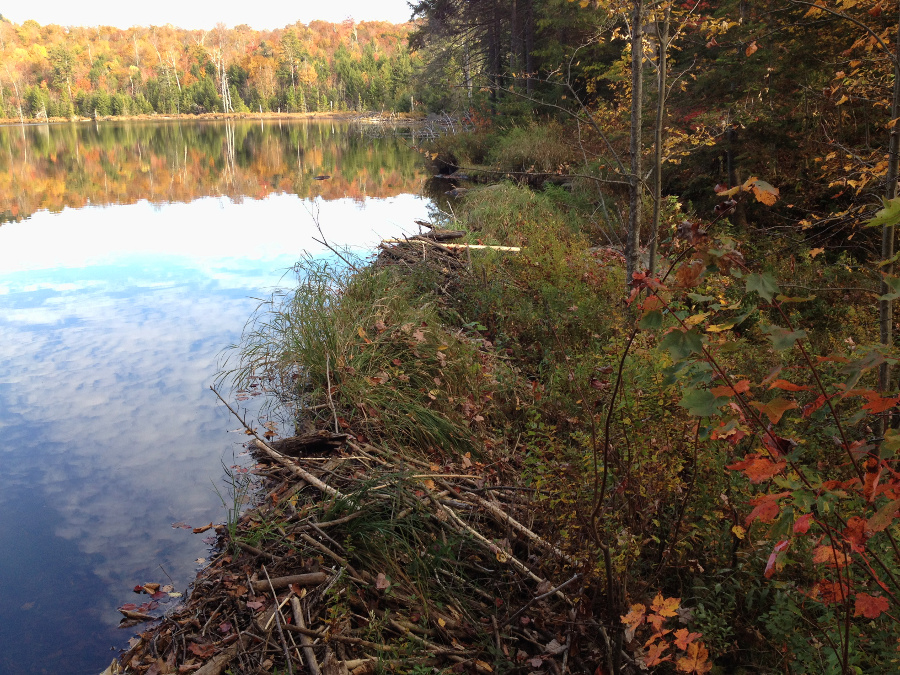 After you round the pond you start ascending the flank of Cat Mountain. It's a pretty small peak, but the views from the top were pretty beautiful:




The sky had lots of beautiful clouds interspersed that day: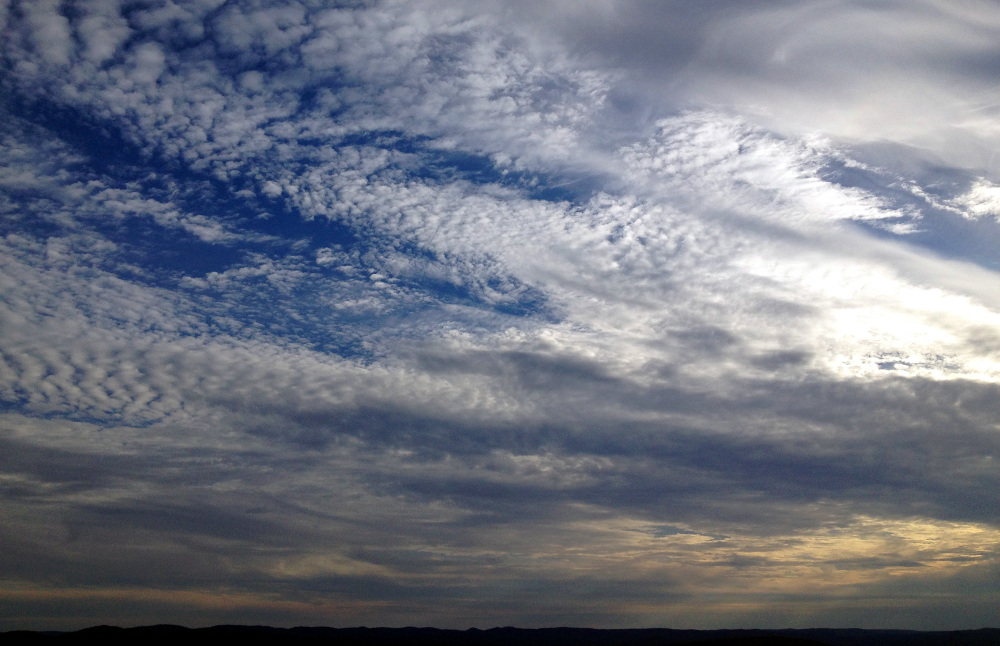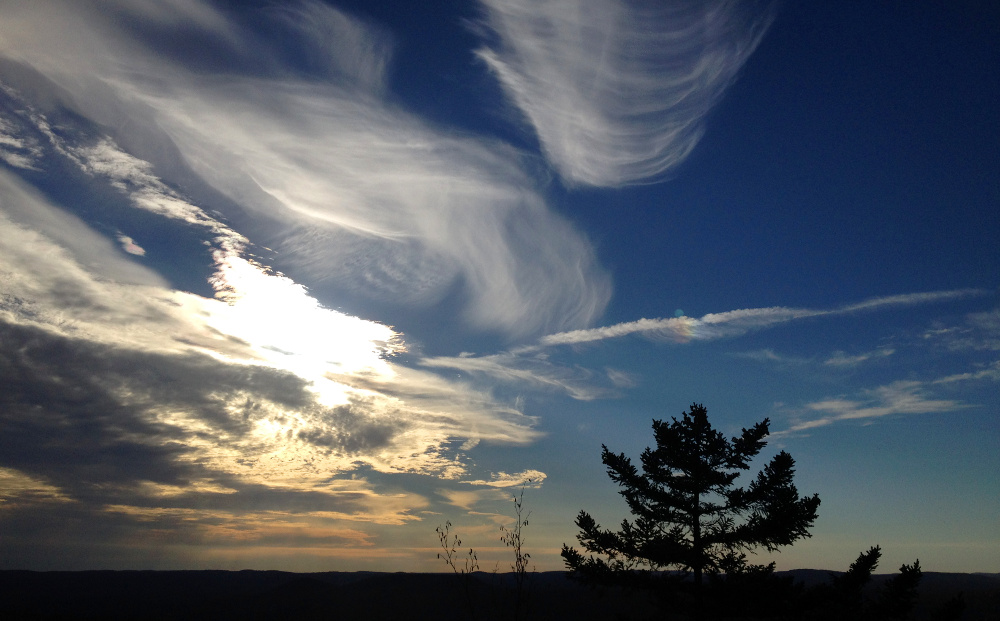 By the time we came down from the mountain we were already running quite a bit behind, so we had to double-time it back to the kayak and paddle quite efficiently. When we got back we enjoyed a nice dinner and fireside chat with the family. The following morning we decided to attempt another hike but it started raining pretty hard so we landed at a random spot and went for a walk through the woods. It was a peaceful little adventure. We found a couple of trees cuddling on top of a boulder:




And also found this scene of incredible fall colors: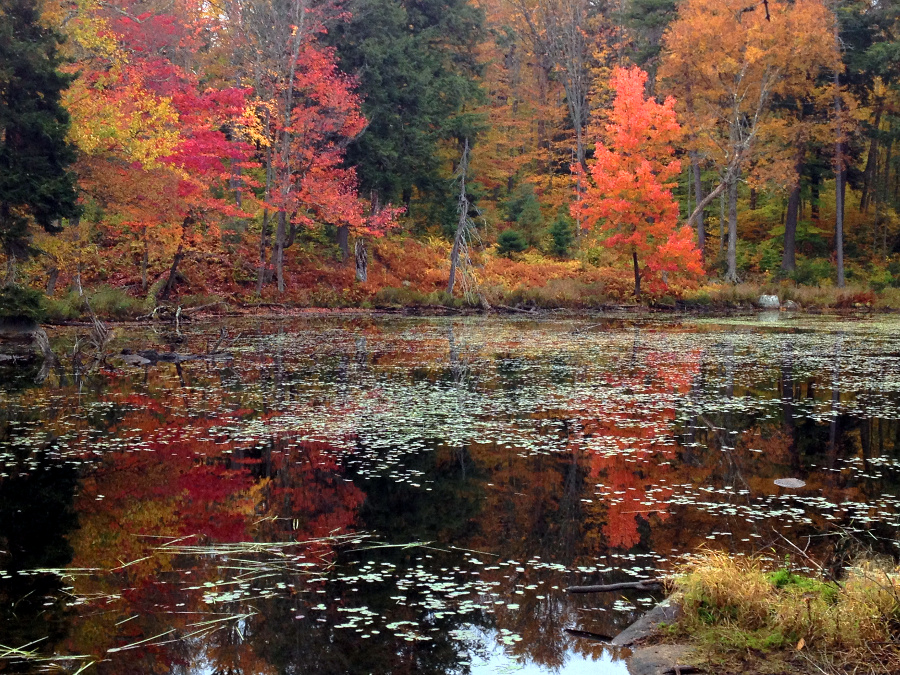 After walking around for a bit the rain started to subside and gave us a sufficient window to return to camp. We had another nice evening around the fire telling jokes and stories. I was very glad that Janel had more time to spend with my parents so that everyone could get to know each other better. The following morning we broke camp and returned to Wanakena. We packed the cars and said our goodbyes. Janel and I were to continue heading East while my parents were going to return to Rochester, where we would see them in three weeks. We continued through the high peaks region, passing through Lake Placid, the small town that hosted the 1932 and 1980 Winter Olympics. Here's a view of the ski runs from the road:




We crossed into Vermont by way of a bridge over Lake Champlain. The drive through Vermont was really beautiful with all of the fall color. On our last leg of driving down to Boston we stopped at a highway rest stop that struck me as completely ridiculous. I'm not sure if we were in Vermont or New Hampshire, but they had a giant State Liquor Store right next to the State Safety Information building in the highway rest area: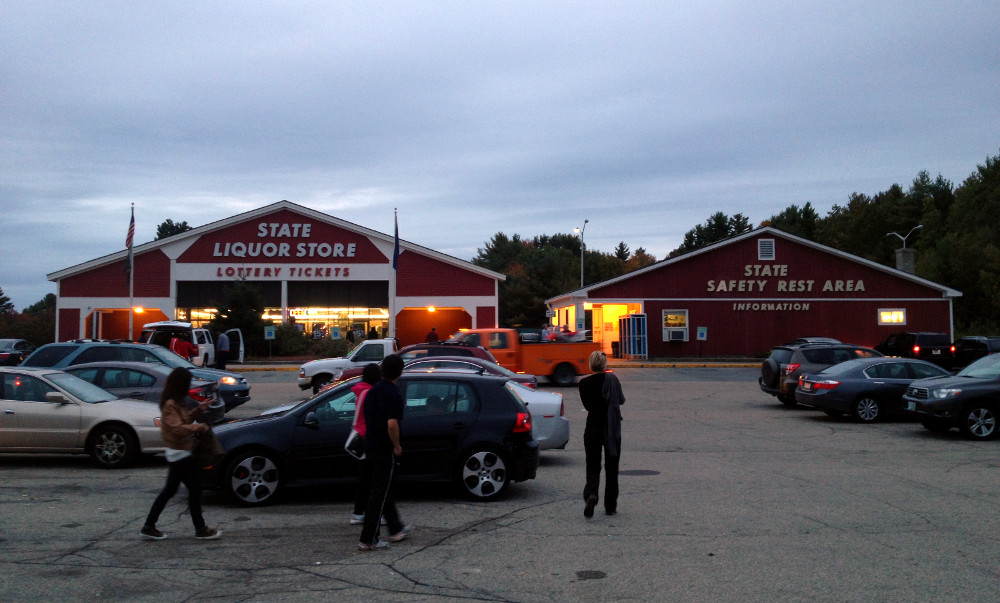 I guess this is just where we're at right now. You'd think that state-controlled liquor sales would mean more responsible sales, etc, but no. Once we arrived in Cambridge we went to meet Janel's friend Sarah who we would be staying with. She is an architecture student at Harvard. We chatted for awhile inside of a boat that she built before deciding to head out all together to a house party that she knew about. After arriving Janel and I felt a bit out of place since the party was among very close friends with lots of inside jokes and there was also a heavy alcohol focus. At some point we decided to leave and go for a walk around Cambridge. We ended up near a Swedenbourgian Chapel somehow and this was very coincidental since I had just read about Emanuel Swedenborg on Wikipedia less than a week prior. He is an incredibly interesting 18th century scientist turned christian mystic who wrote prolifically on Christianity in an attempt to reform the church and clarify the meaning of the bible. On this night the chapel was holding a poetry reading slash talent show. I decided that I would ask the next person who came out about Swedenborg to see what they had to say. As it turned out, the next folks to emerge suggested that I go inside and speak with a man named Carl who was putting on the event. We hesitatingly entered and located Carl. He brought us into the main room and began to explain his take on Swedenborg. Meanwhile a couple of the folks present took an interest to our arrival and were contributing to the discussion. One was a man who was highly interested in lucid dreams and another was a quiet and very courteous man named Mark who became more involved in the discussion as time wore on. It eventually became pretty apparent to us that Mark was a highly spiritually actualized person. He had had three near-death experiences that had changed the course of his life forever. We took this opportunity to talk at great length with him. In fact, we spoke for another hour inside the church before it had to be closed, then we continued under an awning across the street for several more hours until about 4 or 5am when we had to part ways. It turned out to be one of the most inspiring conversations I've ever had. Mark's intuition and insight were so strong and clear and he shared so openly with us that we kept asking more and more questions. He seemed very happy to answer despite still having an hour drive to return to his home. By the time the conversation ended and we had parted ways, Janel and I were left wondering what sort of an experience this had been. It really felt as if we had been visited by an angel. We returned to Sarah's and got to sleep, full of wonder. The following morning we awoke and went to meet Janel's friend James (also a grad student at Harvard) for breakfast/lunch. I had a delicious falafel sandwich and really enjoyed reconnecting with James, who I had met once before in Portland. After lunch we hit the road again for Falmouth, Massechusettes where we would be catching a Ferry at Woods Hole to Martha's Vineyard. The drive was pretty short and uneventful. Amazingly we were able to catch a ferry immediately upon arriving (despite being standby). Instead of being on one of the large ferries we were on the Katama, which had been in service since 1988 when I was very young: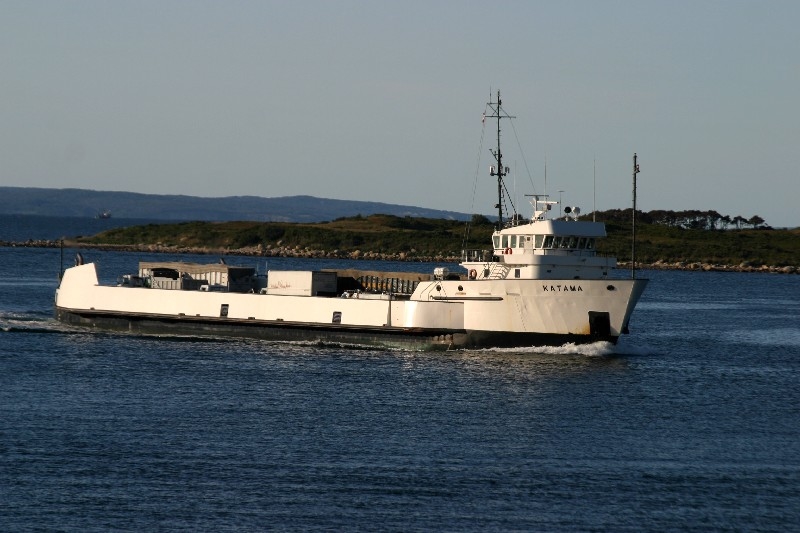 The trip over to the Vineyard was really nice and nostalgic, the latter adjective becoming commonplace on this trip. I had gone to Martha's Vineyard once a year (usually for a week) from ages 5 to 15 or so, and as the main vacation my family took each year, it represented an important part of my childhood. For those of you unfamiliar with the island, here's a map:




As a child I had witnessed a drastic change to the island as it was discovered and visited by presidents and celebrities. The population boomed and the sea life plummeted. For years I would catch blue crabs, spider crabs and hermit crabs, display them in a pail on the beach and then release them back into the ocean. After the crowds started getting bigger they disappeared completely. Eventually the swarms at the popular beaches drove my family to the more remote and wild beaches on the South Side of the island. Nonetheless, we managed to have a great vacation every single year and I really looked forward to seeing how much the vineyard had changed in the ten or fifteen years since I had last stepped foot there. Anyway, the ferry arrived in Vineyard Haven after about 45 minutes. Once we got off the ferry we drove to Oak Bluffs to check into our Bed and Breakfast called the Piquot House: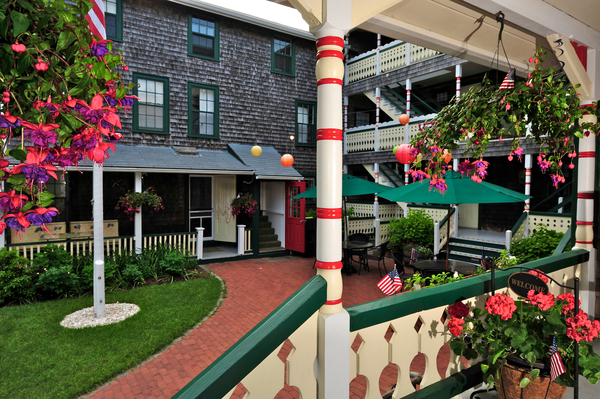 We were not too pleased with the original room that we were put in, so we asked to be moved and they were very accomodating. After we got settled we decided to go for a walk in Edgartown. I took a couple of photos that convey the stateliness of Martha's Vineyard's most homogenous, albeit nice, town: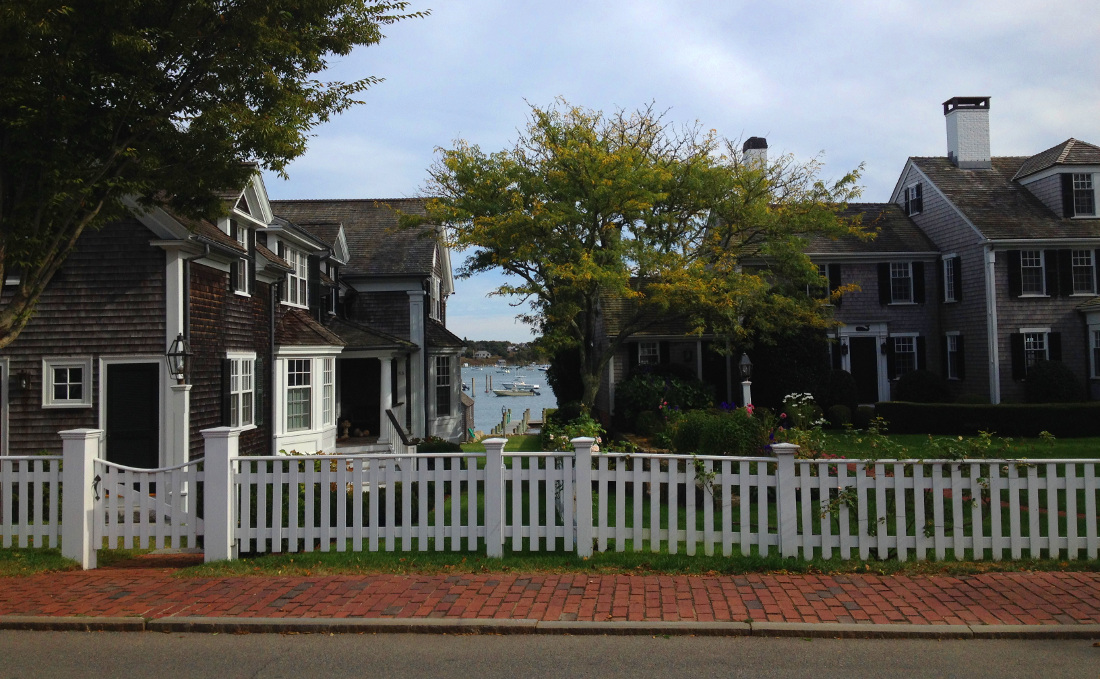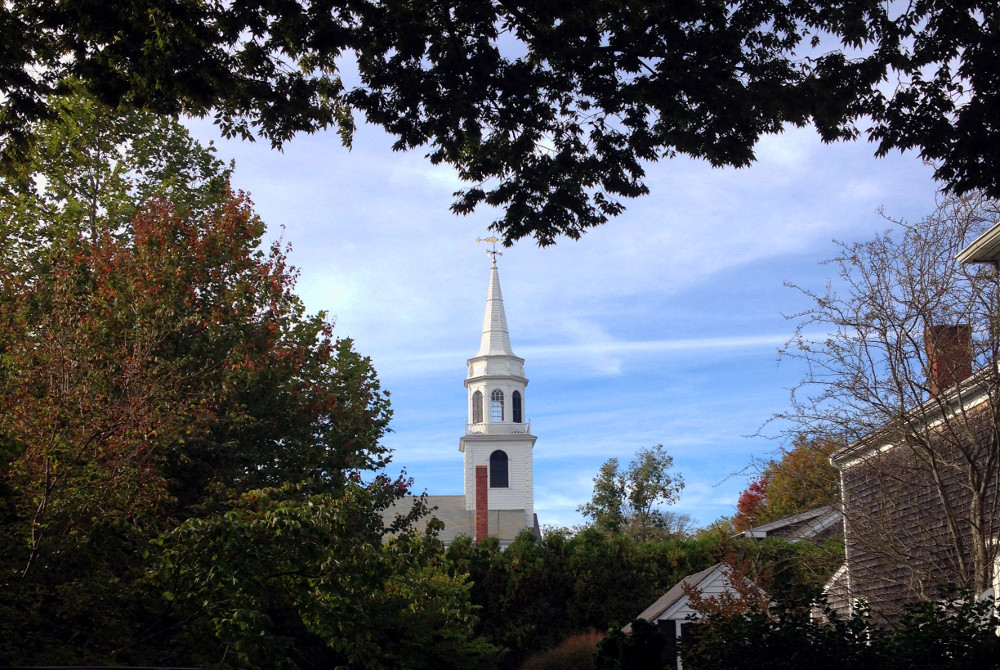 After walking for a bit we arrived at the site of the oldest colonnial house in Edgartown, dating to the 1700's: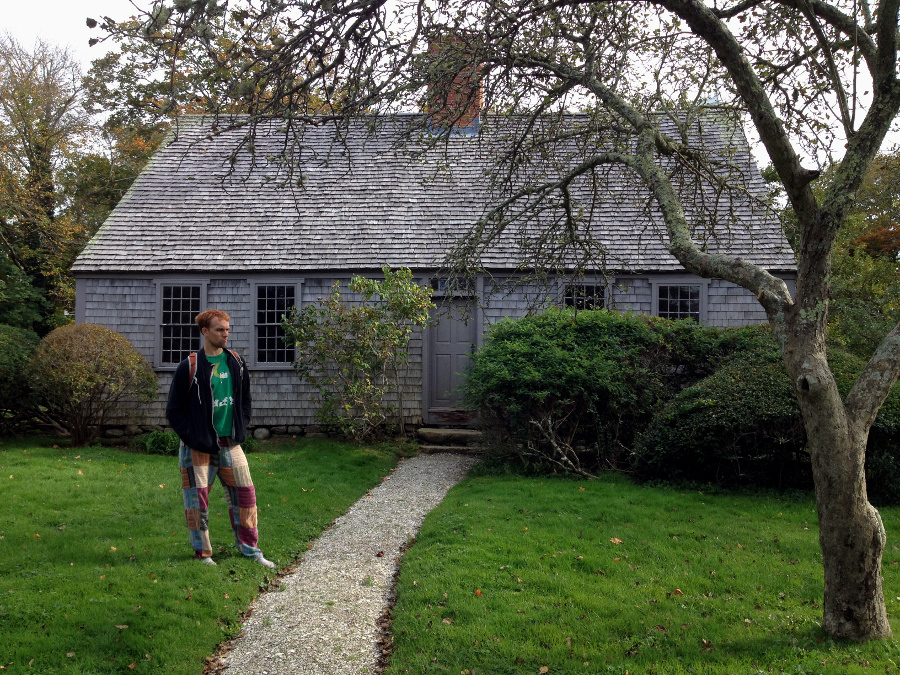 Once we were done exploring Edgartown we stopped at the grocery store on the way home to pick up some victuals for our coming beach days. That night we decided not to go out and instead eat the pre-made indian food that we had purchased at Trader Joes. Since we didn't have a microwave in the room I had to get creative with how we heated up the food:




It actually worked surprisingly well! The following morning we had breakfast downstairs and then went to Vineyard Haven to pick up Scatch at Brickman's, the place where I bought our original version of the game many years ago. That original purchase, overpriced as I thought at the time for $20, was actually far better than the generic version we picked up for $8 which turned out to be the lowest quality game of any sort I'd yet seen, breaking after only two uses :-( Anyway, we then went out to Long Point beach, taking a route that wasn't the way my parents usually did. Here's Janel enjoying having the entire beach to herself, with some ominous clouds overhead:




Within an hour after we arrived an intense rainstorm hit and we ran back to the car, becoming completely drenched by the time we got there! The drive back to Oak Bluffs was a lot of fun in the downpour. We went through some huge puddles! We returned to our BnB and rested until the sun returned, then went for a walk around Oak Bluffs. On the way into town we passed through the quadrangle, where there are lots of super nice houses and green open spaces. Here's the house we declared the nicest:




And here's a look from the house toward the quad, with the bandstand in the middle:




I picked up a nice bowl at a new Tibet Shop there and we got ice cream at Mad Martha's. We then decided to walk towards the Tabernacle and Gingerbread Cottages too. Here's a row of some colorful ones: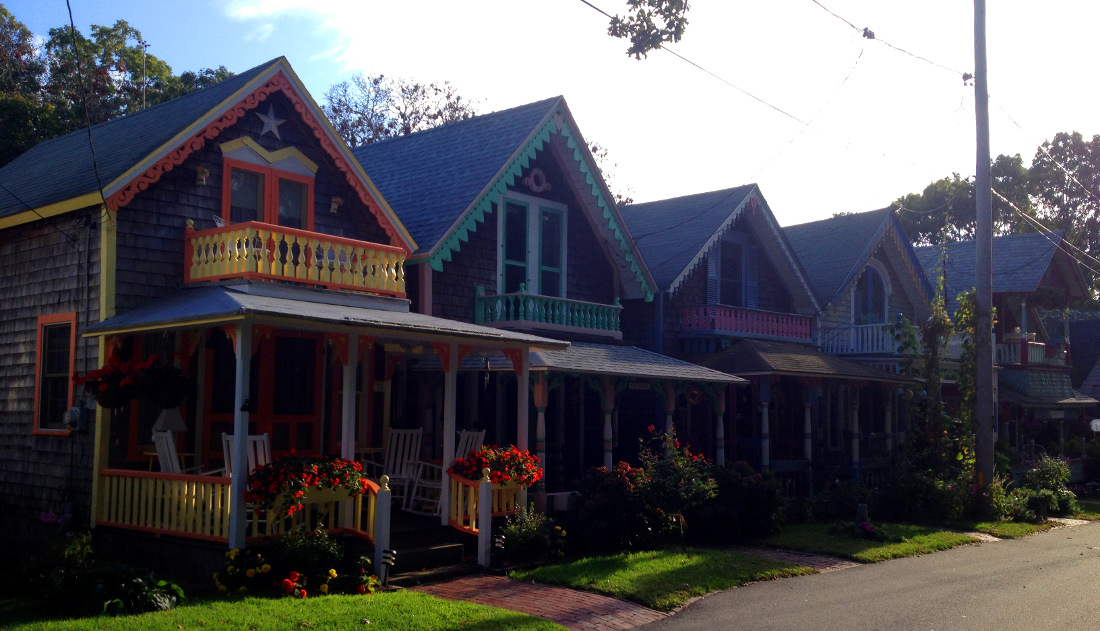 And here's the tabernacle, which sits in the center of the neighborhood:




The tabernacle has no affiliation with Mormonism or any church as far as I'm aware, but is instead a meeting place for the town when special events are held. Here's a look from the inside: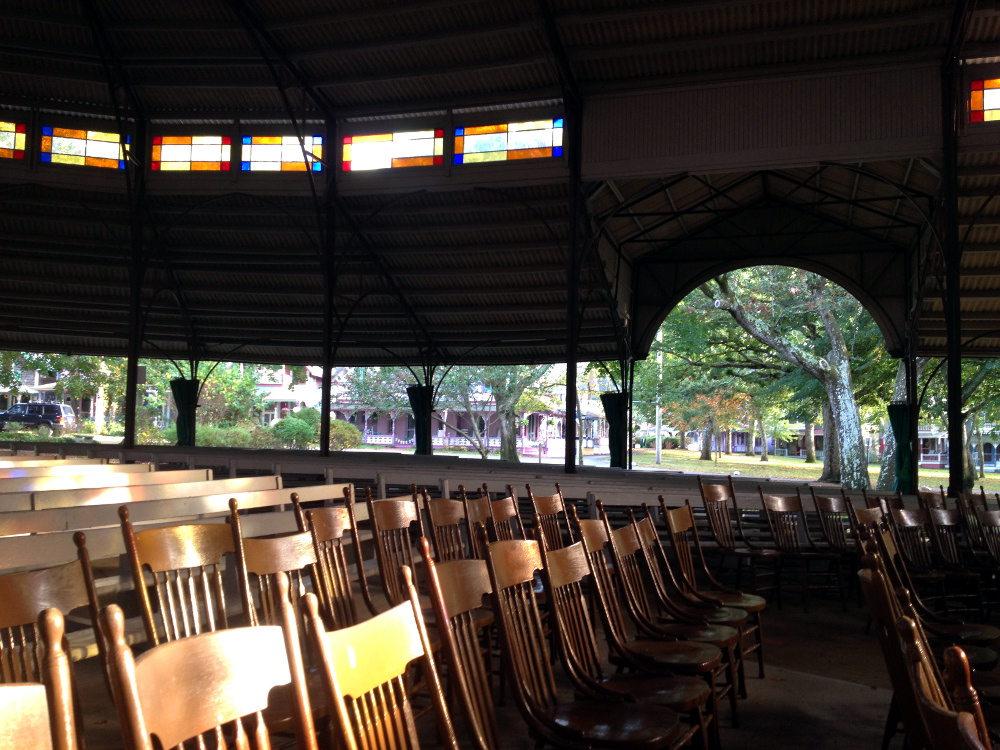 After walking through the tabernacle grounds we emerged on the far side of Oak Bluffs, near the marina. As we crossed back over the quad we found there was a lot more activity there, with several children flying kites and a frisbee game wrapping up: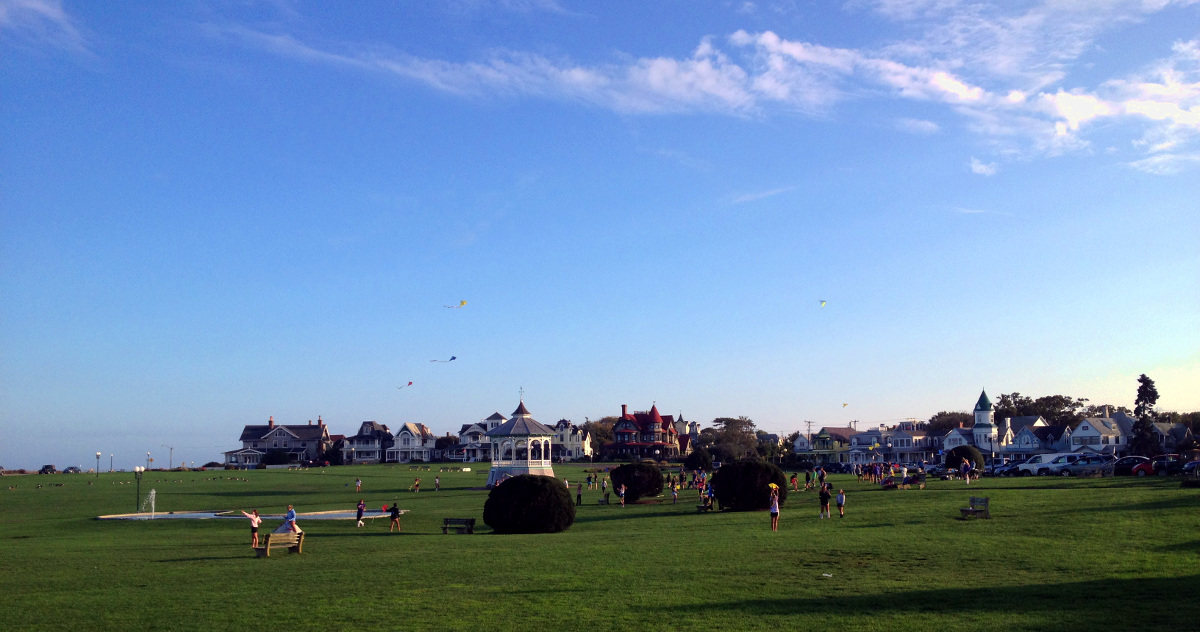 After we returned from our walk we decided to drive out towards Gay Head to catch the sunset. I'd forgotten how long the drive was! The sunset was really beautiful and many folks had the same idea that we had. It was incredibly windy, however, so we couldn't spend too much time out on the bluff. Here's a picture of Janel and the lighthouse: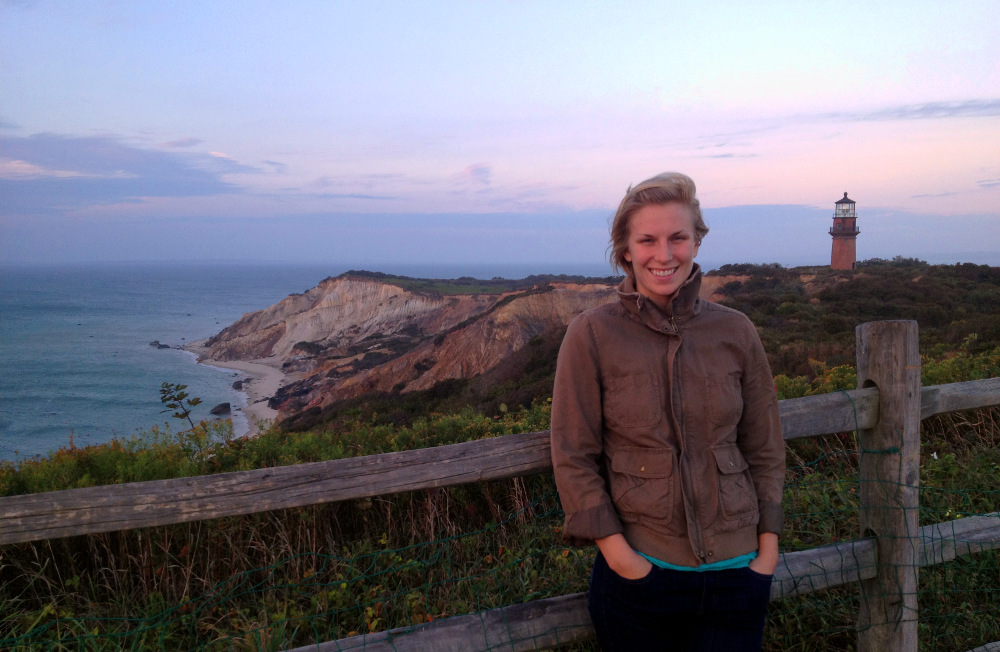 After dinner we returned to Oak Bluffs to eat at the Ale House which was better than expected. They actually had good beer too! The following morning we went to State Beach, normally the most overcrowded beach on the island, but in October we were the only ones there! Later we returned to Edgartown to walk around and see the cottage where my family used to stay. For dinner we got food at the Little House Cafe near Tisbury. It was a really relaxing, peaceful day. The following day was our last on the island. We checked out and went to Vineyard Haven to enter the standby line for the ferry. While we waited we walked around town and picked up some fudge at Murdick's (classic parker tradition). We managed to sneak onto the 1pm ferry, this time the Martha's Vineyard. Once we arrived at Wood's Hole we hit the highway for Providence. I'd never been to Rhode Island before, so this part of the trip was new, even for me! We got coffee at a Cafe called White Electric then grabbed dinner at a really cool spot called Food @ as220. After this we went up to a park on the East side of Providence and waited for a ghost tour, something that Janel had discovered online and looked like a unique way to experience a city you were staying in for only one night. Here's the view of the city from the park:




The ghost tour turned out to be really great. We walked about six miles and heard all sorts of stories about the mansions and buildings in this older quarter of the city. We walked through parts of Brown University and through several neighborhoods. Although we didn't see any ghosts, or orbs, or anything supernatural really, it was still a fascinating time and the tour guide was really entertaining. After the ghost walk we went to one of the larger parks in Providence for the Halloween Pumpkin Spectacular. This event featured about 5000 carved pumpkins on display, and the artistry of them was incredible. Neither Janel nor I had seen carvings in this style before, where they scraped layers away in order to achieve a greyscale effect. There were tons of amazing pumpkins, but here are a few of my favorites: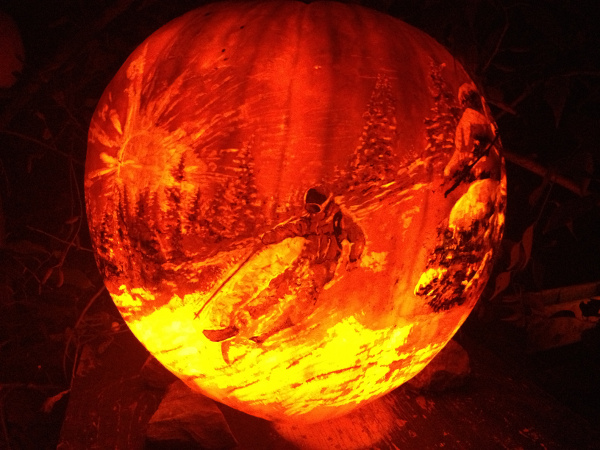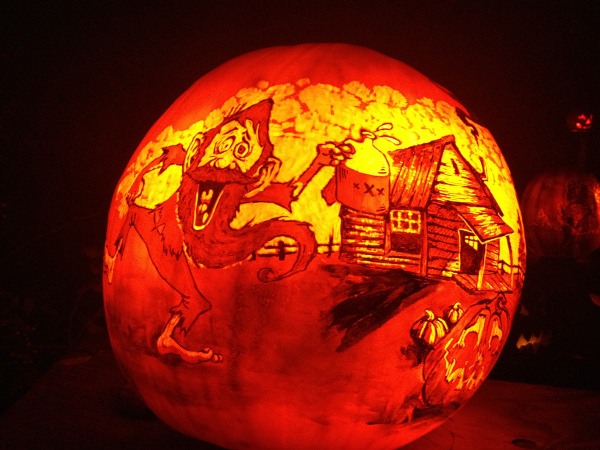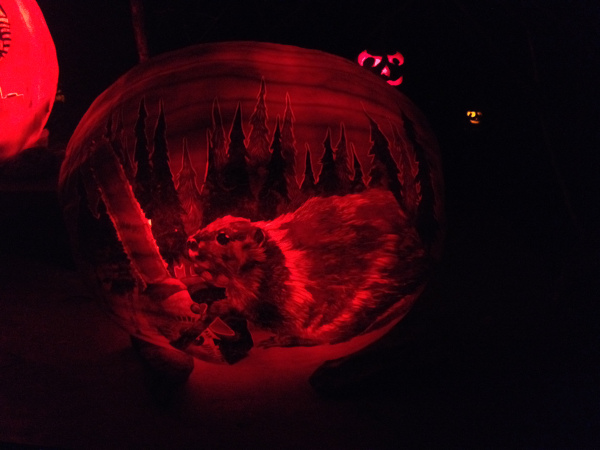 Towards the end of the walk they had dozens of pumpkins strung up in the trees and some massive pumpkins on the ground: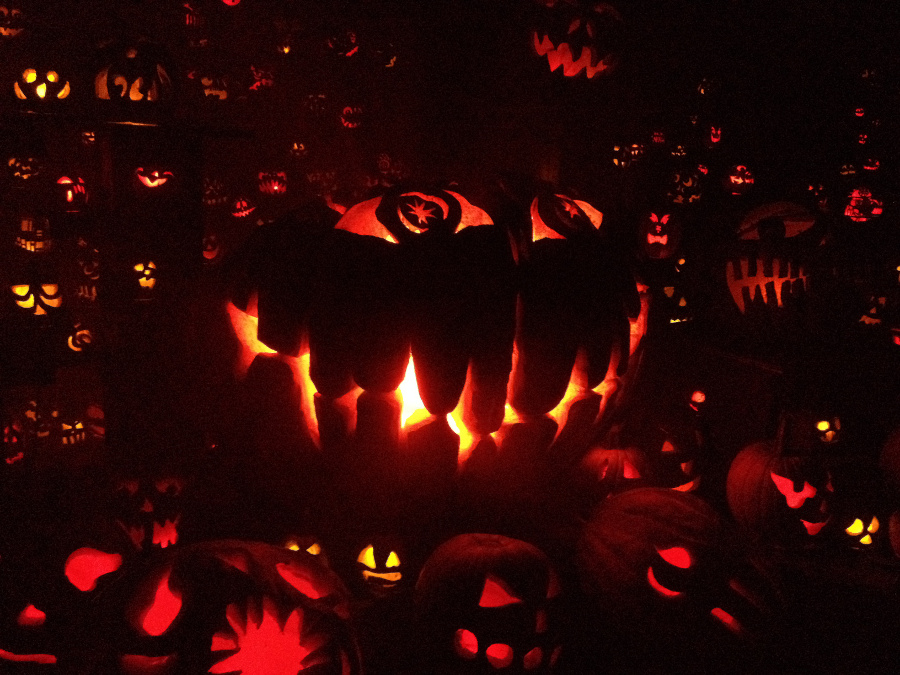 It ended up being a really unique and amazing experience and we both felt like we had really taken advantage of the day. Providence would remain a highlight for us throughout the trip. That night we stayed at a Marriott in Seekonk using reward points. The next day we drove to New York City, right into the heart of Manhattan, to visit an art installation called the Dream House which I had been told about years before by Seth Hain, a coworked of mine at Epic. The installation was a room inside of a random building near TriBeCa. You called up to the room and someone let you in. Then you ascended the stairs and entered the room, the noise within becoming increasingly louder. The room itself has four large boxes, one in each corner, housing large speakers that are generating several simultaneous intervals of sound. The sounds seem to be pulsing and fading in and out, although it seems like it might just be you. There are also colored lights in the room, to give it a strange surreal effect. Janel and I noticed that what you heard seemed to change on the orientation of your body and was affected by even minute movements of your person. We spent what seemed like an hour or two in there before feeling ready to leave. When we stepped back out on the street we felt like the whole experience had really been like a dream. After the Dream House we returned to our car after walking through Central Park. We drive up to Fishkill, NY and get Thai food before retiring for the evening at our hotel. The following morning I spend some time working before we leave for Alex Gray's house. Alex Gray is an amazing visionary artist that we originally heard about through our friend Saph, but whose work featured prominently in our experiences at Burning Man the previous year. His work includes lots of colorful psychadelic imagery, as well as an incredible amount of detail and awareness of human biology. I had never seen any originals before, so this was really a treat. My favorite piece that was in the gallery at the house was called Cosmic Christ: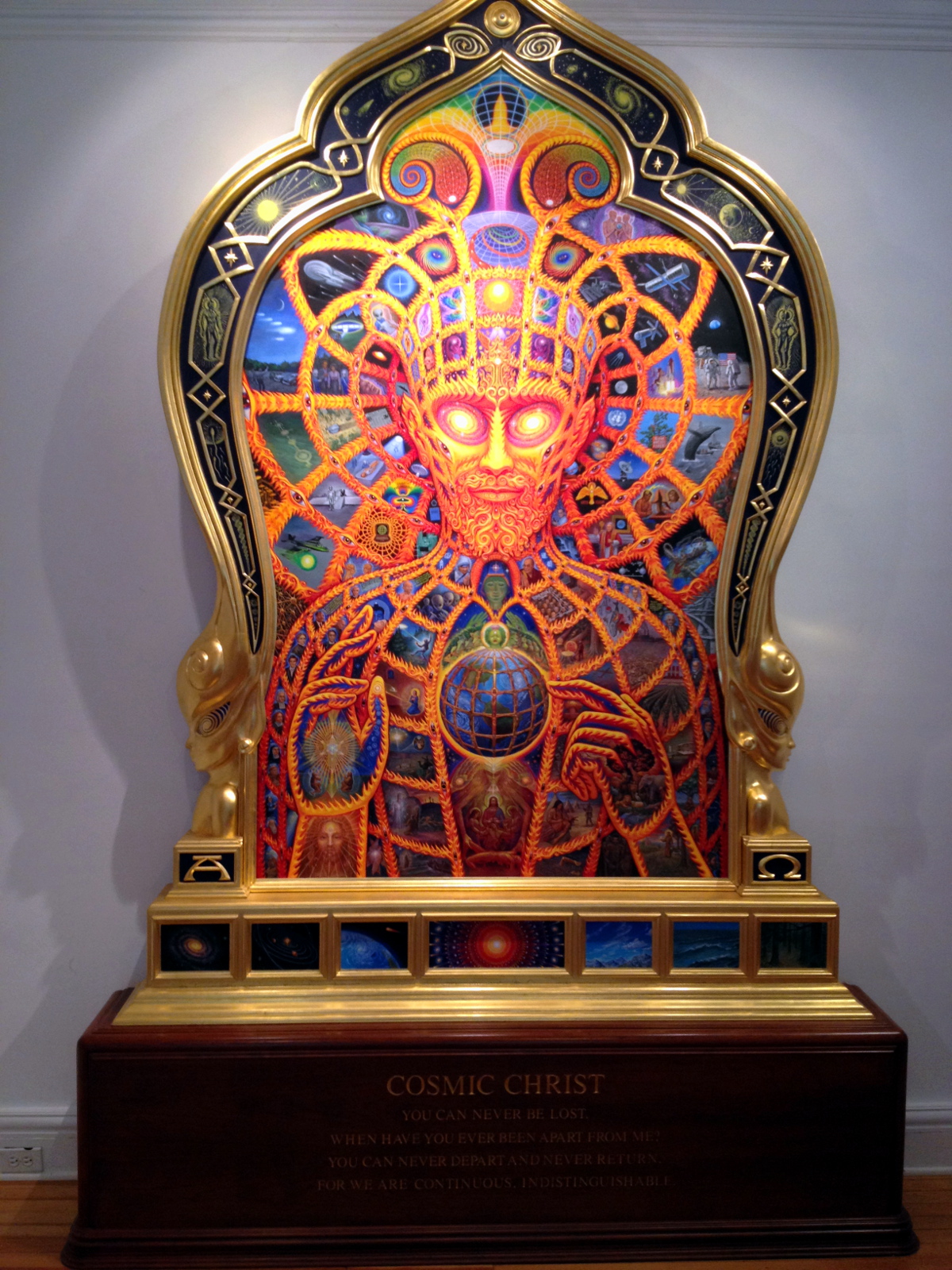 There were several other amazing works as well, but I didn't get any pictures of them. Here are a couple of my favorites that I found on the web: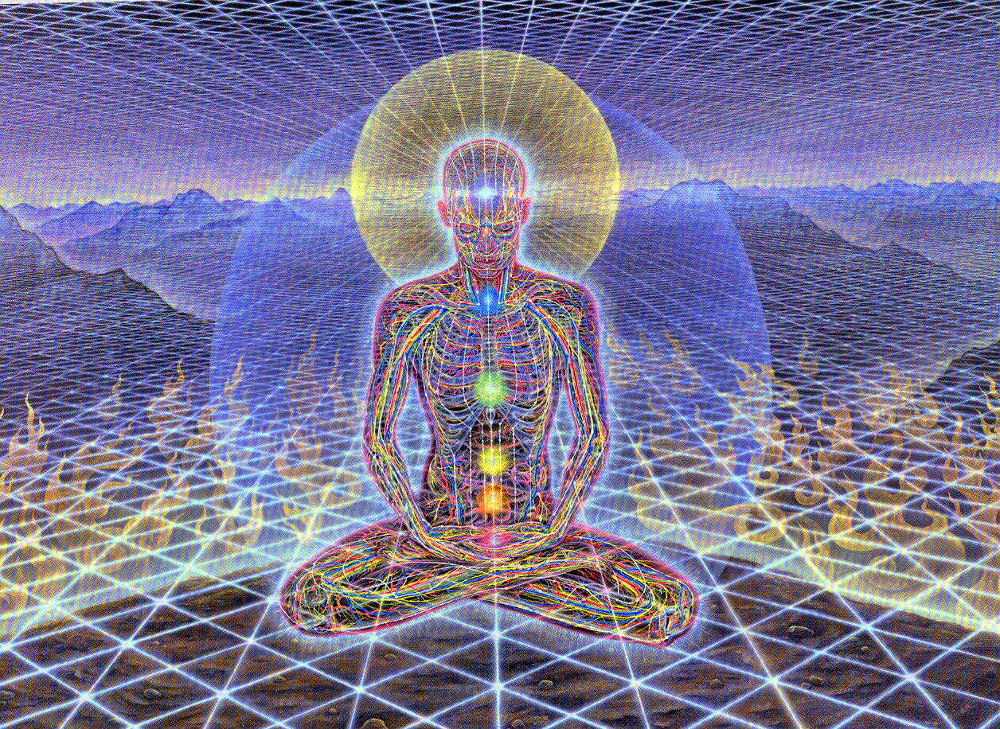 We have a print of the latter framed above our fireplace in Idyllwild. After we spent a couple of hours browsing all of the artwork we fortuitously ran into Alex's wife, Allyson, an artist in her own right. She gave us a tour of the entire house and spent an hour and a half talking with us about our vision and sharing insights and making suggestions. It was a true privilege to have an opportunity to speak with her at such length. After our conversation we parted ways and Janel and I walked about the grounds on our own. They had about 40 acres out there and several artists had beautified various parts of it, such as this mural painted on an old concrete ring:




After exploring the grounds we left and grabbed dinner at a Panera before driving to Philadelphia and checking into our hostel. The following morning I was in the lobby of the hostel waiting for Janel when I met a woman named Evelyn by chance. She seemed incredibly turned on and engaging and we talked for some time, including Janel when she came down. Evelyn was very full of love and life and it was wonderful to be in her presence, talking about wondrous things. We chatted about the possibility of her visiting us in Idyllwild and we all agreed it was a good idea. When it was time to leave we felt full of emphatic joy, grateful to be meeting so many wonderful people on our journey thus far. That day was mostly spent walking around the older parts of Philly, a city I really enjoy visiting. We started on the river: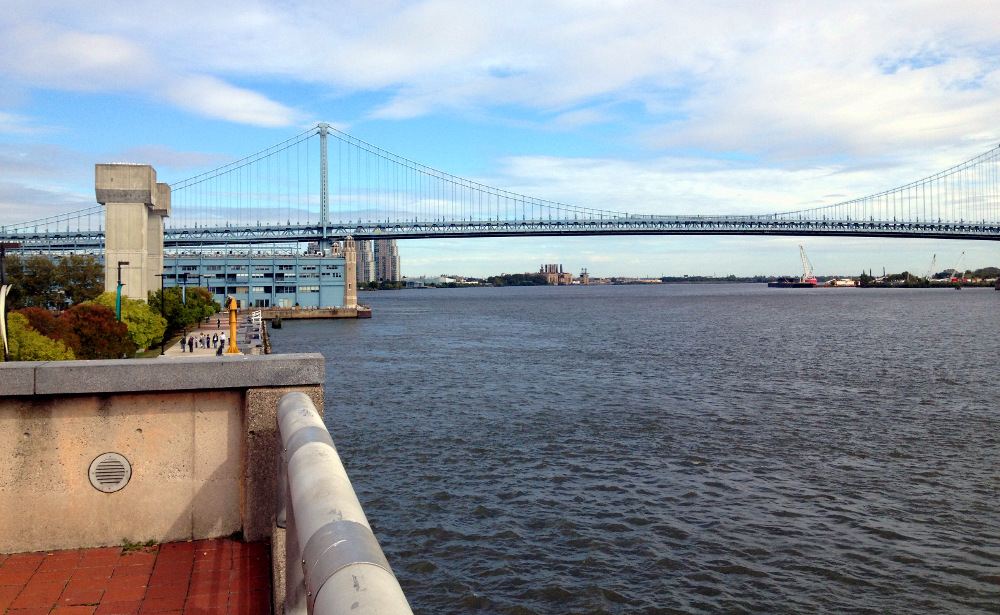 Near the waterfront we found a huge bronze statue that was dedicated to the irish immigrants. It was a really impressive work of art: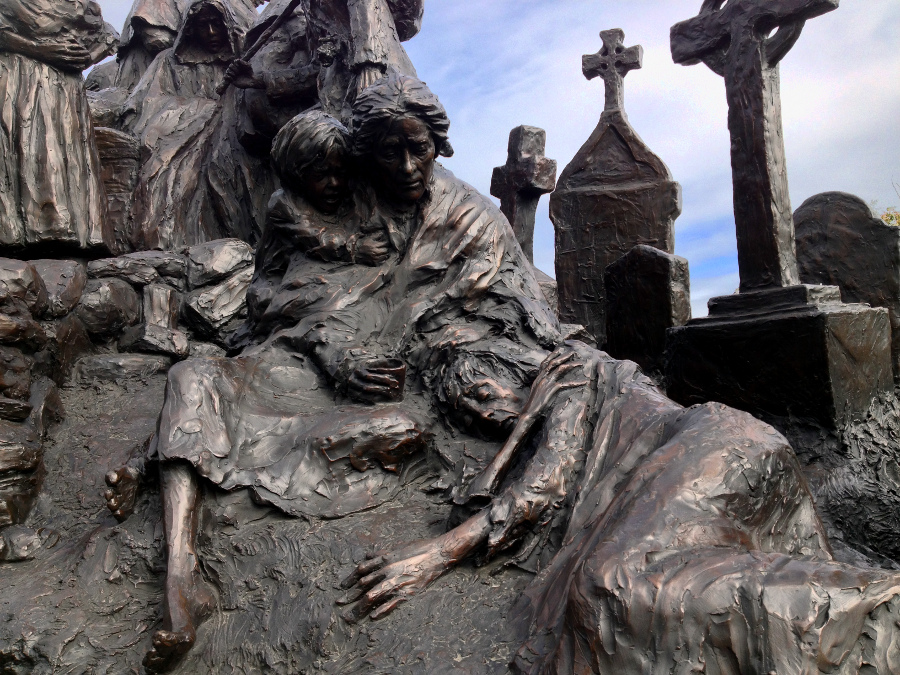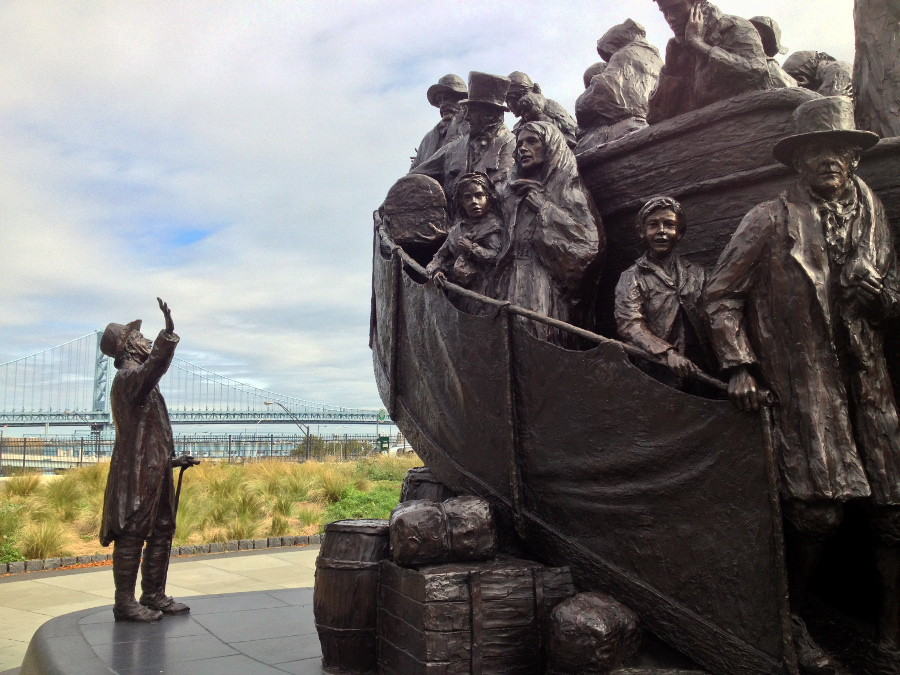 After this we walked through the area with all of the older government buildings and cobblestone streets: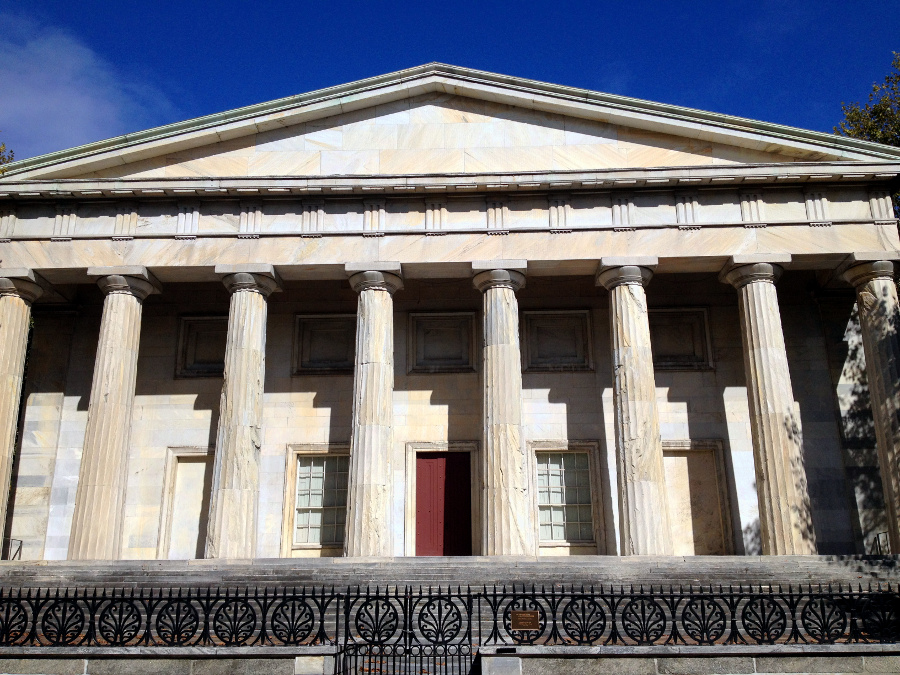 We then went to a large market where lots of food and goods were being sold:




Outside there was a bluegrass band that created a nice atmosphere: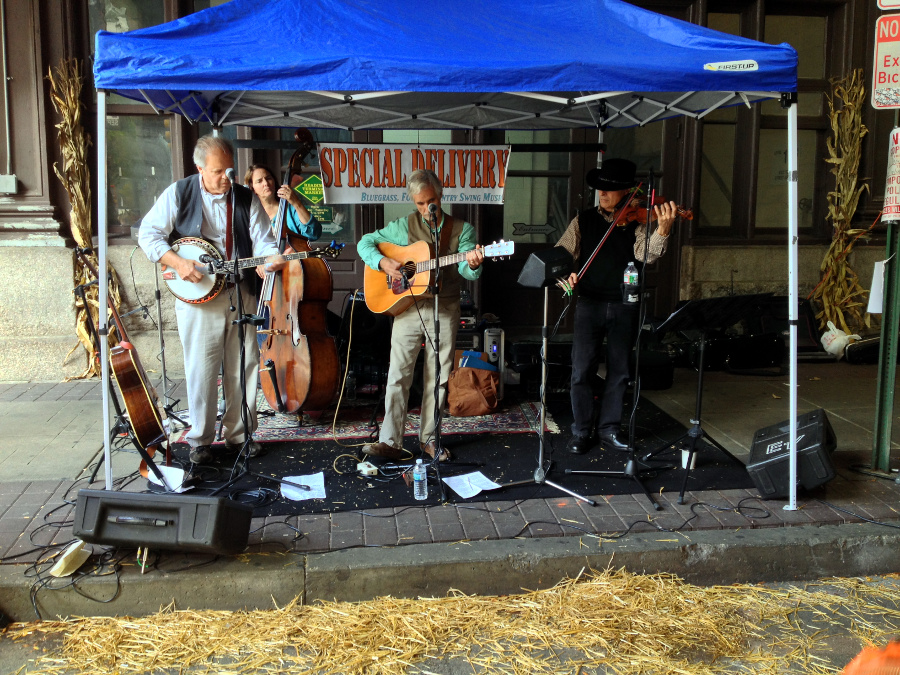 Around this time we grabbed some veggie Pho that set off Janel's stomach in a not-so-good way. It ended up cutting the day short a bit and we ended up returning to the car instead of visiting the museum. Still, it was a really nice way to spend a day in Philly. We got a head start on our drive down to DC and ended up meeting up with my childhood friend Jon Stover at his apartment just after dinner-time. We ended up going to a bar called Meridian Pint with Jon, his date Liza, and her friend Andrew. It was a really fun evening despite the fact that you could barely hear people talking in the loud environment. The following morning we met up with my college-roommate Zach Carter and JL at his aparment nearby. We decided to go to the Newseum with Zach which turned out to be really cool and relevant us being in DC. Some cool exhibits included a piece of the Berlin Wall, Front Pages from all around the world, Front Pages throughout history, and the Civil Rights Movement. We left at 6pm and got some nice Ethiopian food all together before returning to Jon's place to nap for a bit. We hung out at Stover's place and watched some short films and chatted for awhile before bed. The next day we spent the morning at Jon's before going to the park with Zach and his dog Gus. After the park we were joined at a restaurant called Chucho's by Gavin Holland, which was awesome. We ended up going to chill spot in the evening with everyone, Jon, Zach, Gavin and a few others. It was really nice to have everyone in the same place and I felt like there was more energy to be social and active than there had been on previous trips, which was nice! The following morning we said goodbye to Stover before hitting the road to Virginia. Our goal was to hike Old Rag (a classic hike that I did often in college) and we were curious to see what the situation might look like with the government closed down and all (ha!). As it turned out, the hike was 'closed' which essentially meant that they were towing cars that were parked at the trailhead (except in three spots, one of which we luckily took). I felt that this was really disgusting of them to do, since people probably wouldn't have cell service when they finished their hike, meaning they would be stranded. I doubted they were actually towing cars until we finished the hike and found that they had, in fact, towed everybody except us and one other car. Crazy!! Anyway, the hike was basically the same as I remembered it, except a bit shorter. Here's the classic picture of Janel taken from the secret little cave that I located in college:




And here's a cool shot of Janel chimneying on some off-trail rocks: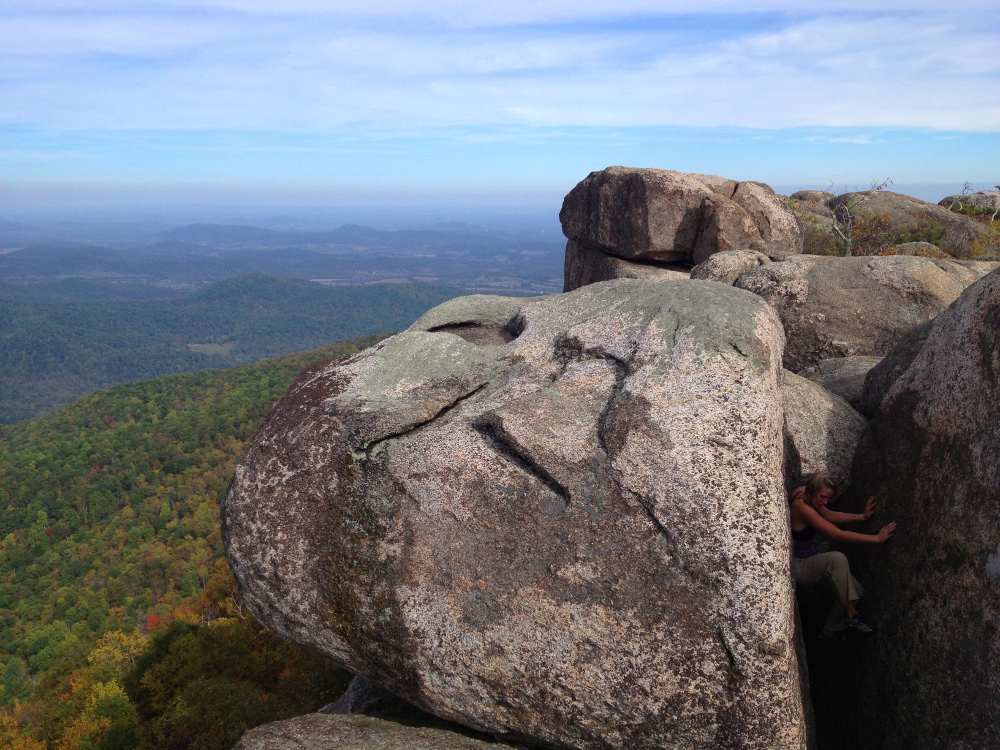 Here's a view from a lookout near the summit: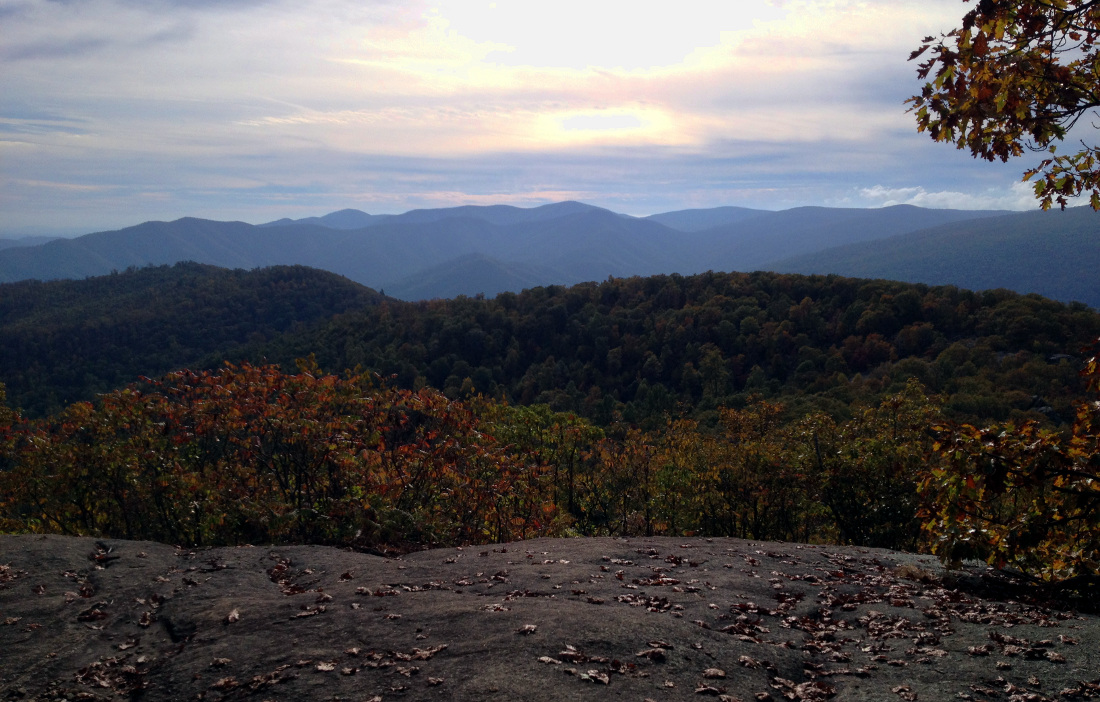 The final stretch of the trail followed a service road for several miles:




This part of the forest was really peaceful, and there was a nice brook running along parallel to the road for some time:




After the hike we continued to Charlottesville, home of UVA where I went to college. We were staying at the Cavalier Inn there for two nights, and this would be my first time back since just before my motorcycle accident, when I stayed for one night. I was immediately surprised by how much had changed since I was there. There were new buildings, new fields, and most of the businesses on the corner had changed hands and been renamed. The neighborhood where I lived third year had become much nicer and more gentrified. But, the campus itself was still beautiful and pristine. On our second day in town we went to the downtown mall and I spent some time working at the Twisted Branches Tea shop:




After the downtown mall we went to Rocky Top, where I had climbed in College. The place was no longer owned by Bill and it wasn't as nice as I remembered. We still got some climbing in and it was nostalgic, but it certainly wasn't a great spot anymore. After climbing we grabbed food at Bodo's Bagels, also a tradition, and the food was as amazing as ever!




That evening we retired a bit early and got some good rest. The following day we checked out of the Cavalier Inn and took a driving tour of campus before heading out to Montecello. Thomas Jefferson's dwelling was beautiful and inspiring and his quotes of how much he loved it reminded me of Idyllwild and the place I was building there. Here's Janel in the lawn outside the building:




Here's a view of the gardens of Montecello: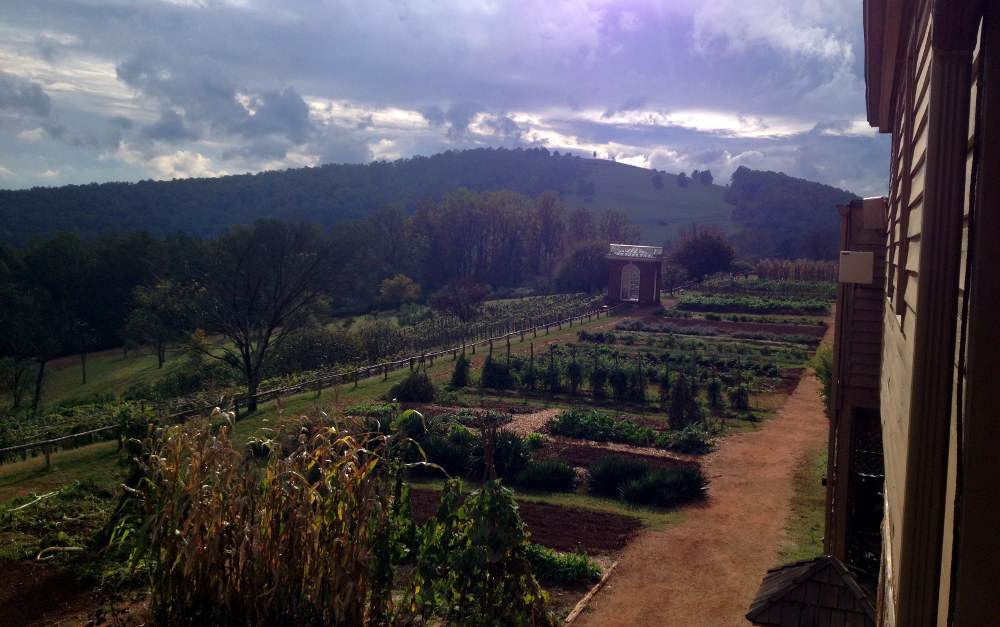 After our tour of Montecello we continued West and eventually arrived in Blacksburg. Janel's roommate from college, Lele, was living there in a house with her husband Nate. She was attending graduate school at Virginia Tech. By this time in our trip, Janel and I were getting somewhat tired from the continuous travel. Our stay in Blacksburg turned out to be just what we needed. Nate and Lele's energy was great and they were both such amazing hosts. On the second night we played a bunch of parlour games including charades. Lele used the same motions for Sally Hemmings and she did for Winston Churchill, which was hilarious. The following day we helped Lele in her beautiful garden. We picked veggies and harvested the sweet potatoes among other things. Janel made a rhubarb pie which was amazingly delicious! After dinner we went to a contra dancing event which was very welcoming and a great way to experience the South a little bit on our trip. Contra is like a cross between line dancing and square dancing. The next night was our final one in Blacksburg. We watched a super-intense film called the Act of Killing which was a documentary about genocide in Indonesia. After it we said our goodbyes since we would be leaving super early in the morning. We left at 5:45am and took a route through West Virginia and Pennsylvania. In Buffalo we detoured to see the Niagara Falls, which Janel had never seen before:




It was a nice afternoon there, and then we returned to Rochester where my parents welcomed us home. We had done a loop of 2000 miles in the intervening 2 and a half weeks! We returned the rental car, completely satisfied that we had gotten our money's worth out of it. That night in Rochester we celebrated my birthday, which was coming up on November 5th:




We decided to celebrate it a few days before we left so that my parents wouldn't be left with the task of eating all of the delicious cake themselves ;-) The next day, Mom, Janel and I went to Power's Farm Market, which used to be an annual pilgrimage for the family around Halloween time. They had lots of great autumn things, like pumpkins, cider, doughnuts, haunted corn teepees and a petting zoo! Here's Janel and I feeding a llama: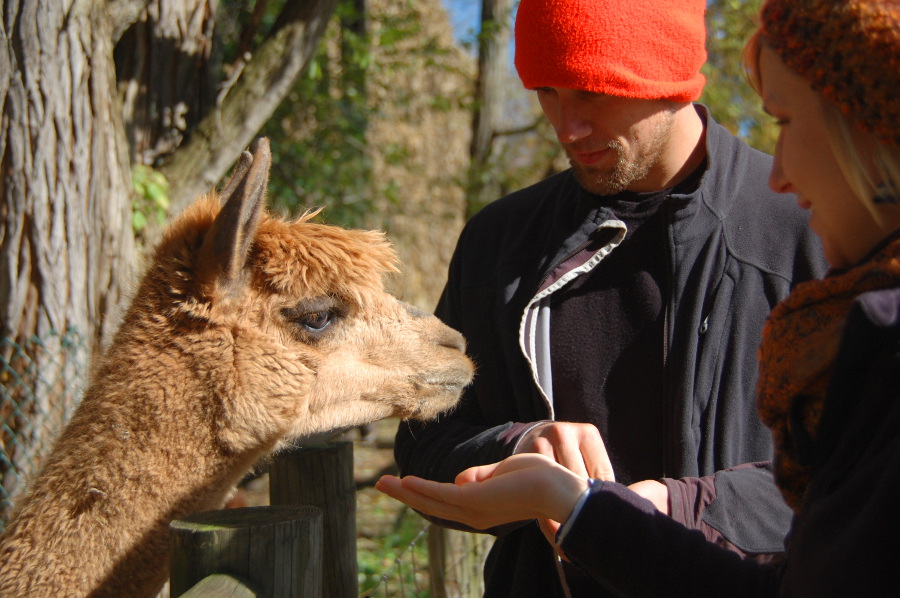 And here we are with a skeleton near the haunted corn dillies:




Scary: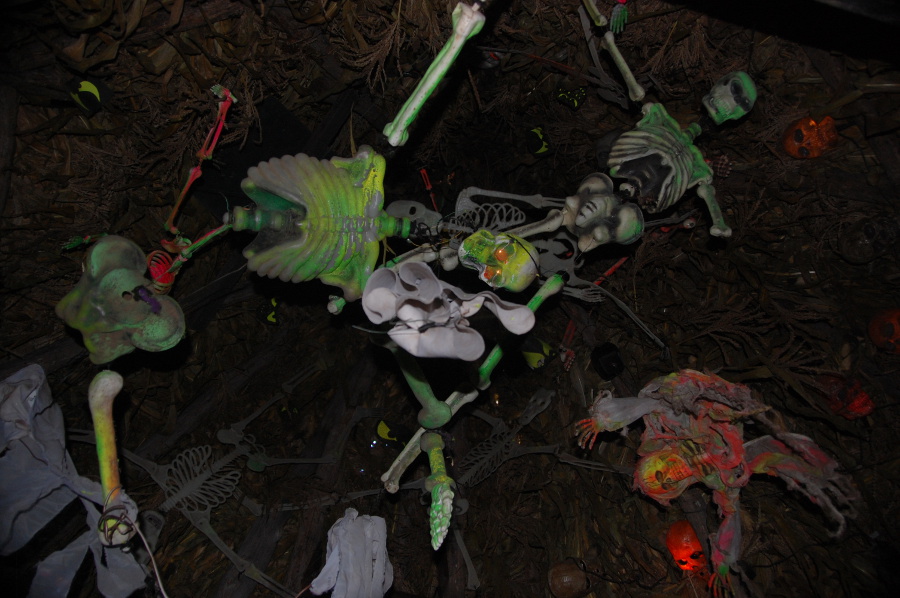 Another look at the outside of these things, which they had been building every year since I was a kid:




After Powers we went to another farm market, Bauman's, which also had a haunted house! After this we went to Cobb's Hill where Janel could get a view of downtown Rochester:




We then headed downtown, first to the high falls district. We walked out on the bridge to get the best view of the Genessee River falls:




Next we stopped at the Eastman School of Music, another Rochester landmark. We made our way into the large auditoreum:




It's a pretty amazing space, for sure, and it felt kind of cool to be the only people in there. We took Mom and Dad to the Owl House for dinner and then went to sleep, our trip more or less complete. The next day we flew back home to Idyllwild.
Birthday Steezles
My New Ride
After we returned to Idyllwild one of my big tasks was to find a replacement car. I had decided that for the sake of utility I was going to get a pickup truck, and it would need four wheel drive for the winters in Idyllwild. Originally I was going to try and get a small pickup but as I searched I realized that I wouldn't have the luxury of being too picky. I was actually starting to get a bit frustrated with the scarcity of reasonably priced trucks when all of a sudden I happened across an ad for a 2001 Ford F-150 XLT for only $5k. It had lots of miles on it, but it looked really clean. I arranged to meet the owner and I immediately saw it as a great deal and jumped on it!

***Need pic of truck***

After purchasing it, I eventually realized that I had truly made the right decision. The truck ran incredibly well and seemed really safe. Although it had terrible gas mileage, my plan was to mainly drive it around town and to Hemet for supplies. Once a year it would drag the Present and Positive camp to Burning Man, and so it was perfect that it was an older truck!
Hard Day of the Dead
The day after we picked up the truck I was planning to celebrate my birthday by going to a small festival called Hard Day of the Dead in Los Angeles. Janel and I had stayed in Pasadena the previous night and were planning to meet Ivan for lunch before heading out to the festival grounds. We were eating at the Real Food Daily spot in Pasadena and when I entered the restaurant I was absolutely blown away to find that Mike and Diep, Colin Loveness, Keane, Melani, Ivan and Jeanette all there. It was such an amazing surprise. I was so happy that they had come to celebrate my birthday party that I didn't want to ruin it by getting attached to the possibility that they might be joining me for the festival that night. As it turned out, they all had tickets, and I was immediately put into the best state of mind ever! We all changed into our costumes and made our way to the venue via the Gold Line. It was just getting to be dark as we arrived. Getting in was a bit of a hassle, and the crowd was certainly a bit different than the Burning Man scene. There were lots of girls in scantily-clad outfits and lots of bros too. Nothing you wouldn't expect from an event like this in Southern California. It didn't really matter, however, because there were a lot of really great people too and the artists were going to be fantastic. I was most excited about Pretty Lights, but I knew Deadmau5 and Cut Copy were going to be a lot of fun as well. Here's a picture of our group: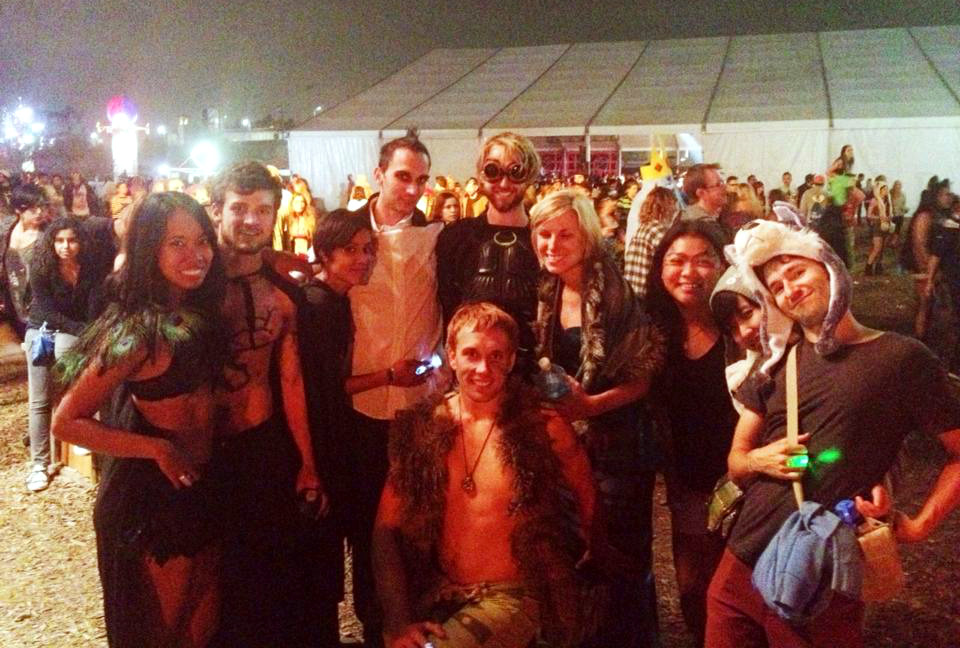 The first act that we caught was Cut Copy. They were really fun and a great, positive way to start the evening. After them we meandered around for awhile before Pretty Lights came on. His set was super hard hitting and full of good energy. It was a transformational experience, really. I found myself completely engaged, and yet there were things coming up inside me throughout that I was able to process at the same time. I have heard folks with PTSD who've said that Pretty Lights really helped them overcome their condition, and I found myself feeling nurtured by the overwhelming positivity of the experience as well. If you want to listen to a short section of the set, go Here. Here's a picture I found online of the set:




After Pretty Lights it was Deadmau5's turn to shine. I was completely satisfied from the Pretty Lights set, which I had seen from very near to the stage, but when I arrived at the Deadmau5 stage, I couldn't help but get hooked into the soaring synth rhythms and heavy-hitting beats that were developing there. The Deadmau5 stage presence was insane. He had his own cube-like 'module' from which he played, and there was an aura around him that was very powerful, especially with the crazy mouse helmet that he wore:




The highs in this performance certainly matched those of the Pretty Lights set. You can listen to his performance Here. Here's a picture of his stage setup:




The end of his set was really weird, with the sound cutting out in the middle of one of the highest highs. After that everyone filed out more or less safely and in an organized fashion. We got to bed really late, and it had been such a wonderful night. Certainly my favorite birthday yet in my life.
Saph, Romi, Evelyn and the Greenhouse
Over the next week, our friends Saph and Romi, as well as Evelyn, all visited us in Idyllwild. Their stay was characterized by a lot of general mirth and music making, as well as the beginning of a big project: the Greenhouse! The first step in building the greenhouse was leveling the earth and buttressing it using pressure treated 4x4s:




This picture includes Saph and Romi, the world's hardest workers ;-) Once the foundation was complete it looked really nice:




Completing the greenhouse took another two months since I had an intervening Vipassana course as well as Christmas and other events, but I will document it here so that everything is in one place. The next step was to put down landscaping fabric to prevent plants from growing out of the ground below the greenhouse:




After completing the foundation we began work on the actual structure itself. It was built mostly with Redwood and Cedar that we stained ourselves. The base was still pressure treated wood and we ended up using it for the posts as well (since we were originally going to put them in the ground), but everything else was nicer. Here it is with the posts and base put together:




Next we completed the Redwood outside frame:




And then the inside frame and the door frame:




The next step was to put the tongue and groove cedar siding in, which was a really interesting part of the build. Then we put the polycarbonate windows in and got started on the roof. The roof was easily the most difficult and tedious part of the greenhouse. I largely did the work myself and it was very time consuming. After the roof (and vents) we did the door and finally, the shelving on the inside. I didn't take pictures of any of these steps, but I got several of the completed work:




Our friend Liz who we met at our Vipassana course in December made a tapestry for us that we put in the greenhouse once it was complete:




Pretty amazing, no? In the end we were very pleased with how everything came out. The greenhouse didn't retain heat as well as we hoped in the winter months, but a small space heater more than made up for it. It kept out rain very well and appears that it will take a lot of abuse before it needs additional work.

Forward to Winter 2013-2014
Back to Index