Back to Index
Back to Summer 2004
Isn't life great? One day, you are sweaty, sunburnt, and tired, spreading minced pieces of wood over a garden, the next day you're sitting at a desk with 50 terminal sessions open, answering questions about electronic medical records. Who would give up such fabulous changes for a monotonous life?

Coming to Madison was very exciting. I didn't know anyone in the area but I figured I would meet some great people at Epic since it is such a young company. I had no idea that I was going to be regressing to a social state most similar to highschool... The one person that was going to make my transition a lot easier for me was my girlfriend Taylor, who decided to come spend much of the summer with me once I moved to Madison. Thankfully, I had a decent apartment for us to stay in when I first arrived. Here's a picture of her at my computer messing with my playlists:




It turns out that I guessed right about epic, within only a few days I met many great people. There is a pretty funny story about my friend Jared that when a girl sat down next to him on the first day and said "Hi" he just ignored her. Can you say awkward? Anyway, a few of my closest friends that I met in the first week included Jill and Amy:




Another great guy I met within the first few days was Jared himself. It was a bit after the others, since we met in maybe the second week, but we fell right in together. Here's a picture of him and Taylor back when he looked like a pretty boy:




More awesome Epicfolk included Patrick and Hedy, both of whom are good friends of mine. Patrick lived in a pimp downtown apartment for the first year, so I commonly was over there for beer pong and other assorted get-togethers. Here's a picture of both of them: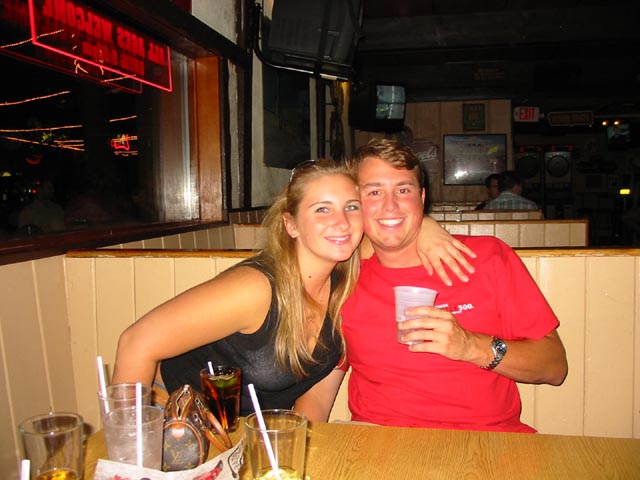 Last but not least, the three previously unmentioned ladies in this photograph are Aaron, Kourtney and Brittany. I suppose Aaron's not a lady, but he did play on the football squad at the University of Chicago...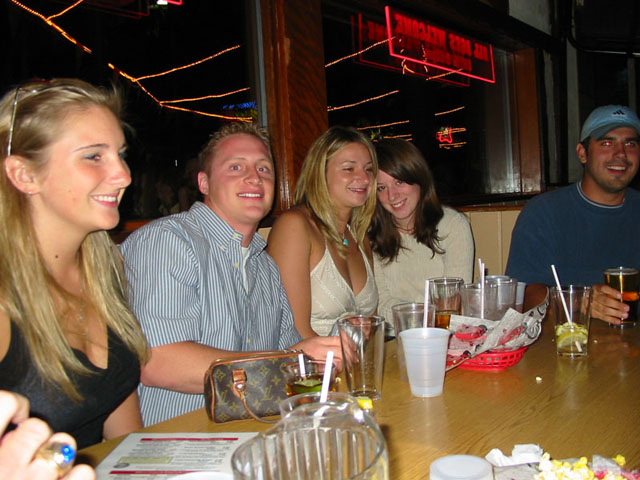 One of the very first events that happened once we started Epic was the 2004 Epicnic that is held yearly at Devil's Lake state park. The weather looked perfect, and since they were serving lobster and steak lunches, we all decided to go. Here's a picture of the fems that were in our troop. From the left, it's Amy, Kourtney, Brittany, Jill and Taylor:




The Epicnic was a blast. One of the highlights for me was a best of 5 sumo wrestling match with Doug Diamond. Doug is by no means a small guy, so it was quite a challenge for me. Here's a sequence of pics of me being demolished (I am in Blue):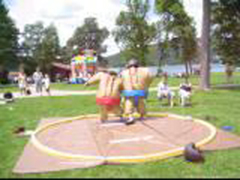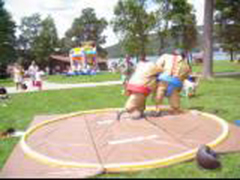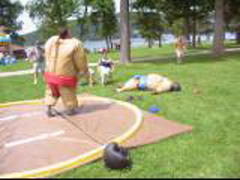 After the Epicnic, our group was much more close knit. Something we commonly did together was go to the Capital Brewery in Middleton and play beer pong on their picnic tables. In this first pic of a gathering there, you'll notice Casey Liakos on the left hand side. He is a terrific man and one of the coolest and funniest guys I've ever known. We used to play a lot of basketball together, and I'll have some pics of that later on.




In this next Capital Brewery pic, you'll see a tall guy in a blue shirt in the middle of the picture. That's Brent, he is another one of my friends that was in my hire class (known simply as the July hires):




Here is a picture of a different occassion of Capital Brewery beer pong. The big man to my left is none other than Doug Diamong, one of the most interesting personalities (I guess that fits) in my hire class: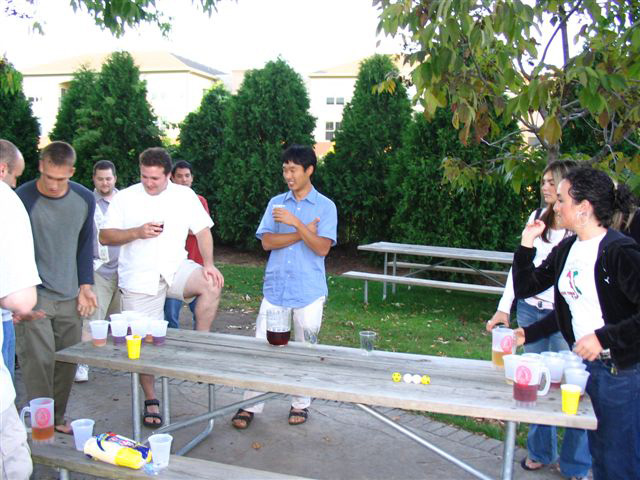 And here is another pic of us after we settled down from beer ponging and started playing cards. In the middle of the picture is another great big man and personality, Aaron Browne. On the right is Melissa Micklas, a regular in our group as well:




The dominance of the July hires in the Epic social scene was well recognized and undisputed... until the August hires came along. The August folks were a cocky crew. They basically felt that they owned Madison, and Epic. Us July hires felt it was our responsibility to upstage the August hires in a drinking competition known as a Boot Off. That, we knew, would put them in their place.

The only appropriate setting for a boot off in Madison is the Essen Haus, a fabulous german eatery and pub where you can order your beer in 2 litre boots or 5 litre riesig-steins. Here are some pics from this great event:

------------------------------------------------------THE JULY SQUAD------------------------------------------------------


----------------------Taylor and Me-----------------------------------Derek, Patrick, Doug Chung, Me, Brent-------


---------------------------------------------------THE AUGUST SQUAD----------------------------------------------------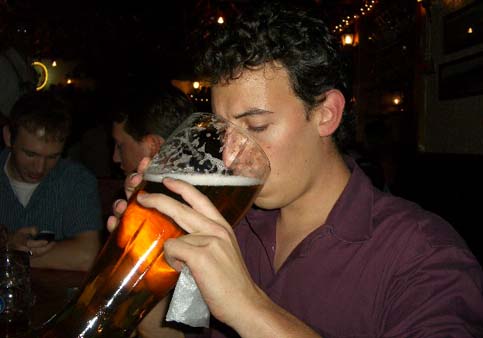 -----------------------Alex Rosenblat-------------------------------------John Evans, Phil, Chris Hachfeld-------------

As expected, we won the bootoff easily, thanks to our secret weapon. Here's a picture of me finishing the final bit of our boot:


The man behind the boot in the last photo is Doug Diamond. What you unfortunetely do not get to see is me, after finishing the boot, slamming it down onto the table and breaking the heel. They made us pay $35 to cover the boot, but since we won, we made the august hires cover it.

After the boot off, the two hire classes realized that they could coexist peacefully. In fact, many of the August hires are now some of my closest friends. Included in the great hire class of August 2004 are:



--------------------------John Evans----------------------------




----------------Cyrena and John Gorman-------------------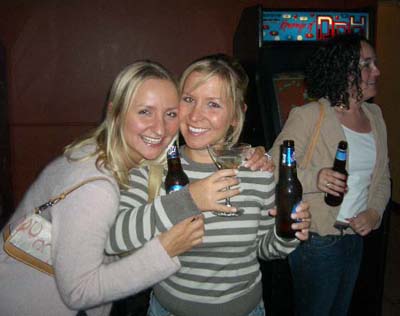 ------------------Lacey and Melissa (MK)------------------




--------------Martin "The Stallion" Schilling-------------




--------------------Miles and Brandon-----------------------


As I was saying before, One of the things that Casey and I would do together is play basketball. I don't have many photos of this, but Taylor came along one time and snapped a few. Here's Casey and I going for a rebound in a game at a west side park:




One of the few good geographical things about Madison is its proximity to Devil's Lake, which happens to be one of the best rock climbing locations in the Midwest. On a few occassions, Taylor, Aimee and I would venture there. Here's a picture of Aimee setting herself up to climb first:




She's a brave girl. Would you trust ME with your life? Here's a pic of me trying to tackle the quartzite:




The cliffs at Devil's Lake are made of a rare form of quartzite, which itself is a very hard rock. The cliffs are beautiful and deep red in color. If you look closely, you can see the ropes of several other climbers:




The view from the top across the valley is also splendid:




All of this outdoorsness gave someone a good idea, and a bunch of the guys decided it was time for a real bonding experience. This of course meant going into the woods with nothing but brats, and a ton of alcohol. Whoever coordinated the trip didn't do a terrifically good job, since the 'camping' was basically driving 3 hours just to pull of the road next to a bunch of RV's. It didn't really matter though, we had a blast. The crew consisted of Gerald, Me, Doug Diamond, Jared, Aaron, Brent and Doug Chung. Here's a picture of some of us drunk one morning on a park bench:




During the trip, we came up with several new terms that should be added to the dictionary ASAP. One was called 'laser cutting' and involved burning long sticks into smaller sticks using fire:




Another term we come up with was 'Amish'. This was the first word that came to Doug's head when he spotted these folks doing whatever they are doing in the water:




We thought the photo would look really old if it was in black and white. Nevermind the powerboat in the top right hand corner. A third term that was invented was 'Jiz Nasties' which is basically used to describe Rapids. At one point in our camping trip, we decided to rent a couple of metal canoes and race them up a river. In one canoe was me and Brent, and the other had Jared and Aaron. It was one of the most hilarious experiences of my life. There were several places where we needed to carefully navigate rapids and rocks, and other times we simply had to scrape our boat along a shallow spot before continuing on. We went for about two or three hours before stopping and returning. It was pitch black by the time we got back. Sadly, we didn't get any pictures of this hilarious endeavor, but here's a picture of Doug Diamond grilling brats:




Apparently, while the rest of us were out canoeing, Doug and Gerald had gone to a redneck wedding party somewhere outside of the campgrounds. Apparently they fit right in. They also stole the groom's commemorative mug. That night we sat around the campfire and told jokes. Aaron was definetely the best story teller, and his 'fuck you clown' and 'monkeycock' jokes stole the show. We also came up with a few great nicknames for Aaron including 'Football' and 'WT', both of which fit him suitably. Sadly we had to break camp and leave for Madison the next morning.
Forward to Madison Winter 2004-2005
Back to Index